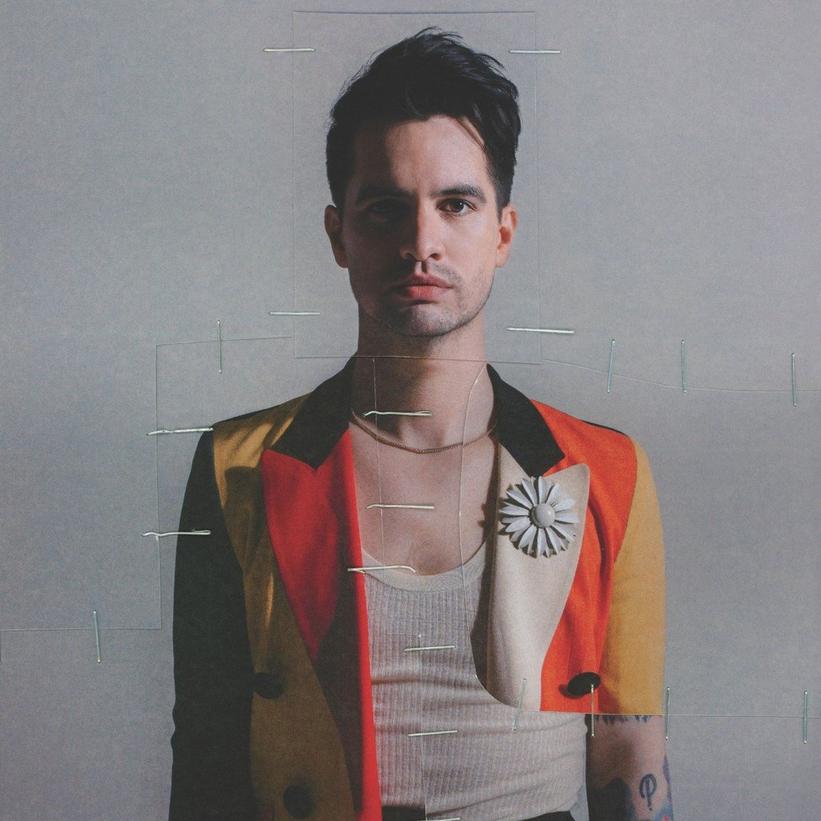 Brendon Urie of Panic! at the Disco
list
Digging Panic! At The Disco's 'Viva Las Vengeance'? Dive Into These Classic Rock Albums
Panic At The Disco!'s new album, 'Viva Las Vengeance,' sees a multitude of classic-rock references in the lyrics and melodies. Here's a track-by-track breakdown, based on further records to explore.
GRAMMYs
/
Aug 19, 2022 - 09:06 pm
How many beloved bands evolve into a solo project — and then arguably become more famous for it? Needless to say, that's a short list. And on top of that, how many of those acts go on to wield the entire 20th-century rock encyclopedia? Panic! at the Disco might be the only name remaining.
Yes, the band is just Brendon Urie now, but he's more than embraced the role. As it turns out, a large part of OG Panic!'s appeal was Urie's vocal prowess; now, those pipes are more golden than ever. And when you've got an inimitable presence like Urie front and center, you can play around with the musical components without messing up the magic.
And in the case of Viva Las Vengeance — Panic! at the Disco's vibrant new album — you can travel all the way back to the AOR era, when bands like Journey, Steve Miller Band, Electric Light Orchestra, and Boston dominated the airwaves.
Described by Urie in a press release as "a look back at who I was 17 years ago and who I am now with the fondness I didn't have before," the album is an examination of misspent youth in Sin City, beamed through a kaleidoscope of classic-rock references. (And at least partly recorded on analog equipment, to boot!)
It's all there in the lyrics: "Middle of a Breakup" contains an exhortation to "gimme T. Rex," "Local God" references the hesher-ready B.C. Rich electric guitar, and "Star Spangled Banger" namedrops Dead Kennedys — and that's just on the first half. Throughout the album's 12 tracks, the exultant music bounces from punk to bar-rock to new wave and back again — your parents' record collection, raided.
If you're unfamiliar with the classic-rock and punk-adjacent canons, Viva Las Vengeance can act as a Rosetta Stone to find some new (old) jams. Here's a guide to how each song can lead you to a classic album from rock's past — ranging from artists from the early '70s to the early '90s.
To clarify, nothing on the record can be considered a "ripoff." When you're a musician of any persuasion, everything that came before you should be considered the lending library. Also: none of the below selections are carbon copies of any sort — most songs blend half a dozen other acts in the stew.
Rather, take the following as mere guideposts; these Panic! at the Disco songs merely evoke their feeling, their vibe, their groove. And most importantly, use it to check out some monumental music of yore — that perhaps you may have never heard until now.
Like "Viva Las Vengeance"? Try The Buzzcocks' Singles Going Steady
From its first seconds, Viva Las Vengeance's title track conjures the Ramones (hello, "Beat on the Brat"!). But once Urie's nimble vocal melody enters, it recontextualizes those pounding power chords, suggesting something brainier and more emotional.
Ergo, the song's spiritual descendants are moreso the English punk-pop heroes the Buzzcocks. What should be your first stop? Their immortal 1979 compilation Singles Going Steady.
Like "Middle Of A Breakup"? Try The Records' Smashes, Crashes and Near Misses
Lyrically, the proximally closest analog to this chorus might be Machine Gun Kelly (the "make up" and "break up" rhyme evokes his "Make Up Sex").
But as far as the intro and verses, the classically rumbling drum roll and tightly-wound guitar interplay — coupled with the relentless melodicism — recalls obscure power-poppers the Records, most famous for 1978's "Starry Eyes."
Like "Don't Let The Light Go Out"? Try Badfinger's Straight Up
Before the tragic, early deaths of key members Tom Evans and Pete Ham, Badfinger emerged from under the Beatles' wing to write and record some of the most aching, soulful songs of the '70s.
Sure, it's a stretch to say that "Don't Let the Light Go Out" is any sort of homage. But if you connect with the jingle-jangling guitars, aching tempo and lump in Urie's throat here, you might have a new favorite band.
Like "Local God"? Try Sparks' Angst In My Pants
Unclassifiable alt-rock proginators Sparks are having a moment — both with a documentary and a new affiliation with Adam Driver by way of the 2021 film Annette — and the comically high-strung and dizzyingly sugary "Local God" most clearly recalls them.
If this is your highlight of Viva Las Vengeance, go for Sparks' early albums like 1982's Angst in My Pants, which were more firmly rooted in a new-wave language.
Then, if you dig that, check out their album Kimono My House, which built upon that influence (and many others, including glam) and resulted in something utterly original and idiosyncratic.
Like "Star Spangled Banger"? Try Steely Dan's Can't Buy A Thrill
The stampeding chorus of "Star Spangled Banger" is purely in that Queen or Sparks mold — no, nothing to do with the Dan at all.
But that shuffling verse, with Urie stuffing in too many syllables over economical, harmonized leads, has everything to do with them. If you love this song but bought into Donald Fagen and co.'s unfairly negative associations, please reevaluate your position.
Like "God Killed Rock And Roll"? Try Queen's A Night at the Opera
Queen is naturally going to be the go-to comparison tossed at Viva Las Vengeance, which makes sense — not just because of the Mercury-like harmonies echoing across the album, but the fact that Panic! covered "Bohemian Rhapsody" for the 2016 Suicide Squad soundtrack.
Now, Urie has a "Bohemian Rhapsody" of his own — thanks to the overture and overall arrangement of "God Killed Rock and Roll."
If you only know that theatrical classic in a bubble, let this Panic! track lead you to the LP home of "Bohemian Rhapsody": A Night at the Opera. From there, check out other classic Queen offerings, like 1974's Sheer Heart Attack and 1977's News of the World.
Like "Say It Louder"? Try The Cars' Self-Titled And Elton John's Goodbye Yellow Brick Road
The angular offbeats and drum-machine-style rhythm that open "Say it Louder" recall the mechanistic economy of the Cars. Well, not just them, but the new-wave milieu that birthed them, which went on to influence the sound of early-aughts acts like the Strokes and Franz Ferdinand.
But it doesn't stay that way: "Say it Louder" then evokes a many-hued fantasy realm that would make Goodbye Yellow Brick Road-era Elton proud.
Like "Sugar Soaker"? Try Steve Miller Band's Fly Like An Eagle
While the frazzled opening of "Sugar Soaker" might seem to foreshadow a noisy meltdown, it soon settles into an easy, chooglin' groove that classic-rock favorites Steve Miller Band largely dealt in. (And when the barrelhouse piano arrives, you get a tint of Stones.)
Like "Something About Maggie"? Check Out Jellyfish's Spilt Milk
A vanguard of the West Coast "unpopular pop" scene of the '90s, Jellyfish could both indulge in whimsical, theater-type excursions and sublime baroque pop a la the Beach Boys — oftentimes in the same song.
Of their two albums, check out Spilt Milk first; the irrepressible "Something About Maggie" could be a long-lost B-side thanks to its carnivalesque energy and fountain of melodies.
Like "Sad Clown"? Try Electric Light Orchestra's A New World Record
Urie lets his inner Jeff Lynne fly on "Sad Clown," which fussily toggles between sections while never failing to grab your ear.
To some extent, ELO were a greatest-hits band. But many of their records hold up from front to back, like 1976's A New World Record and their earlier opus, 1974's El Dorado.
Like "All By Yourself"? Try The Beach Boys' Sunflower
Amid all of the Beach Boys', well, beachy hits and their 1966 classic Pet Sounds, their run of '70s albums remain somewhat underrated — like 1970's Sunflower. "All By Yourself" subtly recalls that autumnal masterpiece in how it marries a mellow, stony feel with a rainbow of harmonies.
Like "Do It To Death"? Try Boston's Self-Titled Debut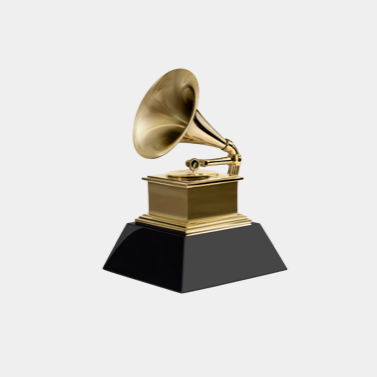 Get notified of exciting GRAMMY Award news and upcoming events!
Be the first to find out about GRAMMY nominees, winners, important news, and events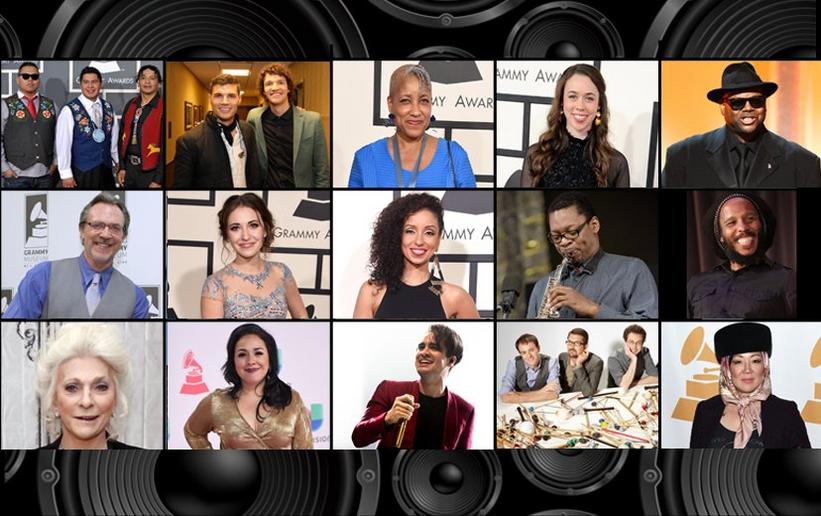 Photos: WireImage.com/Getty Images
news
Tune In: Margaret Cho to host GRAMMY Premiere Ceremony Live Stream
Margaret Cho to host ceremony announcing winners in approximately 70 GRAMMY categories; Judy Collins, Ziggy Marley and more set to perform; Sarah Jarosz, Panic! At The Disco's Brendon Urie and Jimmy Jam among presenters
GRAMMYs
/
May 15, 2017 - 01:36 pm
The GRAMMY Awards Premiere Ceremony will take place at Microsoft Theater on Sunday, Feb. 12 from 12:30–3:30 p.m. PT and will be streamed live internationally via GRAMMY.com/live.
Preceding the 59th Annual GRAMMY Awards telecast, the Premiere Ceremony will be hosted by current GRAMMY nominee Margaret Cho and will feature performances by current nominees Judy Collins, Ravi Coltrane, Ziggy Marley, Carla Morrison, Northern Cree, O'Connor Band With Mark O'Connor, and Third Coast Percussion. Presenting the first GRAMMY Awards of the day in approximately 70 categories will be five-time GRAMMY winner Jimmy Jam and current nominees Lauren Daigle, For King & Country, Sarah Jarosz, René Marie, Mýa, and Brendon Urie from Panic! At The Disco.
The live stream of the Premiere Ceremony will remain on GRAMMY.com as video on demand for 90 days following the event. The 59th Annual GRAMMY Awards will be broadcast live on CBS at 8 p.m. ET/5 p.m. PT.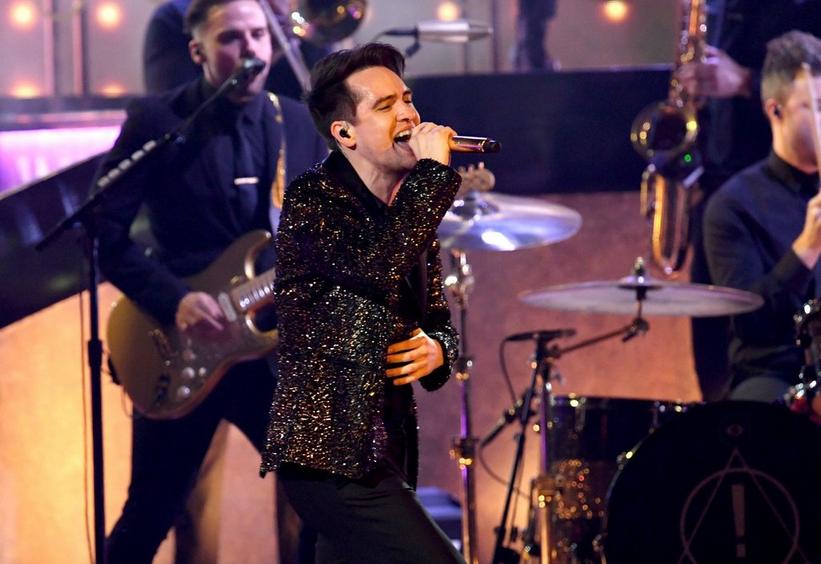 Brendon Urie of Panic! At The Disco
Photo: Kevin Winter/Getty Images for dcp
list
Everything We Know About Panic! At The Disco's New Album 'Viva Las Vengeance'
Brendon Urie describes Panic! At The Disco's new album, out Aug. 19, as "a look back at who I was 17 years ago." Here's everything GRAMMY.com could find about 'Viva Las Vengeance.'
GRAMMYs
/
Jun 21, 2022 - 05:17 pm
Over the years, there have been many Panic! At The Discos — and they've all been been nothing short of interesting.
Remember the emo heroes who made A Fever You Can't Sweat Out back in 2005? The Sgt. Pepper-style baroque poppers of Pretty. Odd. three years later? And how the band became Brendon Urie's solo project in the back-half of the 2010s? (Not to mention Urie's pivotal pop turn on Taylor Swift's "Me!" during the Lover era.)
Now, Panic! — Urie's  solo version of the GRAMMY-nominated act — is consolidating its identity with Viva Las Vengeance, out Aug. 19 on Fueled By Ramen/DCD2 Records. As the press release explains, Urie cut the album live to tape with creative partners Jake Sinclair and Mike Viola.
Collectively, the Viva Las Vengeance songs explore "the fine line between taking advantage of your youth, seizing the day and burning out." As Urie himself put it, "Viva Las Vengeance is a look back at who I was 17 years ago and who I am now with the fondness I didn't have before."
Ahead of the release of Viva Las Vengeance — and subsequent tour dates stretching into the fall of 2022 and spring of 2023 — here's everything GRAMMY.com could find about the album.
We're In For A Ride Through Urie's Past
The album's title is an homage to Viva Las Vegas, the motto of the band's (and Urie's) birthplace.
From the sounds of it, the content will be nostalgic too: according to the press release,  "The songs take an introspective look into his relationship with his decade plus career including growing up in Las Vegas, love, and fame."
So, it's safe to say, expect some Sin City-related scene-setting on Viva Las Vengeance — as well as some deep plumbing of Urie's personal development since his hellraising days.
The Tracklist Is Out There — And It's Suitably Splashy
Speaking of (misspent) youth: the Viva Las Vengeance tracklist includes titles like "Star Spangled Banger," "God Killed Rock And Roll" and "Sugar Soaker." (Judging by those, fans craving a muted, low-key Panic! album should probably wait until the next one.)
Urie Has Been Teasing The Album Since 2019
"I thought I would take a little more time off and I'm already starting music," Urie said at the Billboard Music Awards in 2019, a year after "High Hopes" became a global smash. "Not with anything planned in mind, but just working on some ideas.
"I can't help myself," he continued, not long after the release of their last album, Pray For The Wicked,  "so I don't think it'll be too long before another Panic! record."
Viva Las Vengeance's Title Track Is Both Personal And Retro
And so is its video,  where Urie and company rock out on a '70s-looking soundstage, complete with a stiff and stoic host. Eventually, things get macabre, as gore flies and the piano appears to eat Urie whole.
"This is the tale about growing up in Las Vegas," Urie states in the description. "It's about love, fame, burnout and everything that happens in between." And if this power-chord-fueled rocker is any indication, we're in for a helping of tripped-down pop-punk on Viva Las Vengeance.
The Album Will Arrive In Limited-Edition Variants And Exclusive Bundles
This includes multicolored splatter vinyl, album-specific threads and — true to the retro vibe — a cassette.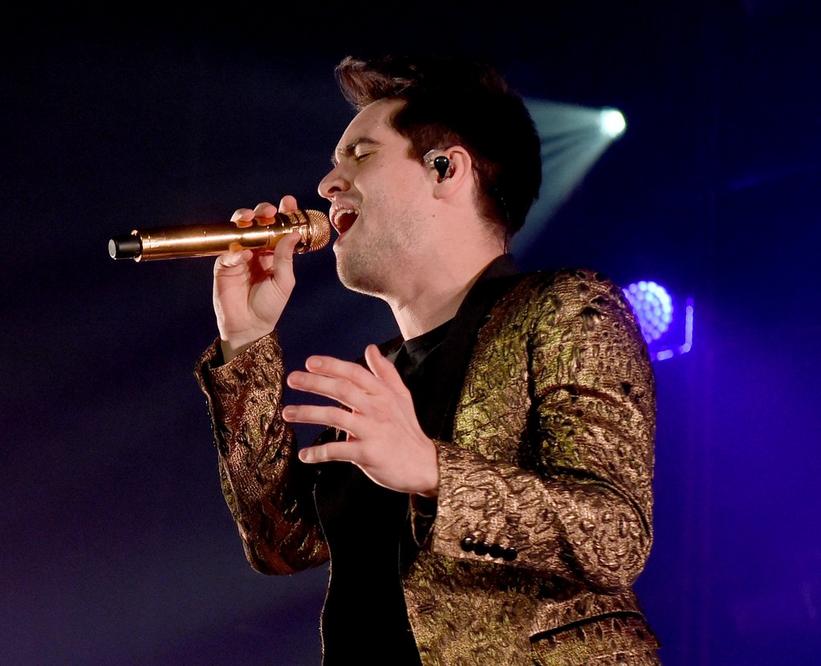 Panic! At The Disco's Brendon Urie onstage at the Forum in Los Angeles in 2017
Photo: Kevin Winter/Getty Images
news
Panic! on Broadway? Brendon Urie joins "Kinky Boots" cast
Panic! At The Disco frontman set to join the cast of the Tony-winning musical "Kinky Boots"
GRAMMYs
/
May 15, 2017 - 01:36 pm
Can Panic! At The Disco frontman Brendon Urie go from Death Of A Bachelor to birth of a Broadway star? The world will find out this summer as the lead vocalist of the GRAMMY-nominated rock band from Las Vegas takes the stage in New York. He will join the cast of the Tony Award-winning musical, "Kinky Boots," featuring music by GRAMMY winner Cyndi Lauper, from May 28 through Aug. 6.
According to Broadway World, show producers Daryl Roth and Hal Luftig made the big announcement that Urie will play the leading role of Charlie Price for his Broadway debut. This comes shortly after "Kinky Boots" celebrated its four-year anniversary on Broadway, a run springboarded by a magnificent performance at the 2013 Tony Awards, where the show racked up 13 nominations and six wins, including Best Musical.
One of those Tonys went to Lauper for Best Original Score. The project marked a return to the spotlight for the singer/songwriter, and her work on "Kinky Boots" also scored her a GRAMMY win for 2013 for Best Musical Theater Album. Panic! At The Disco's latest album, Death Of A Bachelor, debuted at No. 1 on the Billboard 200 and landed Urie a GRAMMY nomination for Best Rock Album for 2016.

Fans of the musical and the band alike will surely line up to hear Urie lend his vintage rocker-meets-modern crooner voice to Lauper's tunes. Tickets are now on sale for "Kinky Boots."
Brendon Urie set to perform "Lonely Days" on GRAMMY salute to the Bee Gees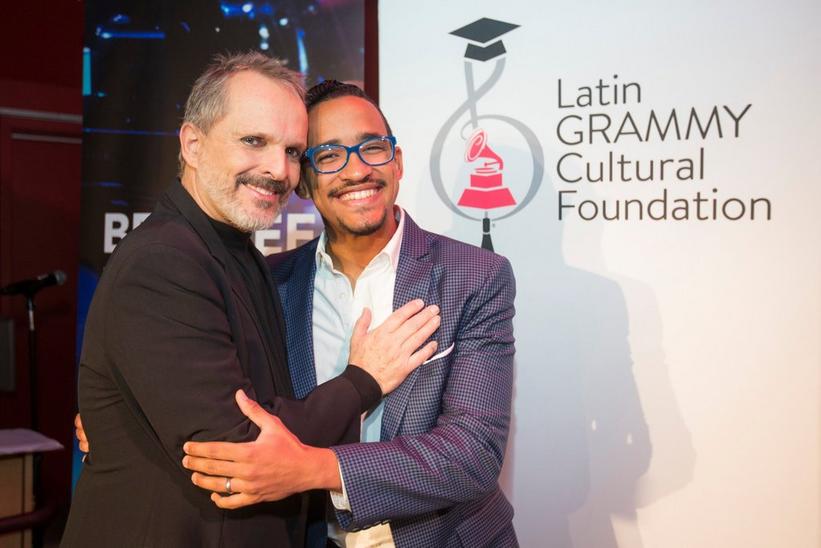 Panic At The Disco perform at the Aragon Ballroom in Chicago on Dec. 10
Photo: The Recording Academy
news
Panic At The Disco At The Aragon Ballroom
GRAMMYs
/
Dec 3, 2014 - 04:22 am
Welcome to The Set List. Here you'll find the latest concert recaps for many of your favorite, or maybe not so favorite, artists. Our bloggers will do their best to provide you with every detail of the show, from which songs were on the set list to what the artist was wearing to which out-of-control fan made a scene. Hey, it'll be like you were there. And if you like what you read, we'll even let you know where you can catch the artist on tour. Feel free to drop us a comment and let us know your concert experience. Oh, and rock on.
By Jenna Goode
Chicago
On Dec. 10 Chicago alternative radio station Q87.7-FM hosted Twas the Night Before at the Aragon Ballroom. Swedish threesome NONONO, indie-pop duo MS MR and Portugal. The Man opened up the show, warming up the audience for the evening's headliner: GRAMMY-nominated alternative rock collective Panic At The Disco. The holiday-themed show inspired concertgoers to dress in red and green and sport elf hats and other festive gear. There was as much of a party outside the stage area as there was inside with a prop-filled photo area, giveaways and product tastings. But that area nearly emptied by the time Panic At The Disco took the stage.
The band emerged onstage at approximately 9 p.m. and opened with the raucous track "Time To Dance" from their debut album, 2005's A Fever You Can't Sweat Out. Lead singer Brendon Urie displayed an explosive energy that he channeled throughout the show with enthusiastic dancing and '80s-inspired screams. The band was dressed very dapper in jackets and ties and had a simple stage setup that included a long white microphone stand that literally held the microphone in a metal hand. The dance beats pounded and reverberated off the high, ethereally decorated ceilings of the Aragon Ballroom.
The band played a solid mix of songs from each of their albums, and kept their momentum with "This Is Gospel," from their latest album Too Weird To Live, Too Rare To Die! The audience clapped with such fervor that the floor pounded along with the beat. The energy increased when Urie showed off his backflip during "Ready To Go (Get Me Out Of My Mind)." By then, the band had removed their jackets, which prompted the ladies in the front to plead Urie to remove his shirt, to which he responded with, "No, you take it off!"
With all the stage acrobatics during the performance of "Ready To Go…" and their new single "Miss Jackson," the audience was in an uproar. During the latter song, the band made a heart-stopping pause, posing as black silhouettes against the red lights behind them, before thundering back to life to finish the song.
The most memorable part of the evening for me came when the band performed songs by Journey and AC/DC. When the opening riffs to Journey's "Any Way You Want It" began, everyone exchanged unsure glances before belting out the lyrics along with Urie. It was amazing. Nothing unifies an audience like Journey, and Panic At The Disco did the classic justice. They followed with AC/DC's "You Shook Me All Night Long" before bringing down the house with their own "I Write Sins Not Tragedies." Giant glowing balloons descended on the crowd and rocked with the music until there was no more time to dance and the show came to an end.
Set List:
"Time To Dance"
"The Ballad Of Mona Lisa"
"The Only Difference Between Martyrdom And Suicide Is Press Coverage"
"Let's Kill Tonight"
"This Is Gospel"
"New Perspective"
"Girls/Girls/Boys"
"Ready To Go (Get Me Out Of My Mind)"
"Miss Jackson"
"Nine In The Afternoon"
"Lying Is The Most Fun A Girl Can Have Without Taking Her Clothes Off"
"Nicotine"
"Nearly Witches (Ever Since We Met…)"
"Vegas Lights"
"Any Way You Want It" (Journey cover)
"You Shook Me All Night Long" (AC/DC cover)
"I Write Sins Not Tragedies"
To catch Panic At The Disco in a city near you, click here for tour dates.
(Jenna Goode is the Temporary Assistant for The Recording Academy Chicago Chapter specializing in social media. Goode has interviewed artists such as Tame Impala, Daniel Lanois and Henry Farag. Her work has been previously featured on the Chicago Chapter's GRAMMY365 blog, GRAMMY.com and Loud Neighbor Music.)