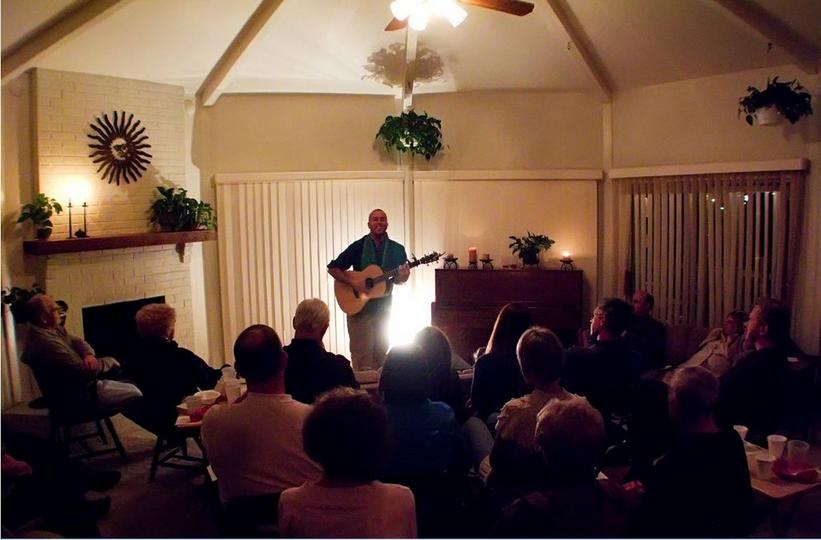 Randall Williams performs at a house concert in St. Louis
Indie artists find viable performance opportunities and artistic fulfillment with house concerts
GRAMMYs
/
Oct 22, 2021 - 11:27 pm
Witnessing a live concert in your living room used to mean watching it on a big television and cranking it through a good sound system. Today, more and more artists are literally gigging in people's homes as a means to establish a more direct audience connection, and for sheer profitability as an alternative to traditional live venues. Instead of the usual trials and tribulations inherent to life on the road, some artists have found house concerts to be a sanctuary.
Darren Bergstein, founder and curator of One Thousand Pulses, an electronic and experimental music series held in his suburban New Jersey home, was inspired to start his program after witnessing an impromptu, in-home performance by former Tangerine Dream member Steve Schroeder many years ago. Cultivating connections from his 25 years as a music journalist, Bergstein has instituted a regular series that has featured experimental artists such as Zombi's Steve Moore, Robert Rich and John Vorus.
"A home concert is not a new, innovative idea," observes Bergstein. "It has been on the folk circuit, the acoustic circuit and even the light jazz circuit for 40 years, but no one's really done it in the electronica realm."
Bergstein's goal is to develop an underground touring circuit manned by like-minded individuals and feels the opportunity exists for artists to tour through such a network and generate reasonable revenue. He notes that the artists and fans benefit from the intimate environment and interactive post-concert experience. "It brings the music back to the masses again in a more personal way than just going to Giants Stadium with 70,000 other people," says Bergstein.
A Canadian venture akin to Bergstein's concept is Home Routes, a consortium of home concert venues across Canada. Created by artistic director Mitch Podolak, the organization helps folk/roots and world music artists create an economically viable touring itinerary.
"I think in the U.S. the house concert idea has become more possible because in the last 35 years the houses have gotten bigger," notes folk artist John Gorka, who plays house concerts infrequently. "There are often big rooms that can accommodate 25 to 75 or even 100 people. It's definitely a way to keep music accessible to people and help keep the musicians running as well."
Gorka says that living room concerts can be more profitable than coffeehouse or club gigs depending upon the size of the room because there is less overhead. Hosts often feed and lodge artists, although the singer/songwriter notes that house concerts can become a little too intimate. "I'm glad to meet people afterwards, but there's something about being in people's houses, they will ask a question that they wouldn't ask in a normal venue," says Gorka.
Austin, Texas-based singer/songwriter Danny Schmidt prefers these intimate settings over bars or clubs, and finds the house concert setting more conducive to active musical listening and album sales.
"When we're playing for 100 people, that's a great night and there just tends to be a higher engagement level with the artists at house concerts," says Schmidt. "There's more personal time to hang out and visit with people. The ratio of crowd to CD sales tends to be really high at house concerts compared with the club gigs because of that engagement."
Tom Gabel, singer for punk band Against Me!, has also enjoyed the intimacy of house concerts. "Often times what I really like about it is that it breaks down the barriers that get manufactured from a stage being there in normal venues," says Gabel. "You have a real experience with people. They're free to come up and talk to you, and you interact with the crowd on exactly the same level."
Smithereens frontman Pat DiNizio cites a five-month living room tour that saw him perform more than 70 solo shows in homes and backyards all across the United States as one of his career highlights. He has recently revived the venture. "I do solo acoustic concerts that last nearly three hours and they are 'request-only' sets," says DiNizio. "The audience calls out the songs, and I do my best to entertain them. I am honored and grateful to have become close friends with most of the good people who have sponsored these concerts, and these warm friendships have brought great joy into my life."
Singer/songwriter Francis Dunnery performed his first house concert in Philadelphia in 1996 on a lark when a group of Grateful Dead fans kept joking that he should play in their bedroom. "So I did," says Dunnery. "I have been performing regular house concerts for the last six years. It all began when I put an [advertisement] on my website that said, 'Would anyone like a house concert?' I thought I would get around four or five requests. Within two weeks we had 3,000 requests from all over the world. Obviously, the house concerts were a part of my fate. There seemed to be tremendous energy in it so I just kept going, and I will keep going until it stops."
Jim Kloss, co-founder and programmer of rural Alaskan Web broadcast venture Whole Wheat Radio, has staged more than 65 house concerts for acoustic singer/songwriters in the last six years, generating revenue from in-house attendees and from viewers tuning in online. "We're very happy if we get 40–50 in house with an equal number online," says Kloss. "[It's] hardly enough to fill the restroom of larger venues. But what made it possible for me to comfortably host house concerts and generate enough income to pay musicians a reasonable amount was our Web following."
Kloss offers praise to sites that offer a similar experience such as Kulak's Woodshed in North Hollywood, Calif., and Blue Ridge Concerts in Blue Ridge, Ga. Concerts In Your Home has a roster of more than 700 artists available to perform house concerts, including folk duo Annie And Rod Capps, Chicago-based singer/songwriter Edie Carey, Oklahoma-based folk artist K.C. Clifford, acoustic artist Randall Williams, and Oregon-based Americana artist Beth Wood.
While the future for this touring medium is unknown, for now house concerts are quietly becoming a viable option for many musicians while also offering artistic fulfillment. "The greatest thing about a house concert is that you feel like you have been heard," says Dunnery. "You feel like your songs have been understood. There is no better feeling for an artist than that."
(Bryan Reesman is a New York-based freelance writer.)