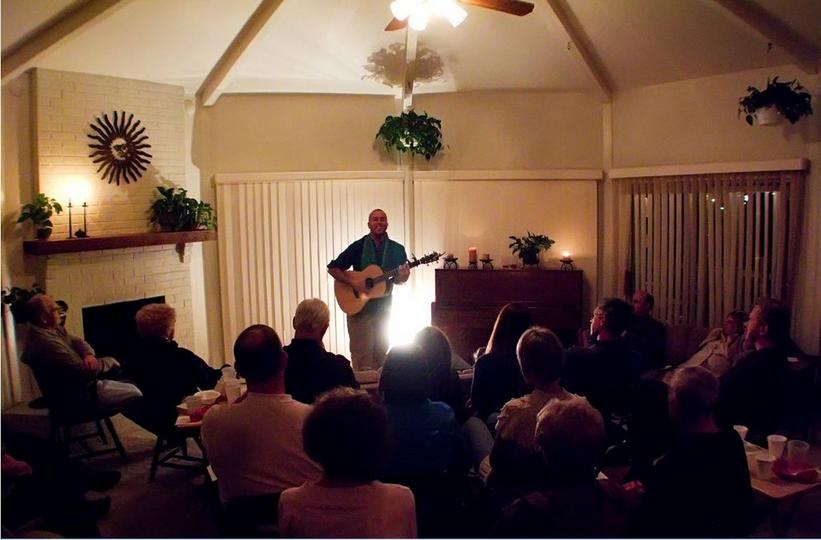 Randall Williams performs at a house concert in St. Louis
Indie artists find viable performance opportunities and artistic fulfillment with house concerts
GRAMMYs
/
Oct 22, 2021 - 11:27 pm
Witnessing a live concert in your living room used to mean watching it on a big television and cranking it through a good sound system. Today, more and more artists are literally gigging in people's homes as a means to establish a more direct audience connection, and for sheer profitability as an alternative to traditional live venues. Instead of the usual trials and tribulations inherent to life on the road, some artists have found house concerts to be a sanctuary.
Darren Bergstein, founder and curator of One Thousand Pulses, an electronic and experimental music series held in his suburban New Jersey home, was inspired to start his program after witnessing an impromptu, in-home performance by former Tangerine Dream member Steve Schroeder many years ago. Cultivating connections from his 25 years as a music journalist, Bergstein has instituted a regular series that has featured experimental artists such as Zombi's Steve Moore, Robert Rich and John Vorus.
"A home concert is not a new, innovative idea," observes Bergstein. "It has been on the folk circuit, the acoustic circuit and even the light jazz circuit for 40 years, but no one's really done it in the electronica realm."
Bergstein's goal is to develop an underground touring circuit manned by like-minded individuals and feels the opportunity exists for artists to tour through such a network and generate reasonable revenue. He notes that the artists and fans benefit from the intimate environment and interactive post-concert experience. "It brings the music back to the masses again in a more personal way than just going to Giants Stadium with 70,000 other people," says Bergstein.
A Canadian venture akin to Bergstein's concept is Home Routes, a consortium of home concert venues across Canada. Created by artistic director Mitch Podolak, the organization helps folk/roots and world music artists create an economically viable touring itinerary.
"I think in the U.S. the house concert idea has become more possible because in the last 35 years the houses have gotten bigger," notes folk artist John Gorka, who plays house concerts infrequently. "There are often big rooms that can accommodate 25 to 75 or even 100 people. It's definitely a way to keep music accessible to people and help keep the musicians running as well."
Gorka says that living room concerts can be more profitable than coffeehouse or club gigs depending upon the size of the room because there is less overhead. Hosts often feed and lodge artists, although the singer/songwriter notes that house concerts can become a little too intimate. "I'm glad to meet people afterwards, but there's something about being in people's houses, they will ask a question that they wouldn't ask in a normal venue," says Gorka.
Austin, Texas-based singer/songwriter Danny Schmidt prefers these intimate settings over bars or clubs, and finds the house concert setting more conducive to active musical listening and album sales.
"When we're playing for 100 people, that's a great night and there just tends to be a higher engagement level with the artists at house concerts," says Schmidt. "There's more personal time to hang out and visit with people. The ratio of crowd to CD sales tends to be really high at house concerts compared with the club gigs because of that engagement."
Tom Gabel, singer for punk band Against Me!, has also enjoyed the intimacy of house concerts. "Often times what I really like about it is that it breaks down the barriers that get manufactured from a stage being there in normal venues," says Gabel. "You have a real experience with people. They're free to come up and talk to you, and you interact with the crowd on exactly the same level."
Smithereens frontman Pat DiNizio cites a five-month living room tour that saw him perform more than 70 solo shows in homes and backyards all across the United States as one of his career highlights. He has recently revived the venture. "I do solo acoustic concerts that last nearly three hours and they are 'request-only' sets," says DiNizio. "The audience calls out the songs, and I do my best to entertain them. I am honored and grateful to have become close friends with most of the good people who have sponsored these concerts, and these warm friendships have brought great joy into my life."
Singer/songwriter Francis Dunnery performed his first house concert in Philadelphia in 1996 on a lark when a group of Grateful Dead fans kept joking that he should play in their bedroom. "So I did," says Dunnery. "I have been performing regular house concerts for the last six years. It all began when I put an [advertisement] on my website that said, 'Would anyone like a house concert?' I thought I would get around four or five requests. Within two weeks we had 3,000 requests from all over the world. Obviously, the house concerts were a part of my fate. There seemed to be tremendous energy in it so I just kept going, and I will keep going until it stops."
Jim Kloss, co-founder and programmer of rural Alaskan Web broadcast venture Whole Wheat Radio, has staged more than 65 house concerts for acoustic singer/songwriters in the last six years, generating revenue from in-house attendees and from viewers tuning in online. "We're very happy if we get 40–50 in house with an equal number online," says Kloss. "[It's] hardly enough to fill the restroom of larger venues. But what made it possible for me to comfortably host house concerts and generate enough income to pay musicians a reasonable amount was our Web following."
Kloss offers praise to sites that offer a similar experience such as Kulak's Woodshed in North Hollywood, Calif., and Blue Ridge Concerts in Blue Ridge, Ga. Concerts In Your Home has a roster of more than 700 artists available to perform house concerts, including folk duo Annie And Rod Capps, Chicago-based singer/songwriter Edie Carey, Oklahoma-based folk artist K.C. Clifford, acoustic artist Randall Williams, and Oregon-based Americana artist Beth Wood.
While the future for this touring medium is unknown, for now house concerts are quietly becoming a viable option for many musicians while also offering artistic fulfillment. "The greatest thing about a house concert is that you feel like you have been heard," says Dunnery. "You feel like your songs have been understood. There is no better feeling for an artist than that."
(Bryan Reesman is a New York-based freelance writer.)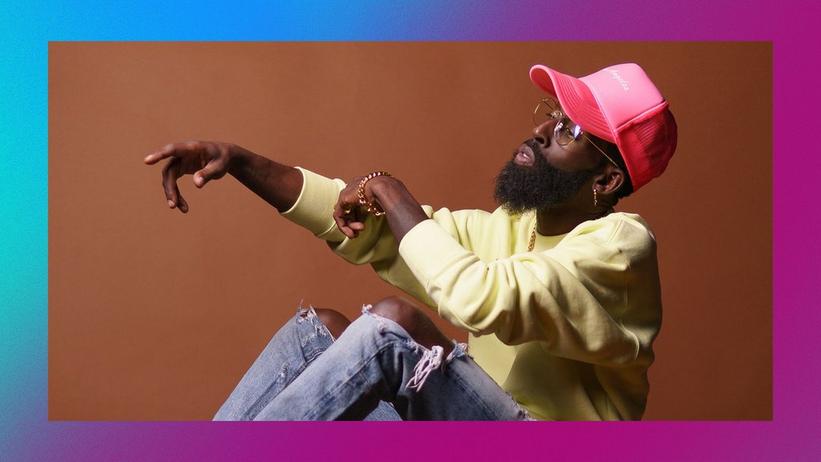 video
Positive Vibes Only: Tye Tribbett Leads A Funk-Filled Onstage Dance Party With An Irrepressible Performance Of "Get Up"
GRAMMY-winning gospel singer Tye Tribbett leads a full band in a danceable, joy-filled performance of "Get Up" in this feel-good live performance video.
GRAMMYs
/
Oct 2, 2022 - 05:30 pm
Tye Tribbett leads a stage full of performers and dancers in this electrifying live performance of "Get Up," the second track from his Tribbett's eighth album to date, All Things New, released last summer.
In this episode of Positive Vibes Only, grab a front-row seat to Tribbett's funky, feel-good show, which celebrates the feel-good joy of faith. 
From start to finish, this performance is an onstage, high-energy dance party. It begins with a dazzling light show, chorus vocals and a crowd of dancers, before a horn section kicks in to crank up the energy even further.
All Things New embraces genre-blending and collaboration for an epic tracklist. Tribbett says it's all about embracing joy — especially in light of the COVID-19 pandemic, when fans and musicians alike were unable to join together.
"I made this album to fight against the feeling of defeat in light of everything we have all been through these past few years," the singer explains. "I wanted to put a joyful experience out in the world to remind not just me but all of us that there is still beauty to the world."
The jubilant mood of the album translates perfectly to the live version of "Get Up," which taps a funky horn section and bass line to round out the proceedings. The crowd, too, is an integral part of the performance — with a number of close-ups of fans filming, dancing and grooving.
Press play on the video above to immerse yourself in the joy of Tribbett's  "Get Up" performance, and keep checking GRAMMY.com every Sunday for more new episodes of Positive Vibes Only.
Positive Vibes Only: Chad Lawson Leads A Trio Of Classical Instruments In His Tranquil Performance Of "Fields Of Forever"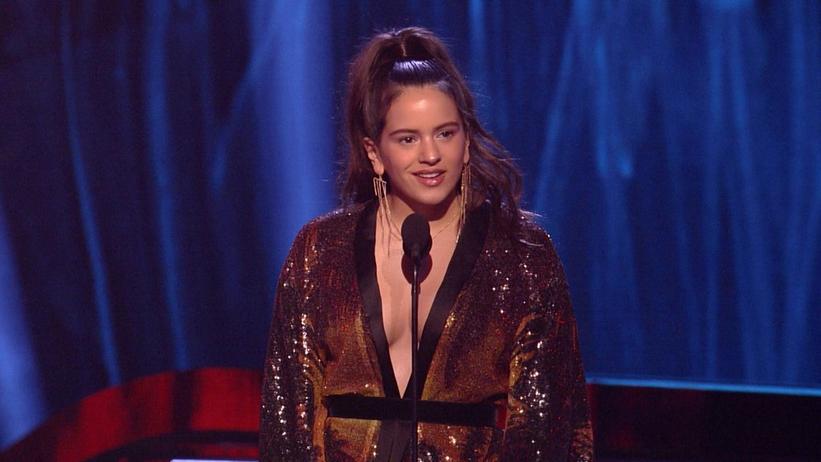 video
GRAMMY Rewind: Rosalía Thanks Female Trailblazers Who Inspired Her As She Accepts A Latin GRAMMY For "Malamente" In 2018
As she stepped onstage to claim her Best Urban/Fusion Performance trophy at the 2018 Latin GRAMMYs, Rosalía thanked the women who came before her in the music industry — and proved that it pays off to go your own way.
GRAMMYs
/
Sep 30, 2022 - 07:49 pm
2018 was a banner year for Rosalía at the Latin GRAMMY Awards: She brought home her first Latin GRAMMYs at the ceremony — both for "Malamente," the first single off of her second album, El Mal Querer.
In this episode of GRAMMY Rewind, let's turn back the clock to that big night in November at the MGM Grand Garden Arena in Las Vegas, and revisit the moment when Rosalía's name was called as the winner of a Latin GRAMMY in the Best Urban/Fusion Performance category. 
The visibly stunned singer gradually made her way to the stage amid audience applause, and when she arrived at the podium, she was quick to thank those who helped her shape her sound.
"This is incredible. It's like a dream," she told the crowd in Spanish. "Thank you for all the love. Thank you for all this recognition."
Of course, fans and family were foremost on the list of people that Rosalía mentioned in her acceptance speech. Still, she also made special mention of some musical acts who've come before her.
Specifically, she wanted to thank the female artists across all genres who have inspired her, over the course of her career, to make music on her own terms. "I take pride in always leading in my projects and making music that represents me — taking risks, and sharing it with the world, and being here," Rosalía reflected.
"I want to thank women like Lauryn Hill, WondaGurl, Björk, Kate Bush, Ali Tamposi, Ninja," she went on to list. "All the women in the industry who've taught me that it can be done, because I'm here because of them. Thank you from the bottom of my heart. For real."
Press play above to watch Rosalía's full acceptance speech, and keep checking back to GRAMMY.com every Friday for more episodes of GRAMMY Rewind.
5 Takeaways From Rosalía's Genre-Spanning New Album Motomami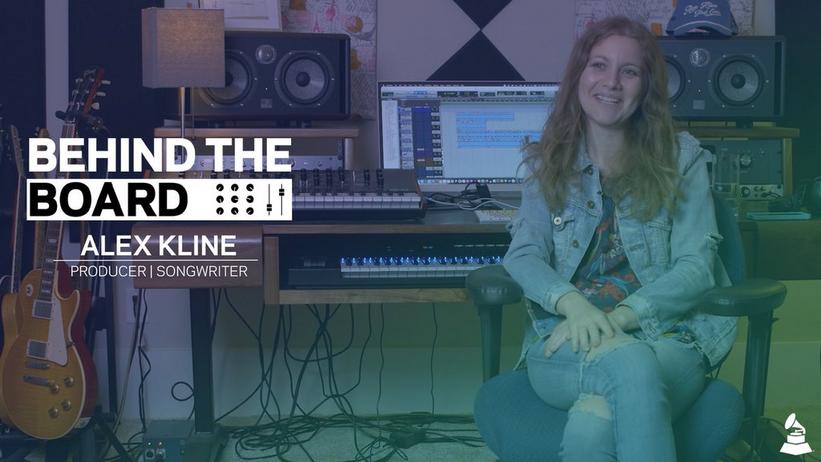 video
Behind The Board: Alex Kline Traces Her Journey To Becoming An In-Demand Nashville Producer And Songwriter
The Nashville-based songwriter and producer explains why working on music behind the scenes with an artist is her "happy place," and discusses the song she produced that made history at country radio.
GRAMMYs
/
Sep 30, 2022 - 06:59 pm
Songwriter and producer Alex Kline is one of the most in-demand collaborators in Nashville's country music industry today — but she says her career actually started when she fell in love with a Red Hot Chili Peppers hit.
"I picked up the guitar when I was 13 because I heard "Under the Bridge" by the Red Hot Chili Peppers, and something about that guitar intro made me wanna learn how to play guitar," Kline explains in the newest interview of Behind the Board.
Those early interests ultimately led her to Nashville, where she began to work with country legends like Ronnie Dunn and Reba McEntire as well as the younger generation of country stars, such as Mitchell Tenpenny, Cassadee Pope and Meghan Patrick. Her work with Tenille Arts, on Arts' single "Somebody Like That," even led her to a historic No. 1 hit on the Mediabase Country Music charts.
"We actually made history as the first all-female team to have a No. 1," Kline continues. "I was the first solo female producer in country music to have a No. 1. Which is kinda crazy, that it took until 2021 to have a female do that."
Kline says she loves the collaborative work that goes into producing an artist's music. "That's really my happy place — developing with an artist and creating the sound, going from the ground all the way up," she explains, adding that she's even learned to embrace compromise over the course of her career.
"I'll usually have an idea of something, and I'll think that a certain song sounds perfect, and then the artist will say, 'Oh, I want...' something that's maybe 10 percent different than what I would hear. And I sometimes don't necessarily at first think that they're right, but then I always usually come around," Kline continues.
"I think it's just good to be open and flexible," she adds with a laugh, "and as a producer, remember that it's the artist's name on the project, and not my name in big letters with my picture on it. So they have to be in love with it."
Press play on the video above to learn more about Kline's journey towards being a Nashville songwriter and producer, and keep checking GRAMMY.com for more episodes of Behind the Board.
Producer & Engineer Leanne Ungar On Recording Leonard Cohen, Accessibility & Her Unique Studio Touch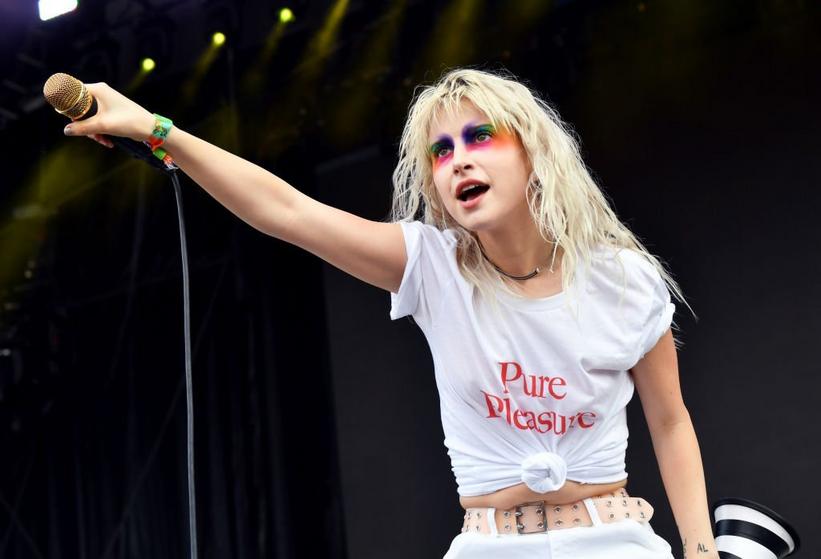 Hayley Williams of Paramore
Photo: C Flanigan / Contributor
list
Everything We Know About Paramore's New Album, 'This Is Why'
Five years after the release of their last studio album, Paramore will embark on an intimate North American tour before dropping their highly anticipated new album, 'This Is Why.' Here's everything to know about the new album, out on Feb. 10, 2023.
GRAMMYs
/
Sep 30, 2022 - 04:30 pm
Paramore fans are used to waiting a while between records, but the five-year break following After Laughter is the longest hiatus the band has taken since its inception.
Luckily, the wait for new music from their faves was coming to an end.
When the group's website and social media profile photos were updated in early September, fans went hunting for clues about new music — and they weren't disappointed. Paramore lead singer Hayley Williams, guitarist Taylor York and drummer Zac Farro had planted a few online Easter eggs to tease the release of "This Is Why" — the title track for their forthcoming album.
Then on Sept. 28, the group surprised fans by announcing the release date for their new album and dropping the single concurrently with a new music video. "It was the very last song we wrote for the album. To be honest, I was so tired of writing lyrics, but Taylor convinced Zac and I both that we should work on this last idea. What came out of it was the title track for the whole album," Williams said in a statement. "It summarizes the plethora of ridiculous emotions, the rollercoaster of being alive in 2022, having survived even just the last three or four years."
Ahead of their upcoming tour — which begins Oct. 2 in California and ends Nov. 19 in Mexico — here are four things to know about Paramore's forthcoming album, This Is Why, out on Feb. 10, 2023. 
The Band Has Been Teasing A Comeback For A While
In an interview with NME in May 2020, Williams hinted at the band's next era. "We've thought about [the next Paramore album]," she said. "Taylor's mentioned things like: 'Oh, God – I miss guitars. We've found ourselves listening to a lot of older music that we grew up being inspired by. T and I liked stuff that was a bit more ratty sounding: The Rapture, Yeah Yeah Yeahs. All three of us loved Queens Of The Stone Age's Songs For The Deaf."
In a July 2022 interview with Music Connection, GRAMMY-winning mixing engineer Manny Marroquin revealed that Paramore's new album, also called P6 by fans, had been completed.The news spread through social media like wildfire. 
Two months later, the group kicked off the promo cycle by posting a range of cryptic dates on their website, causing fans to channel their inner Sherlock to decipher the clues — 9.1 discord, 9.7 blank, 9.9 wr0ng, 9.12 LA, 9.16 - pre-save t.i.w., 9.19 - NY and 9.28. Each clue represented a mini-milestone for the band's new era, including the launch of a new Discord, the wiping of their social media pages to signal a new era, fall concert dates, a preview of the new single, and updated profile pics on social media.   
The Trio Will Return To Their Guitar-Driven Roots
This Is Why will be a return to Paramore's rock roots — but not the emo-pop-rock sound first heard on their 2005 debut, All We Know Is Falling. (On a recent episode of her new podcast "Everything Is Emo," Williams revealed that the indie rock band Bloc Party played an integral role in helping Paramore figure out the energy of their music.)
With Williams' signature belt and a riffy, rocking chorus, "This Is Why" is a bit of a departure from the band's synth-pop and new-wave-infused 2017 effort, After Laughter. The track bears a bit of a resemblance to some of the '80s pop heard on Williams' solo album, Petals for Armor," leaving fans to speculate about whether or not the group will ever return to the rock sound that brought them initial success. However, Paramore has gone on record about their intentions to get back to guitar-driven music, so other songs on P6 may lean further into their rock roots than the title track.
But change can be good, and experimenting with new sounds can yield magic — as was the case with After Laughter, which itself was a sonic departure from their eclectic 2013 self-titled album. According to Williams, experimentation is essential because it keeps things fresh. The singer told Rolling Stone that the band was pleasantly surprised by the album's production process and had no plans to make a carbon copy of their previous material.
"The music we were first excited by wasn't exactly the kind of music we went on to make," Williams said. "Our output has always been all over the place, and with this project, it's not that different. We're still in the thick of it, but some things have remained consistent from the start. 1) More emphasis back on the guitar, and 2) Zac should go as Animal as he wants with drum takes."
The Group Collaborated With Their Longtime Producer And The Mixing Engineer Behind Rihanna's "Work"
For P6, Paramore reunited with longtime collaborator Carlos De la Garza, who previously produced the band's self-titled album, After Laughter, and Williams' solo projects Petals for Armor and Flowers For Vases/descansos. (Fun fact: De la Garza is the father of two members of the LA-based punk band the Linda Lindas — guitarist Lucia and drummer Mila — who count Paramore among their music heroes.)
To ensure a cohesive sonic experience for This Is Why, the trio recruited 11-time GRAMMY-winning mixer Manny Marroquin, who has mixed tracks for Kanye West, Lizzo, Rihanna, Megan Thee Stallion, and Selena Gomez, among others. 
The Group May Play New Music On Their Fall Concert Tour