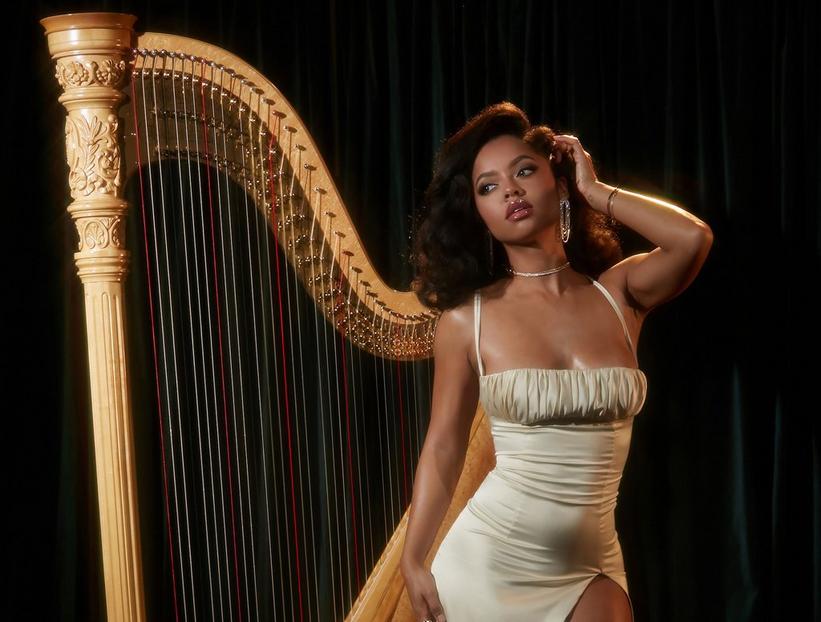 Madison Calley
Photo: Chris Paul Thompson
interview
R&B, Hip-Hop And…Harp?: How Madison Calley Is Changing The Way Classical Music Is Viewed And Heard
Harpist Madison Calley is using her genre-melding sound to bring more diverse audiences to classical music. On the heels of her debut album — appropriately titled 'Ethereal' — Calley details how she's making the genre more inclusive.
GRAMMYs
/
Apr 21, 2022 - 02:02 pm
For centuries, classical music has provided global audiences with striking, complex and familiar sounds. While the broad classical music canon has been long established, there's room for the genre to grow in the modern era — and harpist Madison Calley is helping lead the charge.
Calley has created spaces for those who may be considered too unique to be classical. Her innovative sound blends the harp with fusions of R&B, hip-hop, jazz, and blues.
She's also changing the traditional image of classical musicians. As a young Black woman, Calley is part of a rare group within the classical community: a 2014 study by the League of American Orchestras reported that less than 2% of musicians in American orchestras are Black.
In an arena where Calley has stood out from the masses, she's clearly making an impact. Along with garnering a large social presence (she has 534K followers on Instagram alone), she has been invited to play at some of the world's most renowned stages, including the GRAMMYs and the Oscars — the latter alongside Beyoncé. But with her debut album, Ethereal, just arriving this past December, Calley is only getting started.
In a conversation with GRAMMY.com, Calley shares more about her journey, how it has mobilized other diverse musicians to join the classical community, and what she believes the future may hold for the genre.
What inspired you to begin playing the harp?
My love for the harp began when I was 4 years old. There was a harpist who would perform at a restaurant my family used to frequent after church. She would perform Disney songs, and that absolutely entranced me, as a little girl who was completely obsessed with Disney Princesses.
You've grown a loyal following that has enjoyed your unique spin on playing the harp. What has your audience taught you?
My growing audience has definitely aided in encouraging me to fully lean in and embrace my uniqueness. They taught me to focus on my own calling instead of trying to keep up with trends or whatever is "popular." Illuminating your own light and frequency has a way of lighting a path for others to see and believe in their own callings.
The harp is making a major comeback with profound shifts in the industry. How have you found these shifts correlate to the harp's comeback? And how is this reflected in your experience playing the instrument?
There is something very special about live classical instruments that cannot be replicated digitally. It's so fun and innovative to record live instruments in unconventional ways with modern-day technology.
There is also something very impactful about the shift that is creating pathways into various cultures and styles of music. [That] is allowing diverse populations to create their own sounds with classical instruments, by combining sounds that I feel will ultimately lead us into new ways of imagining music for the future.
You often talk about becoming one with your harp. Can you share more on what this has meant to you, and how it has impacted your music?
Since I first began harp lessons, I was only taught how to play classical music. However, as beautiful as classical music is, it was never the type of music I would listen to growing up. I was always into R&B, hip-hop, jazz, and blues.
Additionally, I was always the only Black student amongst my peers within the harp community and felt very outcasted by them. I truly struggled to find a sense of belonging.
It wasn't until after moving to LA upon graduating college that I had an opportunity to play R&B on my harp, for a performance with Willow Smith. The discovery of how incredible and fun it was to play music I loved on this classical instrument opened the floodgates to me finding my voice.
If you had to name a few guiding principles that supported you in carving out your own path, what would they be?
Never be afraid to put yourself and/or your art out there as a gift for the world to see. You never know who you will inspire.
Never be afraid to explore. It took one path leading to another, and another, and another for me to land where I am today.
We are all individual, unrepeatable miracles on this planet. We all have a unique calling and we are only given one life to explore and fulfill it.
Remain grounded, kind, and in a mindset of abundance. Generating good karma around you is necessary if you want to achieve great blessings.
Trust the universe — especially when it feels scary.
Many musicians point out that the industry today demands an entrepreneurial approach. What has this looked like for you, and how have you balanced the business and the art?
I feel that my art and my business are one and the same. I began building my social platforms by promoting my fashion and entrepreneurship blog and swimwear brand.
As my following grew, I started incorporating my harp videos in a way that was still appealing and on-brand to my viewers. And that came with a message that was much bigger than just good music.
I wanted to use my platform to creatively reshape the way people think of classical musicians. I wanted to expose more people to the harp, and the beauty of live classical instrumentation, while also breaking barriers that restrict creativity and individualism within the classical field.
What's your musical superpower?
My musical superpower has been to allow my love for my instrument to transcend time and space through performance, which provides sounds that impact and heal my listeners.
In December, you released your first album, Ethereal, with Apple Music's label Platoon. How was that experience?
Producing my first album was a huge honor. I worked with a phenomenal team that gave me the freedom I needed to create. I thoroughly enjoyed the entire process of creating a cohesive body of work that embodied my music skill-sets, emotions, and creativity.
As an artist, I had to create a space to block out the noise of what people might think in order to hear what I wanted to convey. I feel this project beautifully represents that journey.
What has been one of your most moving performance experiences?
My most moving performance to date has been performing "Be Alive" with Beyoncé at the 2022 Oscars. It's incredible enough to perform with one of my all-time biggest musical inspirations, but to also perform such a powerful song for one of the biggest nights in broadcast television was incredibly moving.
The lyrics of the song speak directly to how I've been feeling as an artist lately: "The path was never paved with gold/ We worked and built this on our own/ And, and can't nobody knock it if they tried/ This is hustle personified/ Look how we've been fighting to stay alive/ So when we win we will have pride/ Do you know how much we have cried?/ How hard we had to fight?"
What is your regimen for balancing your career and your personal life?
For me, I have always placed great emphasis on striking a balance between my mind, body, and soul. Discipline in all of these areas has enhanced both my performances and quality of life. I strive to live a full and balanced life.
What has fueled your passion for making an impact playing the harp? How do you aim to sow seeds for up-and-coming musicians?
Something that fueled my passion for making an impact playing the harp was some of the initial feedback I began to receive from my [social media] viewers. Many were letting me know that this was the first time they've even seen a harp being played outside of cartoons. Others were informing me how deeply my music impacted their spirits and brought them peace during very turbulent times in their personal lives.
I've also received many messages from other musicians relating to my story about not fitting in with their peers, or being rejected by the classical community for their uniqueness. The world desperately needs more light-bearers, and I feel that by continuing to shine my own light, I am illuminating a pathway for others to do the same without fear of judgment or failure.
Everything we say and do has the power to make change. I want the things I do to change the world [for the] better. We all play a part in this whether big or small.
How do you believe the music industry can continue to preserve live classical instruments during digital times?
I think that the music industry is ever-changing and evolving. While it is imperative for the music industry to continue to provide spaces to innovatively incorporate classical instruments, the industry alone cannot preserve live classical instrumentation. It is a dance between the industry, musicians, and consumers. Collectively, we can achieve preservation.
Meet Sherri Chung, The Score Composer Shaking Up The Television Academy