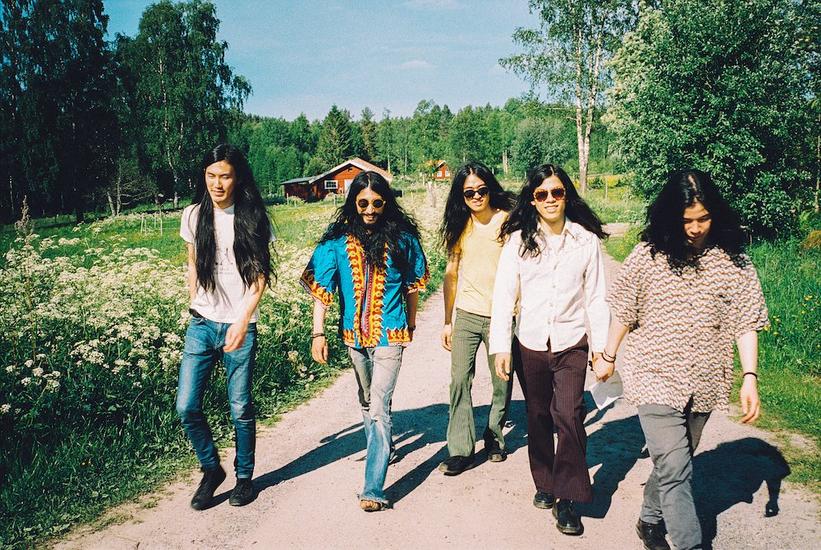 interview
Behind The Smoke & Mirrors With Japanese Psych-Rock Legends Kikagaku Moyo
"It is absolutely possible for music to cross borders, language barriers and to be created imperfectly," says Kikagaku Moyo guitarist Tomo Katsurada ahead of the band's fifth album, out May 6, and final tour.
GRAMMYs
/
May 3, 2022 - 07:52 pm
Ten years ago, the founding members of Japanese psych-rock band Kikagaku Moyo began jamming at a rotary in front of the Takadanobaba train station in the Shinjuku area of Tokyo. Surrounded by skateboarders, artists and students from the nearby college, Tomo Katsurada and Go Kurosawa led rotating lineups of musician friends through late-night, open-ended musical explorations that combined '70s psychedelic rock and traditional folk music with classical Indian music and Krautrock.
Once Tomo and Go solidified the band lineup — drums, bass, two guitars, sitar — they began recording songs and playing shows around Tokyo. They hosted their own psychedelic rock festivals around Tokyo, got invited to play Austin Psych Fest and spent the next 10 years playing roughly 100 shows a year on tours of Australia, Europe, Japan, the UK and the US. 
Kikagaku Moyo have released four full-length albums and several EPs; their most popular songs on Spotify are over seven minutes long and have more than 6 million listens. Yet these are not simple pop songs with a quick payoff; Kikagaku Moyo takes time to expand, contract and expand beyond where it seemed the song was likely to go. 
"Dripping Sun," from their 2018 album Masana Temples is classic Kikagaku Moyo: it begins with a pulsing bass line and sparse wah guitar, ramps up with driving drums and guitar melody, then slows down and quiets down with a hushed vocal, segues into a bouncing chorus, then launches into a full-on psychedelic rock jam, only to quiet down one last time.  Fan favorites such as "Green Sugar," "Smoke & Mirrors" and "Tree Smoke" are heavily improvised, evolving each time the band plays them in concert. 
Over time, the band have developed a cult-like status, due in part to their DIY approach. Kikagaku Moyo write and record their own music, and release it on their own label, Guruguru Brain — evening touring without a stage crew until just this year. 
They've played dive bars and proper music venues, but in recent years have performed at unique venues like San Francisco's Castro Theater, a former church in Amsterdam called the Paradiso, and have played Switzerland's mountaintop Palp Festival. Kikagaku Moyo have also collaborated with fashion designers Gucci and Issey Miyake, adding their unique sonic style to fashion shows.
On May 6, Kikagaku Moyo will release their final fifth album and will do one final year-long tour before going on indefinite hiatus. GRAMMY.com recently spoke with guitarist Tomo Katsurada over Zoom from his home in Amsterdam about the band's beginnings, their 10-year journey, and their decision to take a break from the band.
How is your fifth album different from your previous albums?
In all the previous albums, our impressions came from touring experiences, like hanging out with bands, going to see a lot of cities and eating food and watching cinema and listening to music. Each day was a different city. It was a very trippy experience. 
But this time, because of Covid, we didn't play songs together very much. We made songs remotely, imagining how we would play this song together. Everything went into the concept of imagining, like an imaginary playground in our heads, because we couldn't have so much time together. We worried if the album sounded like ourselves because it was so much inside our imagination, but it does sound very much like us. 
Why did Kikagaku Moyo decide to go on hiatus after this upcoming world tour?
We truly felt that we achieved all that we could as five members. We have always been committed to creating work that stands the test of time and music that we are wholeheartedly proud of. Ultimately, we wanted to complete our journey as a group on our own terms and on our highest note possible. Along with the support of our fans, to this we are truly grateful. 
I would love to leave behind space within the psychedelic music scene for younger generations to take over. It is absolutely possible for music to cross borders, language barriers and to be created imperfectly…..I believe in the cycle of inspiration and am very much looking forward to seeing how it manifests within our audience in the future. 
Let's go back to the beginning. Why did you and Go decide to start a band together? What were you doing before you created Kikagaku Moyo?
I played cello from ages 3-13, practicing every day. Then my older sister started playing guitar in a punk band and that really influenced me. I got into skateboarding and making skate videos. I played guitar in a pop punk band in high school. 
I started hanging out with Go after he came back from studying in the US. We watched a lot of movies together and I made posters for his band. We started making music when I came back from going to college in Portland, Oregon.
How did that time in the US affect you?
I got into psychedelic music by going to these great music stores around 2010. I couldn't even speak English very well when I got there. 
I was relieved to be there, to be abroad. Japan has such a big collectivist mindset around harmonized thought, which is very different to the American individual mindset. I really felt that when I was 20; it gave me freedom. Americans were talking about themselves all the time, and I was like, wow I'm allowed to do that?
What drew you to psychedelic rock music?
When me and Go started hanging out, we talked about psychedelic things from the '60s and '70s, like books and bands and movies. The most beautiful black and white film I've ever watched is Eros and Massacre, a very trippy three-hour Japanese film I've watched at least four times. 
In Japan, it's only master musicians, like music done only one way, the proper way. But I started meeting young artists making music, filmmakers making music, and skateboarders, and everyone was combining their influences together, and that was what we really wanted to do. 
What were those early band rehearsals like? 
We got a space to play from midnight to 5 am. Sometimes it was just me and Go. We would ask people to jam with us during six-hour sessions every two weeks, with five or six people. Friends would come in and out. We were not writing songs yet. I didn't know how to write music. I didn't know how to play guitar properly but I didn't care, I could just play with feeling. I didn't care about music theory. I didn't even know the 6th string was an E string. I would just listen and play. It was really loose. 
What was it like playing Tokyo when you first started out as Kikagaku Moyo?
We started a monthly psychedelic music event called Tokyo Psych Fest. Psych music is filled with so many influences that combine together, and we wanted to meet all the people in Tokyo who like the things we like. We started our record label to put out compilations from the festival. We started releasing LPs and cassettes, it was so much fun. We really wanted to play the Austin Psych Fest, and got offered to play there after a year of doing Tokyo Psych Fest. Then everything changed, and soon we got invited to play in Europe and the UK. 
What were those early touring experiences like for the band?
Around 2013 or so, some members were still in school or had jobs. We would try to get a week off work or school, but had limited time to tour, so it went slowly. We worked and started saving money a year in advance to get Visas to tour the US. 
At the beginning, we had no record label, so we were pretty much DIY. We asked bands we liked in the US to gig with us, like Moon Duo from San Francisco and Eternal Tapestry in Portland. We helped Moon Duo book their Japanese tour, and they taught us so many things and said we should tour in the US; then we got more confidence to try it.
There's a spiritual, meditative quality to your shows because they ebb and flow between quiet moments and aggressive, loud ones. How does the band approach live performances?  
We want to enjoy ourselves when we play music, and for that to happen we need space for improvisation. We don't play the same set at every show; no show is the same. I make the set list different every night — I think about my vibe, and bandmates' vibes, and I try to make a storyline, kind of like a DJ mix of our songs that I can enjoy from all of our albums. Then we look at it and do it. It's always challenging because we don't decide anything in advance.
This is the end of an era for you and your bandmates. What's next?
I really have no idea yet, I just know we want time to think. Each member will probably work on new projects. I took a guitar lesson for the first time this year. And I'm recording a radio show on Worldwide FM called the Bootleg Bunny show, where I play soul, psychedelic, and jazz 7-inch records and I love it.
Songbook: A Guide To Mastodon's Themes And Progressive Impulses, From Metal Sludge To Hard Rock And Psychedelia