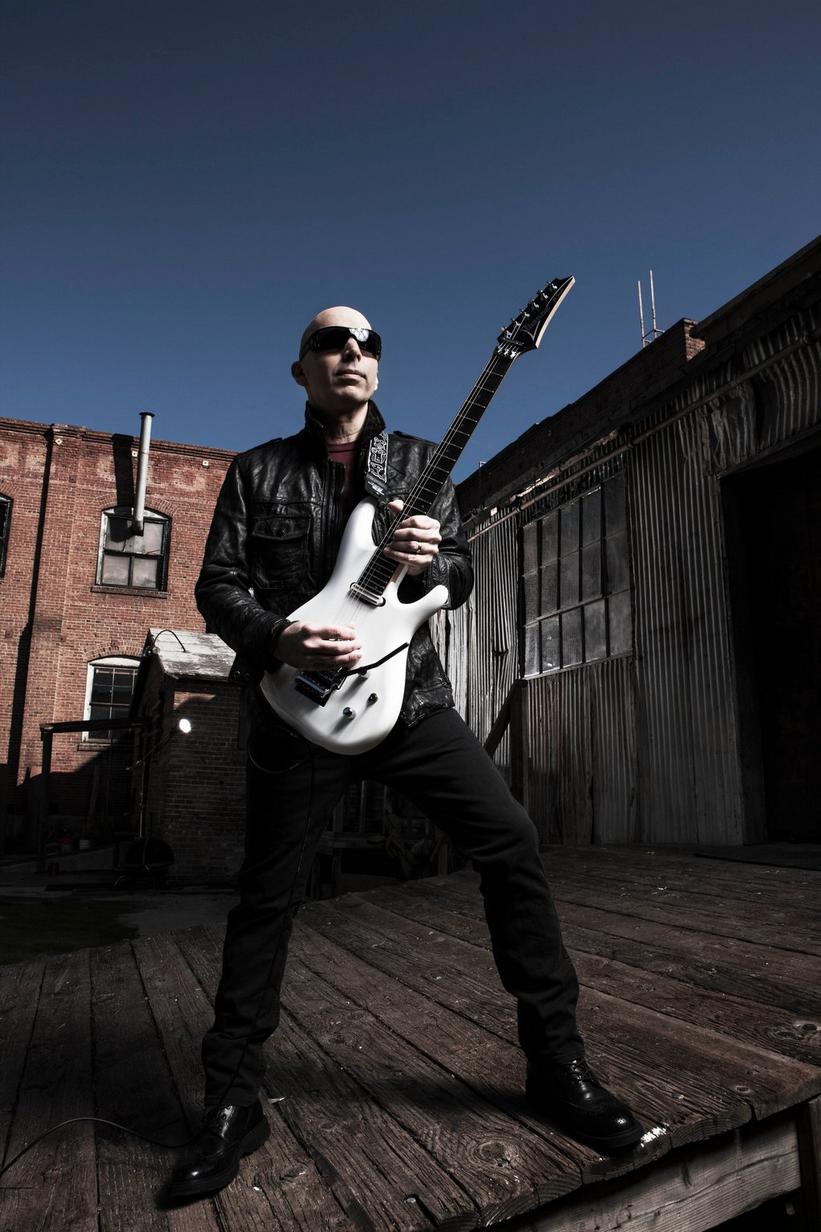 news
Joe Satriani: GRAMMY.com First Listen
GRAMMY-nominated guitarist debuts techno mix of "Until We Say Goodbye" from career-spanning box set, plus an exclusive interview
GRAMMYs
/
Dec 3, 2014 - 05:06 am
GRAMMY-nominated guitar virtuoso Joe Satriani is set to release a career-spanning box set, The Complete Studio Recordings, on April 22. Ahead of the set's release, GRAMMY.com has your exclusive first listen to the remastered techno mix of the GRAMMY-nominated ballad "Until We Say Goodbye." The original version of the track was featured on 2000's Engines Of Creation.
The Complete Studio Recordings contains remastered versions of each of Satriani's studio albums — from 1986's Not Of This Earth to 2013's Unstoppable Momentum — plus a compilation disc titled Additional Creations And Bonus Tracks. The set is also available via a "chrome dome" limited edition USB version, featuring all studio recordings in high-resolution audio. Satriani, a 15-time GRAMMY nominee, will couple the box set with the release of Strange Beautiful Music: A Musical Memoir. Co-authored with veteran music writer Jake Brown, the book offers deep insight into the making of each studio album and provides a snapshot of the evolution of Satriani's creative process.
In an exclusive interview with GRAMMY.com, Satriani discussed reflecting on his career with the box set and book, teaching guitarists such as GRAMMY winners Steve Vai and Kirk Hammett, and the status of his side project, Chickenfoot, among other topics.
Working on your book and remastering your catalog certainly allowed you to go back into your past quite a bit.
When Jake had first approached me about doing the book, I thought, "I'm way too young to put out a book." But he convinced me that I was completely wrong and that I should really focus on the recorded music, the way that I wrote it, and the method behind my creativity, my madness … and include all the technical stuff that the fans really want to know about and maybe the journalistic community has been shying away from because their editors are telling them [to]. We figured out a way to do it, and that was my excuse to say yes.
The last two years have definitely been about the art of carefully reflecting or, with reckless abandon, going deep into my past and trying to uncover the reasons why I recorded this or wrote that. That's been my life in constructing the book and overseeing the remastering of the catalog. It's been a very unusual way to go about my day-to-day business as a musician because most of the time I'm always pushing forward. I don't reflect back, and I'm looking to put myself in a new creative position and try something different. But instead I had to continually work on what I did in the past, which is pretty unusual. The most life-changing part of the process was that reflection, the constant reflection. When I got through with it, I finally realized I was finished and could really walk through that new door that's ahead of me. It was pretty liberating once it was done, but it was pretty heavy while I was going through it.
Your friendship with Steve Vai goes back to your teen years. You taught him as well as Metallica's Kirk Hammett, Testament's Alex Skolnick, and other well-known guitarists. Have you followed your old students to see what they're doing? Do you think that they have taken your lessons to heart?
When I hear Charlie Hunter or Alex or Kirk playing in their different bands, I have flashes of what they were like when they were 17 or 18 years old. I knew Charlie when he was 8 or 10. I flash back to those memories of when I saw the personalities just beginning to come out on their instruments and can recognize that today, so I have a special perspective on it. I don't really hear my lessons or [say], "That's my lick" or "I taught them that." They are all good enough musicians where they understood the key point of the lesson, which was, "I'm going to show you something, now you go and do something with it that represents you, something that you've reshaped into the sound that you need for this particular song or band."
Some of the guys started one way and turned into something else. Charlie Hunter is a good example of a young kid who was into rockabilly [and] not into metal like the rest of his high school friends, then he turned into this jazz monster. Kirk was in Exodus at the time and very quickly got the gig playing with Metallica when Dave Mustaine was asked to leave. That was an extremely exciting time. He was still a pretty young player, so he had so much work that he had to do and so much stuff he had to figure out. Although I don't think they knew it, they were on the cutting edge of creating a new style of music. A lot of people don't know it, but it was hard for them to get respect and to get gigs around town, but I knew it was the next big wave because all of my students loved that kind of music. It was a very interesting time to be in my teaching chair and watch kids Kirk's age and younger creating a new style of music that was going to take over the world. It was very exciting.
The whole concept of narrowcasting that emerged by the mid-'90s was very dangerous for rock radio. Only certain artists were being played ad nauseam. And there were many one-hit wonders and not enough artist development. Your generation was much more album-oriented. It was about the whole package.
You know, when I look back on it, I realized how difficult it was, how time-consuming and how much work we all put into recording [for] radio. Once we were relieved of that — that's the positive way of looking at it — suddenly there was all this time and energy that could be focused on the fans and on creating new music and forms of promotion that more suited what it was that I was doing. The Internet, although it is part curse, was an opening of a new technology that allowed me to truly go global and talk directly to the fans without having to go through hoops for other forms of radio, which was constant. I would go to all these countries and do all of these radio shows. Who knows what they wanted me to do, but it was always difficult. But now it's not. In other words, when I release a track on my site or talk about the book on my splash page now, kids in Mumbai are looking at this as well as in Santiago, Quebec City, Paris, and Amsterdam. They're all getting it at the exact same time, and I'm most likely going to be there within 12 to 18 months. That really was impossible to do back in '88 or '90, it really was. There was no Internet that allowed me to talk directly to the fans. I had to go through this gauntlet of radio and MTV, which never really gave me a free pass. So I benefited greatly from that. As the regular avenues of promotion started to close down a little bit for my style of music, what opened was far better.
Changing topics, is there any possibility of a new Chickenfoot album coming out soon?
No. I think the last six months and probably the next 12 will be the most difficult to try to get the guys in the band to get together. I was really hoping for January or February [of this year]. After the first half of the Unstoppable [Momentum] tour finished up in late October, I left six months open to see if we could record something, but it didn't happen. I'm not sure when it's going to happen.
(Bryan Reesman is a New York-based freelance writer.)
news
12 Musicians Who Rocked The Classroom
GRAMMYs
/
Dec 3, 2014 - 04:22 am
While Alice Cooper sang about the glory days of school being "out forever," and Roger Waters convinced hoards of youths that "we don't need no education," some musicians believe that, as the Jackson 5 sang, "ABC, as easy as 1, 2, 3." In fact, some have taken their love for education literally to the classroom.
In honor of National Teacher Day on May 6, below we present a list of some artists who have lent their time, talent and patience to help encourage future generations of all kinds to stay in school because. So, check out this list and then take some time to #ThankaTeacher.
9th Wonder
After teaching stints at North Carolina Central University and Duke University, rapper/producer Patrick Douthit, aka 9th Wonder, was accepted as a Harvard University fellow where he teaches The Standards of Hip-Hop course and conducts research on hip-hop's history, culture and role in academia. 9th Wonder's journey was documented in the 2013 film The Hip-Hop Fellow.
Sheryl Crow
Before she was part of the Tuesday night music club, GRAMMY winner Crow taught music at Kellison Elementary School in Baldwin, Mo. After two years in the classroom, she cashed in her pension and moved to California.
Roberta Flack
GRAMMY winner Flack once worked as a high school English and music teacher in Farmville, N.C., where she softly introduced her students to the wonders of Bach, Mozart and Handel.
Art Garfunkel
Before Simon And Garfunkel entered the big leagues with their massive GRAMMY-winning hit "Bridge Over Troubled Water," Garfunkel earned a master's degree in mathematics at Columbia College. Later, he briefly taught math at Litchfield Preparatory School in Connecticut during a Simon And Garfunkel hiatus.
Greg Graffin
Known as @DoctorGraffin on Twitter, Graffin is a punk professor by day and lead singer of Bad Religion by night. His education credits include teaching Life Science 1 at his alumnus, the University of California Los Angeles.
J-Live
Turns out Jean-Jacques Cadet (aka J-Live) is no space cadet. The New York rapper, who has worked with Prince Paul and DJ Premier, was an eighth grade teacher in Brunswick, N.Y.
Melissa Manchester
A GRAMMY-winning songstress, Manchester was once selected to participate in a songwriting workshop taught by fellow GRAMMY winner Paul Simon at New York University's Tisch School of the Arts. She now serves as an adjunct professor at the University of Southern California Thornton School of Music.
Peaches
Before she was helping craft songs for GRAMMY winners such as Pink and Christina Aguilera, Canadian dance/electronica artist Peaches brought her "Teaches of Peaches" curriculum to the music and drama departments at Associated Hebrew Schools of Toronto where students called her Ms. Merrill Beth Nisker.
Joe Satriani
Arguably equally as impressive as his 15 career GRAMMY nominations is Satriani's gift for teaching others how to play guitar. Satriani's list of past students include GRAMMY winner Steve Vai, GRAMMY-winning Metallica axeman Kirk Hammett and Larry LaLonde, guitarist for GRAMMY-nominated hard rock act Primus.
Gene Simmons
Before he was spitting blood and breaking fire onstage, the Kiss bassist taught sixth grade in Spanish Harlem. Legend has it his education stint ended after he chose Spider-Man comic books over Shakespeare for learning material.
Sting
Before joining the Police, Sting taught English music and soccer at St. Paul's Roman Catholic First School in the UK. Rumor has it Sting was strict in the classroom, and had several female students wrapped around his finger. (See "Don't Stand So Close To Me.")
Wyclef Jean
In 2010 this GRAMMY-winning Fugees member served as a visiting fellow for the Brown University Africana studies department's to participate in the Haitian initiative, which included lectures, faculty conversations and classes.
(The Recording Academy and GRAMMY Foundation will present the second annual Music Educator Award during GRAMMY Week in February 2015. Learn more about the award at www.grammyintheschools.com.)
news
Music That Makes You Go Mmmm
Need some help with your Thanksgiving menu planning? Here are some artists and songs to whet your Thanksgiving appetite
GRAMMYs
/
Dec 3, 2014 - 05:06 am
Thanksgiving is upon us and if there's one thing that's filling the minds of Americans everywhere, it's food. And what pairs better with delicious food than, well, delicious music? Whether you're looking forward to smashing pumpkins for warm pumpkin pie, adding some jelly to your roll or making sauce out of cranberries, we have music that will satisfy your appetite. Or at least give you some new ideas for your Thanksgiving menu.

In honor of the biggest eating holiday of the year, we present you a tasty selection of appetizing artists, plus a side dish of edible songs.

Appetizing Artists

Main Dishes:
Chickenfoot
Lamb Of God
Paul McCartney And Wings
Meat Loaf
Meat Puppets
Supporting Sides:
Black Eyed Peas
Bowling For Soup
Korn
The Cranberries
Salt-N-Pepa
Spice Girls
Red Hot Chili Peppers
Smashing Pumpkins
Jelly Roll Morton
Encore Desserts:
Fiona Apple
Blind Melon
Cake
Cream
Humble Pie
Moby Grape

Seasoned Songs
Main Dishes:
"All That Meat And No Potatoes," Fats Waller
"Fried Chicken," Nas Featuring Busta Rhymes
"Jambalaya (On The Bayou)," Hank Williams
"Hot Tamales," Santana
"Ham 'N' Eggs," A Tribe Called Quest
"Soul Food," Goodie Mob
"Pork Chop Sandwich," ZZ Top
Supporting Sides:
"Green Onions," Booker T. & The MG's
"Sixteen Saltines," Jack White
"The Honey Roll," Elton John
"Cornflake Girl," Tori Amos
"Diced Pineapples," Rick Ross
"Peaches," The Presidents Of The United States Of America
"Gray (For My Mashed Potatoes)," Dee Dee Sharp
Encore Desserts:
"American Pie," Don McLean
"Birthday Cake," Rihanna Featuring Chris Brown
"Cherry Pie," Warrant
"Cinnamon Girl," Neil Young
"Orange Crush," R.E.M.
"Raspberry Beret," Prince
"Pour Some Sugar On Me," Def Leppard
"Ice Cream Man," Van Halen

What's your favorite recipe for a mouthwatering artist or song? Let us know by commenting below.
feature
Lady Gaga, Bon Jovi, Sevendust offer fans VIP experiences
Artist meet and greets and rock camps offer fans VIP opportunities at a price
GRAMMYs
/
May 15, 2017 - 01:36 pm
Rewind a decade or two, and the opportunity for a fan to meet their favorite musician or artist seemed to be but a passing daydream pondered while reading an album's liner notes.
The dream was further romanticized by reading music magazines, listening to the radio or watching MTV, all while waiting for that special summer concert date at the local amphitheater. But in order to actually meet their musical idol, one would likely have to resort to either tomfoolery or rely on happenstance — waiting at baggage claim at the local airport, sneaking in the windows of hotel rooms, hanging out next to the band tour bus, or asking the cousin of a friend of the sound engineer to go backstage.
In recent years, such opportunities have become a reality with everyone from Lady Gaga to Clay Walker offering their fans officially sanctioned VIP experiences. But they come with a price. Ranging anywhere from $50 to more than $1,000, these packages are not only attractive to fans but are helping musicians increase their revenue in an era of dwindling album sales.
What's included? Lady Gaga's $400 package on her 2009 tour included a premium reserved seat within the first two rows, a meet and greet with photo opportunity, and a limited-edition deluxe CD. Sheryl Crow's VIP experience comes with front-row concert tickets, merchandise and a photo for $335. The Shakira meet-and-greet experience includes one premium ticket in the first five rows, a chance to meet the Latin songstress and take a group photograph. Bon Jovi's current VIP experience runs a lofty $1,750 and includes a front-row seat, a photo op with Jon Bon Jovi's mic stand and maracas, and maybe the chance to press flesh with Mr. Bon Jovi himself.
When Joe Satriani's manager Mick Brigden approached the guitarist about the concept of a meet and greet, he could not fathom why anyone would "want to spend an hour with me before a show." But they developed a concept of a pre-paid ticket package for up to 60 people involving an intimate question-and-answer session, merchandise and autograph session.
Encouraged by the initial positive reaction, they continued offering them during Satriani's solo tours. "People get to walk in and hang around and pick up the instruments and take pictures," explains Satriani. "As long as they don't squeeze my left hand I'm okay."
"We really want to have the chance to meet fans, which we would do regardless, but putting these packages together is a way to support your band for the loss that you incur on the album sales," says Sevendust guitarist Clint Lowery of their VIP offering. "It's a good way to encourage people to buy the CD, and then we actually get to thank them for buying it."
Sevendust charged approximately $50 in the past for a package including "sticks, tixs, [photos], and maybe a shirt. It was a pretty hefty package."
Indie artists are also benefitting from the concept, enabling them to establish a stronger connection with their fan base. When underground Goth artist Emilie Autumn did her first U.S. tour last year, she offered a $50 VIP package that included her poetry book The Asylum For Wayward Victorian Girls, the chance to see her read from it and the opportunity to meet her and take photos.
"Everyone talks about how MySpace and Facebook bring fans a lot closer to artists because it gets rid of that buffer between them," says Autumn's publicist Rey Roldan. "This [experience] brings them even closer because now they have the face time. Granted they have to pay for it, but it still has that same effect."
What could possibly be better than meeting your favorite artist? How about the opportunity to actually jam with them?
That's where Rock 'n' Roll Fantasy Camp comes in. Founded in 1997 by former sports agent David Fishof, who also reunited the Monkees in 1986 and produced and co-created Ringo Starr's All Starr Band tours, the popular event has been held in New York and Los Angeles. Currently running in London through May 30, attendees spend anywhere from $7,000 to $10,000 for the five-day "rock 'n' roll boot camp," which includes master classes, a professional recording session, jamming with famous rock musicians, and the chance to perform at a name venue.
For singer/actress Lisa Margaroli, her L.A. experience last year was a "Sunset Strip dream" that included recording at Capitol Records with legendary producer/engineer Eddie Kramer, singing with Aerosmith's Steven Tyler and performing at the Whiskey A Go-Go.
Margaroli found the experience to be worth the money.
"[I] decided to change my whole life and move to L.A.," she says. "I took six months to save money, then moved out here to try to live the rock and roll dream.
"I ended up getting involved with rock camp as an employee [part-time], so for the last two rock camps I was one of the band managers, which is basically an assistant for four of the bands. As a result, I now have relationships with the counselors."
Fishof asserts that Rock 'n' Roll Fantasy Camp is as beneficial to the stars as the people they are mentoring. Past participants range from Tyler to the Who's Roger Daltrey, Kiss' Paul Stanley, Journey's Neal Schon, Slash, and Pink Floyd's Nick Mason.
"They've been able to meet a whole new breed of people, people who don't hang out at concerts or backstage," Fishof says. "They've been able to meet people who are presidents of companies and Iraqi war veterans. They have been able to jam with a woman who survived breast cancer. All of these people have great stories."
Given the potential financial gains for artists and positive fan experiences, it would seem that VIP experiences are likely here to stay. Gary Bongiovanni, editor-in-chief of Pollstar, draws a parallel between VIP ticket packages and the boom of concert T-shirts in the '70s and '80s. "Three decades ago, they were introduced as a new way to make money off of touring and still, for a lot of artists today, they make as much in merchandise as they do in ticket sales. So, VIP packages are an excellent way for a band to make additional cash."
And the fans? They walk away with the memory of a lifetime.
(Bryan Reesman is a New York-based freelance writer.)