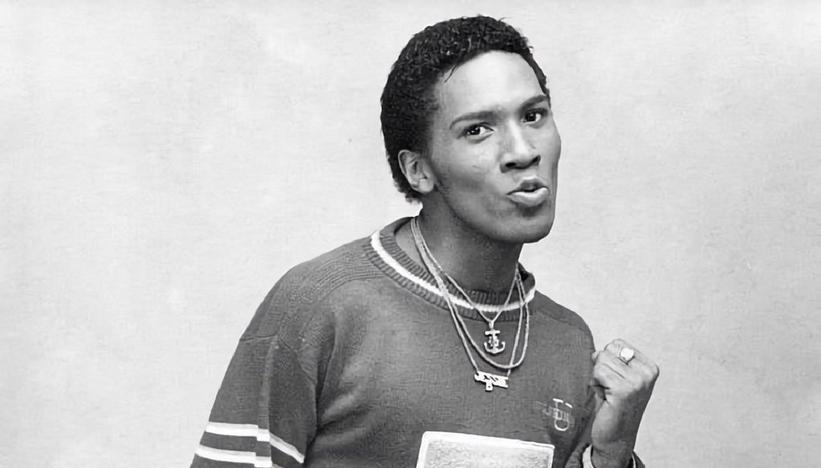 Jessie D.
Photo courtesy of the Force M.D.'s and Tommy Boy Records
feature
In Remembrance: How Jessie D. Of The Force M.D.'s Became A Quantum Entertainer & Changed R&B Forever
Michael Jackson's influence may have gotten Jessie D. going as a performer, but he couldn't have followed through without an innate knack for making people feel good. And in the Force M.D.'s, he performed songs that transcended fads, decades and genres.
GRAMMYs
/
Apr 8, 2022 - 02:56 pm
Think of the spirit that animated Michael Jackson — that ineffable something that makes someone a singing, dancing, writing wunderkind. Jessie D. was compelled by that same drive to delight others.
The singer born Jessie Lee Daniels, of the harmonizing hip-hop group Force M.D.'s, was obsessed with the Jackson 5 from an early age, but his connection went deeper than that. Like Jackson, he was a quantum entertainer practically from birth.
"It was hard for him to sit down for five minutes without entertaining people," Stevie D., a founding member of the group, tells GRAMMY.com. "That's the energy that he had and the love that everybody had for him, and something that's so missed by so many people right now." Even if Jessie wasn't in the room, he explains — even if you came across his social-media posts — he could get you smiling, or thinking, or grooving. Jessie D. had that preternatural ability to make you feel good.
Comprising Jessie, Stevie, Antoine "T.C.D." Lundy, Rodney "Khalil" Lundy, "Trisco" Pearson, Charles "Mercury" Nelson and Roger "D.J. Dr. Rock" Daniels, the Force M.D.'s were a fount of unforgettable hip-hop soul in the 1980s — and Jessie was a massive part of their success. (Despite being of a similar age to Khalil, T.C.D. and Stevie, Jessie was their uncle — which he always got ribbed about.) He sang on their most well-known song, the gossamer "Tender Love," and was a guiding force for the group as a natural showman.
Sadly, Jessie passed away on Jan. 4, 2022, as confirmed by the group on their official Facebook page. He was 58. "To one hell of an entertainer," the Force M.D.'s wrote. "He ate, [slept] and [breathed] music every day."
Jessie's passing followed that of several other key members of the group — three of whom died within five years of each other. In 1995, Mercury died of a heart attack; DJ Dr. Rock died of unknown causes in 1996; T.C.D. died of ALS in 1998. In 2016, Trisco died of cancer.
Despite these losses, the Force M.D.'s continue to forge ahead as a trio of Khalil, Stevie D. and Zieme Capers. Still, "The untimely death of Jessie — when things happen unexpectedly, it's really devastating," Khalil tells GRAMMY.com. "So this is why we're happy to be on the phone with you right now, to let everybody know our love for our uncle, and those people who know what he contributed. They want to know that the Academy is respecting his contribution to the arts."
Jessie Lee Daniels was born on July 4, 1963, in Roanoke Rapids, North Carolina and raised in Staten Island, New York. His immersion in music came via singing in church with his family. Soon after, he discovered the R&B, pop, doo-wop, and soul canons — not just his beloved Jackson 5, but also the Temptations, the Manhattans, Elvis Presley, and Frank Sinatra. "Those were the guys we gravitated to, listening at a young age," Stevie says. "And Jessie spearheaded the four."
At first, the group called themselves the Fantastic L.D.s, often singing on the Staten Island Ferry. "That was a training ground for us — singing in front of people of all nationalities, because we never did that before," Stevie remembers. "We sang in the hood, in the projects, in front of African Americans and Puerto Ricans."
On the side, Stevie began collaborating with Mercury and DJ Dr. Rock, forming "Dr. Rock and the Force M.C.s." The two groups combined to form the Force M.D.'s — which stood for "Musical Diversity" —  and signed to Tommy Boy Records in 1984. As a quintet, they braided multiple styles — hip-hop, soul, R&B, doo-wop — into an idiosyncratic whole. "Jessie's one of the pioneers of the human beatbox, and a lot of people don't know that," Khalil contends, noting his participation in hip-hop's development.
Simultaneously projecting a street attitude and wearing their hearts on their sleeves, the Force M.D.'s recorded a string of hits throughout the 1980s, like "Love is a House," "Forgive Me Girl" and "Tender Love." That latter song — producers Jimmy Jam and Terry Lewis' first crossover hit — has been covered by R&B luminaries from Alicia Keys to Usher to Meshell Ndegeocello.
"Tender Love" resonated in the indie world, too. Okkervil River's GRAMMY-nominated leader Will Sheff lamented the deaths of T.C.D., Mercury and D.J. Dr. Rock in their 2016 song "Okkervil River R.I.P." — and you can hear echoes of "Tender Love" in compassionate songs like "Love Somebody."
"It captures this incredibly sweet, innocent, sort of young love and also of childhood — the kind of sounds that are so cynical and unguarded," Sheff tells GRAMMY.com. "It has this soft, sweet, pretty, gentle quality, and that's all it wants to be. It doesn't feel like this world-conquering ballad where the drums are going to kick in and it's going to knock you on your ass.
"It has this sort of dewy delicacy to it," Sheff continues, noting the sentimentality of '80s pop songs, as opposed to the cynicism of the music business back then — and the irony such an unabashedly sentimental work might be couched in today. "[It's like] the first dew in the morning that's going to get burned away by the sun, but it's just there for a little moment."
"Tender Love" was the Force M.D.'s' biggest hit by far, due in part to its inclusion on the 1985 soundtrack to the classic hip-hop flick Krush Groove. "Itchin' for a Scratch" was another big hit aided by a rap film — in this case, 1985's Rappin' — and featured Jessie's best M.J. impression in the accompanying music video.
"We just showed the versatility of the Force," Stevie says of that song, noting their multitude of influences that powered Jessie and the group. "That's the best [description] of what stuff we can do right now."
The Force M.D.'s began to fade into the background in the 1990s — and membership changes and that triage of deaths were devastating blows. However, after a reunion in 2000, the band has pushed forward as living proof that artists can make it through such adversities — and live to sing, dance and inspire.
To that end, the contemporary Force M.D.'s are hard at work to spread the music — and hopefully get a film made. "Continuing to keep the legacy alive is what T.C. said to do on his deathbed, what Trisco said to do on his deathbed, and what our uncle Jessie always wanted us to do," Khalil says. "To keep pushing the music through the gifts we created and keep everybody's name alive, so this family and the world can know what we gave as a gift through God to the planet."
But they couldn't have made that music in the first place without Jessie, who touched fans worldwide with his infectious offerings. And if you zoom out from the tunes themselves, his work ethic and guiding spirit touched others, too — especially his son, Jessie Jr.
"As I got older, I realized that he gave me something that no one else could give me. And that's confidence, entrepreneurship — and he never worked a job in his life because he sings," he tells GRAMMY.com. "I never heard him say, 'Yo, I'm clocking in.' Even if he would run out of money when we were kids, he'd start singing. He didn't care. He loved music that much, and he gave me the confidence to do what I'm doing now."
So, next time you jam any number of classics by the Force M.D.'s, raise a glass to Jessie D. — who not only galvanized those around him, but changed music forever simply by being himself. The King of Pop may have gotten him going, but the late, great Jessie D. was one of a kind.
Mogul Moment: How Quincy Jones Became An Architect Of Black Music