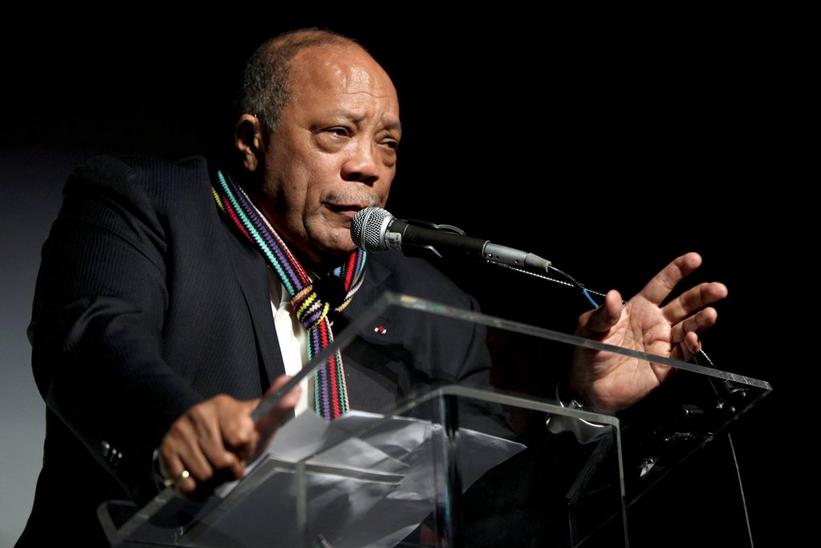 Photo: Rebecca Sapp/Stringer via Getty Images
news
Mogul Moment: How Quincy Jones Became An Architect Of Black Music
In his work, which spans seven decades and counting in the business, Quincy Jones has proved time and time again that Black music is America's music
GRAMMYs
/
Mar 5, 2021 - 04:51 am
Ahead of Quincy Jones' appearance at the Inaugural Black Music Collective GRAMMY Week Celebration during GRAMMY Week 2021, GRAMMY.com explores how the producer, composer and arranger built a launchpad for some of the most revolutionary voices in Black American music.
Quincy Jones has the stories of a townful of people put together. He's eaten rats to survive, attended his own funeral and claims to know who actually shot JFK. He can show you a scar on his temple where an icepick nailed him—and another on his hand thanks to a switchblade. In between, he's helped Dizzy Gillespie, Ray Charles, George Benson, Michael Jackson, Donna Summer and scores of others make some of the most beloved music of the 20th century.
All those artists happen to be Black, and Jones understands profoundly their work's vitality to the American fabric. Between working on classic films like 1966's Walk, Don't Run, 1967's In The Heat of the Night and 1969's The Italian Job; producing bubblegum hits like Lesley Gore's "It's My Party"; and co-producing the celebrity smorgasbord "We Are The World," Jones has spearheaded quintessential Black American albums like Ella Fitzgerald's and Count Basie's Ella and Basie, Michael Jackson's Thriller and George Benson's Give Me the Night.
In his work, which spans seven decades and counting in the business, Jones has proved time and time again that Black music is America's music. For his trouble, he's collected 28 GRAMMY Awards, 80 nominations and a GRAMMY Legend Award. Ahead of his appearance next at the Inaugural Black Music Collective Event, a virtual event focused on amplifying Black voices, during GRAMMY Week 2021, it's worth noting how Jones helped architect Black music throughout his career.
"I believe that a hundred years from now when people look back at the 20th century, they will look at Miles, Bird, Clifford Brown, Ella and Dizzy, among [other] elders as our Mozarts, our Chopins, our Bachs and Beethovens," Jones told NPR's "Fresh Air" in 2001. (He worked or hobnobbed with all five of those Black geniuses.) "I only hope that one day, America will recognize what the rest of the world already has known, that our indigenous music—gospel, blues, jazz and R&B—is the heart and soul of all popular music; and that we cannot afford to let this legacy slip into obscurity, I'm telling you."
That elevation of Black expression is the headline of Jones' life and work. Here's how it became that way.
For Quincy Jones, Music Changed Everything
On March 14, 1933, Jones was born on the wrong side of town during the worst economic downturn in history. "I wasn't born in Bel Air, man. I'm from the South Side of Chicago," he told Dr. Dre in the 2018 Netflix documentary Quincy, citing an area with a history of violence and poverty. "In the '30s, man, during the Depression, damn, you kidding? We lost my mother when I was seven, and my brother and I, we were like street rats." At first, he didn't have musical dreams, but those of a life of crime: "I wanted to be a gangster 'til I was 11. You want to be what you see, and that's all we ever saw."
With his mother was in and out of mental institutions, Jones and his brother Lloyd stayed at his grandmother's—a former slave's—house without electricity or running water. According to his 2001 autobiography Q, they were so impoverished that she fed the boys "mustard greens, okra, possum, chickens and rats, and me and Lloyd ate them all."
Jones' mother, who often sang religious songs, introduced a young Jones to music. "When I was five or six, back in Chicago, there was this lady named Lucy Jackson who used to play stride piano in the apartment next door, and I listened to her all the time right through the walls," Jones told PBS in 2005. Plus, a next-door neighbor, Lucy Jackson, played stride piano next door; Jones kept an ear to the wall.
When Jones was 10, the family moved to Bremerton, Washington. In his early teens, they relocated to Seattle, where Jones caught word of a skinny, Black 16-year-old kid in town with frightening musical talent. "[He] played his ass off. He played piano and sang like Nat 'King' Cole and Charles Brown," Jones remembered in Q. "He said his name was Ray Charles, and it was love at first instinct for both of us."
Despite Charles' blindness, he was utterly self-reliant, renting an apartment, going steady with a girlfriend and shopping, cooking and laundering for himself. His independence and creativity were galvanizing to Jones, illuminating a path he would follow for the rest of his life.
"Ray was a role model at a time when I had few. He understood the world in ways I didn't," Jones wrote in Q. "He'd say, 'Every music has its own soul, Quincy. It doesn't matter what style it is, be true to it.' He refused to put limits on himself."
Soon after, Jones enrolled at Garfield High School, where he honed his craft as a trumpeter and arranger. He earned a scholarship at Seattle University, transferred to Berklee College of Music in Boston, traveled with the future GRAMMY Special Merit Award Honoree Lionel Hampton's band at age 20. From there, he was off to the races.
Of course, Charles went on to live up to his maxim of artistic limitlessness, cross-pollinating R&B, soul, blues, gospel, jazz, and even country music, on 1962's Modern Sounds in Country and Western Music. And Jones remained an integral part of his story, writing and arranging "The Ray" for 1957's The Great Ray Charles. Heavy, bluesy and swinging, the tune telegraphs Jones' admiration for The Genius.
Jones Alters Rock 'N' Roll
Fast-forward five years: Jones was in the midst of a fruitful stint as a writer and arranger for the Count Basie Orchestra, on albums like 1959's Basie One More Time and 1960's String Along With Basie.
Meanwhile, over in rock 'n' roll, an extinction event had hit. Buddy Holly was dead, Chuck Berry was in prison, Jerry Lee Lewis was in the hot seat for a marriage scandal, and a post-service Elvis Presley was flailing from one lightweight flick to the next. Little Richard, for his part, had become born again and forsaken rock 'n' roll, pivoting to Jesus with 1960's austere Pray Along With Little Richard.
Understanding that his earlier, cat-in-heat hits like "Tutti Frutti" and "Long Tall Sally" had a lot in common with gospel music, Jones lit a fire under Richard by way of 1962's The King of the Gospel Singers, a project he joined via Richard's old producer Bumps Blackwell.
Over Jones' revved-up arrangements, Richard sounded less self-righteous and more tapped into the wild, frenzied heart of holy devotion.
Deeper Into Jazz…
Ever since he was a kid, Jones had been a fan of bebop, a harmonically advanced, blisteringly fast form of small-group jazz. The virtuosic trumpeter, composer and educator Dizzy Gillespie was one of the style's principal architects.
Come 1963, and Jones would produce his hero's excellent 1963 album New Wave!. The album braids American mainstays (W.C. Handy's "Careless Love") with bossa nova standards (Antônio Carlos Jobim's "One Note Samba"). As a whole, it provides as effective a gateway as any into Gillespie's innovations in the Afro-Cuban sphere.
...And Soul & Pop
For the rest of the decade, Jones arranged for Black vocal dynamos Shirley Horn, Dinah Washington and Sarah Vaughan.
In 1973, Jones produced Aretha Franklin's Hey Now Hey (The Other Side of the Sky), which is neither as muscular as her peak work nor as luxurious as '80s albums like Jump To It. Regardless, that in-betweenness—and the strength of its material—makes Hey Now Hey an intriguing look at the Queen of Soul in a state of transition.
At the time, two members of Jones' band were George "Lightnin' Licks" and Louis E. "Thunder Thumbs" Johnson, known as The Brothers Johnson. Jones went on to produce four successful albums for the brothers. Three singles in particular—1976's "I'll Be Good to You," 1977's Shuggie Otis cover "Strawberry Letter 23" and 1980's "Stomp!"—all topped the Hot R&B Charts and remained classic examples of Jones' contributions to Black music.
Enter Michael Jackson
Around this time, Jones was highly active in film. While working as a music supervisor and producer on 1978's The Wiz, a film adaptation of the Broadway musical of the same name, he was impressed by the precocious co-star Michael Jackson, who had already made waves in The Jackson 5.
After filming wrapped, Jackson told his label, Epic Records, and managers, Freddie DeMann and Ron Weisner, that he wanted Jones to produce for him.
"[T]his was 1977 and disco reigned supreme," Jones wrote in Q. "The word was, 'Quincy Jones is too jazzy and has only produced dance hits with The Brothers Johnson.' When Jackson approached Jones about this, he laid the young singer's anxieties to rest: "If it's meant for us to work together, God will make it happen. Don't worry about it." (In the meantime, Jones produced 1979's funk-soul gem Masterjam by Rufus and Chaka Khan.)
The music the pair made together may prove the existence of a higher power: Jones produced 1979's Off The Wall, 1982's Thriller and 1987's Bad.
"[W]orking with Quincy was such a wonderful thing," Jackson told Ebony in 2007, 25 years after Thriller's release. "He lets you experiment, do your thing, and he's genius enough to stay out of the way of the music, and if there's an element to be added, he'll add it."
By now, all three albums have been codified into pop culture. "Don't Stop 'Til You Get Enough" could compel a corpse to cut a rug, everyone who's watched TV has seen the "Thriller" video, and the exuberant "The Way You Make Me Feel" can still lift one out of a bedridden depression. Together, the three albums won more than a dozen GRAMMYs and were nominated for a pile of others.
Give Him The Night
While Jackson ascended in the pop world, the jazz guitar great George Benson began singing more and hewing more commercial, with Tommy LiPuma-helmed albums like 1976's Breezin', 1977's In Flight and 1979's Livin' Inside Your Love. In 1980, Jones partnered with Warner Bros. to form Qwest, a subsidiary label that gave him extraordinary creative freedom.
"Much to my luck, he still wanted to make a George Benson record," Benson said in 2014's Benson: The Autobiography. "Let me ask you this: Do you want to go for the throat?" Jones asked Benson. "Quincy, let's go for the throat, baby," he responded. "Let's go for the throat."
The result was 1980's career-making Give Me The Night, which garnered three GRAMMYs at the ceremony that year: Best Jazz Performance, Male for "Moody's Mood"; Best R&B Instrumental Performance for "Off Broadway"; and Best R&B Performance, Male for the title track.
Jones has been wildly active ever since. In 1993, he convinced Miles Davis to take a rare look back at his modal-jazz years with Miles and Quincy Live at Montreaux, recorded mere months before Davis's death. In the ensuing decades, he's produced concerts and TV, given no-holds-barred interviews, and soaked up his stature as a titan in the music industry.
In 2018, when Vulture asked Jones if he could snap his fingers and fix one problem in the country, one word flashed in his mind. "Racism," he responded. "I've been watching it a long time—the '30s to now. We've come a long way but we've got a long way to go. The South has always been fucked up, but you know where you stand. The racism in the North is disguised. You never know where you stand.
"People are fighting it," he added, with Charlottesville in the immediate rearview. "God is pushing the bad in our face to make people fight back."
America may remain in the thick of a racial reckoning, but all the while, Jones has tirelessly facilitated and championed artists of color. He's seemingly lived a hundred lifetimes and been a force for good in numberless ways.
But when he brought the best out of his fellow Black American visionaries, that's when he really went for the throat.
Recording Academy Announces Official GRAMMY Week 2021 Events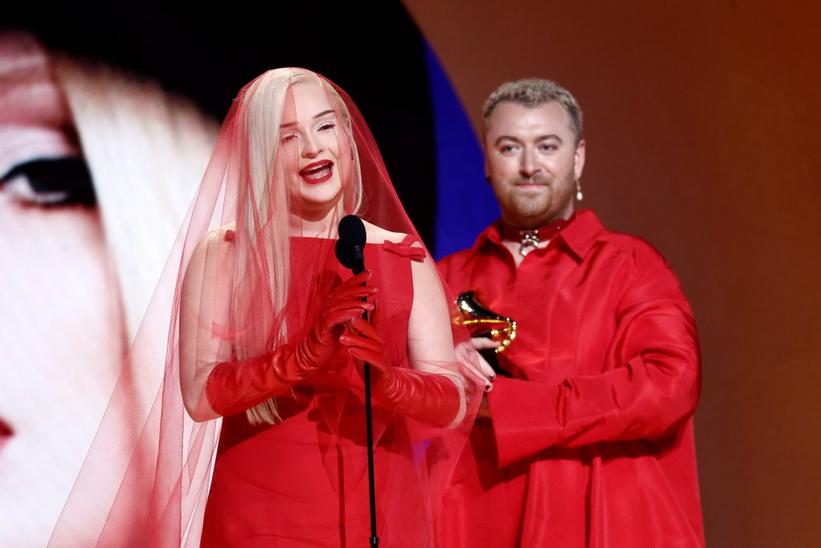 Photo of Sam Smith and Kim Petras winning the GRAMMY for Best Pop Duo/Group Performance at the 2023 GRAMMYs.
Photo: Emma McIntyre/Getty Images for The Recording Academy
news
20 Artists Who Made History At The 2023 GRAMMYs Other Than Beyoncé: Taylor Swift, Kim Petras, Viola Davis & More
As Queen Bey takes her throne as the artist with the most GRAMMYs of all time, take a look at some of the other 2023 GRAMMY winners who joined her in celebrating momentous achievements.
GRAMMYs
/
Feb 6, 2023 - 11:09 pm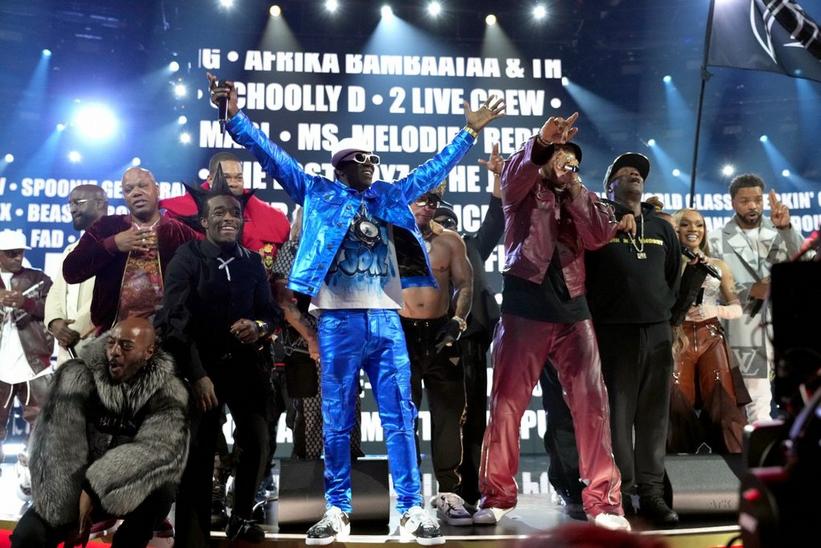 LL Cool J, Flavor Flav, Busta Rhymes, Lil Uzi Vert, Nelly, Spliff Star, Queen Latifah, Ice-T, Chuck D, Joseph Simmons, Darryl McDaniels, Grandmaster Flash, and Black Thought at the 2023 GRAMMYs
Photo: Kevin Mazur/Getty Images for the Recording Academy
list
How Hip-Hop Took Over The 2023 GRAMMYs, From The Golden Anniversary To 'God Did'
It's the 50th anniversary of hip-hop, but the 2023 GRAMMYs celebrations didn't stop at the epic, MC-saturated blowout. Here are five ways the genre took over Music's Biggest Night.
GRAMMYs
/
Feb 6, 2023 - 10:06 pm
The 2023 GRAMMYs' ambitious, world-beating tribute to hip-hop's 50th anniversary is getting a lot of ink — for a very good reason.
Featuring an ensemble ranging from progenitors like Grandmaster Flash and Run-DMC, to legends such as Too Short and Missy Elliott, and modern-day practitioners like Lil Baby, GloRilla and Lil Uzi Vert, the tribute segment was stunning not only on a logistical level, but on conceptual, emotional and historical planes.
But the Recording Academy's tribute to this landmark in time wasn't siphoned off to that 15-minute segment — not even close. In fact, the entirety of Music's Biggest Night radiated with the courageous, intrepid, forward-thinking spirit of hip-hop.
The tribute performance was just one of many nods to rap during GRAMMY week. Days before, Lil Wayne, Missy Elliott and Dr. Dre were honored by the Recording Academy's Black Music Collective in a ceremony that contained performances by Snoop Dogg, 2 Chainz and Ciara. And the pre-GRAMMY gala featured a performance from Weezy, Latto and Lil Baby.
At Music's Biggest Night, the hip-hop love roared fully to life. Here are five ways hip-hop took over the 2023 GRAMMYs, a foreshadowing of an entire year in celebration of the epochal artform — with the extended hip-hop tribute as a springboard.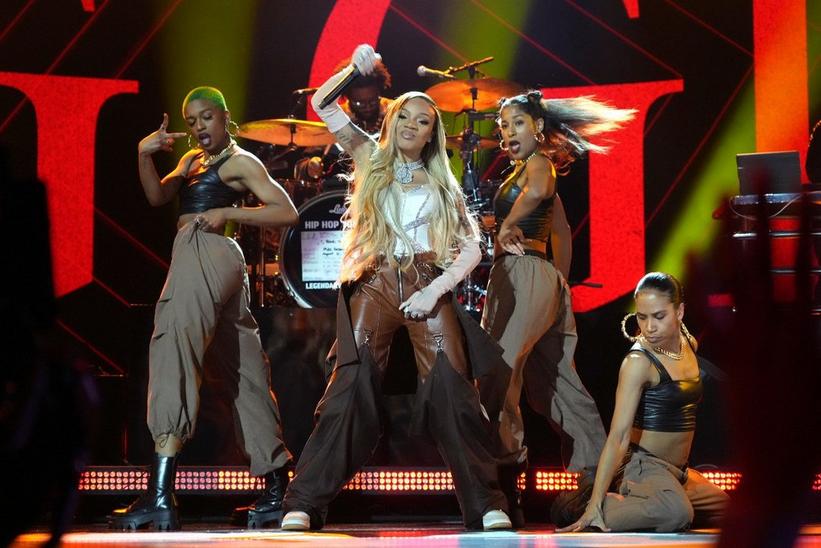 GloRilla performing at the 2023 GRAMMYs. Photo: Getty Images for the Recording Academy
A Global Hip-Hop Rager For The Ages
Until Music's Biggest Night, to fit hip-hop's evolution and essence into 15 minutes would seem logistically untenable. But the Academy did the impossible.
The Questlove-curated set moved lightning-quick from '70s and '80s pioneers, to 2000s radio dominators like Nelly, all the way to the current era.
Like with the last Super Bowl's ensemble cast of rap greats, the result was emotionally walloping, historically edifying and visually spectacular.
Most importantly, the music was exceptional — a tip of the hat to a precious form of American expression. To anyone who still subscribes to some form of stigma — you don't know what you're missing.
The Rap Categories Contained Serious Jewels
Let's take a step back, though, and examine the 2023 GRAMMYs' hip-hop nominees and winners themselves.
Kendrick Lamar was well-represented in both the General and Rap fields, and commensurately for Mr. Morale and the Big Steppers and Lamar's non-album single "The Heart Pt. 5."
For the former, Lamar won Best Rap Album; for the latter, Best Rap Song and Best Rap Performance. With the success of "The Heart Pt. 5," he is now the most-awarded artist in the latter category.
Together, these offerings comprise something of a creative and emotional watershed for Lamar. As for Pusha T, It's Almost Dry — nominated for Best Rap Album — contained some of his most crystal-sharp coke raps to date.
Plus, the sheer range of guests on DJ Khaled's GOD DID — nominated for Best Rap Album — could be the ultimate testament to his indomitable spirit, curatorial acumen and infectious sense of largesse.
This also applies to fellow nominees from Future, who won Best Melodic Rap Performance for "WAIT FOR U," to Jack Harlow, who was nominated liberally throughout the Rap field.
Given the level of craft throughout, hip-hop isn't just ripe to be celebrated for its past, but for its boundless future.
Dr. Dre Was Presented With A Global Impact Award
At the 2023 GRAMMYs, seven-time GRAMMY winner Dr. Dre was the recipient of the inaugural Dr. Dre Global Impact Award for his multitude of achievements through his innovative, multi-decade career.
Dr. Dre was presented the award after a plethora of televised bona fides, and offered his thanks to the Recording Academy and Black Music Collective for the prestigious honor in light of the Recording Academy's celebration of the 50th anniversary of hip-hop.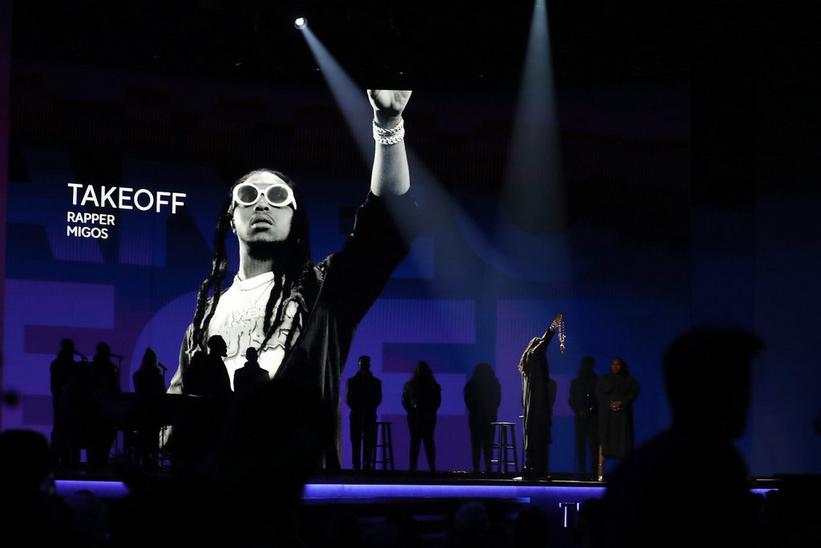 A tribute to Takeoff during the 2023 GRAMMYs. Photo: Getty Images for the Recording Academy
Quavo Performed A Moving Tribute To The Late Takeoff
There's a bittersweetness to celebrating hip-hop on a global scale in 2023, as so many of its best and brightest have died far too young in recent years.
Among these tragedies was the senseless death of Takeoff, one-third of the family-bound rap trio Migos, along with Offset and Quavo.
Read More: Remembering Takeoff: Why The Unassuming Rapper Was Foundational To Migos
As part of the In Memoriam segment, backed by worship ensemble Maverick City Music, Quavo honored his late nephew with a soul-searing version of "Without You."
"Tears rollin' down my eyes / Can't tell you how many times I cried," he rapped before an empty microphone stand, poignantly hung with Takeoff's chain. "Days ain't the same without you / I don't know if I'm the same without you."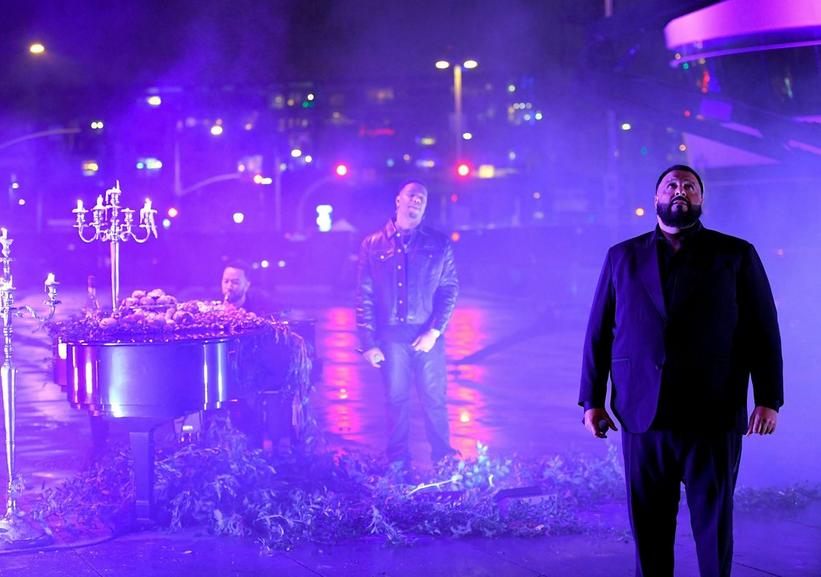 John Legend, Fridayy, and DJ Khaled performing at the 2023 GRAMMYs. Photo: Kevork Djansezian/Getty Images for The Recording Academy
DJ Khaled & Company Closed The Curtain With "GOD DID"
At the end of the ceremony, DJ Khaled brought out collaborators Jay-Z, John Legend, Lil Wayne, Fridayy, and Rick Ross for a rendition of GOD DID's title track, which was nominated for Song Of The Year, Best Rap Song and Best Rap Performance.
Seated horizontally in an opulent, Last Supper-esque tableau, the stars sang their hooks while bathed in purple light, closing out the 2023 GRAMMYs with laconic flair.
It was a fitting conclusion to Music's Biggest Night, one that placed hip-hop where it belongs: on the top shelf.
2023 GRAMMY Nominations: See The Complete Winners & Nominees List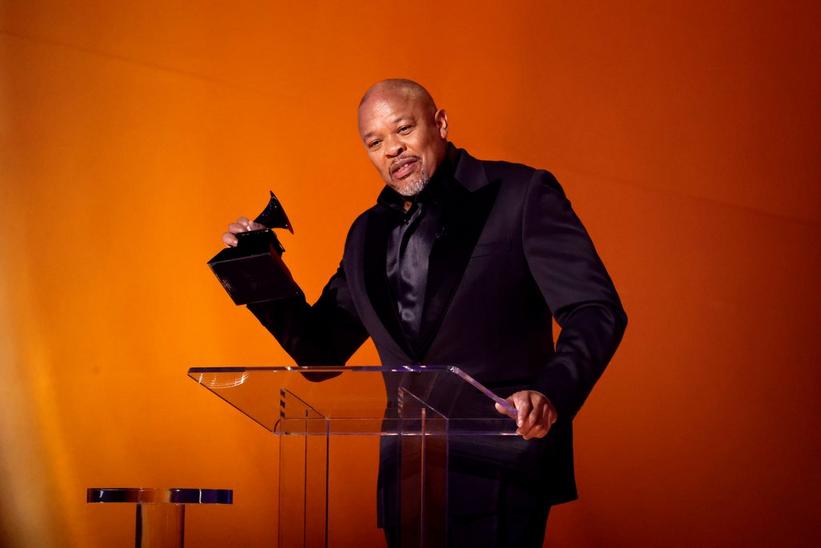 Dr. Dre at the 2023 GRAMMYs
Photo: Frazer Harrison/Getty Images
news
Dr. Dre Is The Recipient Of The Inaugural Dr. Dre Global Impact Award At The 2023 GRAMMYs
At the 2023 GRAMMYs, seven-time GRAMMY winner Dr. Dre was the recipient of the inaugural Dr. Dre Global Impact Award.
GRAMMYs
/
Feb 6, 2023 - 04:09 am
At the 2023 GRAMMYs, seven-time GRAMMY winner Dr. Dre was the recipient of the inaugural Dr. Dre Global Impact Award for his multitude of achievements through his innovative, multi-decade career.
Dr. Dre was presented the award after a plethora of televised bona fides, and offered his thanks to the Recording Academy and Black Music Collective for the prestigious honor in light of the Recording Academy's celebration of the 50th anniversary of hip-hop.
Check out the complete list of winners and nominees at the 2023 GRAMMYs.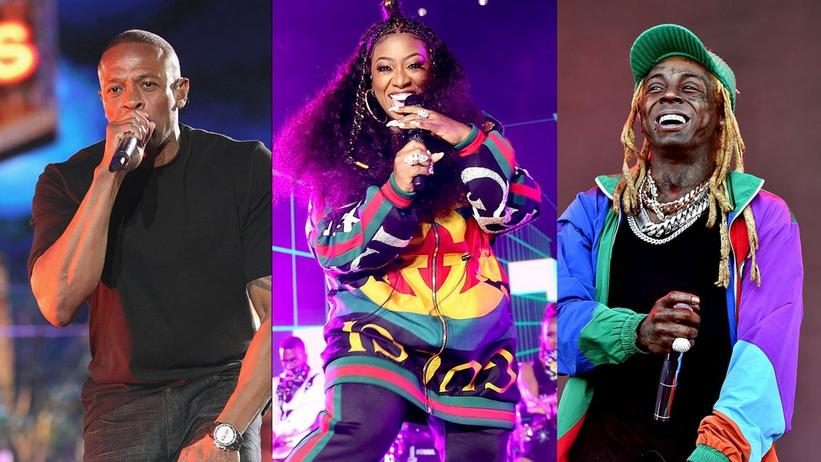 (L to R): Dr. Dre, Missy Elliott, Lil Wayne
Photos: Christopher Polk/Staff / Getty Images; Bennett Raglin / Stringer / Getty Images; Jeff Kravitz / Contributor / Getty Images
news
Listen: Playlists To Honor Global Impact Award Honorees Dr. Dre, Missy Elliott, Lil Wayne, & Sylvia Rhone
As these independent legacies are set to receive a Global Impact Award at The Recording Academy Honors Presented By The Black Music Collective Event, rediscover honorees Dr.Dre, Missy Elliott, and Lil Wayne with these playlists.
GRAMMYs
/
Feb 2, 2023 - 11:00 pm
Ahead of the 2023 GRAMMYs, revered GRAMMY Award-winning artists Dr. Dre, Missy Elliott, and Lil Wayne and music executive Sylvia Rhone will each receive the Recording Academy Global Impact Award for their personal and professional achievements in the music industry at the Recording Academy Honors Presented By The Black Music Collective.
The second annual Black Music Collective event and official GRAMMY Week event takes place Thursday, Feb. 2, at the Hollywood Palladium in Los Angeles and is sponsored by Amazon Music and Google Pixel Phone. It will once again feature first-time GRAMMY nominee Adam Blackstone as the musical director of the evening. Recording Academy Board of Trustees Vice Chair Rico Love will also return to Chair the event.
Dr. Dre is a seven-time GRAMMY Award-winning artist, producer, founder, entrepreneur, philanthropist, and CEO of Aftermath Entertainment and Beats Electronics. His career has spanned over three decades starting as a member of the World Class Wreckin' Cru shortly after, he co-founded the revolutionary group N.W.A.  In 1996, Dre launched Aftermath Entertainment, where over the years, he discovered hip-hop superstars such as 50 Cent, The Game, Kendrick Lamar, Anderson Paak, and Eminem.
Missy 'Misdemeanor' Elliott has remained relevant as a true visionary and pioneer for women in hip-hop for over 25 years. The multi-GRAMMY-Award-winning rapper, singer, songwriter, and producer made an immediate impact on the music industry with her critically acclaimed debut album Supa Dupa Fly. Her experimental sound and groundbreaking music videos changed the music landscape and challenged artists not to conform to the norm. Among other awards and accolades, Elliott became the first woman rapper inducted into the Songwriters Hall of Fame. The Virginia native has produced for and collaborated with artists such as Aaliyah, Beyoncé, Janet Jackson, Mariah Carey, Ciara, Lil' Kim, J. Cole, Busta Rhymes, Ludacris, Chris Brown, and Lil Wayne.
Lil Wayne has left a lasting impact on the culture as a five-time GRAMMY Award-winning, multiplatinum rap icon, Young Money Entertainment founder and CEO, Young Money APAA Sports founder, acclaimed author, pro skater, and philanthropist. By 2020, he cemented his legacy forever as "one of the best-selling artists of all time." Among many milestones, he emerged as "the first male artist to surpass Elvis Presley with the most entries on the Billboard Hot 100," logging a staggering 183 entries – the third most of all time. Simultaneously, Wayne owns and operates Young Money Entertainment, the company that ignited the careers of Drake, Nicki Minaj, Tyga, and many more.
Sylvia Rhone has set the pace for the music industry as one of the most impactful, influential, and important executives in history. She has devoted her professional life to music, she broke a glass ceiling for the first time, and changed the landscape forever as the "only African American and first woman ever" to be named Chairwoman and CEO of Elektra Entertainment Group in 1994. She made history once more in 2019 when Sony Music Entertainment selected her as Chairwoman and C.E.O of Epic Records, enshrining her as "the first woman CEO of a major record label owned by a Fortune 500 company and the first Black woman to attain such a title." Along the way, Rhone has impressively left an indelible imprint on pop, hip-hop, rock, heavy metal, R&B, soul, and electronic music with an impeccable track record. She has shepherded the success of everyone from Missy Elliott, Anita Baker, the late Ol' Dirty Bastard, Jason Mraz, Busta Rhymes, Pantera, and Metallica to Lil Wayne, Kelly Rowland, Akon, Kid Cudi, Nicki Minaj, A Tribe Called Quest, Fabolous, Tamia, and Gerald Levert, just to name a few. Currently, she is at the helm of Epic Records where she has overseen historic releases from Future, Travis Scott, 21 Savage, DJ Khaled, Camila Cabello, and many more. A music industry trailblazer for four decades, Rhone has catalyzed the careers of artists who have changed music and the world at large — and she will continue to do so.
As these independent legacies are set to be honored with a Global Impact Award for their personal and professional achievements in the music industry, rediscover Dr.Dre, Missy Elliott, and Lil Wayne with these playlists curated by Amazon's music experts.