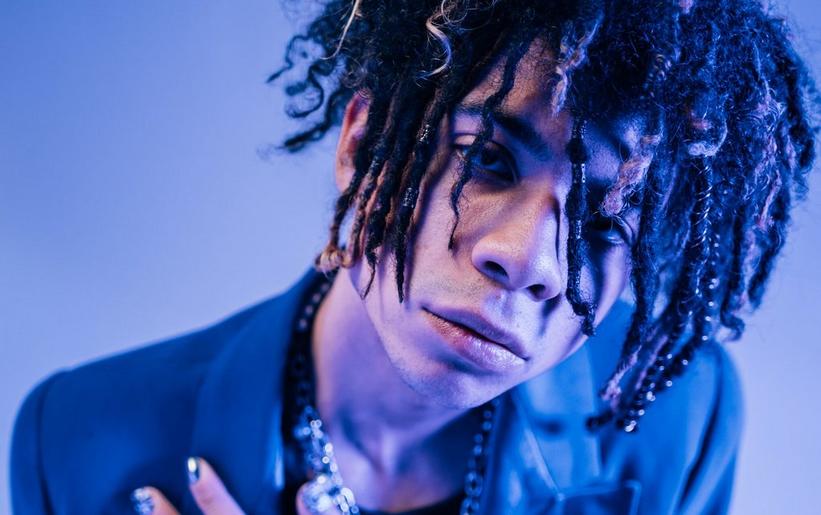 interview
Iann Dior Is Ready To Take Over Music And Beyond: "I Don't Want To Be Looked At As Just An Artist"
With his second album, 'On To Better Things,' singer/songwriter Iann Dior hones in on his alt-pop/rock sensibilities and gets more involved than ever — in hopes of becoming more than a chart-topping hitmaker
GRAMMYs
/
Jan 20, 2022 - 11:20 am
Just three years into his career, iann dior has gone from viral SoundCloud star to topping the Billboard Hot 100 (with his 24kGoldn duet, the 5x-Platinum hit "Mood") and collaborating with the likes of Lil Uzi Vert and Lil Baby. As he prepares for the Jan. 21 release of his second LP, On To Better Things, the Puerto Rico-born, Texas-raised artist is ready to take his quickly-ascending career to the next level.
"It's a very personal album to me," the singer/songwriter (born Michael Ian Olmo) tells GRAMMY.com. "I'm very excited for my fans to hear it, and to hear my side of the last year-and-a-half."
On To Better Things hears the genre-fluid dior experiment with smooth pop-punk beats and rap-rock crossovers, connecting with frequent collaborators Travis Barker and Machine Gun Kelly, and producer Taz Taylor, among others. The album also sees dior take new ownership over his creative vision, namely by directing his own music videos, starting with November's "Let You."
According to dior, On To Better Things is also just the first step in his 2022 takeover. After releasing his album on Friday, dior is heading to London for a month to record his next project and planning a 2022 tour — but he's already looking far beyond music.
GRAMMY.com caught up with iann dior about his new album, breaking genre boundaries, and his plan for superstardom.
You just wrapped up your first UK show in London last week, what was that like? 
It was really cool. I think I fell in love with London. I'm going back next month, I'm really excited.
Are you planning on performing at any other first-time destinations this year?
Oh yeah, there's gonna be a bunch of first-time places this year. I've got a pretty exciting year coming up.
Let's talk about your new album! As your second LP and coming off a great year, were you feeling any pressure while making this project as opposed to your 2019 debut, Industry Plant?
Not pressure so much — I was more so feeling like this is the first project that I've fully engaged with. I was kind of by myself making this. So it's a very personal album to me, and I'm very excited for my fans to hear it, and to hear my side of the last year-and-a-half.
And — something to get my fans excited — we're already working on the next album. The tour isn't until later in the year, so I'm gonna take this time — that's why I'm going to London for the next month. I'm gonna record music out there and, you know, just catch a vibe. This next album is gonna be more of where I'm at now, versus where I was before.
You said you felt more on your own making this album. What do you mean by that?
Well, I made the songs [on the album], so I started to feel like I should be directing the videos, too, because I know what the visuals should look like.
This album feels so personal because it's the first time I've actually dug this deep to make an album that corresponds all the way through — like, you feel like you're getting told a story. That's the goal we were going for [with the videos], and I'm really excited to release them. We did the "complicate it" video and we're gonna shoot one for "thought it was," as well as other songs on the album.
You explore more pop and punk rock sounds on this album. Do those genres resonate the most with you?
Yeah, they do. You know, the crazy thing is rock music just comes out so naturally to me and it's the funnest [sic] music for me to make at the moment. I feel like I can fully express myself, which I think is cool. One thing about me is I can't sit in one genre. I'll try different genres all the time, and those are just the ones I've fallen in love with the most.
Since being genre-fluid is important to you, have artists like Machine Gun Kelly and Trippie Redd — who have successfully pivoted from rap, to punk, to rock — been an inspiration to you?
You know, those are all my friends, so of course. I think it's cool that the rock scene is coming back and I'm glad that everybody's f—ing with this. It makes me happy, and it makes me feel like now I can express myself in that genre and really take it to where I wanna be at. It's an amazing time to put [genre-defying] music like that out.
Travis Barker, who produced some of the album, has been creating music in the rock-rap crossover space for years. What was working with him like?
Every time we work with Travis, it's a no-brainer. That's who I go to for any of my rock music because he really taps in on the sound, and blending it with rap is something I really like to do. And Travis was one of the first people to be like, "Ok, I understand where you're trying to go with this." When we made "Sick and Tired" [in 2020] — that song was the perfect hybrid of rock and rap.
What kinds of music and artists did you grow up listening to?
Growing up, I listened to a lot more rap. My mom listened to Spanish music. She barely speaks English, so she would always have, like, Marc Anthony playing. She loves a bunch of different artists.
My dad was mostly listening to JAY-Z and showed me [rock bands] like The Fray. He showed me a couple rap songs that I wasn't supposed to be listening to or wasn't allowed to listen to — he would tell me, "Be quiet about it," and he'd let me listen to them. [Laughs.]
Spanish is your first language and you've said you want to cross over into Latin music in the past. Can fans expect to hear a Spanish song from you this year?
There's definitely Spanish songs involved, I'll tell you that much. We've worked on some, but I'm just waiting for the right time [to release them]. I think the summer might be the right time. This summer you might be getting a Spanish song from me.
You've also said you'd like to collaborate with Bad Bunny. Are you hoping to make that happen this year?
First of all, I have a lot of respect for him, with us both being from Puerto Rico. Coming from that background, I know it's not easy getting to where I'm at, let alone where he's at. So, I have a lot of respect for him. If I was gonna put out a Spanish record, I would love to do it with him. Especially for my first time around.
You're looking to get into acting as well. Do you think taking a more active role in your music videos has helped prepare you for that?
Yeah, I'm definitely trying to add acting to my world very soon. And with [directing] the videos, I get to do that without fully going into that lane. But 100 percent I want to get into acting and eventually direct movies.
Last year you released your first collaborative jewelry line with VITALY and you're also the new face of MCM's spring 2022 campaign. Could you see yourself getting more into fashion and design in the future?
One thousand percent. I think that's gonna happen before the acting. That's the direction I'm headed in right now.
You've said a few times that you want to go down in history as one of the greats. Do you think being multi-faceted — branching off into acting, fashion and directing — is a big part of that?
Yeah, 100 percent. I don't want to be looked at as just an artist, I want to be looked at as a person that was good at what he did, regardless of what it was.
Anything you'd like to say to your fans?
To my fans: This is your world, don't let anybody else take it over. You create your future. And I'm very excited to be putting this album out — it's been a long time since I've dropped an album. I want my fans to know that I love them, and without them, I wouldn't be here.
Cordae Talks Making His Cathartic, Star-Studded Album 'From A Bird's Eye View' — And Why He's Already Looking Ahead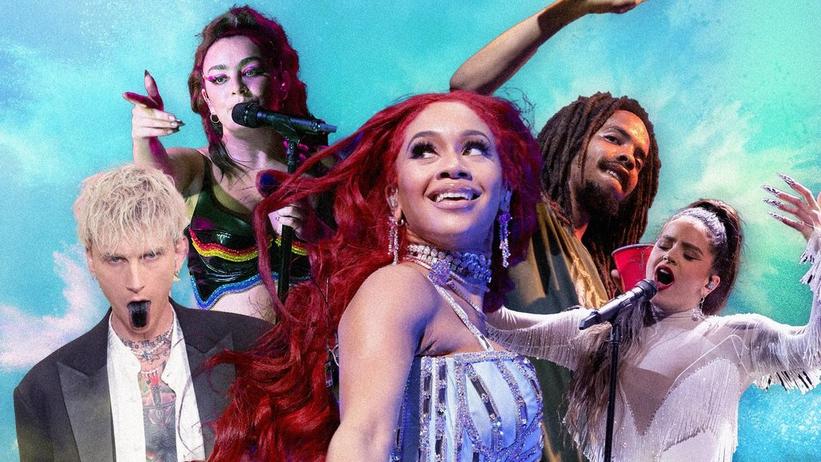 (L - R): Machine Gun Kelly, Charli XCX, Saweetie, Earl Sweatshirt, Rosalía
(Source Photos L - R): Rich Fury/Getty Images for dcp; Jason Koerner/Getty Images; Tasos Katopodis/Getty Images for iHeartRadio; Marc Grimwade/WireImage; Emma McIntyre/Getty Images for The Recording Academy
news
30 Must-Hear Albums In 2022: Kendrick Lamar, Cardi B, Rosalía, Machine Gun Kelly, Charli XCX, Saweetie & More
2022 has no shortage of new albums to keep your shuffle hard at work. GRAMMY.com compiled a list of 30 upcoming releases — from Kid Cudi, Earl Sweatshirt, Combo Chimbita, Dolly Parton, and Guns N' Roses — to keep you moving in the new year.
GRAMMYs
/
Jan 8, 2022 - 12:28 am
Editor's Note: This piece has been updated to reflect release dates and album titles announced after publishing.
While it may feel like there's not much to look forward to during yet another wave of COVID-19, music fans around the world are eagerly waiting to load their playlists with new releases as 2022 gets underway.
And there's certainly plenty to look forward to: Along with The Weeknd, who released his fifth studio album, Dawn FM, on Jan. 7, superstars like Machine Gun Kelly, Camila Cabello, Dolly Parton, Guns N' Roses, and Rosalía have all announced or teased albums coming this year.
The pandemic may have slowed things down, but there's no stopping artists in 2022. Keep an eye out for these 30 albums from ENHYPEN, Mitski, Saweetie, Bastille, and many more.
The Weeknd, Dawn FM
Release date: Jan. 7
Only a year removed from his incendiary Super Bowl Halftime Show performance, the crowned pop prince of Canada returns with the semi-surprise Dawn FM, a hotly anticipated follow-up to his record-breaking 2020 release, After Hours (you know, the one with "Blinding Lights" and "Save Your Tears" on it).
As The Weeknd's album teasers promised, Dawn FM delivered sinister synthesizers, a vocal appearance from Jim Carrey, and old-man makeup that's arguably only slightly less distressing than his wax-faced After Hours persona.Max Martin is back (on lead single "Take My Breath"), and other guests include Tyler, the Creator and Oneohtrix Point Never.
As for what the three-time GRAMMY winner wants his listeners to take away from his latest work? "Picture the album being like the listener is dead," The Weeknd told Billboard. Capisce? — Brennan Carley
ENHYPEN, DIMENSION : ANSWER
Release date: January 10
Seven-piece boy group ENHYPEN may still be relatively new to the K-pop scene (the band formed in 2020 on the Korean survival competition show "I-Land"), but they're already making moves to put themselves in the ranks of BTS and EXO. Their latest release, DIMENSION : ANSWER, marks the group's first studio repackage album, expanding on their 2021 debut set, DIMENSION : DILEMMA.
DIMENSION : ANSWER will feature three new tracks,: "Polaroid Love," "Outro : Day 2," and lead single "Blessed-Cursed." Fans got a first taste of the three B-sides thanks to an album preview the group released on Jan. 4, which teased a wide array of sounds: punchy pop-sprinkled production on "Polaroid Love," sultry R&B vocals with "Outro : Day 2," and guitar-heavy rock on "Blessed-Cursed." With such vast musical prowess, DIMENSION : ANSWER may just be the group's ticket to K-pop superstardom. — Taylor Weatherby
Read More: 5 Rising Korean Artists To Know Now: STAYC, ENHYPEN, ITZY, TOMORROW X TOGETHER & ATEEZ
Cordae, From a Bird's Eye View
Release date: Jan. 14
Cordae set the bar high with his GRAMMY-nominated debut album The Lost Boy and emerged as one of the most exciting new talents of 2019, making his return to the game with his hotly anticipated second album.
The Maryland-raised rapper held fans over with his Just Until… EP last April before launching into his album rollout with the braggadocious hit, "Super" and a collaboration with Lil Wayne, "Sinister." The 24-year-old wordsmith — known for his reflective, carefully-crafted raps — said From a Bird's Eye View was inspired by "a life-changing trip to Africa, enduring the loss of a friend gone too soon and evolving as an artist and a man."
The album will also mark Cordae's first full-length effort since the official disbanding of his YBN collective in 2020. — Victoria Moorwood
Animal Collective, Time Skiffs
Release date: Feb. 4
Followers of experimental pop adventurers Animal Collective have waited six years for a new album following 2016's Painting With. At last, the four-piece will release Time Skiffs, an album full of otherworldly harmonies and mind-opening melodies.
Animal Collective has released two singles from the LP so far: the gently psychedelic "Prester John" and the equally trippy "Walker." The latter is a tribute to Scott Walker, the prolific singer-songwriter who died in 2019. Its beautifully intricate music video, directed by band member Dave Portner and his sister Abby, brings the Time Skiffs album cover to life in vivid detail. — Jack Tregoning
Avril Lavigne, Love Sux
Release date: Feb 25
Like everything Y2K, pop-punk is making a comeback. And nearly 20 years since the release of her seminal pop-punk debut Let Go, Avril Lavigne brings back her pop-punk princess persona in all its glory — combat boots and all. In early November, the "Sk8r Boi" singer shared her the angsty anthem "Bite Me," first new single in over two years, featuring Travis Barker.
With the new music, Lavigne also shared she had signed to the drummer extraordinaire's label DTA Records. Her seventh studio album is set to be the artist's first LP since her more traditional pop LP Head Above Water in 2019. — I.K.
Bonobo, Fragments
Release date: Jan. 14
Like everyone else around the world, electronic shapeshifter Simon Green had a very unusual past two years. The British musician and DJ, better known as Bonobo, found himself grounded in his adopted home of Los Angeles, itching for new inspiration to get through the pandemic. His wanderings took him from a tent in the Californian desert to a new appreciation for modular synths back home in lockdown, all with a nervous eye on the precarious state of the world.
This activity fed into a flood of music which we'll soon hear on Bonobo's seventh studio album, Fragments, out on Ninja Tune. Fragments features guests including Jamila Woods, Joji and Kadhja Bonet, while channeling influences from UK bass, Detroit techno and global music through Bonobo's widescreen lens. The producer is already up for two Best Dance/Electronic Recording awards at this year's GRAMMYs, for "Heartbreak," his collaboration with Totally Enormous Extinct Dinosaurs, and "Loom," with Ólafur Arnalds. Bonobo begins a tour of the US in February, giving fans a few precious weeks to soak up the album before its live debut. — J.T.
Earl Sweatshirt, SICK
Release date: Jan. 14
With a decade-plus of acclaimed projects such as 2018's Some Rap Songs, Earl Sweatshirt is both an underground hero and a critic's darling. He hasn't achieved the same level of mainstream success as former Odd Future colleagues Tyler, the Creator and Syd – which is fine with him.
Judging from SICK's lead track "2010," where he pays homage to his mother in cryptic terms, the 10-track album promises to be another collection of stylized verses, dusty beats and autobiographical confessions (albeit rendered in a clearer voice than his previous album, 2019's lo-fi affair Feet of Clay). As its title suggests, SICK was inspired by the pandemic. "My whole thing is grading things on the truth, you know what I mean? However expansive or detailed the truth is," he told Rolling Stone. — Mosi Reeves
iann dior, On To Better Things
Release date: January 21
After blasting onto the scene with his 24kgoldn team-up (and runaway smash) "Mood" in 2020, iann dior hasn't slowed down, releasing an EP and countless other collabs. On To Better Things marks dior's first full-length album since 2019, serving up 15 tracks that will help the rapper truly come into his own.
Like the Lil Uzi Vert-assisted "V12" and the racing single "Let You," On To Better Things will see dior further explore his capabilities as a rapper while also tapping into his alt-pop/rock sensibilities. Judging by his previous releases, dior won't be afraid to get raw and real on his latest project as he opens up about love, relationships and loyalty. There may be glimmers of hope on the album, though, as dior captioned a post teasing the album, "life is better now." — T.W.
Dive Deep: 9 Revolutionary Rap Albums To Know: From Kendrick Lamar, Black Star, EarthGang & More
Combo Chimbita, IRÉ
Release date: Jan. 28
The melding of cumbia beats and psychedelic vibes was embraced during the '70s by many pioneering outfits in Peru and Colombia. Since the release of their 2017 debut, New York quartet Combo Chimbita has built on that foundation, amping up the mystical tinge of its material through the soulful chanting of extraordinary vocalist Carolina Oliveros.
Always ready to speak up on social and political issues, Chimbita uses cumbia as a starting point, adding swashes of funk and soul, Afro guitar lines and atmospheric samples. The band's new album expands its palette, enhancing lead single "Oya" with a video shot at the ruins of Puerto Rico's abandoned Intercontinental Hotel. A tour with the awesomeLido Pimienta will follow soon. — Ernesto Lechner
Aaliyah, Unstoppable
Release date: January 2022
Anticipation surrounding Aaliyah's fourth album has been building since 2012, when Blackground Records released "Don't Think They Know," which paired the late singer's vocals with Chris Brown, and a Drake collaboration, "Enough Said." The long-awaited arrival of her back catalog to streaming last fall added fresh fuel for a project that has been controversial, with some diehard fans questioning whether it honors Aaliyah's legacy.
Unstoppable includes guests like Snoop Dogg, Future and Ne-Yo. The first single, a woozy ballad titled "Poison," features The Weeknd as well as lyrics originally written by the late Static Major. "Some of the people Aaliyah liked are on the album. She loved Snoop Dogg," Blackground CEO and Aaliyah's uncle Jomo Hankerson told Billboard. "Everything I do at Blackground is always with her in my heart and my mind." — M.R.
Read More: For The Record: How Aaliyah Redefined Her Sound And Herself On One In A Million
Bastille, Give Me the Future
Release date: Feb. 4
If the pandemic had even a glimmer of a bright side, it comes courtesy of musicians like Bastille pivoting and positioning their art to address the present, as Give Me the Future promises to do.
Bandleader Dan Smith had already begun work on the English pop-rock group's fourth album before COVID-19 threw a wrench in his plans, but the pandemic made the album's probing themes seem that much more prescient. Glistening songs like "Thelma + Louise" and the vocoded "Distorted Light Beam" dig more deeply into Bastille's exploration of escapism when the troubles of the world are thundering outside our windows, all with the help of new collaborators Rami Yacoub and One Republic's Ryan Tedder. We promise it's way more fun than it sounds. — B.C.
Mitski, Laurel Hell
Release date: Feb. 4
Mitski almost pressed pause on her music career which, according to a Rolling Stone interview, was "shaving away my soul little by little." After a final performance, "I would quit and find another life." Fortunately, though, Mitski has stuck with it.
Three years since the release of her fifth studio album Be the Cowboy, the indie singer-songwriter is set to share her forthcoming project Laurel Hell. While the majority of the LP was penned in 2018, it wasn't mixed until 2021, making it the longest the singer has spent on one of her records. What listeners can expect is a transformative set of songs that pair Mitski's signature vulnerability with uptempo dance beats and, ultimately, catharsis. — Ilana Kaplan
Guns N' Roses, Hard Skool EP
Release date: Feb. 25
In 2021, 36 years after the band first formed in the hard rock hotbed of Los Angeles, Guns N' Roses returned with two new singles. This productive streak was remarkable enough in itself given the group's notoriously haphazard release schedule. The singles "ABSUЯD" and "Hard Skool" are doubly remarkable, though, because they usher in a new EP that brings beloved members Axl Rose, Slash and Duff McKagan together again after 28 years.
Reinterpreted from the band's Chinese Democracy sessions, "ABSUЯD" features a raw, punk-tinged sound that surprised some fans before rewarding repeat listens. "Hard Skool," meanwhile, harkens back to the classic sound that Guns N' Roses perfected in the late 1980s. The Hard Skool EP will feature the two 2021 singles alongside live renditions of GNR favorites "Don't Cry" and "You're Crazy." To mark this new era, the band is touring arenas throughout 2022, reuniting Axl, Slash and Duff as a powerhouse onstage trio. — J.T.
Take a Look Back: Guns N' Roses' 'Appetite For Destruction' | For The Record
Charli XCX, CRASH
Release date: March 18
Pop polymorph Charli XCX has been promising fans her sellout era for months now ("tip for new artists: sell your soul for money and fame," she tweeted last July), ushered in with last summer's "Good Ones" and buoyed into the holidays with "New Shapes," a powerhouse team-up with Caroline Polachek and Christine and the Queens.
CRASH is the fifth and final album she owes Atlantic Records — a benchmark not lost on fans or Charli herself. For it, Charli promises edge-of-your-seat appearances from Rina Sawayama, frequent collaborator A. G. Cook, and frequent Weeknd cohort Oneohtrix Point Never. Come for the bloody album artwork, stay for the cheeky, self-aware pop concoctions contained within. — B.C.
Dolly Parton, Run, Rose, Run
Release date: March 2022
The beloved, multi-GRAMMY Award-winning singer-songwriter Dolly Parton has built a career as a trailblazer, so it stands to reason that her next musical effort would carry on that grand tradition. Run, Rose, Run is an album of original tunes taking its energetic moniker from a companion novel that Parton co-authored with the acclaimed writer James Patterson.
According to Parton, the accompanying album consists of "all new songs written based on the characters and situations in the book" and centers on a tale about a girl who treks to Nashville to pursue her dreams. Adds Patterson, "the mind-blowing thing about this project is that reading the novel is enhanced by listening to the album and vice versa." Both projects are dropping in tandem. It's a unique undertaking that celebrates a smoldering passion for music; but if you've been following the legend's career, would you expect anything less? — Rob LeDonne
Maren Morris, Humble Quest
Release date: March 25
GRAMMY-winning singer Maren Morris has conquered modern country music with her soulful solo material and even forayed into pop (just mentioning "The Middle" will glue its sticky chorus to your every waking moment for the next week). So whatever magic Morris might make with her highly anticipated third album, Humble Quest, is cause enough for celebration.
Morris kicked off her next LP with "Circles Around This Town," an expansive, freewheeling single that blends the echoing production of her 2016 debut HERO and super-personal lyrics of 2019's GIRL. The album will be Morris' first since the untimely 2019 passing of her longtime creative partner busbee, but her partnership with pop hitmaker Greg Kurstin (who produced "Circles Around This Town" as well as four GIRL tracks) hints that this next project is going to be a timeless trip and an emotional walloping. — B.C.
Thomas Rhett, Where We Started / Country Again: Side B
Release date: April 1 / Fall 2022
Though country music has always been the core of what Thomas Rhett has done since his debut album (2013's It Goes Like This), the star's 2021 set, Country Again: Side A, was more traditional than his past projects. Clearly his roots (along with the unexpected pandemic-induced downtime) sparked a bout of inspiration, as Rhett announced in November that he'll be releasing Side B as well as another LP, titled Where We Started, in 2022.
Surprisingly, Side B won't be coming first. But it will create one cohesive Country Again narrative once it arrives, as Rhett promised in an interview with Rolling Stone last year — though he did hint that Side B will feature production that's "a smidge more experimental" than Side A. His latest single, the wistful "Slow Down Summer" hints that Where We Started will also bring back more of the pop-leaning production he's incorporated in his previous albums.
Still, that doesn't mean he'll lose sight of the country boy that has been unleashed: In writing all of this music, Rhett told his producers (per Rolling Stone), "This is the direction I'm headed in, and I think I'm gonna be here for a long time." — T.W.
Read More: Saddle Up With The Best Country Song Nominations | 2022 GRAMMYs
Jack White, Fear of the Dawn / Entering Heaven Alive
Release date: April 8 / July 22
Epic ambition fuels the very essence of rock 'n' roll and Jack White has embodied the genre's weakness for glamour, dissonance and excess since his days with The White Stripes. The reckless propulsion of "Over and Over and Over" — off 2018's Boarding House Reach — proved that he has kept the bravado in his songwriting very much alive.
2022 will find the multi-GRAMMY Award winning singer/guitarist releasing two full-length albums: Fear of the Dawn, led by the wonderfully bombastic single "Taking Me Back," will also include a collaboration with rapper Q-Tip. No details are available on July's Entering Heaven Alive, but the appearance of two albums in the same year is the kind of grandiloquent gesture that rock is in need of more than ever before. — E.L.
Swedish House Mafia, Paradise Again
Release date: TBA, ships April 15
When GRAMMY-nominated Swedish House Mafia announced they were getting back together (and this time for good), fans were cautiously optimistic. The trio of DJ-producers — Steve Angello, Sebastian Ingrosso and Axwell — promised a host of new music to mark their return, and so far they've kept to their word. The comeback began with the dark, guest-free "It Gets Better," which deviated from the big-room EDM sound championed by the Swedes up to their split in 2013.
From there, the trio delivered "Lifetime," featuring Ty Dolla $ign and 070 Shake, and "Moth to a Flame," featuring The Weeknd, which became their first major hit of the new era. This flurry of activity sets the stage for Swedish House Mafia's first full album, Paradise Again. As Ingrosso told NME, the album will combine their trademark "Scandinavian melodies with dark production and hard sounds." Starting July 2022, the DJs embark on their first tour in a decade, playing 44 dates throughout the US, UK and Europe. — J.T.
Jason Aldean, Georgia
Release date: April 22
Jumping on country music's 2021 double album trend, Jason Aldean issued Macon, the first half of his own two-disc set, Macon, Georgia, in November. The title is an homage to his hometown, which he refers to as a "melting pot" that shaped his music, according to Country Now. Yet, the 30-song project expands on Aldean's signature country-rock sound without steering too far away from what fans have grown to love, as evidenced with both Macon and Georgia's crooning lead single, "Whiskey Me Away."
Like its predecessor, Georgia will include 10 new songs and five live recordings of his biggest hits, essentially creating Aldean's first-ever live album.With the aptly titled track "Rock and Roll Cowboy" to boot, Georgia helps make Macon, Georgia a career highlight for Aldean. — T.W.
Machine Gun Kelly, Born with Horns
Release date: TBD
The upcoming sixth studio album from enigmatic rocker Machine Gun Kelly, ominously titled Born with Horns, was rumored to drop on New Year's Eve 2021, but it seems Kelly had a change of heart tweeting "See you in 2022." While the release date continues to be murky, there is some solid information about the highly anticipated fresh slate of music from the multi-hyphenate rockstar.
For one, the album is produced by fellow rock luminary Travis Barker and includes the decidedly dark single "Papercuts." "It feels more guitar-heavy for sure, lyrically it definitely goes deeper, but I never like to do anything the same," Kelly said of Born with Horns in an interview with Sunday TODAY, noting it'll also mark a personal evolution. "I'm not scared anymore, there's nothing holding me back from being my true self — and my true self can't be silenced, can't be restrained." — R.L.
Watch Now: Up Close & Personal: Machine Gun Kelly On Working With Travis Barker & Influencing The Next Decade Of Music
Camila Cabello, Familia
Release date: TBD
There's perhaps never been a better advertisement for an album than Camila Cabello's edition of NPR's Tiny Desk. Released last fall, the session begins with three old songs and ends with two Familia cuts strong enough to bowl you over. In just 20 minutes, the former Fifth Harmony singer genuflects at the altar of pop's past while steering its ship into the future.
"Don't Go Yet" brims with the promise of comfort as it opens with a warm flamenco guitar. "La Buena Vida" is a Mariachi-based explosion of emotion and evocation, anchored by Cabello's arresting vocals. Whereas her prior albums sought to cement the 24-year-old amidst her contemporaries, the uber-personal Familia seems likely to propel her into a whole new pedigree of artistry. — B.C.
Rosalía, MOTOMAMI
Release date: TBD
In 2018, Rosalía's cinematic El Mal Querer signified a before-and-after for the music of Spain and Latin America. A visionary blend of flamenco, hip-hop and confessional torch song, the album introduced her to the world as an intellectual, musicologist and pop diva wrapped up into one slick sonic package. Subsequent singles (2019's "Haute Couture" was a gorgeous slice of electro-pop) demonstrated that Rosalía's path to global domination relies on a voracious curiosity for disparate styles and high-profile collaborators such as Billie Eilish and Bad Bunny.
Titled MOTOMAMI, Rosalía's much anticipated release includes "LA FAMA," a deliciously distorted bachata duet with The Weeknd. We can only imagine what other wonders Rosalía's remarkable imagination has dreamed up for this, her first full-length album since becoming a cultural icon. — E.L.
Saweetie, Pretty Bitch Music
Release date: TBD
Saweetie is set to finally release her debut album, Pretty Bitch Music, this year. After first announcing the project in 2020, the Bay Area native's star power has exploded, reaching new heights last year with major endorsements, her first GRAMMY nominations and a "Saturday Night Live" debut. Pretty Bitch Music was initially slated to arrive in 2021, but Saweetie postponed the effort for some additional fine-tuning.
"I'm just living with it to ensure it's perfect," she told Hollywood Life in August. "I'm really challenging myself and I just want to ensure that I put out a body of work that [will] symbolize art."
Pretty Bitch Music is expected to include Saweetie's 2x Platinum-certified collaboration with Doja Cat, "Best Friend" and her single "Tap In" with production by Timbaland, Lil Jon and Murda Beatz, among other heavy-hitters. — V.M.
Kid Cudi, Entergalactic
Release date: TBD
Three years after it was announced, Kid Cudi's animated music adventure for Netflix is set to arrive this summer, as the rapper declared during his set at Rolling Loud California in December. "I got some tasty surprises," he told fans before offering a snippet of unreleased music that may be on the soundtrack.
Not much else is known about the project, which takes its title from a song on Cudi's 2009 debut Man on the Moon: The End of Day, and which co-creator Kenya Barris referred to as "the most ambitious thing" in a 2019 interview with Complex.
Entergalactic might not be where Kid Cudi stops in 2022, either: Amid his Rolling Loud teases, he said, "I want to drop another album before [Entergalactic]... I really am excited about all this new s***, this new music to give to you guys. So that's why I'm teasing this s*** now, 'cause it's comin' out soon." — M.R.
Beach House, Once Twice Melody
Release date: throughout 2022
Nearly four years since the release of their seventh studio album aptly titled 7, Beach House is slowly unveiling their latest record Once Twice Melody. But instead of dropping all 18 tracks at once, the dreamy indie duo has been giving fans a taste of their new sound in four chapters.
Once Twice Melody is a significant shift as it's the first album produced in full by the band. Beach House also thought about its structure completely differently than they had in the past. "It didn't just feel like a regular, like another album of ours, it felt like a larger, newer kind of way of looking at our music," singer Victoria Legrand told Apple Music. Instead, they view it as "cinematic" and "literary." What fans can expect, they say, is "a lot of love" and "a sacredness of nature." — I.K.
Kendrick Lamar, TBA
Release date: TBD
One of our most celebrated artists of his generation may make his triumphant return this year. Although it's been nearly five years since Kendrick Lamar released his GRAMMY- and Pulitzer Prize-winning album DAMN, Lamar has remained busy. In 2018, Lamar curated the Black Panther soundtrack and he's also made guest appearances on tracks by artists as varied as Nipsey Hussle, Anderson .Paak, U2 and his cousin, Baby Keem.
But Lamar has been mostly mum about his own music, save for an August blog post titled "nu thoughts." "Love, loss, and grief have disturbed my comfort zone, but the glimmers of God speak through my music and family," he wrote, adding that his next album will be his last with Top Dawg Entertainment. It's the sort of thoughtful, precise announcement (and perhaps a hint to his album's content) that fans have come to expect from the notoriously private rapper. Lamar will thankfully make an appearance at this year's Super Bowl in February. — Britt Julious
Read More: Black Sounds Beautiful: How Kendrick Lamar Became A Rap Icon
Cardi B, TBA
Release date: TBD
Despite the slow-burning success of her single "Bodak Yellow," few could have predicted the popularity of Cardi B'sdebut album, Invasion of Privacy. A critical and commercial success, "Invasion of Privacy" won Best Rap Album at the 61st Grammy Awards, making Cardi the first woman to win in the category. That's why anticipation for her sophomore record is so high.
Cardi's brand of hip-hop is provocative and fun, and her two singles (possibly from the record) seem to confirm that same mood is still present in her music. In 2020, she dropped "WAP," a cultural reset of a collaboration with Megan Thee Stallion, and in 2021, she released "Up," which later inspired a viral TikTok dance challenge. As with many artists, the COVID-19 pandemic has delayed the release of Cardi's new album. But late last year on Instagram Live, Cardi said she has "lots of jobs now" and one of them is to "put out this album next year." Hopefully fans won't have to wait too long. — B.J.
Koffee, TBA
Release date: TBD
If Koffee's latest single is any indication, the youngest GRAMMY Award winner for Best Reggae Album is planning a glorious homecoming in 2022. Sung with a wide smile you can nearly hear, "West Indies" is a dancehall love letter to the islands and an upbeat promise for what the singer has in store on her first full-length.
"I want to speak of a solution and of a way that we can come together and get along, even when things are going wrong," Koffee told Rolling Stone.
Although the pandemic halted her album recording and nixed her first Coachella performance, Koffee defies the dour attitude of much of the past two years. On "West Indies," Koffee assures that she's partying and having the time of her life — her as-yet-untitled album will likely soundtrack yours while you do the same. — Jessica Lipsky
Read More: The Women Essential To Reggae And Dancehall
Girl Ultra, TBA
Release date: TBD
Few musical experiences are as uplifting as listening to a singer/songwriter's follow-up to a brilliant debut, where they enhance the scope of their craft with new influences and sounds. Nuevos Aires, Girl Ultra's first full-length album, was just that – a breath of fresh air for Latin R&B, anchored on the purity of her voice and collaborations with Ximena Sariñana and Cuco (for the languid hit "DameLove.")
Following that 2019 release, the artist also known as Mariana de Miguel returns with a new EP. Lead single "Amores de Droga" evokes the sophistication of Everything But The Girl, combining smoldering vocalizing with cool electro grooves. A study in contrasts, it finds the Mexico City chanteuse reaching a pinnacle of inspiration. — E.L.
The Pandemic Robbed Music Of Its Rapport. These Immersive Experiences Are Restoring It In Mind-Blowing Ways.