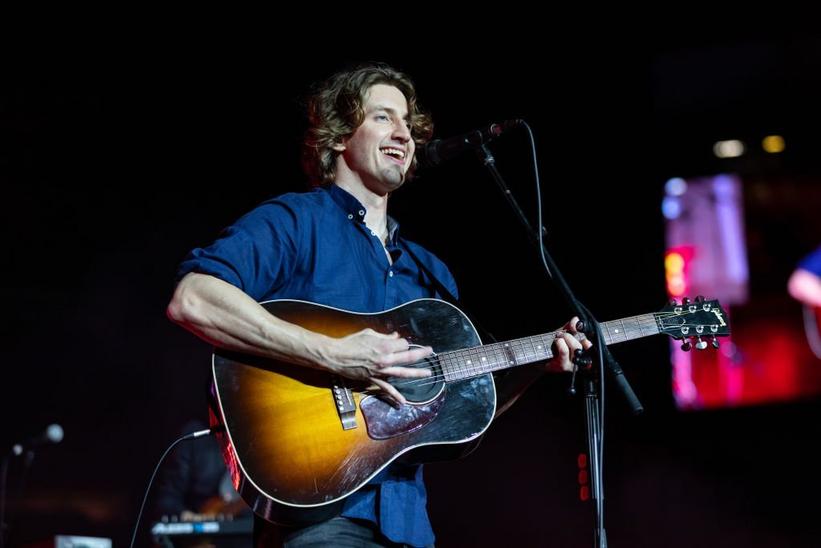 Dean Lewis
Photo: Mackenzie Sweetnam/Stringer
interview
Tracking The Rise Of Singer Dean Lewis Through Sync: From "Riverdale" To "Grey's Anatomy"
"If you're in a great scene and your music lends itself to that, it becomes part of the world of the show," Australian pop artist Dean Lewis tells GRAMMY.com.
GRAMMYs
/
Jun 9, 2022 - 03:25 pm
The right music can elevate a scene in a film or episode of television to a new level, amplifying a mood or adding context. Also known as sync placement (or synchronization), the purposeful matching of song and multimedia have been helping artists around the globe create new revenue streams for decades.
Sync has had a direct effect on the career of 34-year-old Australian pop artist Dean Lewis — particularly in America. "It's such a huge way to get your music out there," the singer tells GRAMMY.com ahead of a performance at New York's Webster Hall. 
Lewis' music gleans heartbreak yet remains uplifting, and has had soundtracked pivotal emotional scenes in television shows such as "Grey's Anatomy," "Magnum P.I." and "Suits." After his debut song "Waves" was featured on "Riverdale" in 2016, the song peaked at No. 12 on the Australian ARIA Charts and hit No. 1 on the Billboard Emerging Artists Chart. 
His upward trajectory continued with Lewis' 2018 single, "Be Alright." The track hit No. 1 in Australia in a mere four weeks, going 11x platinum. Now, Lewis has his sights set on cracking the US market with an upcoming single, "How Do I Say Goodbye."
Lewis' emotional and vulnerable music has clearly touched a nerve, with fans lined up outside Webster Hall in the pouring rain, some even carrying handmade signs. Despite his sincere lyricism and time spent talking to his fans, Lewis attributes much of his billions of streams and massive TikTok following to sync.
And sync is on the rise: The RIAA reported a 14.2 percent increase in sync licensing from 2020 to 2021, accounting for 302.9 million dollars in royalty revenue in 2021. GRAMMY.com spoke with Lewis about how sync has influenced his career, and advice he has for other artists who want to enter that market. 
You've got a lot of impressive sync placements from "Riverdale" to "Gray's Anatomy" to "Suits." Can you tell us how that happened?
Yes! I remember the first time I got a sync. It was for "Riverdale." "Riverdale" was so special because when "Waves" came out, I was only getting around 20,000 views on YouTube. After a month and no one was caring about it, we got word that it was going to be in the "Riverdale" season finale. 
Then, within a week, I had a million views! My followers went up, and I thought, "Wow!" Then the song started breaking in Australia and ended up going nine times platinum. But if it wasn't for  that (the "Riverdale" placement), I don't think that would have happened.
"Riverdale" was a great watch, and very popular in the United States. Was that the first time your music started gaining traction?
Yeah! From "Riverdale," that was the first big thing that I had. The song was out, I wasn't doing any marketing, and that placement helped get many streams. If you're in a great scene and your music lends itself to that, it becomes part of the world of the show. Whereas, sometimes you just get added and it's not really a special scene. It's just more of a quick moment. You can't pick those. It's really luck.
Are you able to share metrics with us?
From "Riverdale," what I remember was I had 20,000 views on YouTube. And then, by the end of the week, my Spotify streams went from like — I think it was like 10,000 a day — to around 200,000 a day. And it's literally stayed that way for "Waves" for five years.
And you lose perspective of numbers after a while because you go, what's a million? What's a billion? You can't visualize it, but it all just helps. And now the world's changing so much on TikTok, it's a great way to get more streams. 
How did you feel when you first heard your song on TV?
I was in London when "Riverdale" was on, and I was in some hotel room, and I stayed up and I watched it. I didn't know "Riverdale" was a big show…. I [didn't] really have a lot of context because I hadn't seen the show yet, but it was really cool. 
What is your favorite placement that you've had so far?
Wow, that's a good question. I would actually probably say "Riverdale" has a special place in my heart because it's so special. There was a great one in Suits. It was really good. Many people messaged me and followed me because of Suits as well. They put the acoustic version of "Waves" in it.
So how did that placement on Riverdale initially happen? Did you get rejected first?
No, my publishing company, basically they just tell me, "Hey, you got to sync." And then they go, "Do you want to do it?" Yes, of course!

Weirdly, certain songs sync better than others. Like my song "Be Alright," which is my biggest song, doesn't get any syncs because it's very specific, theoretically. Whereas my song "Waves," it's more ethereal and more people can interpret it.
Certain songs get synced more than others, and it's not something you think about when you're writing a song, because my biggest song doesn't get any syncs, but my other songs get more syncs. It's a very weird world and you can't plan it. They really just come to us or they speak to my publishing company and that's how it all happens.
Do you ever write with sync in mind, or is it more of an afterthought?
No, I really write selfishly. I write for myself. What do I love? What do I like? What do I want to hear? And then I want to make it great. And then I want everyone to love it. So I don't really write for sync, but a lot of time you finish an album and you go, oh, this song sounds like it would sync really well. After COVID — I haven't had as many syncs recently. I think everyone hasn't. 
Makes sense that syncs would be lower these last few years. Production for films and TV had been shut down for a number of months. If you could have any kind of sync placement, what's your dream show?
Getting a sync in a big film trailer because I've never really had one of those! 
You mentioned TikTok helps with streams as well. I checked your TikTok and you seem to be actively engaging with fans in a truly heartfelt way.
I'm just grateful for it. I got on TikTok two years ago because I saw it was up and coming. I thought I was late, but I think a lot of people never went on to it. It's such a great place for people to break things quickly. I appreciate the fact that I was all over it with fans making videos to my music.
I started on TikTok because of COVID. I was thinking, Am I ever going to get back to doing shows? Are people going to remember me? So I appreciate it when [TikTok users] duet my music. And I appreciate it when we come to a show and see fan reactions. We film that for TikTok. I love it.
What do you think about the future of music in general? What do you think about NFTs and the metaverse? Do you think that's going to be a thing?
Oh, I have no idea about that. I know — I'm really boring. I think now I would say to people, you have to constantly be putting stuff out there and just keep releasing it. It's very different now. I've never seen so many artists. 
Every second thing is a new song, and they're all really good at the time, but there's also more independence. You don't rely so much on record labels to break you. It's really, you putting in the work. How much do you want to make it happen? How good is the stuff that you write? I mean, I don't know how to market my stuff and create a trend. But all I know how to do is write songs that I'm proud of, and then just keep posting about them. The strategy I've sort of done is the strategy of just living as a musician.
Back to sync — what countries do you have sync placements in?
I've had some in Australia, but mainly big US shows and some commercials. 
If you could pick one country to start getting sync placements, where would it be?
Oh, wow. That's a good question. I'd probably say probably America. Everyone wants to crack America, so more American syncs for sure.
Is there anything else you just want to say about sync or advice for artists that are trying to get into sync?
Yeah. I mean, find a good company. I just signed to a publishing company and they've gotten me a lot of syncs. But the world changes so much in the sync world. I would just say, make sure you have a team of people that really believe in you and sign with them if they believe in you and you have those connections. Trust that, rather than just a big check, you know what I mean? 
Definitely, and what advice do you have for artists and creatives of all kinds?
My advice to anyone who's creative is to always say "No," because people will tell you straight to your face what to do and what will work. And then, when it doesn't work, they will disappear and you're left with it on your own. Only do what you want to do, because, at the end of the day, that's all that matters. 
Don't fail on someone else's terms. There are so many people in this industry who will tell you what to do, and then they will be gone when it doesn't work. And I've been lucky to say "No" to everyone. I always say "No."
From 'Encanto' To "Euphoria" And "Grand Theft Auto V": Behind The Making Of A Great Soundtrack