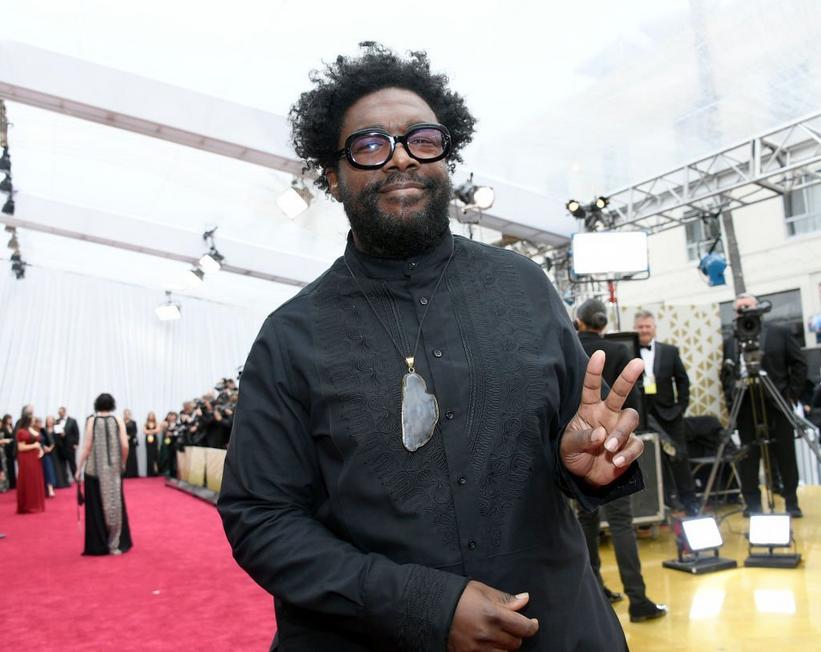 Questlove attends the 2020 Academy Awards
Photo: Kevork Djansezian/Getty Images
news
Earth Day Live: Questlove, Moby, Jason Mraz, Aimee Mann And More Confirmed For 50th Anniversary Of Earth Day
The star-studded lineup features activists, celebrities, musicians and more discussing the issues and concerns within the global climate movement and climate crisis
GRAMMYs
/
Apr 17, 2020 - 01:15 am
Earth Day, the annual global event in support of environmental protection, is celebrating its 50th anniversary this month with Earth Day Live, a three-day livestream and "online mobilization" event aimed at building community within and expanding the following of the worldwide climate movement and sparking collective action toward climate justice.
Taking place Wednesday, April 22, which marks the 50th anniversary of Earth Day, through Friday, April 24, Earth Day Live will feature a star-studded lineup of activists, celebrities, musicians and more, including musical performances and DJ sets from Questlove, Aimee Mann, Talib Kweli, Jason Mraz, Angélique Kidjo, Jack Johnson and several others. The event will also include conversations with and cameos from Moby, Oscar-winning actor Joaquin Phoenix, former U.S. Vice President Al Gore, former minority leader of the Georgia House Of Representatives Stacey Abrams, rapper Lil Dicky and others, alongside leading activists, scientists and journalists at the forefront of the climate crisis.
More speakers and guests will be announced soon. View the full list of confirmed participants so far on the Earth Day Live website.
"This is a monumental time in history. We are being forced to slow down, to pause, to re-evaluate our life paths, our purpose, and our connections to each other and the broader world around us," a statement on the Earth Day Live website reads. "This moment presents a special opportunity to not only unite our movement around a shared common vision for a better future for humankind, but to welcome in organizers, friends, family and community members who have not been interested in being an active part of the climate movement … This is our moment to bring forth the vision of the future we want to see. Livestreams are an opportunity to build community, educate, and propose solutions. We can bring hope, joy, and honesty in a time when so many are overwhelmed and isolated."
The event, led by youth climate leaders, will stream live from 9 a.m. to 9 p.m. EST across all three days on the Earth Day Live website, which will provide the "full user experience," and on major streaming platforms, including Facebook Live, YouTube, Instagram, Twitter and Twitch, as well as several partner organizations and websites.
Jayda G Is The Environmental Scientist & House Music DJ/Producer The Planet Needs Right Now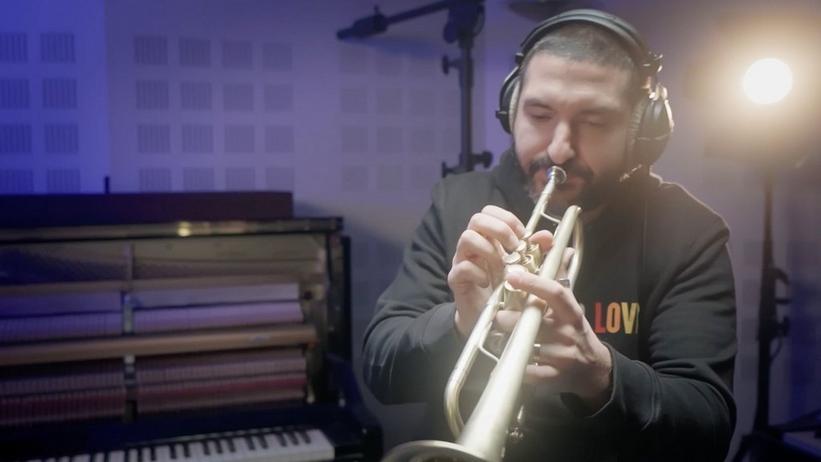 Ibrahim Maalouf
Photo courtesy of the Recording Academy
Press Play: Watch Ibrahim Maalouf Spotlight His Improvisatory Powers In Energetic Performance of "Right Time"
Lebanese trumpeter Ibrahim Maalouf showcases his improvisation skills in this instrumental performance of "Right Time," a hip-hop track from his latest album, 'Capacity To Love.'
GRAMMYs
/
Jan 26, 2023 - 05:35 pm
Since the initiation of his solo career, Lebanese instrumentalist Ibrahim Maalouf has strived to diversify music with his trumpeting.
The musician found his start performing at international jazz and classical competitions. After quickly becoming one of the most decorated trumpeters, Maalouf began his career as a soloist, where he could transcend the bounds of traditional genres. His skillful, unique improvisation caught the attention of artists globally, including Afrobeats singer Angélique Kidjo.
Together, they released Queen of Sheba, which snagged Maalouf his very first GRAMMY nomination in the Best Global Music Album category at the 2023 GRAMMYs and made him the first Lebanese instrumentalist to be nominated in GRAMMY history.
In this episode of Press Play, Maalouf performs an instrumental version of "Right Time," an upbeat hip-hop track on his latest album, Capacity to Love. Accompanied by an electric guitar and saxophone, Maalouf plays the track's melody, originally sung by Erick the Architect from the Flatbush Zombies.
Maalouf then trades off with the saxophonist, as the two musicians deliver an impressive, improvised solo.
Capacity to Love is Maalouf's fifteenth studio album and first self-produced project. The genre-bending release features collaborations with pop singer J.P. Cooper, rapper D Smoke, New Orleans funk band Tank & the Bangas, and more.
Press play on the video above to watch Ibrahim Maalouf's performance of "Right Time," and keep checking back to GRAMMY.com for more new episodes of Press Play.
Meet Kibrom Birhane, A Keyboardist & Vocalist Fusing Jazz With 1,000-Year-Old Ethiopian Tradition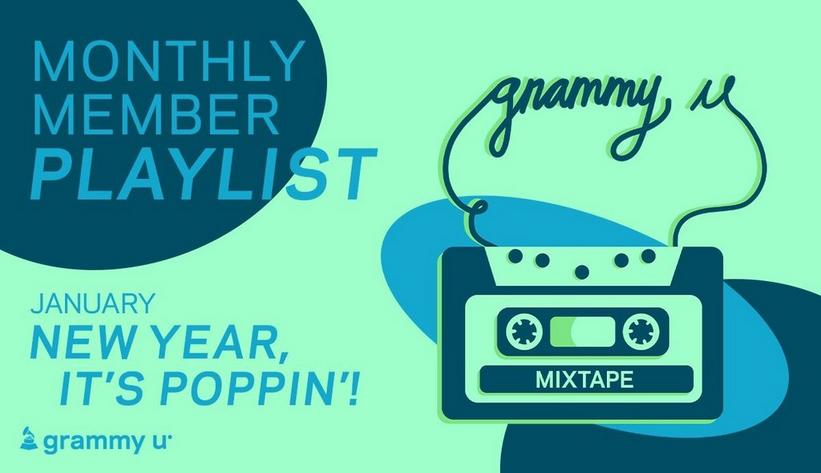 news
Press Play On GRAMMY U Mixtape: New Year, It's Poppin'! Monthly Member Playlist
The GRAMMY U Mixtape is a monthly, genre-spanning playlist to quench your thirst for new tunes, all from student members. GRAMMY U celebrates new beginnings with fresh pop tunes that will kickstart 2023.
GRAMMYs
/
Jan 6, 2023 - 12:17 am
Did you know that among all of the students in GRAMMY U, songwriting and performance is one of the most sought after fields of study? We want to create a space to hear what these students are creating today!
The GRAMMY U Mixtape, now available for your listening pleasure, highlights the creations and fresh ideas that students are bringing to this industry directly on the Recording Academy's Spotify and Apple Music pages. Our goal is to celebrate GRAMMY U members, as well as the time and effort they put into making original music — from the songwriting process to the final production of the track.
Each month, we accept submissions and feature 20 to 25 songs that match that month's theme. This month we're ringing in 2023 with our New Year, It's Poppin'! playlist, which features fresh pop songs that bring new year, new you vibes. Showcasing talented members from our various chapters, we felt these songs represented the positivity and hopefulness that GRAMMY U members embody as they tackle this upcoming year of exciting possibilities.
So, what's stopping you? Press play on GRAMMY U's Mixtape and listen now on Spotify below and Apple Music.
Want to be featured on the next playlist? Submit your songs today! We are currently accepting submissions for songs of all genres for consideration for our February playlist. Whether you write pop, rock, hip hop, jazz, or classical, we want to hear from you. Music must be written and/or produced by the student member (an original song) and you must be able to submit a Spotify and/or Apple Music link to the song. Students must be a GRAMMY U member to submit.
About GRAMMY U:
GRAMMY U is a program that connects college students with the industry's brightest and most talented minds and provides those aspiring professionals with the tools and opportunities necessary to start a career in music.     
Throughout each semester, events and special programs touch on all facets of the industry, including the business, technology, and the creative process.
As part of the Recording Academy's mission to ensure the recorded arts remain a thriving part of our shared cultural heritage, GRAMMY U establishes the necessary foundation for music's next generation to flourish.
Not a member, but want to submit to our playlist? Apply for GRAMMY U Membership here.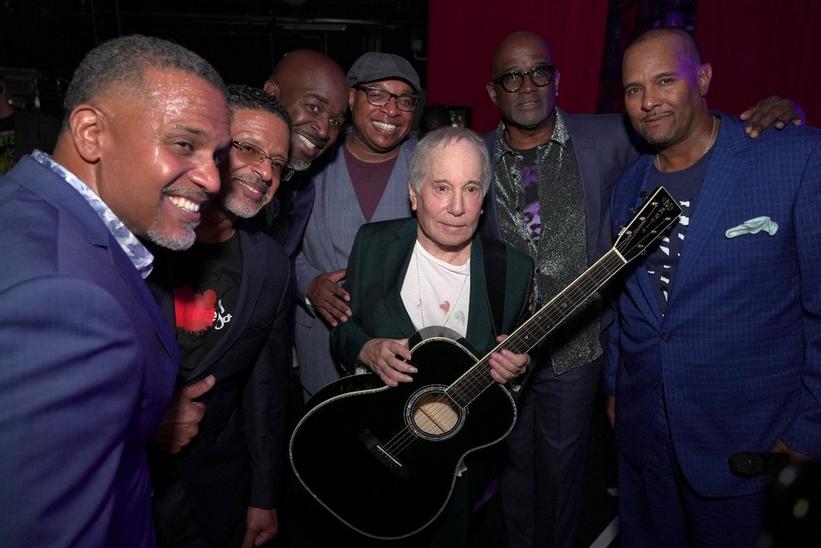 Paul Simon with Take 6
Photo: Getty Images for the Recording Academy
list
8 Highlights From "Homeward Bound: A GRAMMY Salute To The Songs Of Paul Simon"
Paul Simon's GRAMMYs bash included moments of vulnerability, generation-straddling duets and plenty of other surprises. Stream it on demand on Paramount+ and read on for eight highlights.
GRAMMYs
/
Dec 22, 2022 - 03:51 pm
Many tribute shows for legacy artists end in a plume of confetti and a feel-good singalong. But not Paul Simon's.
At the end of the songbook-spanning "Homeward Bound: A GRAMMY Tribute To Paul Simon," the only person on the darkened stage was the man of the hour. Sure, the audience had been baby-driven through the Simon and Garfunkel years, into the solo wilderness, through Graceland, and so forth. But all these roads led to darkness.
Because Simon then played the song that he wrote alone, in a bathroom, after JFK was shot.
It doesn't matter that Simon always ends gigs with "The Sound of Silence." After this commensurately cuddly and incisive tribute show, it was bracing to watch him render his entire career an ouroboros. 
That "The Sound of Silence" felt like such a fitting cap to a night of jubilation speaks to Simon's multitudes. The Jonas Brothers coolly gliding through "50 Ways to Leave Your Lover," juxtaposed with the ache of Garth Brooks and Trisha Yearwood's "The Boxer," rubbing up against Dave Matthews getting goofy and kinetic with "You Can Call Me Al," and so on and so forth.
The intoxicating jumble of emotions onstage at "Homeward Bound: A GRAMMY Tribute To Paul Simon" did justice to his songbook's emotional landscape — sometimes smooth, other times turbulent, defined by distance and longing as much as intimacy and fraternity.
Here were eight highlights from the telecast on Dec. 21 — which you can watch on demand on Paramount+ now.
Garth Brooks & Trisha Yearwood's Pitch-Perfect "The Boxer"
Brooks has always been one of the most humble megastars in the business, praising his wife Trisha Yearwood — and his forebears — a country mile more than his own. (Speaking to GRAMMY.com, he described being "married to somebody 10 times more talented than you.")
The crack ensemble could have made "The Boxer" into a spectacle and gotten away with it, but Brooks wisely demurred.
Instead, the pair stripped down the proceedings to guitar and two voices; Brooks provided an aching counterpoint to Yearwood.
Billy Porter's Heart-Rending "Loves Me Like A Rock"
The "Pose" star blew the roof off of Joni Mitchell's MusiCares Person Of The Year gala in 2022 with "Both Sides Now," so it was clear he would bring napalm for a Simon party. 
Given the gospel-ish intro, one would think he was about to destroy the universe with "Bridge Over Troubled Water." 
Instead, he picked a song of tremendous personal significance, "Loves Me Like a Rock," and dedicated it to his mother. The universe: destroyed anyway.
Stevie Wonder & Ledisi's "Bridge Over Troubled Water"
The question remained: who would get dibs on the still-astonishing "Bridge Over Troubled Water"? A song of that magnitude is not to be treated lightly.
So the producers gave it to generational genius Wonder, who'd bridged numberless troubled waters with socially conscious masterpieces like Songs in the Key of Life.
But he wouldn't do it alone: R&B great Ledisi brought the vocal pyrotechnics, imbuing "Bridge Over Troubled Water" with the grandiosity it needed to take off.
Jimmy Cliff & Shaggy Brought Jamaican Vibes With "Mother & Child Reunion"
Simon embraced the sounds of South Africa with his 1986 blockbuster Graceland, yet his island connection is criminally underdiscussed; since the '60s, Jamaican artists have enthusiastically covered his songs.
For instance, it's impossible to imagine a "Mother and Child Reunion" not recorded in Kingston, pulsing with the energy of Simon's surroundings.
Enter genre luminaries Jimmy Cliff and Shaggy, who flipped the tribute into a bona fide reggae party.
Take 6 Dug Deep With "Homeless"
Leave it to the Recording Academy to avoid superficiality in these events: Mitchell's aforementioned MusiCares tribute included beyond-deep cuts like "Urge for Going" and "If." 
Most remember "Homeless" as Ladysmith Black Mambazo unaccompanied vocal cooldown after bangers like "You Can Call Me Al"; eight-time GRAMMY-winning vocal group Take 6 did a radiant, affectionate rendition.
When Simon took the stage at the end of the night, he was visibly blown away. Touchingly, he shouted out his late guitarist, Joseph Shabalala, who founded Ladysmith Black Mambazo.
"Imagine a guy born in Ladysmith, South Africa, [who] writes a song in Zulu and it's sung here by an American group, singing his words in his language," Simon remarked. "It would have brought tears to his eyes."
Angélique Kidjo & Dave Matthews' Love Letter To Africa
Graceland was Simon's commercial zenith, so it was only appropriate that it be the energetic apogee of this tribute show.
Doubly so, that this section be helmed by two African artists: Angélique Kidjo, hailing from Benin, and Dave Matthews, born in Johannesburg.
"Under African Skies," which Simon originally sang with Linda Ronstadt is a natural choice — not only simply as a regional ode, but due to its still-evocative melody and poeticism.
"This is the story of how we begin to remember/ This is the powerful pulsing of love in the vein" drew new power from Kidjo's lungs. 
Afterward, Matthews — a quintessential ham — threw his whole body into Simon's wonderful, strange hit, "You Can Call Me Al."
The Master Himself Took The Stage
With his still-gleaming tenor and still-undersung acoustic guitar mastery, Simon brought the night home with "Graceland," a Rhiannon Giddens-assisted "American Tune" and "The Sound of Silence."
At 81, Simon remains a magnetic performer; even though this is something of a stock sequence for when he plays brief one-off sets, it's simply a pleasure to watch the master work.

Then, the sobering conclusion: "Hello darkness, my old friend," Simon sang, stark and weary. With the world's usual litany of darknesses raging outside, he remains the best shepherd through nightmares we've got.
And as the audience beheld Simon, they seemed to silently say: Talk with us again.
15 Essential Tracks By Paul Simon: In A Burst Of Glory, Sound Becomes A Song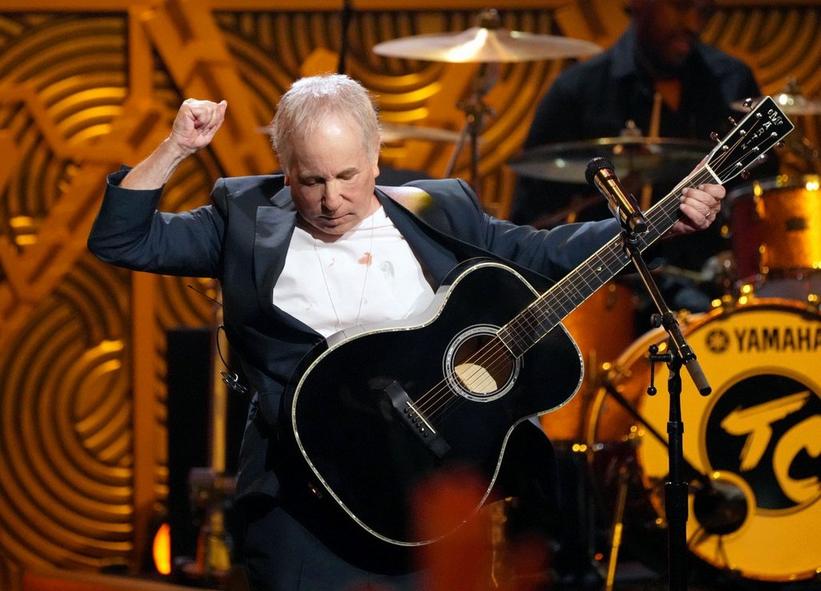 Paul Simon performing at "Homeward Bound: A GRAMMY Salute To Paul Simon"
Photo: Kevin Mazur/Getty Images for The Recording Academy
video
Watch Jonas Brothers, Brad Paisley, Billy Porter, Shaggy & More Discuss The Legacy And Impact Of Paul Simon Backstage At "Homeward Bound: A GRAMMY Salute To Paul Simon"
Performers at the star-studded tribute from the Jonas Brothers to Brad Paisley to Angélique Kidjo explain why Simon deserves the highest praise in the echelon of American singer/songwriters.
GRAMMYs
/
Dec 20, 2022 - 05:53 pm
Paul Simon may have won 16 GRAMMYs throughout his illustrious career, but he's getting another honor from the Recording Academy — something much bigger than a golden gramophone.
On Dec. 21, "Homeward Bound: A GRAMMY Salute To The Songs Of Paul Simon," a two-hour special illuminating the 16-time GRAMMY winner's songbook, will air on the CBS Television Network from 9-11:00 p.m. PT/ET.
The concert features Garth Brooks and Trisha Yearwood, Eric Church, Rhiannon Giddens, Susanna Hoffs, Jonas Brothers, Angélique Kidjo, Ledisi, Little Big Town, Dave Matthews, Brad Paisley, Billy Porter, Sting, Take 6, Irma Thomas, Shaggy and Jimmy Cliff, Trombone Shorty and Stevie Wonder.
Additionally, Sofia Carson, Herbie Hancock, Woody Harrelson, Dustin Hoffman, Elton John, Folake Olowofoyeku, and Oprah Winfrey also make special appearances.
Below, watch exclusive clips where many of these artists express what Simon, a leading light of singing and songwriting, means to them.
The Jonas Brothers
Brad Paisley
Billy Porter
Shaggy
Trombone Shorty
Angélique Kidjo
Ledisi
Folake Olowofoyeku