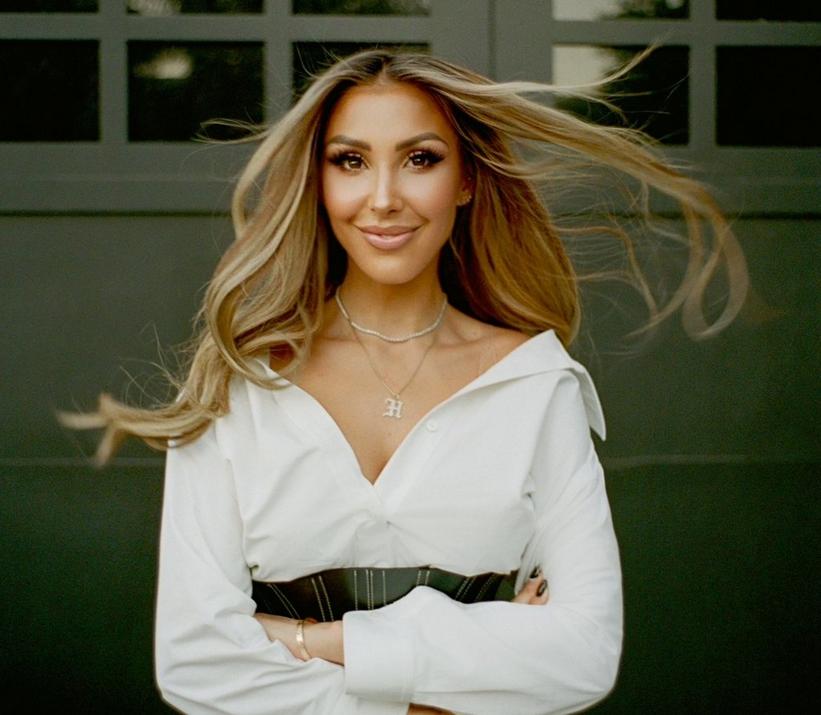 interview
Behind The Camera With Hannah Lux Davis: Your Favorite Pop Star's Favorite Music Video Director
Watch Hannah Lux Davis' GRAMMY U Masterclass and get to know the director's creative process for videos such as "Thank U, Next" and "Say So"
GRAMMYs
/
Apr 1, 2022 - 02:47 am
When you think of pop music's most iconic music videos of the last five years — such as "Thank U, Next" by Ariana Grande, or "High Horse," by Kacey Musgraves — you should also consider the brain behind the music videos, Hannah Lux Davis.  
The Los Angeles-based music video director has created a name for herself as your favorite pop stars' favorite music video collaborator. Her work with artists such as Grande, Doja Cat and, most recently, Saweetie and H.E.R, for their "Closer" video, have created a measurable impact on pop culture: "Thank U, Next" broke the 2018 YouTube record for the biggest music video debut in history, earning 55.4 million viewers in the first 24 hours. 
Davis' distinct style is influenced by the extravagant music video aesthetic of late-'90s "TRL" and icons such as Britney Spears and Christina Aguilera. Many of her videos utilize potent colors and multiple settings —  the video for Ariana Grande's "7 Rings," employs retro neon colors in complement with a lavish wardrobe to seamlessly suit the song's trap beat.
But before Davis became one of the most prominent eyes defining the contemporary relationship between music videos and pop culture, she was a hobbyist video editor. Her passion only grew while attending L.A. Film School, and Davis took production assistant jobs to get a foothold in the film industry.  
When those jobs weren't propelling her career the way she had hoped, Davis became a makeup artist with the hope of building a stronger network. And it worked: one of the relationships cultivated during her time as a makeup artist led to her directorial big break on Lil Wayne, Drake and Future's "Love Me," video in 2013.  
In the years since, Davis earned 12 MTV Music Video Award nominations and a Country Music Award in 2019 for her work on Musgraves' "Rainbow." She was also named one of the Recording Academy's Women Architects of Sound in Music in 2018. Ahead of her GRAMMY U Masterclass on April 1, GRAMMY.com caught up with Davis to discuss some of her most iconic music videos.
"7 Rings" -  Ariana Grande
Released in January 2019, Ariana Grande's "7 Rings" music video showcases an extravagant lifestyle as Grande sings of providing for herself. The lyrics drip in female empowerment and the video, in its pink hues, visually emulates that concept.
"I love that we just hit everyone in the face with the color pink, lol. The fashion, lighting, production design… It was a bold choice to really commit to a color palette like we did for '7 Rings,'" she wrote, adding that she thinks brunettes look gorgeous in pink lighting. "It was a baddie feminine energy that was so much fun to play in and it fit the song's vibe so perfectly. We also kind of kicked off this vapor wave trend, so that was pretty sick to see as well!"
From set changes, to wardrobe and animations weaved into the video, it's hard to miss Davis' touch of color expression in this one. The "7 Rings" music video currently stands at over one billion views on Grande's Vevo YouTube channel, (That's more than 1/7 of the global population!)  
"Say So" - Doja Cat
Released in February 2020, Doja Cat's "Say So" music video became a surprise breakout hit off of her sophomore album, Hot Pink. "Say So"  had a viral moment on TikTok at the beginning of the pandemic and the video incorporates the internationally known TikTok dance —  a cutting edge moment when TikTok was just hitting pivotal success with musical artists.   
The video for "Say So" is set in 1970s Los Angeles and tells the story of Doja meeting a maintenance man at her house who is servicing her record player. She meets him again later in the night for a fate-driven, disco dancing rendezvous.  
"Videos that have [a] narrative, performance and dance choreography within the same video are always a bit tricky. There has to be the right balance of everything to do it all justice and oftentimes, a lot of goodies get left on the cutting room floor," Davis says. "In the case of the 'Say So' video, there was a ton of pressure to knock this one out of the park because the song was blowing up on TikTok and we knew the dancing had to be on fire."   
Davis is involved with editing most of her videos, and tag-teamed the "Say So" edit with her good friend and longtime collaborator, Eric Wysocki. She recalled that she was mainly responsible for structure and shot selection, while Wysocki followed up with flare.
"Something that really helped us 'find it' — a term I use a lot when discovering the video's edit style — was the 4:3 letterbox [aspect ratio]," she says, adding that the video was originally shot for 2:35. "Eric and I experimented with different aspect ratios and film flashes/flares, and suddenly we found our style as soon as we landed on this filmic 4:3 moment. After that, the video edit flowed much more organically!" 
"High Horse" - Kacey Musgraves
Released in July 2020, Kacey Musgraves' video for "High Horse" juxtaposes retro-disco instrumentation with Musgraves' signature country vocal production and lyricism. The video showcases the bright color palettes that reflect her own personal fashion and nods to the storytelling of Dolly Parton's "9-5" with a modern twist.
"When Kacey first told me she wanted a '9 to 5' moment and disco karaoke all in the same video, I knew it was going to be a challenge," Davis says, noting that the video was shot in one day. "But conceptually, it was a lot of fun to figure out."
She employed an orange monochromatic palette for the office scenes to tell the audience that it was a period piece video. "To contrast the two worlds, I wanted the karaoke disco bar to be much cooler, so we used a lot of turquoise, blue and deep purples with pops of cherry blossom pink," the director says. "The two different color palettes really complemented each other beautifully and made the video overall super vibrant, fun, and fresh."
Davis continues: "I remember Kacey hadn't done her fitting yet for the office scene, and on the day she walked to the set, she wanted to try on all her looks in the space so she could match the set perfectly. She loves to commit!"
"Thank U, Next"  - Ariana Grande
Ariana Grande's "Thank U, Next" music video recreated scenes from popular early 2000s rom-coms including Legally Blonde, 13 Going on 30, Bring it On and Mean Girls with cameos from some of those films' celebs. The video even included an appearance from Kris Jenner. The video broke a YouTube record for most watched video premiere within 24 hours of its upload and still holds second place for that record.
"Creating this video with a huge star like Ariana definitely came with advantages for a concept as ambitious and specific as 'Thank U, Next.' The importance of the perfect cast was very key for its success — especially with these beloved characters we were portraying," Davis says. "The talent we were able to have…ultimately led to this lightning in a bottle moment in pop culture." 
Tune in Friday April 1, 2022 for the Hannah Lux Davis GRAMMY U Masterclass, powered by Mastercard, live streamed from Las Vegas on the GRAMMY's YouTube and Twitch channels. 
The Meteoric Rise Of Olivia Rodrigo: How The "Drivers License" Singer Became Gen Z's Queen of Pop