interview
Becky G's 'Esquemas' Is A Celebration Of Biculturalism And The Woman She Is Today: "I'm Actually Living Life For The First Time"
The Mexican-American pop star brings her bicultural roots to life on her second album, 'Esquemas.' Becky G breaks down why the project — which features fellow stars Karol G and Natti Natasha — is both a representation of her growth and female empowerment.
GRAMMYs
/
May 12, 2022 - 09:31 pm
Becky G has been pushing boundaries since the start of her career. Born and raised in a Los Angeles suburb to Mexican-American parents, the singer has strived to reflect both sides of her bicultural roots — championing women as a leading Latina voice in pop, while also giving pop music a more global sound.
Getting her start in the pop world with the 2014 hook-filled hit "Shower," Becky G found her footing in reggaeton music with her Latin breakthrough, 2017's "Mayores" with Bad Bunny. She struck again with the Natti Natasha-featuring global smash "Sin Pijama" in 2018, and officially made her mark with her debut album, Mala Santa, in 2019. Now, Becky G is continuing to bring together both worlds — and break boundaries — on Esquemas.
The title is a nod to doing away with the restrictive schemas that are placed on women and letting them live life, which is exactly what Becky G basks in across the diverse 14 tracks. In the flirty "Bailé Con Mi Ex," she translates disco-pop flair into Spanish; in the empowering "Dolores," she tackles a more soulful sound. She remains of purveyor of female collaborations with singer/songwriter Elena Rose featuring in the doo-wop-infused "Flashback," and delivers another girl power anthem with fellow Latina star Karol G on "Mamiii," which blends reggaeton with influences of regional Mexican music.
Already a decade into her career and only 25 years old, Becky G is embracing what makes her unique in an industry that's always trying to box in an artist. She chatted with GRAMMY.com about the Esquemas she's breaking, remaining true to herself, and the power of women collaborations.
Why did you decide to name your album Esquemas?
To me, romper esquemas is to break the mold, to step outside of the boxes that society puts on us as young women, as Latinas. It's something I've been trying to do since the very beginning of my career.
If you look at Mala Santa and me embracing the duality that exists in all women — the strong energy that can be considered masculine, the feminine energy, embracing your vulnerability as well as your sexuality, and your fierceness and your power — I feel like Esquemas was the perfect word that embodied what that meant to me.
How different was it to make Esquemas versus your first album, Mala Santa?
It was really different. I think I'm different. I have always been someone who thrives off of learning, who loves the concept of growth. But when you're actually experiencing growth, it's quite painful sometimes — and uncomfortable — and it can surface a lot of things. And for me, I think it only made me better as an artist. It made me more in-tune with myself.
I think this is a good representation of who I am today. This is 10 years later [from when I was first signed]. I'm 25 now, and It feels [like] I'm actually living life for the first time. I think you can hear that in the music.
You have two of the top women in reggaeton on the album, Karol G and Natti Natasha. What was the experience like to work with them?
It was really important for me to have "Ram Pam Pam" on the album. This is only my second album, and there's no one else I'd rather share that with than someone like Natti, who is literally like my sister. Natti could call me in a state of emergency today and I would literally fly to go be there with her, because I love her that much. She knows that, and I know it's the same the other way around. That means a lot to me to have that song on there, because that's who I started this with, and I get to continue doing that with her.
I have Karol, on the other hand, with "Mamiii" — that is sonically very different. Finally the Gs are together! We're giving the people what they wanted, and what I wanted, for a very long time.
I've mentioned many times that I've invited Karol to multiple songs throughout the years. I've always wanted to do something with her because I admire her so much and everything that she's created. It was beautiful — when I was least looking for it is kind of when it happened. That was the serendipity of it all.
It was going to just be me on the song by myself, [but] she heard the song by chance in the studio and she loved it. I had no idea that she even heard it — so when she reached out and she told me she thought this was the song, I was like, "The man upstairs is definitely listening, because it's finally happening."
The song's killing it, and I'm so thankful for that. I'm also very proud that it's with her. Very commonly, still today, the industry — not just in Latin music, but even in the general market — you see two Latinas, beautiful, successful with the same last initial. It's like, "Well, we only have space for one of them." No, actually, we should all have our space, because we all represent different flags. We all have different stories on how we got to become the person that everyone sees in front of them today. We get to unite and show just how powerful we can be together. I've always believed that together, we're stronger. We're so much more when we come together.
I also heard it on Top 40 radio the other day! Like what? That's crazy! It's amazing. It's so beautiful. Everyone is going to know the word tóxico now. [Laughs.] People learned "Sin Pijama." They learned "Mayores." And now they're going to know the word tóxico. They're going to say "Salud, mami!" even if they don't speak Spanish.
"Sin Pijama" and "Mamiii" are female empowerment anthems. They've also become anthems for the LGBTQ+ community. How do you feel about sharing that connection with the LGBTQ+ community?
It means everything to me. When I talk about breaking molds, when I talk about living your true authentic life, the LGBTQ+ community is no exception to that. I think if there's any community that's really struggled to find acceptance, to be heard, it's that community. So I identify [with] that community as an ally 100 percent. There's so many people close to me that are part of that community — so to be of service to them, to be a platform for them, to be a safe space in my music, it's very important to me.
It's also awesome to see you share the spotlight on "Flashback" with Elena Rose, who is more known for writing the hits for artists like Selena Gomez, Rauw Alejandro, and TINI.  
Elena Rose is another very incredible songwriter, artist — my sister as well. She's like literal family to me, who has been such a pivotal character behind the scenes, and in my evolution as an artist. Spanish is not my first language — I grew up speaking Spanglish,  speaking English in school, and listening to English and Spanish music. Identifying melodies when creating [songs] was much easier for me than it was to find the words in Spanish [for] what I wanted to talk about. [Elena] was the one who would really challenge me on those things and teach me how to do that. And now she writes the greatest hits for everybody — not just other female artists, but even the boys. I f<em></em>* with that so much. I think it's so cool.
I'm so honored that I have someone like Elena in my corner. She's such an intuitive creative, but also a really good person. I don't think a lot of people get to recognize that because they know that she writes the hits for everybody. But if you're in the room with her, it's undeniable that she's a rock star. She's got everything that it takes and more to do the damn thing. I was like, "I want you on my album! You better be on my album!" When we made "Flashback," it was just so perfect.
Throughout the album, you're mixing American and Latin genres. How did you feel to be creating music in that way?
It was so intentional. To me, this is  a genre-less album. There's not one sound to it. It's because that's me — I am a genre-less artist. I think we've seen that in features that I've done, in collaborations with English-speaking artists and Spanish-speaking artists.
I represent two flags. I grew up in L.A. That's a very diverse community that introduced me to so many different sounds, where on one street you can be hearing rancheras and on the next street, it's Tupac. It was everything, and I identify with all of that. It inspires the artist that I am today. Even "Flashback" is a doo-wop trap record. I've never heard that in Spanish. 
Same with "Bailé Con Mi Ex." Same with "Mamiii." Putting the grito in the beginning was really important for me. It was like when I grew up and my mom listened to Jenni Rivera, or when my uncles listened to Vicente Fernández, and [there was a] song that was like a dagger to your heart — you would do the grito and it would make you feel better. That's what this song is. Although sonically it sounds different, it gives you the same feeling.
There's little trickles in every song that takes me to a place and time. Like even "Buen Día," the first song on the album, it's a different vocal for me. I think it's because there was a confidence in what I was saying. It's like, literally, "It's never too late to have a good day." It sounds like when I was a little girl in the summer walking through the streets of Inglewood. All of those songs, sonically, come from such an authentic place in my creativity.
The song "Dolores" has such a beautiful message about self-love. What was the inspiration for that song and who was dedicated to?
I dedicate "Dolores" to my younger self. When writing this album — especially the first round of songs, which "Dolores" was a part of — I was in a really dark place in my life and not a lot of people knew it. I think it's because the child entertainer in me is so good at putting on a smile and [believes] that the show must go on. 
Fortunately quarantine allowed me the time and space to work on myself. I went to be a part of a really private and beautiful therapy experience. I spent a couple of days in this program and I got to do a lot of work with my inner child. I even got to name her, which was so emotional for me. I named my inner child Mija. It's a term of endearment that we used so much, and heard so much, when I was younger. I would sing "Dolores" to [Mija], and I would sing that to my grandmother — who the concept was about in the beginning. Her name is Guadalupe, but when she gets really emotional and she cries, my uncles are like, "Bring out the violin. Dolores is here." 
How beautiful it is that we can feel things. That we can have empathy — even though sometimes I feel like my empathy frequency is a little too high for my liking, and I don't want to cry about everything all the time. [Laughs.] I am thankful that I can still feel at the level I can after everything that I've been through, because there's a lot of people that go through life without feeling anything at all. 
I'd rather feel everything than nothing at all. So, I'm giving "Dolores" to my younger self, to my grandmother, to my own mother, to my sister, to any person who sometimes maybe overthinks things in life. Even giving meaning to their own feelings and validating their own feelings and saying, "I know you're different, and that's okay. I love you anyways."
What can we expect from you next?
I already have more new music. Still in the world of Esquemas, of course. I'm so excited to bring Esquemas to life in a live show for fans. Definitely touring this year, and hopefully next year as well. One of my biggest goals is to headline my own tour, or co-headline with someone who I really love and admire — to get out there and experience it in person with the people that support me.
Girl Ultra's Experimental 'El Sur' Weaves Melancholy & Nostalgia: "You Can Be Sad & Still Find Solace Dancing In The Clubs"
news
Who's Performing On The Latin GRAMMYs?
From Ricky Martin and Pitbull to Natalie Cole and Jesse & Joy, view a complete list of 14th Latin GRAMMY performers
GRAMMYs
/
Dec 3, 2014 - 05:06 am
With the 14th Annual Latin GRAMMY Awards quickly approaching, it's time to think about finalizing your to-do list for your official Latin GRAMMY party. Snacks? Check. Favorite beverage? Check. Dessert? Check.
Now, all you have to do is tune in to the Univision Network on Nov. 21 from 8–11 p.m. ET/PT (7 p.m. Central). To help you get Latin GRAMMY-ready, we've compiled a handy alphabetical guide to artists who will be taking the Latin GRAMMY stage.
And the performers for the 14th Annual Latin GRAMMY Awards are:
Pablo Alborán
Marc Anthony
Banda Carnaval with Calibre 50
Miguel Bosé
Willy Chirino, Oscar D'Leon, Jose Alberto "El Canario," Sergio George, Ismael Miranda, and Tito Nieves in a special segment celebrating salsa
Natalie Cole
El Dasa with Wisin (of Wisin Y Yandel)
Leslie Grace with Zarkana by Cirque du Soleil
Enrique Iglesias featuring India Martínez
Jesse & Joy featuring Mario Domm
Juanes, Ricky Martin and Laura Pausini paying tribute to 2013 Latin Recording Academy Person of the Year Miguel Bosé
Natalia Lafourcade
Maluma with Becky G
Gian Marco with Yandel (of Wisin Y Yandel)
Paquita La Del Barrio with Mariachi Sol De México De José Hernández
Pitbull with El Cata
Draco Rosa
Alejandro Sanz with 29 students from Berklee College of Music
Carlos Vives
For updates and breaking news, visit The Latin Recording Academy's social networks on Twitter and Facebook.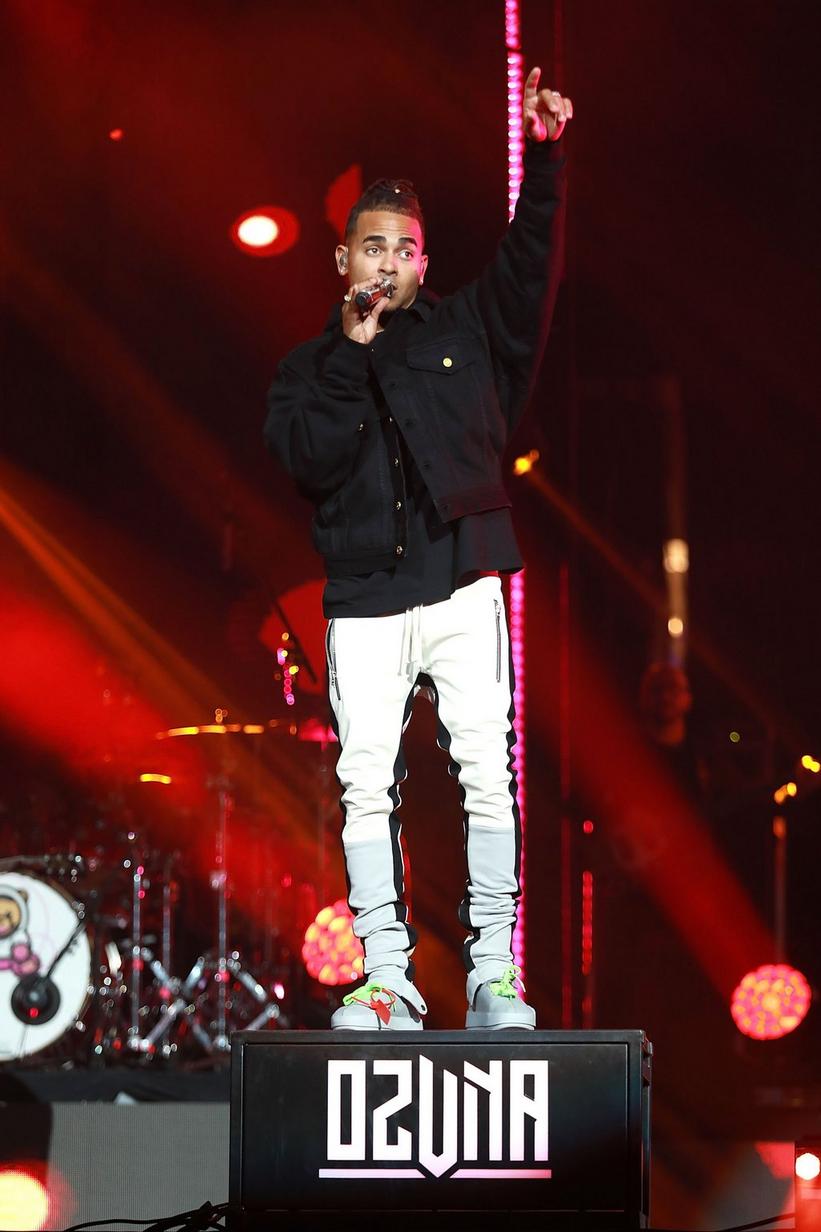 Photo: JC Olivera/Getty Images
news
Ozuna To Headline Madrid's 2019 YOLO Fest
The music fest will also feature fellow Latin urban stars Becky G, Zion & Lennox, and more
GRAMMYs
/
Mar 18, 2019 - 10:27 pm
Madrid's YOLO urban music fest has its headliner: reggaeton star Ozuna. The hitmaker, one of Spain's most popular artists of the moment, will take the stage at the WiZink Center on July 7.
The one-day event, also known as the You Only Live Once music fest, will also feature fellow Latin urban stars Becky G, Zion & Lennox, Jon Z, Darell and Farina.
According to Billboard, Ozuna's Aura album took the top spot on Spain's 2018 top digital album's list. His latest single release, "Vacia Sin Mi," features fellow fest artist Darell.
Tickets will go on sale March 20. For more information, visit WiZink Center's website.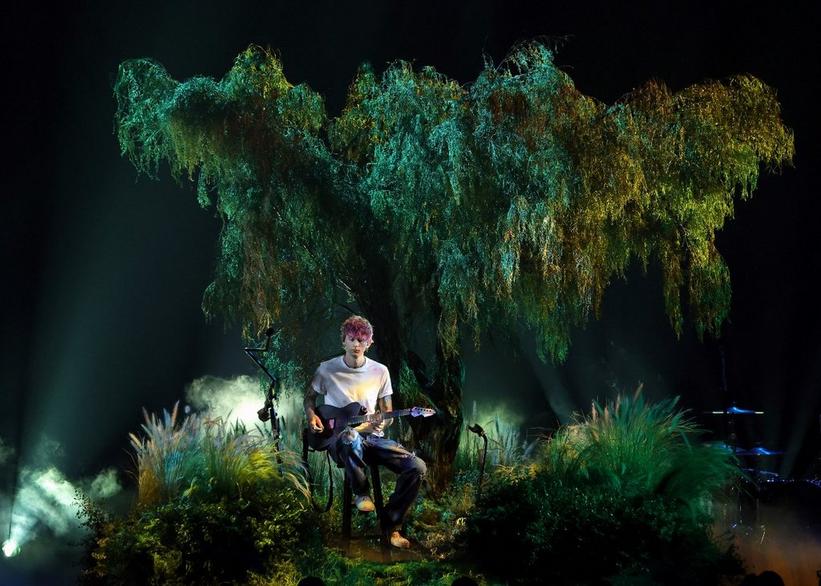 Machine Gun Kelly performing onstage during the 2022 Billboard Music Awards
Photo: Ethan Miller/Getty Images
news
Review the 2022 Billboard Music Awards Performances: Watch Megan Thee Stallion, Burna Boy, Rauw Alejandro & More
From Megan Thee Stallion to Becky G to Machine Gun Kelly and beyond, revisit performances from the 2022 Billboard Music Awards
GRAMMYs
/
May 16, 2022 - 03:07 pm
The 2022 Billboard Music Awards nominations list displayed a notable array of diversity — and naturally, the performance roster followed suit.
What binds artists as disparate as R&B juggernauts Silk Sonic, Latin star Rauw Alejandro, and country hitmaker Morgan Wallen? They all put on an excellent show, and they didn't disappoint during the BBMAs this year.
The big night was momentous in multiple ways: Rapper Travis Scott made his first televised appearance since the Astroworld tragedy; neosoul great Maxwell rang in the 40th anniversary of Michael Jackson's Thriller; Mary J. Blige accepted the 2022 Billboard Icon Award from Janet Jackson.
Rewatch some performances from the 2022 Billboard Music Awards below:
news
Becky G From The Block
Rapper/singer opens up about collaborating with Jennifer Lopez for her breakout video, "Becky From The Block"
GRAMMYs
/
Dec 3, 2014 - 05:06 am
Rapper and singer/songwriter Becky G recently visited The Recording Academy's headquarters in Santa Monica, Calif., to participate in an exclusive GRAMMY.com interview. Becky G discussed her big break, collaborating with GRAMMY nominee Jennifer Lopez for her breakout video "Becky From The Block," and what she enjoys most about performing live, among other topics.
"I'm obsessed with J-Lo and I'm one of the biggest J-Lo fans … so it was like, 'Let's do it,'" said Becky G regarding her decision to cover Jennifer Lopez's 2002 hit "Jenny From The Block." "That night [producer Dr. Luke] shot me the instrumental, I wrote to it, recorded it, he sent it over, she listened to it and showed up to the studio a few days later and was like, 'What's up Becky from the block?' and I was like, 'Oh my god!'"
Raised in Inglewood, Calif., 16-year-old Becky G (born Rebecca Marie Gomez) describes her sound as "urban pop with a bit of Latin spice." Citing artists such as Christina Aguilera, Missy Elliot, TLC's Lisa "Left Eye" Lopez, and Jennifer Lopez as influences, Becky G began writing her own songs at age 11 and taught herself how to play guitar at age 13. In 2011 she began releasing remixes of some of her favorite songs on YouTube, catching the eye of GRAMMY-nominated producer Dr. Luke (Katy Perry), who subsequently signed her to his label, Kemosabe Records. In 2012 Becky G was featured on songs by Cher Lloyd ("Oath") and Cody Simpson ("Wish You Were Here") and collaborated with GRAMMY winner will.i.am on "Problem," which was featured in the animated film Hotel Transylvania.
In April Becky G released her debut single, "Becky From The Block," and followed with her debut EP, Play It Again, in July. Co-produced by Dr. Luke and Max Martin, Play It Again features five tracks, including the title track and "Can't Get Enough," which features GRAMMY-nominated rapper Pitbull.
Becky G is scheduled to perform with Maluma on the 14th Annual Latin GRAMMY Awards on Nov. 21 in Las Vegas, and will kick off a North American tour on Feb. 24, 2014, in Miami Beach, Fla., with dates scheduled through March.