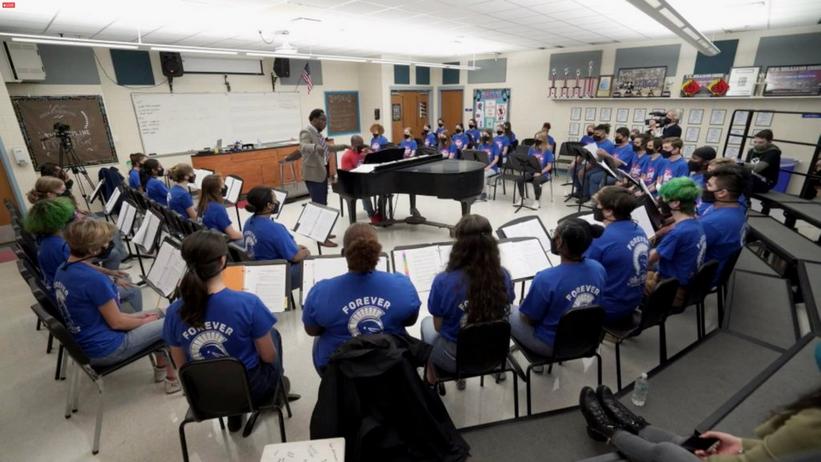 In this screen grab, 2019 Music Educator Award Winner Jeffrey Redding conducts a class at a Choral Clinic at Alexandria City High School in Alexandria, VA. during GRAMMY in the Schools Fest 2022
PHOTO: GRAMMY2022/Getty Images for The Recording Academy
list
5 Takeaways From GRAMMY In The Schools Fest 2022
"Give yourself permission to trust the technique in order to build that community you want through passion."
GRAMMYs
/
Apr 5, 2022 - 05:08 pm
The silver lining of two years of COVID-adjusted learning is that education via the internet has become more accessible than ever. Last year, the first ever GRAMMY In The Schools Fest (GITS) live streamed panels to ensure students all across the country had the ability to connect with music industry leaders and enhance their arts education from the comfort of their own homes.
This year kept that same energy alive, bringing audio engineers, songwriters, performers and producers to students, educators, and music enthusiasts via virtual panels moderated by Vice President of Education for GRAMMY In The Schools David R. Sears.
The second annual online festival, presented by MusicPower, took place over multiple days leading up to Sunday's 64th GRAMMY Awards ceremony. Thousands of students, music lovers and teachers took sessions on improving recital and rehearsal skills, went behind the scenes to learn more about the music business, and experienced exclusive music performances. 
Here are five takeaways from GITS. To watch any of these panels and more, simply click here.
"Your foundational technique is absolutely important…now you have to graduate to passion and purpose." - Dr. Jeffrey Redding
The Choral Clinic at Alexandria City High School in Alexandria, Va. featuring Music Educator Award Winner Dr. Jeffery Redding, and Alexandria Choir Director, Theodore Thorpe III
This panel began with a moving behind-the-scenes look at students practicing a rendition of Yoko Ono's "Who Has Seen The Wind?" Although the choir was fully masked up, the haunting and angelic notes pierced the classroom air with an ethereal sound. Thorpe sat at the piano while Redding emphasized the linguistic alterations necessary to hit the right notes, asking the students to adjust their soft palette formation in order to change overall pitch. 
Nailing this technique is essential to being able to fuse choral music with your own passion and energy, Dr. Redding said, encouraging students to "go through the vowels!" Mr. Thorpe then addressed the ways in which choral culture has changed since the pandemic, stating that 70 percent of the school's choir is new — a direct result of a COVID-influenced world where students are seeking collaborative and creative environments to cope with the rapidly changing world around them. 
"Rebuilding this culture takes a lot of passion and grace," said Thorpe, commending the students for their dedication. "You fell in love with music as a child," added Dr. Redding. "Now give yourself permission to trust the technique in order to build that community you want through passion."
"Enjoy yourself and be happy with who you are." - Cimafunk
Artist session with Afro-Cuban funk performer Cimafunk
Tuning in from Cuba, singer Cimafunk spoke with GRAMMY Museum Coordinator Schyler O'Neal about being a songwriter and musician. Cimafunk explained how linguistics and language play a large role in the history of music — especially when it comes to music of the Afro-Cuban diaspora. 
"Due to closed borders, Cuban music really is its own sound but funk and Afro-Cuban music are very interconnected. Slave traffic between New Orleans and Cuba caused this — music was a language for those who could not otherwise read or write," said the singer, who composed his first song at age 13. Cuban influence can be heard in the music of Dizzy Gillespie, in the conga drums of Marvin Gaye, and the grooves of James Brown and Tito Puente. What unites them all, Cimafunk said, is the thrill that comes from enjoying themselves. 
Cimafunk, named by Billboard as a "Top 10 Latin Artist to watch," explained he began writing music on the guitar, but has been composing on the computer and using MIDI instruments since 2019. Smiling from ear to ear, Cimafunk said he's just as happy performing in his home studio as he is taking his show out on the road, where he says he ends up spending more time with his bandmates than his own family. 
"Spending time with your instrument is important but you should spend so much time with it that it's in your bones." - Christine Meisenhelter
Preparing for performance with minimal rehearsal time panel ft. GRAMMY In The Schools Alumni Band
The last day of GITS was a busy day for the GRAMMY In The Schools Alumni Band. Joining in on a 45-minute panel to discuss how to prepare for a performance with minimal rehearsal time wasn't the only thing on the docket for the ensemble of young working musicians and college students (all alums of the program) — they had a live performance on the Vegas Strip later that evening. 
Jason Goldman, Chair of Jazz Studies at University of Southern California Thornton, took the band aside to field questions from a curious audience who wondered how a musician can prep for a major show with extremely limited time. 
Christine Meisenhelter — a bassist, vocalist, guitarist and songwriter who also performs under the moniker Mistine — was the first to take the mic, noting that her instruments are in her "bones'' and practicing goes beyond sheet music. Meisenhelter said she alleviates the pressures of limited practice time by immediately incorporating the song into her playlist during her workouts and other daily routines.
Asked about how she incorporates her saxophone into a pop-rock song, such as the one the band was slated to perform that night, Veronica Leahy seconded Meisenhelter's sentiments. Leahy might just have the funnest way possible of preparing: The multi-woodwind player (who is currently enrolled in the Harvard and Berklee dual degree program) simply puts on a record of the song, jams along, and pretends she is a part of the band as they perform a live show. 
"Ask yourself if you would do this for free. Would you trade your social life and time to do this?" - Manny Marroquin
The Artistry And Musicianship In Audio Engineering panel with Manny Marroquin
I Multiple GRAMMY Award-winning audio engineer Manny Marroquin has worked with Alicia Keys, John Legend and many more, but almost went down a different life path.
Marroquin started playing drums at age 9, around the time he came to the United States from Guatemala (where Marroquin says life is about two things: "soccer and music"). But when he auditioned for the drumming program at Hamilton Performing Arts High School in Los Angeles, in ninth grade, drummer Abe Laboriel, Jr. (who worked with Paul McCartney for over 20 years) stole the spotlight. When Marroquin was not accepted into the drumming program, he joined the electronic music track instead. 
"Thank goodness Abe killed drumming for me because I discovered the art of sequencing, painting, and mixing [music] as an art form," Marroquin said, laughing. The engineer admits that he can spend days on one song, and feels time management is very crucial to what audio engineers do (particularly for Marroquin, who runs a restaurant on the side). He uses timers to carve out quality time, advice he got from legendary songwriter Babyface.
 "Just make sure whatever path you take, make sure you want to be in that room for the right reasons. If you are in the room because you want to meet Post Malone, you're not going to make it. You should want to be in the room for the greater aspects of the art form and be passionate about that," Marroquin advised.
"Songwriting is like archaeology and every day you just get a shovel out and start digging." - Jon Foreman
Artist session with SWITCHFOOT
Family dynamics are complicated and some are infamously made more difficult in musical families — just look at Noel and Liam Gallagher of Oasis. Fortunately for Jon and Tim Foreman, the two brothers who are at the forefront of the rock band SWITCHFOOT, collaboration and creating harmonies together are some of the things they love best in life. 
In an artist session where the band performed for students live, Tim talked about how, last year, Jon stumbled upon one of their lo-fi demo songs recorded in 2004 on Garageband. "We rediscovered an old song and repurposed it into a new one," he said before playing a bit of the track for the young audience. 
Jon said he feels there is a discipline and art to songwriting, and challenged burgeoning songwriters to spend 30 minutes a day writing. "At the end of each day, put it in your voice memo and at the end of the month, listen objectively to what you came up with." 
As a young student with a stuttering problem, Jon said singing helped him overcome his inability to communicate about religion, girls and much more. He still feels that music is the clearest form of communication anyone can find. 
The 2022 GRAMMYs Was A Momentous Return To An In-Person Ceremony. But It Didn't Forget The Lessons Of Last Year.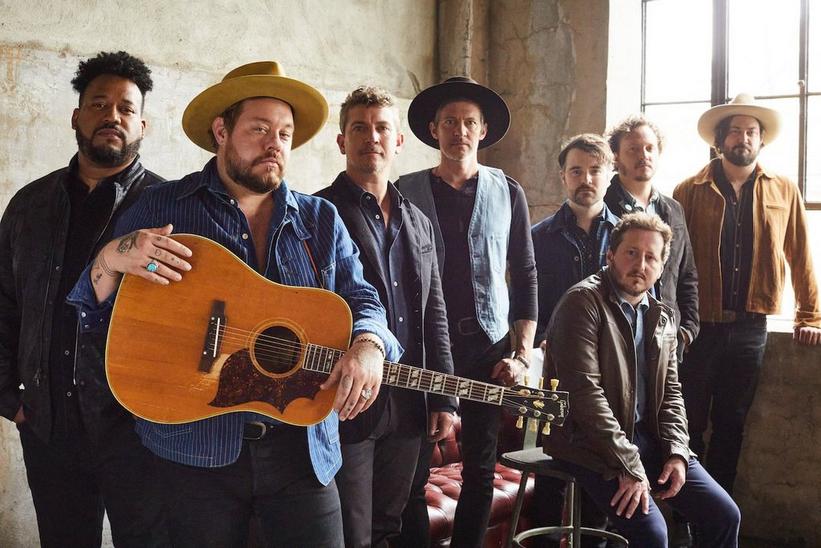 Nathaniel Rateliff & The Night Sweats
news
GRAMMY Museum Announces New Dates And Location For 2022 Virtual GRAMMY In The Schools Fest & A GRAMMY In The Schools Salute To Music Education Benefit Concert
The 2022 GRAMMY In The Schools Fest will take place virtually March 28-30 and will culminate in A GRAMMY In The Schools Salute To Music Education, a benefit concert with Nathaniel Rateliff & The Night Sweats, on March 31
GRAMMY In The Schools Fest (GITS Fest), presented by MusicPower, will take place virtually, Mon - Wed, March 28 - 30, 2022, leading up to Music's Biggest Night — the rescheduled 2022 GRAMMYs show, officially known as the 64th GRAMMY Awards. The festival will culminate in A GRAMMY In The Schools Salute To Music Education, a benefit concert with Nathaniel Rateliff & The Night Sweats, taking place on Thurs, March 31, 2022, at House of Blues Las Vegas at Mandalay Bay. All ticket sales proceeds will support the GRAMMY Museum's Education Programs. The GRAMMY In The Schools Alumni Band will open the show, which consists of past GRAMMY Museum program participants who are now professional musicians.
The three-day virtual GITS Fest celebrates music education and features performances by students and professionals along with engaging, educational panels by artists, educators and other music professionals. GITS Fest will truly localize the GRAMMY Week experience in cities and schools nationwide. Woven throughout the virtual festival will be lessons and other valuable information provided by top practitioners across the broad spectrum of music, music education and its connection to other school subject areas. Lesson plans and study guides will be made available free of charge to all teachers around the country who register their students to participate.
GITS Fest, presented by MusicPower, incorporates elements of various GRAMMY Museum Education Programs, including GRAMMY Camp, GRAMMY Career Day and the Music Educator Award™. These programs also receive support from Ford Motor Company Fund as part of Ford's commitment to music education.
GITS Fest special guests include MusicPower Foundation Founder Andy Nahas, Jeff Pilson from previous GRAMMY nominee Foreigner, New York-born indie trio Kid Sistr, previous GRAMMY winner and current GRAMMY nominee Manny Marroquin, indie pop band MUNA, previous GRAMMY winner SWITCHFOOT, nationally renowned brass quintet Gateways Brass Collective, award-winning jazz vocalist/bassist and GITS alum Katie Thiroux, previous Music Educator Award winner Jeffery Redding, award-winning music educator Charles "Chip" Staley, and GRAMMY Museum President Michael Sticka. 
A GRAMMY In The Schools Salute To Music Education Benefit Concert features Nathaniel Rateliff & The Night Sweats, and Michael Sticka, President of the GRAMMY Museum. The recipient of the Recording Academy and GRAMMY Museum's 9th annual Music Educator Award will also be in attendance. The GITS Alumni Band opens the show. 
HOW TO PARTICIPATE IN GITS FEST:
Free to the public for those who register in advance. The official registration form will be live shortly, but if you are interested in being the first one to receive the schedule and signup information, please fill out the below form:
https://grammymuseum.formstack.com/forms/2022_gits_fest_registration_form
HOW TO PURCHASE TICKETS FOR A GRAMMY IN THE SCHOOLS SALUTE TO MUSIC EDUCATION, A BENEFIT CONCERT WITH NATHANIEL RATELIFF & THE NIGHT SWEATS:
General Admission tickets are available here.
Information on sponsorship and VIP tickets is available by emailing development@grammymuseum.org or calling 213-725-5717.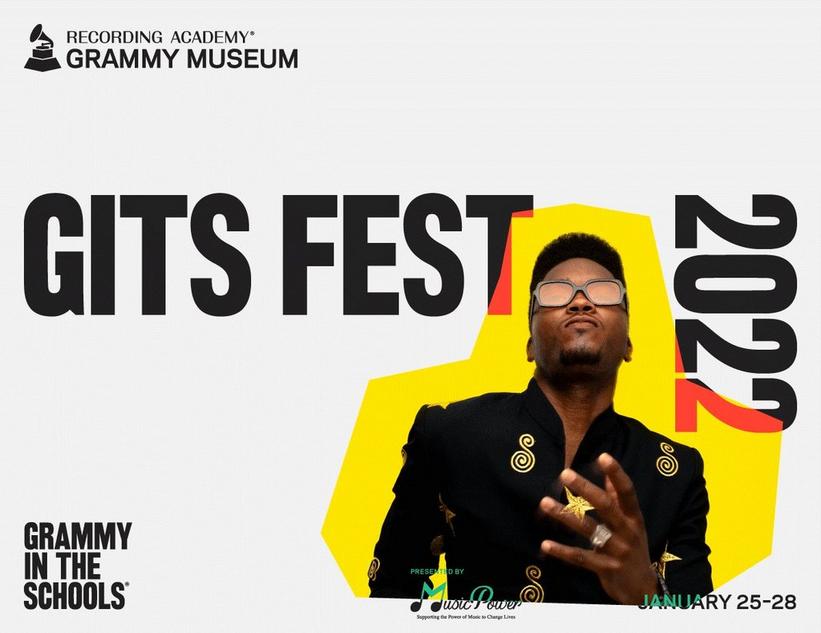 list
5 Can't-Miss Panels At GRAMMY In The Schools Fest 2022
GRAMMY In The Schools Fest brings three days of virtual panels by artists, educators and music professionals, who will provide insight on navigating the music industry ecosystem
GRAMMYs
/
Mar 25, 2022 - 06:38 pm
March marks the 37th annual observation of Music in Our Schools Month, a celebration that recognizes the importance of music curriculum in the lives of students and music lovers. With the unprecedented changes to arts programs as a result of the COVID-19 pandemic and economic volatility, preserving music education has never been more crucial.
Yet, funding and access to resources remain obstacles to students receiving classroom music instruction. According to the Save the Music Foundation, more than 5 million public school students lack access to music education. Recent case studies have shown that music in the curriculum improves both overall student academic performance and social-emotional skills.
Keeping in line with the Recording Academy's commitment to lifelong music education, GRAMMY In The Schools Fest (GITS Fest), presented by the GRAMMY Museum, brings GRAMMY Week pomp and circumstance to students, educators and music lovers nationwide. Presented by MusicPower, the three-day virtual event features student and professional performances, as well as informative panels by artists, educators and music professionals. Lessons and other insights from these panels will provide an unforgettable edge for navigating the music industry ecosystem in a rapidly changing professional environment.
GITS Fest will take place virtually Monday, March 28 — Wednesday, March 30, from 11 a.m.-2 p.m. PT daily. The festival culminates in A GRAMMY In The Schools Salute To Music Education, a benefit concert with Nathaniel Rateliff & the Night Sweats taking place Thursday, March 31, at House of Blues Las Vegas at Mandalay Bay; all ticket sales will support the GRAMMY Museum's Education Programs. 
This year's list of panels has something to offer music educators, students and enthusiasts. Registration for the virtual panels is free and open to the public. Switchfoot, Katie Thiroux, Gateways Brass Collective, and Jeff Pilson of Foreigner are just some of the few panelists ready to mentor young musical minds.
Read on for a list of must-see panels at GITS Fest 2022, and learn when and where to stream them. Click here to register.
1.
The Artistry And Musicianship In Audio Engineering Panel With Manny Marroquin
Monday, March 28, 1 p.m. PST
Audio engineering is a crucial part of most musical projects and a marketable skill that can extend beyond the music industry. Guatemala-born audio engineer Manny Marroquin boasts a career working with legends such as Whitney Houston, 2Pac, Shakira, Rihanna, and many more. The Hamilton High School (a Los Angeles magnet school for students showing talent in the arts) graduate will discuss how he turned a studio internship into a long lasting sustainable career in the audio industry, and provide professional pointers.
2.
The Art Of Tech, Performance, & Business: Career Tips In Music And Beyond With GRAMMY Camp Faculty Membe
r 
Wednesday, March 30, 1 p.m. PST
It's one thing to be a phenomenal instrumentalist, but it's quite another to be able to mic yourself, tackle live performances and navigate the complexities of contracts, payments and more. Check out this panel featuring GRAMMY Camp faculty members and get some insights regarding this summer's nonresidential in-person classes in Los Angeles. (Applications are open now through March 31.)
3.
Preparing For Performance With Minimal Rehearsal Time Panel Ft. GRAMMY In The Schools Alumni Band
Thursday, March 31, 1 p.m. PST
In an ideal world, we would all have plenty of notice and time to prepare for live shows. But in the music business, when opportunity knocks you have to answer the door. Members of the GRAMMY In The Schools Alumni Band will share how to hit that stage with minimal rehearsal time — a worthwhile skill for musicians at any stage in their career. After all, who wouldn't want to know more about prepping faster and more efficiently? 
4.
Choral Clinic At Alexandria City High School in Alexandria, VA Ft. Music Educator Award Winner Jeffery Redding & Alexandria Choir Director Theodore Thorpe II
Monday, March 28, noon PST
Most instrumentalists familiar with harmonizing with vocalists (and vice versa), so this panel is a must for anyone who is currently or was previously involved in choral ensemble performance. Held at Alexandria City High School — whose chorus students have performed at Disney World and Busch Gardens in nearby Williamsburg, VA, as well as  for the President of the United States and even appeared on the hit TV show "Glee" — this panel focuses on vocal athleticism. GRAMMY Music Educator Award winner Jeffery Redding and co-panelist Theodore Thorpe II (who has worked with artists such as Mary J. Blige, the Backstreet Boys, Chris Brown, Bruce Springsteen, Janelle Monae and Sheryl Crow) will lend their insight on preparing choral singers. 
5.
Cimafunk Discusses Being A Professional Musician
Wednesday, March 30, 11 a.m. PST
Cuban artist Erik Iglesias Rodríguez, who performs as Cimafunk, has toured extensively internationally and was selected as one of Billboard's Top 10 Latin Artists to Watch. His second LP, El Alimento was released in 2021 and blends Afro-Cuban rhythms and funk (with a little help from collaborators George Clinton and Lupe Fiasco). Known for his high energy performances and considered by some to be Cuba's biggest breakout musician of the last 10 years, Cimafunk will explain how he professionally navigates the music industry while honoring his roots and staying true to himself. 
​​5 Organizations And Scholarships Supporting Music Education