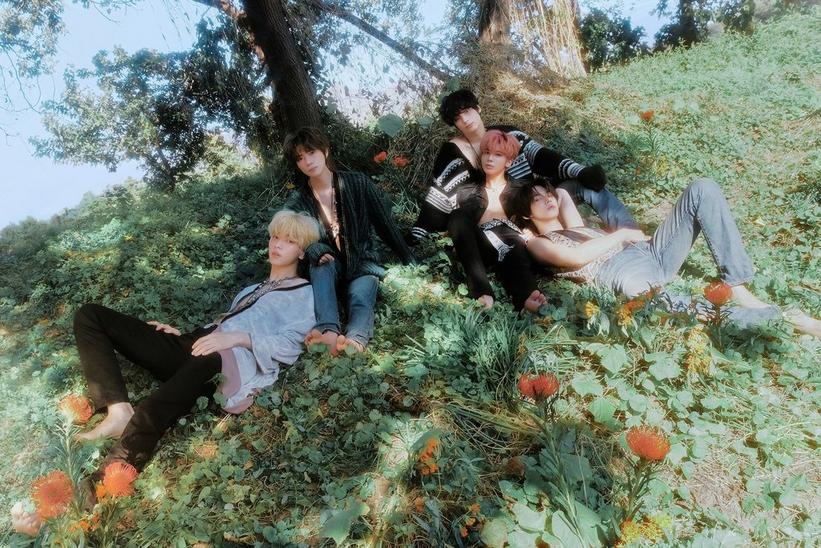 interview
K-Pop Group Tomorrow X Together Open A New Chapter
On their new EP 'The Name Chapter: Temptation,' K-pop storytellers TXT usher in a new, adult era. GRAMMY.com spoke with all five members about turning the page, growing up and their goals for the year ahead.
GRAMMYs
/
Jan 27, 2023 - 04:18 pm
TOMORROW X TOGETHER aren't your typical K-pop act — they're worldbuilders. The five-member group brings intentionality to every song and music video, creating stories that fans can easily get lost in. A tribute to their storytelling abilities, TXT are beginning the year with The Name Chapter: Temptation, a new EP inspired by the story of Peter Pan set for release on Jan. 27.
Much like their Peter Pan influence, The Name Chapter shows TXT examining their impending adulthood with more than a hint of reticence. As they enter the new era, TXT turn up the heat and experimentation. The five-song EP employs previously unexplored genres like Afrobeats ("Tinnitus"), features rapper Coi Leray ("Happy Fools") and ends emphatically with "Farewell, Neverland." 
TXT's discography has followed a highly curated storyline since their debut as fresh-faced teens in 2019. Each release, or chapter, has reflected a different phase of youth and is filled with encouraging and uplifting messages. Their debut The Dream Chapter: Star chronicled TXT's journey of finding love and friendship. They bridged the gaps in between albums with "minisode" EPs, flexing their ability to adjust to their audiences' needs and moods. Their 2020 EP minisode1: Blue Hour featured songs about the pandemic, while their 2022 minisode 2: Thursday's Child EP explored romance in a darker way. TXT were more involved with the songwriting and production on the edgier The Chaos Chapter: Freeze and its repackage, The Chaos Chapter: Fight or Escape, released in 2021. 
TOMORROW X TOGETHER turned a new leaf in 2022, and set their sights on the U.S. In a whirlwind year, TXT collaborated on two English singles with rapper Iann Dior and singer Salem Ilese, embarked on their first world tour and were the first K-pop group to perform at Lollapalooza. They also became the only Korean artists (outside of labelmates BTS) to make the top 10 best selling albums list of 2022 with their EP minisode 2: Thursday's Child. 
Throughout it all, they've dabbled in genres like R&B, rock, and disco, proving the complexity of their signature sound. In the spring, they'll begin a world tour ACT: SWEET MIRAGE, and seem poised for further global domination.
GRAMMY.com caught up with all five members of TXT — HUENINGKAI, BEOMGYU, TAEHYUN, YEONJUN, and SOOBIN — via Zoom to discuss their plans for 2023, the creation of a new narrative in The Name Chapter: Temptation, and how the rest of their story unfolds.
Last year was a big year for TXT. What did you learn in 2022 and what are your resolutions for this year?
SOOBIN: I was really grateful that so many people came to see us in Korea and even overseas.We want to continue to make good music and put on good performances with good people this year as well.
YEONJUN: I hope we can meet more fans and more people in even bigger venues. I feel more committed and more affectionate to my job even more.
The Name Chapter is a new series. How does it connect to The Dream Chapter and The Chaos Chapter?
TAEHYUN: So, our music contains this one story of growth and so we basically talk about the process of growth. So, in The Dream Chapter we talked about friendship, in The Chaos Chapter we talked about love and heartbreak, and we even went bad in our minisodes. 
And so, in this Name Chapter we are going to say farewell to Neverland and we know that we have to grow into adulthood. But we also talk about the thoughts and emotions of the youth, who just want to settle for now and do not want to grow up anymore.
HUENINGKAI: it is an album that contains our musical color and identity, and I think it is the most TXT-ish album ever.  So, it also contains our ambition to make a name for ourselves all across the globe.
What does the word "temptation" allude to?
BEOMGYU: So, it talks about how youth knows that they have to grow, but they [have]  this temptation where they just want to live the moment freely and not grow up.
SOOBIN: The title track talks about a boy who fell into this temptation. So, temptation might be really pleasing and fun but it's ephemeral, so it's like a temptation of a devil. And since it is a very sweet temptation, we called it "Sugar Rush."
TAEHYUN: I think fans will love our performance because we expressed how we fall into the temptation. But also, how we try to tempt the others as well.
How did you guys contribute to the album and is there anything you're most proud of?
BEOMGYU: For "Happy Fools," all the members contributed to the  writing and the lyrics are based on our own experiences. So, when MOA listens to the lyrics they will think Oh! So, these are the experiences of our boys! And also, Yeonjun wrote the top line in, which contains our team color really, really well.
What should fans pay attention to when listening or watching the music video?
TAEHYUN: I really want to emphasize this: The order of the tracks of this album is very, very important and meaningful. 
YEONJUN: The title track itself, [and] the songs themselves are really, really good. But I think the vibes are maximized when you watch the [music video] and the performance together with the music. So, I think the song is visually pleasing as well.
Were there any special collaborations on this album that you particularly enjoyed?
TAEHYUN: For "Happy Fools," Coi Leray did a very, very wonderful job in rapping with her beautiful voice.
SOOBIN: It was very, very cute.
Do you guys have a favorite lyric from any of the songs on the album?
TAEHYUN: So, there's these Korean lyrics in the song, "Tinnitus": "Oh, just erase the star of rockstar. Just the rock." I tried to express how I'm more of a rock than a rockstar. So, I thought that was a pretty fun wordplay.
Have there been any challenges that you've faced, either as a group or individuals, that have helped you become better artists?
BEOMGYU: When we first met, we were really, really different individuals. But as we got to know each other more and better, we got along. We became considerate to each other and we supported each other, which contributed us to become one team. Our different voices and our different charms bring us into being one team, too.
You guys have demonstrated a lot of versatility with previous releases with both youthful and more mature concepts. Is there any concept you haven't tried that you would like to?
TAEHYUN: In "Tinnitus" we said "I'm not a rockstar quality,"but within just a few years we went to performed in big venues. So, I think it will be really fun to talk about the life of a rockstar.
For anyone new to TOMORROW X TOGETHER, what is important for them to know?
TAEHYUN:  I really want to tell them that we make really high-quality albums. And I think it is really cool that we tell stories [that continue] from album to album. So, I would just like to emphasize that we are such a cool team.
YEONJUN: Our songs are really great. So, I hope that many people listen to our songs and recognize us through our songs.
Is there any message you would like to give to your fans?
TAEHYUN: Soobin this is for you.
HUENINGKAI: Of course, some challenges will come your way. But I want to tell them you have to give it a try with courage. If you don't start, you won't know if you will succeed or not. But once you try you will think that this is doable, this is manageable. So, if you try you will ultimately overcome your limits and that's the process of going one step further.
SOOBIN: We started our first world tour last year, but starting this year, we're looking forward to touring with more countries, and putting on great performances at bigger stages for our fans around the world. We're so excited to show our fans the fresh, new concept and performance from the upcoming album. Please look forward to it!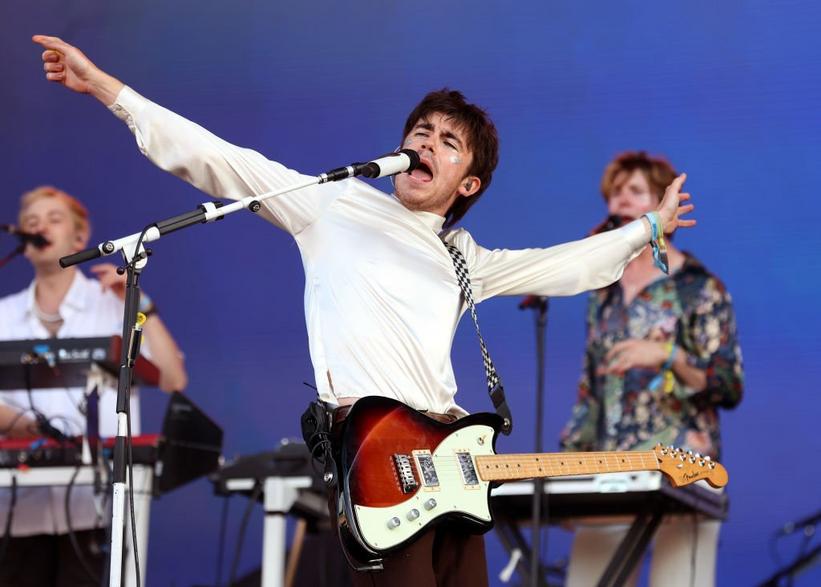 Declan McKenna will perform at Lollapalooza 2023 on Friday
Photo: Simone Joyner/Getty Images
list
10 Can't-Miss Acts At Lollapalooza 2023: Pusha T, Tomorrow X Together, Karol G & More
Lollapalooza 2023 will be held Aug. 3-6, with dozens of artists appearing across eight stages. Read on for 10 of the most anticipated performances at the Chicago festival.
GRAMMYs
/
Jul 31, 2023 - 02:23 pm
Lollapalooza, which started off as the brainchild of Jane's Addiction frontman Perry Farrell in 1991, has become one of the world's most famous festivals. Its popularity — due in part to the festival's ability to draw some of the biggest names in music, as well as buzzy up-and-comers  — has allowed Lolla to expand into Brazil, Argentina, Sweden, France and India.
Taking place Aug. 3-6, this year's Chicago headliners include Kendrick Lamar, Billie Eilish, Red Hot Chili Peppers, Lana Del Rey and The 1975. The festival will also host a slew of aftershows all over the city featuring festival performers like A Boogie Wit Da Hoodie, Carly Rae Jepsen, Portugal. The Man and Noah Kahan.
While these stars will undoubtedly put on impressive performances, they aren't the only musicians that are drawing fans to the festival. Dozens of artists will appear across Lollapalooza's eight stages. From rap to rock, punk to pop, here are 10 artists who deserve to stand in the spotlight all on their own — and whose sets you shouldn't miss.
The Beaches
Canadian alt-rock group The Beaches embody the effortless cool many bands boast but few fail to execute. The all-female quartet, who beautifully meld new-wave sounds with the ferocity of pop-punk, are gearing up to release their sophomore album Blame My Ex due out Sept. 15. 
Lead single "Blame Brett" is an intoxicating anthem in which lead singer Jordan Miller pledges to battle heartbreak with apathy: "I'm sorry in advance / I'm only gonna treat you bad / I'm probably gonna let you down / I'm probably gonna sleep around […] but don't blame me, blame Brett". 
The Beaches scored a major label deal with Island Records and released their debut album, Late Show, in 2016. They've since amassed six No. 1 singles on Canadian alternative radio, and have toured with the Rolling Stones, Foo Fighters and Avril Lavigne.
The Beaches perform at 1:15 p.m. Thursday at the Bud Light stage.
Beauty School Dropout
This L.A. rock trio got the ultimate endorsement after they were signed by Mark Hoppus under the new label Verswire with Pete Wentz and Sherry Saeedi. In a press release, Hoppus stated that he was "always impressed by how hard these guys work, their talent and uncompromising creativity, and their dedication to their fans." 
In addition to supporting Blink-182 on their long-awaited reunion tour, Beauty School Dropout released their debut album We Made Plans And God Laughed in 2022. Saturated with heavy guitar riffs, catchy choruses and invigorating percussion, the album has received well over 14 million streams.
 Newer songs from the group include the pulsating dance floor anthem "FREAK" as well as "dying to be you." The latter, which was released in conjunction with Mental Health Awareness Month, was written about the band's mental health struggles and the unceasing desire to be something else.
Beauty School Dropout perform at  2:10 p.m. Thursday at the BMI stage.
Key Glock
Key Glock is a charismatic emcee who possesses the sagacity of rappers nearly twice his age. In an interview with Billboard, the 25-year-old explained that his influences range from Three 6 Mafia to Johnny Taylor. "The soul music, that's more of the real life stuff, where hip-hop is more of the entertainment and street life stuff. They both had a toll on me coming up."
This February, Key Glock released his third studio album, Glockoma 2, which followed the murder of Glock's cousin and Paper Route Empire founder Young Dolph. Paper Route Empire's in-house producer Bandplay is responsible for producing half the songs on Glockoma 2, which are a slick combination of pulsating, infectious beats ("Work") and darker, more cerebral offerings ("F— Dat S—"). As Glock continues to double down on his craft, he has stated that Dolph will always serve as his motivation.
Key Glock performs at 7:45 p.m. Thursday at the Bacardi stage.
Karol G
This Columbian siren fiercely established her place in reggaeton with 2020's her smash hit "Bichoita." Since then, Karol G has performed at Coachella, collaborated with Shakira on the song "TQG" and sold out Madison Square Garden. She was also nominated for a GRAMMY in 2022 and a Latin Grammy that same year. 
She also made history when her most recent album, Mañana Será Bonito ("Tomorrow Will Be Beautiful"), became the first fully Spanish-language album by a female artist to top the Billboard 200 chart. Mañana Será Bonito explores everything from pop-rock to Caribbean melodies. During her attendance record-breaking performance in June as part of TODAY's Citi Concert Series, Karol remarked: "The last two years we've been growing as a movement and Latinos, we support what we do around the world so we're here proud of all of us and it's such an amazing moment." 
Karol G performs at 8:40 p.m. Thursday at the Bud Light stage.
Declan McKenna
Irrefutable pop prodigy Declan McKenna is known for drenching infectious sun-soaked melodies with fiery lyrical realism. His 2015 single "Brazil" catapulted McKenna into the spotlight, and earned him a spot in Glastonbury Festival's Emerging Talent Competition — which he won. 
The 24-year-old has continuously cranked out tunes that drastically set him apart from his peers. Older gems like "Isombard" challenge repulsive right wing rhetoric while newer songs from Mckenna's catalog — including his latest single, "Sympathy" — reiterate the importance of authenticity and positivity. That sentiment is present throughout McKenna's currently unannounced third album, and he couldn't be prouder. "I've made a hella weird new album: it's got a lot of strangeness to it, but that hasn't come through me trying to be anything other than myself," he told NME in July.
Declan McKenna performs Friday at 6:30 p.m. at the Bacardi stage.
Hemlocke Springs
Hemlocke Springs' major breakthrough came courtesy of TikTok, where "Girlfriend'' became a viral sensation. The synth-laced sparkly pop gem has since amassed nearly 30 million streams on Spotify. "People are saying this reminds them of a Prince song, and I'm like 'Prince?!' I'm just a small country girl!" the singer told Rolling Stone. 
Springs, who was born in Concord, North Carolina was embarking on a journey to receive a Master of Science degree from Dartmouth when she became more serious about music. Though she hasn't abandoned her educational aspirations, she does have a few more songs under her belt including "heavun," "stranger danger!" and "sever the blight." 
Hemlocke Springs perform at 1:00 p.m. Friday at the BMI stage.
MAVI
The poetry that MAVI enraptures his listeners with is ripe with blistering sincerity. His first album, 2019's Let the Sun Talk, was made while the musician was just a freshman at Howard University and was praised for its complexity.
MAVI's second independent project, End of the Earth, was lauded even more and landed the emcee opportunities to work with the likes of Earl Sweatshirt and producer the Alchemist (MAVI also opened for Jack Harlow on tour in 2021). His latest album, Laughing So Hard It Hurts, shows off the musician's maturity as he explores themes of generational trauma as well as the painful aftermath of losing people closest to you. 
"I made this gentle album to be gentle with myself," MAVI told OkayPlayer. "Everybody else don't got to be gentle with me. Being gentle with the album, I feel is the best way to hear it and to listen to it."
MAVI performs at 2:50 p.m. Saturday at the Bacardi stage.
Pusha T
Rap's most infamous kingpin has been working the festival circuit hard in 2023: Pusha T has performed at Coachella, Governors Ball and Primavera Sound. The Daytona rapper will bring his bold antics (like transforming the stage into own personal drug den) to Lollapalooza with a solid catalog featuring some of hip-hop's most memorable hits.
Pusha started out his career as one half of the popular duo Clipse, alongside his brother Malice. The GRAMMY-nominated pair released a slew of impressive albums, including 2002's Lord Willin' and 2006's Hell Hath No Fury. Once they disbanded in 2010, Push signed to Kanye West's GOOD Music record label. In 2013, the emcee released his debut album My Name is My Name which featured the popular single "Numbers on the Boards." Over the last decade, Pusha T has collaborated with artists like Jay-Z, Pharrell, Kehlani, Rick Ross and Kid Cudi. On 2022's It's Almost Dry, fans were treated to a Clipse reunion as Malice appeared on the album's final track entitled "I Pray For You."
Pusha T performs at 8:45 p.m. Saturday at the Perry's stage.
Tomorrow X Together
This K-Pop group formed in 2019 and is the second boy band to debut under Big Hit Music, a subsidiary of HYBE corporation (Big Hit is also home to BTS). Earlier this year, Tomorrow X Together embarked on a 16-city worldwide tour, and will be playing Lollapalooza for the second year in a row. The newest EP, The Name Chapter: Temptation, was released earlier this year.
They have recorded three studio albums total and during their debut became the fastest K-pop group to reach number one on the Billboard World Albums and World Digital Song Sales charts with their hit single "Crown" and EP The Dream Chapter: Star. 
Last year, Tomorrow X Together made history by becoming the first K-pop act to perform at Lollapalooza, making the headlining slot they hold this year that much sweeter. In July, they teamed up with the Jonas Brothers for the light-hearted and cheerful "Do It Like That," which was produced by Ryan Tedder.
Together X Tomorrow perform at 8:30 p.m. Saturday at the Bud Light stage.
Dehd
This Chicago trio specializes in moody, midtempo songs with an alt-rock feel. Dehd's most recent album, Blue Skies, is a sonic testimony to the group's effortless chemistry as evidenced by their creative approach. The pulsating dexterity of "Bop" feels like the equivalent of catching lightning in a bottle, while "Empty in My Mind" is alluring for its crisp vocals and surprising simplicity. 
However, that straightforwardness also contains depth. On "Waterfall," they speak on the country's current cultural landscape by saying: "I don't care about American ways/It doesn't change/I'm dreaming of the one who understands." In an interview with Under The Radar, singer/guitarist Jason Balla explained the song was written "in the context of all this social unrest. I think America stands for a lot of things, and it can feel so discouraging…but it's also a reminder that you have to keep working towards undermining that loop."
Dehd perform at 2:30 p.m. Sunday at the T-Mobile stage.
19 Concerts And Events Celebrating The 50th Anniversary Of Hip-Hop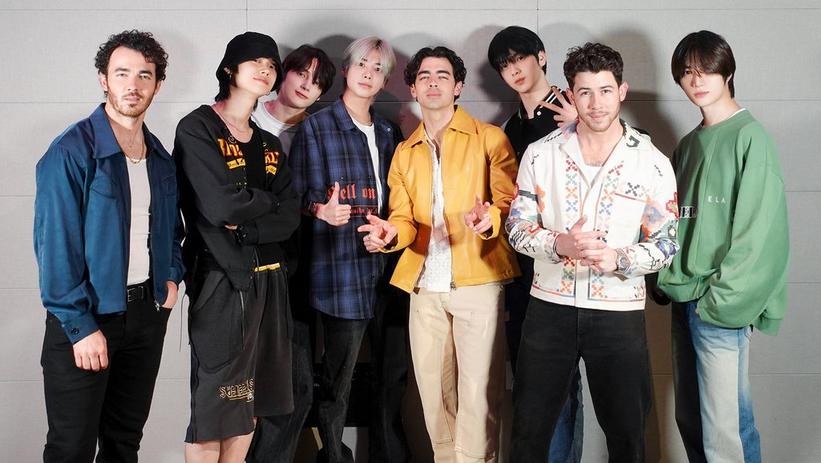 TOMORROW X TOGETHER and Jonas Brothers
news
Listen: Tomorrow X Together & Jonas Brothers Unite For Funky Summer Single "Do It Like That"
Combining their pop and K-pop powers, the Jonas Brothers and TOMORROW X TOGETHER crafted what may just be "the collaboration of the year."
GRAMMYs
/
Jul 7, 2023 - 04:48 pm
Sibling trio Jonas Brothers and K-pop quintet TOMORROW X TOGETHER have both proven they know how to craft a catchy tune. Now, they've combined their hitmaking power for "Do It Like That" — and it's a perfect summer anthem.
Produced by Ryan Tedder, the upbeat pop track sees JB and TXT trade verses over an infectious bassline, made complete by cheeky lyrics: "Oh my God/ You blowin' my mind like that/ Oh my God/ The way that you bring it right back."
"Do It Like That" arrived alongside a playful music video with shots of each group on an all-white stage. The Jonas Brothers play the guitar and drums, while TXT perform their typical seamless lockstep choreography.
The TOMORROW X TOGETHER guys shared their thoughts on the groovy new track in a press release through BIGHIT MUSIC, with SOOBIN declaring it the "summer anthem of the year." As HUENINGINGKAI added, "It's a song that you want to listen to when you're headed on a trip with your besties or whenever you need to recall the happiest moments in your life."
The collaboration also marks a special moment for TXT in a couple of ways: Not only does BEOMGYU note that it's their first song they recorded in the U.S., but it's also a full-circle collab for some of the members.
"I grew up listening to Jonas Brothers' music, so it's very surreal that we had a chance to collaborate with them on this track," YEONJUN revealed. And in TAEHYUN's eyes, "Do It Like That" is "the collaboration of the year."
This year has been busy for both the Jonas Brothers and TOMORROW X TOGETHER. In January, TXT released their fifth EP, The Name Chapter: Temptation. The fourth-generation K-pop powerhouses are currently promoting the album on the Act: Sweet Mirage international tour, which includes a headlining slot at Lollapalooza in Chicago in August.
In May, the Jonas Brothers delivered The Album, their sixth studio LP and first album in four years. Later this year, they will embark on a North American tour, beginning August 12 in the Bronx, New York. 
Watch the feel-good music video above, and check back to GRAMMY.com for more updates on new music releases.
15 Must-Hear Albums This July: Taylor Swift, Dominic Fike, Post Malone, NCT Dream & More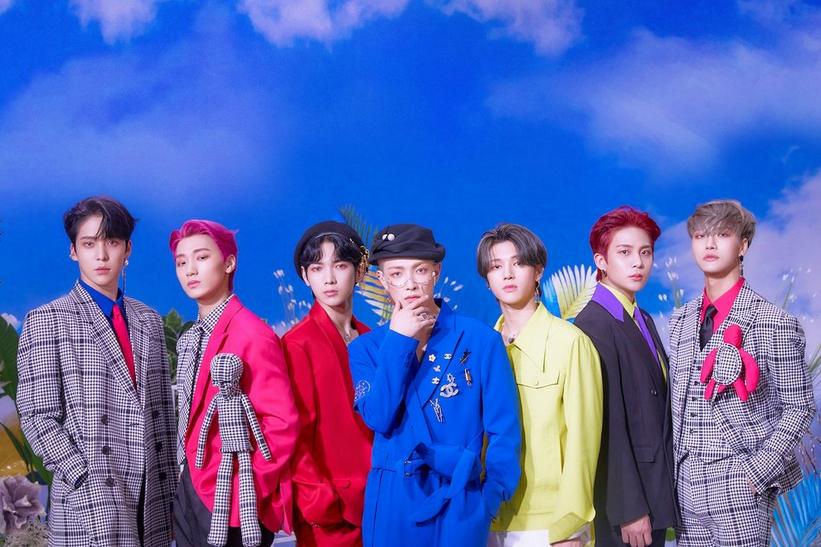 Photo Courtesy of KQ Entertainment
news
5 Rising Korean Artists To Know Now: STAYC, ENHYPEN, ITZY, TOMORROW X TOGETHER & ATEEZ
To celebrate AAPI Heritage Month, GRAMMY.com is spotlighting five fast-emerging Korean groups who have the potential to dominate the global pop space
GRAMMYs
/
May 30, 2021 - 09:56 pm
Thanks to the passion of their fandoms, their social media dominance, their addictive hooks and melodies, and their eye-catching visuals, K-pop groups are inescapable these days, and South Korea, the motherland of these global pop acts, has since become a key pop culture epicenter. Korean groups like BTS have gone on to break records previously held by icons like the Beatles and earned a history-making nomination at the 2021 GRAMMY Awards show, while groups like BLACKPINK have collaborated with huge stars like Selena Gomez and Cardi B while breaking YouTube streaming records along the way.
The latest wave of K-pop idols, usually referred to as the fourth generation, is native to the digital age, with an audience more open to international talent, in part due to the success of their predecessors.
To celebrate AAPI Heritage Month 2021, GRAMMY.com is spotlighting five fast-emerging Korean groups that have the potential to dominate the global pop space. Get to know STAYC, ENHYPEN , ITZY, TOMORROW X TOGETHER, and ATEEZ.
STAYC
STAYC, an acronym for Star To A Young Culture, is a new six member girl group with enormous potential. Debuting in November 2020 under High Up Entertainment, STAYC are leading newly launched girl groups in album sales despite having limited projects so far and being represented by a smaller company. The group's success is due in part to the release of YouTube videos pre-debut, when the members were known as the High Up Girls and recorded dance and vocal covers from artists like BTS, BLACKPINK and TWICE.
Their debut song, "So Bad," garnered more than 2.6 million views in the first 24 hours. With their second single album Staydom, released in April, they became the first 2020 rookie girl group to sell over 50,000 copies from a single album. Under the helm of producing duo Black Eyed Pilseung, who worked on numerous hits like TWICE's "Fancy" and "TT," it's no surprise the girls' feel good music is making its mark on the industry. The Teen Fresh concept (youthful and cute) they're promoting is perfect for the upcoming summer and sure to bring more bops and fans galore.
ENHYPEN
Arguably one of the most exciting groups to enter the K-pop scene in recent years, ENHYPEN are a force to be reckoned with in pop music today. The fresh faced boys dominated 2020 rookie group sales records after forming on a competition show called "I-Land." Some members were once trainees under HYBE, but their parent company is Belift Lab, a joint venture between HYBE and CJ ENM.
Read: Meet ENHYPEN, K-Pop's Latest Breakout Boy Group
The group is now making their own mark with complex storytelling, strong vocals, and eye-catching choreography, while the members' ages range from just 15-19 and their home countries are as diverse as Australia and Japan. Their latest release, BORDER: CARNIVAL, continues their introspective world-building that's bound to grow more complex and interesting as time goes on. Notoriously dubbed "monster rookies," the septet shows no signs of slowing down.
ITZY
Something about ITZY is truly magnetic and exactly what the K-pop industry needs. The JYP Entertainment girl group is a five member powerhouse of sass, confidence and fun that arrived on the scene in 2019. With a captivating teen crush sound with themes of self-love and independence, they're also Maybelline's first K-pop Global Spokesmodels.
Their latest release, with leading single "In the Morning," became their fastest video to reach 100 million views. They also recently joined BLACKPINK as the only Korean girl groups to reach the Canadian Hot 100 more than once. With so many feats accomplished within their first two years, there's no telling where the vibrant act's headed next. Whether they go viral for an impressive shoulder shimmy or an iconic fashion look, the group's addictive discography and charismatic personas allude to global pop stardom.
TOMORROW X TOGETHER
Often touted as the leaders of the fourth generation of K-pop, TXT are the second group to debut under HYBE after industry heavyweights BTS. Since their first release in 2019, the group of five have dipped in countless genres and now participate in producing and songwriting for their music. Their last EP, minisode: Blue Hour, was an emotional collection of songs in response to the COVID-19 pandemic from a young person's lens, and debuted at No. 25 on the US Billboard 200.
More: TOMORROW X TOGETHER On How Their New 'minisode1 : Blue Hour' EP Marks The Beginning Of A New Era
Their entire discography is poetic and relatable for Gen-Z, earning them spots on magazine covers like Elite Daily and Teen Vogue. With their second studio album due at the end of May, they're bound to invite attention as they enter a new era of their musical careers. The group's rare ability to tackle topics both relevant and enticing for a diverse audience make their rise to international success well deserved.
ATEEZ
Though they debuted in late 2018 under KQ Entertainment, ATEEZ have consistently grown their fanbase with every release. They're currently competing on "Kingdom: Legendary War," a Korean competition show for trending K-pop boy groups. The group was the fifth most tweeted about musicians in 2020, and are known for their dramatic and captivating dance performances and rap-heavy songs. Capturing international attention since their inception, the eight-member group are a fresh breakout that serves up new experimental sounds at each turn.
Related: Exclusive: ATEEZ Are Here To Win The Hearts Of K-Pop Fans
Their last release, Zero: Fever Part 2, dropped in March, hit No. 8 on Billboard's World Albums chart. Another group outside of the historic Big 3 K-pop companies, ATEEZ boasts an underdog story with a fresh and singular musical direction that fans appreciate. With the inspiring motto, "8 makes 1 team", the group have battled injuries, mental health issues, and other challenges without shying away from their dedicated fanbase. With loyalty like that, they're definitely in the game for the long run.
Listen: Celebrate AAPI Month 2021 With This Playlist Featuring Artists Of Asian & Pacific Islander Descent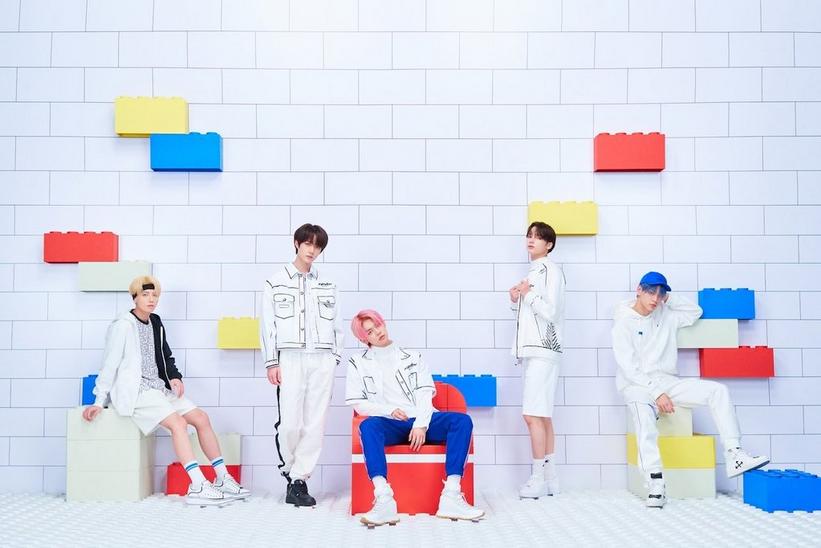 Photo Courtesy of Big Hit Entertainment
news
TOMORROW X TOGETHER On How Their New 'minisode1 : Blue Hour' EP Marks The Beginning Of A New Era
GRAMMY.com caught up with TXT to discuss how they've "changed and grown" on their new EP and what it means to them to be one of the leading K-pop acts of the next generation
GRAMMYs
/
Oct 26, 2020 - 06:38 pm
If there's any music act that can capture the multifaceted nature of youth, it's TOMORROW X TOGETHER (TXT). From the minds of Big Hit Entertainment, the parent company behind the international breakout success of BTS, TXT emerged last year as the first group to debut under the company since 2013. With such large shoes to fill, TXT have refreshingly forged a path distinctly their own, finding a unique voice along the way.
The five-piece K-pop group, composed of members SOOBIN, YEONJUN, BEOMGYU, TAEHYUN and HUENINGKAI, has since emerged as one of the biggest and most promising acts in K-pop—all in less than two years. They've won several accolades in Korea and abroad, topped the iTunes World Albums chart in 50 regions, received nominations for Best K-Pop act at the 2019 and 2020 MTV Video Music Awards, featured on the July 2020 cover of Teen Vogue and clutched the Radio Disney 2020 Song of the Summer title for their single, "Can't You See Me?"
TXT debuted last year with The Dream Chapter series: The Dream Chapter: STAR, their debut EP, in March 2019; The Dream Chapter: Magic, their debut album, in October 2019; and the concluding The Dream Chapter: Eternity EP this past May.
Their new five-track EP, minisode1 : Blue Hour, released today (Oct. 26), is the beginning of a new era for the group. A fitting next chapter, the EP dips into various genres new to TXT, including disco, dancehall, nu gaze, future R&B and pop-rock, while telling a story about boys who are forced to stand at the brink of the real world during the blue hour.
Throughout Blue Hour, a sort of pitstop on their next journey, TXT expertly address the conflicts of reality and reflect on the current need for a pause in real life. The EP's title track, "Blue Hour," follows the footsteps of BTS' chart-topping disco hit, "Dynamite," colored with TXT's unique spin. The EP also includes the COVID-19 themed "We Lost The Summer," which has the creative touch of Charli XCX. The TXT boys also wrote lyrics for some of the songs on the EP, including "Ghosting" and "Wishlist," proving their artistic growth and telling an authentic story for teens facing the pandemic. The EP's last song, "Way Home," is a future R&B track showcasing the vocal ability of the group while emphasizing a need for companionship.
GRAMMY.com caught up with TOMORROW X TOGETHER to discuss their new minisode1 : Blue Hour EP, how they created meaningful art despite the pandemic and what it means to them to be one of the leading K-pop acts of the next generation.
You guys are a youth-oriented group. As Gen Z artists, how do you aim to connect with audiences in a meaningful way?
HUENINGKAI: We've always actively tried to incorporate the thoughts and emotions that youth have into our music and lyrics. For example, our track "We Lost The Summer," from our newest EP, is about the loss of our daily and routine lives due to the COVID-19 pandemic. "Way Home" is about a boy's walk back home after school; the path feels off and even a little lonely in comparison to before, but he believes that as long as we remember one another, we will always be together no matter what. "Wishlist" is also quite relatable. It's about trying to figure out what gift to give to someone—someone very special. It can be a struggle if they don't let you know what it is they want. In such ways, we try to include a wide range of emotions and topics that are relevant for youths today, and we also try to stay connected with our fans by communicating these messages.
Blue Hour is the beginning of a new era now that you've closed off The Dream Chapter series, presenting the opportunity for new storylines and themes. What will stay consistent about TXT and what will change? What can we expect from this new era with Blue Hour?
SOOBIN: minisode1 : Blue Hour is our pitstop as we prepare to move onto our next series. It's about the feeling of unfamiliarity that can sometimes hit us all when our relationships with our friends undergo a change. What we've really tried to do through this EP was to deliver a story that only we can tell. It's our take on the experiences of unforeseen circumstances, such as the COVID-19 pandemic, and we have tried to tell it through our own sound and fresh energy.
BEOMGYU: You'll be able to see how much we've changed and grown as TOMORROW X TOGETHER by taking a look at the EP as a whole, but our choreography in particular. Our choreography used to be group-centric the majority of the time, but our newest performance actually includes solo dance sections for each member. We also had chances to work with dancers this time round, so it's all very new, refreshing and different. This EP dives into many genres and shows new and different sides of ourselves. I hope our fans, MOA, will like it!
Watch: Get To Know K-Pop Kings BTS | For The Record
The members actively wrote lyrics on this release, which was created during the pandemic. What were your thoughts and hopes while creating this album under such unique circumstances? How was your process different?
HUENINGKAI: We tried to reflect the sentiments of the current times in this album. Our goal was to make music that was relevant and relatable for many. For example, "We Lost The Summer" is about teenagers who are experiencing a completely changed world due to the pandemic. Everyone has lost the old norms of their lives, and as we were wondering how we could represent such a circumstance, our producer, Bang Si-Hyuk, was actually the one who came up with the idea from "Arcade" by Han's Band, a song that pictures Korea's financial crisis in the late 90s from a young [person's] perspective.
YEONJUN: We've been participating with the album's creatives by writing lyrics from the beginning of this EP's cycle. Not every idea was adopted, but the process allowed us to key in more ideas and lyrics for the accompanying tracks. We all put in a lot of effort; I worked on the pop-rock track, "Wishlist," with HUENINGKAI and TAEHYUN.
TAEHYUN: I worked on "Wishlist" and also "Ghosting" with SOOBIN. The lyrics for "Ghosting" reflect the disoriented emotional state of a boy who has been detached and cut off from the world. I think that the experience of working on this track has made me feel more hunger for future song- and lyric-writing opportunities.
I noticed the lead single, "Blue Hour," is a disco-oriented track, and your labelmates BTS also released a successful disco-themed song, "Dynamite." What is the attraction to disco for TXT? Why do you think it is a fitting soundtrack for right now?
SOOBIN: Disco/retro is a universal trend right now, not just in music but in culture as a whole. The disco we interpreted through "Blue Hour" is very boyish and also refreshing, which makes it perfect for this album. We also think it'll be very easy to enjoy and relate to for a lot of people. 2020 is a different year for everyone. We think it's a time for bright and energetic music, and "Blue Hour" is hopefully the dose of joy and vigor we all need.
Read: SuperM Talk 'Super One' & Finding Unity In The Covid Era
The EP features five songs that include diverse genres such as dancehall, future R&B and pop-rock. Do you each have a favorite song on the EP? Which songs are you most excited to perform?
YEONJUN: "We Lost The Summer"!
SOOBIN: I would have to say our lead single, "Blue Hour."
BEOMGYU: My favorite is "Ghosting," but I am especially excited to perform "Blue Hour" because we get to utilize props and costumes, and we'll be working with many dancers.
TAEHYUN: We've worked on "Blue Hour" for a long time, so I am very attached to it. I can't wait!
HUENINGKAI: I've never tried disco before, so my choice is "Blue Hour." I am super excited to perform this song in particular because there are so many standout dance moves.
What genres are you interested in trying in the future?
YEONJUN: I'd like to work on more future R&B as well as rap and hip-hop.
SOOBIN: I want to try a cappella.
BEOMGYU: I think it'd be amazing to do some acoustic tracks.
TAEHYUN: I would say soul.
HUENINGKAI: Piano rock! I think it would be really cool to play the piano at a concert someday.
Read: BLACKPINK Talk 'The Album': "The Spotlight Shed On K-Pop Is Just The Beginning"
The visual elements of your music have always stood out, and this time we're seeing bright colors and homestyle photoshoots. What is the inspiration behind the styling for this comeback?
BEOMGYU: The goal for the visual aspects of this album was to reflect the development of the online space as our hub of communication and togetherness while physically being home. It's become much more natural now to meet people and spend time with one another online; it's a change in our culture and the definition of the "space" we share with our friends. The visual elements are intended to represent the happiness and joy that we can still feel when connected with one another through online and virtual spaces. The bright and vivid colors represent our personal spaces.
What do you hope fans gain from listening to this new album?
YEONJUN: Through our album, we wish to share with our fans hope and positive energy.
SOOBIN: Nothing but joy and happiness.
BEOMGYU: Above all, I want our fans to know that regardless of any distance that sets us apart, we are all connected heart-to-heart. I also hope that they'll be able to watch us and gain some energy.
TAEHYUN: It's about the times, so I hope they'll be able to listen to it and relate based on their own personal experiences. As for the title track, it's disco, so I hope they'll enjoy it.
HUENINGKAI: Everyone's going through a rough time, so I hope we can cheer up and uplift altogether. It's what I want most.
TOMORROW X TOGETHER | Photo Courtesy of Big Hit Entertainment
As a leading fourth-gen K-pop group in a world that is increasingly paying more attention to the genre, how do you think you stand out from others in the industry?
YEONJUN: We're always working very hard to show our best in every aspect. I think that our forte is that we work with a diverse range of genres and try to put on a perfect performance for each and every one. We also aim to show progress as artists with every project.
Dreams and youthful elements are fitting for right now as everyone would rather be in a dreamlike state. You guys have consistently incorporated these elements into your music and message. Why do you find these themes important for your music?
YEONJUN: We are Gen Z artists, so we wanted to deal with emotions that our peers experience. "Dreams" and "youth" are key elements. Our Dream Chapter series dealt with stories of meeting friends for the first time, getting up to a bit of mischief together, as well as meeting conflicts with reality that tries to wedge apart our friendships. These stories are one continuous narrative of growth and change, which I hope has been and will continue to be relatable and comforting for fans and further audiences. It's what we strive for as artists: to grow and to be able to console and empathize.

TAEHYUN: We've always told our story in our albums. We've addressed concepts of dreams and youth in our albums because they're very important values and moments for anyone, including ourselves. We've told stories of being excited and making friends, dabbling together in a bit of teenage deviance and encountering a bit of discord within our friendships; thankfully, many people have let us know that they have had or were now undergoing similar situations. I think we've shown a lot of growth through our Dream Chapter series, and we really endeavor to grow further into artists who can provide understanding and consolation through music. Therefore, it was important for us to talk about the values that matter to us in our music. For us, that was dreams and youth.
Read: BTS Talk New Album 'Map Of The Soul: 7': "The Genre Is BTS"
How have you guys been coping with not being able to tour or promote like usual? What have you been doing to make life better?
BEOMGYU: We've been putting our all into rehearsals for this EP because we really want to deliver quality music and performances to our fans. We've also tried our best to consistently stay in touch with our fans through Weverse and Twitter.
TAEHYUN: We participated in various performance opportunities such as KCON. They were all very memorable moments.
You guys debuted in 2019 and have since experienced success both in Korea and abroad. How have you grown as a group since your debut and how has your dynamic changed? What has been the most surprising thing about your journey so far?
YEONJUN: I think I'm more relaxed and at ease on stage. I also like to think that I've matured a little in the way I think and carry myself.
SOOBIN: I can feel and recognize my own growth and can clearly see that our members are growing as well. It makes me proud.
BEOMGYU: I reckon the most surprising and amazing thing is that we have our fans, MOA: people who encourage and support us whenever, wherever.
TAEHYUN: The fact that we can share our music with and be loved by so many people in the world is something I'm still very thankful for and surprised at.
HUENINGKAI: Our lovely MOA have been so consistent with their love and support to us. I'm extremely grateful.
Read: K-Pop Superstar Baekhyun On His Sweet Solo Single "Candy" & Delightful Second Mini Album
What are your goals, both personally and professionally, for the future?
YEONJUN: Personally, I'd like to be able to share a mixtape or single that I've created from start to back. Professionally, I can't wait until the day we'll be able to host our own concert.
SOOBIN: I want to be someone whom my fans will be able to love and appreciate. As a person, I want to mature into a good adult.
BEOMGYU: I want to keep putting in my best efforts as I do now. I want to become an artist who can be a source of strength for somebody.
TAEHYUN: No matter how long it takes, I want TOMORROW X TOGETHER to become a great team that can mark down its name in K-pop history. Personally, I want to stay healthy and happy.
HUENINGKAI: Like YEONJUN, I'm also really eager for our first solo concert. In the future, I want to be able to go on a world tour and meet our MOA all over the world face-to-face.
K-Pop Sensation Stray Kids On Their New LP, 'Go Live': "We Wanted To Show Everyone What Our True Colors Were"