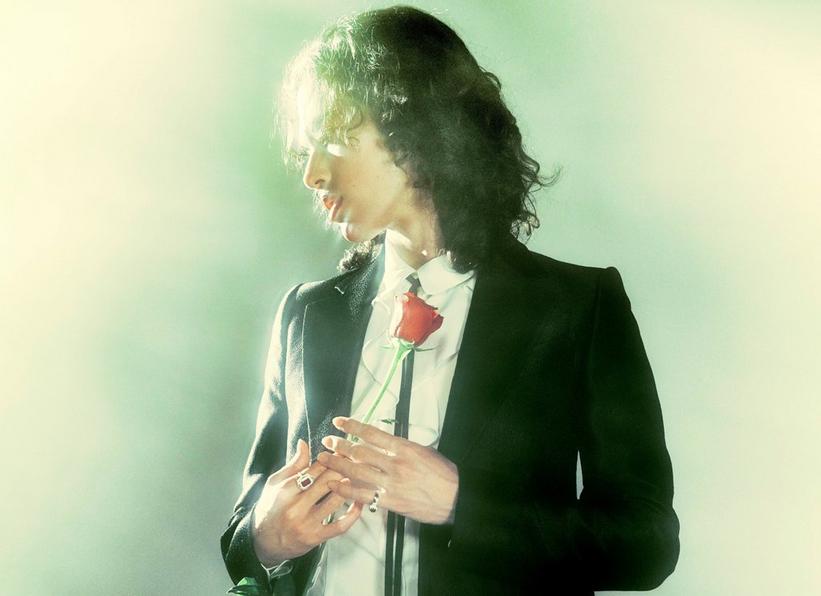 interview
Conan Gray Digs Even Deeper On New Album 'Superache'
Out June 24, Conan Gray's sophomore effort 'Superache' offers 12 deeply personal, multifaceted views of love.
GRAMMYs
/
Jun 21, 2022 - 02:28 pm
Conan Gray never really wanted to release music —  his skyrocketing career is a mere side effect of writing as many songs as he has; nearly constantly since he was 12 years old.
Since, the nomadic military brat turned Texas transplant gained popularity on YouTube, where he'd showcase covers and original songs — most notably the self-produced single "Idle Town," which he uploaded during his senior year of high school. The song went viral immediately, and record labels started to reach out that same week. Not long after, he signed with Republic Records during his (short lived) freshman year of college — soon releasing his 2018 EP, Sunset Season which began his partnership with producer Dan Nigro.   
Gray's debut album, Kid Krow, was released in March of 2020, just days after the pandemic sent everyone into lockdown. But while other artist's pandemic-era albums were released without the crowded dance floors they were made for, Kid Krow seemed to be the perfect match for that strange cultural moment. Spawning platinum hits like "Heather" and "Maniac," the album's intimate, bedroom pop songs came out at a time when that's exactly where everyone was.    
With the June 24 release of his emotionally raw sophomore album Superache from Republic Records, the 23-year-old is excited to get to see fans finally experience the music in person. A direct evolution and expansion of the themes of heartbreak and unrequited love explored in Kid Krow, the album's 12 songs dig even deeper, and were whittled down from an original 250 that the notoriously prolific Gray wrote.
"I think the best songwriting is songwriting that's honest and true and vulnerable," Gray tells GRAMMY.com, "because the only way you can really connect with people is by telling them a human experience."
GRAMMY.com spoke to Gray on the phone as he wrapped up the final leg of his Kid Krow world tour about his extremely personal writing process, navigating social media and his multifaceted view of love on Superache.
Tell me a little about the album title, where does the name Superache come from?
I couldn't really find anything that fully encompassed that feeling of very dramatic mourning of a lingering love. And I think that's what the overarching theme of this album is, lingering love. 
It's the kind of pain that I think you can only get through by writing a lot of songs and crying to your friends and being really annoying, but that's kind of the whole point of being young. I just wanted a word that could encompass that feeling of really intense [pain], but slightly self-aware of the fact that you're being a little too dramatic about it all.
How do you think that theme of lingering love compares to the central theme of Kid Krow?
Kid Krow, to me, is very indicative of my teen years. I think that it has so much teen angst in it and it's my introduction. I think in the past few years, my teen angst has very much softened to simply sadness, and mourning the loss of these ideas of people, and mourning relationships that I've lost with people in my life that have been really important to me.
With Superache, since it's my second album, I really had to think like, oh, well I said everything I was comfortable with saying [in my debut]…now what am I supposed to say? And I feel like making Superache was very much an experience of scraping my ribs of any last information that I had to say. 
It definitely seems like a very natural progression between the two albums, and both are so deeply personal. Do you spend a lot of time thinking about what you're comfortable putting out there?
In the middle of making the album…I was definitely aware that more people were listening than before. And to say that I didn't think about holding stuff back would be a lie. Of course, I was terrified and I'm a naturally very shy person, so the thought of having lots of people listen to essentially my diary, felt really daunting. There was a phase where I was just like, oh, maybe I just don't say anything at all.  
But then I just started writing for my own sake, and eventually it was all those songs that I wrote for myself, that I thought I wasn't ever gonna release, that ended up making the album. I think the best songwriting is songwriting that's honest and true and vulnerable, because the only way you can really connect with people is by telling them a human experience. I had to push [myself] out of my comfort zone if I wanted to make music that I felt like was true to myself.
Was it more daunting to put it out there for millions of people to hear? Or for one particular person to hear? Maybe someone who was the subject of a song, for example?
[Laughs] Um, there are definitely certain people in particular that I think will listen to the album and think, What is wrong with Conan Gray, why is he psychotic? But, like, maybe if they didn't want me to write bad songs about them, they shouldn't have been mean to me.
That's a good point. It's a warning for everybody going forward.
Exactly. You get what you get.
You've talked about how your hometown friends help you retain a sense of normalcy in your life. But on the other hand, you're also great friends with Olivia Rodrigo — is she someone who you can turn to as a lifeline, who can relate to the unrelatable, surreal parts of this business?   
I think that no matter who you are, when you're young and when you're just trying to grow up and figure things out, life is very confusing. It doesn't matter whether you're a singer, or whether you're a college student or whether you are working for the first time or in high school. 
No matter who you are, it's so important to have people that you can confide in and relate to. And it's so important to me that I have my friends from back home in Texas, from my small town, but also Olivia to just be able to talk to — and friends are just undeniably the most important thing in my life. 
Related to that emphasis on friendship, something that I think you do so well on this album is put all love on equal footing. You explore romantic love, platonic love, and familial love — and the value and importance of all three. Is it a conscious choice to strike that balance, or is it just a natural representation of your experience?
I think it very much just is a natural reaction to the way that I've seen love in my life. I've never been in a relationship, a romantic one, and so I feel like I wrote this album just about the love that I do know, which is my friends, but also family. My family history, I think, was the beginning of knowing what love was in my life and seeing how it can build things but also can tear things apart. 
The times that I do talk about romantic love on the album, it's very clear that I don't know what the hell is going on the entire time, because I don't. I think there's certain songs that people might assume are about romantic experiences, but they're not, they're about friendship. And I think that platonic love is something that is very much not talked about very often in music, but it's all that I know. So that's what I write about quite often.
Where did you write this album? Do you have any writing habits or rituals that you always come back to?
I wrote all of these songs sitting in bed, maybe some on the couch…a few on the floor.
Just to mix it up.
[Laughs] Yeah, just to mix it up. But I wrote all of them just in my house, in my bedroom. I've always written like that and I figured if it ain't broke, don't fix it. I just sprawl a bunch of coffee cups and chocolate wrappers around my bed and write new songs for hours and hours. Cause it's my favorite thing to do on earth and I would do it regardless of whether anyone cared.
Kid Krow came out right when the world shut down, which must have been a very bizarre experience to have with your debut album. Are there things with Superache that you're really looking forward to doing that you feel like you missed out on with your first release cycle because of the pandemic?
I think that in a weird way, it felt like an oddly accurate way for people to listen to the music of Kid Krow, because I wrote all of Kid Krow sitting in my bedroom at the loneliest time in my life. I was so lonely making that album, and then ultimately everyone listened to the album out of their bedrooms. 
But with Superache, I think it's an album that is very much centered around friendship and community and like, having people to talk to, and conversations with friends that you have sitting on the curb at 2 a.m. and it's all those kinds of feelings.
So, I think the thing that I'm most excited about with Superache is being able to actually see people listen to the music and see how they actually relate to it. Being on tour right now, I get to see the fans, who I very much consider to be friends, witnessing the music with me at the same time, so it's very fun.
Your music often has a really intimate, small-scale feel to it — what's your approach for taking those kinds of songs to huge venues all over the world?
When I started touring, it actually started to change the way that I wrote songs, which I wasn't expecting. I made some songs knowing like, oh, this is gonna be a really fun moment live. Which is something that I'd never thought when I was 17 writing songs out of my bedroom in high school. 
With Superache, I really wanted to have a good combination of the uptempo and medium tempo and some slow, sad songs and some acoustic moments. Because all of my favorite albums have a good mixture of different kinds of songs. And from top to bottom, I think that there should be a range of emotions.
Your songs have taken off on TikTok and you of course got your start on YouTube, but it doesn't seem like you're quite as online as you used to be. What's your relationship like right now with social media?
Social media drives me absolutely insane, so I don't look at it as much as I used to. I think that the main way I like to be able to interact with people is through the live shows. But I do think the internet is a really fun way for me to be able to talk to them, I just have to know my limits. I am not mentally grounded and sane enough to be able to withstand the things that people say about me on the internet. I think that it's an insanely powerful tool, and in the past few years I've really learned to use it with respect and figure out how to use it in a way that doesn't make me want to scratch my eyeballs out with my fingernails.
If you could go back to the moment right before you self-released your first song, "Idle Town," and tell your past self about only one accomplishment that you've since achieved, what one thing would you tell them?
I would tell 17-year-old Conan that he's perfectly safe now and everything worked out. I think that's the main accomplishment of my life; I'm safe and I have friends and life isn't as painful as it used to be.
Tracking The Rise Of Singer Dean Lewis Through Sync: From "Riverdale" To "Grey's Anatomy"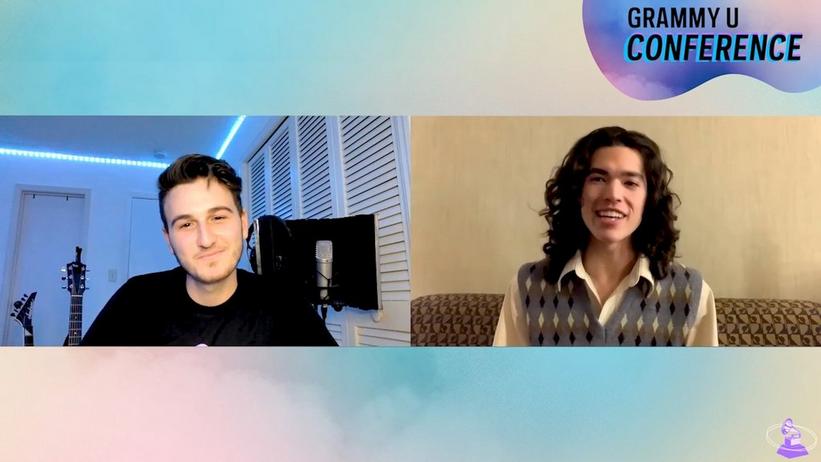 National GRAMMY U Representative Sam Merkin (left) and singer/songwriter Conan Gray
list
10 Takeaways From GRAMMY U's 2022 Conference Featuring Conan Gray
An effort of GRAMMY U's student representatives, the 2022 conference featured multiple industry professionals and rising singer/songwriter Conan Gray, who advised student musicians on exploring their artistry, creating work, and marketing their music.
GRAMMYs
/
May 3, 2022 - 04:50 pm
The 2022 GRAMMY U Conference — an effort of all 14 student GRAMMY U representatives across the country — was held virtually on April 29.  This year's conference aimed to guide aspiring student musicians as they identify and explore artistry, write and record their work, and offer advice on effectively marketing their music on social media and beyond.  
Resourceful Recording, the conference's first panel, was presented in partnership with the Recording Academy's P&E Wing and geared towards musicians recording in studio as well as recording/mixing engineers. The conversation was moderated by Pacific Northwest GRAMMY U Representative Cameron Mangione, and featured award-winning mixing engineer and Recording Academy Florida Chapter Board member Marcella Araica, who provided tips on how sound engineers can best work with artists, managers and producers during recording studio sessions.   
In the keynote conversation titled Finding Your Sound, singer/songwriter Conan Gray spoke with National GRAMMY U Representative Sam Merkin about the writing and recording processes he used for his forthcoming album Superache. Gray cited authenticity as the most important quality of an artist's brand and lyricism.
The conference concluded with a panel on music marketing featuring Lucia Kaminsky, Head of Digital at Sandbox Entertainment, moderated by Atlanta GRAMMY U Representative Kalee Kitchens. Laminksy encouraged students to collaborate within their college departments and with peers to facilitate successful media campaigns.
GRAMMY U's Conference offered many innovative ways for young artists and their teams to create and share their original music. Below are 10 industry takeaways that artists can implement using readily available tools:    
Push The Boundaries Of Songwriting 
Finding, developing and polishing your sound as a singer/songwriter is a process that takes time. Keynote speaker Conan Gray advised conference attendees that consistently writing and practicing is key to cultivating a distinctive sound.  
"Once you learn what a perfect song is, that's when you learn to take that structure and push its limits," Gray explained.  
Gray's sophomore album Superache, due in June, is evidence of that consistent work. Gray experiments with the conventions of pop music on the album by modifying verse melodies and eliminating pre-choruses. Adjusting a verse's cadence and vocal tonalities will allow new artists to assert their own style, Gray noted.
Vulnerability And Musical Elasticity Will Take You Far  
Conan Gray is known for his raw, emotional lyricism, and encouraged students to be vulnerable songwriters. That openness will resonate with audiences, he said.
It's easy to become hyper-aware and self conscious about the personal stories you release into the world as an artist, Gray added, citing his 2020 debut Kid Krow. Although it can be daunting, using real-life narratives to inform songs can allow listeners to connect with your music on a deeper level.   
Speaking with National GRAMMY U Representative Sam Merkin, Gray also encouraged artists to not be dissuaded by the trial and errors of music making — especially when trying to appease large audiences. Instead, artists should focus on making material that they enjoy listening to and that speaks truthfully about their artistic identity.   
"Make music that you enjoy, and let the ideas that you have come to full fruition before knocking them down," he advised.
Learn How To Read The Room  
Resourceful Recording panelist and mixing engineer Marcella Araica acknowledged the essential, yet stressful, role that recording engineers play during studio sessions.
"A large part of our job as engineers is psychology — being able to read the room, read the temperature and read the energy of people in the room," she said. Mixing and recording engineers to flourish in high-pressure situations if they learn how to maintain calm and composure when working with new clients.  
Trusting your musical intuition and technical skills are also important factors when collaborating with new artists or delivering work on deadline. "Don't overthink it. You know what you're doing, and most importantly have fun!" 
View Critiques As Redirection 
While working with three-time GRAMMY nominated producer Daniel Nigro, Gray reflected on how he perceives critiques from producers and songwriters. The singer/songwriter employs a mentality of "let's try this" rather than "let's fix it" mentality.  
Establishing a positive comradery amongst an artist's team members — producers, engineers and co-writers — will produce the best results during studio sessions. Maintaining those professional and cohesive relationships throughout the songwriting and recording process is essential to creative growth.  
Every artist can benefit from external guidance and adjustments when recording, but having a shared interest for the artist's ultimate success is the driving force of a successful collaboration.   
Ask Questions  
Open communication with a performer or producer is crucial to being an engineer.
"If you are a true engineer, you are the person that's helping build out the sound of a song. Getting a true understanding of the artist's vision and asking the right questions about a project's expectations is key," Araica noted in the Resourceful Recording panel. 
Sound engineers play an equally important role in seeing an artist's conceptual idea to fruition, for they provide the expertise needed to foster a singer or musician's unique sound. When meeting artists for the first time, an engineer should ask questions about their vocal effect preferences, such as compression or reverb levels, to create a more comfortable setting for all involved.   
Araica expressed that "artists will be thankful if you're aware of how they want the product to end up."
Master The Fundamentals  
For students who want to pursue a career in recording or mixing engineering, one of the first steps to creating a workflow foundation is choosing a digital audio workstation (DAW).   
"If you're working off a student budget, FL Studio or Ableton Live are great ones," Araica suggested. "Some DAWs are better for recording, while others are better for mixing and production work."   
Araica continued that FL Studio is an affordable option that allows for recording, mixing, and production at the same time, which is beneficial for students that want to explore multiple avenues of sound engineering. Additionally, booking sessions at your university's studio is helpful to experiment with DAWs in a low-stakes environment.   
Engage In Authentic Marketing  
Panelist and digital marketing strategist Lucia Kaminsky highlighted authenticity as an artist's main focus when branding themselves. "Anything with your own touch, people are going to want. If you make something hand-made, people are going to love it," Kaminsky told GRAMMY U's Atlanta Representative Kalee Kitchens. 
Distribution of merchandise is one way to convey the lyrical message of an artist's music. When participating in a marketing campaign as an artist, portraying a genuine and authentic version of yourself is Kaminsky's No. 1 rule.   
"If it doesn't feel authentic, then don't do it. People can see through it when you're not being true to yourself," she said.
Success Looks Different For Every Artist  
The success of marketing campaigns varies amongst independent and signed artists. For independent artists, growing a fanbase is often the most important goal.
"If we've reached new people, that's helpful. It's hard to measure success, but we also look at engagement and streaming numbers," Kaminsky noted.   
It's also important for artists to express their personality outside of music through posting on social media about family, friends and hobbies. Kaminsky added that students who are proficient at basic design/video editing and photoshop are likely to be competitive candidates when applying for jobs and internships as digital media marketers in the music industry.
Utilize School Resources  
Partnering with  music, fashion, digital and other departments within your university is a great place to begin a song or album campaign. Collaborating with students and peers on and off campus is a perfect way to begin branding yourself as an artist within your local community and city.   
"For independent artists/students, reach out to your peers. The people I was in school with are the people I work with now," added Kaminsky.   
Cater To All Audiences  
With the continuing rise of digital media applications, Kaminsky describes that there is a unique opportunity for artists to engage across all social media outlets. These markets include YouTube, Instagram, TikTok, Facebook and Twitter, and Kaminsky advised that artists take advantage of each different platform's audiences.   
"You have different fan bases on every platform. Make sure that you're catering to all streaming platforms- you have this unique chance to get your music out there through digital media," Kaminsky said. To avoid alienating one's listeners, independent artists must be strategic about distributing original music to multiple music markets.   
You can watch GRAMMY U's Conference, Finding Your Sound, by visiting the Recording Academy's  YouTube Channel or Twitch Channel .For more information on how to join GRAMMY U, visit the Recording Academy's Membership Page.