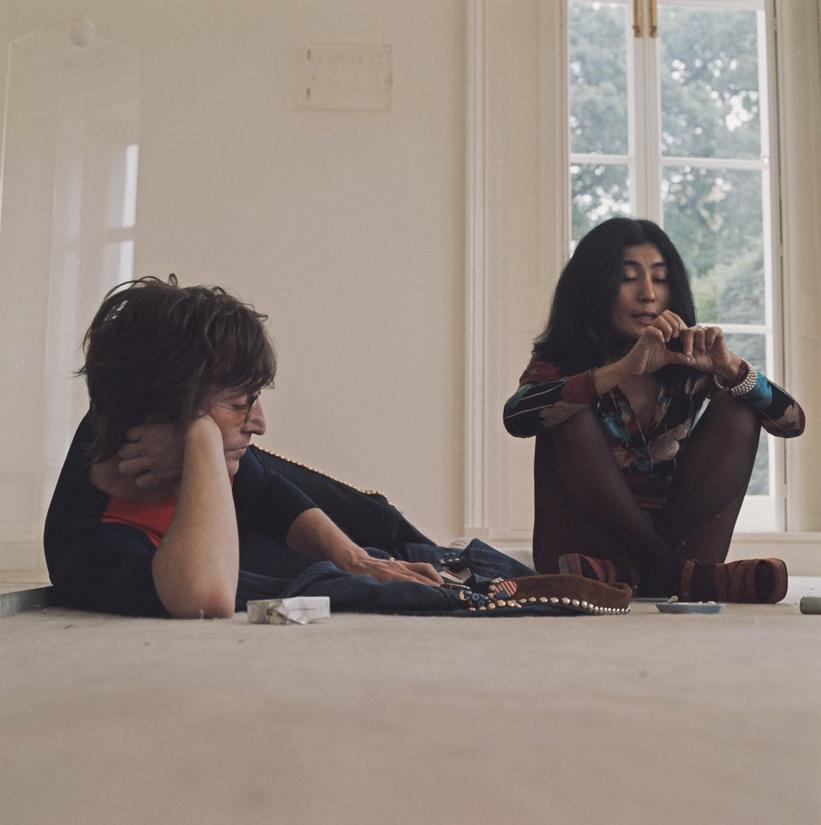 Photo: Michael Putland/Getty Images
news
We've Thrown Everything We Could At John Lennon's "Imagine." The Song Nonetheless Endures 50 Years Later.
The former Beatle's 1971 hit has been through the wringer, subjected to decades of misguided tributes and flat-out misinterpretations. Despite it all, John Lennon's "Imagine" miraculously shines on at 50.
GRAMMYs
/
Sep 8, 2021 - 10:06 pm
How did this song manage to poke the world in the eye?
John Lennon's "Imagine" is little else but a small handful of piano chords, a question mark of a hook, and some probing lyrics about unity. Despite its solemnity and quietude, the well-meaning hit swelled so monstrously that it became visible everywhere, like the moon. As a result, the world has subjected it to celebrity sing-alongs, freighted it with ulterior political agendas, and piped it into rental-car agencies and cereal aisles. It's Communist, critics have claimed. Atheistic. Hypocritical, given Lennon's wealth. It even fueled the seething delusions of the former Beatle's eventual murderer.
But everything "Imagine" has been through can be power-washed off its hull in a few minutes. Take a listen to a stripped-down mix from its 2018 Ultimate Collection box. Before laying into the opening chords, Lennon pauses for a beat, takes a meaningful breath, and exhales sharply into the mic. It's a sobering, intimate and human moment. "There was a sense of the meaningfulness of the songs," drummer Alan White told Billboard that year. "John would give us the lyrics beforehand to make sure we knew what they meant and what we were saying to the world."
On the 50th anniversary of "Imagine," this year, this version—"Take 10/Raw Studio Mix" in the tracklisting—is the most vivid available reminder of why this song matters. Without strings or effects, Lennon doesn't sound like a messiah or global ambassador. He sounds alone, while the nakedness of the take reinforces that the contents of "Imagine" remain bulletproof.
In an era where horse dewormer is a tinderbox of discourse, Lennon's messages can feel more out of reach than ever. But that hook keeps coaxing us, promising us we can return to that glowing center. This, too, applies to the rest of Imagine, which was released 50 years ago this month (Sept. 9, 1971). Who among us hasn't found humor in mental anguish ("Crippled Inside"), apologized for being a bad partner ("Jealous Guy"), or felt generally, unspecifically unmoored ("How?")? Imagine is like a soothing, musical therapy session, and it could have been written and recorded this morning.
Chances are, if you're under a certain age, you were born with "Imagine" pre-programmed in your brain like a factory ringtone. Even so, it's experienced a weird resurgence lately in response to modern horrors. In March 2020, during the early stages of the COVID-19 pandemic, Wonder Woman star Gal Gadot led a well-meaning, socially distanced, celebrity-filed virtual sing-along of "Imagine," where everyone from Will Ferrell to Kristin Wiig to Sarah Silverman joined in via selfie camera from their posh quarantine caves.
This in particular inspired virulent responses; an op-ed in The New York Times called it "far from inspiring in a time of crisis," which was on the milder end of its criticisms. One not-at-all-unrepresentative YouTube commenter summed it up: "Celebrities: have personal attendants, chefs, grocery shoppers, chauffeurs, masseuses, financial advisors, nannies to raise their kids for them, maids, trainers, investors, etc. Also celebrities: Imagine no possessions."
The virtual, We Are The World-style spectacle was central to an excellent Billboard piece by Stereo Williams headlined "Imagine No More Pandering: Why John Lennon's Protest Perennial Became an Anthem For the Clueless." The story was also hung on 2020 comments from New York City mayor Bill de Blasio in response to George Floyd's murder by police and subsequent demands to defund and abolish the police.
"I'm reminded of the song 'Imagine' by John Lennon," de Blasio mused. "I think everyone who hears that song in its fullness thinks about, 'What about a world where people got along differently? What about a world where we didn't live with a lot of the restrictions that we live with now?' But we're not there yet." This, Williams argued, showed "Imagine" was "the kind of simplified quasi-anthem that gets repurposed and reinterpreted depending on who's talking."
Even in moments of turmoil and tragedy, when the world could have used a dose of "Imagine," the song has proved controversial. Following the September 11 attacks, Clear Channel put the kibosh on "Imagine" along with more than 100 other songs. This odd policy inspired the rock band Drive-By Truckers to write "Once They Banned Imagine," a meditation on the world-changing event through the lens of misguided censorship.
In a 2016 interview with Americana UK, the song's author, Mike Cooley, noted that the song wasn't exactly banned, despite the title. But still, "Can you think of a better song to hear at that time," he asked, "after a religious maniac had just committed those acts, than one that says 'Imagine no religion?'"
So, how has "Imagine" survived all this, and why does it remain so impactful? It could be the haiku-like simplicity of the song's lyrics; Yoko Ono's Grapefruit was a direct influence, and she eventually secured a belated writing credit on the song. Pair this with the chord progression, which almost anyone could play after two piano lessons, and you've got a recipe for universality.
And as the Ultimate Collection demonstrates, "Imagine" is far less haughty and assuming as some make it to be. At the end of his Billboard piece, Williams wonders aloud if another Lennon song, like the obscure Mind Games polemic "Bring On The Lucie (Freeda People)," should take its place. But "Imagine" still miraculously stands tall, a still-burning lamplight for the potential of the human race.
For its 50th anniversary, ignore the noise and hear "Imagine" for what it is: Not a half-baked coffee-shop cover or questionable sing-along or press-conference canard, but one man's expression, transmitted to you and the world.
Now That I Showed You What I Been Through: 50 Years Of John Lennon/Plastic Ono Band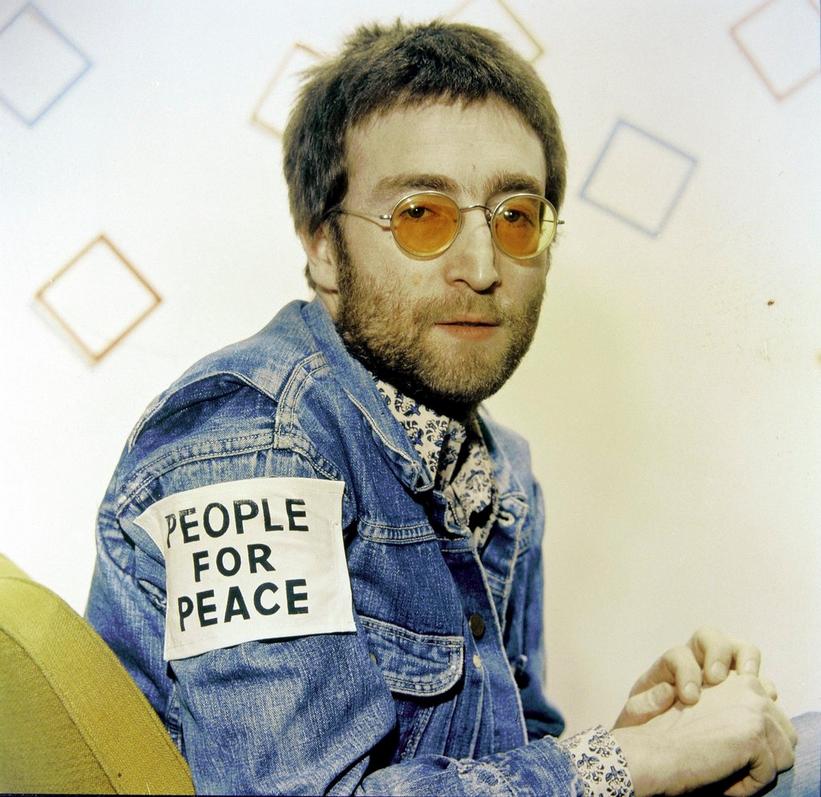 Photo: Ron Howard/Redferns
list
John Lennon, Sting, Alicia Keys: 7 Songs For Starting Over In 2018
With hits from Leonard Cohen, the Byrds, Nina Simone, and more, find the motivation for a brand-new you this New Year
GRAMMYs
/
Jan 4, 2018 - 11:12 pm
Each New Year offers the opportunity for a fresh new start, whether you're looking to wash away the sins of the previous year or reinvent a better future that follows your ultimate dreams. Starting over isn't an easy task, but we have one recommendation that will help motivate you: music.
Don't be a fuddy duddy. Kick-start 2018 with this playlist of seven songs all about starting over, including hits from John Lennon, the Byrds, Sting, and Alicia Keys, among others.
1. The Byrds, "Turn! Turn! Turn!"
Starting with its lyrics, "To everything (turn, turn, turn)/There is a season," this GRAMMY Hall Of Fame classic is a great reminder that everything is always changing anyway, so now is as good a time as any to give something new a chance. The composition was written by Pete Seeger in the late 1950s, but the lyrics come almost verbatim from the Book of Ecclesiastes in the Bible. The song didn't hit it big until the Byrds got their turn at it in 1965. Reportedly, it took Roger McGuinn & Co. 78 takes to perfect their folk-rock arrangement.
2. Leonard Cohen, "Anthem"
GRAMMY winner Leonard Cohen had a knack for poetry powerful enough to move mountains, and his "Anthem" is one such gem. This 1992 tune about embracing imperfection and marching forward in the face of adversity contains one of Cohen's most-quoted lines: "Ring the bells that still can ring/Forget your perfect offering/There is a crack, a crack in everything/That's how the light gets in." And we'll leave you with one final line from the master that encapsulates starting over: "The birds they sing, at the break of day/Start again, I heard them say/Don't dwell on what has passed away/Or what is yet to be."
3. Gil Scott-Heron, "I'm New Here"
Taken from his 2010 album of the same name, "I'm New Here" came near the end of Gil Scott-Heron's storied life. The album saw Scott-Heron, according to Drowned In Sound's Robert Ferguson, "pick over the bones of his life, acknowledging the hard times and his own mistakes, but standing proud of all they have led him to become." Embodying this sentiment accompanied only by an acoustic guitar, Scott-Heron's bluesy, semi-spoken "I'm New Here" brings out the poignancy of change. Its key lyric, "No matter how far wrong you've gone/You can always turn around," is something to keep in mind year-round, let alone January.
4. Alicia Keys, "Brand New Me"
Alicia Keys went full bore on the empowering messages of her 2012 album, Girl On Fire — the Best R&B Album winner at the 56th GRAMMY Awards — including the track, "Brand New Me." Co-written with singer/songwriter Emeli Sandé, the soft pop/R&B ballad describes growing as a person and becoming a brand-new version of yourself. "Brand new me is about the journey it takes to get to a place where you are proud to be a new you," Keys wrote on her website at the time of the song's release.
5. John Lennon, "(Just Like) Starting Over"
A quintessential start-anew song, former Beatle John Lennon included "(Just Like) Starting Over" on his GRAMMY-winning 1980 album, Double Fantasy. "(Just Like) Starting Over" was the album's first single because Lennon felt it best represented his return following a five-year hiatus from music. It's also a love song, but the theme of starting over has a universal resonance "It's time to spread our wings and fly/Don't let another day go by my love/It'll be just like starting over." It became Lennon's second chart-topping single in the U.S., reaching No. 1 after his death on Dec. 8, 1980.
6. Nina Simone, "Feeling Good"
"It's a new dawn/It's a new day/It's a new life for me/I'm feelin' good." Could you ask for better lyrics for embarking on a new journey? Nina Simone recorded her version of "Feeling Good," which was originally written for the musical "The Roar Of The Greasepaint — The Smell Of The Crowd," on her 1965 album I Put A Spell On You. While artists such as Michael Bublé, John Coltrane, George Michael, and Muse subsequently covered it, no alternative is quite as powerful — or soulful — as Simone's.
7. Sting, "Brand New Day"
Sting's "Brand New Day" has a lesson for inspiring motivation to start the New Year with fresh eyes: "Turn the clock to zero, buddy/Don't wanna be no fuddy-duddy/We started up a brand new day." The bright, catchy pop tune and its namesake 1999 album resonated with fans, landing it at No. 9 on the Billboard 200. The track (and album) earned Sting GRAMMYs — Best Male Pop Vocal Performance and Best Pop Album — at the 42nd GRAMMY Awards.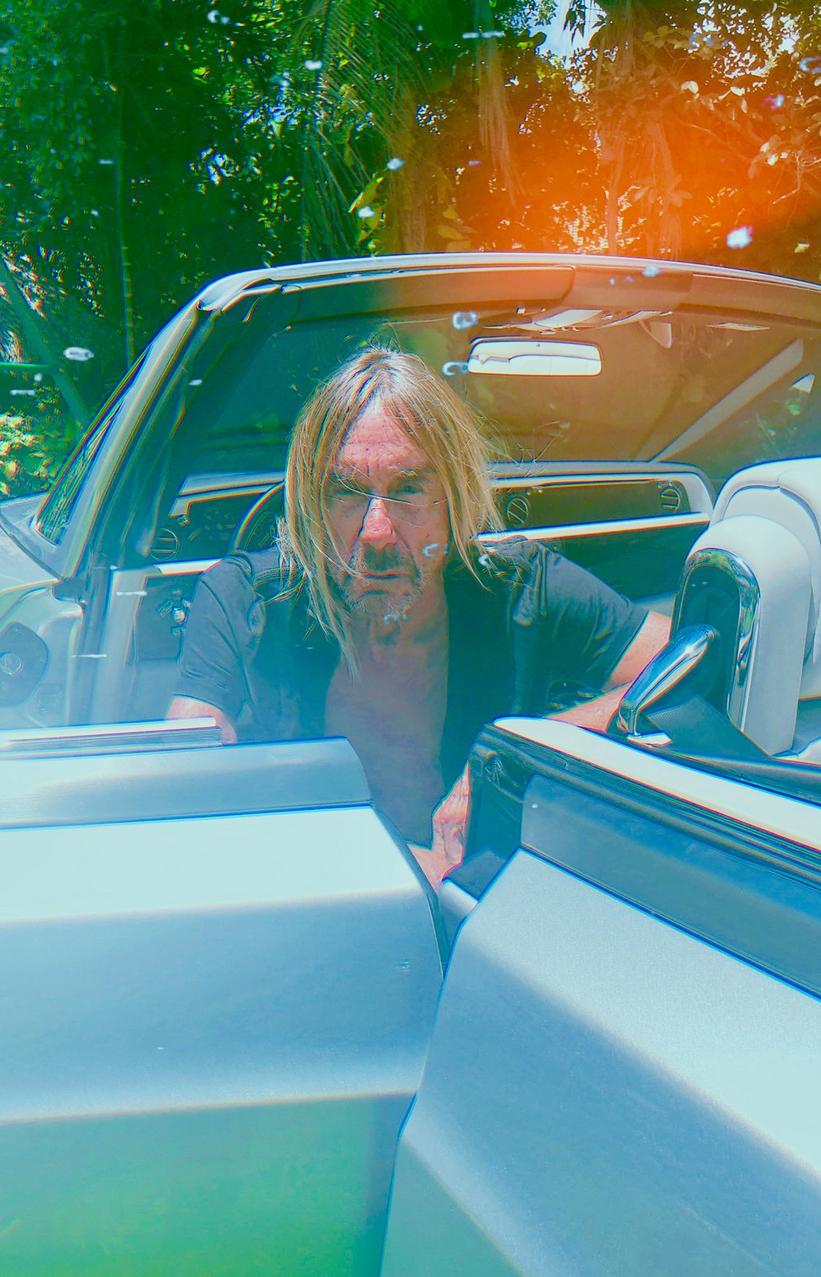 news
Iggy Pop Announces New Album, 'Free', Shares Title Track
"By the end of the tours following Post Pop Depression, I felt sure that I had rid myself of the problem of chronic insecurity that had dogged my life and career for too long. But I also felt drained… I wanted to be free," the Godfather of Punk explained
GRAMMYs
/
Jul 18, 2019 - 11:47 pm
Today, GRAMMY-nominated punk forbearer Iggy Pop revealed the details for his forthcoming 18th solo studio album, along with its short—at under two minutes—yet spacious title track, "Free." The 10-track LP is due out Sept. 6 and follow's 2016's GRAMMY-nominated Post Pop Depression.
"This is an album in which other artists speak for me, but I lend my voice," Pop explains in a press release.
The statement notes jazz trumpeter Leron Thomas and L.A.-based electric guitarist Noveller as the "principal players" collaborating with Pop on this exploratory new project. On "Free," Thomas' horn and Noveller's guitar add layers of depth, somberness and exploration, as Pop's echoing voice cuts through twice to proclaim, "I want to be free."
Pop adds that his last tour left him feeling exhausted but ready for change, and the shifts eventually led him to these new sounds:
"By the end of the tours following Post Pop Depression, I felt sure that I had rid myself of the problem of chronic insecurity that had dogged my life and career for too long. But I also felt drained. And I felt like I wanted to put on shades, turn my back, and walk away. I wanted to be free. I know that's an illusion, and that freedom is only something you feel, but I have lived my life thus far in the belief that that feeling is all that is worth pursuing; all that you need—not happiness or love necessarily, but the feeling of being free. So this album just kind of happened to me, and I let it happen."
Post Pop Depression earned the former Stooges frontman his second GRAMMY nod, at the 59th GRAMMY Awards for Best Alternative Music Album. It was produced by GRAMMY winner Josh Homme of Queens of the Stone Age and as a tribute of sorts to David Bowie, Pop's longtime friend the producer of his first two solo albums, and was released shortly after Bowie's surprising passing.
As the press release states, "While it follows the highest charting album of Iggy's career, Free has virtually nothing in common sonically with its predecessor—or with any other Iggy Pop album."
You can pre-order and pre-save the new album now for the Sept. 6 release here. You can also check out Pop's new book, 'Til Wrong Feels Right, on Sept. 26.
Exclusive: Salvador Santana And Ozomatli's Asdru Sierra Announce New Politically Charged Project RMXKNZ
news
We Will, We Will Shock You
A collection of shocking album covers that might make you look twice (or look away)
GRAMMYs
/
Dec 3, 2014 - 05:06 am
As the baby boomer-fueled market moved from singles to albums in the '60s and '70s, artists began using LP covers as a means to create bold visual statements, occasionally using nudity, sexual imagery or striking graphics. Sometimes the purpose was to create art for the ages, while other times it was to push boundaries. Either way, the most controversial covers were often banned or altered by record companies for fear of public or retail outrage. One of the most famous cases of censorship was one of the first — the Beatles' "butcher" cover for 1966's Yesterday And Today, which featured a grinning Fab Four covered in raw meat and plastic baby doll parts. (The cover was reportedly an anti-Vietnam war commentary by the group.) Capitol Records issued a new cover with a less-shocking photo after the original caused an uproar. In the '70s and '80s, German rock band the Scorpions made a series of albums with disturbing sexual imagery, including 1976's notorious (and quickly banned) Virgin Killer featuring a nude young girl. The cover was replaced by a conventional band portrait.
While shocking album covers do still exist, they have occurred with less frequency since the '90s as CDs, which de-emphasized cover art, replaced LPs and pop culture grew more permissive. Now, as album sales shift from physical to digital, the age of shock album covers is starting to seem like a bygone era. Here are a few other album covers that shocked us, and might shock you too.

Moby Grape
Moby Grape, 1967
Shocking fact: Drummer Don Stevenson's (center) middle finger was airbrushed out on later pressings.

The Jimi Hendrix Experience
Electric Ladyland, 1968
Shocking fact: The British release featured a bevy of naked women on the cover.

John Lennon & Yoko Ono
Unfinished Music No. 1: Two Virgins, 1968
Shocking fact: Distributors covered the explicit content — nude front and back portraits of Lennon and Ono — in brown paper. Even today, full frontal nudity remains objectionable for many.

The Rolling Stones
Beggars Banquet, 1968
Shocking fact: The band's U.S. and UK labels originally rejected the cover featuring a toilet and graffiti-covered bathroom wall. Today, the cover seems remarkably tame.

Blind Faith
Blind Faith, 1969
Shocking fact: The original cover featured a young nude girl holding a small plane. The replacement cover featured a shot of the band.

David Bowie
Diamond Dogs, 1974
Shocking fact: The cover illustration of Bowie as a (noticeably male) dog had the offending organs edited out.

Ohio Players
Honey, 1975
Shocking fact: The sexually suggestive cover features Playboy Playmate Ester Cordet swallowing honey from a spoon.

Jane's Addiction
Nothing's Shocking, 1988
Shocking fact: An ironic twist to the list. This artsy cover depicts a realistic sculpture, created by frontman Perry Farrell, featuring nude conjoined twins with hair afire.

Millie Jackson
Back To The S*!, 1989
Shocking fact: The take-no-prisoners soul singer poses on a toilet seat with one shoe off while grimacing. Often called the worst album cover ever.

The Black Crowes
Amorica, 1994
Shocking fact: Original cover featured an American flag-printed G-string showing pubic hair.

news
Jackson Tops Dead Earners List
GRAMMYs
/
Dec 3, 2014 - 04:22 am
Jackson Tops Dead Earners List
GRAMMY winner and Recording Academy Lifetime Achievement Award recipient Michael Jackson topped Forbes' annual list of top-earning dead celebrities with $275 million, earning more than the combined total of the other 12 celebrities on the list. Elvis Presley ranked second with $60 million, John Lennon placed fifth with $17 million and Jimi Hendrix tied for 11th place with $6 million. Forbes compiled the list based on gross earnings between October 2009 and October 2010. (10/26)
UK Arts Council Announces Budget Cut Plans
Following a previous report, Arts Council England has revealed plans to implement the 30 percent cut to the UK's arts funding budget. The cuts will include a 7 percent cash cut for UK arts organizations in 2011–2012, a 15 percent cut for the regular funding of arts organizations by 2014–2015 and a 50 percent reduction to the council's operating costs. (10/26)
GRAMMY Winners To Perform At World Series
GRAMMY winners Kelly Clarkson, Lady Antebellum and John Legend are scheduled to perform "The Star-Spangled Banner" during Major League Baseball's 2010 World Series between the San Francisco Giants and Texas Rangers. Legend and Lady Antebellum will perform at games one and two in San Francisco on Oct. 27 and Oct. 28, respectively, and Clarkson will perform at game three on Oct. 30 in Arlington, Texas. (10/26)