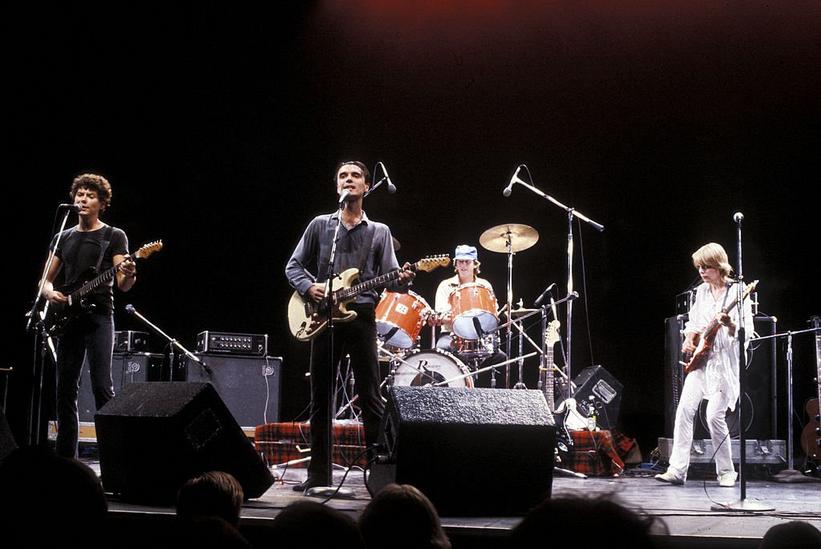 Photo by Michael Ochs Archives/Getty Images
news
'Remain In Light' Turns 40: Artists Weigh In On Talking Heads' Genre-Defying Dance-Floor Classic
In honor of its 40th anniversary, GRAMMY.com asked a wild combination of modern acts why 'Remain In Light' remains such a creative touchstone all these years later
GRAMMYs
/
Oct 20, 2020 - 10:55 pm
In his memoir Remain In Love, Talking Heads drummer Chris Frantz opens up the first chapter from the concert stage in Rome, Italy on the tour supporting the band's fourth album Remain In Light, released 40 years ago this month.
"I figured the book should start off on a really high note," he tells GRAMMY.com. "So I began with that particular night in Rome, which was extraordinary. The whole tour was, but that show stands out as 'off the chain.' [Laughs.] It was right before Christmas, and everybody was feeling good in the band, and it shows."
The Remain In Light tour was not so much a means to support the new album as it was a physical extension of the new sound Frantz, Tina Weymouth, Jerry Harrison and David Byrne were exploring on their second studio effort working in collaboration with Brian Eno. It was this polyrhythmic blend of disco, funk, punk and pop that became the platter du jour in dorm rooms and underground club jukeboxes throughout much of the earliest of the early '80s. The incorporation of an expanded troupe of friends, associates and hired guns—which included the likes of singer Nona Hendryx, trumpet master Jon Hassell and King Crimson's Adrian Belew on "stunt guitar"—was also a crucial component to the advancement of the band's signature sound. However, it was the interpolation of African polyrhythms—particularly those attributed to the music of Nigerian jazz-funk pioneer Fela Kuti.
"We were flying by the seat of our pants," Frantz explains. "But I notice that Brian Eno always attributes the African templates to him introducing the band to Fela Kuti's album Afrodisiac. But, in fact, we had all those Fela records in our possession when we were college students like six years before we even met Brian Eno. I'm glad that Brian takes pride in the fact that he was hip to Fela Kuti and all that. But the truth is, we were already headed in that direction, though we were never trying to emulate Fela and cop those licks because we couldn't really do it. We couldn't play at the level Afrika 70 played. But we could use Afrobeat and, quite frankly, American soul music as a springboard. Kind of like what we did with Al Green's "Take Me To The River." It doesn't sound like the original song, but it's clearly a tribute to him and Teeny Hodges and Willie Hutch. Same thing with Remain In Light, because those songs were written before we went into the studio. We really had to dig down and come up with parts we found that inspired us to go forward. We couldn't just use the regular rock 'n' roll links for what we were doing. It wasn't what we were looking for."
Witnessing how Remain In Light has evolved into this key touchstone across such a vast and varied swath of the music multiverse these last 40 years only confirms its sonic thumbprint on pop's advancements in structure, space and groove since its initial release on October 8, 1980. And in honor of its 40th anniversary, GRAMMY.com asked a wild combination of modern acts just why Remain In Light remains such a creative touchstone all these years later.
Max Richter: It's such a melting pot, that record, isn't it? It's kind of an everything-everything record. It was in that very post-modern moment—1980—and the themes around post-modernism were very in at the time. A lot of it comes from the Fela Kuti inspiration and the Afrobeat world, yes. But there's also an element of German electronic music in there as well, which is certainly Eno-esque. It also has this sense of paranoia in the whole storytelling of the record. There's this anxiety, which I guess comes out of the punk thing. It feels very prescient how it holds up a mirror to its time and foretells the future a little bit. There is definitely psychology in that lyrical content. I was 14 when it came out. Punk was officially dead already, but that was just an explosion of heat and noise. But then all of these fragmentations of that energy started to happen. Remain In Light, in a way, is the sum of those things. It has a lot of similar iconoclastic attitudes. But I had never heard anything quite like it, and had no frame of reference with which to understand this music. It's got atoms of disco, atoms of funk and atoms of African music. It sounded like it was from another world.
Adam Rogers: Remain In Light is truly one of the great records of the last 40 years. It exemplifies so many of the important elements in the making of a brilliant and creative ALBUM: a total work of art that is the sum of all of its beautifully interlocking parts. A reminder that we, as creators and listeners, should always consider the total production and artistic statement that is a "record." The songwriting, grooves, production and playing are so uniquely thrilling to this day... not to mention the SOUNDS!! The utterly beautiful textures (not the least being Jon Hassell's trumpets on "Houses In Motion") that punctuate the relentlessly percolating grooves. David Byrne's lyrics and inimitable vocal stylings. Brian Eno's brilliant production. Adrian Belew's fantastic playing both solo-istically and texturally... That contributes so much to the sonic and conceptual aesthetic of the record. Each song is so fully realized, from the incredibly catchy and uplifting "Once In A Lifetime" to the ridiculously funky "Born Under Punches" to the Fela-influenced "Crosseyed And Painless." You can hear all of the powerful influences and they're expressed through the prism of having been totally assimilated and performed with utter commitment. It is both very much a record of its time and one that is truly "timeless." It stands out to me as one of the most creative and accessible works of popular music. I continue to be inspired by it!
Vanessa Briscoe Hay, Pylon: Sometime in late 1980, I heard "Crosseyed And Painless" at a club in New York. The syncopated African rhythms created a great background to some dancing and spinning taking place. I don't remember listening to the entire album until some point in 1981. Pylon were on a road trip out to California. All the guys took turns switching out drivers as we made our way across the country. Texas takes a long time to drive across on I-10. At some point Curtis Crowe, our drummer, took the wheel and I stayed up to keep him company. Someone had a cassette of Remain In Light and we put it on autoplay. As the landscape went by and we headed into the desert area of western Texas, the sun started coming up and it was truly magical as we listened to this otherworldly music for maybe the fourth or fifth time.
CAMÍNA: I will never forget the first time I heard the song "Once In A Lifetime." I was six years old and really into space and all things NASA at the time and thought aliens from outer space made this song. It was my first introduction to African polyrhythms and funk. Fast-forward 20 years later, it opened up a whole new world to me in terms of production techniques and approach on how to make samples cohesive. The way they crafted an original and truly unique sound by merging different genres together makes this record a personal inspiration, and I reference its brilliance all of the time. I believe Remain In Light represents what the cosmos would sound like if humans and aliens were in a band and made a soundtrack for a Quentin Tarantino movie about outer space. I adore the Talking Heads and their influence on the cannon of music and am so glad they paved the way for so many of us weirdos to make music.
Jesse Miller, Lotus: Side A of Talking Heads' Remain In Light still grabs me today and feels as fresh as when I first heard it. There is so much energy there. The relentless, percussive beats have almost no breaks, intro or endings. A one beat shouted "HA" kicks off "Born Under Punches" and then we are plunged into an abyss of groove. The non-narrative, paranoid, dada-ist lyrics and noise-oriented synth and guitar solos emphasize the importance of the underlying looping beats even more. Put those elements in another context and they would have almost no coherence—you most likely won't hear "The Great Curve" reinterpreted at a coffeehouse singer-songwriter open mic. The album is still revelatory in the way it finds musical intersections between electronic dance music, African rhythms and rock. 40 years later, the heat goes on.
Jodi Dunlop, Mise en Scene: The first time I heard a track off of Remain In Light, I was a 16-year-old punk kid in the recording studio, and it stopped me dead in my tracks. Occasionally, the producer would play music real loud in the control room before our sessions. The Cure, Roxy Music, The Clash, and The Velvet Underground were among his usual go-to's, but on that particular day, he put on "Once In A Lifetime" by Talking Heads. I had never heard anything so incredibly rhythmic, percussive, genre-bending and straight-up groovy in my life. As a drummer, all of those things mattered to me.
The flawlessly layered instrumentation, the super scratchy guitars, the overall weirdness, and David Byrne's ability to draw you in so intimately with lyrics that at times barely made any sense were what made this record so special. But what I admire most about Remain In Light is the band's ability to play such considered parts in a way that adds to the groove without distracting or taking away from the wholeness of the music. That's something that I try to bring into Mise en Scene, and something that I think all artists should be conscious of.
"I believe 'Remain In Light' represents what the cosmos would sound like if humans and aliens were in a band and made a soundtrack for a Quentin Tarantino movie about outer space." — CAMÍNA
Mike Doughty, Ghost of Vroom/Soul Coughing: The two songs on RiL that were world-changing for me are "Houses In Motion" and "Seen And Not Seen." Both so funky and yet so strange. I haven't heard anything that sounds like those, including in the genres that it's built out of: P-Funk, West African music, Downtown N.Y. avant-garde funk, even the kind of spoken-word and Robert Wilson-style performance art that the vocals emulate. I was obsessed with TV preachers as a teenager. I began watching them as a pre-teen because they were the only people on TV talking about the kind of dark heavy metal I liked: Iron Maiden, Judas Priest, Dio. I did a rock opera performance of the Book of Revelation at WNYC in 2015, and it was really about that kind of apocalyptic preaching.
So the first declaimed lines on the album, "TAKE A LOOK AT THESE HANDS!!," sucked me into the world of the album immediately.
I listened to "Seen And Not Seen" over and over again—so creepy—by myself in a dorm room. I didn't even realize that it was my life story—I was so enthralled and compelled and scared.
I didn't even know what the instruments really were on the album. Are those squealing noises a guitar? Is that uncanny clap a drum machine? Is that spooky horn a synthesizer? I would ask my roommate, who would tell me what they were, and I could only half-believe him.
RiL is the secret story of the Reagan '80s. You hear the headlines about the CIA, the evangelists, the hollow patriotic kitsch, the strange internal twists that turned the 18-year-old kids at Woodstock into the yuppies of the '80s. That transmogrified identity, the tortured interior, the unease that boomers felt as they became adults but still couldn't think of themselves as anything but young.
Roddy Bottum, Man On Man/Imperial Teen/Faith No More: I was a teenager in L.A. obsessed with ska and only went to the Palladium that night in 1980 to see the English Beat, I didn't care about the headliner. I just knew they were old and from New York. Most of the sounds and the songs the Talking Heads played that night were from Remain In Light and it was a fusion like I'd never heard. I didn't know what it was and I couldn't understand those weird African-sounding beats and squelches from the singer and that rad bass player who was a woman! Tina made all the difference to me and my sisters and I were overwhelmed and fascinated. The record became that high school record to me, the one I still know 100 percent by heart. It takes me back to a time where inclusivity was key and righteous and a compelling, bold new frontier. My sisters and I for the whole year were chanting, "My God, what have I done?"
James Tillman: Remain In Light is an undeniably special album. I first heard it around the time I moved to New York City. 'Listening Wind' is one of my favorite songs of all time. I marvel at how Byrne uses his voice throughout, singing and reciting lyrics that explore the most plaguing societal ills of modern times— over some the most unconventionally funky soundscapes ever heard. Brian Eno's touch, specifically his use of samples and repetition, no doubt influenced me while working on my debut album, Silk Noise Reflex. Remain In Light was a predecessor to the 'global' sound saturating the music scene these days, but still sounds like it's in a league of its own after all these years.
Ben Perowsky: What an amazing and timeless piece of work this record is! A true collaborative effort across the boards on this. I've been fortunate to have worked with David a few times over the years in various musical circumstances and have been a long time adoring fan. I could say he's someone who keeps his eyes and ears open and is paying attention at all times. This seems to be true of most great artists. He's like an open conduit and a very intelligent and creative one. Bands sometimes have the potential to be even more powerful than one person when making a statement and here he was surrounded by his likeminded friends and collaborators working it out in a studio in the middle of the Caribbean. Eno did an amazing job, not only of pushing into the future with early looping and use of the newly available digital delays, but in the feat of making it in just two months!! Escaping all the distractions and trappings of N.Y.C., they still managed to bring that spirit they had been soaking up while living there. You can hear so many influences aside from the obvious—Fela Afro-pop references, like early hip-hop, Danceteria, Downtown Funk bands, etc. There's the infamous old quote, "Good composers borrow, great composers steal." But even when one takes inspiration or borrows an idea, good art will end up standing on its own as something different. Here is an example of all these people who went out foraging and brought all their findings back to the table for a big futuristic brew. Who says art can't make you dance?
"Who says art can't make you dance?" — Ben Perowsky
Steven Bernstein, The Lounge Lizards/Sexmob: I actually just got a call from a museum to be an advisor on an exhibit chronicling New York music from 1979 to 1985. So I've been reconstructing those years in my head so I can remember who I used to go see at the clubs. I used to go to two or three gigs a night back then. So I broke out Remain In Light to remember hearing it in the context of the time, and then it hit me: college parties. That record had just come out during my second year at Columbia University, and when you'd put on that first side, everyone would start dancing. And that is exactly how it first got into Remain In Light, through hearing it hanging out at parties all the time. I didn't own the record until later on, actually, but I always heard it. I was very interested in hearing the African side to this music, and the bass lines and this syncopation that really moved the body very much like African music does. But this record, to me, was a very social record. It was always on in everybody's dorm rooms.
Leron Thomas: When I listen to Remain In Light, it reminds me of how heavily the singer-songwriter approach to my music is influenced by Talking Heads. Especially my latest album, More Elevator Music. We can hear everything from Parliament-Funkadelic to David Bowie in Remain In Light. Not to mention the world music vibes, yet there's still an aspect of futurism in the music. "Seen And Not Seen" has a groove that became more prominent in '90s music, as opposed to the '80s. And the project dropped in 1980. Also the cultural acceptance that this album received. I can safely say that as a kid growing up in Houston, one would definitely hear "Once In A Lifetime" being played on Black radio stations including the emerging hip-hop stations. The shit was just hip. That groove. Very unusual and still universal. Not attempted to be emulated again, so far it seems. [It] tells us a lot about ourselves right now. Which is a great segway into the other aspect about this album. It has a message without being too preachy. That's a very hard thing to pull off. My favorite on here for that would be, "Listening Wind." A very Shamanic-like understanding in the message, yet it doesn't care to force itself onto the listener. It even goes as far as to make one self-reflect. These are skills that artists strive for everyday in their work. So yes, Remain In Light: Great Kung Fu.
Doug McCombs, Tortoise/Eleventh Dream Day: Talking Heads have always been meaningful to me, being one of the first handful of bands that I paid attention to. In the embryonic days of Tortoise, we hoped to take some of our scrappier punk aesthetic and fold it into something like Remain In Light or it's companion album My Life In The Bush Of Ghosts, both templates for sure. I can still listen to Remain In Light over and over again without getting tired of it. A masterpiece.
John Herndon, Tortoise: As far as Remain In Light, I was thinking that it's a very economical record. Lots of layering, but everything in its place. Even Adrian Belew's guitar solos seem to move with the gears of the band. I really love the pacing of the record too, how it just nose dives into a claustrophobic dirge by the end.
Ishan Parashar, producer (Juletta + Ishan): I must have discovered the record back in 2012 or 2013, when I was around 16 years old.
I was scouring "greatest albums of all time" lists on the internet at the time, just trying to educate myself on what was out there. I listened to a lot of the classics—The Beatles, Led Zeppelin, Pink Floyd, Elvis. But when I played RIL on the tinny speakers of my 1997 Chrysler Eagle, it was clear I was on a different ride completely.
I still have a hard time classifying what it is. It's rock, sure. But it's funk, it's punk and it's art-pop. I can't help but dance whenever I put it on, and for that reason it has made it into my DJ sets amidst house, techno and disco.
Remain In Light exemplifies what I like in music, and therefore what I search to create in my own music. It's music that isn't simply classifiable. It's music that can't be easily replicated because it borrows seamlessly from time periods and genres. It grooves fast and hard sometimes, and slow and methodically others. It has sounds I've never heard before, it puts words together like I've never thought, and at the end of the day, it's unmistakably original.
Charlie Burg: Remain In Light, in addition to other early Talking Heads records, has been a go-to social gathering soundtrack choice for me. And especially on my newer music, I've found David Byrne's arrangement choices to be inspiring in their intentionality and evocative nature. I've always been impressed at the rhythmic diversity of Remain In Light. The percussion on this project is panned around a really well-recorded drum set in a way that accentuates funky syncopations and just makes you want to move your feet. Even the guitar parts are mixed in a way that gets a real percussive tone out of the strings and adds terrific syncopation on both sides. The guitar tones themselves are groovy as heck, and the synthesizers expand the space of each song in a really warm yet ethereal way. It's got a wooziness, but you can still feel the room in the recordings, which I love. Nothing beats that analog sound and this album serves as a handbook for utilizing analog synthesizers in an intentional, tasteful way. Sparse, but full. Genius!
Mike Deller, The Budos Band: Growing up in Carbondale, Illinois, my pops kept Talking Heads on regular rotation. As a kid, I connected with the combination of various musical traditions and styles. When the band made Remain In Light, they were all going in different directions, working on separate projects. They brought their differences to the table and used them to create an incredible album. Definitely a concept and practice that was ahead of its time.
Dan Whitford, Cut Copy: Remain In Light is an incredible record because it represents the peak of Talking Heads as a band, and also Eno as a producer. It was also one of those rare examples of a classic record that is both incredibly satisfying to listen to, but also completely turns expectations on their head. This album was a huge influence on our third album, Zonoscope, particularly the idea of using the recording studio as an instrument. Talking Heads and Eno pioneered the idea that instead of trying to capture the essence of what a band sounds like playing together, you could use a studio as a place to experiment and discover completely new sounds that neither band or producer could ever have imagined beforehand. This idea is incredibly futuristic, particularly when you think that they were doing it 40 years ago.
Diana DeMuth: I remember being struck by the unique sonics and energy of Remain In Light when I first heard it. There's something very infectious and ear-catching about the blend of instruments. After a few listens, I was able to focus in on the lyrics which I found equally as provoking and something that has stayed with me and influenced my writing. Lyrics such as, "Lost my shape, trying to act casual, Can't stop, I might end up in the hospital, I'm changing my shape, I feel like an accident" are so unique and draw you in immediately which is exactly what a song should do.
"It has sounds I've never heard before, it puts words together like I've never thought, and at the end of the day, it's unmistakably original." — Ishan Parashar
Sean Cahill, The Next Great American Novelist: I can't tell you how many times I've tried to incorporate that signature effect heard in "Once In A Lifetime," where a high-pitched synthesizer plays a polyrhythm that dances over the entirety of a song like a halo. Indeed, we have incorporated that trick on a few songs with The Next Great American Novelist. My introduction to Remain In Light happened in a roundabout kind of way. After all, it was written seven years before I was born.
A few years ago, I was browsing through a store and I saw David Byrne's tell-all, How Music Works, sitting on a bookshelf. I thought to myself, "What an arrogant title." Naturally, I bought it and consumed it as fast as I could. As indicated in the name, what a treasure trove of useful information it was. With insights ranging from what kind of blueprint is needed for a venue to give birth to a music scene, to explaining how Pythagoras once prophesied that the distance between the planets in our solar system would be consistent with the distance between the notes in a major scale. Ok, David Byrne, you have my attention. From there it was a deep dive into his catalog and for me, the monolith in sound was Remain In Light.
Listening to RIL is like overhearing a conversation between two art-school kids. The pioneer of ambient music, Brian Eno, and the king of art-pop David Byrne. In this particular time period, those kids were geeking out on West-African and Middle Eastern influences, as can be heard in the harmonic-minor solos of "The Great Curve." Fela Kuti is no doubt an ancestor of the sound and Afrobeat shows up in the jangling loop of guitars that persist throughout the album. The music feels more like a marathon than it does a series of pop songs. Though somehow it merges the two and paves the way for other artists to follow. For example, Paul Simon, who six years later would create Graceland.
From what I have heard, Byrne hadn't written a single word or note before entering the studio to record Remain In Light. That is very reassuring to me. The idea that a stroke of genius isn't needed to write a great song or make a record. Actually, if you can find the confidence to just get in front of a microphone, you might be able to show other people "how music works."
Teddy Panopoulos, Dead Waves: After listening to Remain In Light, it made me realize that most of the art-punk-dance-new-wave music I liked from the '80s drew inspiration and sound from that album. As a kid, when I was feeling down or needed to connect to something, every time "Once In A Lifetime" came on the radio I would stop and hypnotically listen to it and it helped fill that void, feeling comfortable in something bittersweet about this life and its passing by, but also feeling eternal in the same essence. It helped me feel comfortable knowing that people are out there making music to help you feel less alone and connect into that certain indescribable frequency.
Nat Coghlan, Strangelight: My dad introduced Talking Heads to me. I don't think I had started playing guitar yet, so it must have been when I was still in elementary school. He told me that they played CBGB's and that Tina Weymouth used to play the bass until her fingers bled. At that age I knew two things for certain: music was cool and blood was cool. I had to hear this band. I was immediately disappointed that they did not sound like the Ramones (which I still think is a fair reaction to any music), and moved on. Later, a friend in middle school rented Stop Making Sense for a Friday movie night (we were clearly very popular kids) and I found it super compelling. It wasn't what I was into at the time. It wasn't spontaneous, it wasn't messy, it wasn't painfully loud and distorted, but it was weird. It seemed like this very organized and deliberate strangeness. I think that organized and deliberate strangeness is on full display on Remain In Light.
Lastly, "Once In A Lifetime" is still a banger, even though it has been used in every trailer for a movie about a middle-aged man having an identity crisis. If that isn't a testament to their songwriting, I don't know what is.
John Andrew Fredrick, The Black Watch: I often cringed when Talking Heads came on so-called mainstream, alt-rock radio in Santa Barbara throughout the '80s. You'd (if you were me) hear the signature alienish, blippity-blip intro of, say, "Once In A Lifetime" and then Byrne's impossibly chafing voice and either A) switch off the device or B) spin that dial round to Talk Radio, the weather report, the static-tastic college station... anything. My wife at the time—and for that matter, all women of taste with a yen to dance, dance, dance—loved the Heads. She played their records all the time and almost every time she did, I'd leave the house and go to the tennis courts and practice my serve.
At last, they came to Santa Barbara on tour, and she informed me that if I didn't go see this favored band with her at the County Bowl, well, divorce proceedings might proceed. I think we had an immemorially hefty fight after the gig. I took my resentment of her, and of having to endure that band, out on the hardest part of the living room couch and broke my strumming hand with a karate chop to its innocent arm. The entire time we were there I wanted—nay, pleaded with her—to go home. Jesus, I thought then, the herky-jerky nature of every one of these songs is just... so... irksome. The utter pretentiousness! How I wished we were seeing my heroes The Cure or The Smiths! I always hated those Heads of Talking.
Years and years later, a bandmate confessed he'd hated them too, but then he really sat down with a record called More Songs About Buildings And Food and that LP eased the way, as it were, for a freaky-groovy record masterpiece called Remain In Light. How right he was! Ah, callow youth. What did I know? Only my own pop-goth prejudices, presumably. But the not-so-little girls like my quondam esposa; she understood. I should've listened to her, about some musics, at least. About Kate Bush, too.
I love Talking Heads now; they amaze me. As does the notion of how our tastes, fortunately, sometimes change for the very much cooler and better.
Dusty Wright: Back in college, I heard Talking Heads: 77 and was knocked sideways. I couldn't quite understand why their "sound" hooked me, but I knew that this was a special band. A smart band. With weird and smart topics to sing about. As soon as I dropped the needle on the very first track "Uh Oh, Love Comes To Town" it was like nothing I'd ever heard on FM radio. With David Byrne's yelping vocals and angular guitar rhythm groove and then that funky steel drum break... I was dancing around my dorm to a totally new sound. They didn't look or sound like any of the punk bands I was listening to—Sex Pistols, The Clash, The Ramones—yet it didn't matter. By the time I got to track 10, their timeless classic "Psycho Killer," it was quite apparent, I was a fan for life. However, when the juggernaut album Remain In Light was released in 1980, it was a groundbreaking world beat album of extraordinary depth and meaning. The African rhythms added to their heady stew of avant-garde art rock. It was as if David Byrne was fronting Fela Kuti's band with members of P-Funk. I was fortunate enough to see them play at John Carroll College in Cleveland on Halloween, Oct. 31 of that year. David fronting a nine-piece band with many of the players from that remarkable album including Mr. Bernie Worrell from P-Funk on keyboards, Adrian Belew on second guitar, Busta Cherry Jones on second bass, Dolette McDonald on background vocals, Steve Scales on percussion.
They played a handful of tunes from that album, including the relentless Afrobeat classic "The Great Curve" as their second encore. During the course of their career as well as David Byrne's solo career, I have gone to this music time and time again to feel joy and ponder existential questions wrapped in songs that have stood the test of time. And while my own music has a more "Americana" slant, their influence has been enormous. It has fueled my continued exploration of the meaning of life and my place in this life. When I wrote the song "Sometimes I" from my If We Never... album, I was definitely paying homage to this remarkable New York City band. In fact, now that I think of it, they probably were responsible for me moving to New York City.
Chloë Drallos, Zilched: When my older sister left for college, neither she nor I had much going on socially. Soon as I got my license I'd drive out to the west side of the state just to hang out on weekends as she'd do the same heading back home. This resulted in a shared playlist timed perfectly to the drive (2 hours and 13 minutes) in which she included every track off of Talking Heads' Remain In Light. It's worth noting that "Once In A Lifetime" made three appearances throughout said playlist.
During that time, we both felt the burning nothingness of those uneventful years, constantly waiting for your life to begin—hopping into the car and quite literally asking yourself "Well, how did I get here?" It's the same route every time but it always feels aimless. "Crosseyed And Painless" comes on, only reiterating that state of being: stressed, ranting, anxious, numb. "I'm still waiting, I'm still waiting… I'm still waiting, I'm still waiting." I'll never forget how she put these things in perspective for me. It's our soundtrack of a shared experience. An album for true dissatisfied scatterbrains at any stage of life.
Nevan Doyle, Mishko: I'm definitely not your typical Talking Heads fan. In fact, I used to be almost vehemently opposed to them! My parents were baby boomers and I was born in the '90s. I was never exposed to the music of the '80s beyond movies and classic rock radio. The first time I heard Talking Heads, I just could not get into them. I liked aspects, but I think since my perspective on that entire era of music was through a pop culture lens, I only saw cheesy montages in my mind when I put them on. Then I saw David Byrne perform live and everything changed.
Seeing him glide smoothly across the stage barefoot with a commanding presence that felt equally welcoming and freeing–I suddenly understood. I felt a deep connection, seeing so much of myself within David as he crooned and captivated thousands effortlessly. Talking Heads weren't meant to be listened to calmly on headphones. This was the kind of music you put on full blast and get lost in. The next week I put on Remain In Light with an actual open mind and fell in love. This was not just an album, this was a dance party. You close your eyes and find yourself in a pulsating crowd as the band jams on the biggest stage you've ever seen.
I realized that I had gotten so fixated on the electronic side of production, I was losing sight of creating that raw live feeling Talking Heads capture so well. It was like a flip switched and from then on when recording I always visualize myself playing at sunset to a crowded festival. There's really no other way to get a performance that captures that visceral energy of a show. Remain In Light will forever remind me to not worry too much when writing. Vibing out and creating songs that people can just groove and get lost in is where it's at.
Adrian Acosta, Draag: It's 2 am, I am up late watching the infamous "120 Minutes" show on MTV. I am dozing off and on comes the video for "Once In A Lifetime." My head explodes, never heard anything like it. The show is over and it's time for bed, but I can't sleep. All I want is that song to be played over and over again. I don't own an iPhone, I can't look up the song, I can't stream it. I just have to replay it in my head. The next day I beg my mom to take me to any local record store so I can buy it on cassette (I was not allowed to buy CDs). I find it! I listen to it, and it floors me. Never heard anything like it, I am obsessed, I am curious—who are these people? Summer is over, it's my first day of junior high school. I am freaking out, everyone is so much bigger than me, the bullies smell my fear. I have my Walkman and in it is Remain In Light. I put it on as I walk to class or go get lunch at the cafeteria. Almost suddenly, no one looks as threatening anymore. All of sudden, everything is all right.
How 'Hounds Of Love' Finally Gave Kate Bush Her Deserved U.S. Breakthrough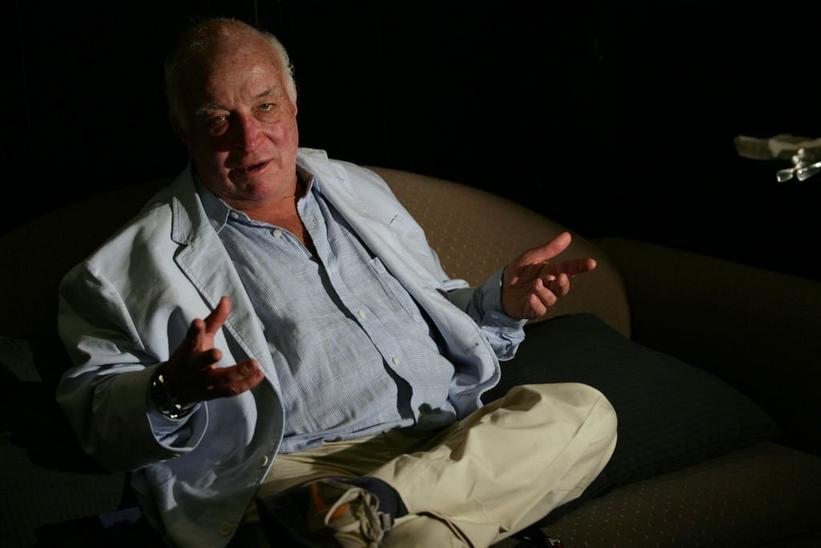 Seymour Stein in 2007
Photo: Edward Wong/South China Morning Post via Getty Images
feature
Remembering Seymour Stein: Without The Record Business Giant, Music Would Be Unrecognizable
The music man who signed everyone from the Ramones to Madonna will be profoundly missed throughout the global music community. He passed away on Apr. 8 at 80.
GRAMMYs
/
Apr 7, 2023 - 03:33 pm
There's a Belle and Sebastian song titled "Seymour Stein" that evokes a real-life, lavish feast between the soft-spoken Scottish indie band and the record company executive.
In the 1998 ballad, singer Stuart Murdoch details the tension between their working class identities and the dizzying prospects that Stein held in the palm of his hand. "Promises of fame, promises of fortune/ L.A. to New York/ San Francisco, back to Boston," Murdoch dreamily sings. But he demurs, thinking of a girl back home in the country: "My thoughts are far away."
There was a very good reason Murdoch and company associated Stein with an almost blindingly paradisiacal vision of music success. For an entire generation of alternative weirdos, Stein — the co-founder of Sire Records and vice president of Warner Bros. Records — was the guy who made it happen.
Sadly, Stein passed away on April 2 at his home in Los Angeles of cancer at the age of 80. This seismic loss to the global music community has rightfully earned tributes from far-flung corners of the music industry. Many, like his signee Madonna, openly pondered where their lives would be without his razor-sharp perception and adoration of all things music.
Think of the three-or-four-chord powderkeg of the Ramones' 1977 self-titled debut, and the CBGB-adjacent army that answered to its detonation: Talking Heads, the Pretenders, Richard Hell and the Voldoids — on and on. Stein signed them all to Sire, either initiating their careers, as per the Ramones, or heralding their second acts, as he did the Replacements.
That paradigm arguably amounted to the biggest shift in guitar-based music since the Beatles — the ratcheting-down of opulent '70s rock into something leaner, meaner, and arguably more honest. But even that's just the tip of the iceberg when it comes to Stein's influence on music and culture at large.
Stein was the man who signed Madge, a profoundly pivotal figure in the following decade. And the rest of his resume was staggering: the Smiths, the Cure, Seal, k.d. lang, Brian Wilson, Lou Reed, Body Count… the list goes on.
He helped to establish the Rock & Roll Hall of Fame in Cleveland, by way of the foundation of the same name, initiated by Ahmet Ertegun in 1983 — and was himself inducted in 2005. In 2018, the Recording Academy bestowed him with a coveted Trustees Award, which acknowledged his decades of service to the music community.
Indeed, the music man's loss reverberates throughout the world's leading society of music people.
"Seymour Stein was one of the greatest A&R executives of all time," Ruby Marchand, the Chief Awards & Industry Officer at the Recording Academy, tells GRAMMY.com. "His passion, magnetic energy and natural curiosity underscored a lifelong dedication to unique artistry.
"He especially prized the art of songwriting and had an encyclopedic knowledge of songs, often bursting out in song to regale and delight friends and colleagues," recalls Marchand, who worked with Stein for decades. "Seymour traveled the globe for decades and basked in the glow of discovering emerging artists singing to small audiences, from Edmonton to Seoul.
"He was a doting mentor, advisor, cheerleader and advocate for hundreds of us in the industry worldwide," she concludes. "We cherish him and miss him terribly, and know how fortunate we were to have had him in our lives."
The Recording Academy hails the late, great Stein for his monumental achievements in the music industry — ones that have fundamentally altered humanity's universal language forever.
Mogul Moment: How Quincy Jones Became An Architect Of Black Music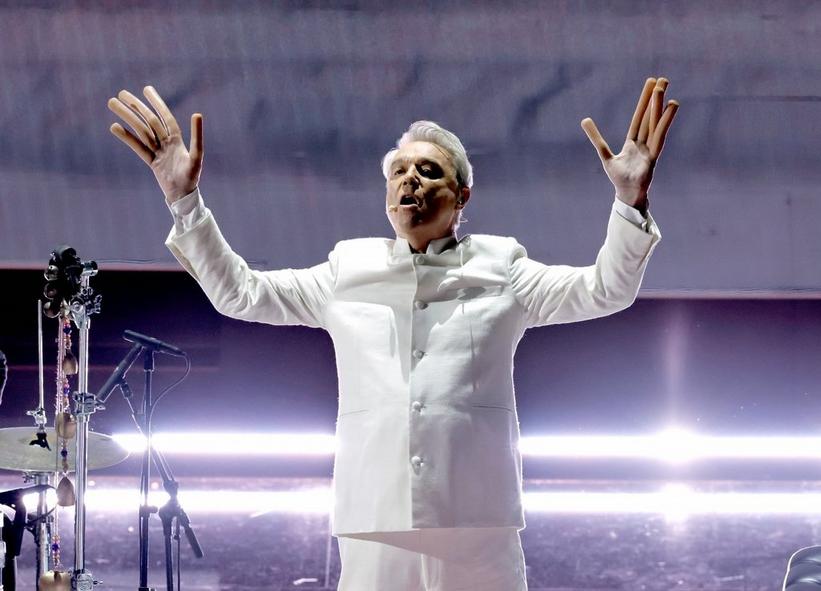 David Byrne performing at the 2023 Oscars
Photo: Kevin Winter/Getty Images
news
David Byrne, Stephanie Hsu, Son Lux Transform 2023 Oscars Stage For Mind-Bending 'This Is a Life' Performance
Talking Heads frontman David Byrne joined Stephanie Hsu and Son Lux for an eccentric, jaw-dropping performance of the nominated song "This Is a Life" from 'Everything Everywhere All At Once' at the 2023 Oscars.
GRAMMYs
/
Mar 13, 2023 - 01:22 am
David Byrne, Stephanie Hsu and Son Lux brought a fresh energy to the 2023 Oscars wiith their spectacular, zany performance of their nominated song "This Is a Life" from Everything Everywhere All At Once — clad in white, with raccoon imagery overhead.
Up for Best Original Song, the nomination for "This Is a Life" is one of the whopping 11 nods for The Daniels' directed genre-bending film Everything Everywhere All At Once. Hsu is nominated for Best Actress in a Supporting Role, and creative trio Son Lux is up for Best Original Score.
Ryan Lott, Byrne and Mitski helmed the music of "This Is a Life"; the lyrics are by Lott and Byrne.
Byrne, the multi-hyphenate and creative powerhouse best known as the Talking Heads frontman, is a GRAMMY winner, having received seven career nominations. He also won his first Oscar in 1987 for Best Original Score for The Last Emperor, alongside Ryuichi Sakamoto and Cong Su.
Meet Son Lux, Composers Of Everything Everywhere All At Once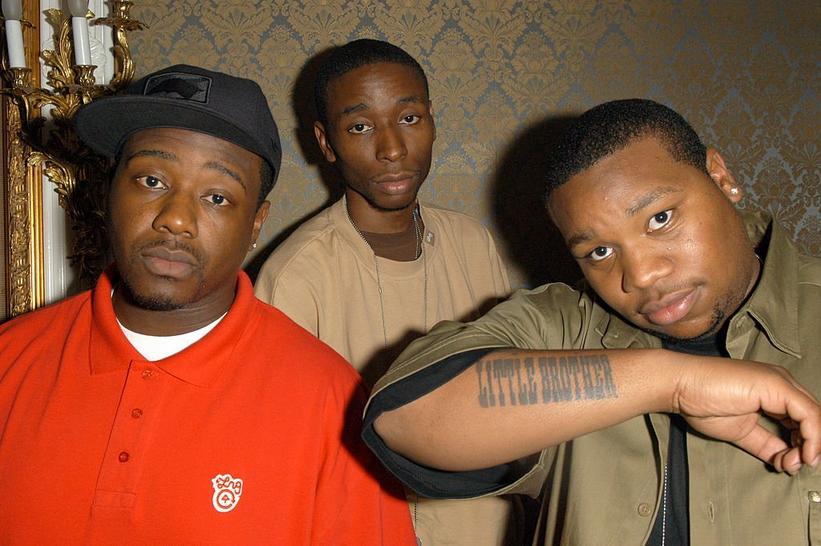 (From left) Little Brother members Phonte, 9th Wonder and Big Pooh in 2005. Their documentary 'May The Lord Watch' comes out this year.
Photo: Ray Tamarra/Getty Images
list
10 Must-See Music Documentaries Arriving In 2023: Nicki Minaj, Johnny Cash, The Making Of 'Thriller' & More
To kick off the new year, GRAMMY.com has rounded up music documentaries to be released in 2023 that follow the lives and careers of artists like Failure, Dionne Warwick, Leonard Cohen, Ol' Dirty Bastard, and more.
GRAMMYs
/
Jan 3, 2023 - 06:34 pm
Get your queue ready. From folk and outlaw country music, to classic rhythm and blues and hip-hop, there is a robust slate of music documentaries dropping in 2023 that will satisfy any music lover.
For alt-rock fans, the Failure documentary explores the evolution and impact of the influential rock band known for their experimental sound. If hard-hitting country is more your speed, Johnny Cash: The Redemption of an American Icon and "They Called Us Outlaws" offer a no-holds-barred look at the artists who drove the vibrant sound of the genre.
Hip-hop fans can enjoy a deep dive into Nicki Minaj's journey to rap superstardom in her six-part docuseries. Or, take a behind-the-scenes look at the hip-hop group Little Brother and the challenges they faced while striving to become world-famous emcees.
Below, check out this guide to 10 can't-miss music documentaries coming your way in 2023.
Hallelujah: Leonard Cohen, A Journey, A Song
Featuring appearances from Bob Dylan, Brandi Carlile, the late Jeff Buckley and more, this documentary examines the life and times of prolific singer-songwriter Leonard Cohen through the lens of his famous song, "Hallelujah."
Despite its current status as one of the most notable tracks in music history, "Hallelujah" — which was featured on Cohen's 1984 album, Various Positions — was not an instant hit. It wouldn't receive global recognition until nearly a decade later, with the release of Buckley's now-ubiquitous cover. While the world may have been slow to embrace the song, Cohen says Dylan immediately saw its greatness.
"It took a long time. I think the song came out in '83 or '84, and then the only person who seemed to recognize the song was Dylan," Cohen said in a 2009 interview with Q TV. "He was doing it in concert. Nobody else recognized the song until quite a long time later… almost 10 years later."
Directed by Daniel Geller and Dayna Goldfine, Hallelujah dives deep into the song's themes, exploring how artists covering the track have interpreted its meaning. The doc also features exclusive concert footage, performances, and interviews with Cohen's former collaborators.
After a brief theatrical release, Hallelujah: Leonard Cohen, a Journey, a Song is available on DVD and various streaming platforms.
Failure
As Nirvana, Pearl Jam and Soundgarden helped grunge and alt-rock break into the mainstream in the '90s, a trio from Los Angeles was also making noise. Failure began to capture attention with the release of their beloved 1994 sophomore album, Magnified. (Nine Inch Nails' Trent Reznor, Tool's Maynard Keenan and Stone Temple Pilots' Dean DeLeo are among the group's most notable fans).
Dropping in 2023, this official documentary offers an in-depth look at the band's formation, evolution, label issues, impact and influence — with testimonials from Keenan, DeLeo, Paramore lead singer Hayley Williams, Keenan, Motley Crue's Tommy Lee, Mastodon's Troy Sanders, and actor/musician Jason Schwartzman.
In the doc, Sanders opens up about what the band meant to both him and his band: "The art that Failure has made is very authentic to me," he says. "In a world of rock 'n' roll, I wouldn't be where I am right now if it weren't for bands like Failure. I feel my band Mastodon has kind of followed the footsteps that they've laid before us." Adds Williams, "I never really heard anything like that. It changed how I thought about music. And it kind of made me — more than ever — want to be in a band."
Johnny Cash: The Redemption Of An American Icon
With appearances from Marty Stuart, Wynonna Judd, Alice Cooper, Tim McGraw, and Sheryl Crow, Johnny Cash: The Redemption of an American Icon focuses on the spiritual and emotional challenges that the country legend faced at the height of his career. This in-depth documentary also includes never-been-heard recordings of Cash as he discussed his darker moments, learning how to navigate fame, reckoning with past failures and recommitting to his Christian faith.
"He was darkness and light living in the same body. And one fought against the other," sister Joanne Cash Yates recounts in the trailer. But, adds Crow, "He faced himself. He faced his temptations. He faced his worldliness and came out wanting to be right with God."
If you missed the documentary's limited December 2022 release, check it out in January 2023 when it drops on various streaming platforms.
Thriller 40
On the heels of the iconic album's 40th anniversary, GRAMMY-winning documentarian, music historian and author Nelson George announced that he's hard at work on an official documentary about the making of the King of Pop's legendary 1982 opus and groundbreaking short film.
"The release of 'Thriller' redefined Michael Jackson, taking him from teen star to adult superstar, who composed memorable songs, sang beautifully and reached the highest level of on-stage performance," George said in a statement. "The album, and the short films they inspired, created a new template for marrying music and image. It's been a privilege to explore this extraordinary album and revisit its magic."
Featuring exclusive footage and candid interviews, the 2023 documentary will also focus on Jackson's skyrocketing career at the time of the album's release and its impact on the world and popular culture.  
"They Called Us Outlaws: Cosmic Cowboys, Honky Tonk Heroes And the Rise of Renegade Troubadours"
Written and directed by Eric Geadelman, "They Called Us Outlaws" is a six-part film that explores the early 1970s origins of the country subgenre and the artists who made it famous: Waylon Jennings, Willie Nelson, Kris Kristofferson and David Allan Coe.
At the time, Jennings and Nelson were upset with the Nashville music scene and its creative limitations. After cutting ties and leaving town to find a better way forward, the two musicians eventually reunited in Texas, where they built a rabid following by playing their own brand of country, on their own terms. That music would become known as "Outlaw Country"— a label that wasn't particularly embraced by many of the genre's artists. 
This 12-hour film series examines the unique circumstances that led to the birth of the sound, as well as the artists' relationship with the "outlaw" label and how it influenced the way they were received. The documentary also features appearances and performances from a stacked lineup of country greats, including Nelson and Kristofferson, Emmylou Harris, Church, Miranda Lambert, as well as singer-songwriters Tyler Childers and Charley Crockett and Guy Clark.
"Nicki: A Six-Part Documentary Series"
To celebrate the 10th anniversary of her debut studio album Pink Friday, GRAMMY-nominated rapper Nicki Minaj announced plans to release a biographical documentary in November 2020 — to the delight of Barbs everywhere. Yet there was no news about the film until July 2022, when Minaj surprised fans by posting a teaser from the project on her Instagram, along with an explanation for the delay:
"Coming out SOONER THANK YOU THINK. I took some time to perfect this very intimate, delicate, electrifying, inspiring body of work," Minaj wrote. "As I decide on a home for this 
project, I can't help but reflect on what I'm including in this doc. Some things are so personal, it's scary. It's like NOTHING you've seen before & I need it to be handled with care. Love you so much. Thank you for the continued support."
Executive produced by Minaj, "Nicki" will focus on her personal and professional life, and the challenges of working in a male-dominated music genre. The docuseries was initially set to drop on HBO MAX, but Minaj and Bron, the film's producers, decided to look elsewhere to find the right home for the docuseries.
May The Lord Watch: The Little Brother Story
In March 2022, fans of Little Brother were treated to a surprise when Phonte released the first trailer for an official documentary about the influential hip-hop group on his Instagram page. "Been working on this one for 5 years and calling it an 'emotional journey' is a big understatement," he wrote in the caption.
Slated for release in 2023, the documentary will include live performances, a behind-the-scenes look at the trio's production process, interviews with Phonte, Big Pooh and producer 9th Wonder, as well as appearances from Questlove, Drake, and Doja Cat, who discuss the group's influence and impact.
Dionne Warwick: Don't Make Me Over
From awards and hit records, to activism and philanthropy, this deep dive into GRAMMY-winning singer Dionne Warwick's life and work is a heartwarming celebration of the icon's astonishing six-decade-long career. The documentary follows Warwick's path to barrier-breaking greatness, touching on her gospel roots and her fateful audition to be a backup singer for Burt Bacharach in the early 1960s — the starting point of her rise to superstardom.
The doc also explores the singer's activism and advocacy for the Black and LGBTQ+ communities, philanthropic work—she's raised millions for AIDS research—and the impact her music had on listeners from all walks of life in the racially divided '60s. 
Dionne Warwick: Don't Make Me Over — which premiered on CNN on New Year's Day — features appearances from Gladys Knight, Quincy Jones, Bacharach, Elton John, Berry Gordy, Snoop Dogg, Bill Clinton, Alicia Keys, Smokey Robinson, and others.
Biography: Ol' Dirty Bastard
There have been several unofficial documentaries about the late rapper Ol' Dirty Bastard (born Russell Jones), but 2023 will see the release of "Biography: Ol' Dirty Bastard," the first-ever film authorized by his estate. Set to be released on A&E Networks, the doc will feature interviews with the Wu-Tang Clan rapper's peers, family, and wife, Icelene Jones — who allowed filmmakers Sam and Jason Pollard to use never-been-seen footage for the two-hour documentary.
"I am thrilled to tell the full story of my husband. With this documentary, the world will learn about the son, the husband, the father, and the artist," Jones wrote in a statement.
ODB's life was previously dramatized for RZA and Alex Tse's Hulu series, "Wu-Tang: An American Saga," which centers on the group's formative years. And on the film side, RZA has been developing a biopic about the late rapper's life since 2018.
Eno
When setting out to develop a documentary about a musician who has defied convention throughout his five-decade career, director Gary Hustwit knew the standard doc format was out of the question. To capture the distinctive, non-conforming essence of Brian Eno — an original member of Roxy Music and inventor of ambient music and the Microsoft Windows 95 startup sound — Hustwit is utilizing "groundbreaking generative technology" to allow viewers to choose their own ending and plans to release the documentary on multiple platforms. 
The film, which drops in 2023, will also explore areas close to Eno's heart, including creativity, sustainability, and social equality, and offer viewers a glimpse into his personal archive of unreleased music and concert footage.   
A College Of Musical Knowledge: 15 Musical Groups That Act As Hubs For Emerging Talent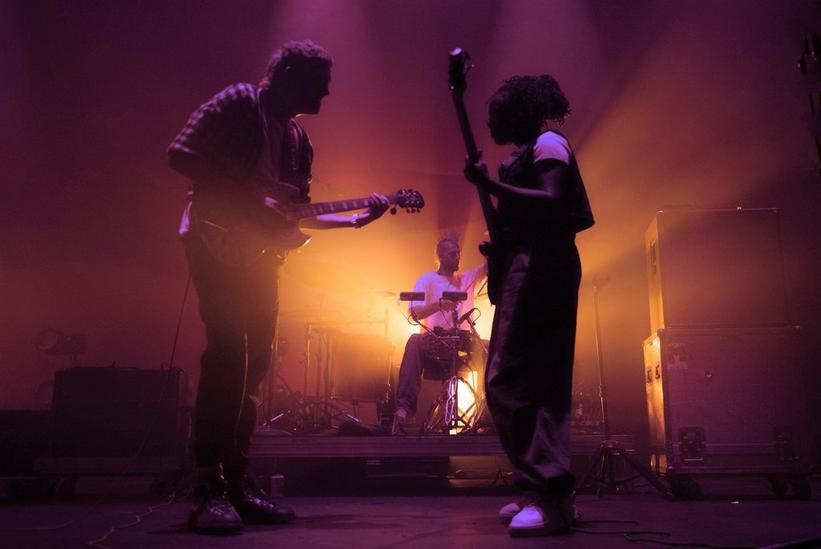 list
A Guide To Modern Funk For The Dance Floor: L'Imperatrice, Shiro Schwarz, Franc Moody, Say She She & Moniquea
James Brown changed the sound of popular music when he found the power of the one and unleashed the funk with "Papa's Got a Brand New Bag." Today, funk lives on in many forms, including these exciting bands from across the world.
GRAMMYs
/
Nov 25, 2022 - 04:23 pm
It's rare that a genre can be traced back to a single artist or group, but for funk, that was James Brown. The Godfather of Soul coined the phrase and style of playing known as "on the one," where the first downbeat is emphasized, instead of the typical second and fourth beats in pop, soul and other styles. As David Cheal eloquently explains, playing on the one "left space for phrases and riffs, often syncopated around the beat, creating an intricate, interlocking grid which could go on and on." You know a funky bassline when you hear it; its fat chords beg your body to get up and groove.
Brown's 1965 classic, "Papa's Got a Brand New Bag," became one of the first funk hits, and has been endlessly sampled and covered over the years, along with his other groovy tracks. Of course, many other funk acts followed in the '60s, and the genre thrived in the '70s and '80s as the disco craze came and went, and the originators of hip-hop and house music created new music from funk and disco's strong, flexible bones built for dancing.
Legendary funk bassist Bootsy Collins learned the power of the one from playing in Brown's band, and brought it to George Clinton, who created P-funk, an expansive, Afrofuturistic, psychedelic exploration of funk with his various bands and projects, including Parliament-Funkadelic. Both Collins and Clinton remain active and funkin', and have offered their timeless grooves to collabs with younger artists, including Kali Uchis, Silk Sonic, and Omar Apollo; and Kendrick Lamar, Flying Lotus, and Thundercat, respectively.
In the 1980s, electro-funk was born when artists like Afrika Bambaataa, Man Parrish, and Egyptian Lover began making futuristic beats with the Roland TR-808 drum machine — often with robotic vocals distorted through a talk box. A key distinguishing factor of electro-funk is a de-emphasis on vocals, with more phrases than choruses and verses. The sound influenced contemporaneous hip-hop, funk and electronica, along with acts around the globe, while current acts like Chromeo, DJ Stingray, and even Egyptian Lover himself keep electro-funk alive and well.
Today, funk lives in many places, with its heavy bass and syncopated grooves finding way into many nooks and crannies of music. There's nu-disco and boogie funk, nodding back to disco bands with soaring vocals and dance floor-designed instrumentation. G-funk continues to influence Los Angeles hip-hop, with innovative artists like Dam-Funk and Channel Tres bringing the funk and G-funk, into electro territory. Funk and disco-centered '70s revival is definitely having a moment, with acts like Ghost Funk Orchestra and Parcels, while its sparkly sprinklings can be heard in pop from Dua Lipa, Doja Cat, and, in full "Soul Train" character, Silk Sonic. There are also acts making dreamy, atmospheric music with a solid dose of funk, such as Khruangbin's global sonic collage.
There are many bands that play heavily with funk, creating lush grooves designed to get you moving. Read on for a taste of five current modern funk and nu-disco artists making band-led uptempo funk built for the dance floor. Be sure to press play on the Spotify playlist above, and check out GRAMMY.com's playlist on Apple Music, Amazon Music and Pandora.
Say She She
Aptly self-described as "discodelic soul," Brooklyn-based seven-piece Say She She make dreamy, operatic funk, led by singer-songwriters Nya Gazelle Brown, Piya Malik and Sabrina Mileo Cunningham. Their '70s girl group-inspired vocal harmonies echo, sooth and enchant as they cover poignant topics with feminist flair.
While they've been active in the New York scene for a few years, they've gained wider acclaim for the irresistible music they began releasing this year, including their debut album, Prism. Their 2022 debut single "Forget Me Not" is an ode to ground-breaking New York art collective Guerilla Girls, and "Norma" is their protest anthem in response to the news that Roe vs. Wade could be (and was) overturned. The band name is a nod to funk legend Nile Rodgers, from the "Le freak, c'est chi" exclamation in Chic's legendary tune "Le Freak."
Moniquea
Moniquea's unique voice oozes confidence, yet invites you in to dance with her to the super funky boogie rhythms. The Pasadena, California artist was raised on funk music; her mom was in a cover band that would play classics like Aretha Franklin's "Get It Right" and Gladys Knight's "Love Overboard." Moniquea released her first boogie funk track at 20 and, in 2011, met local producer XL Middelton — a bonafide purveyor of funk. She's been a star artist on his MoFunk Records ever since, and they've collabed on countless tracks, channeling West Coast energy with a heavy dose of G-funk, sunny lyrics and upbeat, roller disco-ready rhythms.
Her latest release is an upbeat nod to classic West Coast funk, produced by Middleton, and follows her February 2022 groovy, collab-filled album, On Repeat.
Shiro Schwarz
Shiro Schwarz is a Mexico City-based duo, consisting of Pammela Rojas and Rafael Marfil, who helped establish a modern funk scene in the richly creative Mexican metropolis. On "Electrify" — originally released in 2016 on Fat Beats Records and reissued in 2021 by MoFunk — Shiro Schwarz's vocals playfully contrast each other, floating over an insistent, upbeat bassline and an '80s throwback electro-funk rhythm with synth flourishes.
Their music manages to be both nostalgic and futuristic — and impossible to sit still to. 2021 single "Be Kind" is sweet, mellow and groovy, perfect chic lounge funk. Shiro Schwarz's latest track, the joyfully nostalgic "Hey DJ," is a collab with funkstress Saucy Lady and U-Key.
L'Impératrice
L'Impératrice (the empress in French) are a six-piece Parisian group serving an infectiously joyful blend of French pop, nu-disco, funk and psychedelia. Flore Benguigui's vocals are light and dreamy, yet commanding of your attention, while lyrics have a feminist touch.
During their energetic live sets, L'Impératrice members Charles de Boisseguin and Hagni Gwon (keys), David Gaugué (bass), Achille Trocellier (guitar), and Tom Daveau (drums) deliver extended instrumental jam sessions to expand and connect their music. Gaugué emphasizes the thick funky bass, and Benguigui jumps around the stage while sounding like an angel. L'Impératrice's latest album, 2021's Tako Tsubo, is a sunny, playful French disco journey.
Franc Moody
Franc Moody's bio fittingly describes their music as "a soul funk and cosmic disco sound." The London outfit was birthed by friends Ned Franc and Jon Moody in the early 2010s, when they were living together and throwing parties in North London's warehouse scene. In 2017, the group grew to six members, including singer and multi-instrumentalist Amber-Simone.
Their music feels at home with other electro-pop bands like fellow Londoners Jungle and Aussie act Parcels. While much of it is upbeat and euphoric, Franc Moody also dips into the more chilled, dreamy realm, such as the vibey, sultry title track from their recently released Into the Ether.
The Rise Of Underground House: How Artists Like Fisher & Acraze Have Taken Tech House, Other Electronic Genres From Indie To EDC