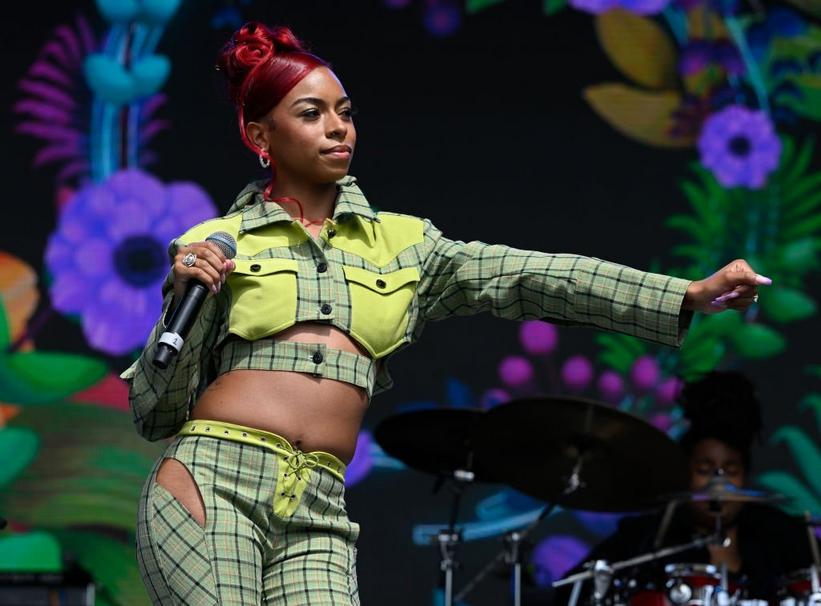 Ravyn Lenae performs at the Sol Blume Festival in Sacramento, California
Photo: Steve Jennings/Getty Images
interview
Ravyn Lenae's 'Hypnos' Is A Cosmic R&B Contemplation
Chicago singer Ravyn Lenae's debut album, 'Hypnos,' is a romantic trip through the galaxies. The classically-trained singer discusses her collaborations and fascination with the other-worldly.
GRAMMYs
/
May 23, 2022 - 01:25 pm
"I've always been infatuated with whatever's up there," vocalist Ravyn Lenae Washington says over Zoom from her home in Los Angeles, gazing upward to the ceiling and perhaps into the heavens. "I try to create that sense of the unknown down here through my art."
Lenae's fixation on the twin mysteries of the divine and the galaxy served as the seed of inspiration for her debut album, Hypnos. Released on May 20 through Atlantic Records, Hypnos is a harmonic galaxy of space, time, and romantic ardor motifs. The power of these celestial entities, and Lenae's distinct vibrato, collide throughout Hypnos' sonic universe and will pleasantly spill out of terrestrial speakers. 
Hypnos aims to be an cosmic voyage through the complexities of Lenae's curious mind, sung with a lightweight nature that enables listeners to astral project through Ravyn Lenae's anecdotes of enduring love and woe. Throughout Hypnos, Ravyn Lenae's vocal range floats between registers, seemingly defying gravity with each glissando note. "Cameo" opens Hypnos while the upbeat electronic second track, "Venom," is a considerable adrenaline injection compared to the outro, "Wish" — a doleful swan song.
Ravyn Lenae's infatuation with extraterrestrial dimensions results in an album full of dream-like tones, which she repeats as if singing into the emptiness of space. The hypnotic album exhibits her inner reflection, while Lenae's transcendent lyrics literalize her soul's attachment to the vigor of love.
While Ravyn Lenae rarely collaborates and pens most of her music herself, the singer has found a frequent creative partner with longtime friend Steve Lacy — her  "musical twin flame." "Sticky," Lenae's 2018 hit single, includes complimentary funky strums of Lacy's electric guitar over her entrancing melodic chorus. The duo have released three songs together — "Skin Tight," the first release from Hypnos, "Computer Luv" and "4 Leaf Clover." Other musical mavericks joined Lenae on Hypnos: Smino, who is known for his prolific Southern rap flow, folksy balladere Mereba, and Fousheè's tender vocals all contributed to the 16-track album.
The otherworldly nature of Lenae's vocals is perhaps more explicable than the existential themes she contemplates on Hypnos. A classically trained singer, Lenae studied at the prestigious Chicago High School of the Arts before signing to Atlantic Records/Three Twenty Three Music Group. Her early EPs, Moon Shoes and Crush, were lush and caught the ear of Hollywood multi-hyphenate Issa Rae. The 23-year-old created the original song, "Rewind," for Rae's acclaimed television series "Insecure."
Yet, creating Hypnos was a four-year process. "I describe [Hypnos] as walking on the sun," Lenae says, carefully choosing the words. Ahead of her album release and global tour beginning May 26, Ravyn Lenae spoke with GRAMMY.com about her affinity for the great universe beyond us, and creating work that attempts to center us in the unknown.
How did you create space for Hypnos to form over the past four years?
Honestly, it's taken a lot of turns and jumps along the way. I think initially when you start a project, you have this big idea for it and you know what it's going to sound like. After time went past, I realized I shouldn't put so much pressure on Hypnos and just kind of let it flow how it naturally should. 
I wanted to challenge myself vocally and challenge my pen — that was my main goal because I think it's easy for me to kind of fall into this comfort zone that feels good. But, I wanted to really push myself there and go to more vulnerable parts of myself …on this project. I feel like there are simpler beats too, which is hard for me to write and interpret sometimes because I was trained classically. I wanted Hypnos to feel evolved from Crush and Moon Shoes because so much time has passed and I wanted that to show throughout the music.
Did you feel a sense of debut album pressure? If so, how did you combat those compulsive thoughts?
I think [the] majority of the pressure came from myself. I have a lot of people who love my music, who support me, who are going to be there,whenever I decide to drop. But I think at certain points I got into my own head a lot, which I think is natural for artists to do. 
Combating that is going to be a lifelong journey for me just because… I think we can be our own worst critics in that way. It is important for me to have to come back to those peaceful places; places of solace for me [that] give me that clarity and perspective to be able to approach music in a more natural way, without those outside or internal pressures.
With your intensive musical background, what were your sensory techniques for your vocals in your first album?
With my vocal register, you barely ever hear me belt because I'm very uncomfortable with it. I studied classical music in school and we were taught to never sing with our chest voice ever. So in the outro song, "Wish," there are a few moments of that. They are also sprinkled throughout the project, where I do hit those lower registers but having that moment for the outro is really special. 
I actually recorded that song three times; I needed to go there. I love the lyrics, I love the melodies but I think leaving it all out for that last song ["Wish"] is so important for the listener and for me to feel like I reach that goal that I wanted to. So even just emotionally, I felt like I had to go there. When I do vocal lessons with my teacher, belting still is a sensitive spot for me because I would love to be able to do that more naturally comfortably. It truly is a mind over matter thing.
How did you bridge different generations of music to find yourself on Hypnos?
I'm very, very inspired by the women that came before me.  I think a lot of artists now are scared of being labeled R&B, which is funny to me, because I have no issue with that, because those are my roots. I think R&B is a part of all genres and in my upbringing. 
It's okay for us to evolve and take new shape, just like hip-hop has and pop. Janet Jackson has had a huge influence on me, and so has Brandy with the way she layers her vocals and the tone.
If you had to describe your music to one of your close friends, what adjectives instantly come to mind when you think of your discography and this new phase you are embarking on?
Dreamy… Sparkly… Silky…
Why do you believe having a strong community of artists behind you guided you to where you are today?
The reason I moved from Chicago to Los Angeles is because I felt like I [had] kind of lost that artist community once everybody started moving away. I was the last person left in Chicago because my family was there and that type of connection was important to me. Being [in Los Angeles]  now and being able to meet new artists and artists I've been friends with online in real life has allowed me to cultivate these relationships.
This is my first experience co-writing in that way because I have only really done it with Steve Lacy on Crush. I'm very particular about my verbiage in the way I express things in my music. So I never really co-wrote with anyone in the past until I met them to kind of bounce ideas off.
What is the energy in the room like when you and Steve Lacy are performing together?
He just gets me. It is so rare where you meet someone that approaches music in the same way as you. He just thinks of things in a very similar way to me, but still inspires me. I feel like I've really struck that balance with him and my homie Monte Booker, but in a different way with Steve, because we're both the same age. 
He has super vibrant energy. He is himself, period. Being in a room with him inspires the music and pushes me into different realms. I wouldn't naturally go on this project. It's nice to be able to grow with your collaborators because he's grown so much too.
Which song on the album is your absolute favorite right now?
"Inside Out" is my favorite at this point. It changes over time but, at some point, every song has been my favorite which I guess is a good thing when thinking about the album as a whole.
How does the cultivation of your art influence your relationships and connection with the pureness of love?
I think that love will always be a source of inspiration for art because they just go hand in hand. You can't have one without the other. For me, going through romantic relationships or self love, reflection and family relationships.
My song, "Deep in the world," speaks on my love for Earth and the universe, [for] nature, and it all kind of informs each other. Being able to evoke that through music helps me connect with other people and the love they have for themselves.
Behind The Smoke & Mirrors With Japanese Psych-Rock Legends Kikagaku Moyo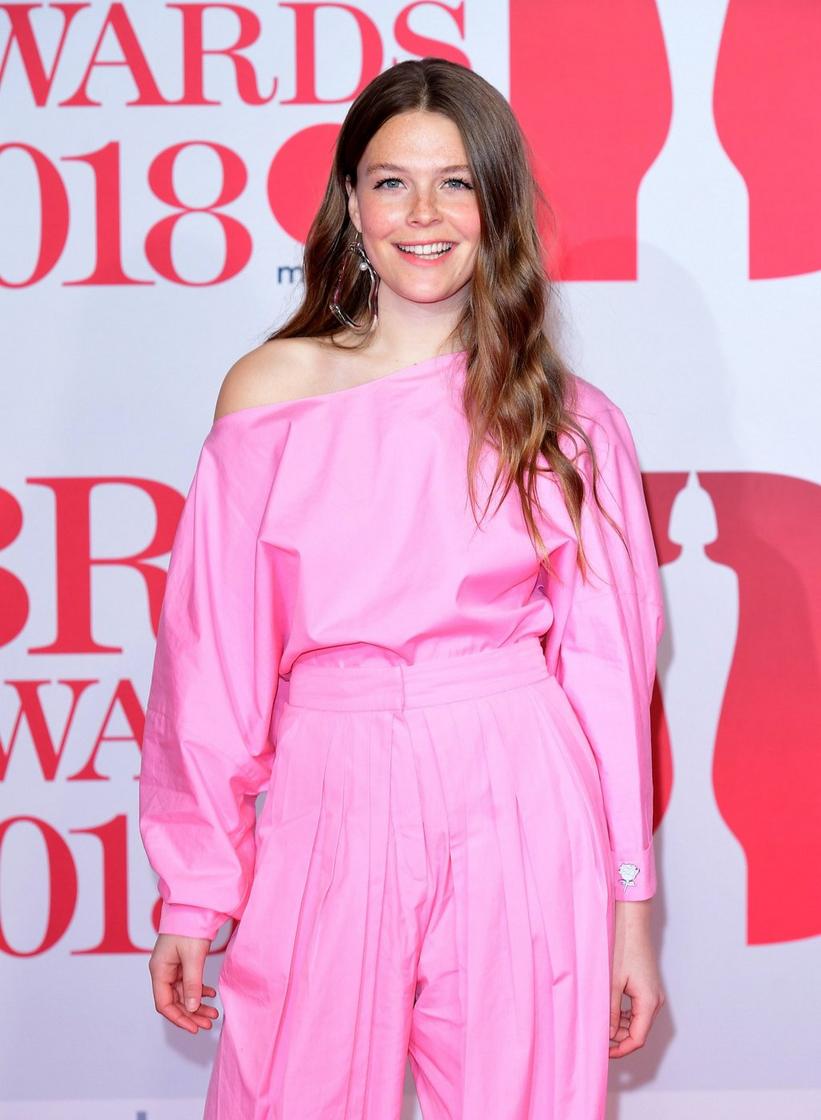 Photo: Ian West/PA Images/Getty Images
news
Carly Rae Jepsen, Maggie Rogers To Headline All Things Go 2018 Fall Classic
BØRNS and Billie Eilish also set to headline the Washington, D.C., fall music fest
GRAMMYs
/
May 23, 2018 - 12:30 am
Less than a year ago singer/songwriter Maggie Rogers told GRAMMY.com that her perfect quiet night had become "room service and 'The West Wing.'" This fall, however, will be anything but quiet for her. She'll be headlining the All Things Go 2018 Fall Classic that runs Oct. 6–7 at Union Market in Washington, D.C., leading an all-female lineup she curated herself.
The festival's Saturday lineup, in addition to a performance by Rogers, will also include Alma, Billie Eilish, Kaye, Ravyn Lenae, LPX, Oshun, and Jessie Reyez. The Sunday schedule features BØRNS and Carly Rae Jepsen headlining along with the Aces, Betty Who, Cautious Clay, Footsxcoles, Snny, and Two Feet.
Gender equality at music festivals has been an urgent topic this year, and it was certainly on Rogers' mind as she curated the festival's lineup.
"Almost a year ago, [we] dreamed of creating a more diverse music festival culture that celebrates the artistry, individuality and vision of our peers," Rogers said in a statement. "Amplifying the voices of female and non-binary artists is the first step towards permanently changing a culture that for so long has under-represented these essential members of the global artistic community. I'm so proud to be a part of All Things Go and to share a stage with these artists I so deeply believe in."
In another nod to gender equality, All Things Go — now in its fifth year — will partner with the Women's March and their voter registration and advocacy initiative Power to the Polls.
Tickets will be available starting May 23 via the All Things Go 2018 Fall Classic website.
Catching Up On Music News Powered By The Recording Academy Just Got Easier. Have A Google Home Device? "Talk To GRAMMYs"