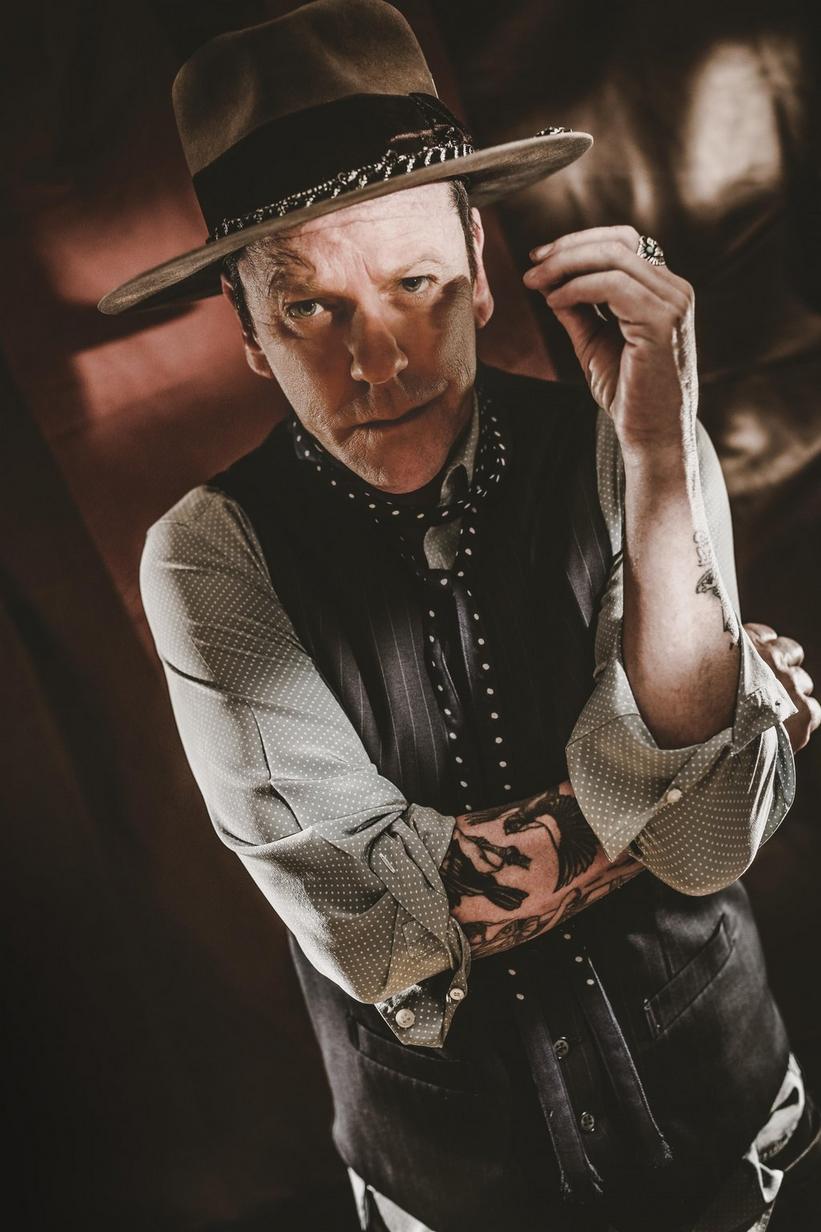 news
Kiefer Sutherland Talks New Album 'Reckless & Me' & Contending With The Actor-Turned-Musician Stigma
The actor/musician discusses his new music, his love for touring, and what surprised him the most about becoming a recording artist
GRAMMYs
/
May 7, 2019 - 01:06 am
In his 30-plus-year career as an actor, Kiefer Sutherland has mastered the art of playing someone else. Whether it was counter-terrorist agent Jack Bauer in the hit TV series "24," the leader of a vampire gang in the cult classic The Lost Boys, or, most recently, as U.S. President in Designated Survivor, Sutherland has built an award-winning career as an actor. But one role that's taken him by surprise is that of Kiefer Sutherland, the musician.
"I thought my 30 years as an actor onstage and on camera would help me," he says during a phone interview while on set in Los Angeles. "I realized [when playing live] … that there was no character that I had that was separating me from the audience. The joke I'll make is that on my best day, I'm not Jack Bauer. Not even close. But there was always that character."
Sutherland admits he was a bit nervous to play his songs live, songs that revealed personal stories about his own life. But the audience response from the approximately 300 live shows that he and his band have played since 2016 is what inspires him to keep going.
"I was really taken aback by the generosity of people," he adds. "What I found was people really wanted you to do well. And they wanted you to be good. And I found that to be one of the most generous exchanges I've experienced in my life. And then being able to tell a lot of the stories was one of the most freeing experiences in my life."
Sutherland's experience on the road has inspired much of what you'll hear on his recently released sophomore album, Reckless & Me, a 10-track rollicking collection of songs that were born to be played live. And that's just what Sutherland intends to do with them as he prepares to head back out on the road with his band for a string of U.S. and European dates kicking off May 30 in Texas. Before he heads out on the road again, the Recording Academy caught up with Sutherland to discuss what inspired the songs on his new album, which artists inspired him, and why he decided to launch his music career now.
Reckless & Me came out April 26. But before you released your debut album, 2016's Down in a Hole, you said you never intended to release an album. You were writing songs for other people. But it was producer/musician Jude Cole who really encouraged you to release them on your own. I'm wondering now, with the second album out, did you know that you would put out a second album after that first one?
KieferSutherland: I did not know that I was going to put a second record out. I loved the process of making a record and Jude was my best friend and it was a really nice way for us to spend time together. And as you said, I just had some songs that I thought maybe I could send off and someone would be interested in doing them. Jude was the one who really pushed me to make the record. I was so acutely aware of the stigma of an actor doing music and just really didn't want to enter into that fray. … So, we [recorded five songs] and I loved the way [Jude] was making them sound. And I said, "Yeah, let's make the album." And so, we did. Then what really changed for me [is] how much I've enjoyed the writing process, especially with other people. It's really exciting when you're with someone else and you start to kind of bounce off each other and feed off each other. I loved that process and I really love, although I felt really quite out of my depth with, the record-making process and that's where Jude's excellence really stands out as a producer and as a musician.
But [going on tour] was one of the most liberating experiences I've ever had. In the last two-and-half years we've done anywhere from 250 to 300 shows. I did that while I was doing "Designated Survivor," so basically any day off I had we were playing. I love my band and I love the experience of going from town to town. But most importantly, … the songs that I had written were personal. I wasn't making up stories. All of a sudden, I was telling you really personal stories from my life. And some of them aren't flattering. So, I was nervous about that at first. Especially given the first 40 shows were in bars … [where] no one really wants to listen. But we were playing a show in Ann Arbor, Mich., and the audience was seated. And for the first time I was kind of really honest about where I was at when I wrote this song, what I was going through, why I wrote it, and why I think it might matter to you. And their response was amazing. It was one of the most generous things I've ever experienced and so it really encouraged me to do more of that.
How did the process, in terms of songwriting, change when you were thinking about Reckless & Me?
Sutherland: The second record was really finding songs that I wanted for my set. And what I find interesting about that is I wrote towards a goal. And then I also got songs, like for instance "Open Road," [from] Jude Cole. It's one of my favorite songs and it's his. He wrote that on a road trip that we took to Savannah, Georgia over 20 years ago. And for nostalgic reasons, I really wanted to do that song, and because I love it. [And on] "Something you Love," the chorus for that was Jude.
"Something You Love" is one of my favorites.

Sutherland: That chorus is one of my favorites too. [Jude] was writing it I think for an EP or an LP that he was making for himself. But he wasn't happy with the verses. And he said, "Hey, maybe we can work on this together." And for whatever reason I wrote the first verse really quickly, and then we kind of worked on the second verse together and then noodled around with the chorus. And then he let me have the song for the album, which I was so thrilled about because [I related to] that chorus in such a heavy way.
You've been very forthcoming about being aware of the stigma that exists with actors pursuing music careers. But I know that you've been involved in music for quite some time. You were taking violin lessons at age 4. You started honing your guitar skills at age 10. So, to me, it's like a longtime music fan pursuing their career in music.
Sutherland: In 2010 Jude and I had a record label called Ironworks. Just as the music industry was kind of imploding and reinventing itself, we started a label. Primarily because we saw … so many great artists that weren't getting signed, that really should have been signed. And so, we had a great studio and we just decided to make songs and records. [During] that tenure there, I got to watch a lot of really fantastic artists coming in and out and they were always writing. Some people would start with a lyric, or some would start with a chorus. You would learn tricks that once you've got this one piece, this is what you now have to do. When I wrote songs before it would be like the sky had to open up and something had to fall in [my] lap. But once I started to gain some sense of structure from this person or that person, and primarily Jude, I started writing more. And finally got to a place where I started to like a lot of the songs I was writing. And 10 years later, that's how this started.
So, it was more than a fan. I would say I was a super-fan of music and musicians. Because I watched what they had to go through to just simply get a record out. And it's different for actors. You can get a small part in a show and no one might know your name, but we've got a really good union and you can make a living doing that. It's not the same for musicians. It's certainly not the same for songwriters. So, I've always admired the sacrifices they've made.
Do you think that becoming a recording and performing musician changed the way you view or approach your acting career?
Sutherland: Being able to tell stories and feel comfortable in my own skin telling the story honestly about where I was coming from, why I wrote the song, [and] why I might relate to you – I enjoyed that so much. We had been touring for a year and a half, almost two years, by the time I started "Designated Survivor," and I think because of that experience, I allowed myself to probably put more of my own person into that character than maybe any other I had before. I always thought that acting onstage for as long as I have was going to influence my ability to perform music onstage, and it ended up being the opposite.
You mentioned growing up listening to artists like Boston, AC/DC and Aerosmith. And your songs definitely have a rock 'n' roll feel to them, but with a good dose of country and Americana. I'm curious how you gravitated toward writing more in this vein?
Sutherland: Those bands that you described, oddly enough, I was like 4, 5 or 6 [when I was listening to them]. I was listening to everything that my brother was listening to. And then he gave me music, everything from the Jackson 5 to Elton John. When I got a little older, Stevie Wonder. When I got even a little [more] older, Marvin Gaye. So, it was a really wonderful mixture. But the first music that I remember relating to as a young teenager, the first 45 I ever bought, was "Hollywood Nights" by Bob Seger. There was a real country feel in the sense that he wrote a really straight lyric. It was a story that you could follow. But he played it in a rock 'n' roll arrangement.
Then I started roping on the USTRC roping circuit as a cowboy. And I would travel around with a lot of cowboys for almost 10 years. And that's when I got into country music. They would all play their cassettes. Most of them were mixed tapes. So, they had everything on it from their favorite Johnny Cash song [to] Waylon Jennings, Merle Haggard, Kris Kristofferson, [and] Willie Nelson. I just fell in love with those artists.
It's the storytelling and the authenticity, right?
Sutherland: The joke is it's three chords and the truth. But if you take it really seriously…it's never less than five chords and not easy chords. But the lyric is straight. And the lyric is direct and it's honest, whether it's flattering or not.
You've mentioned that now, compared to 15 or 30 years ago, you're in a place where it's not as important to you what people might think. What changed over those years? Was it growing up and becoming more comfortable putting your stories out there?
Sutherland: It's absolutely growing up. In my 20s, not that I'm not sensitive now, but I was really sensitive [then]. And it took enough to get through all of the rejection as an actor the idea of trying music and getting through that…go get me the gun and I'll take my own hat off. [Chuckles.] And confidence. When I first met Jude Cole, he was a guitar gunslinger. He played so well I just put my guitar under the bed for almost two years. And over time I brought it out because I missed it. Being able to spend as much time with other musicians at Ironworks taught me a couple things that made me feel confident about writing about something specific. And then again, I have incredible respect for Jude and his musicianship. And his taste. And that meant a lot to me when he said, "I think you should record these songs for yourself." None of this would have happened without him.
To Lift Up Young Writers, Dave Eggers Is Auctioning Autographed Setlists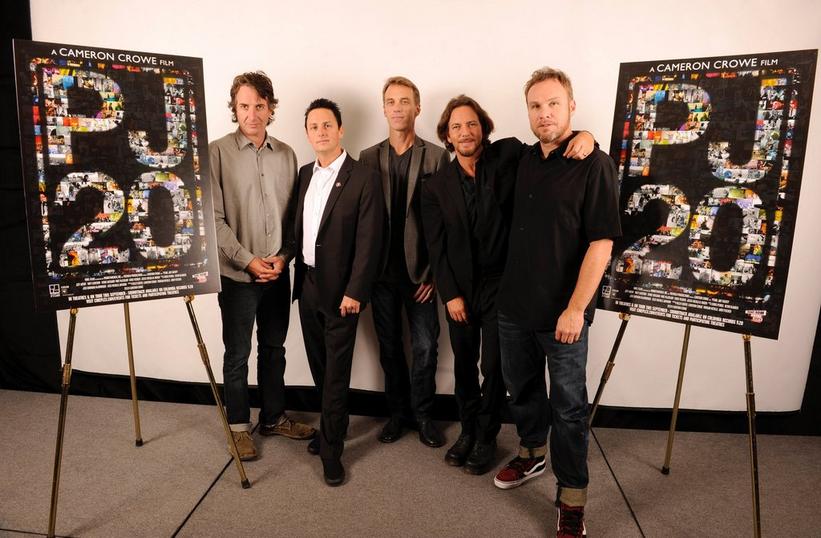 Photo: Kevin Mazur/WireImage.com
news
Pearl Jam Named Record Store Day 2019 Ambassadors
Pearl Jam's Mike McCready says "if you love music," record stores are the place to find it
GRAMMYs
/
Feb 13, 2019 - 04:05 am
Record Store Day 2019 will arrive on April 13 and this year's RSD Ambassadors are Pearl Jam. Past ambassadors include Dave Grohl, Metallica, Run The Jewels (Killer Mike and El-P), and 61st GRAMMY Awards winner for Best Rock Song St. Vincent.
McCready was also the 2018 recipient of MusiCares' Stevie Ray Vaughan Award.
The band was formed in 1990 by McCready, Jeff Ament, Stone Gossard, and Eddie Vedder, and they have played with drummer Matt Cameron since 2002. They have had five albums reach No. 1 on the Billboard 200 and four albums reach No. 2.
"Pearl Jam is honored to be Record Store Day's Ambassador for 2019. Independent record stores are hugely important to me," Pearl Jam's Mike McCready said in a statement publicizing the peak-vinyl event. "Support every independent record store that you can. They're really a good part of society. Know if you love music, this is the place to find it."
With a dozen GRAMMY nominations to date, Pearl Jam's sole win so far was at the 38th GRAMMY Awards for "Spin The Black Circle" for Best Hard Rock Performance.
Pearl Jam will be performing on March 3 in Tempe, Ariz. at the Innings festival, on June 15 in Florence, Italy at the Firenze Rocks Festival and at another festival in Barolo, Italy on June 17. On July 6 Pearl Jam will headline London's Wembley Stadium.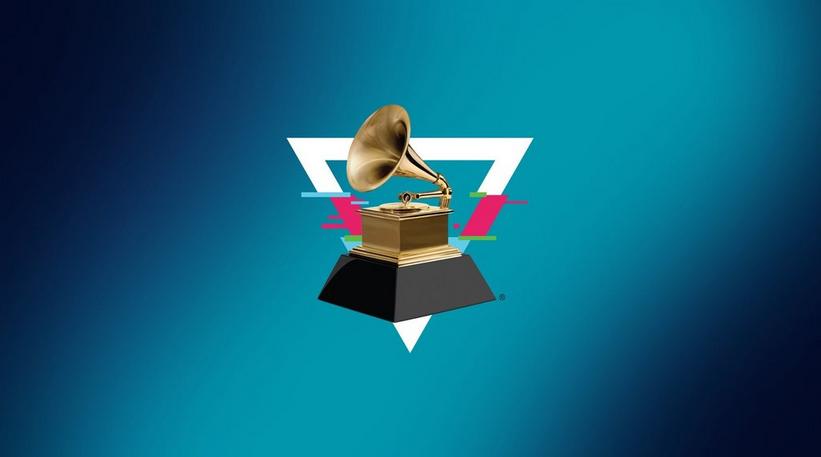 news
Find Out Who's Nominated For Best Rap Album | 2020 GRAMMY Awards
Dreamville, Meek Mill, 21 Savage, Tyler, The Creator, and YBN Cordae all earn nominations in the category
GRAMMYs
/
Nov 20, 2019 - 06:28 pm
The 2020 GRAMMYs are just around the corner, and now the nominations are in for the coveted honor of Best Rap Album. While we'll have to wait until the 62nd GRAMMY Awards air on CBS on Jan. 26 to find out who will win, let's take a look at which albums have been nominated for Best Rap Album.
Revenge of the Dreamers III – Dreamville
This star-studded compilation album from 11-time GRAMMY nominee
J. Cole
and his Dreamville Records imprint features appearances from some of the leading and fastest-rising artists in hip-hop today, including label artists EARTHGANG, J.I.D, and Ari Lennox, plus rappers T.I, DaBaby, and Young Nudy, among many others. Recorded in Atlanta across a 10-day recording session,
Revenge of the Dreamers III
is an ambitious project that saw more than 300 artists and producers contribute to the album, resulting in 142 recorded tracks. Of those recordings, 18 songs made the final album, which ultimately featured contributions from 34 artists and 27 producers.
Dreamers III, the third installment in the label's Revenge of the Dreamers compilation series, debuted at No. 1 on the Billboard 200 chart and achieved gold status this past July. In addition to a Best Rap Album nod, Dreamers III is also nominated for Best Rap Performance next year for album track "Down Bad," featuring J.I.D, Bas, J. Cole, EARTHGANG, and Young Nudy.
Championships – Meek Mill
In many ways, Championships represents a literal and metaphorical homecoming for Meek Mill. Released in November 2018, Championships is the Philadelphia rapper's first artist album following a two-year prison sentence he served after violating his parole in 2017. Championships, naturally, sees Meek tackling social justice issues stemming from his prison experience, including criminal justice reform. The album debuted at No. 1 on the Billboard 200, his second chart-topper following 2015's Dreams Worth More Than Money, and reached platinum status in June 2019. Meek Mill's 2020 Best Rap Album nod marks his first-ever GRAMMY nomination.
i am > i was – 21 Savage
Breakout rapper and four-time GRAMMY nominee 21 Savage dropped i am > i was, his second solo artist album, at the end of 2018. The guest-heavy album, which features contributions from Post Malone, Childish Gambino, J. Cole, and many others, has since charted around the world, topped the Billboard 200 – a first for the artist – in the beginning of 2019, and achieved gold status in the U.S. As well, nine songs out of the album's 15 original tracks landed on the Hot 100 chart, including multi-platinum lead single "A Lot," which is also nominated for Best Rap Song next year. 21 Savage's 2020 Best Rap Album nomination, which follows Record of the Year and Best Rap/Sung Performance nods for his 2017 Post Malone collaboration, "Rockstar," marks his first solo recognition in the top rap category.
IGOR – Tyler, The Creator
The eccentric Tyler, The Creator kicked off a massive 2019 with his mid-year album, IGOR. Released this past May, IGOR, Tyler's fifth solo artist album, is his most commercially successful project to date. The album debuted at No. 1 on the Billboard 200, marking his first time topping the coveted chart, while its lead single, "Earfquake," peaked at No. 13, his highest entry on the Hot 100. Produced in full by Tyler and featuring guest spots from fellow rap and R&B stars Kanye West, Lil Uzi Vert, Solange, and Playboi Carti, among many others, IGOR follows the rapper's 2017 album, Flower Boy, which received the Best Rap Album nod that same year.
The Lost Boy – YBN Cordae
Emerging rapper YBN Cordae, a member of the breakout YBN rap collective, released his debut album, The Lost Boy, to widespread critical acclaim this past July. The 15-track release is stacked with major collaborations with hip-hop heavyweights, including Anderson .Paak, Pusha T, Meek Mill, and others, plus production work from J. Cole and vocals from Quincy Jones. After peaking at No. 13 on the Billboard 200, The Lost Boy now notches two 2020 GRAMMY nominations: Best Rap Album and Best Rap Song for album track "Bad Idea," featuring Chance the Rapper.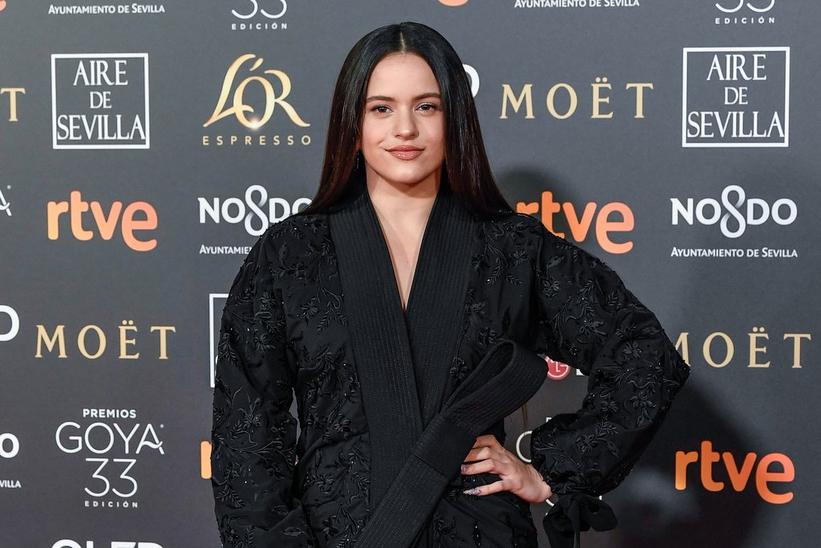 Photo: Carlos Alvarez/Getty Images
news
Rosalía Announces First Solo North American Tour
El Mal Querer Tour, named after the Spanish pop star's latest album, will come to Los Angeles on April 17 in between her Coachella performances
GRAMMYs
/
Mar 20, 2019 - 12:25 am
Rosalía is set to perform at some of the most popular music festivals around the globe, including Primavera Sound in Spain, Lollapalooza (Argentina and Chile) and Coachella, but the Spanish pop star isn't stopping there when she gets to the States. Now, she has announced her first solo North American Tour with a string of dates that will bring her to select cities in the U.S. and Canada.
El Mal Querer Tour, named after her latest album, will come to Los Angeles on April 17 in between her Coachella performances. Then she'll play San Francisco on April 22, New York on April 30 and close out in Toronto on May 2.
RELATED: How Rosalia Is Reinventing What It Means To Be A Global Pop Star
"I'm so happy to announce my first solo North American tour dates," the singer tweeted.
Rosalía won Best Alternative Song and Best Fusion/ Urban Interpretation at the 19th Latin GRAMMY Awards in November and has been praised for bringing flamenco to the limelight with her hip-hop and pop beats. During her acceptance speech she gave a special shout-out to female artists who came before her, including Lauryn Hill and Bjork.
Rosalía has been getting some love herself lately, most notably from Alicia Keys, who gave the Spanish star a shout-out during an acceptance speech, and Madonna, who featured her on her Spotify International Women's Day Playlist.
Tickets for the tour go on sale March 22. For more tour dates, visit Rosalía's website.
2019 Music Festival Preview: Noise Pop, Coachella, Ultra & More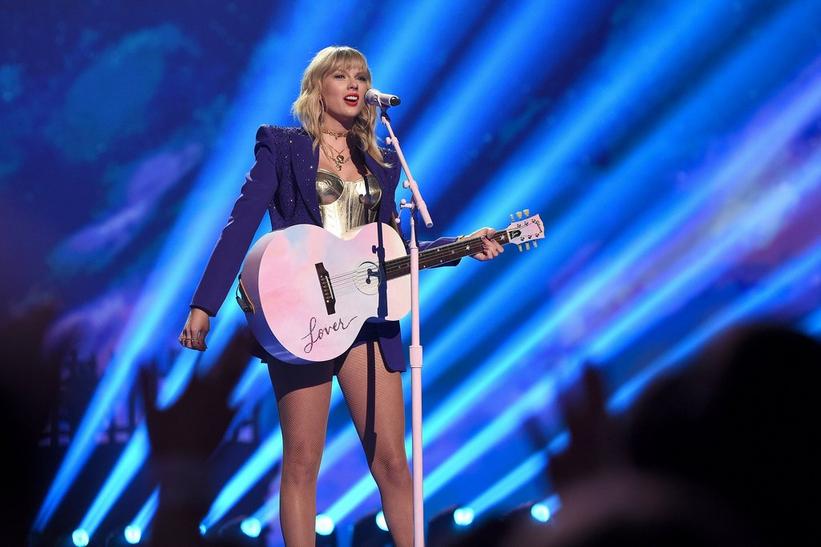 Photo: Dimitrios Kambouris/VMN19/Getty Images
news
Taylor Swift Plots 2020 World Tour With U.S. Dates For Lover Fest East & West
Following dates in Europe and South America, Swift will land in the U.S. for Lover Fest East and West, where the pop star will open Los Angeles' brand new stadium
GRAMMYs
/
Sep 18, 2019 - 02:38 am
Taylor Swift will be spreading the love in support of her hit album Lover.in 2020, but it may or may not be in a city near you. The GRAMMY winner announced plans for her summer 2020 tour in support of her seventh studio album, including two shows each in Foxborough, Mass. and Los Angeles for Lover Fest East and West respectively as the only four U.S. dates announced so far.
The Lover album is open fields, sunsets, + SUMMER. I want to perform it in a way that feels authentic. I want to go to some places I haven't been and play festivals. Where we didn't have festivals, we made some. Introducing, Lover Fest East + West! https://t.co/xw6YMN38WE pic.twitter.com/IhVPQ8DMUG

— Taylor Swift (@taylorswift13) September 17, 2019
The tour kicks off in Belgium on June 20 and hits festivals in seven European countries before heading to Sao Paulo, Brazil on July 18 then heading to U.S. Swift will then present Lover Fest West with back-to-back Los Angeles July 25 and 26 at the newly named SoFi Stadium. The concerts will serve as the grand opening of the much-anticipated NFL venue. The tour will wrap a double header at Gillette Stadiuim in Foxborough July 31 and Aug 1
"The Lover album is open fields, sunsets, + SUMMER. I want to perform it in a way that feels authentic," she tweeted. "I want to go to some places I haven't been and play festivals. Where we didn't have festivals, we made some. Introducing, Lover Fest East + West!"
Lover was released Aug. 23 and debuted at No. 1 on the Billboard 200. Her sold-out tour for her previous album, 2017's Reputation, was the highest grossing U.S. tour ever, breaking her own record.
Tickets for the new dates go on sale to the general public via Ticketmaster on Oct. 17.