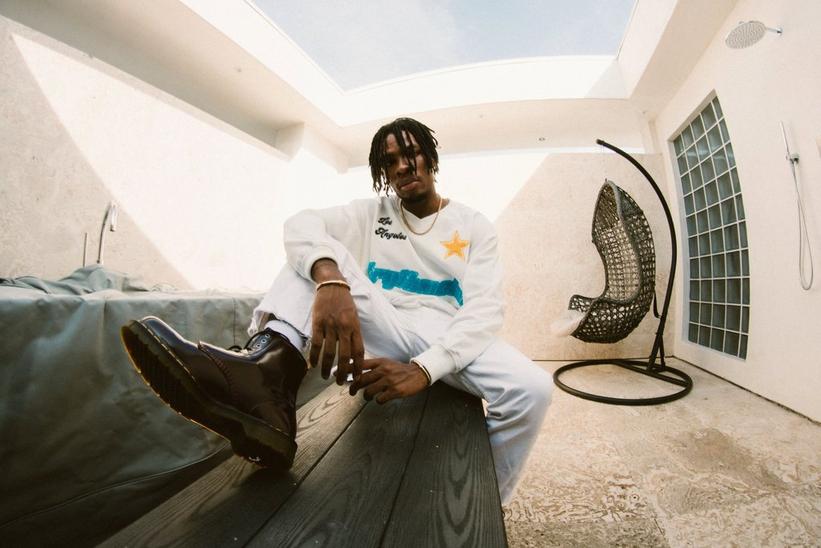 news
Joeboy Sets The Record Straight On His Viral Sensation "Sip (Alcohol)," Discusses His Origins & Future: "My Best Songs Are Ahead Of Me"
Nigerian star Joeboy is part of a vanguard of Afrobeats artists making soothing and gorgeous music — so when some well-intentioned TikTokers took his song "Sip (Alcohol)" in a hedonistic direction, he felt compelled to speak up
GRAMMYs
/
Dec 1, 2021 - 01:18 am
For pretty much every living artist with an internet connection, the golden goose is to go viral in one way or another. In 2021, TikTok is the primary avenue for that to happen.
But when Afrobeats singer-songwriter Joeboy's single "Sip (Alcohol)" took on a life of its own as a TikTok challenge — where fans pour hard liquor and palm oil down their throats — he wasn't comfortable at all with the way he went viral.
"I was very, very intentional: 'That's why I sip,'" the Lagos, Nigeria, native tells GRAMMY.com at a Manhattan hotel lobby. "Not drink, or gulp, or pour — so I wouldn't be misleading people, encouraging them to get drunk or wasted." While Joeboy enjoys a glass of white wine like anybody else, the single isn't about drinking oneself blind; it's an ode to chilling out and escaping life's worries.
This aligns with the overall message of Afrobeats, an often dreamy and luxurious genre currently taking over the world. Sure, there are turn-up songs to be found, but you're just as likely to find ethereal, therapeutic ballads that deal with matters of the heart.
And if you're looking for that particular vibe, Joeboy, who released his debut album Somewhere Between Beauty and Magic and appeared on Major Lazer's GRAMMY-nominated album Music is the Weapon in 2021, is one to seek out immediately. (He has an as-yet-unnamed EP on the way — look out for that in early 2022.)
GRAMMY.com caught up with Joeboy to discuss the true meaning of "Sip (Alcohol)," how an Ed Sheeran cover rocketed him into the stratosphere, and why he has no plans to rest on his laurels in the 2020s.
This interview has been edited for clarity.
"Sip (Alcohol)" has a lot of momentum right now. I hear you had to tell your fans to not do a TikTok challenge, though.
On TikTok, it was getting really, really crazy. People started pouring stuff [everywhere]. It was kind of off-brand for me. It was portraying the song in some kind of light that was not intended, so I had to speak up on that. People were drinking palm oil and pouring stuff on everybody.
They were drinking palm oil?
Yeah. It was crazy, man. It was a trend. It looked bad. When you come to an extreme like that, just chill.
What message were you trying to send with the song?
I'd say, in life, we all have challenges. It's never-ending. It never stops. Sometimes, you need a break — a temporary escape.
For me, at that point, it was wine. I like white wine. So, I was in Ghana just staring at the sky, and these words just came into my head [Sings softly] "That's why I sip my alcohol/ I don't wanna reason bad things no more." It's a feel-good song. Regardless, there'll be challenges, but we need to enjoy ourselves at the same time.
Right, so it's not about getting wasted. It's about chilling out.
That's why I said "sip." I was very, very intentional: "That's why I sip." Not drink, or gulp, or pour — so I wouldn't be misleading people, encouraging them to get drunk or wasted.
Joeboy. Photo: Williummm
While crafting "Sip (Alcohol)," what did you want to draw from, aurally speaking?
Right now, I'm listening to a lot of dancehall songs. I listened to a lot of Bob Marley, so that was kind of the influence. I really just wanted to switch my songs up. I felt like it was time for me to evoke something [different]. Variety is the spice of life. Regardless of how good or great it is, people get a different side.
I was trying to reach a large audience and court them with a song that everybody can relate to from all walks of life.
And what are you trying to impart with your next project?
I'm just trying to tell my story, firstly — connect people and give them music that makes them feel good, with good messages. That's the idea of the next album — singing about real life, basically.
So, what is your story? Can you relay it to me in a microcosm?
Growing up, for me, I had a lot of experience through music, through going to college at the University of Lagos. The music was based on my love life, pulling from my experiences and lifestyle. Things I've seen people do. The way your environment influences you.
I was born in Lagos. It was crazy, it was fun. I think Lagos is one of the best places. It's very, very wide and populated. Lagos is a fast city, so you have to be sharp. You have to be on your A-game. This morning, I was feeling like New York is like Lagos, in a way.
Is Lagos crazy in a good way?
In a good and bad way. Sometimes, it's in a bad way. I think it's pretty typical of densely populated cities.
What inspired you to get into the music business and devote your life to this?
Destiny. I always loved and enjoyed making music. Starting out, I just kept pushing in that direction. I felt like that was the only way I was headed. I remember all I did was make music for fun.
I used to record a lot of popular songs by Ed Sheeran. I recorded "Shape of You." I posted it on my Instagram and it went viral. That's how I met [fellow Nigerian singer/songwriter and Joeboy's mentor] Mr Eazi. He sent me a DM and we started working together. And from there, I took music more seriously.
So, it's always been a big part of me. My dad used to play the keyboard in church. My brother used to play the guitar. I sang in the choir. I was always involved in it. Life kept pushing me in that direction.
"Shape of You" definitely has some international flavors.
It has the beat of dancehall, pop, R&B… it's a worldwide song, basically.
I feel like Ed Sheeran and Drake did a lot to push those genres to the forefront.
It's been amazing. I'm so happy that the Afrobeats sound is becoming a world-renowned sound, like Wizkid, Burna Boy and Davido. It's going to open more doors for African music, and it's been great.
Joeboy. Photo: Williummm
Back to the "Sip (Alcohol)" video. What would you want to say to people who took in a weird spirit?
I think it was just an issue where negativity gets [out there]. I don't mean everybody was doing weird stuff. I posted on my page today the positive sides of a vibey song like that. It's cool — it's not cranky. It just started becoming a trend, and I wasn't comfortable with that, maybe.
Where do you see yourself going in the future? Do you feel that your best music is ahead of you?
Definitely, definitely. It gets better for me. I don't dwell on my achievements for too long. I celebrate my achievements, but you always have to keep it up. You can't just say "I have a No. 1, so I'm going to just chill." The world keeps revolving, and you have to keep moving. So, definitely, my best songs are ahead of me. I'm sure of that.
I'm one of the biggest Drake fans ever. I'm a big fan of Drake and Chris Brown. I watched a documentary on them, and I saw how they work. They don't stop. If you want to stay hot, you have to keep working and improving yourself. That's what I believe in.
Olamidé On The Ascent Of Afrobeats, Supporting Newer Artists & His Subdued New Album UY Scuti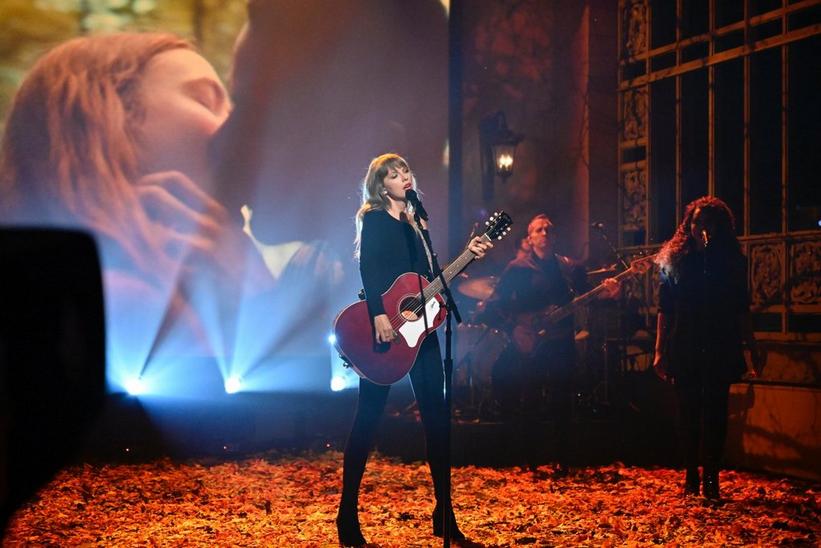 Photo: Will Heath/NBC/NBCU Photo Bank via Getty Images
news
2021 In Review: 8 Trends That Defined Pop
Pop's reach became even wider this year, with newcomers, superstars and global acts all delivering some of the year's biggest hits and memorable moments
GRAMMYs
/
Dec 30, 2021 - 10:06 pm
It seems there's never a dull moment in pop music. But in 2021, the genre's rising stars and longtime greats all came out swinging, always giving fans something to be excited about.
Taylor Swift and her unofficial protege, Olivia Rodrigo, made for two of the biggest stories of the year: Swift began releasing her rerecorded albums, and Rodrigo had the world listening after she dropped her global phenomenon "driver's license."
Pop expanded its palette this year, too, with K-pop experiencing its biggest year yet and Nigeria proving that its Afropop stars have some serious promise.
On top of all of that, fans finally received some of pop's most-anticipated albums in 2021, making for a year that was truly monumental and memorable. Take a look at eight of the genre's most prominent trends below.
Teenage Angst Took Over
From the moment 2021 began, there was no denying it was going to be the year of Olivia Rodrigo. With the runaway chart and streaming successes of her two biggest hits so far — the teenage heartbreak ballad "driver's license" and the angsty, Paramore-sampling "good 4 u," which both debuted atop the Billboard Hot 100 — the 18-year-old was at the helm of young stars who weren't afraid to get raw and real in 2021.
A sense of vulnerability was the through-line of pop's new wave this year, and it clearly resonated. In addition to Rodrigo's triumphs, Australian breakout The Kid LAROI landed a Top 10 hit with the gut-wrenching acoustic track "Without You" as well as a Hot 100 and pop radio No. 1 with the Justin Bieber-assisted bop "Stay." And if the honest lyrics of his hit singles aren't enough indication, just look at the title of its parent album: F--- Love.
Tate McRae, another 18-year-old, also hit a sweet spot with her peers with her anti-sympathetic breakup song, "you broke me first." The song has amassed more than one billion streams worldwide, also reaching No. 1 on pop radio.
Of course, Gen Z first got in their feelings thanks to Billie Eilish, and she continued to carry her torch in 2021 with the release of her second album, Happier Than Ever. Though the album's jazz-influenced, downtempo nature was a departure from the trap-led sound of her debut, When We All Fall Asleep, Where Do We Go?, it lyrically stayed right in line with the trenchant honesty that made her a star — and, seemingly, opened the floodgates for her teen successors.
"Taylor's Versions" Caused a Frenzy
Nearly two years after Taylor Swift announced that she'd be re-recording her first six albums in order to regain artistic and financial control, the first two albums arrived in 2021. And boy, did Swifties have a field day.
The country starlet turned pop superstar knew exactly what her loyal legion of followers would want, releasing remakes of fan favorites Fearless and Red this year. Upon the April release of Fearless (Taylor's Version), the album had the biggest opening day for an album on Spotify in 2021, garnering 50 million global streams on its first day and subsequently debuting atop the Billboard 200.
Yet, it was Red (Taylor's Version) that became a phenomenon, becoming the most-streamed album in a day from a female artist on Spotify with nearly 91 million global first-day streams (breaking the record she previously set with 2020's Folklore). The album's immediate draw owed partial thanks to a 10-minute version of her beloved power ballad "All Too Well," which took on a life of its own. Along with becoming a short film that Swift debuted in New York City and earning the singer her eighth No. 1 hit on the Billboard Hot 100, it also blew up the Twittersphere with scathing (yet amusing) tweets about the song's supposed subject, actor Jake Gyllenhaal.
Among Red (Taylor's Version)'s many other feats, the 10-minute, 13-second version of "All Too Well" also became the longest song to top the Hot 100. With four re-records still left to release, who knows what kind of records Swift will break next?
Black Women Took The Genre By Storm
While 2021 wasn't necessarily a breakout year for Doja Cat or Normani, it was the year that both stars came into their own — and, ultimately, reinvented the pop star ideal.
After teasing her pop sensibility with her 2020 smash "Say So," Doja Cat struck pop gold again with the SZA-featuring "Kiss Me More." The disco-tinged hit was just one of the many A-list collaborations on Doja's hailed album Planet Her, which has accumulated more than 3 billion streams since its June release and debuted at No. 2 on the Billboard 200.
On the opposite end, Normani — who got her start in pop girl group Fifth Harmony and saw her first two solo hits (2018's "Love Lies" and 2019's "Dancing With a Stranger") take over pop radio — reminded listeners of her versatility in 2021. Following an empowered team-up with Megan Thee Stallion for the Birds of Prey soundtrack, Normani recruited Cardi B to help bring out her R&B side on the sexy slow jam "Wild Side," which earned the 25-year-old singer her first hit on Billboard's Hot R&B/Hip-Hop Songs chart (in the top 5, no less).
Two artists who did have breakout years were Beyoncé protegee Chloë and German singer/songwriter Zoe Wees. Chloë, one half of R&B duo Chloe x Halle, released her debut solo single "Have Mercy" to critical acclaim, putting on showstopping performances of the song at the MTV Video Music Awards and the American Music Awards. Wees closed out the AMAs with a powerful rendition of her poignant song, "Girls Like Us," the follow-up to her viral hit "Control."
Artists Loudly Proclaimed Their Sexuality
As acceptance becomes more prominent within mainstream music, stars are latching on to the new era of being open about however they identify.
Though Lil Nas X came out as gay in 2019, his sonic proclamation came in controversial form with "Montero (Call Me By Your Name)." The video for the flamenco-dripped track — whose title references the 2017 gay romance film Call Me By Your Name — depicted biblical and Satanic scenes in racy fashion. Despite resulting in backlash from religious groups, the song and video's bold statement served as an impactful one for the LGBTQ+ community — as Lil Nas put it himself, pushing for "more acceptance, more open-mindedness amongst humanity as a whole."
Demi Lovato (who announced they are non-binary in May) featured a song about their sexual fluidity on their seventh album, Dancing With the Devil, released in April. The wavy "The Kind of Lover I Am" declares "Doesn't matter, you're a woman or a man/ That's the kind of lover I am" on its rolling chorus.
Bringing back one of pop's first sexual fluidity anthems, Fletcher interpolated Katy Perry's "I Kissed A Girl" for her own single "Girls Girls Girls," which marked "the freedom and the celebration I've been craving my whole life," she said in a press release. One month later, she teamed up with Hayley Kiyoko (who has been dubbed "Lesbian Jesus" by her fans) for "Cherry," a flirty sapphic jam.
K-Pop's English Infusion Blew Up
Thanks to the likes of BTS and BLACKPINK — and now countless other groups — K-pop has made its way into the U.S. pop market in a major way in recent years. As it has continued to boom, more and more artists are releasing songs that are completely in English — and the genre is arguably bigger than ever.
Less than a year after BTS first dabbled in English-language singles with 2020's smash "Dynamite," they delivered the biggest hit of their career with the smooth sensation "Butter." The song debuted at No. 1 on the Billboard Hot 100, where it stayed for 10 non-consecutive weeks — a streak initially broken up by their third English-language hit, "Permission to Dance."
BLACKPINK saw two of its members go solo in 2021, Lisa and Rosé, who each issued English-language singles of their own. Lisa's "Money" and Rosé's "On The Ground" both landed on the Hot 100, respectively garnering more than 375 million and 255 million YouTube views alone.
Several other acts released notable English-language tracks, with SEVENTEEN and TWICE each putting out their first: "2 MINUS 1" features SEVENTEEN members Joshua and Vernon, and "The Feels" became TWICE's first top 20 hit on the Billboard Global 200, where it reached No. 12.
Read More: 5 K-Pop Songwriters & Producers Who Defined 2021: SUMIN, Teddy Park, ADORA, RM & SUGA
Pop Became More Global Than Ever Before
South Korea isn't the only far-flung country having a moment. In fact, Nigeria is arguably one of the most fruitful geographical founts of music — particularly thanks to the recent Afropop explosion.
Wizkid — who first saw global success with his Drake collaboration, "One Dance," in 2016 — earned his first Billboard Hot 100 hit as a lead artist with the R&B-tinged single "Essence." The song features fellow Nigerian singer Tems, making history as the first Nigerian song to break the Hot 100 top 10. The sultry track caught the attention of Justin Bieber, who hopped on a remix and declared it the "song of the summer."
Bieber also enlisted Nigerian star Burna Boy for his widely praised LP, Justice, one of the singer/rapper's many pop-driven appearances in 2021, including Sia, Jon Bellion and John Legend.
Two other rising Nigerian acts, Joeboy and Fireboy DML, saw their Afropop takes resonate this year, too. Joeboy's "Alcohol" inspired a viral TikTok craze, and the success of Fireboy's "Peru" landed a remix with Ed Sheeran in December.
Elsewhere, Latin still proves to have a profound impact in the pop world. Puerto Rican newcomer Rauw Alejandro's irresistibly catchy "Todo De Ti" made its way to mainstream radio, as did Maluma's global hit "Hawái," the latter thanks to a remix with The Weeknd. And Pop queens Christina Aguilera and Selena Gomez also honored their Latin roots: Aguilera dropped two singles, "Pas Mis Muchachas" and "Somos Nada"; Gomez released her first Spanish-language project, Revelación.
In the streaming world, Bad Bunny — Spotify's most-streamed artist for the second year in a row — and BTS (No. 3 on Spotify's year-end tally) proved that Latin and K-pop are equal contenders to pop powerhouses like Taylor Swift and Bieber, who were No. 2 and 5, respectively.
Superstars Joined Forces
Sure, every year sees star-studded collaborations. But with artists having unprecedented downtime in 2020 and into 2021, some iconic pairings were born.
Ariana Grande and The Weeknd — no strangers to working together — scored their first Hot 100 No. 1 with a remix of The Weeknd's "Save Your Tears." Another Grande collaborator, Lizzo, teamed up with Cardi B for her latest single, "Rumors."
One of the most unexpected (and brilliant) partnerships came from Bruno Mars and Anderson .Paak, who joined forces for the '70s funk-inspired duo Silk Sonic. The pair dropped their silky debut single, "Leave the Door Open," just one week after announcing their joint project in February, and unveiled An Evening With Silk Sonic in November.
Veterans recruited some of pop's newer voices, too. Australian icon Kylie Minogue dueted with British electropop star Years & Years on "A Second to Midnight," a track from her reissue album, Disco: Guest List Edition. She also featured Dua Lipa on the album on a song titled "Real Groove."
Lipa co-starred with another legend, Elton John, on the chart-topping (and "Rocket Man"-sampling) hit "Cold Heart (PNAU Remix)." The single was part of John's jam-packed collaborative album, The Lockdown Sessions, which also featured Charlie Puth, Stevie Nicks and Stevie Wonder, among many others.
Long-Awaited Albums Arrived
Silk Sonic appeased those eagerly waiting for Bruno Mars to follow up his 2016 Album Of The Year-winning LP, 24K Magic, as the duo's material featured plenty of signature Bruno power hooks and slinky melodies. But those still longing for a solo Bruno Mars record may have at least been satisfied by the other 2021 arrivals.
Six years in the making, Adele's 30 finally landed in November — and, unsurprisingly, became the top-selling album of the year in just its first three days. The LP has now sold more than 1 million copies, and spawned the singer's fifth Hot 100 No. 1 with the poignant lead single, "Easy on Me." Beyond accolades, 30 sees Adele at her most vulnerable — as she's said herself, it centers around her divorce from entrepreneur Simon Konecki — which resulted in her most raw and powerful work yet.
Considering Ed Sheeran's extensive touring schedule that had the singer/songwriter on the road until the end of August 2019, it was almost hard to believe it had been four years since his last album. Surely some Sheerios felt the agony, but it was worth the wait: =, Sheeran's fourth studio album, offered 14 new tracks that expand on the star's signature talents, from heartfelt falsetto to boot-stomping melodies.
In what felt like the day that may never come, Kanye West delivered his tenth album, Donda, in August. The project had seen multiple postponements since its originally scheduled release of July 2020, but perhaps that's because the final product has a whopping 27 songs. While the album leans more into West's hip-hop roots, its impressive roster of guest stars — from The Weeknd to Watch the Throne cohort JAY-Z — offered any kind of Kanye fan something to enjoy.
After such a whirlwind year, one big question stands out as we enter 2022: what's next?
2021 In Review: 8 Trends That Defined Latin Music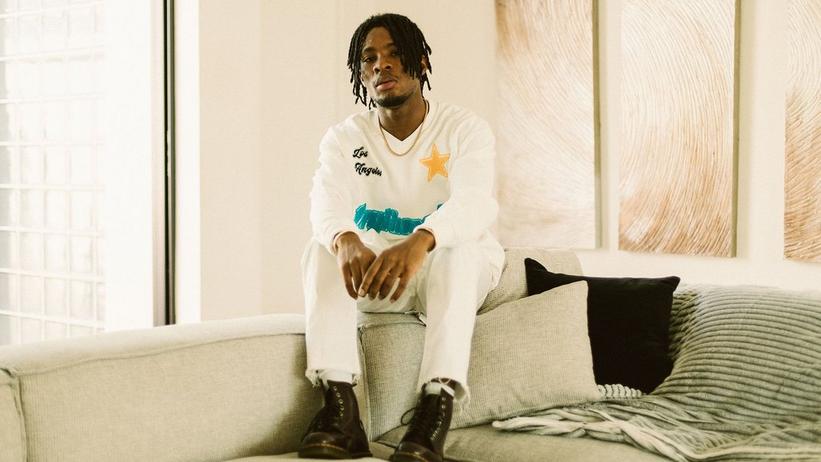 video
Herbal Tea & White Sofas: Why Joeboy Calls Nigerian Jollof Rice "The Best Food In The World"
Learn about how jollof rice, video games and the energy of a live crowd spark joy for Joeboy in his appearance on GRAMMY.com's Herbal Tea & White Sofas
GRAMMYs
/
Feb 7, 2022 - 05:28 pm
Last year, Joeboy landed a viral hit with "Sip (Alcohol)," which sparked a booze-gulping TikTok craze that the singer admitted was "kind of off-brand for me" in a 2021 interview with GRAMMY.com. In that same chat, he professed his love for white wine — but now, the Nigerian Afropop artist wants the world to know his favorite food.
In the latest episode of Herbal Tea & White Sofas, a video series in which artists explain what's on their riders, Joeboy talks about his backstage creature comforts, taking a bold stance on a West African delicacy.
"Jollof rice is like the best food in the world," he says. "I'm ready to argue that with anybody."