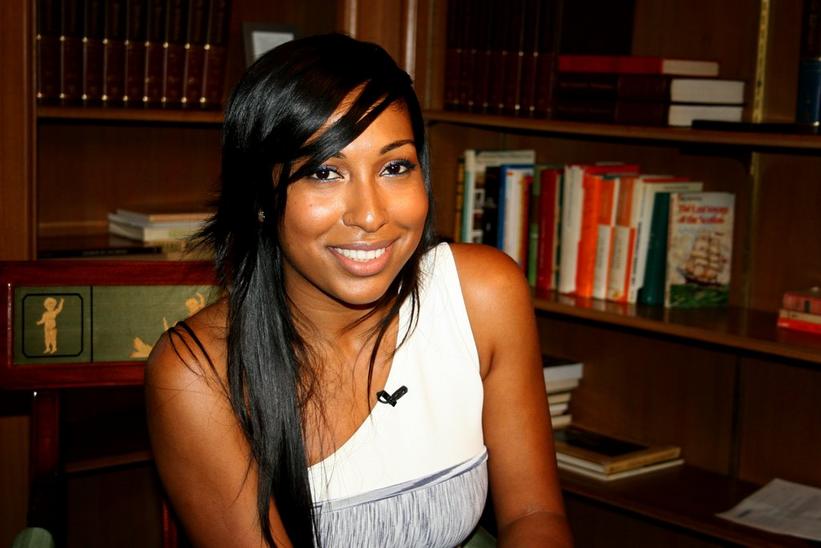 Melanie Fiona
Photo: The Recording Academy
news
5 Questions With ... Melanie Fiona
GRAMMY-nominated artist discusses her upcoming album, The MF Life, and more
GRAMMYs
/
Dec 3, 2014 - 05:06 am
GRAMMY-nominated artist Melanie Fiona was the recent guest for an installment of The Recording Academy's 5 Questions With … series, held during The Academy's inaugural GRAMMYs @ event, a new series supporting The Academy's mission to be the leading voice in honoring, celebrating and advancing music and its makers. The debut installment, GRAMMYs @ Canada House, a partnership with the Consulate General of Canada in Los Angeles celebrating Canadian artists, featured a special performance by Fiona, who also discussed her upcoming album The MF Life, being nominated for a GRAMMY, advice for aspiring musicians, music education, and her favorite GRAMMY moment.
"The whole concept of The MF Life [is] to encourage people to feel OK with the ups and downs of life," said Fiona. "I really feel like I got a good sense of expression on this album."

Born Melanie Hallim in Toronto, Fiona developed a passion for music at an early age, drawing on influences such as Whitney Houston and the Ronettes. Before releasing her debut album, 2009's The Bridge, Fiona caught the interest of GRAMMY winner Kanye West, subsequently landing a spot on his European tour in 2008. The Bridge peaked at No. 27 on the Billboard 200, shot into the Top 5 on Billboard's Top R&B/Hip-Hop Albums chart and featured Fiona's debut single, "Give It To Me Right," which samples the Zombies' "Time Of The Season." Fiona garnered her first GRAMMY nomination in 2009 for Best Female R&B Vocal Performance for "It Kills Me," a song that cracked the Top 50 on the Billboard Hot 100. Fiona received her second GRAMMY nomination the following year for Best Rap/Sung Collaboration on John Legend and the Roots' "Wake Up Everybody."
Fiona's most recent single, "4 AM," was released on Sept. 6 and will appear on The MF Life, due Oct. 25.
Click on the "5 Questions With ... interviews" tag below for links to other GRAMMY News stories in this series.
news
Tori Amos, Colbie Caillat, Demi Lovato, Sugarland, And More Join MusiCares' "Be A Part Of The Heart"
New artist participants take part in photo mosaic fundraising campaign
GRAMMYs
/
Dec 3, 2014 - 05:06 am
MusiCares announced today that Tori Amos, Colbie Caillat, the Eli Young Band, Melanie Fiona, Demi Lovato, Owl City, Parachute, Jenni Rivera, Paulina Rubio, Patrick Stump, and Sugarland are the latest group of artists to join the "Be A Part Of The Heart" fundraising campaign, which invites the public to come together to create an online mosaic comprised of photo tiles. Artists such as Bon Jovi, Black Cards, Taio Cruz, Melissa Etheridge, Selena Gomez, Martina McBride, Rascal Flatts, and Gloria Trevi uploaded their photos at the launch of the campaign in February 2011.
"Be A Part Of The Heart" encourages fans, recording artists and corporate and media partners to come together in a digital photo mosaic to raise awareness and generate resources to help MusiCares continue to provide a safety net of critical assistance for music people in times of need. The initiative also offers a chance to win a trip for two to the 54th Annual GRAMMY Awards on Feb. 12, 2012.
"Not only is this a chance for fans to join their favorite artists online in a shared effort to raise funds for MusiCares and help members of our music family," said Neil Portnow, President/CEO of The Recording Academy, MusiCares and the GRAMMY Foundation, "it's also a way for people to join an online community and share their stories about music and its impact on their lives."
In addition, MusiCares has launched a separate contest in conjunction with its annual MusiCares Person of the Year tribute that will honor Paul McCartney on Feb. 10, which offers music bloggers — professional or amateur — a chance to earn a coveted spot on the red carpet as well as a credential to cover the exclusive concert portion of the event. For complete details on the blogger contest, click here.
"Be A Part Of The Heart" participants can visit www.beapartoftheheart.com and make a contribution in any amount beginning with $1 to receive an online tile, where they can upload a photo and include their stories and links to websites and social media platforms. There is no limit to the donation amount and the tiles that go with it. Tiles can be created in honor of loved ones, to commemorate important milestones or holidays, and to engage other members of the public. There is also a place to include text about key musical influences.

For more information, visit www.beapartoftheheart.com.

(For a complete list of 53rd GRAMMY Awards winners, click here.)
Rap music was once considered a genre for the young. But as the youths grew up, rap continued to mature with them while inspiring a new generation of lyricists, beatmakers and global superstars. The 53rd Annual GRAMMY Awards demonstrated the strength of rap's veterans and steadily showcased the promise of its future. The result was a celebration of longevity in a genre that's considered for the young at heart.
Two of the strongest pillars of rap, Jay-Z and Eminem, were victorious on Music's Biggest Night — with Eminem winning for Best Rap Solo Performance for "Not Afraid" and Best Rap Album for Recovery, while the Jigga Man won for Best Rap Performance By A Duo Or Group (alongside Swizz Beatz) for "On To The Next One," and Best Rap/Sung Collaboration and Best Rap Song for "Empire State Of Mind" with Alicia Keys. The fact that Eminem and Jay-Z are in their early 30s and late 40s, respectively, prove they haven't slowed down their paths to success. In fact, they are both still at the top of their game. Newcomers such as Drake, B.o.B and Nicki Minaj, who were all nominated in the Rap Field this year, are still climbing to the top of rap supremacy.
"Empire State Of Mind" chimed through every urban and rural street in the United States and even gained some momentum on an episode of "Glee." With the potent combination of Jay-Z and Keys, it's no wonder rap heads — young and old — were feeling this song in 2010.
The spotlight was definitely on seasoned rappers and it didn't stop with Jay-Z and Eminem. Rap staple Ludacris teamed with Minaj for "My Chick Bad," nominated for Best Rap Performance By A Duo Or Group, while John Legend teamed with the legendary Roots crew and Melanie Fiona for a collaboration that combined more than 20 years of hip-hop and soul in their Best Rap/Sung Collaboration-nominated song "Wake Up Everybody."
At the end of the night, the winners and nominees captured the essence of rap music in the 21st century. This is not your father's rap music — it's your music and his music. Before you know it, it will be your children's music and rap will continue to evolve into a genre for the ages.

news
Beyoncé, Jay-Z, Keys Receive BET Awards Nods
Beyoncé, Jay-Z, Keys Receive BET Awards Nods
Nominations for the 10th edition of the BET Awards were announced today with GRAMMY-winning artist Jay-Z in the lead with five nominations. Following Jay-Z with four nominations each are GRAMMY winners Beyoncé and Alicia Keys, and GRAMMY-nominated artists Melanie Fiona and Trey Songz. Other artists receiving multiple nods include Justin Bieber, recent GRAMMY nominee Drake, who also leads the MuchMusic Video Awards nominations with seven, and GRAMMY winners Maxwell and Rihanna, among others. GRAMMY winner Queen Latifah is set to host the awards on June 27 at the Shrine Auditorium in Los Angeles. (5/19)
GRAMMY Winners Pick Up BMI Pop Honors
GRAMMY-winning songwriter/producer RedOne picked up his first Songwriter of the Year award at the 58th annual BMI Pop Music Awards on May 18 for his work on Sean Kingston's "Fire Burning," and GRAMMY winner Lady Gaga's "Just Dance," "LoveGame" and "Poker Face." GRAMMY winner Taylor Swift was also honored with the Song of the Year award for "Love Story," becoming the youngest artist to win BMI Pop Song of the Year honors. Also honored during the ceremony was GRAMMY-winning artist John Fogerty with the BMI Icon award. (5/19)
Mobile Music Downloads Down
Mobile music downloads are down for the first quarter with less than 2 percent of U.S. and Western Europe mobile users using their mobile devices to download music, according to data from industry tracker comScore. The data also showed that although 24 percent of users listen to music on their phone, the majority are loading pre-existing music from their computers to their handsets. Data was gathered from users aged 13 and up in Britain, France, Germany, Italy, Spain, and the U.S. (5/19)