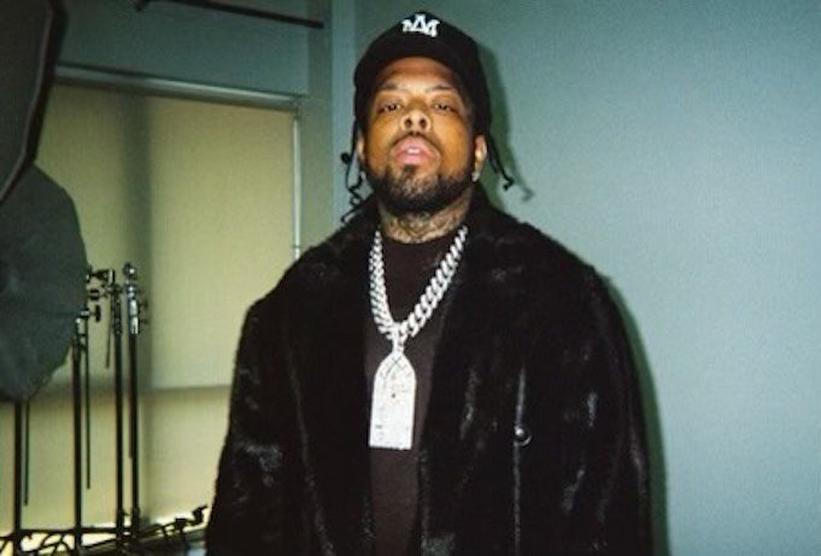 interview
Westside Gunn On How Virgil Abloh & "Coming To The End" Of His Rap Career Inspired 'And Then You Pray For Me'
A self-proclaimed "super-vet" of the rap world, Westside Gunn knows his time as a rapper is nearing its finale — but first, he wants to "give you a journey" with his new album, 'And Then You Pray For Me.'
GRAMMYs
/
Oct 18, 2023 - 02:07 pm
When Westside Gunn refers to himself as "the king of the underground," it's not hyperbole. The veteran rapper has spent the last decade-plus providing hip-hop with a streetwise, neo-boom-bap style that echoes heavily in the music of today. And as the founder of independent hip-hop label Griselda (and its related rap collective), Gunn's influence is felt through stars like his brother, Conway the Machine, his cousin, Benny the Butcher, and the enigmatic Mach-Hommy. 
But Gunn considers himself more a curator than a musician. He is obsessed with fashion and high art, more prone to mention going to see opera or buying a painting than jumping into a rhyme cipher.
All of Westside Gunn's obsessions come together on his new album And Then You Pray For Me. The rapper is positioning the project as a sequel to his 2020 LP Pray For Paris, which was inspired by Gunn attending a Paris Fashion Week runway show as a guest of the late Virgil Abloh. Abloh was the art director for both albums, which feature figures from iconic artworks laden with Gunn's signature chains; And Then You Pray For Me uses both the Mona Lisa and Caravaggio's The Entombment of Christ. 
While the 21-track album features plenty of Gunn's trademark neo-boom-bap sounds, he updates things a bit by including some songs that have a trap music influence. It contains stellar guest turns from old friends like Conway, Benny, Stove God Cooks, Rome Streetz, and Boldy James. But there are also surprising appearances from artists you might not normally associate with Griselda — Jeezy, Rick Ross, Denzel Curry, and Ty Dolla $ign.
Gunn has recently referred to And Then You Pray For Me as his last album, but don't expect him to slow down. He's making movies, planning big moves in the fashion world, and continuing to guide the careers of other artists. 
GRAMMY.com caught up with Gunn as he was, naturally, shopping in New York City's SoHo neighborhood ("I'm over here on Mercer [Street], so it's Lanvin, Balenciaga, Marni, Bape — it's all right here," he boasts). We discussed his creative pairing with Abloh, why he's really a curator at heart, and his views on underground rap's evolution over the past decade. 
The conversation has been edited for length and clarity.
Not to start on a super serious note, but as I was preparing for this conversation, I realized that we just passed the 17-year anniversary of the murder of your cousin, rapper Machine Gun Blak. If he could see you now, and if he could hear the new album, what do you think he might say?
First of all, he'd be all on [the album]. But he'd be super proud, man. Even when he's not here, he's one of my biggest fans, I feel like. His energy is Westside Gunn. Westside Gunn is a perfect example of Machine Gun Blak — just the raw, the grittiness. The grimy part of Westside Gunn, that's Machine Gun Blak. That's his spirit.
But I think he would love this album. It's a great piece of work. It's my favorite that I ever worked on. Out of all my projects ever, this is the most fun I ever had making one. 
Does it feel like it's been 17 years since he died?
Nah. It doesn't seem like 17 years, honestly. And it's crazy because I just went to his grave site. I remember [the day he died] like it was yesterday. I vividly remember that day — what was going on, what I was doing, where I was going, everything.
Where were you when you found out? 
See, back in those days, that's when we were still in the streets. So I was just about to go make a move. I was talking to him on the phone, and I was like, "I'll hit you when I get over to Atlanta." Because at that time, I was making moves. That's before all of this. It's the things I rap about now. When you hear the lyrics, these are those days. 
He called me, and it was a situation. He was talking about it, and I was like, "Sorry to cut you off, but I gotta go handle this. When I get there, I'll hit you back so we can finish talking about it."
At that time I was still catching the Greyhound from Alabama to Atlanta. But it was crazy because I missed the bus, and I never miss the bus. So I was on my way back to the house in Alabama, and my grandma called me.  
This era of your career, which this album is a cap to, began in 2012 when you realized you had to step up and be an artist because Conway The Machine had gotten shot and you weren't sure he'd be able to rap anymore. I've always been curious about your state of mind at that moment.
Even then I was still in-the-streets Gunn. We was working so hard, man. I was acting as his manager and investing my bread, my time. I really wanted Conway to be the biggest artist in the world. Unfortunately, when he got shot, it was a devastating blow.
Of course, that's my brother. That's the number one thing. And it was also like, the streets is crazy. I thought, I'm a smart guy. If I just put in my effort, I could really make this happen. At that time, I was really in the streets, and I felt like the [other] rappers weren't. It was like, you're really rapping about us. 
It was that kind of mentality — that if I come in this game, can't nobody touch me, because I'm as real as it comes. I just put my hustle skills from the streets into this, and it all worked out. 
During the heyday of that era of Griselda, you guys released a flood of projects — dozens and dozens of mixtapes and albums. 
It was a flood. It was the craziest flood since No Limit [Records].
What was a typical day like for you when all that was going on, circa the mid-2010s?
Just being at [producer] Daringer's house. Getting high, eating f—in' Franco's pizza, drinking Loganberry, and Daringer cooking the craziest beats you ever heard in your life. The rest is history. Just having fun, man. Everybody had they hustles. Believe it or not, even Daringer was hustling! We from Buffalo, man.
You've always been someone who understood the importance of branding. Even on early Griselda projects, you'd promote GxFR [Griselda by Fashion Rebels, Gunn's clothing line at the time]. 
Yeah, because that's the thing: Griselda Records comes from Griselda by Fashion Rebels. I had the clothing brand first. I was already doing a clothing line and it was just like, What am I going to name this record company?
I've always been into fashion. I actually do more fashion-related things than hip-hop-related things. I'm a true designer. I've been designing since I was a kid, and that's the thing that I want to get into more. 
I've been rhyming since '12. That's over a decade. If we're looking at NBA years, NFL years, I'm already a super-vet. I'm not trying to be one of them dudes that went from averaging 40 a game to now I'm averaging five, looking crazy and old. 
I know when to gracefully bow out. And I know I'm coming to the end. I don't want to keep rapping forever about the same things, because in my life I'm maturing. I'm doing other things. I'm collecting art. I'm going to see operas. 
But it's not the end right now. Right now, I just want to give people the best music. And I also want to let people in. I've been doing these [YouTube] episodes for this album where I've been letting people into my life for the first time in my career. Everybody has been loving it. 
For the first time, people are actually getting to see the inside of Westside Gunn's life. I think that's one of the things that I lacked on, was letting people in. If I would have let people in a long time ago, I'd be way bigger. But everything is about time, and I'm not tripping.
Before I hang up the mic, I still want to kind of give you a journey with the music. This new project, it's a super different vibe. I've never made an album sound like this. It's the perfect art piece that I could have possibly created.
It's just the space I'm in in life. It comes with maturity — traveling the world, kids getting older, things like that. You can hear the music has matured. It's still raw though. That's the thing about me. I'm still gonna give you that Griselda Westside Gunn. That's never gonna change. I'm not going too far out of context. 
For this album, you've introduced the alter ego "Super Flygod." What does that name mean? 
Listen, man, Super Flygod right now is talking to you with a ponytail. I'm on another level. Super Flygod is what I've always been, but times 10. I'm super bougie. I love five-star meals. I love five-star hotels. I love wearing $10,000 outfits. I love getting massages. I love smelling good. I love just looking good. That's Super Flygod. 
It's just a different energy. It's something the game never seen before. I did the unthinkable at least 100 times already. I'm still doing it. 
What was it like for you to see Conductor Williams — a producer who has worked with Gunn and Griselda for many years — land a single on a Drake album?
Beautiful. That's what we do it for. He did exactly what he was supposed to do, and that's be on the No. 1 album in the world. He deserves all of that. That's what we're in this game for — to be able to leave a legacy and take care of our babies. So for him to be on the No. 1 album, that's a super blessing. 
That's the thing about Conductor — it's just gonna be the beginning. He's on my new album a few times. So he's gonna have a hell of a month. It's the biggest month of his life. Business is booming for Conductor. 
You've used the word "curation" a lot over the course of your career, and especially in regards to this album. What does that word mean to Westside Gunn?
First of all, that's my favorite thing to do on an album. Curation from me is me. I can curate for you, I can curate for MC Hammer. It's you, but it's me. 
When I curate a project, that's me naming every song, that's me picking every beat, that's me doing the sequence, that's me making the art cover, that's me doing the merch. You see what I'm saying? It's you, but it's me. All you're doing is showing up and rapping. That's all you gotta do.
Virgil Abloh is credited with art directing this album's cover. What did that mean, specifically? 
When I went out to Paris [for Paris Fashion Week in 2020], I really wasn't going to make music. I just felt the energy from Virgil having me out there. When I hit him and told him it was done, it was just like, "There's only one person that can do this cover." It had to be him. 
Virgil was an icon. So to have Virgil cooking up for you is already legendary. This don't happen to nobody from Buffalo, man. But when he was cooking, he was making me multiple pieces. At first, the idea was, I'm gonna do a trilogy [of Pray albums]. I was gonna have the Mona Lisa be the picture that represents all three of them together. I was thinking [of a] box set, with a Mona Lisa front and three different covers inside. 
Once he passed, it changed what I wanted to do with it. But we were already talking about dropping [a second Pray album]. We were already going to re-release the first shirts we did, and I was going to do new ones. But when [his death] happened, I put everything on a standstill and I didn't really know how I wanted to approach it again.
It was like, Damn, should I do the trilogy, or should I just make it a part two? I had different options. At the end of the day, it was just like, I think I'm just going to finish it up. I really want to give the people the work we created together before I throw in the towel. I felt it was only right. That's something that I want the world to always see and remember — what me and him cooked up together.
You say in your new YouTube documentary series that this new album will probably go over people's heads. What aspects of it do you think people might not get initially, or take a few years to catch up to?
The same reason why they're catching up now to the s— that I was doing five years ago, and everybody acts like it's new. I've always been ahead of my time. Always. I probably get copied off of the most in the industry. But you see that I've always gotten respect from everybody: from the Drakes, from the Tylers, the Rockys, Kendricks, Coles, anybody. I'm a one-of-one. It's never been seen before. 
The respect I get, it could be on a mainstream level, but then I could still be on an underground level. I can do something with an Estee Nack, but then turn around and do a song with Mary J. Blige. That's who Westside Gunn is. I got songs with everybody you can possibly think of, rhyming-wise or production-wise. All the legends, even our fallen legends. I can't even think of no other emcee that got a record with Sean Price, Prodigy, DMX, and MF DOOM. It's impossible to name another one. 
Westside Gunn is so cultured, people don't even understand. That's what I mean about [being] over people's heads. People still don't even get it. They're scratching their head, like, "How is this guy on [Kanye West's] Donda? How is this guy on [Travis Scott's] Utopia?"
There's a big part of underground rap now that can be traced directly to what Roc Marciano began doing in 2010, and what you guys started doing just a few years later. What do you think when you see a lot of your aesthetic from that time in the current underground scene?
The current underground scene, I'm loving it. Because you gotta think — at that time, like you said, it was only really Roc Marci, Action Bronson — a couple heads. That's in the space that we come from. Of course, we still had the J. Coles and Big Seans and all that, but that was another lane. We're in the same neighborhood, two different streets. 
But on our street, people on the block was Roc Marci and Action Bronson. Danny Brown, he lived on the block. People like that. When I came on the scene, that's all it was. But I took the bull by the horns. Like I said, I'm a hustler. I was still hustling in the street. I had a hustler mentality, and once I told myself I had to quit cold turkey, I never looked back. I just went extra hard. 
With the new heads, I'm proud of them. At the end of the day, I'm happy that I was able to be somebody that they could study. That they could see these vinyl deals or how this merch is played — I'm kind of like the blueprint. I'm not going to say I'm the king of the underground, but I'm the king of the underground.
Even though I'm the king of the underground, I'm still on Donda. I'm still on Utopia. I'm still making all these big songs and these big records. And even yesterday, we put up the Post Malone clip saying if he could work with anybody, it'd be me. 
I'm the one that put the most points on the board, in every way possible. But this is also showing the new heads, If I could work hard, I'm gonna be the next Roc Marci, I'm gonna be the next Action Bronson in that space.
What is the possibility of getting the original Griselda trio of you, your brother and your cousin back together for a project? 
That's coming in '24. You don't even you got to ask twice. That's already done, my brother. 
A Guide To New York Hip-Hop: Unpacking The Sound Of Rap's Birthplace From The Bronx To Staten Island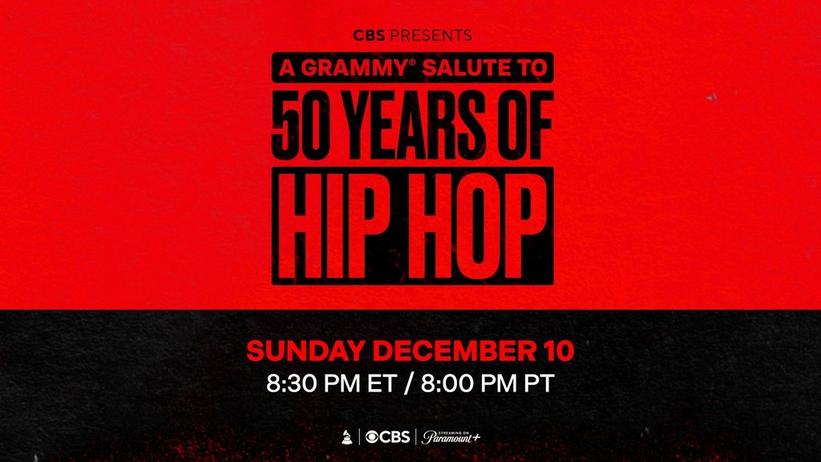 "A GRAMMY Salute To 50 Years Of Hip-Hop" premieres Sunday, Dec. 10, at 8:30 p.m. ET/8 p.m. PT, airing on the CBS Television Network and streaming live and on demand on Paramount+.
Graphic courtesy of the Recording Academy
news
How To Watch "A GRAMMY Salute To 50 Years Of Hip-Hop": Air Date, Performers Lineup, Streaming Channel & More
Featuring exclusive performances and special tributes, "A GRAMMY Salute To 50 Years Of Hip-Hop" premieres Sunday, Dec. 10. Here's when, where and how to watch the star-studded live concert special.
GRAMMYs
/
Dec 7, 2023 - 01:36 am
The 50th anniversary of hip-hop may have happened this past summer, but the Recording Academy's ongoing celebration was just beginning. And it's about to reach its culmination with "A GRAMMY Salute To 50 Years Of Hip-Hop," a majestic, once-in-a-lifetime live concert special featuring rap's best and brightest — past and present.
Here's everything you need to know about where, when, how, and why to watch "A GRAMMY Salute To 50 Years Of Hip-Hop."
What Is "A GRAMMY Salute To 50 Years Of Hip-Hop" Celebrating?
"A GRAMMY Salute To 50 Years Of Hip-Hop" is celebrating the 50th anniversary of hip-hop, which took place in August.
Scholars may debate whether the genre's roots precede Aug. 11, 1973, when DJ Kool Herc debuted his "merry-go-round" technique of playing funk breaks back-to-back to a smattering of teenagers in the Bronx. But it's beyond doubt that this event was the spark to a flame that lit throughout the boroughs — inspiring DJs, breakdancers, graffiti artists, and, eventually, pioneering MCs like Coke La Rock and Cowboy.
In the ensuing decades, hip-hop has set the world on fire, swelling to become one of the foremost cultural phenomena on the planet. And "A GRAMMY Salute To 50 Years Of Hip-Hop" promises to pay homage to the breadth, depth and ongoing ripple effect of the genre and culture.
When Can I Watch "A GRAMMY Salute To 50 Years Of Hip-Hop"?
"A GRAMMY Salute To 50 Years Of Hip-Hop" will air Sunday, Dec. 10, starting at 8:30 p.m. ET/8 p.m. PT.
How Can I Watch "A GRAMMY Salute To 50 Years Of HipHop"?
"A GRAMMY Salute To 50 Years Of Hip-Hop" will air at the above time, at the above date, on the CBS Television Network and stream live and on demand on Paramount+.
Who Is Performing At "A GRAMMY Salute To 50 Years Of Hip-Hop"?
The two-hour live concert special will feature exclusive performances from hip-hop legends and GRAMMY-winning artists including Black Thought, Bun B, Common, De La Soul, Jermaine Dupri, J.J. Fad, Talib Kweli, the Lady Of Rage, LL Cool J, MC Sha-Rock, Monie Love, the Pharcyde, Queen Latifah, Questlove, Rakim, Remy Ma, Uncle Luke, and Yo-Yo.
Rap icons and next-gen hip-hop superstars like 2 Chainz, T.I., Gunna, Too $hort, Latto, E-40, Big Daddy Kane, GloRilla, Juvenile, Three 6 Mafia, Cypress Hill, Jeezy, DJ Quik, MC Lyte, Roxanne Shanté, Warren G, YG, Digable Planets, Arrested Development, Spinderella, Black Sheep, Luniz, and many more will also perform. Plus, hip-hop icons DJ Jazzy Jeff and the Fresh Prince will deliver a highly anticipated reunion on the stage.
View the full performer lineup to date.
See More: Watch Backstage Interviews From "A GRAMMY Salute To 50 Years Of Hip-Hop" Featuring LL Cool J, Questlove, Warren G & E-40, And Many More
Who Is Appearing At "A GRAMMY Salute To 50 Years Of Hip-Hop"?
Two-time GRAMMY winner and nine-time GRAMMY nominee LL Cool J will guide fans through the "A GRAMMY Salute To 50 Years Of Hip-Hop" experience throughout the night. You can also expect presentations and appearances from Chloe Bailey, hip-hop-meets Broadway mastermind Lin-Manuel Miranda, Seth Rogen, Jennifer Hudson, Regina Hall, Machine Gun Kelly, and more.
What Can I Expect At "A GRAMMY Salute To 50 Years Of Hip-Hop"?
Spanning the past five decades of hip-hop history, "A GRAMMY Salute To 50 Years Of Hip-Hop" is the epitomic embodiment of the profound history of hip-hop. More than just a live concert special, the show will celebrate the infinite ways hip-hop has impacted and changed the world. Plus, with such a heavy-hitter performer lineup, hip-hop fans should expect plenty of surprises and deep dives into the rich evolution of rap music and culture.
The night will feature groundbreaking artists performing the songs that changed hip-hop forever. Expect to experience exclusive performances of such classics from all the influential eras of hip-hop, including T.I.'s "What You Know," 2Pac's "California Love," Three 6 Mafia's "Stay Fly," Cypress Hill's "How I Could Just Kill A Man," and many more.
Read More: 50 Artists Who Changed Rap: Jay-Z, The Notorious B.I.G., Dr. Dre, Nicki Minaj, Kendrick Lamar, Eminem & More
"A GRAMMY Salute To 50 Years Of Hip-Hop" will also showcase some of the regional sounds and scenes that shaped the rap canon across the decades, including special segments celebrating Southern hip-hop featuring Jeezy, T.I., Bun B, Three 6 Mafia, Jermaine Dupri, and more; West Coast rap featuring Warren G, Tyga, Roddy Ricch, DJ Quik, Too $hort, E-40, and others; and the international rap scene featuring Akon, Blaqbonez and more.
Of course, hip-hop would not be where it is today without the influential women and female trailblazers who pioneered the genre and industry. For the past five decades, women have been essential to hip-hop, and "A GRAMMY Salute To 50 Years Of Hip-Hop" will pay tribute to the ladies who built — and continue to build — rap music and culture. The ladies of hip-hop will take centerstage with a special performance featuring an all-women cast of hip-hop greats performing empowering female anthems, including Queen Latifah & Monie Love performing "Ladies First," Roxanne Shanté delivering "Roxanne's Revenge," Latto holding it down for the next generation with "Put It On Da Floor," and more.
As one of the highlights of the night, hip-hop pioneers DJ Jazzy Jeff and the Fresh Prince will reunite for a highly anticipated performance featuring their greatest hits, which have since become some of the most celebrated songs in hip-hop history, including, "Brand New Funk," "Gettin' Jiggy Wit It," "Summertime," and more.
"A GRAMMY Salute To 50 Years Of Hip-Hop" will pay tribute to this quintessentially American art form like no other. Keep checking GRAMMY.com for more news and updates about "A GRAMMY Salute To 50 Years Of Hip-Hop" and the 50th anniversary of hip-hop, and make sure to tune in on Sunday, Dec. 10, starting at 8:30 p.m. ET/8 p.m. PT.
A GRAMMY Salute To 50 Years Of Hip-Hop is produced by Jesse Collins Entertainment. Jesse Collins, Shawn Gee, Dionne Harmon, Claudine Joseph, LL COOL J, Fatima Robinson, Jeannae Rouzan-Clay, and Ahmir "Questlove" Thompson for Two One Five Entertainment serve as executive producers and Marcelo Gama as director of the special.
— With additional reporting from John Ochoa
Hip-Hop Just Rang In 50 Years As A Genre. What Will Its Next 50 Years Look Like?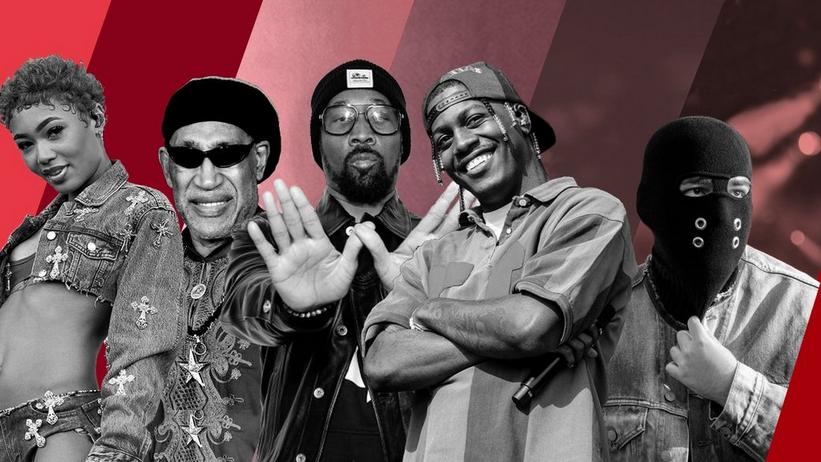 (From left) Coi Leray, DJ Kool Herc, RZA, Lil Yachty, Yeat
Photos: Gary Miller/Getty Images; ANGELA WEISS/AFP via Getty Images; Jason Mendez/Getty Images; Erika Goldring/FilmMagic; Joseph Okpako/WireImage
list
2023 In Review: 5 Trends That Defined Hip-Hop
While hip-hop's lack of chart success was rife for discussion during the first half of the year, there was plenty of great rap music in 2023. It may not be reaching the top of the charts as frequently, but the genre is as vibrant as ever.
GRAMMYs
/
Dec 6, 2023 - 04:18 pm
For the first half of 2023, hip-hop's lack of chart success seemed to be all anyone could talk about. 
No hip-hop album went No. 1 until Lil Uzi Vert's Pink Tape in July, and it wasn't until September that Doja Cat broke a 13-month dry spell for the genre on Billboard's Hot 100 singles chart with "Paint the Town Red" (the single is nominated for Best Pop Vocal Performance at the 2024 GRAMMYs, alongside Miley Cyrus' "Flowers," "Vampire" by Olivia Rodrigo, Taylor Swift's "Antihero" and Billie Eilish's "What Was I Made For?").
This situation caused a bunch of hand-wringing. As hip-hop celebrated its 50th anniversary, was the genre past its prime — artistic, commercial or both? Was it, as one popular radio personality proclaimed, being eased out by mysterious powers-that-be in favor of Afrobeats or reggaeton?
While it may not be reaching the top of the charts as frequently as in years past, hip-hop is as vibrant as ever. As it turns out, there was plenty of great hip-hop around in 2023, thanks to both new and veteran artists. As hip-hop enters its next 50 years, look back on some of the trends that are keeping the genre one of the most innovative.
SoundCloud Rap Returns
"SoundCloud rap" was an appellation given to a group of artists starting sometime in the mid-2010s. It referred to artists like XXXTentacion, Trippie Redd, Smokepurpp, Lil Pump, Denzel Curry, and many more. Often the artists looked as colorful as the music sounded — face tattoos were the norm — and its approach was structurally experimental, emo-influenced, and raw. (A good summary of the movement is here). 
SoundCloud rap as a movement ran out of steam in 2019 after a string of tragic deaths (Lil Peep, XXXTentacion, Juice WRLD). But now a new iteration of it is back. 
Yeat, who in 2018 back at the tail of SoundCloud rap's initial run was hailed as "SoundCloud's latest sensation," has developed into a major star who duets with Drake on the latter's For All The Dogs. He and a crew of artists such as Ken Car$on, Midwxst, and SSGKobe are taking the high-energy vibe of the initial wave of SoundCloud rap artists like Playboi Carti, and updating it for a new generation. 
This new slate is, as other coverage has pointed out, overall less chaotic and noisy, and more professional-sounding, than its predecessors, while still having similar youthful energy.
Women Are Leading The Way
For far too long in mainstream hip-hop, women have been relegated to "the one girl in the crew" status, or been pitted against each other by fans, media, and pretty much everyone else with a there-can-only-be-one mentality. Despite that, girls and women have always played a key role in the genre, both in front of the mic and behind the scenes.
Fortunately those retrograde notions are dead in 2023. A diverse array of female rappers are leading the way artistically and commercially. On the commercial side of the ledger, last year's GRAMMY Best New Artist nominee Latto was the first rapper to score a No. 1 hit in 2023, while GloRilla, Coi Leray and Best New Artist nominee Ice Spice (who is nominated in the category alongside Gracie Abrams, Fred again.., Jelly Roll, Coco Jones, Noah Kahan, Victoria Monét, and the War And Treaty) have all had big chart wins.
Other female artists who are making big noise include Tierra Whack (who this publication pinpointed as someone "leading the next generation"), Rico Nasty, Flo Milli, Kash Doll, BIA, and countless others. For a primer on both how we got here and what the current generation is up to, make sure to watch the Netflix documentary Ladies First: A Story of Women in Hip-Hop.
Change Is Happening At The Margins
As with most art forms, the real excitement happens at the edges. Whether it's people who are operating outside of the commercial mainstream, or artists who are pushing to expand the idea of what being a rapper even means by incorporating other types of music, the margins are where all the fun is.
In 2023, artists continued to incorporate other genres to the point where questioning whether their music is still hip-hop becomes impossible to answer — see Lil Yachty's recent psychedelic turn and Kassa Overall's jazzy explorations. There are also the truly outré, experimental artists like Fatboi Sharif, whose dark and abstract vision is unlike anything else; and psychedelic deep thinker Gabe 'Nandez.
And there is a vibrant, arty underground scene that has its own revered veterans like billy woods whose profile (both solo and as a member of the duo Armand Hammer with ELUCID) has been rising rapidly over the past few years; as well as a contingent of younger aligned musicians like Fly Anakin and Pink Siifu. 
Veterans Are Killing The Stage
Hip-hop officially celebrated 50 years of groundbreaking culture in August, but 2023 became a year-long celebration of the genre's past. Figures going all the way back to Kool Herc and  DJ Hollywood had huge moments and a renewed focus on their achievements.
The celebration wasn't limited to one single Yankee Stadium concert or one media outlet. It was instead a long and well-needed look back that spanned live events, museum exhibits, documentaries, books, and more. The retrospective really kicked off in February, with a killer showcase of hip-hop history at the 2023 GRAMMYs. And it continues all the way through to December with the Recording Academy's "A GRAMMY Salute to 50 Years of Hip-Hop" special.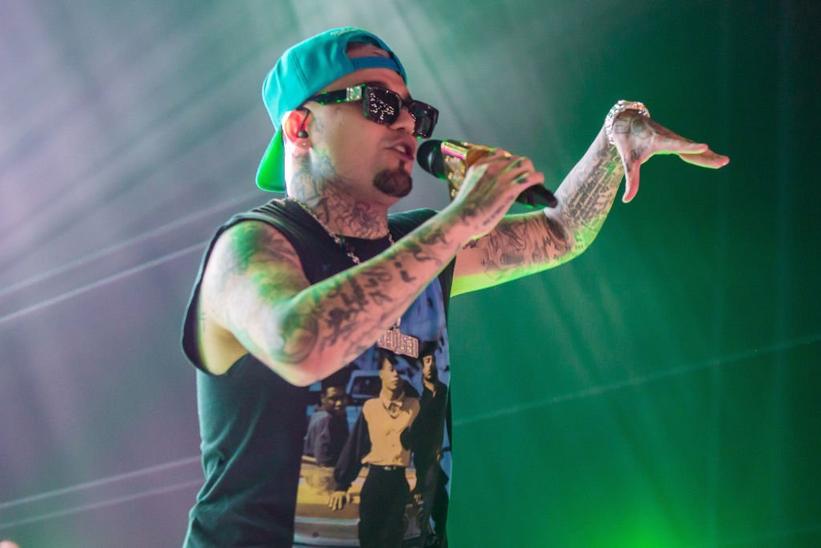 Mexican rapper Gera MX performs in Monterrey, Mexico
Photo: Medios y Media/Getty Images
list
8 Latinx Rappers To Know: Eladio Carrion, Young Miko, Akapellah & More
African American, Caribbean and Latinx people were all present at the birth of hip-hop in 1973. In the five decades since, hip-hop has gone global, and Latinx people are shaping the genre.
GRAMMYs
/
Nov 27, 2023 - 03:41 pm
Hip-hop is not only a global phenomenon, but a multi-lingual expression. There are many Latinx rappers who have contributed to the genre's legacy with Spanish-language music, and others who form the larger fabric of hip-hop history.
Hip-hop was born on Aug. 11, 1973 at a back-to-school party in the Bronx, which included African American, Caribbean and Latinx attendees. While Latinx people have helped shape the genre in the years since, Nuyoricans such as Angie Martinez, Fat Joe, and his collaborator Big Pun left an indelible Latinx mark on rap in the '90s. At the same time on the West Coast, the Latin Alliance formed and led to breakout careers of Chicano rappers Kid Frost and Mellow Man Ace, who both largely rapped in Spanglish. Cypress Hill and Ozomatli later emerged in their wake. Cuban American rapper Pitbull would soon crossover in the rap mainstream into the next decade. 
On the island of Puerto Rico, rappers nurtured the emerging genre of reggaeton in the '90s and 2000s as another medium where they could flex their Spanish flow. Pioneers like Daddy Yankee, Tego Calderón, and Don Omar unleashed their rhymes over dembow-driven rhythms. Ivy Queen and Lisa M blazed a path for women in the male-dominated genre. N.O.R.E.'s hit "Oye Mi Canto" would later help globalize reggaeton in 2005. That decade also saw the rise of Puerto Rican group Calle 13, which was led by rapper Residente, who has since become the most-awarded artist in Latin GRAMMY history. Cardi B and Bad Bunny are now representing Latinx rappers on a global level. Those are just a few names of many Latinx trailblazers. 
In honor of hip-hop's 50th anniversary, GRAMMY.com highlights eight artists from the next generation of Latinx rappers.
Trueno
Since the release of his breakthrough album Bien O Mal in 2022, Trueno has become the rap artist to watch out for in Argentina. In his songs like the empowering "Argentina" featuring Nathy Peluso or the poignant "Tierra Zanta" alongside Argentine folk artist Victor Heredia, he celebrates the culture of his country while embracing the sounds and influences of American rap.
Trueno went global after the Gorillaz invited him to perform "Clint Eastwood" with them at the Quilmes Rock festival in Argentina. Earlier this year, he got a co-sign from Latinx rap group Cypress Hill, who remixed Trueno's socially-conscious banger "F— The Police." More recently, Trueno is having fun with his rhymes in his recent feel-good singles like "Tranky Funky" and "Ohh Baby."
"My mission in life is to take Argentine rap as far as we can go," Trueno told Infobae this year. 
Eladio Carrion
Eladio Carrion is proving that his explosive rap flow can't be contained to one genre. The Puerto Rican rapper has made a name for himself thanks to his series of Sauce Boyz albums, which first launched in 2020. Carrion largely dominates the Latin trap scene, but he has also made his mark in drill with the "Tata" remix featuring J Balvin, Daddy Yankee, and Bobby Shmurda, even experimenting in Mexican corridos with Peso Pluma in "77."
Carrion's latest album, 3men2 Kbrn, features collaborations with rappers that he idolized. Future joins him in the swaggering "Mbappe" remix, Lil Wayne appears on the triumphant "Gladiador" remix, and "Si Salimos" features 50 Cent. The all-Spanish LP debuted at No. 16 on the Billboard 200 chart in March.
"I just keep trying to build that bridge between Latin and American culture because I've been influenced so much by American hip-hop, but you know I do Latin music," Carrion told Uproxx this year. 
Villano Antillano
Villano Antillano is making a mark for both women and the LGBTQ+ community in the Latin hip-hop scene. The Puerto Rican rapper — who identifies as transfemme and nonbinary — has proudly represented who she is within her fierce anthems. Antillano teamed up with Spanish rapper Ptazeta for the girl power anthem "Mujerón" and empowered trans women in "Muñeca" with nonbinary artist Ana Macho.
Antillano made a global impact last year when she featured on Argentine producer Bizarrap's hit "BZRP Music Sessions #51." Over trap beats with an electronica edge, she unleashed fiery flow about how she is running the Latin rap game. Villano then released her debut album La Sustancia X where celebrated women's resilience alongside Residente's sister iLe in "Mujer" and paid homage to La Delfi and Celia Cruz in "Cáscara De Coco."
"I hope that from seeing me and hearing my music, more people can live authentically in their everyday lives," she told MTV News in 2021. 
Young Miko
Young Miko is also breaking down barriers for the LGBTQ+ community in the Latin hip-hop scene. The queer Puerto Rican rapper has proudly dropped bars about her love for other women in her songs, like this year's global hit "Classy 101" with Colombian singer Feid, as well as  the swaggering "Lisa."
Young Miko broke through last year with her debut EP Trap Kitty, further asserting  her dominance in Latin trap previously exemplified by  the sexy "Riri" and the empowering "Putero." 
Young Miko has become one of the most in-demand collaborators in today's Latin music scene, proving that she can shine in any genre. In 2023, she featured g on Marshmello's house-infused "Tempo" and Bad Gyal's reggaeton banger "Chulo Pt. 2" with Dominican star Tokischa. 
"This generation is tired of the same," she told Popsugar this year. "They're accepting and receptive to something new. Maybe [my lyrics] are not how I feel but how I'd like to feel."
J Noa
In Latin rap, J Noa is proudly carrying her country of the Dominican Republic on her back. The teen phenom released her debut EP Autodidacta earlier this year. In the somber "Betty," J Noa shined a light on the pressures that Dominican teens face in underserved neighborhoods. In the explosive "Autodidacta," she unleashed her mind-blowing rap skills.
A triumphant moment on the EP is empowering "No Me Pueden Parar." The self-proclaimed "La Hija del Rap," or "the daughter of rap," spit inspirational bars about not allowing any obstacles to get in the way of achieving her dreams. J Noa has a knack for mixing social truths with fierce rhymes. Back in July, she wowed hip-hop pioneers DMC, Grandmaster Caz, Mighty Mike C, and Sha-Rock with a freestyle rap in the Bronx. 
"I can keep rap going by staying on the path that I am on," she told Refinery29. "Real rap is about social protests and history."
Akapellah
Akapellah is proudly representing the hip-hop scene in Venezuela, releasing songs that are both playful and socially-conscious In 2020, the hard-hitting "Condenados," he dropped bars about the plight of the Venezuelan people following the country's economic collapse.
Instead of letting his size be anyone else's punchline, Akapellah boasted about the benefits it gives him in the smooth "Gordo Funky." For his feel-good rhymes, he received multiple Latin GRAMMY nominations for Best Rap/Hip Hop Song. Akapellah made headlines this year when he released a tiraera, or diss track, against Residente called "No Eres Rapero." Understanding it's a part of hip-hop culture, Residente took the shot in stride and later named Akapellah one of his favorite Latinx rappers.
"My [success] has been very organic and like a hybrid," he told La República newspaper. "I have had my peaks of hype, but [my career] has always remained stable."
Nanpa Básico
Nanpa Básico is a proud exponent of Colombia in the Latin rap scene. The Medellín native has made waves with his street-conscious lyrics and romantic flow, first breaking through in 2017, with the guitar-driven ballad "Sin Ti Estoy Bien" and the haunting "Ya Para Qué."
This past year, Básico has gone global while exploring different genres. Alongside Mexican singer Ximena Sariñana, he tackles a whimsical pop sound in the dreamy "Nunca Tuve Tanto." Básico's slick rap flow met R&B in the soulful "Ya No Se Mueve" with Leon Leiden. Básico's latest album, HECHO M13RD4, boasts features from Mexican rappers Gera MX and Santa Fe Klan, regional Mexican music star Adriel Favela, and Colombian reggaeton singer Ryan Castro.
"I studied social work so I said I don't want to continue glorifying the problems, but on the contrary, very cool things happen in the hood too, that people sometimes don't talk about," he told Rolling Stone En Español.
Gera MX
Gera MX is making Mexico's rap scene go global. In 2021, he blended trap and mariachi music with Christian Nodal in the genre-bending hit "Botella Tras Botella." They made history with the first regional Mexican song to enter the Billboard Hot 100 chart.
Last year, Gera MX continued to push boundaries for Latin rap in his two albums, No Teníamos Nada, Pero Éramos Felices and Ahora Tengo Todo Menos A Ti. In explosive "Hagan Ruido," he teamed up with Mexican American rapper Snow Tha Product where they proudly boasted about their roots. Colombian reggaeton singer Blessd joined Gera MX in the feel-good "One Love." This year, Gera MX brought together the worlds of Latin trap and corridos in the fiery "Feria En El Sobre," featuring Peso Pluma and Herencia De Patrones.
"Mexican hip-hop has gained a lot of respect and popularity," he told Remezcla. "I don't know if it's the Golden Age, but it's a good time."
7 Latin DJs To Watch In 2023: Gordo, Arca, The Martinez Brothers & More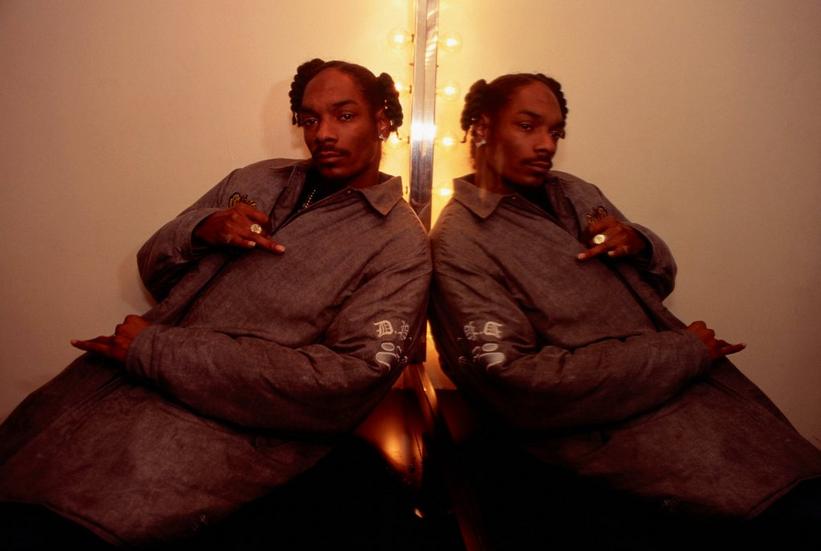 Snoop Dogg in 1994.
Photo: mark peterson/Corbis via Getty Images
list
Snoop Dogg's Biggest Songs: 15 Tracks That Display His Charismatic Style And Range
As the rapper's seminal debut album Doggystyle celebrates its 30th anniversary, dig into some of the best and most popular songs in Snoop Dogg's discography, from "Gin and Juice" to "I'm From 21st Street."
GRAMMYs
/
Nov 22, 2023 - 04:30 pm
Thirty years ago, a rap music legend began his journey to immortality — and to Martha Stewart.
Most in-the-know music fans were aware of Snoop Doggy Dogg (as he was then known) because of his collaborations with Dr. Dre. First there was "Deep Cover" from the soundtrack of the film of the same name. Then there were his memorable contributions to Dre's The Chronic, which came out in late 1992. 
So the world was primed for Snoop's solo debut Doggystyle when it was released into the world on November 23, 1993. The album sold around 800,000 copies in its first week, and set the stage for Snoop to become a superstar, one who would eventually reach a stage of pop-culture ubiquity that mid-90s rap fans — and those people who saw his scowl on the cover of Newsweek as the literal face of the question of whether rap was too violent — could have never imagined.
To celebrate the anniversary of Doggystyle's release, GRAMMY.com is revisiting the D-O-double-G's biggest and best musical moments. A quick note: this list does not include songs that appear on another artist's album (hey, we had to draw the line somewhere!), so there's no "Nuthin' But A 'G' Thang" or "2 of Amerikaz Most Wanted." And we tried to pull from all eras of his career, so it's not all Doggystyle (though you should, of course, listen to that classic in its entirety). 
So with all that said, here we are: 15 of Snoop Dogg's most popular and most dynamic songs. 
"Deep Cover" with Dr. Dre,
Deep Cover
soundtrack (1992)
Snoop's very first recorded song — his introduction to the world at large — occurred over a Dre beat so powerful, with a bassline so iconic, that it became the foil for not one, not two, but three classic songs (plus a nasty Biggie freestyle). The duo's lyrical chemistry was undeniable as they traded verses throughout. And, of course, there's the song's chorus, in which Snoop introduced California penal code 187 into the national lexicon.
The track and its video loosely parallel the plot of the movie on whose soundtrack it appears, the absolutely nuts (and surprisingly entertaining) Deep Cover, directed by Bill Duke and starring Laurence Fishburne. 
"Who Am I (What's My Name)?"
Doggystyle
(1993)
This track wasn't just the world's introduction to Doggystyle — it lets fans know that the Dre-and-Snoop chemistry they'd heard on The Chronic was not a fluke. The track's George Clinton and P-Funk interpolations also showed that Dre was still in his bag, and Snoop's vocal performance was one for the ages. Still in his very early 20s, the rapper was adept at mythmaking, showing the audience how he would "step through the fog" and "creep through the smog" to deliver his charismatic raps.
As if that wasn't enough, the song's Fab 5 Freddy-directed video showed Snoop's sense of humor, as it featured the rapper and his compatriots morphing into literal dogs. 
"Gin and Juice,"
Doggystyle
(1993)
Any rap fan of a certain age can not only spit this song word for word, but also quote pretty much every line in the video ("Snoop Doggy Dogg! You need to get a jobby-job"). Just say the words "Laid back…" to pretty much anyone who is at the age where they can say complete sentences, and you'll get "With my mind on my money and my money on my mind" in response.
The song and video created an image for Snoop that was fun-loving and comic — one that he rode (sometimes in a Chrysler) all the way to a decades-long career as a pitchman, TV host and overall personality that would at first glance seem incongruous for an avowed Crip from Long Beach. Beyond all the myth-making, though, it's just a fantastic song, one that Rolling Stone included in its 100 best rap songs of all time list.
"Gz and Hustlas,"
Doggystyle
(1993)
This Doggystyle highlight begins with a hilarious skit that ends with a funny and profane punchline from a very young Bow Wow. It just gets better from there.
Snoop has said that this is one of his two personal favorites from his debut album. Not unrelatedly, he's also admitted that the whole thing was improvised while he was just checking a mic. And as we'll see on the "Afro Puffs" remix, freestyling Snoop is the best Snoop. That's certainly the case here. The sample of Bernard Wright's "Haboglabotribin" provides the perfect soundtrack for the ride. 
"Murder Was the Case,"
Doggystyle
(1993)
This song is the Faustian tale of a young man who survives a shooting by selling his soul to the devil in exchange for eternal life and a life of riches and success. But, as always with these stories, the protagonist's greed gets the better of him, and the devil gets his due. The narrator ends the story locked up, with only a prison riot to look forward to.
It's a gripping tale that would have eerie real-life resonance when Snoop was actually charged with murder, a charge on which he was famously acquitted. He wrote the song before the incident, a coincidence that affected him so deeply that he decided that "maybe I shouldn't be writing about devilish s— like this."
"Afro Puffs (Extended Remix)" with The Lady of Rage,
Above the Rim
soundtrack (1994)
Snoop is at his best when he's in the moment — when he's relaxed, freestyling and rapping in his inimitable style about whatever is on his mind. His opening verse on this song is perhaps the quintessential example of that.
He sounds completely at ease, swinging, developing ideas in an unforced way. It's like you're in the studio with Snoop for two solid minutes, watching him warm up and get comfortable. It's a performance style he wouldn't duplicate on any other studio track, even the ones he would also make up on the spot. 
"Woof! (feat. Fiend and Mystikal),"
Da Game Is To Be Sold, Not To Be Told
(1998)
One of Snoop's first major business and stylistic switches happened in March 1998, when he signed to No Limit Records. What was a Long Beach gangsta rapper doing on a New Orleans label? Well, it turned out to be a pretty great fit, at least on "Woof!"
The track was the second single on Snoop's No Limit debut, and it featured two of the label's stars, Fiend and Mystikal. The Dogg fits perfectly on a track in the label's aggressive, chant-based Southern style (even the track's percussive dog barks manage to add intensity). Snoop adopts a more free rhythmic approach here, perhaps influenced by his all-over-the-beat labelmates. It's fascinating to hear, and it works amazingly well.
"B— Please (feat. Xzibit),"
No Limit Top Dogg
(1999)
One of the things Snoop is greatest at is, to put it in crass, unavoidable terms, pimp talk. "B— Please" might be his ultimate entry into the genre. This song features a memorable performance by Xzibit and some classic singing from Nate Dogg. And the Dr. Dre beat is instantly memorable. But what really puts the song over the top is the confidence and style with which Snoop orders an unnamed lady to "hem my coat and roll me some dope."
Bonus points go to this track for its sequel, which appeared on Eminem's The Marshall Mathers LP, and which features Em doing a hilarious Snoop impression.
"Lay Low (feat. Master P, Nate Dogg, Butch Cassidy, and Tha Eastsidaz),"
The Last Meal
(2000)
Yes, Xzibit wrote Snoop's verse on this classic posse cut featuring rapping contributions from the Eastsidaz and Snoop's then-label boss Master P. But that doesn't make the Doggfather's contribution any less smooth. It doesn't prevent Nate Dogg's hook from being an unstoppable ear worm. It doesn't make Dr. Dre's beat any less of a minimalist masterpiece. It doesn't make the Eastsidaz's appearances less effective. And it certainly doesn't diminish in any way the single best part of the song: Master P rapping, "They call me Jed Clampett for all the bread I got/ But they call me Bill Clinton for all the head I got."
"Beautiful (feat. Pharrell Williams and Charlie Wilson),"
Paid Tha Cost To Be Da Bo$$
(2002)
Snoop teaming up with Pharrell gave the Dogg a much-needed early aughts career boost. It turned out that Snoop and P made an unbeatable combination, and one that we will see again later in this very list.
"Beautiful" features an instantly memorable beat whose repetitive syncopated rhythms immediately drive into the listener's skull and don't let up until the song is over. Add in Pharrell's so-off-key-they're-somehow-on vocals, and you have a track that stands out even in the era of Neptunes ubiquity. Snoop adds his own style and grace, and, somehow, a (presumably intentionally) charmingly awkward reference to Clueless.
"Drop It Like It's Hot (feat. Pharrell Williams),"
R&G (Rhythm & Gangsta): The Masterpiece
(2004)
Snoop and Pharrell made a number of great songs, but this is arguably their masterpiece. This No. 1 hit was so popular that even its ringtone version went double platinum. It was also nominated for a GRAMMY. But accolades and numbers are secondary.
What makes this track is the perfect melding of one the Neptunes' greatest non-Clipse minimalist beats with Snoop's laid-back rapping (and a verse from Pharrell in which he bends his approach towards Snoop's to superb effect). Snoop sounds so relaxed that you might miss all the tough talk, which is delivered in his patented stylish way ("Pistol-whip you, dip you, then flip you/ Then dance to this mothaf—in' music we Crip to"). 
"Think About It,"
Tha Blue Carpet Treatment
(2006)
This is the song Snoop chose to demonstrate to his own son that after nearly 15 years in the rap world, he could still hold his own. He couldn't have made a better choice.
"Think About It" is dense, wordy, even "intellectual" — a word Snoop comes back to a few times in the track. It's also a seemingly incongruous mixture of aggressive rapping, where Snoop sounds like he's really pushing himself; with laid-back music reminiscent of 1970s soul. And yet that combination, which could be off-putting, somehow works to the advantage of both elements of the song, supplying the rapping with needed comfort and style; and the music with energy and drive.
"Sensual Seduction,"
Ego Trippin'
(2007)
Sometimes known by its uncensored title "Sexual Eruption," this Shawty Redd-produced track was one of Snoop's biggest chart hits, making it all the way to No. 7 on the Billboard Hot 100. It's also a big left turn for him, featuring Auto-Tuned singing throughout, minus a rap verse in the middle.
The incredibly catchy number started its life as a Shawty Redd solo song called "Drifter," which got leaked and hit the radio. "Snoop wanted to buy that song," Shawty told me a few years back. "At the time, Sylvia Rhone was signing me to Universal/Motown as an artist, and I couldn't sell Snoop that song. So I ended up making ['Sensual Seduction']."
"Young, Wild & Free" (Snoop Dogg & Wiz Khalifa feat. Bruno Mars)
Mac & Devin Go To High School
(2011)
This track brings together Snoop and a younger weed-obsessed rapper, Wiz Khalifa. But what really makes it a winner is the addition of Bruno Mars, who at that time was in the middle of an absolutely unstoppable run with his crew the Smeezingtons as a hitmaker for both himself and others. This was "F— You"/ "Billionaire"/ "Nothin' on You"-era Bruno, and his composition and hook here is right up there with those pop masterpieces. Snoop and Wiz trade rhymes back and forth with a chemistry that, while perhaps plant-induced, can't be faked.
"I'm From 21st Street (feat. DJ Drama and Stressmatic),"
Gangsta Grillz: I Still Got It
(2022)
Snoop spent much of the past decade doing unusual one-offs (see 2013's reggae album Reincarnated and 7 Days of Funk, a funk project with DāM-FunK, or 2018's gospel compilation Snoop Dogg Presents Bible of Love, among others). So when he wanted to get back to his rap roots in 2022, he teamed with Gangsta Grillz mastermind DJ Drama to release a mixtape called I Still Got It. The project, and especially this song, more than proves the title correct.
Snoop tears up the Rick Rock-produced beat, sounding more energized and hungry than he has in a while. The subject matter may be somewhat well-trod ground (it's not far removed from his 1994 track "21 Jumpstreet," which could easily have made this list as well), but how he talks about his past, and the intensity he brings to it, shows that Snoop can still produce great music 30 years into his career. 
A Guide To Southern California Hip-Hop: Definitive Releases, Artists & Subgenres From L.A. & Beyond