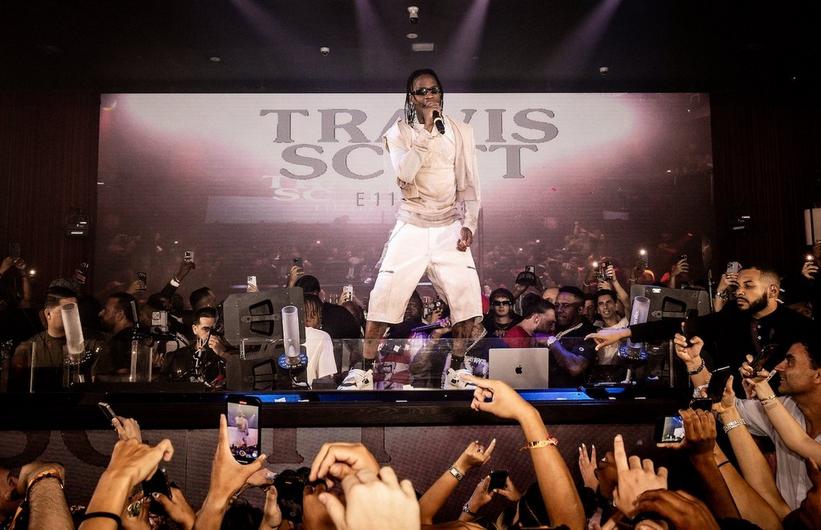 Travis Scott performs at E11EVEN Miami in July 2023.
Photo: Alexander Tamargo/Getty Images for E11EVEN
list
5 Takeaways From Travis Scott's New Album 'UTOPIA'
On the highly anticipated follow-up to 2018's blockbuster album 'ASTROWORLD,' Travis Scott's 'UTOPIA' turns triumph and tragedy into another euphoric world.
GRAMMYs
/
Jul 28, 2023 - 08:12 pm
It's been a turbulent five-year journey for Travis Scott bridging the worlds of ASTROWORLD to UTOPIA.
Since the 2018 GRAMMY-nominated album solidified Scott as part of rap's A-list, he's endured the highest of highs and the lowest of lows. Amid working on the album (which he began teasing in 2020), his 2021 iteration of Astroworld Festival resulted in a crowd crush that killed 10. 
Three months later, he welcomed his second child with Kylie Jenner. Earlier this year, the pair reportedly split; just weeks before UTOPIA's arrival, Scott was cleared of any criminal liability for the Astroworld Festival incident, but civil lawsuits remain to be sorted.  
Expectations were already sky-high for Scott to maintain luminary status with his ASTROWORLD follow-up. But after he experienced tragedy and heartbreak alongside triumphs and joy, Scott had all eyes on him as UTOPIA arrived on July 28. Yet, the pressure didn't seem to faze the Houston-born rapper — UTOPIA creates another euphoric world for his loyal fans.
In honor of La Flame's star-studded fourth studio LP — which is loaded with 18 features across 19 tracks — here are five early takeaways surrounding UTOPIA. 
CIRCUS MAXIMUS

Is

UTOPIA

's Visual Companion
Fans didn't know what to expect with Scott's CIRCUS MAXIMUS, which hit select theaters mere hours prior to UTOPIA. The 76-minute film — which takes its name from a UTOPIA track — serves as more of a series of music videos centered around a conversation between the rapper and producer Rick Rubin.
"You've come a long way — is the house half empty or completely empty? How are the kids? I heard there was a tragedy," Rubin asks Scott at one point, but he takes the conversation in a different direction.
The Harmony Korine-directed movie features about half of the songs from UTOPIA and includes appearances from Sheck Wes, Yung Lean and James Blake. Scott goes from DJing a colorful dance party for "MODERN JAM" to smashing chairs and nearly burning down an ancient Italian racing stadium while "FE!N" rings off.
CIRCUS MAXIMUS also allows Scott to share his rather unexpected interpretation of what UTOPIA means inside his world. "UTOPIA is not all pretty," he says in the film. "It's how you balance the idea of confrontation."
Yeezus Rises Again
Scott and Kanye West have had a longstanding musical partnership, as Scott played an integral role behind-the-scenes of West's rebellious 2013 album, Yeezus. A decade later, West's fingerprints are all over UTOPIA — even without a vocal guest appearance.
West earned production credits on "MODERN JAM," "THANK GOD," "TELEKINESIS" and "GOD'S COUNTRY." The latter two were originally on the track list for 2021's Donda before Ye passed them off to Scott to bring across the finish line. 
Elsewhere, "CIRCUS MAXIMUS" is essentially a "Black Skinhead" part two; it interpolates the rugged Yeezus standout, and it was co-produced by Noah Goldstein, Ye's audio engineer for most of his career. 
Trav's most blunt pledge to Kanye came on "Skitzo," which calls back to West's alleged presidential bid for 2024. "I'm loyal, b—, I got Ye over Biden," Scott candidly raps.
Drake And Travis Scott Take Aim At Their Opps Once Again
Drake and Travis Scott have proven to be a winning combination in the past with diamond-certified smashes like "SICKO MODE," and they aimed to recreate that magic with "MELTDOWN."
Right out of the gate, Drake makes a fiery statement with bars seemingly addressing Pusha T — but he's really sniping his close friend Pharrell, mirroring his shots at Kanye West in his "SICKO MODE" verse.
"I melt down the chains that I bought from yo' boss," Drake raps in reference to a Skateboard P pendant he recently purchased at an auction from Pharrell. The 6 God goes on to diss Pharrell's new position as a creative director at Louis Vuitton and claims nobody's messing with the designer brand since the 2021 death of former head Virgil Abloh.
"Give a f— about all of that heritage s—/ Since V not around, the members done hung up the Louis/ They not even wearing that s—," he continues.
Scott joined Drake in the sinister "tensions rising" theme, subliminally dissing Wonka star Timothée Chalamet, who has reportedly been dating his ex Kylie Jenner. "Chocolate AP and chocolate the Vs (Vs), got the Willy Wonka factory/Burn a athlete like it's calories, find another flame hot as me, b—," Scott spits.
While "Meltdown" may not reach the same commercial heights as "SICKO MODE," it has certainly caused a stir on social media. "Drake went crazy… I love when dude starts gettin' chippy!" Hot 97's Ebro Darden wrote on Twitter. As another fan claimed, "Rap been boring. I gotta thank Drake honestly for wanting to get back in the ring."
Scott Finally Got His Dream Collab
Perhaps one of UTOPIA's buzziest cameos comes from Beyoncé, who appears on "DELRESTO (ECHOES)." It marks a full-circle moment for Scott, too, as he has long tried to manifest a collab with his fellow Houston native, publicly declaring his hopes for a Bey team-up to Complex in 2016. (Prior to UTOPIA's release, eagle-eyed fans noticed that the newspaper cover art for "DELRESTO (ECHOES)" had been incorporated as part of Bey's Renaissance Tour decor.)
As Bey continues to ride out her RENAISSANCE groove, Scott fits in well with his hypnotic flow. And in a rather surprising twist, Bon Iver's Justin Vernon rounds out the track by pouring in his ethereal vocals behind the triumphant Hit-Boy production.
While Bey does much of the heavy lifting on "DELRESTO (ECHOES)," Scott's verse still stands out as he declares he won't give up on a new love interest. "The starry nights, they start to fade (Come on)/ At times, for miles I see your face, yeah," Scott testifies, borrowing from Kanye's "Coldest Winter" flow.
"MODERN JAM" Is The Hit Fans Will Eventually Catch On To
Scott's Ragers normally rush to collide for a sweaty moshpit when his music comes on. But with the genre-bending UTOPIA track "MODERN JAM," La Flame's moving the crowd from the mosh pit to the dance floor.
According to Kanye West fan page Donda's Place, "MODERN JAM" is a 10-year-old alternate version of the raw beat that became Yeezus' "I Am A God." Travis expertly meshes the abrasiveness of Ye's hard-hitting 808s with a groovy baseline. And with production help from Daft Punk's Guy-Manuel de Homem-Christo, the Teezo Touchdown-assisted track is a good bet to slow-burn its way to major chart success — even if it has a different feel than what Scott's fans are used to.
Since the beginning of Scott's career, he has been a trendsetter pushing the boundaries of what's considered mainstream hip-hop. He knows how to introduce foreign sonics in such a digestible way that it allows him to take creative risks and still thrive as a commercial titan — and UTOPIA is proof that he hasn't lost his Midas touch.
12 Post Malone Songs That Showcase His History-Making Vision, From "White Iverson" To "Mourning"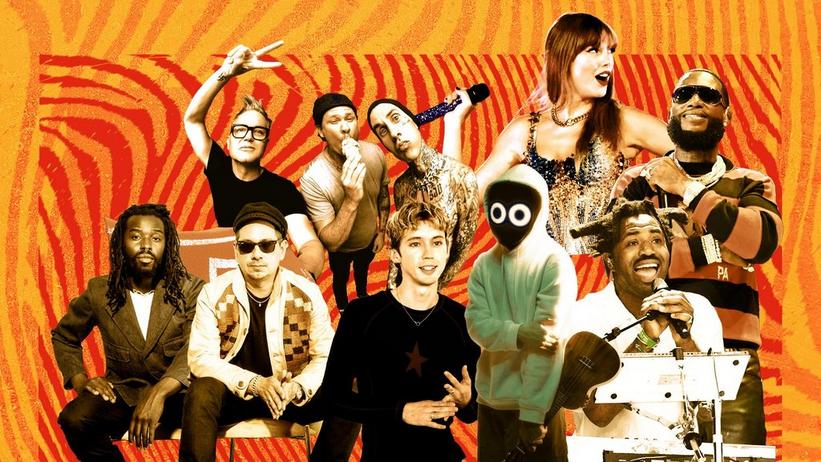 (Clockwise) Black Pumas, Blink-182, Taylor Swift, Gucci Mane, Sampha, BoyWithUke, Troye Sivan
Photos (L-R): Jody Dominigue; Jack Bridgland; Michael Tranafp; Paras Griffin/Getty Images; Jim Dyson/Getty Images; courtesy of the artist; Rodin Eckenroth/Getty Images;
list
15 Must-Hear Albums This October: Troye Sivan, Drake, Blink 182, NCT 127 & More
Don't let the falling leaves bring you down — read on for 15 albums dropping in October from Taylor Swift, Gucci Mane and Riley Green.
GRAMMYs
/
Oct 2, 2023 - 03:22 pm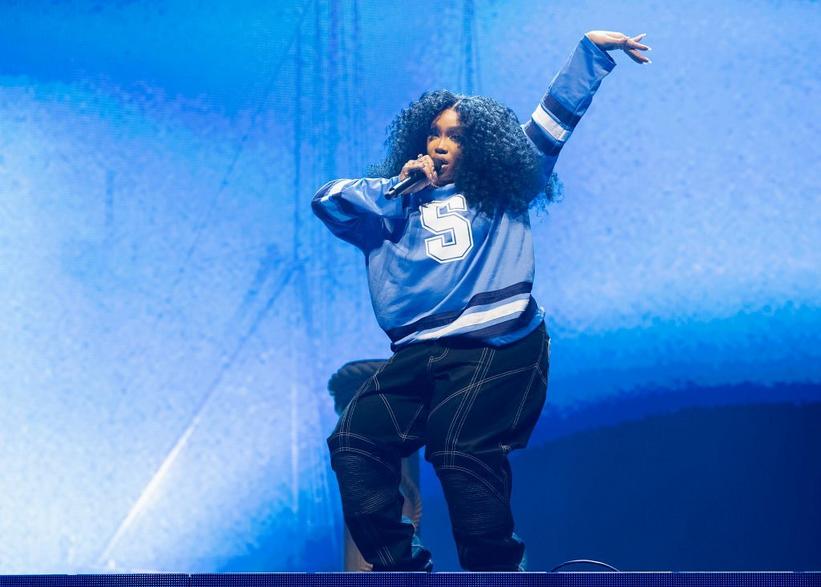 SZA performs during her The SOS North American Tour
Photo: Andrew Chin/Getty Images
news
New Music Friday: Listen To New Songs From SZA With Drake & Justin Bieber, Offset, Tate McRae & More
From highly anticipated collabs to long-awaited album teasers, take a listen to six new tracks that arrived on Sept. 15.
GRAMMYs
/
Sep 15, 2023 - 06:41 pm
It's yet another big day for music enthusiasts, as listeners were gifted with unexpected collaborations and fresh new melodies from artists of every genre on Sept. 15. 
With an Instagram caption-worthy single from Drake and SZA , a playful, self-confident anthem from Tate McRae, and a chill, euphoric vibe from Noah Kahan & Lizzy McAlphine, there's plenty of different sounds to dive into. 
As you're putting together your autumn 2023 playlist, add these six new tracks to the mix.
Drake feat. SZA - "Slime You Out"
Just hours after GRAMMY winners Drake and SZA announced they'd be teaming up for a new track, the pair unleashed "Slime You Out" promptly at noon ET on Sept. 15. 
As the song's title insinuates, the duo seem to express their thoughts on someone "sliming" them out — which, in this case, refers to someone playing with their feelings. "Tryna build trust, showin' me your DMS, how they tryna bag you / Ironic how the news I got about you ended up bein' bad news."
Drake's clever wordplay paired with SZA's mellow, hypnotic voice make the single a memorable one. But perhaps it's even more memorable because it's been a team-up long in the making: according to Drake's eyebrow-raising line in his 21 Savage collab "Mr. Right Now," the two used to date "back in '08."
SZA feat. Justin Bieber - "Snooze (Acoustic Remix)"
As SZA fans awaited her song with Drake, she gave them another high-profile collab in the form of a "Snooze" remix with Justin Bieber. An alluring, stripped-down version of the original SOS track, the "Snooze" remix sees SZA and Bieber passionately harmonize; added guitar chords add a dreamy touch to the song.
The remix also marks a full-circle moment for the pair, as Bieber starred in the original "Snooze" music video, which was released on Aug. 25.  
Offset - "Fan"
Kicking off what seems to be his Michael Jackson era, Offset has released this newest single, "Fan." This song features an infectious, hype beat with lyrics presenting a nonchalant 'IDGAF' attitude: "You supposed to hold me down, but it didn't happen (You supposed to hold me down)/ Now I'm over it." 
"Fan" is a taste of Offset's forthcoming second album, Set It Off, which he will release on October 13. The LP follows his debut solo album, 2019's Father of 4, which landed him a Best Rap Performance GRAMMY nomination for the single "Clout" featuring his wife, Cardi B. 
In the "Fan" music video, Michael Jackson is heavily referenced, with moments including Offset transforming into werewolf and zombie, and dance moves like the reverse moonwalk. 
Tate McRae - "Greedy"
self-confidence single "greedy." This song is a testament to McRae's inner thoughts, as the lyrics let listeners know she's not tolerating insecurities — and definitely not enabling any "greedy" men. 
"I would want myself/ Baby, please believe me/ I'll put you through hell/ Just to know me, yeah, yeah," she sings on the chorus.
"Greedy" is McRae's first release in 2023, and first solo single since her 2022 debut album, i used to think I could fly. She also teamed up with DJ/producer Tiësto for the late 2022 hit "10:35."  
Noah Kahan feat. Lizzy McAlpine - "Call Your Mom"
Folk-pop favorite Noah Kahan teamed up with rising pop singer Lizzy McAlpine to create a new version of "Call Your Mom," an emotional track from his hit 2022 album Stick Season.
Kahan recently brought McAlpine out as a surprise guest during his sold-out show at L.A.'s Greek Theatre on Aug.11, where the two singer/songwriters performed the song for the first time together. 
Written about giving unconditional support to a loved one struggling with mental health issues and depression, the moving song reaches new heights with two voices on it. Kahan's and McAlpine's voices perfectly blend together and capture the lyrics' powerful  emotions.  
Maren Morris -

The Bridge
Maren Morris dropped not one, but two new songs, "The Tree" and "Get The Hell Out of Here," which both seem to focus on a new chapter in Morris's life. "The Tree" feels like a farewell, as she proudly sings,"I'm done fillin' a cup with a hole in the bottom/ I'm takin' an axe to the tree/ The rot at the roots is the root of the problem/ But you wanna blame it on me."
"Get The Hell Out of Here" has a more mellow country melody that also talks about growth and navigating different areas of her life. Both songs share a different story, yet share the same theme of a transitional period in her life — and tease what's to come on her next album, which will follow 2022's Humble Quest. 
As Morris said in a statement, "These two songs are incredibly key to my next step because they express a very righteously angry and liberating phase of my life these last couple of years, but also how my navigation is finally pointing toward the future." 
Listen: *NSYNC Announce "Better Place," First New Song In 20 Years — Hear A Snippet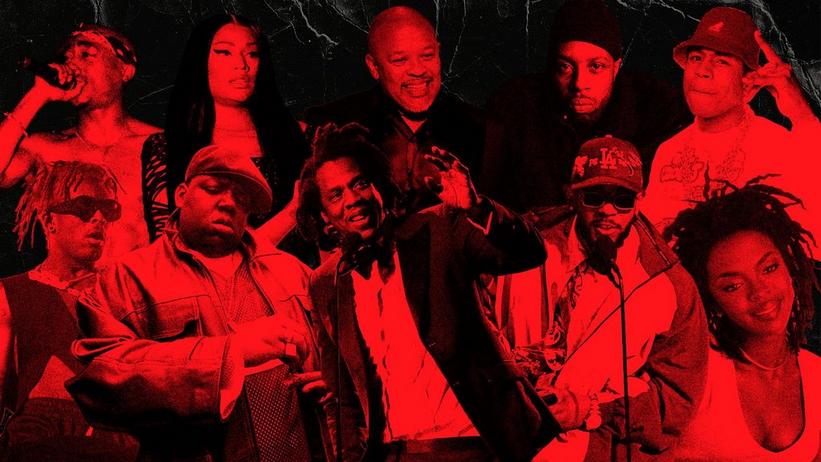 (Clockwise, L-R): 2Pac, Nicki Minaj, Dr. Dre, J Dilla, LL Cool J, Ms. Lauryn Hill, Kendrick Lamar, Jay-Z, the Notorious B.I.G., Lil Uzi Vert
Source Images (Clockwise, L-R): Raymond Boyd/Getty Images; Astrida Valigorsky/Getty Images; Kevin Winter/Getty Images for The Recording Academy; Gregory Bojorquez/Getty Images; Paul Natkin/WireImage; Anthony Barboza/Getty Images; JC Olivera/WireImage; Kevin Kane/Getty Images for The Rock and Roll Hall of Fame; Clarence Davis/NY Daily News Archive via Getty Images; Jason Koerner/Getty Images
list
50 Artists Who Changed Rap: Jay-Z, The Notorious B.I.G., Dr. Dre, Nicki Minaj, Kendrick Lamar, Eminem & More
In honor of the 50th anniversary of hip-hop this year, GRAMMY.com is celebrating some of the genre's most impactful artists across the decades. From Drake to OutKast, Lauryn Hill to Lil Wayne, these pioneers shaped rap over the past 50 years of hip-hop.
GRAMMYs
/
Aug 8, 2023 - 12:23 pm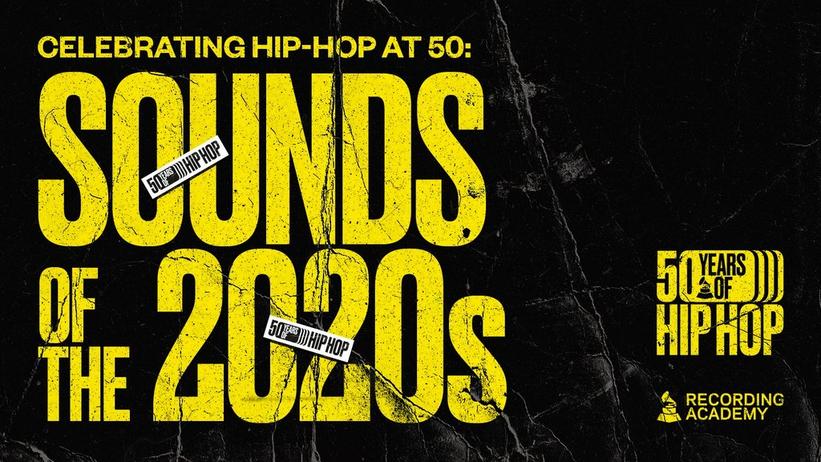 list
5 Essential Hip-Hop Releases From The 2020s: Drake, Lil Baby, Ice Spice, 21 Savage & More
The 2020s swapped record sales for big personalities and artists with a penchant for virality. Read on for five crucial songs and albums that defined the decade.
GRAMMYs
/
Jul 31, 2023 - 06:58 pm
It's only been three years into the new decade, but a new era of hip-hop artists have already made their mark on the ever-evolving genre. 
In the 2020s, social media platforms like TikTok have played a growing role in the trajectory of an artist's career. Social media has given artists like Finesse2tymes, Coi Leray, Baby Keem, Ice Spice, and others their first sign of momentum, and they have all ascended to stardom by following the same formula. 
The decade has also proven to be a golden age for female rap stars, with emerging talents like Latto, Megan Thee Stallion, Sexyy Red, GloRilla, and others adding to the femme-powered charge. Male artists including Lil Durk, Fivio Foreign, Lil Baby, and others have become the leading voices of their respective cities.
Meanwhile, now-veteran MC Drake remains one of the genre's biggest names and most consistent hit-makers. Rap supernovas J. Cole, Tyler, the Creator, and Kendrick Lamar have continued to flex their culture-shifting powers in the '20s, while the legacies of late artists Nipsey Hussle, Pop Smoke, DMX, PnB Rock, Takeoff, and others have been immortalized by musical dedications, video tributes, and posthumous projects supported by those that cherished their contributions.
Sounds and styles of other regions continue to meld with those of domestic hip-hop artists. Among the biggest cross-genre trends, afrobeat, reggaeton, and afro-swing hits like Travis Scott and Rosalia's "TKN," J Hus and Drake's collab "Who Told You," and Chris Brown and WizKid's "Call Me Every Day" showcase hip-hop's musical expansion. While the 2010s pointed to the boundless nature of rap music, the genre is as socially diverse as ever in the 2020s. 
From new flows, collabs, and incredible beats, hip-hop will undoubtedly continue to evolve over the next six and a half years. Read on for five releases that have defined the 2020s thus far.
Lil Baby -
My Turn
(2020)
Lil Baby has blossomed into one of the leading figures in Atlanta rap. He built up momentum with mixtapes Too Hard, Street Gospel, and his collaborative project with Gunna, Drip Harder. But Baby's full ascension came with the delivery of My Turn, a culmination of his biggest street anthems and most conceptualized hits.
The 20-track project was filled with the year's biggest trap records, which featured fellow rap stars Lil Uzi Vert, Moneybagg Yo, Future, Young Thug, Rylo Rodriguez, Lil Wayne, and 4 Pockets Full signee 42 Dugg. The album drew an all-star ensemble of beat makers too, with super-producer Hit-Boy, Murda Beatz, Tay Keith, Quay Global, Twysted Genius, and others lending a hand in the production. 
My Turn earned Lil Baby his first No.1 album and topped the charts in 10 countries. And along with major sales, the single "Bigger Picture" was nominated for two GRAMMY Awards in 2021 and introduced the world to the Quality Control Music rapper on a global scale. 
Tyler, the Creator -
Call Me If You Get Lost (
2021)
Tyler, the Creator took a sonic pivot on Flower Boy and 2019's Igor, which earned the "See You Again" artist a broader audience and new hardware for his trophy collection. The two albums were deeply transient, personal bodies of work that showed Tyler's artistry in ways previously unseen. 
He embraced a more alternative sound that was led by harmony-driven romantic tales, punk-ish "f–you" records, and occasional flashes of the Tyler of old. But 2021's Call Me If You Get Lost ( (hosted by legendary music executive DJ Drama) was the full return of Tyler, the MC. Although it had been years since the California-based artist showcased his lyrical prowess on a full-length project, his skills never faltered.
Tyler regained his distinct delivery from 2013's Wolf and his older works. He flaunted his riches on the braggadocio-fueled "Runitup" and "Lemonhead," explored romanticism on "Wusyaname," and addressed his rise from unknown artist to international fixture on "Massa." 
The sound of the project was largely crafted by Tyler himself with other contributions from producers Jay Versace, Madlib, and Jamie xx. The finished product was praised by critics and notched Tyler his second award for Best Rap Album at the 2022 GRAMMYs. And nearly two years after the album's release, Tyler released a deluxe version of the album that featured eight additional songs with appearances from artists A$AP Rocky, YG, and Vince Staples. 
Kendrick Lamar -
Mr. Morale & the Big Steppers
(2022)
Before Mr. Morale & the Big Steppers, it had been five years since fans heard a full-length project from Kendrick Lamar. The Compton rapper took his time with the release of his fifth studio, which was a particularly sentimental one for the "DNA." artist. Not only did it mark his first project under his new creative collective PGLang, but it also closed the book on his time at Top Dawg Entertainment. 
With major changes brewing, Mr. Morale & the Big Steppers was a masterful reflective body of work that mirrored Lamar's journey in therapy. Themes surrounding alcoholism, grief, celebrity worship, infidelity and childhood trauma are sprinkled throughout the album. The conscious undertones were overlaid with richly-crafted beats by long-time collaborators DJ Dahi, J. Lbs, DJ Dahi, Sounwave, and Bekon, with additional contributions from Boi-1da, the Alchemist, and others.  
The album was led by three singles, "N95," "Die Hard," and "Silent Hill" featuring Kodak Black, which helped the album shoot to No. 1 on the Billboard Hot 100. It was the "Alright" artist's fourth chart-topping project and went on to earn him Best Rap Album at the 65th GRAMMY Awards and re-established his dominance in the genre.
Drake and 21 Savage -
Her Loss (2022)
When one of the South's biggest stars links up with rap's most consistent hitmaker, it's bound to shake up the genre. And after collaborating on songs like "Sneakin," "Issa," Mr. Right Now" and others, that's exactly what Drake and 21 Savage's Her Loss managed to do. 
The collab came at a good time for 21 Savage, who was two years removed from Savage Mode II, and for Drake, who had just released the critically mixed dance album, Honestly, Nevermind. The 16-track album was riddled with street hits like "BackOutsideBoyz," "Rich Flex" and "Treacherous Twins."
For all the album's peaks, controversy loomed over the project immediately after its release. On the song "Circo Loco," many fans claimed Drake dissed fellow rap star Megan Thee Stallion on the song with the lyrics, "This bitch lie 'bout gettin' shots but she still a stallion / She don't even get the joke, but she still smilin'." The story was picked up by several publications, and fan theories circulated for weeks following the album's release. 
Still, the album topped Billboard 200 with more than 400,000 album-equivalent units, replacing Taylor Swift's Midnights from the top spot. All tracks debuted on the Billboard Hot 100, with eight of them landing in the top 10. 
Ice Spice and Nicki Minaj
-
"Princess Diana"
(2023)
Ice Spice's "Munch (Feelin' U)" had fans gravitating to the curly-haired Bronx native, who struck gold with the viral hit that left a new generation of men questioning whether they're called strictly for pleasure or genuine affection. The sudden stardom opened doors for the "Bikini Bottom" MC. 
After landing on magazine covers and appearing at the illustrious Met Gala, she collaborated with her idol Nicki Minaj on the hit "Princess Diana." The song was the second track on Spice's debut EP,  Like..?, but the addition of Minaj boosted her twerk-obsessed, oats-loving brand to new heights. 
With the success of "Princess Diana," the two artists collaborated again on the Barbie movie soundtrack song "Barber World (with Aqua)." The collabs only added to her series of Internet smashes, a list that includes records like "Boy's a Liar Pt. 2" and "In Ha Mood." She still has a long way to go for her success to be proven substantial, but Spice has already established herself as the hottest commodity in the 2020s. 
Essential Hip-Hop Releases From The 2010s: Ye, Cardi B, Kendrick Lamar & More