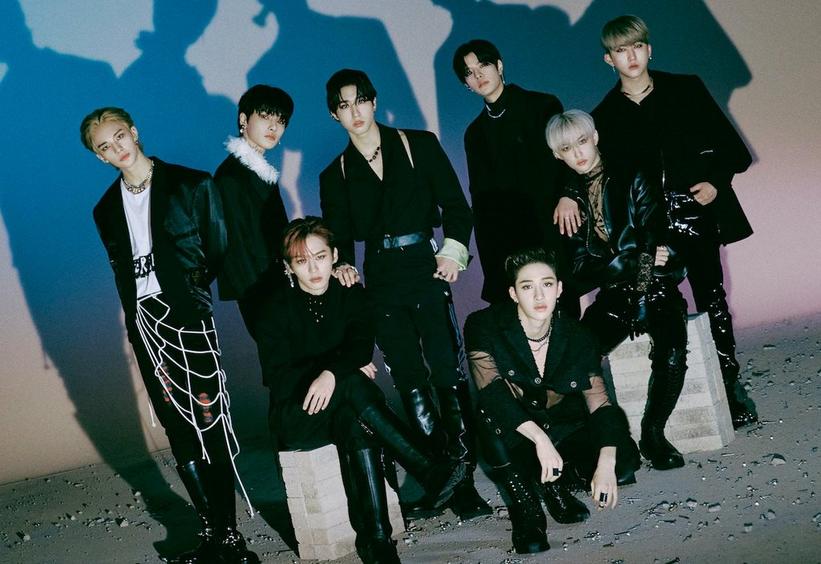 interview
Stray Kids Tease An Explosive New Show For 2nd World Tour "MANIAC": "We Can't Wait Show Everyone The Next Level"
As Stray Kids begin their latest tour, the K-pop group reveals their favorite songs to perform and why it's important for them to have creative control.
GRAMMYs
/
Jun 29, 2022 - 04:01 pm
When it comes to band mottos, Stray Kids' couldn't be more fitting: "Stray kids Everywhere All Around The World." The K-pop group's first 2022 EP, ODDINARY, sold over 1.6 million copies and topped  album charts in the US, South Korea, Finland and Poland (and charted in the top 10 in several more countries).
Now, they're taking their mantra literally with the 2nd World Tour "MANIAC." Following three shows in their native Seoul April 29 through May 1 and four in Japan earlier this month, the tour resumes June 28 at the Prudential Center in Newark, New Jersey. The latest leg of the tour will see Stray Kids hit eight cities in the United States before returning to Tokyo's Yoyogi National Stadium 1st Gymnasium for a pair of shows on July 26 and 27.
Beyond their impressive accomplishments, the group's eight members — Bang Chan, Lee Know, Changbin, Hyunjin, HAN, Felix, Seungmin, and I.N — have taken initiative with their careers in a way many of their peers haven't. With in-house producing group 3RACHA (consisting of members Bang Chan, Changbin, and HAN) and songwriting involvement from the rest of the group, Stray Kids are largely responsible for their own sound.
The appeal doesn't end there. Between EDM and trap-laced beats, fiery performances and the rawness they exhibit to their fandom, there's something truly unique and refreshing about the group. In an era of music where fans crave authenticity and relatability, it's no wonder their fans — known as STAY — well, stay.
Hustle has always been a part of the group's brand since they were formed on a reality competition show in 2017. And with the recent drop of their latest Japanese EP, CIRCUS, on June 22, Stray Kids are only continuing to expand their diverse discography — and their global appeal.
Ahead of Stray Kids' first show in Newark, GRAMMY.com checked in with the guys to discuss the show, their creative process, team bonding, and more.
You're gearing up for your U.S. tour after performing in Seoul and Japan. How does it feel to finally be able to perform live for your international fans again? Is there anything you're particularly looking forward to or that you've improved on since last tour?
Lee Know: We made so many great memories the last time we visited the States. I'm sure we'll be able to make great memories this time as well!
Hyunjin: Because this is our first tour in a while, we really put a lot of effort in to show our more matured performances. We're so happy that we can meet so many STAY.
Felix: It's been a long two and a half years since we've seen our STAY from overseas. As much as we've all waited, we've prepared our MANIAC tour to the best we can. Now we can't wait to meet and show everyone the next level of Stray Kids.
You released a Japanese EP on June 22. How would you say the sound of this EP differs from your latest Korean album, ODDINARY? When you're making music in Japanese, is there a different artistic process?
Changbin: I don't think the difference in language results in a difference in the creation process. The only difference is that there's a translation process that's added, but everything else is basically the same as when we work on a Korean language album. While ODDINARY definitely had this maniac vibe, our Japanese album this time feels more unrestrained.
HAN: There isn't much difference between creating tracks in Korean and in Japanese. However, the difference between ODDINARY and our Japanese Mini Album, CIRCUS, is that while ODDINARY focuses on displaying Stray Kids' musicality and the authenticity of our ideas, CIRCUS focuses on storytelling, showing our colors, and how 'chill' and 'young' we are. While, of course, there are definite differences between the two, the two also have different listening points.
Your sound has evolved so much over the years. ODDINARY shows so much diversity genre-wise, with EDM, rock, and even trap influences. What inspires your music the most? Do you ever feel nervous about releasing songs that may differ from the trends in the industry?
Bang Chan: First off, I think inspiration comes from a variety of things. Sometimes from the members, STAY or just random daily things. It's always different. Secondly, as people who write music however we want, we just enjoy making music that we enjoy whether it be trending or not.
Seungmin: I have to say that our endless interest and exploration of music, as well as our love for trying out different things, gives us the most inspiration. While testing out new waters can feel a bit awkward and new, we don't fear this change — especially because we might even be able to influence the fast-changing modern day trends.
You guys are very involved in songwriting and producing. Why is it important to you to have creative control over what you release? How has your creation process changed or evolved, if at all, over the years?
Bang Chan: Lyric writing and producing has always been a very important process to us. Because if we're going to be the ones recording and performing our songs, we should be the ones who make them. Putting in more emotion and sincerity into the whole production. Especially because we want to express certain messages to not only STAY, but to everyone out there.
Changbin: Ever since a certain point, we've been able to find our unique musical color and apply this to the production process. I believe we're quite lucky that we're able to create the tracks we sing and perform along to, and because we're the ones who know our strengths the best, we're able to shed light onto our team's color.
Do you have a favorite song or B-side that you've released in the last year?
Lee Know: All of the tracks are great, which makes it hard to choose just one. But if I have to choose, I like "거미줄(VENOM)" because of the mood and beat.
Felix: Although this wasn't released last year, I'd have to say that my favorite title track is still "神메뉴(God's Menu)" because it's the first title song that really gave a heads up to everyone who we are and what we're capable of. The beginning of our long journey.
I.N: I like "소리꾼(Thunderous)," because it's the song that well contains Stray Kids' unique colors.
What do you hope fans gain when they listen to your music? Is there any message of appreciation you've received from a fan that resonated with you?
HAN: We mainly focus on unraveling our stories and thoughts into the lyric writing and song ideation process, but whatever song we may be working on, our goal is to provide strength and radiate positivity to those who listen. STAY always mention that they can feel our genuineness when listening to our songs. Words like these are what allow us to approach our music in a more truthful way, pushing us to deliver only our most genuine, authentic hearts.
Seungmin: I hope we're able to have a positive effect on all of those who listen to our music. Like, when people listen to our music in the far future, they'll be able to vividly remember all of the memories from the past. I want to show everyone the awesome power of music! Personally, I feel the happiest whenever I hear from STAY that our music has been a part of their daily lives ever since they've encountered us.
So many songs from your discography are high-energy and have intricate choreography, like "MANIAC." What do you hope the energy is like when you're performing your songs live? Do you have a favorite song to perform live?
Hyunjin: My favorite song is "Charmer." I enjoy performing on stage because I'm the type to really pour my everything in, including all of the explosive energy onto stage.
I.N: I hope that whenever we're on stage, the energy that we radiate gives strength to the people watching our stage, allowing them to enjoy our performances with us. Among our tracks, I think performances for "소리꾼(Thunderous)," "DOMINO" and "神메뉴(God's Menu)" deliver our energy the best, which is why I especially love performing these three songs during our concert.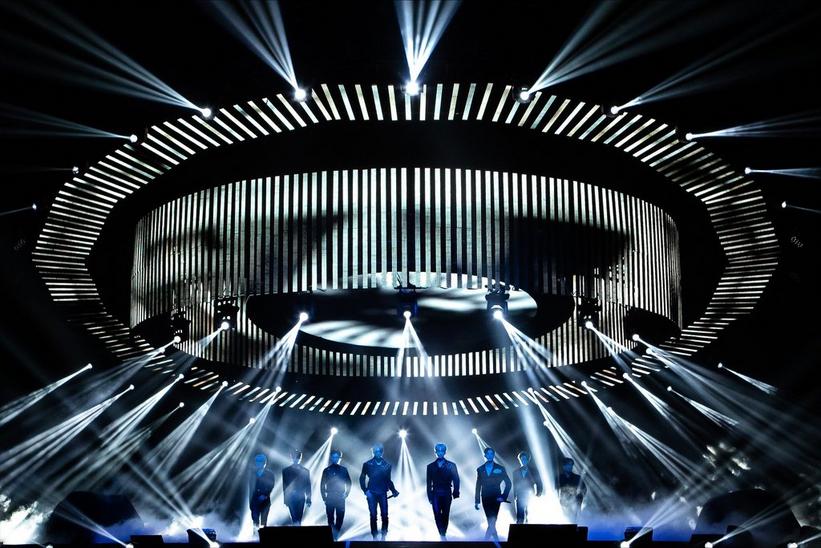 Stray Kids perform at New Jersey's Prudential Center on June 28, 2022. Photo: JYP Entertainment
What do you guys do to unwind when you're not making music or performing? How do you balance your busy schedules?
Lee Know: I'm able to relieve my stress by working out.
Changbin: I try to find something repetitive to do so that I can balance out my irregular daily life. For example, I keep myself healthy by constantly working out.
HAN: Especially these days, I try to take the time off to look up inspirational quotes that will positively influence our music. Of course, I also spend time by resting and laying down in bed, doing basic workouts, going shopping and stuff. But because nowadays is such an important time in which we can step up, I try to spend my time doing things that will help us grow and mature.
What do you think makes your bond as a group stronger? Have you learned anything from another member of Stray Kids that was important to you?
Bang Chan: For me personally, I feel like I learn something new from the Kids everyday. I mean we're all different human beings, so for us to stay together we always talk things through, chill together and just have fun. So naturally, I feel like the bond can only get stronger and stronger.
Seungmin: I definitely believe in the importance of conversation. No matter what makes us happy, sad or even mad, once we start talking with each other and going towards the right direction together, we'll notice that this has led us to having a greater understanding of each other, further strengthening our relationship! I'm able to be open with all Stray Kids members, which is something I'm quite thankful for.
You guys have accomplished so much as a group, and Billboard even listed ODDINARY as one of the best 50 albums released so far in 2022. How does this sort of recognition make you feel? Outside of these accolades, are there any goals you haven't reached yet or any new ones you've recently set for yourself?
Felix: To be honest, accomplishing the Billboard achievements still makes me wonder if I'm dreaming or if I'm still just not in my reality. Every time I think about it I'm still so surprised that I have to look at the amount of comments our STAY have left just to believe it. Truly it's a huge gift from STAY everywhere all around the world.
I.N: There are still so many countries we haven't been to before. I hope that in the near future, we'll be able to meet and give positive energy to STAY from many different countries.
Hyunjin: I want to create even grander stages with even more STAY. I hope that the eight of us can continue to safely, happily perform together — just like how we are now.
TXT, Seventeen, Loona & More: Here Are All The K-Pop Tours And Events You Can Catch This Summer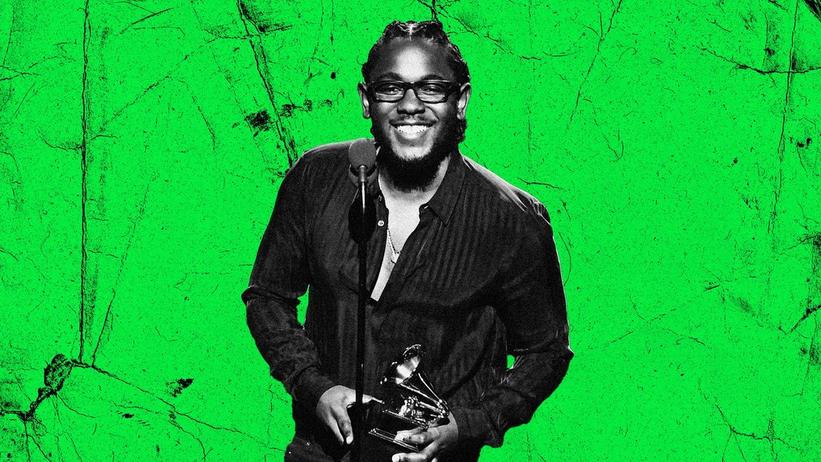 Kendrick Lamar
Photo: Jeff Kravitz/FilmMagic
video
GRAMMY Rewind: Kendrick Lamar Honors Hip-Hop's Greats While Accepting Best Rap Album GRAMMY For 'To Pimp a Butterfly' In 2016
Upon winning the GRAMMY for Best Rap Album for 'To Pimp a Butterfly,' Kendrick Lamar thanked those that helped him get to the stage, and the artists that blazed the trail for him.
GRAMMYs
/
Oct 13, 2023 - 06:01 pm
Updated Friday Oct. 13, 2023 to include info about Kendrick Lamar's most recent GRAMMY wins, as of the 2023 GRAMMYs.
A GRAMMY veteran these days, Kendrick Lamar has won 17 GRAMMYs and has received 47 GRAMMY nominations overall. A sizable chunk of his trophies came from the 58th annual GRAMMY Awards in 2016, when he walked away with five — including his first-ever win in the Best Rap Album category.
This installment of GRAMMY Rewind turns back the clock to 2016, revisiting Lamar's acceptance speech upon winning Best Rap Album for To Pimp A Butterfly. Though Lamar was alone on stage, he made it clear that he wouldn't be at the top of his game without the help of a broad support system. 
"First off, all glory to God, that's for sure," he said, kicking off a speech that went on to thank his parents, who he described as his "those who gave me the responsibility of knowing, of accepting the good with the bad."
He also extended his love and gratitude to his fiancée, Whitney Alford, and shouted out his Top Dawg Entertainment labelmates. Lamar specifically praised Top Dawg's CEO, Anthony Tiffith, for finding and developing raw talent that might not otherwise get the chance to pursue their musical dreams.
"We'd never forget that: Taking these kids out of the projects, out of Compton, and putting them right here on this stage, to be the best that they can be," Lamar — a Compton native himself — continued, leading into an impassioned conclusion spotlighting some of the cornerstone rap albums that came before To Pimp a Butterfly.
"Hip-hop. Ice Cube. This is for hip-hop," he said. "This is for Snoop Dogg, Doggystyle. This is for Illmatic, this is for Nas. We will live forever. Believe that."
To Pimp a Butterfly singles "Alright" and "These Walls" earned Lamar three more GRAMMYs that night, the former winning Best Rap Performance and Best Rap Song and the latter taking Best Rap/Sung Collaboration (the song features Bilal, Anna Wise and Thundercat). He also won Best Music Video for the remix of Taylor Swift's "Bad Blood." 
Lamar has since won Best Rap Album two more times, taking home the golden gramophone in 2018 for his blockbuster LP DAMN., and in 2023 for his bold fifth album, Mr. Morale & the Big Steppers.
Watch Lamar's full acceptance speech above, and check back at GRAMMY.com every Friday for more GRAMMY Rewind episodes. 
10 Essential Facts To Know About GRAMMY-Winning Rapper J. Cole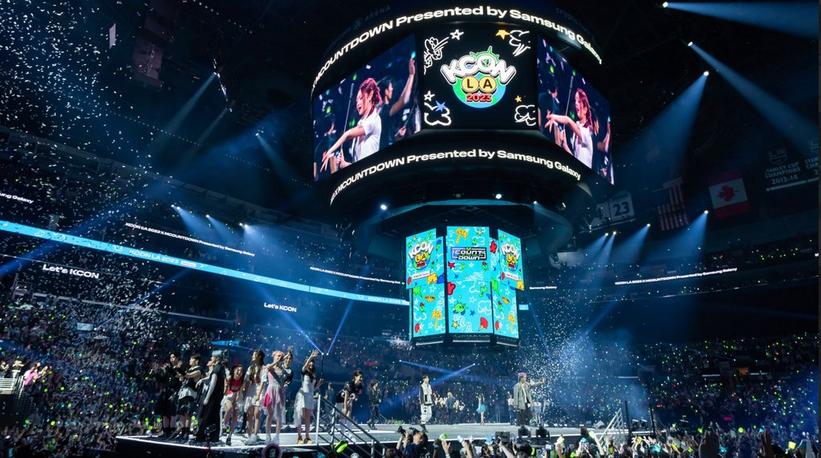 list
9 Thrilling Moments From KCON 2023 L.A.: Stray Kids, RIIZE, Taemin & More
KCON's lineup featured over 20 acts over three nights, drawing legions of dedicated fans who experienced some of K-pop's biggest acts for the first time in the States.
GRAMMYs
/
Aug 22, 2023 - 07:24 pm
For over a decade, KCON has regularly touched down in Los Angeles to create a weekend festival dedicated to all things Korean pop culture. 
With a convention floor highlighting everything from K-dramas to K-beauty, the real stars of the show were, of course, K-pop idols. Along with meet-and-greets and special performances throughout the weekend, three nights of concerts brought some of the most popular K-pop stars to the U.S., including headliners Taemin, ATEEZ, and Stray Kids.
Performances at KCON festival were a display of old and new, with rising stars and more senior talent performing alongside one another. Covers of the hits of a decade ago and a variety of "name that song" games in-between sets drew the K-pop generations together, creating an environment that both older and newer fans of Korean popular music could revel in.
Headlining performances were livestreamed from the Crypto.com Arena, and by South Korean TV channel Mnet (operated by the same company, CJ ENM, as KCON). 
KCON's lineup featured over 20 acts, including Cravity, IVE, NMIXX, Taemin, Taeyong, Ateez, INI, Verivery, Kep1er, Xikers, Zerobaseone, and JO1. From groups to solo acts, read on for 10 of the most exciting moments from KCON 2023. 
All photos by CJ ENM.
IVE Show Off Their "It Girl" Energy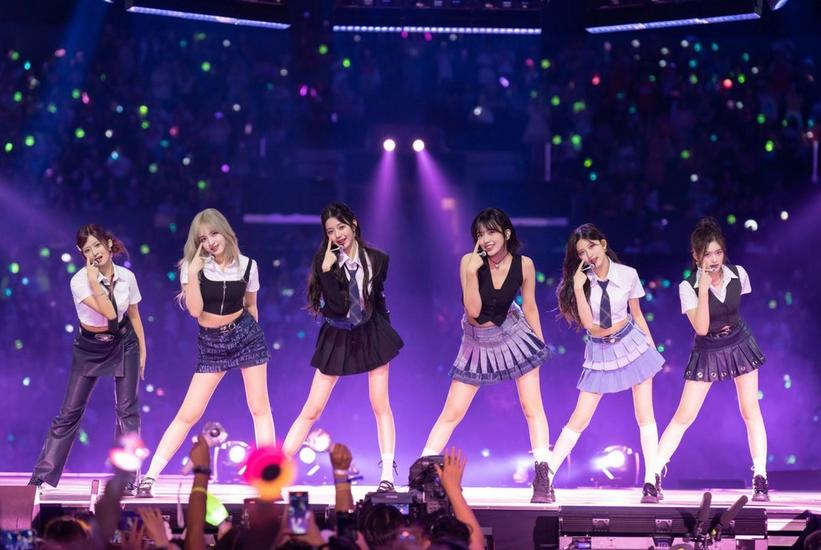 Known for their fashionable, charming demeanor and rousing dance-pop songs that often feel better suited for stadiums than headphones, IVE's dynamism and energetic, vocal freewheeling throughout each of their performances made it very clear why they are one of the leader's of this generation's K-pop "It" girls. 
The six-member IVE took to the stage twice on Friday night, first to perform the nostalgia-fueled "Kitsch'' and the exuberant "Love Dive." They then came back later to perform the unique "Dream Stage," a KCON highlight where concert attendees get the chance to perform on-stage with their favorite K-pop stars. Following a competition held during the KCON convention, tens of amateur dancers joined the members of IVE in a rousing rendition of their most recent single, "I Am." 
Bringing the songs off of the streaming apps and into a 20,000-arena capacity made them, and IVE's success, feel like the sort of pop grandeur that doesn't happen everyday.  
Taemin Moved The Crowd With His Legendary Aura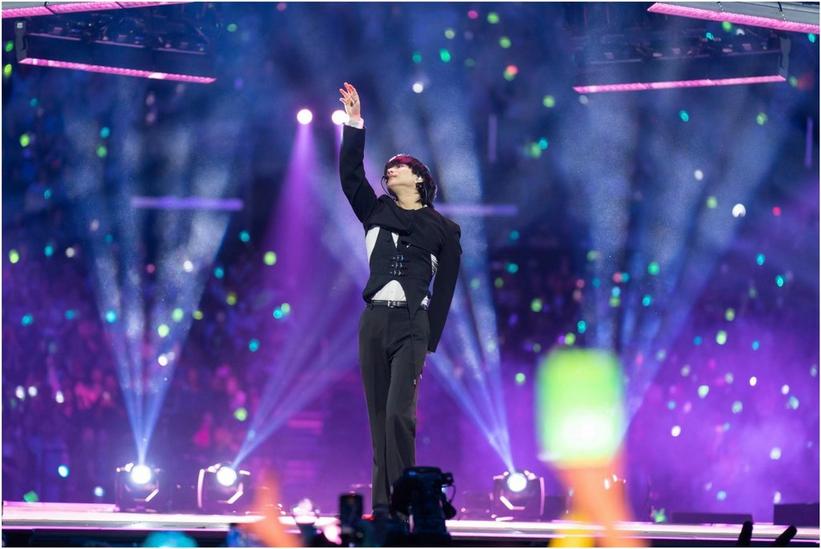 Taemin and his group SHINee have rarely appeared in the U.S. and never toured as solo artists, making his appearance at KCON a rarity. 
But it wasn't just diehard fans — known as Shawol (short for "SHINee World") — there to see Taemin. Younger performers were seen coming from backstage to witness the three-song set by the now 30-year-old icon who debuted in SHINee when he was just 14 years old.
Taemin's distinct brand of seductive alt R&B and darker contemporary dance numbers was front-and-center as he performed "Advice," "Criminal," and "Move." Known for his genderfluid performances that push the boundaries of what male pop idols and boy band members are typified by, Taemin's powerful set confidently and skillfully showed the thousands of fans at KCON why he is known as one of the best.  
WayV & Taeyong Showcased NCT'S Sonic Diversity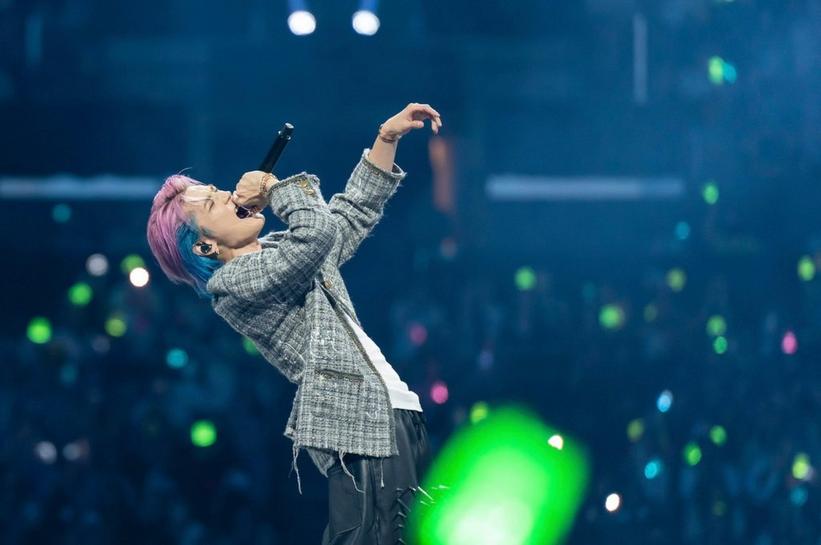 Taeyong
Boy band Wayv performed in the U.S. for the first time at KCON 2023 L.A., opening the weekend's concerts with the official KCON theme song "Poppia." Later, the sextet performed sensual fan favorite, "Love Talk," followed by their most recent single, December's dramatic, pulsating  "Phantom." 
Though the act's leader Kun was MIA, the remaining members' first appearance in the U.S. was eagerly anticipated by their fans, known as Wayzennies, who came out in droves, passionately cheering and waving along their glowing green, leek-shaped lightsticks. 
As the Chinese contingent of the larger SM Entertainment boy band brand NCT, WayV's Ten was joined by fellow NCT member Taeyong. The pair performed their alluring 2018 duet "Baby Don't Stop," which captivated fans with its hypnotic beats and come-hither verses. The duo are also part of cross-label boy band SuperM, and their reunion was one of the highlights of KCON's day one concert. 
The penultimate act of the night was NCT 127's charismatic leader, with Taeyong's two-song set giving him his chance to shine. his recent single, the groovy, funky hip-hop swagger of "Shalala" and the breezy, summertime "Gwando," a b-side on the Shalala album. 
ATEEZ's Warrior Theatrics Struck A Chord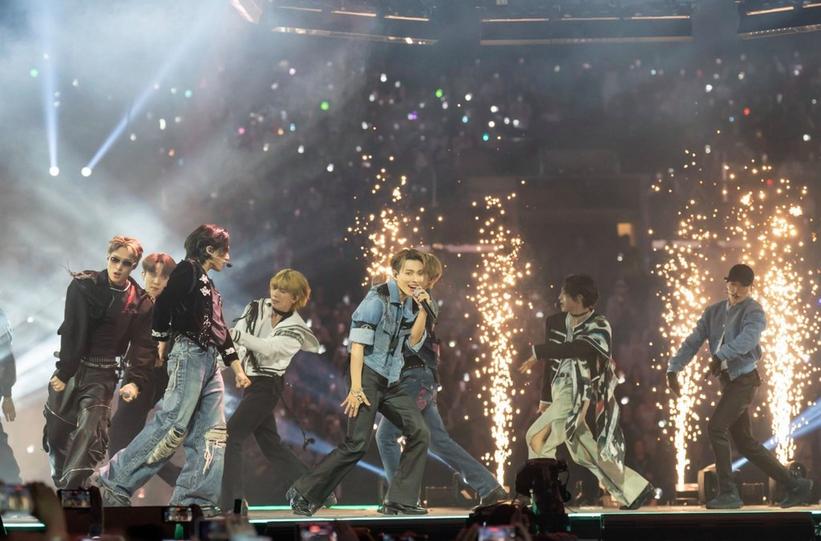 One of the biggest draws of the weekend was boy band ATEEZ, who have become one most dedicatedly theatrical world-building teams since their debut in 2018. With lyrics and related content positioning them as some sort of Peter Pan-esque Lost Boys but also pirates (it's complicated!), the eight-member act are fittingly bombastic, bringing their riotous tunes to stage in the most theatrical of ways, with weapons raised and flags hoisted to herald the grandeur of ATEEZ's reign.
Declaring their presence with a wide array of songs from throughout their discography, including their debut single "Pirate King" as part of a special "Hi My First" segment, ATEEZ brought the KCON crowd into their "Wonderland" before spicing things up with "Bouncy (K-Hot Chilli Peppers)" before ending things with "From" and "Guerrilla."
Zerobaseone Excite As The "New Kidz on the Block"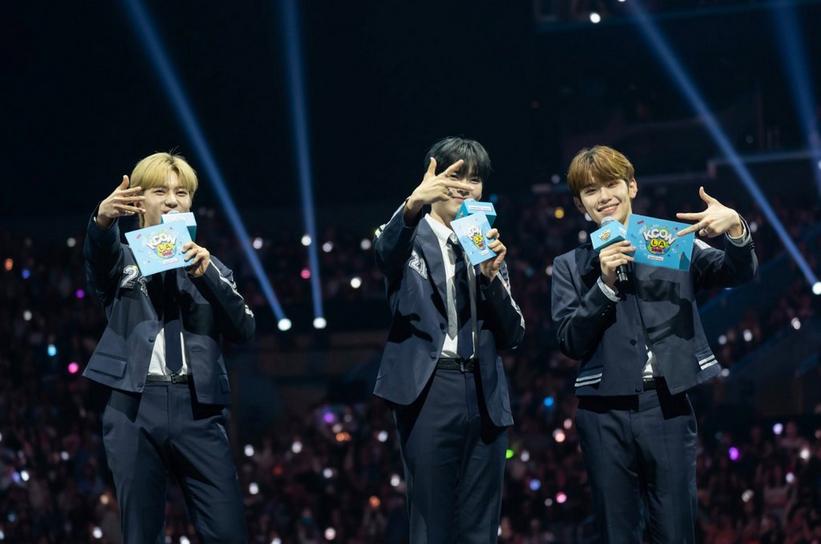 Fans camped out for days to be front row for Zerobaseone's first stateside performance, creating one of the biggest draws at KCON. Also known as ZB1, were formed during this year's competition show "Boys Planet 999" and released their first album, Youth In the Shade in July. Security had to turn people away after two members made a last-minute appearance during KCON's convention portion. 
During the show itself, ZB1 showcased their bright, rookie energy on the ebullient "In Bloom'' and "New Kidz on the block." The group later performed a "Dream Stage" version of "Here I Am," the theme song for "Boys Planet 999." In a bit of a nod to the competitive nature of ZB1's formation, the group were joined by fan dancers who competed over their weekend for the spot on the KCON stage along with fellow performers from the competition TV show. 
XG Prove That They're Truly "Xtraordinary Girls"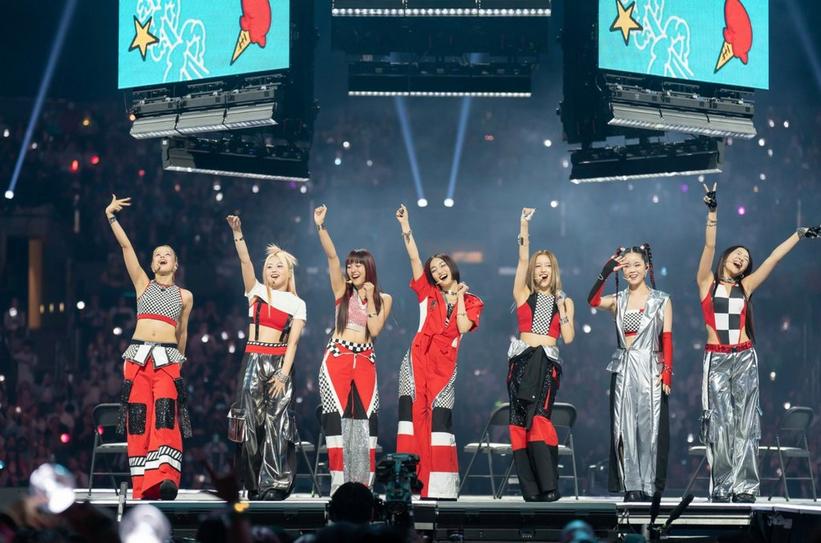 Since March of last year, the girl group XG have been impressing with their fierce hip-pop anthems and sleek dance numbers. A Japanese girl group made with K-pop know-how and a rising star at music festivals, XG performed several times throughout the weekend. The group won over the convention floor on Sunday, as a sizable crowd watched XG talk to the audience and play some games. 
While the majority of their formal concert set was spent putting the spotlight on their song "TGIF" and "Girl GVNG" off of September's upcoming New DNA EP, XG performed the popular songs "Shooting Stars" and "Left Right." However, a surprise performance of 2NE1's 2011 hit "I am the Best" remixed with elements of "TGIF" exemplified their star power. 
Covers and nostalgia in general are a popular element of KCON. 2000s R&B-pop icon RAIN performed, and Kep1er — the female counterparts of ZB1 who were produced during 2021's "Girl Planet 999" — thrilled with their own set and a cover of Girls' Generation's 2014 hit "Mr. Mr." JO1, a Japanese boy band produced in collaboration with CJ ENM, covered Seventeen's hit "Super" from this year. 
RIIZE Preview Their Rising Power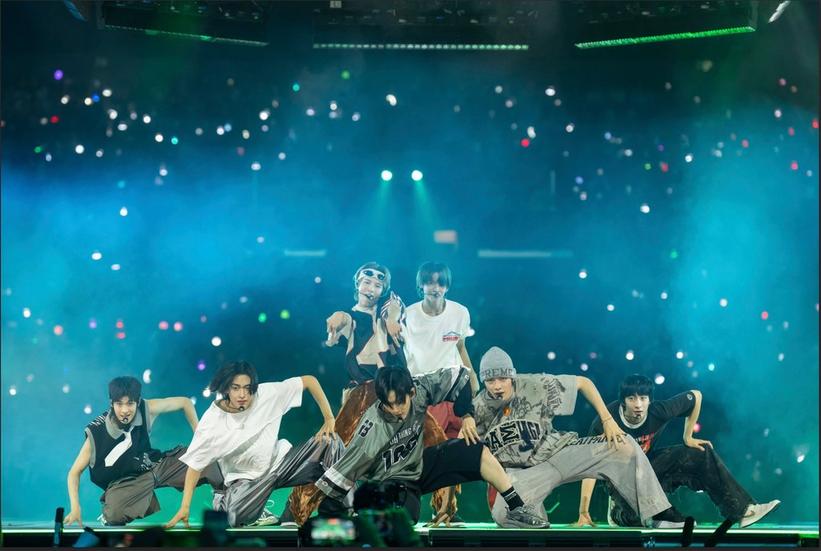 ON the third day of KCON, all eyes were on SM Entertainment's forthcoming new boy band, RIIZE. Set to drop their first single album Get a Guitar on Sept. 4, the seven-member team performed singles from the album twice — first on the convention stage and then later during the final concert's pre-show. 
While a rare hurricane delaying the final night's concert, the propulsive "Siren" and the synth-pop "Memories" gave a taste of the skill this septet have to offer, whetting appetites for SM Entertainment's first non-NCT-associated boy band since 2016. 
EVERGLOW Return To "Slay"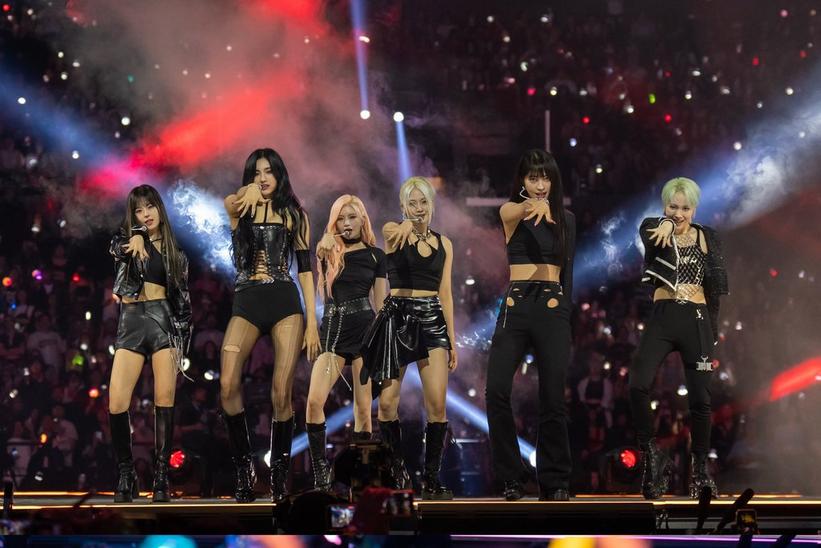 Not heard from since 2021's Pirate, Everglow's latest song "Slay" arrived on the first day of KCON. Known for their energetic, EDM-flavored songs, the girl group's anthemic, girl power dance tracks engendered diehard fans. Anticipation was high to see what they'd perform at KCON. 
While the new song "Slay" and longtime favorite "Dun Dun" thrilled, it was their finale of 2020's hit "La Di Da" that felt truly like it heralded the return of the group; the entire arena was sing-cheering along to the rousing "Everglow, forever let's go" chant. 
Stray Kids Are Clearly At The Top Of The Class 
Stray Kids debuted in 2018 with their first single "District 9" after a series of preview releases, and quickly earned a reputation for being rambunctious, self-produced and unafraid to hype themselves. Within five years, Stray Kids became one of the biggest acts in the game, selling out stadiums regularly. As the finale closers at KCON 2023, they revisited their roots, most recent hits, and long term faves to give their fans (known as "Stays") a night to remember.
Kicking things off with their recent single "S-Class" and its braggadocios declarations and creative choreography, Stray Kids then brought it back to "District 9" as part of the "Hi My First" KCON segment, pairing their recent successes with their earliest days. 
The remainder of their set was full of the unrestrained renditions of "Super Bowl," "God's Menu" and "Topline," more recent songs that roused the crowd - and the members of Stray Kids themselves — ending KCON 2023 Los Angeles on a major high, filling Crypto.com arena roaring with cheer and dancing in approval to the S-class superstars that are Stray Kids. 
What's Next For K-Pop? A Roundtable Unpacks The Genre's Past, Present And Future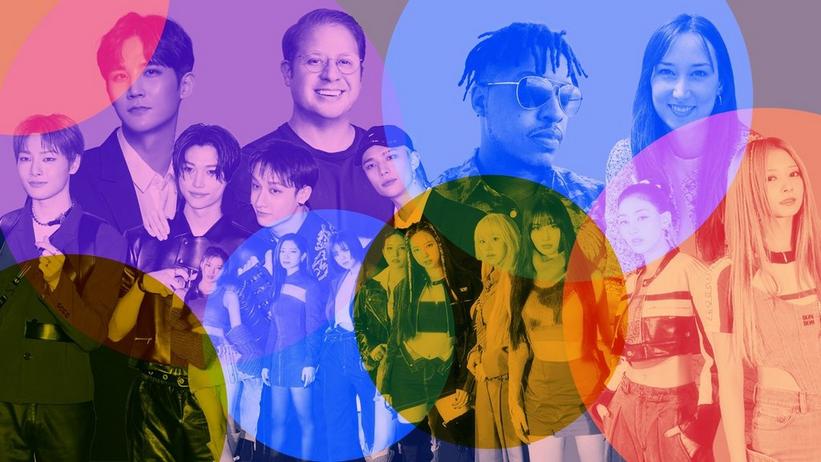 (Back) Simon Jakops, Dom Rodriguez, Adrian McKinnon, Marion Van der wees (Front) Stray Kids, Twice
All images courtesy of Artist except Stray Kids (Jun Sato/WireImage via GettyImages) and Twice (JYP Entertainment).
feature
What's Next For K-Pop? A Roundtable Unpacks The Genre's Past, Present And Future
K-pop evolves each year, but what makes it so enticing? And what awaits in the future? GRAMMY.com invited industry leaders, and members of TWICE and Stray Kids, to discuss K-pop's current state, biggest misconceptions, and celebrate its magic.
GRAMMYs
/
Jul 11, 2023 - 05:18 pm
K-pop recently entered its third decade since pioneers Seo Taiji and Boys upheaved South Korea with 1992's nonconforming "Nan Arayo" — considered by many the inception of the industry. Propelled by the Hallyu (or Korean Wave, the phenomenon driving international growth and popularity to the country's cultural exports), K-pop has evolved from a niche genre to a global scene whose influence is felt in music, fashion, business, tech, and many other fields.
Characterized by a strong visual focus, musical innovation that can include anything from reggae to EDM influences in a single song, knife-sharp choreographies, and devoted fandoms, K-pop's reach outside of South Korea is nothing short of outstanding — if not expected. While mostly known for multi-member boy and girl groups (some with upwards to 10 singers), there are also plenty of soloists, duos, trios, and a few co-ed ensembles, ensuring that even the pickiest music listener can find something to enjoy.
Its idols — as K-pop artists are called — are inspirational, often skilled in singing, dancing, rapping, songwriting, and producing after years of arduous training. Many are fashion ambassadors to high fashion brands (such as BTS' Jimin for Dior), and several have ventured into acting, modeling, and designing their own collections. Idols remain in touch with global fans through tours, fan meetings, virtual fancalls and social media, including  K-pop-specific paid apps, like HYBE's Weverse and DearU's Bubble, where they can send direct messages to fans detailing their routines and heartfelt thoughts.
All those factors contribute to the worldwide growth of K-pop. According to the International Federation of the Phonographic Industry, eight of the top 10 global album sales in 2022 were by K-pop acts, including BTS, Stray Kids, and ENHYPEN. For the first quarter of 2023, Billboard reported that stocks from K-pop's largest companies — HYBE, SM Entertainment, YG Entertainment, and JYP Entertainment — have risen an average of 75.1 percent year to date, surpassing both Universal Music Group and Warner Music Group, which each presented a decline. 
Ten years after PSY's 2012 mania "Gangnam Style," K-pop has risen to the upper echelons of the music industry. A BTS music video nominated for A GRAMMY Award (last year's "Yet to Come"); Fifty Fifty's viral hit "Cupid" can be heard on the radio; BLACKPINK headlined Coachella and TWICE sold out Los Angeles' SoFI Stadium.  Each a feat that seemed impossible not too long ago.
Moving at breakneck speed, K-pop continues to present a new evolution of itself within each year. But what makes it so enticing? And what awaits in the future? GRAMMY.com invited several leaders and luminaries of the industry to discuss its current state, demystify some of its biggest misconceptions, and celebrate its magic.
Quotes from these interviews have been edited for brevity and clarity.
What do you think are the key elements to make a K-pop hit? Have these elements changed throughout the years?
Vince (singer/songwriter/producer under THEBLACKLABEL, an associate company to YG Entertainment): Being a Korean American living in Korea gave me cultural influences that are unique and diverse. With so many creatives from different backgrounds just like mine, I think we've been able to make songs that blend all those influences and resonate with not only the Korean audience, but the global audience too. Also, our emphasis on making the right visuals to provide a wholesome experience was a major key to success. I think this approach hasn't changed and we will continue to do that moving forward.
Marion Van der wees (manager/A&R consultant at VDW Music Group, who placed songs for BTS, TXT, and more): Honestly, nowadays, nobody knows what a hit is. Lots of songs have gone viral in the most surprising ways. Fifty Fifty, who recently debuted, is now topping the global charts with their song "Cupid." However, the ideal recipe for a great K-pop song would be a catchy hook/chorus — which is usually in English so more people can sing it — and a danceable song that can bring on a choreography that is infectious enough so people want to learn them and make TikToks.
Nayeon (singer/songwriter, TWICE member): First, I think we were lucky enough to have amazing songs. "Luck" plays an important role when making a hit. Also, there has to be a concept, choreography, and additional content to support it. I don't think these factors change with time drastically, but rather our attitudes and minds tend to change.
Adrian McKinnon (songwriter, producer): I think it's important to love what you're working on, period. In any career, there comes a point when a person can just phone in an idea, a letter, a proposal, etc. You may be able to get away with that once or twice, but if you get used to operating in that manner, don't be surprised if you get fewer and fewer calls over time. When you love what you do, you grow. When you float along half-assing your work, you're stagnant.
Wonderkid (songwriter/producer under BELIFT LAB, a label founded by CJ ENM and HYBE responsible for boy group ENHYPEN): It is difficult to make a public appeal solely through the power that a track holds. When the concept and plan go hand in hand with the track, it creates a synergistic effect.
There are definitely certain trends during certain periods, but it's mostly a façade. At the core of high quality music (or art) in any era lies in the essence of "beauty." I think artists should always be humble when it comes to the beauty of art, which is the only definite signpost that connects the past, present, and future.
Changbin (singer/songwriter, Stray Kids member): I think that keeping our style consistent while venturing into diverse sounds is part of what allows people to listen to our music. At first it was difficult because our color is very strong, but now we have a solid idea as to what direction we have to go in. [Editor's note: "Colors" are often used in reference to a group's charms, musical identity and appeal.]
HAN (singer/songwriter, Stray Kids member): Trends change very quickly these days, so while I do believe that there are certain sounds that are trending, I don't necessarily believe that trends are what make a good song. The fact that Stray Kids' music is always consistent is the reason why listeners are interested in us. A successful song should contain something familiar yet fresh.
Felix (singer/songwriter, Stray Kids member): I don't believe we've found the key elements to make a K-pop hit yet, but we do have our own way of making our own music. We understand and can express our colors well.
Although K-pop reached unimaginable heights since its origins, it's still an industry that is often misunderstood. Why do you think it's so hard for people to appreciate the true value of K-pop?
Vince: I think idols get misunderstood because they have to present themselves in the media in a lot more diverse ways than a conventional artist would. Most of them are people that have been training to do music for years and are just like any other artist who go through the process of making music. A lot of times, for me, it was a cooperative effort in the studio with artists —  just like with any other writer and producer.
Shin Cho (Head of K-pop at Warner Music Asia): I simply see it as stereotypes, misunderstandings, and preferences from people who come from a different background. This occurs in many industries, not just music. 
One might think a self-producing singer/songwriter is a better artist than a K-pop group. Although the scene is continuously evolving, K-pop idols are more closely monitored and coached by talented and experienced professionals, compared to other genres. It's an approach that has created its own successes, but I see why it's a method that not many can agree on. 
McKinnon: I want to preface this answer with my belief that K-pop idols are some of the hardest-working people in show business. I've spoken to some of my idol friends about their daily routines. Let's just say they are very, very busy people.
I think it's multi-layered. People know that idols work within a system of creators, stylists, choreographers, taste-makers, and directors who, more often than not, put together all the ideas for them. I've heard of people challenging their authenticity because of this. I don't think this is fair, because systems like this exist outside of K-pop as well. It's also important to mention that there are many K-pop idols who have more hands-on with their projects.
Simon Jakops (CEO/Executive Producer at XGALX, responsible for girl group XG; former member of boy group DMTN): Being involved in the K-pop scene for over 10 years, I believe that idols are true artists. For the K-pop system, there is an element that is considered as important as talent, and it is "spirit." A true artist won't lose the grit to walk their own path.
I have been in charge of producing and directing XG, a girl group with all-Japanese members currently active in Korea, for the past six years. It took five years for them to debut. Out of 1,300 applicants, only seven made their final debut. I believe K-pop stars' challenging spirit and dedication [to the process] are one of the most basic virtues an artist should have. And I hope that these qualities will be evaluated more properly.
Dom Rodriguez (SVP/Head of SM Entertainment USA): I often find myself comparing K-pop idols to professional athletes: people who work and strive for years and years to take raw talent and develop it to the highest level. When people take a moment to understand the dedication, commitment, and passion that goes into becoming a K-pop artist, they quickly learn how to appreciate that and any of those other thoughts they might have are put to rest.
Many media outlets spread harmful narratives about K-pop. Claims of it being a "factory system" or that it hides a "dark side" worse than any other field only flatten and dehumanize the very real humans behind it. What would you like to say about these misconceptions?
Vince: We have so many people trying to be "in the system" to become artists, but it's really a select few that get to come and go through the training program. As far as I'm concerned, I haven't witnessed any dehumanizing process with the "system" at all.
Cho: Incubating and developing a K-pop artist is a massive investment. It's a business that cannot be operated without real humans' dedication and commitment. There were cases where "factory system" and "dark side" happened, but at least in this new K-pop era, no labels that carried over some of those bad practices have survived.
Wonderkid: To understand the misconceptions about the K-pop industry, you need to understand the situation in South Korea, both past and present. The word "factory system" brings an image of a cold factory full of machines churning out products without any passion. [If it were,] the public would see right through it and turn away immediately. If "factory system" pertains to "well-organized systems in place to do multiple tasks simultaneously," then I would agree with this specific concept.
Earlier this year, HYBE's Chairman Bang Si-hyuk said in an interview for CNN that "K-pop is not as hot in the market as you might perceive," and was concerned about its slowdown in growth. Is this something you are also experiencing in your work?
Van der wees: On the song side it's the opposite. More than ever, competition is at its peak, in my opinion. A lot of people reach out to me to work in K-pop, and it feels like it's fast growing.
Wonderkid: As a producer, I may not be fully aware of the business side of the K-pop industry like Chairman Bang does, but I respect his insights and do not take his concerns lightly. I am constantly studying and playing with different musical genres and trends to keep K-pop up to the latest trend. Quality content will yield results and putting all of my effort into creating quality content is the most I can do.
Jakops: Rather paradoxically, Chairman Bang's quote proves the huge influence K-pop has in the current global music market. The most fearful moment could be when you are receiving the greatest love. As a producer myself, I always focus on "novelty." Whatever the element, I would like to propose an idea that has not been seen in the existing K-pop scene. Fans are also waiting for that kind of music. New sounds, new members, new visuals, whatever.
With the advent of AI, the music industry will likely experience changes. In what ways do you think AI will impact your work?
Vince: I am very fascinated by AI technology, and it will definitely impact the music industry and my work. Now that AI-generated voices can sing anything, I do think it is very dangerous, because I don't think there are set laws regarding the ownership of voices and the ownership of rights to AI-generated intellectual properties. How we set the rules on these matters will shape how AI will impact the industry.
Van der wees: If AI starts writing songs and labels want to go that route, we will be in trouble. But we are humans and we connect deeper on a human level, a.k.a imperfection. Collaborations between writers, producers, and artists are such a fun process that will hopefully never go away.
Cho: I think AI could enhance and open up new opportunities in different areas of the music industry. On my marketing team, for example, we have started to encourage utilizing ChatGPT in administrative works, translations, and supporting creative problems. I believe that AI technology can potentially become a new day-to-day ritual, like using the Internet and social media.
Wonderkid: AI can be a good tool for first-level reference, where you don't need to go through complicated, emotional steps, and I look forward to seeing how it develops to be a creative tool. However, as someone who works in the industry, I don't think it's had a significant impact yet. 
I think creators and the public alike read and love "subconscious messages" embedded in art, but there is no "subconsciousness" in an AI's work. It looks good on the surface, but we recognize what is missing in half a second. I think of it as falling in love with a robot: it may someday be possible, but it would take a very, very long time.
Jakops: The rise of AI represents a paradigm shift in the music industry. AI can not only create melodies, write lyrics, or compose entire works, but it can also spot trends and influence creative direction through data analysis. You can see that they are already trying to introduce it into some fields, such as writing lyrics. It will also help redefine the way artists connect with their fans and deliver personalized experiences across multiple channels. 
I think AI will serve as an opportunity for human nature, originality, and creativity to stand out more. The challenge will be striking the right balance between harnessing the potential of artificial intelligence and maintaining the human element in music.
Although not every group can be an unprecedented phenomenon on a global scale, more and more K-pop acts have seen steady success promoting overseas, like TWICE becoming the first girl group from any country to sell out L.A.'s SoFi Stadium this year. Do you think it's essential for a group to chase global appeal?
Van der wees: I'm a big world advocate. It's more entertaining to chase global appeal, but not everybody has the budget for it. If labels see the potential for global success and have the financial support, they should definitely do it. There are a few groups, like ATEEZ, who actually have a bigger fan base outside of South Korea.
McKinnon: I think it's important for business, sure. With Bang Si-hyuk's notion that "K-pop is not as hot in the market as you might perceive," and from my experience of hearing some fans not liking the idea of their favorite idols globalizing, there may be a bit of a tug-of-war. In my opinion, K-pop groups going global will benefit the whole music industry.
Jakops: It is true that XG started their activities in the K-pop scene, where idol artists are most active, but in reality, the music that XG develops is called "XPOP." It contains the desire to develop music and activities that can be shared with people around the world, not limited to groups that express the musical characteristics of a single country.
Rodriguez: At this point, the genre is global. There are so many fans all over the world who love K-pop, and our acts have truly reached that global level. Because that appetite is there, as an artist, you would want to try to reach as many fans as possible. With all of the platforms available, you can reach millions of people at once with the push of a button and, if and when you can, show up to meet your fans in person across the globe.
K-pop is an extremely prolific market. How do you make sure your work stands out and maintains high levels of quality?
Van der wees: My writers love challenging melodies, lyrics, production, and strive for better each time. We deliver as great of demos as possible, and then it's in the label's hand to decide what they prefer and finalize the song with their in-house team. We sometimes won't even know a song will be released until a few days before the release date.
Momo (singer/songwriter, TWICE member): I'd like to know the answer to that as well. In my case, I try my best to pull off the concept of each song. Also, our members work hard to synchronize our choreography in a short amount of time.
Dahyun (singer/songwriter, TWICE member): We try to maintain TWICE's identity, but also change it up a little bit to show different sides of us.
McKinnon: Be great. Take time to do it right. Be great. Utilize your network wisely. Be great. Maintain a positive attitude but be true to yourself. Be great. Don't be selfish. Be great.
Jakops: In the fierce market competition, the basis for establishing XG's unique identity is the character of each member who has been with me for more than five years. Music is an industry where people are more important than systems. I have been concentrating on the idea that discovering each member's character and bringing them to life can be our most important weapon. 
I emphasize teamwork; our team gathers ideas every day on how to make the next project bigger and better than the previous one. It requires a lot of time and effort, but it's no exaggeration to say that it's our everything. The only way to get better at something is to practice consistently.
Bang Chan (singer/songwriter, Stray Kids member): A lot of thought goes into the process, for sure. It's pressuring to know that there are a lot of people out there expecting something big from us. However, enjoying that process and producing something new that people haven't seen yet makes everything more fun and reduces the burden on our shoulders.
Lee Know (singer/songwriter, Stray Kids member): We continuously seek inspiration from everyday life. We also workout all the time to increase our stamina, which is something that really helps us pull through.
Some K-pop labels apply a "try everything and see what sticks" method for their artists. Do you think that having a solid identity is crucial for success?
Van der wees: There is a strategy behind everything. I think concepts are what make K-pop, K-pop. Some bands might have specific identities but it doesn't stop them from having variety in their releases. Labels even create sub-groups nowadays to expand their sound and outreach. Each group has its specificity and there is a bit of everything for everybody. 
Cho: There are two ways to look at this. A negative way of looking is that there is no strategy and plan. A more positive way is that there is a flexibility in trying different things, even if they are outside of one's comfort zone. Enhancing the mindset of the latter, and finding better solutions on the former, I feel like the K-pop industry can find a good balance to reach success.
Sana (singer/songwriter, TWICE member): In my opinion, regardless of a solid concept or sound identity, making music that the artist wants and enjoys is the most important. The fact that the artists themselves enjoy their music will be the biggest charm to people.
Chaeyoung (singer/songwriter, TWICE member): When you're a rookie group you can try different concepts and music, and naturally you'll find your own team color. The longer I have been in TWICE, I have realized that. I wish people will be able to listen to a song and say, "That sounds like TWICE!"
Jakops: I firmly believe that only when all the direction of training, the selection of music, the crafting process, the visual works, and marketing activities are carried out with a solid, definite concept, the results that the public will love can come out.
Hyunjin (singer/songwriter, Stray Kids member): I think that once you find your own style, the identity of the group as a whole becomes much clearer, making it easier to win the hearts of fans. Diverse concepts and styles within this boundary will make everything less repetitive, adding to the uniqueness of the group.
I.N (singer/songwriter, Stray Kids member): I wouldn't say this is the only way to success. I believe the most important thing is consistently working on improving your abilities. Without personal improvement, it will be difficult to succeed on larger scales.
Rodriguez: Every new project begins with the music. Music drives creativity. The instrumentation, the tempo, the lyrics, the concept of the song, this is what drives the vision. So, for us, it's not "throwing something at the wall," but rather a creative process that brings a vision to life, which is then executed musically and visually and brought to the masses.
Why do you think there is such a focus in finding "the next generation" of K-pop, even though many artists thrive through multiple of them?
Mina (singer/songwriter, TWICE member): Each generation has their own trends and characteristics, so I think people divide them because they want to remember and cherish each specific generation by their own color. For "the next generation" people will want to do the same.
Jihyo (singer/songwriter, TWICE member): We would love to see everyone enjoying our music without too much focus on which generation it is.
Rodriguez: One view of looking at the generations of music is looking at an artist from their debut through various points of their career. From a company perspective, we are always looking at artists' development, which is something that U.S. labels often don't do anymore. We invest in talent, we invest in people, and we give them an opportunity to become the best they can be and achieve their dreams in the hopes that they will become leaders of that next generation.
Where do you think K-pop is headed in the next few years?
Jeongyeon (singer/songwriter, TWICE member): Nowadays, all K-pop acts are beautiful and talented, so I think it would be great if we could see more music and concepts that suit their age.
Tzuyu (singer/songwriter, TWICE member): I'd like to see more collaborations between artists, because I think it's a very unexpected, fun element.
Vince: We don't call pop music from America "American pop", we just call it "pop." I think music is going to lose its regional borders and music from anywhere will eventually be able to be called just "pop" as long as it's a hit record. The lines will be blurred and, eventually, names like K-pop, Latin Pop, Afropop will just become "pop."
Cho: K-pop is at a crucial time for the next evolution. It's hard to predict what's next, but what I suspect to see is "k-Pop," where "K" is less emphasized than "pop." There will be more hybrid formats of music coming out, and I hope that the K-pop industry can be a leader in this field.
Wonderkid: K-pop will maintain its appeal because it's on a solid foundation that has been built up over a long period of time. K-pop has been developed in Korea, but will be adopted in multiple countries. It is already happening, young listeners around the world will aspire to be K-pop artists as they grow up. Not all of them will be able to audition and train in Korea, and each country will develop their own versions of K-pop. That will give birth to new music and culture, just as hip hop and rock have influenced the music industry across the globe.
Seungmin (singer/songwriter, Stray Kids member): I do hope that we, Stray Kids, will be at the forefront, leading the way. It's difficult to imagine what it would be like as the world is changing at a very fast rate, but I'm looking forward to seeing a more futuristic side of K-pop.
Rodriguez: As excited as I am about the many successes that we have had within SM, and the many successes the genre has been able to celebrate in recent years, I firmly believe that we are just getting started. We are at a place where everybody knows that K-pop is here to stay as an important part of pop culture. I know we will continue to see more and more artists from this genre influencing the culture of music globally.
11 K-Pop Boy Groups To Watch In 2023: Cravity, Tempest, Verivery & More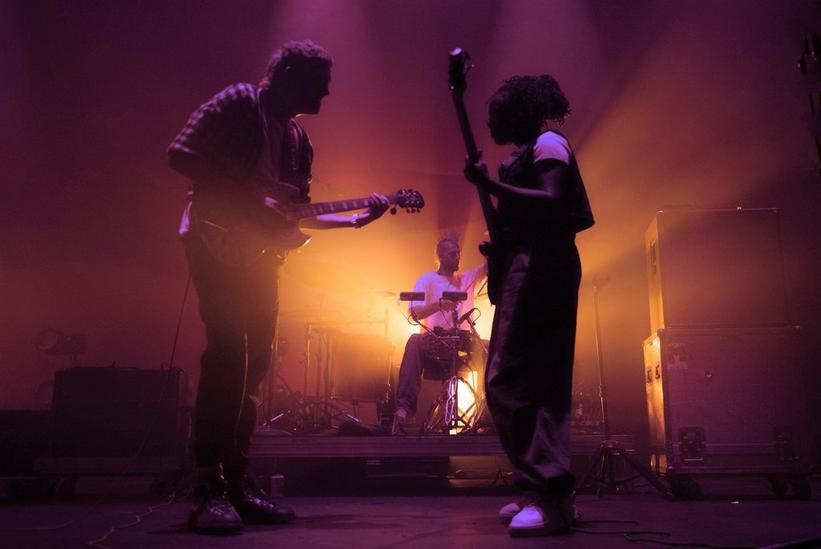 list
A Guide To Modern Funk For The Dance Floor: L'Imperatrice, Shiro Schwarz, Franc Moody, Say She She & Moniquea
James Brown changed the sound of popular music when he found the power of the one and unleashed the funk with "Papa's Got a Brand New Bag." Today, funk lives on in many forms, including these exciting bands from across the world.
GRAMMYs
/
Nov 25, 2022 - 04:23 pm
It's rare that a genre can be traced back to a single artist or group, but for funk, that was James Brown. The Godfather of Soul coined the phrase and style of playing known as "on the one," where the first downbeat is emphasized, instead of the typical second and fourth beats in pop, soul and other styles. As David Cheal eloquently explains, playing on the one "left space for phrases and riffs, often syncopated around the beat, creating an intricate, interlocking grid which could go on and on." You know a funky bassline when you hear it; its fat chords beg your body to get up and groove.
Brown's 1965 classic, "Papa's Got a Brand New Bag," became one of the first funk hits, and has been endlessly sampled and covered over the years, along with his other groovy tracks. Of course, many other funk acts followed in the '60s, and the genre thrived in the '70s and '80s as the disco craze came and went, and the originators of hip-hop and house music created new music from funk and disco's strong, flexible bones built for dancing.
Legendary funk bassist Bootsy Collins learned the power of the one from playing in Brown's band, and brought it to George Clinton, who created P-funk, an expansive, Afrofuturistic, psychedelic exploration of funk with his various bands and projects, including Parliament-Funkadelic. Both Collins and Clinton remain active and funkin', and have offered their timeless grooves to collabs with younger artists, including Kali Uchis, Silk Sonic, and Omar Apollo; and Kendrick Lamar, Flying Lotus, and Thundercat, respectively.
In the 1980s, electro-funk was born when artists like Afrika Bambaataa, Man Parrish, and Egyptian Lover began making futuristic beats with the Roland TR-808 drum machine — often with robotic vocals distorted through a talk box. A key distinguishing factor of electro-funk is a de-emphasis on vocals, with more phrases than choruses and verses. The sound influenced contemporaneous hip-hop, funk and electronica, along with acts around the globe, while current acts like Chromeo, DJ Stingray, and even Egyptian Lover himself keep electro-funk alive and well.
Today, funk lives in many places, with its heavy bass and syncopated grooves finding way into many nooks and crannies of music. There's nu-disco and boogie funk, nodding back to disco bands with soaring vocals and dance floor-designed instrumentation. G-funk continues to influence Los Angeles hip-hop, with innovative artists like Dam-Funk and Channel Tres bringing the funk and G-funk, into electro territory. Funk and disco-centered '70s revival is definitely having a moment, with acts like Ghost Funk Orchestra and Parcels, while its sparkly sprinklings can be heard in pop from Dua Lipa, Doja Cat, and, in full "Soul Train" character, Silk Sonic. There are also acts making dreamy, atmospheric music with a solid dose of funk, such as Khruangbin's global sonic collage.
There are many bands that play heavily with funk, creating lush grooves designed to get you moving. Read on for a taste of five current modern funk and nu-disco artists making band-led uptempo funk built for the dance floor. Be sure to press play on the Spotify playlist above, and check out GRAMMY.com's playlist on Apple Music, Amazon Music and Pandora.
Say She She
Aptly self-described as "discodelic soul," Brooklyn-based seven-piece Say She She make dreamy, operatic funk, led by singer-songwriters Nya Gazelle Brown, Piya Malik and Sabrina Mileo Cunningham. Their '70s girl group-inspired vocal harmonies echo, sooth and enchant as they cover poignant topics with feminist flair.
While they've been active in the New York scene for a few years, they've gained wider acclaim for the irresistible music they began releasing this year, including their debut album, Prism. Their 2022 debut single "Forget Me Not" is an ode to ground-breaking New York art collective Guerilla Girls, and "Norma" is their protest anthem in response to the news that Roe vs. Wade could be (and was) overturned. The band name is a nod to funk legend Nile Rodgers, from the "Le freak, c'est chi" exclamation in Chic's legendary tune "Le Freak."
Moniquea
Moniquea's unique voice oozes confidence, yet invites you in to dance with her to the super funky boogie rhythms. The Pasadena, California artist was raised on funk music; her mom was in a cover band that would play classics like Aretha Franklin's "Get It Right" and Gladys Knight's "Love Overboard." Moniquea released her first boogie funk track at 20 and, in 2011, met local producer XL Middelton — a bonafide purveyor of funk. She's been a star artist on his MoFunk Records ever since, and they've collabed on countless tracks, channeling West Coast energy with a heavy dose of G-funk, sunny lyrics and upbeat, roller disco-ready rhythms.
Her latest release is an upbeat nod to classic West Coast funk, produced by Middleton, and follows her February 2022 groovy, collab-filled album, On Repeat.
Shiro Schwarz
Shiro Schwarz is a Mexico City-based duo, consisting of Pammela Rojas and Rafael Marfil, who helped establish a modern funk scene in the richly creative Mexican metropolis. On "Electrify" — originally released in 2016 on Fat Beats Records and reissued in 2021 by MoFunk — Shiro Schwarz's vocals playfully contrast each other, floating over an insistent, upbeat bassline and an '80s throwback electro-funk rhythm with synth flourishes.
Their music manages to be both nostalgic and futuristic — and impossible to sit still to. 2021 single "Be Kind" is sweet, mellow and groovy, perfect chic lounge funk. Shiro Schwarz's latest track, the joyfully nostalgic "Hey DJ," is a collab with funkstress Saucy Lady and U-Key.
L'Impératrice
L'Impératrice (the empress in French) are a six-piece Parisian group serving an infectiously joyful blend of French pop, nu-disco, funk and psychedelia. Flore Benguigui's vocals are light and dreamy, yet commanding of your attention, while lyrics have a feminist touch.
During their energetic live sets, L'Impératrice members Charles de Boisseguin and Hagni Gwon (keys), David Gaugué (bass), Achille Trocellier (guitar), and Tom Daveau (drums) deliver extended instrumental jam sessions to expand and connect their music. Gaugué emphasizes the thick funky bass, and Benguigui jumps around the stage while sounding like an angel. L'Impératrice's latest album, 2021's Tako Tsubo, is a sunny, playful French disco journey.
Franc Moody
Franc Moody's bio fittingly describes their music as "a soul funk and cosmic disco sound." The London outfit was birthed by friends Ned Franc and Jon Moody in the early 2010s, when they were living together and throwing parties in North London's warehouse scene. In 2017, the group grew to six members, including singer and multi-instrumentalist Amber-Simone.
Their music feels at home with other electro-pop bands like fellow Londoners Jungle and Aussie act Parcels. While much of it is upbeat and euphoric, Franc Moody also dips into the more chilled, dreamy realm, such as the vibey, sultry title track from their recently released Into the Ether.
The Rise Of Underground House: How Artists Like Fisher & Acraze Have Taken Tech House, Other Electronic Genres From Indie To EDC