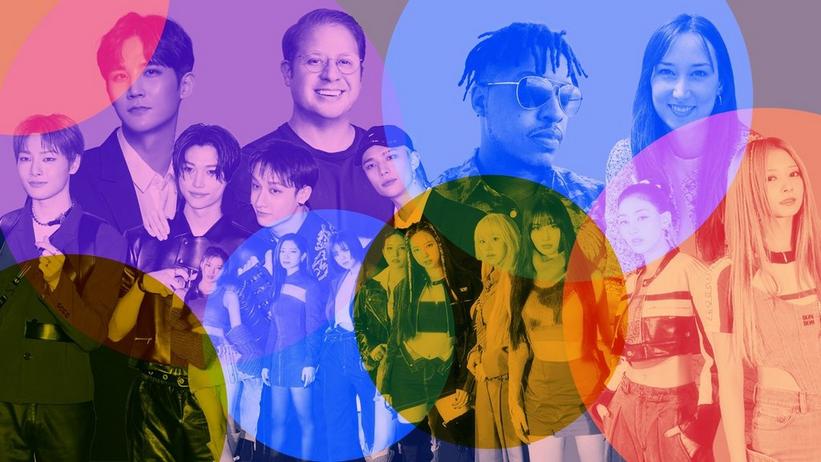 (Back) Simon Jakops, Dom Rodriguez, Adrian McKinnon, Marion Van der wees (Front) Stray Kids, Twice
All images courtesy of Artist except Stray Kids (Jun Sato/WireImage via GettyImages) and Twice (JYP Entertainment).
feature
What's Next For K-Pop? A Roundtable Unpacks The Genre's Past, Present And Future
K-pop evolves each year, but what makes it so enticing? And what awaits in the future? GRAMMY.com invited industry leaders, and members of TWICE and Stray Kids, to discuss K-pop's current state, biggest misconceptions, and celebrate its magic.
GRAMMYs
/
Jul 11, 2023 - 05:18 pm
K-pop recently entered its third decade since pioneers Seo Taiji and Boys upheaved South Korea with 1992's nonconforming "Nan Arayo" — considered by many the inception of the industry. Propelled by the Hallyu (or Korean Wave, the phenomenon driving international growth and popularity to the country's cultural exports), K-pop has evolved from a niche genre to a global scene whose influence is felt in music, fashion, business, tech, and many other fields.
Characterized by a strong visual focus, musical innovation that can include anything from reggae to EDM influences in a single song, knife-sharp choreographies, and devoted fandoms, K-pop's reach outside of South Korea is nothing short of outstanding — if not expected. While mostly known for multi-member boy and girl groups (some with upwards to 10 singers), there are also plenty of soloists, duos, trios, and a few co-ed ensembles, ensuring that even the pickiest music listener can find something to enjoy.
Its idols — as K-pop artists are called — are inspirational, often skilled in singing, dancing, rapping, songwriting, and producing after years of arduous training. Many are fashion ambassadors to high fashion brands (such as BTS' Jimin for Dior), and several have ventured into acting, modeling, and designing their own collections. Idols remain in touch with global fans through tours, fan meetings, virtual fancalls and social media, including  K-pop-specific paid apps, like HYBE's Weverse and DearU's Bubble, where they can send direct messages to fans detailing their routines and heartfelt thoughts.
All those factors contribute to the worldwide growth of K-pop. According to the International Federation of the Phonographic Industry, eight of the top 10 global album sales in 2022 were by K-pop acts, including BTS, Stray Kids, and ENHYPEN. For the first quarter of 2023, Billboard reported that stocks from K-pop's largest companies — HYBE, SM Entertainment, YG Entertainment, and JYP Entertainment — have risen an average of 75.1 percent year to date, surpassing both Universal Music Group and Warner Music Group, which each presented a decline. 
Ten years after PSY's 2012 mania "Gangnam Style," K-pop has risen to the upper echelons of the music industry. A BTS music video nominated for A GRAMMY Award (last year's "Yet to Come"); Fifty Fifty's viral hit "Cupid" can be heard on the radio; BLACKPINK headlined Coachella and TWICE sold out Los Angeles' SoFI Stadium.  Each a feat that seemed impossible not too long ago.
Moving at breakneck speed, K-pop continues to present a new evolution of itself within each year. But what makes it so enticing? And what awaits in the future? GRAMMY.com invited several leaders and luminaries of the industry to discuss its current state, demystify some of its biggest misconceptions, and celebrate its magic.
Quotes from these interviews have been edited for brevity and clarity.
What do you think are the key elements to make a K-pop hit? Have these elements changed throughout the years?
Vince (singer/songwriter/producer under THEBLACKLABEL, an associate company to YG Entertainment): Being a Korean American living in Korea gave me cultural influences that are unique and diverse. With so many creatives from different backgrounds just like mine, I think we've been able to make songs that blend all those influences and resonate with not only the Korean audience, but the global audience too. Also, our emphasis on making the right visuals to provide a wholesome experience was a major key to success. I think this approach hasn't changed and we will continue to do that moving forward.
Marion Van der wees (manager/A&R consultant at VDW Music Group, who placed songs for BTS, TXT, and more): Honestly, nowadays, nobody knows what a hit is. Lots of songs have gone viral in the most surprising ways. Fifty Fifty, who recently debuted, is now topping the global charts with their song "Cupid." However, the ideal recipe for a great K-pop song would be a catchy hook/chorus — which is usually in English so more people can sing it — and a danceable song that can bring on a choreography that is infectious enough so people want to learn them and make TikToks.
Nayeon (singer/songwriter, TWICE member): First, I think we were lucky enough to have amazing songs. "Luck" plays an important role when making a hit. Also, there has to be a concept, choreography, and additional content to support it. I don't think these factors change with time drastically, but rather our attitudes and minds tend to change.
Adrian McKinnon (songwriter, producer): I think it's important to love what you're working on, period. In any career, there comes a point when a person can just phone in an idea, a letter, a proposal, etc. You may be able to get away with that once or twice, but if you get used to operating in that manner, don't be surprised if you get fewer and fewer calls over time. When you love what you do, you grow. When you float along half-assing your work, you're stagnant.
Wonderkid (songwriter/producer under BELIFT LAB, a label founded by CJ ENM and HYBE responsible for boy group ENHYPEN): It is difficult to make a public appeal solely through the power that a track holds. When the concept and plan go hand in hand with the track, it creates a synergistic effect.
There are definitely certain trends during certain periods, but it's mostly a façade. At the core of high quality music (or art) in any era lies in the essence of "beauty." I think artists should always be humble when it comes to the beauty of art, which is the only definite signpost that connects the past, present, and future.
Changbin (singer/songwriter, Stray Kids member): I think that keeping our style consistent while venturing into diverse sounds is part of what allows people to listen to our music. At first it was difficult because our color is very strong, but now we have a solid idea as to what direction we have to go in. [Editor's note: "Colors" are often used in reference to a group's charms, musical identity and appeal.]
HAN (singer/songwriter, Stray Kids member): Trends change very quickly these days, so while I do believe that there are certain sounds that are trending, I don't necessarily believe that trends are what make a good song. The fact that Stray Kids' music is always consistent is the reason why listeners are interested in us. A successful song should contain something familiar yet fresh.
Felix (singer/songwriter, Stray Kids member): I don't believe we've found the key elements to make a K-pop hit yet, but we do have our own way of making our own music. We understand and can express our colors well.
Although K-pop reached unimaginable heights since its origins, it's still an industry that is often misunderstood. Why do you think it's so hard for people to appreciate the true value of K-pop?
Vince: I think idols get misunderstood because they have to present themselves in the media in a lot more diverse ways than a conventional artist would. Most of them are people that have been training to do music for years and are just like any other artist who go through the process of making music. A lot of times, for me, it was a cooperative effort in the studio with artists —  just like with any other writer and producer.
Shin Cho (Head of K-pop at Warner Music Asia): I simply see it as stereotypes, misunderstandings, and preferences from people who come from a different background. This occurs in many industries, not just music. 
One might think a self-producing singer/songwriter is a better artist than a K-pop group. Although the scene is continuously evolving, K-pop idols are more closely monitored and coached by talented and experienced professionals, compared to other genres. It's an approach that has created its own successes, but I see why it's a method that not many can agree on. 
McKinnon: I want to preface this answer with my belief that K-pop idols are some of the hardest-working people in show business. I've spoken to some of my idol friends about their daily routines. Let's just say they are very, very busy people.
I think it's multi-layered. People know that idols work within a system of creators, stylists, choreographers, taste-makers, and directors who, more often than not, put together all the ideas for them. I've heard of people challenging their authenticity because of this. I don't think this is fair, because systems like this exist outside of K-pop as well. It's also important to mention that there are many K-pop idols who have more hands-on with their projects.
Simon Jakops (CEO/Executive Producer at XGALX, responsible for girl group XG; former member of boy group DMTN): Being involved in the K-pop scene for over 10 years, I believe that idols are true artists. For the K-pop system, there is an element that is considered as important as talent, and it is "spirit." A true artist won't lose the grit to walk their own path.
I have been in charge of producing and directing XG, a girl group with all-Japanese members currently active in Korea, for the past six years. It took five years for them to debut. Out of 1,300 applicants, only seven made their final debut. I believe K-pop stars' challenging spirit and dedication [to the process] are one of the most basic virtues an artist should have. And I hope that these qualities will be evaluated more properly.
Dom Rodriguez (SVP/Head of SM Entertainment USA): I often find myself comparing K-pop idols to professional athletes: people who work and strive for years and years to take raw talent and develop it to the highest level. When people take a moment to understand the dedication, commitment, and passion that goes into becoming a K-pop artist, they quickly learn how to appreciate that and any of those other thoughts they might have are put to rest.
Many media outlets spread harmful narratives about K-pop. Claims of it being a "factory system" or that it hides a "dark side" worse than any other field only flatten and dehumanize the very real humans behind it. What would you like to say about these misconceptions?
Vince: We have so many people trying to be "in the system" to become artists, but it's really a select few that get to come and go through the training program. As far as I'm concerned, I haven't witnessed any dehumanizing process with the "system" at all.
Cho: Incubating and developing a K-pop artist is a massive investment. It's a business that cannot be operated without real humans' dedication and commitment. There were cases where "factory system" and "dark side" happened, but at least in this new K-pop era, no labels that carried over some of those bad practices have survived.
Wonderkid: To understand the misconceptions about the K-pop industry, you need to understand the situation in South Korea, both past and present. The word "factory system" brings an image of a cold factory full of machines churning out products without any passion. [If it were,] the public would see right through it and turn away immediately. If "factory system" pertains to "well-organized systems in place to do multiple tasks simultaneously," then I would agree with this specific concept.
Earlier this year, HYBE's Chairman Bang Si-hyuk said in an interview for CNN that "K-pop is not as hot in the market as you might perceive," and was concerned about its slowdown in growth. Is this something you are also experiencing in your work?
Van der wees: On the song side it's the opposite. More than ever, competition is at its peak, in my opinion. A lot of people reach out to me to work in K-pop, and it feels like it's fast growing.
Wonderkid: As a producer, I may not be fully aware of the business side of the K-pop industry like Chairman Bang does, but I respect his insights and do not take his concerns lightly. I am constantly studying and playing with different musical genres and trends to keep K-pop up to the latest trend. Quality content will yield results and putting all of my effort into creating quality content is the most I can do.
Jakops: Rather paradoxically, Chairman Bang's quote proves the huge influence K-pop has in the current global music market. The most fearful moment could be when you are receiving the greatest love. As a producer myself, I always focus on "novelty." Whatever the element, I would like to propose an idea that has not been seen in the existing K-pop scene. Fans are also waiting for that kind of music. New sounds, new members, new visuals, whatever.
With the advent of AI, the music industry will likely experience changes. In what ways do you think AI will impact your work?
Vince: I am very fascinated by AI technology, and it will definitely impact the music industry and my work. Now that AI-generated voices can sing anything, I do think it is very dangerous, because I don't think there are set laws regarding the ownership of voices and the ownership of rights to AI-generated intellectual properties. How we set the rules on these matters will shape how AI will impact the industry.
Van der wees: If AI starts writing songs and labels want to go that route, we will be in trouble. But we are humans and we connect deeper on a human level, a.k.a imperfection. Collaborations between writers, producers, and artists are such a fun process that will hopefully never go away.
Cho: I think AI could enhance and open up new opportunities in different areas of the music industry. On my marketing team, for example, we have started to encourage utilizing ChatGPT in administrative works, translations, and supporting creative problems. I believe that AI technology can potentially become a new day-to-day ritual, like using the Internet and social media.
Wonderkid: AI can be a good tool for first-level reference, where you don't need to go through complicated, emotional steps, and I look forward to seeing how it develops to be a creative tool. However, as someone who works in the industry, I don't think it's had a significant impact yet. 
I think creators and the public alike read and love "subconscious messages" embedded in art, but there is no "subconsciousness" in an AI's work. It looks good on the surface, but we recognize what is missing in half a second. I think of it as falling in love with a robot: it may someday be possible, but it would take a very, very long time.
Jakops: The rise of AI represents a paradigm shift in the music industry. AI can not only create melodies, write lyrics, or compose entire works, but it can also spot trends and influence creative direction through data analysis. You can see that they are already trying to introduce it into some fields, such as writing lyrics. It will also help redefine the way artists connect with their fans and deliver personalized experiences across multiple channels. 
I think AI will serve as an opportunity for human nature, originality, and creativity to stand out more. The challenge will be striking the right balance between harnessing the potential of artificial intelligence and maintaining the human element in music.
Although not every group can be an unprecedented phenomenon on a global scale, more and more K-pop acts have seen steady success promoting overseas, like TWICE becoming the first girl group from any country to sell out L.A.'s SoFi Stadium this year. Do you think it's essential for a group to chase global appeal?
Van der wees: I'm a big world advocate. It's more entertaining to chase global appeal, but not everybody has the budget for it. If labels see the potential for global success and have the financial support, they should definitely do it. There are a few groups, like ATEEZ, who actually have a bigger fan base outside of South Korea.
McKinnon: I think it's important for business, sure. With Bang Si-hyuk's notion that "K-pop is not as hot in the market as you might perceive," and from my experience of hearing some fans not liking the idea of their favorite idols globalizing, there may be a bit of a tug-of-war. In my opinion, K-pop groups going global will benefit the whole music industry.
Jakops: It is true that XG started their activities in the K-pop scene, where idol artists are most active, but in reality, the music that XG develops is called "XPOP." It contains the desire to develop music and activities that can be shared with people around the world, not limited to groups that express the musical characteristics of a single country.
Rodriguez: At this point, the genre is global. There are so many fans all over the world who love K-pop, and our acts have truly reached that global level. Because that appetite is there, as an artist, you would want to try to reach as many fans as possible. With all of the platforms available, you can reach millions of people at once with the push of a button and, if and when you can, show up to meet your fans in person across the globe.
K-pop is an extremely prolific market. How do you make sure your work stands out and maintains high levels of quality?
Van der wees: My writers love challenging melodies, lyrics, production, and strive for better each time. We deliver as great of demos as possible, and then it's in the label's hand to decide what they prefer and finalize the song with their in-house team. We sometimes won't even know a song will be released until a few days before the release date.
Momo (singer/songwriter, TWICE member): I'd like to know the answer to that as well. In my case, I try my best to pull off the concept of each song. Also, our members work hard to synchronize our choreography in a short amount of time.
Dahyun (singer/songwriter, TWICE member): We try to maintain TWICE's identity, but also change it up a little bit to show different sides of us.
McKinnon: Be great. Take time to do it right. Be great. Utilize your network wisely. Be great. Maintain a positive attitude but be true to yourself. Be great. Don't be selfish. Be great.
Jakops: In the fierce market competition, the basis for establishing XG's unique identity is the character of each member who has been with me for more than five years. Music is an industry where people are more important than systems. I have been concentrating on the idea that discovering each member's character and bringing them to life can be our most important weapon. 
I emphasize teamwork; our team gathers ideas every day on how to make the next project bigger and better than the previous one. It requires a lot of time and effort, but it's no exaggeration to say that it's our everything. The only way to get better at something is to practice consistently.
Bang Chan (singer/songwriter, Stray Kids member): A lot of thought goes into the process, for sure. It's pressuring to know that there are a lot of people out there expecting something big from us. However, enjoying that process and producing something new that people haven't seen yet makes everything more fun and reduces the burden on our shoulders.
Lee Know (singer/songwriter, Stray Kids member): We continuously seek inspiration from everyday life. We also workout all the time to increase our stamina, which is something that really helps us pull through.
Some K-pop labels apply a "try everything and see what sticks" method for their artists. Do you think that having a solid identity is crucial for success?
Van der wees: There is a strategy behind everything. I think concepts are what make K-pop, K-pop. Some bands might have specific identities but it doesn't stop them from having variety in their releases. Labels even create sub-groups nowadays to expand their sound and outreach. Each group has its specificity and there is a bit of everything for everybody. 
Cho: There are two ways to look at this. A negative way of looking is that there is no strategy and plan. A more positive way is that there is a flexibility in trying different things, even if they are outside of one's comfort zone. Enhancing the mindset of the latter, and finding better solutions on the former, I feel like the K-pop industry can find a good balance to reach success.
Sana (singer/songwriter, TWICE member): In my opinion, regardless of a solid concept or sound identity, making music that the artist wants and enjoys is the most important. The fact that the artists themselves enjoy their music will be the biggest charm to people.
Chaeyoung (singer/songwriter, TWICE member): When you're a rookie group you can try different concepts and music, and naturally you'll find your own team color. The longer I have been in TWICE, I have realized that. I wish people will be able to listen to a song and say, "That sounds like TWICE!"
Jakops: I firmly believe that only when all the direction of training, the selection of music, the crafting process, the visual works, and marketing activities are carried out with a solid, definite concept, the results that the public will love can come out.
Hyunjin (singer/songwriter, Stray Kids member): I think that once you find your own style, the identity of the group as a whole becomes much clearer, making it easier to win the hearts of fans. Diverse concepts and styles within this boundary will make everything less repetitive, adding to the uniqueness of the group.
I.N (singer/songwriter, Stray Kids member): I wouldn't say this is the only way to success. I believe the most important thing is consistently working on improving your abilities. Without personal improvement, it will be difficult to succeed on larger scales.
Rodriguez: Every new project begins with the music. Music drives creativity. The instrumentation, the tempo, the lyrics, the concept of the song, this is what drives the vision. So, for us, it's not "throwing something at the wall," but rather a creative process that brings a vision to life, which is then executed musically and visually and brought to the masses.
Why do you think there is such a focus in finding "the next generation" of K-pop, even though many artists thrive through multiple of them?
Mina (singer/songwriter, TWICE member): Each generation has their own trends and characteristics, so I think people divide them because they want to remember and cherish each specific generation by their own color. For "the next generation" people will want to do the same.
Jihyo (singer/songwriter, TWICE member): We would love to see everyone enjoying our music without too much focus on which generation it is.
Rodriguez: One view of looking at the generations of music is looking at an artist from their debut through various points of their career. From a company perspective, we are always looking at artists' development, which is something that U.S. labels often don't do anymore. We invest in talent, we invest in people, and we give them an opportunity to become the best they can be and achieve their dreams in the hopes that they will become leaders of that next generation.
Where do you think K-pop is headed in the next few years?
Jeongyeon (singer/songwriter, TWICE member): Nowadays, all K-pop acts are beautiful and talented, so I think it would be great if we could see more music and concepts that suit their age.
Tzuyu (singer/songwriter, TWICE member): I'd like to see more collaborations between artists, because I think it's a very unexpected, fun element.
Vince: We don't call pop music from America "American pop", we just call it "pop." I think music is going to lose its regional borders and music from anywhere will eventually be able to be called just "pop" as long as it's a hit record. The lines will be blurred and, eventually, names like K-pop, Latin Pop, Afropop will just become "pop."
Cho: K-pop is at a crucial time for the next evolution. It's hard to predict what's next, but what I suspect to see is "k-Pop," where "K" is less emphasized than "pop." There will be more hybrid formats of music coming out, and I hope that the K-pop industry can be a leader in this field.
Wonderkid: K-pop will maintain its appeal because it's on a solid foundation that has been built up over a long period of time. K-pop has been developed in Korea, but will be adopted in multiple countries. It is already happening, young listeners around the world will aspire to be K-pop artists as they grow up. Not all of them will be able to audition and train in Korea, and each country will develop their own versions of K-pop. That will give birth to new music and culture, just as hip hop and rock have influenced the music industry across the globe.
Seungmin (singer/songwriter, Stray Kids member): I do hope that we, Stray Kids, will be at the forefront, leading the way. It's difficult to imagine what it would be like as the world is changing at a very fast rate, but I'm looking forward to seeing a more futuristic side of K-pop.
Rodriguez: As excited as I am about the many successes that we have had within SM, and the many successes the genre has been able to celebrate in recent years, I firmly believe that we are just getting started. We are at a place where everybody knows that K-pop is here to stay as an important part of pop culture. I know we will continue to see more and more artists from this genre influencing the culture of music globally.
11 K-Pop Boy Groups To Watch In 2023: Cravity, Tempest, Verivery & More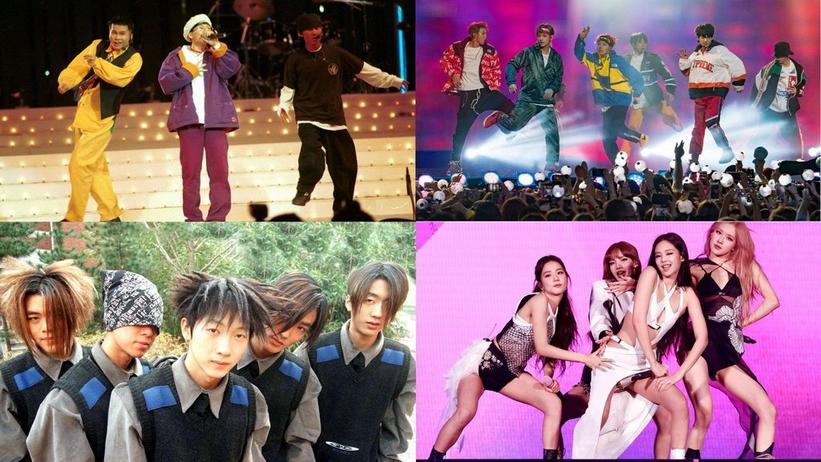 (Clockwise) Seo Taiji and Boys, BTS, BLACKPINK, H.O.T.
Photos: JTBC PLUS/ImaZinS Editorial; RB/Bauer-Griffin/GC Images; Emma McIntyre/Getty Images for Coachella; JTBC PLUS/ImaZinS Editorial
feature
K-Pop's Hip-Hop Roots: A History Of Cultural Connection On The Dancefloor
Although they might seem like disparate genres today, K-pop and hip-hop go way back. In honor of hip-hop's golden anniversary and K-pop's ever-growing popularity, GRAMMY.com explores the links between the sounds.
GRAMMYs
/
Sep 15, 2023 - 01:47 pm
Although they might seem like disparate genres today, K-pop and hip-hop go way back. Their link can be traced to a single nightclub in Korea: Moon Night. 
Located in Seoul's Itaewon neighborhood, Moon Night wasn't particularly remarkable among the many other bars catering to tourists and American servicemen at the nearby military base. However, in the late '80s and early '90s, the club was ground zero for the genesis of the nation's first K-pop group and the founding of the country's "Big 3" music entertainment labels. 
Moon Night is so crucial to the development of K-pop as we know it today because the club played music beloved by its target clientele: Americans. And in the midst of hip-hop's golden age, hip Korean audiences got hooked.
Over decades, that connection to hip-hop has developed and evolved to create the juggernaut that is contemporary K-pop. Today, the influence of hip-hop can be seen in K-pop dance, dress and even instrumentation.
Pioneering K-Pop On The Dancefloor
Where nightlife in Korea was long separated by nationality — Korean citizens had their own establishments, as did U.S. military personnel — a new kind of integrated club scene blossomed in the 1990s. For the first time, Koreans could legally patronize the same bars as American G.I.s. 
Around 1 a.m., clubs like Moon Night would transition from a "normal Korean club" to a foreigner haven, recalls Dr. Michael Hurt, an Assistant Professor at the University of Suwon's International College.
That Moon Night became the Ur of K-pop as we know it was chiefly because Black American soldiers patronized the club, which played hip-hop. As Koreans and Black soldiers socialized, a new culture of hip-hop dance, or "rap dance," and music grew. Dr. Hurt experienced the eagerness with which young Koreans learned hip-hop moves while visiting Moon Night in the '90s. 
Dr. Hurt — who is Black and Korean and has been living in country for various periods since the mid-'90s — recalls clubgoers asking to dance with him. They would follow along with every step. While hip-hop music was important to the progenitors of K-pop, Koreans at the time were most fascinated by dance moves, and the emphasis on dance remains an important aspect of K-pop today. 
By the early '90s, hip-hop had begun to egress its original audience and evolve into a new form. The cross-cultural connection happening at Moon Night was replicated across Seoul; Dr. Hurt notes that Koreans and Black Americans also found common musical interest at Blue Monkey in Sincheon and Golden Helmet in Hongdae.
Future K-pop heavy hitters like Yang Hyun-suk of YG Entertainment, Park Jin-young of JYP Entertainment, and Lee Soo-man of SM Entertainment were rumored to have patronized Moon Night. However, Dr. Hurt theorizes that if they were in the club scene they also visited other places too.
K-Pop's First Generation Of Stars: Born At Moon Night, Shared Online 
While hip-hop was largely inaccessible to Koreans in the 1990s, there were always dedicated Korean listeners. This young, niche community consisted of members like Seo Taiji, who brought rap dance to the public and became K-pop's first stars. 
Seo Taiji and Boys reportedly learned how to dance from Black American soldiers at Moon Night. (Yang Hyun-suk, who later on became the founder of YGE, and Lee Juno were the "and Boys" component of the trio.) Their example laid the groundwork for the second generation of K-pop stars. 
"[Seo Taiji and Boys] were like gods on earth," recalls Dr. Hurt. 
The members became the undisputed purveyors of hip-hop in Korea, utilizing American hip-hop, metal and punk to create a unique musical fusion. The practice of mixing and melding genres is the standard in K-pop to this day.
Seo Taiji and Boys' 1992 performance of "난 알아요 (I Know)" on a competitive TV show struck a chord with the nation's youth, effectively introducing hip-hop to the general public. The performance also filled a capacious hole left in the Korean music industry after the roll back of Emergency Measure No. 9 (which only allowed patriotic or "healthy" songs to be broadcast), which banned hundreds of songs from the likes of Bob Dylan, Johnny Cash and Eric Clapton. Therein, Seo and company brought a new sound to the previously restricted airwaves. 
Still, a lesser-known idol predates Seo Taiji and Boys' rise by a couple of years. Once again, Moon Night remains in the backdrop.
If Seo Taiji and Boys is K-pop's first idol group then Hyun Jin-Young is K-pop's first solo artist. Though his career was brief, Hyun Jin-Young "is generally credited with bringing hip-hop to the mainstream in Korea," says Dr. Crystal Anderson, Associate Director of Engaged Learning and African and African American Studies at George Mason University. On hits like, "슬픈 마네킹 (Sad Mannequin)," Jin-young sang, rapped, and performed dance moves, such as the Roger Rabbit, over a hip-hop beat. "Without him, you wouldn't have [K-pop] idols, but at the same time, Seo Taiji showed that it could be lucrative and popular." 
Artists like Hyun Jin-Young, Seo Taiji, and, later, H.O.T were at the forefront of Korea's "rap dance" scene in the mid-to-late '90s. At the turn of the century, hip-hop culture began to circulate even further via the internet.
"The young hip-hop community [in Korea] has always been pretty hardcore because they had to be to even get enough information to maintain community," Dr. Hurt notes. "[Things] like what are the new fashions, you had to be deep into it."
Youth were largely responsible for disseminating the burgeoning sound of K-pop. "Music ​is ​not ​becoming ​popular ​at ​church. ​It ​starts ​from ​some ​kid ​pirating ​a ​CD," says Kirsten Keels, a 2021 Fulbright Korea scholar.  
Online, Koreans could explore hip-hop even further. In BTS' book, Beyond The Story, RM recounted learning  about hip-hop through interviews and documentaries about rappers posted on YouTube as a teen. His interest in hip-hop would later cause a ripple effect that would lead him to his current position in BTS.
"Legitimizing" Hip-Hop In K-Pop's Second Generation
By the second generation of K-pop, which roughly begins in 2003, the days of "rap dance" had fizzled out in favor of a distinct K-pop sound. However, hip-hop's presence in the genre remains in the form of creating a designated rapper in each idol group.
Korean Americans also played a significant role in the "legitimization" of hip-hop and K-pop. "In the early days of K-pop, particularly with the idol groups, you would have one or more members who were Korean American. The idea was they were closer to the source material and therefore it was more authentic," says Dr. Anderson. 
This rings true for K-pop groups like H.O.T — Lee Soo-man of SM Entertainment's first massively successful group —  and 1TYM, which had Korean American members. Both groups have been cited as inspiration for groups like BTS and 2PM. H.O.T's successful formula became the blueprint for many K-pop groups. They industrialized the K-pop system, much as Motown developed its artists and hit-making processes. 
Hip-Hop Artists And K-Pop Idols: Past And Present
Decades after its inception, K-pop and hip-hop acts continue to work together. In 2004, Snoop Dogg and Warren G hopped on Jinusean's track, "2 All My People." The song's infectiously funky beat made the two rappers' appearance feel seamless.
In 2010, Kanye West was featured on JYJ's "Ayy Girl" (West also appeared in the music video). And two years later, Psy, who has been a lifelong fan of M.C. Hammer, performed the rapper's signature dance move next to him at the 2012 American Music Awards.
K-pop and hip-hop royalty came together in 2013 when BIGBANG's G-Dragon and Missy Elliott gave a mesmerizing performance of "Niliria" on "M-countdown", a weekly music program broadcasted by M-net.  It was a legendary moment in K-pop history because it brought together two highly respected rappers from different countries.
One group in particular has a slew of hip-hop collaborations – BTS. It doesn't come with much surprise, since the septet's CEO has openly stated "Black music is the base" of their musical identity. BTS and its members have collaborated with the likes of Nicki Minaj, J.Cole, Wale, Desiigner, Juice WRLD, and Lil Nas X (with whom they performed at the 2020 GRAMMYs). Recently, Jungkook, the youngest member of the group, made his solo debut with the song "Seven" featuring Southern rapper, Latto. The song hit No. 1 on the Billboard Hot 100.
In 2017, Jay-Z signed former 2PM leader Jay Park (who takes his name from the multi-GRAMMY winner) to Roc Nation. The following year, Park was seen at Roc Nation's annual brunch where he snapped pictures with the likes of Beyoncé and Big Sean. His debut EP, Ask Bout Me, featured rappers such as 2 Chainz, Rich The Kid, and Vic Mensa.
Hip-hop's influence on K-pop runs through the genre's past, present and future. K-pop and hip-hop artists have always had moments of mutual respect. Even at the most unsuspecting times, the two genres have always found ways to collaborate. 
Understanding Appropriation
However, the earnestness with which K-pop takes inspiration from hip-hop has understandably been questioned. The topic of cultural appropriation continues to be divisive, and unanimous consensus a rarity. "One person's appropriation isn't necessarily another person's appropriation," says Dr. Anderson. 
Lately, the conversation around cultural appropriation in K-pop is commonly in relation to visual signifiers. Instances where K-pop idols have been in the hot seat include but are not limited to: ATEEZ's Hongjoong wearing cornrows in promo images, BLACKPINK's Lisa sporting box braids on multiple occasions, and MAMAMOO's Hwasa donning a durag. While there's often swift backlash from fans, response from record labels is typically delayed — if they acknowledge the uproars at all.
In 2019 and 2020, respectively, former CLC member Sorn posted a picture of someone dressed in a mask that resembled a racist caricature, while Stray Kids' Hyunjin imitated a Korean cartoon character that was reportedly based on Black racial stereotypes. The latter eventually issued an official apology, while Sorn continued to get into hot water — most recently for a photoshoot where she flaunted an afro. 
These recent cases are just repeat offenses of longstanding practices. In the '90s, JYPE Founder Park Jin-young put backup dancers in blackface and afros. The Bubble Sisters infamously wore blackface for their debut cover art and corresponding promo pictures in 2003. 
BTS' J-Hope raised eyebrows with his remake of Webstar and Young B's 2006 track "Chicken Noodle Soup." The 2019 track featured Becky G, while J-Hope appeared with a gelled hairstyle that resembled dreadlocks. While the look bordered on appropriation, Young B praised the song in an interview with Billboard. 
"People of all cultures know the song," Young B said."[J-Hope and Becky G] made it even bigger for this day and age. I'm very open-minded and I feel like [the remake] is good for the culture. It was created in Harlem, and now it's a worldwide thing."
"There's a legit reason for people to be angry because aspects of African American culture have been and continue to be appropriated… the problem with Black popular culture is [it's] so damn successful," Dr. Hurt says."[It's] so hyper-successful that in a way you can't make restraining claims on it. I don't think it's at all realistic anymore." 
Cases of appropriation can get harder to identify when there seems to be no clear signs of foul 
play. RAIN and J.Y. Park's 2020 duet, "Switch To Me," is redolent of Bobby Brown's 1988 tune, "Every Little Step." The beat, clothing, and dance moves show that Park Jin-young was inspired by Brown. 
"My baseline for a negative appropriation and misappropriation is a racial performance that mocks or demeans," Dr. Anderson adds. "We need to recognize that there's another perspective, not necessarily to excuse some of the more egregious cases of negative appropriation,. We can't use our American racial lens and just put it over this thing and have it make sense because there are other factors at play."
Sometimes the boundaries are pushed too far and are met with legal contention. In 2004, first-generation K-pop group Baby V.O.X released "Xcstasy," utilizing a freestyle Tupac made while incarcerated. The group's label founder, Yoon Deung Ryong, vehemently denied the rumors that they illegally used the late rapper's voice and likeness. However, reports from that time failed to corroborate their label's defenses. In 2020, "Cupid Shuffle" singer Bryson Bernard accused and threatened to sue K-pop group Seventeen for their song "Left & Right" which sounded comparable to his 2007 hit. 
Over the past three decades, hip-hop has become part of Korea's public consciousness resulting in the K-pop we see and hear today. The spark that Black American GIs, Seo Taiji, and hip-hop-loving Korean youth lit has exploded into a billion dollar industry. Although it can come at the cost of misappropriation and well-meaning appreciation, it ultimately shows the influence of hip-hop and Black popular music around the world.
What's Next For K-Pop? A Roundtable Unpacks The Genre's Past, Present And Future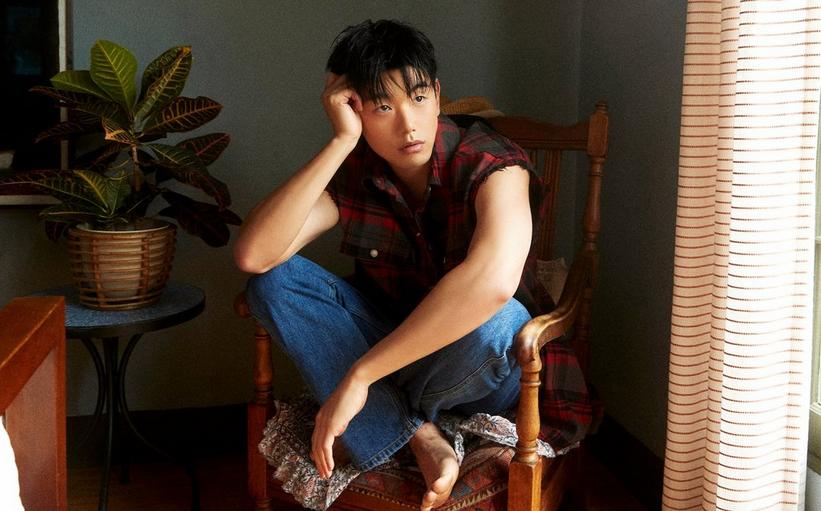 interview
Eric Nam Unravels An Existential Crisis On New Album 'House On A Hill'
Korean American ace Eric Nam has done nearly everything in the entertainment industry, yet still found himself wanting more. But with his latest album, 'House on a Hill,' he found himself finally appreciating "the very basics of human life."
GRAMMYs
/
Sep 6, 2023 - 01:21 pm
Eric Nam is living proof that risk can sometimes lead to reward — or in his case, a booming career. 
Born and raised in Atlanta, Georgia, to Korean immigrant parents, the 34-year-old was once a business analyst at Deloitte Consulting in New York, but saw a chance to turn his dreams into reality by moving to South Korea and joining the music competition show "Star Audition: Birth Of A Great Star 2" in 2011. While Nam may not have won the competition (he placed fifth), he has since proven that entertainment was his calling — and now, he's one of the most influential figures in South Korean culture.
As a singer, Nam has released two studio albums, four EPs and a slew of collaborations with names like Timbaland and Armaan Malik. As a TV personality, he hosted shows like "After School Club" and interviewed several Hollywood A-listers including Will Smith and Robert Downey Jr. He is also the co-founder and creative director of leading digital media company DIVE Studios, which focuses on AAPI and K-pop communities, and Mindset, a mental health and wellness platform.
His next enterprising step is his forthcoming album House on a Hill (out Sept. 8), where Nam makes his directorial debut through four music videos and a short film. The release will also kickstart a 67-date world tour across North America, Latin America, the UK, Europe, and Australia/New Zealand, with more stops to come.
Ahead of his latest venture, GRAMMY.com caught up with Nam to talk about the highs, the lows and all the lessons of the past decade that led him to this moment.
When you participated in "Star Audition," did you imagine it would be such a defining moment in your career?
I don't think so. For me, it was just the first and only chance to try to become a singer. Going on an audition program and potentially making it is a dream so many young kids have, you never think it's going to actually work. But I ended up doing the program for about nine months, I got to the top five, and at that point, it was one of the highest-rated shows in Korea, so it ended up being very successful. And then I was able to sign a record deal, so that show was just a very, very important start to my career.
Since then, you have released several EPs and albums, and developed your singing and songwriting skills to best portray who you are as an artist. What do you think is the most important song you wrote?
Oh, my gosh, that is an impossible question. It's kind of crazy, because I feel like every album [represents] such a different point of my life, of my career. [Cloud 9], the first one from 2013, was where I didn't really know what I was doing — I was just following the direction of the label.
And then the album in 2016 was the first time [a song I wrote] became a single. What was interesting about it is that I started as a singer, but I became bigger as a TV personality and interviewer in Korea, so that was a big stress for me. People wanted me to just be on TV more, and not so much focus on the music. And so [me and my team] were like, "Well, why don't we just write an album called Interview that is more in line with where we want to go musically?" It was an interesting approach that fit with my personality at the time. Was it musically fulfilling? Not really.
2018 was the first time where I started to really dive into music that I wanted to do, which is a lot more popular. I think that 2018's Honestly [had] a lot of stuff that I wanted to do as a musician. And so if there's one [most important] song, I think it's "I Don't Know You Anymore," only because it's the first song that I put out as a fully independent artist, which was terrifying. It was the first time where there was no label [behind me]. If it doesn't work, it's just me completely failing out, on my own, and that's a scary thing. But that was the kickoff of my indie career.
What has the experience of going indie taught you about yourself?
Well, I already knew it was not going to be easy. It's really not easy. There's so many different challenges and things that happen, stresses and all that kind of stuff. But through the process I've learned that I'm pretty strong mentally, and I have a lot of perseverance to push through things. 
That's what was needed, and is still needed, to keep my head up and keep sprinting as an indie artist, because there is no right answer. The only person that can tell you what the right answer is yourself. So you have to really trust your instincts and also have the grit to push through anything and everything that's being thrown at you. That's probably been the biggest realization I've had about myself.
Was there any moment that you thought about giving up? Or that it wasn't going as you expected and you started to doubt yourself?
I think I have that very often. And I think it's because, as a creative person, you're putting out your baby, your creative child into the world, and the world can tear it apart. And it's very scary to sit there, and be fatigued, and yes, there are people who love it, but then, there's also people who are like, "This sucks." It's an emotional roller coaster.
That's why, whenever I do stuff, I always think of it as, "This is not going to be my last, but I have to appreciate it as if it is." Maybe I will retire, I don't know. That's a very real conversation I have with myself all the time.
More than a single moment, I think [this feeling] is always in the back of my head. I know I'm very lucky. I'm very blessed to be doing what I do, to write music and write about your feelings, your stories, and then perform them around the world. And so, as much as it is a blessing, I also know that it could go away at any point. So I'm just trying to appreciate it and live in every moment.
Throughout the years, you collaborated with legendary names in music, such as Timbaland, Gallant and Epik High's Tablo. How important were these encounters as you developed your own sound?
Somebody asked me recently, "What's your favorite collaboration?" and I was like, "I don't know." They're so different and it's been so many people. Obviously, Timbaland is a legend, and to be able to be on a song with him and be on stage with him was a really, really cool moment.
And then with Tablo, he's a legend for Korean hip-hop, and as somebody who is also like him — I'd say more Western- and English-based than just Korean — I felt like there was a connection where I could talk to him and ask questions. Mind you, a few years before the song came out, I was sitting in my college dorm, listening to his music like, "Wow, this is so good." And then we're getting to work on a song together. That was so cool. 
And Gallant is the nicest dude ever, very talented. He was having this crazy year of musical success [in 2016] and touring, so for me, to be in the room, to be included on that song ["Cave Me In," featuring Tablo], was a really amazing moment, and I felt very grateful to be a part of it.
Fans always say your concerts are a whole experience, and you expressed your love for going on extensive tours as well. Do you have any remarkable shows or live experiences that remain in your mind?
They're all very memorable. So many shows and cities are special. Just thinking about the last tour, I was playing at House of Blues, Boston, and that's the first place I saw Adele play. Years ago, I played at The Tabernacle [in Atlanta, which marked] the first time I had paid for my own ticket. I saw John Legend and Robin Thicke in high school.
So many of these venues are just really special, but I still can't forget the first show I ever did in the States, on my own. That was 2017, I think, at Irving Plaza in New York. And then I did two back-to-back shows in Atlanta. It was the first time my parents and my friends were seeing me perform. It was probably a 600-person venue, very intimate, very small. But even then, I was like, "Wow, this is so cool."
Were you nervous in those first concerts? What were you thinking at that time?
Yeah, I think I'm always nervous. I think being nervous is a good thing. It means that you care and that you're trying to focus. 
When I think about those early days, I still didn't have a lot of songs because, again, I was so busy doing TV, radio, hosting, all that stuff. The label's perspective was, "Oh, Eric, if we keep you busy with other stuff, we make a lot more money than music, so let's just do everything else," so I was always self-conscious about doing my own show. I was like, "Do I have enough songs? Are they going to enjoy it?" It was always very scary.
As you mentioned, you have extensively worked as a host and interviewer, and you still do that today with DIVE Studios and the Mindset platform. You interviewed basically everyone in K-pop, and more. What have you learned from talking to so many different people?
Everybody's human. That's all. Like, I still get anxious sometimes going to interviews if I don't know much about the person, but at the end of the day, that's what an interview is. Let's just talk, and then I'll ask you questions so I can get to know you, and maybe we can become friends. And if we don't, that's fine, too. That's just us learning that everybody's the same.
The biggest stars in the world have the same concerns, and eat the same food, and drink the same stuff as we do. That's it. That's why I think people enjoy my interviews, because I don't like to think of them as the biggest stars in the world.
It's so funny that you were saying, "They do the same stuff that we do," but you are also a star. That shows how you truly don't see that distinction from yourself to others, or vice-versa.
[Laughs.] Yeah, I mean, if there's any criticism I ever get from the people around me, they're like, "You have to remember that you're a celebrity. Can you please not wear this in public? You should maintain an image." And I'm like, "Uh, I don't know, maybe."
People want artists to be more relatable, more human, they like that. And that's why I think your work is so popular, because you can bring that relatableness to the public in ways that K-pop usually doesn't allow.
Oh, thank you. I mean, it is kind of a struggle. I look at some of my friends and peers in their music videos, and they are wearing and doing the craziest things. They're going to outer space, and then they're going, I don't know, into the sewer, and I'm like, "I don't think I can pull that off."
So many of them are in these groups where it's all about the group's presence, not about the solo artist, so for me that's the one thing that is different. It is about me, not about five other people that I'm standing on stage with. I feel more comfortable being honest and open about "This is just the way I am," and not having to — I don't want to say pretend, but — put on an image.
You say you couldn't pull off those things, but for House on a Hill, you directed a lot of stuff, like the music videos and the short film. What were you able to pull off as Eric Nam?
We pretty much put together a screenplay and an entire script for this album, because I wanted everything to have a bigger purpose and meaning. It was a lot, like, going from writing the script, writing all the songs, writing the dialogue, to finding the locations with our team, and giving a lot of direction during the shoots and stuff. It was just very hectic. Luckily I had a great team working with me, and we were able to put it together. We are still editing stuff, and hopefully we get it all done, but it feels good.
Acting, writing and directing are things that I've always been curious about, but never had the time or the energy to really focus on it. But [this time] I was like, "Okay, how can we kill two birds with one stone? We're gonna do these videos, I might as well get a taste of it." 
It was like my internship, I learned a lot. There's still so much that I don't know, and so much that I need to learn, but I do have this curiosity and this desire to write more, potentially act more. I don't know about directing, because directing seems like too much. But it is something that was really fun. Hopefully there will be more of it in the future.
You've said that "House on a Hill" felt like the start of the album when you wrote it. What was it about the song that felt that way?
Chronologically, it was the first song I wrote, in August [of last year], and that was kind of, "Okay, even though we're still on tour, this is going to be the start." I feel like, in order to put an album together, you have to live life and experience things, and get in trouble, and have fights, and fall in love, and all those things. But because I was literally touring nine months out of last year, and I have DIVE Studios and Mindset as well, all I do is work, so I was like, "I have nothing that I want to talk about."
And then I was starting to think, "Well, what's on my mind lately? Oh, I want to buy a house. And I want to be happier." And when I wrote "House on a Hill," that's the essence of the song. It's about wanting to find fulfillment and all that stuff. Once we had that [idea], I was like, "Oh, this feels good. What if we start just talking about more of the ways in which I'm feeling and thinking about life?" And that's the overarching theme of the album. It's very much an existential crisis that we're trying to work through.
Do you have the answer to some of the questions that you posed in "House on a Hill"? Like, what if more is never enough? What if nothing ever fills you up?
[Laughs.] I think we will always have those questions, but the one thing that I do believe is that I should be very grateful and happy. That's been my takeaway. We can always want more, want a nicer house, or a better car, or nicer clothes, or the newest phone, and all these things, but let's focus on why should those things be tied directly to happiness.
I think it's being appreciative of the fact that I'm able to do what I like to do, the fact that I am generally healthy, and that I have people that I love and people who love me, and that I have food on the table. It gets down to the very basics of human life. This album has been a big reminder of that fact.
After trying out so many different things, is there anything you still want to try in the future?
Oh man, I think I want to keep acting and writing. I guess something in fashion, but I don't even know what that means… That, or I'm just going to set up a coffee shop and retire. [Laughs.] That sounds pretty simple. 
I try not to think too much, I think that everything that I'm doing right now comes very naturally — and that's why I keep doing it.
5 Ways BLACKPINK's MetLife Concert Was A Joyous Celebration Of Their Career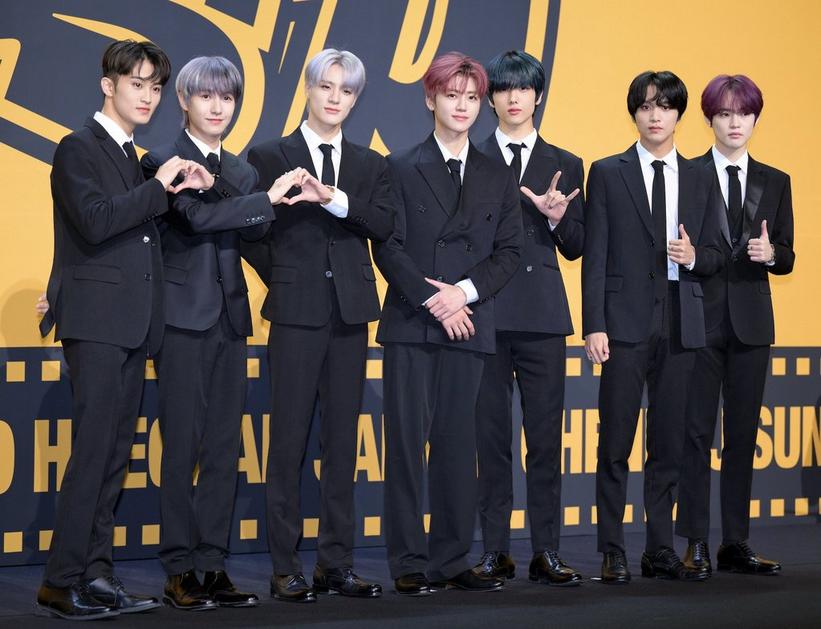 NCT Dream, one of NCT's six subsets, in July 2023.
Photo: The Chosunilbo JNS/Imazins via Getty Images
list
Breaking Down The NCT System, From The Rotational NCT U To The Upcoming NCT Tokyo
As 20-piece K-pop collective NCT release their fourth full-length album, 'Golden Age,' take a deep dive into the NCT universe with all six iterations of the group.
GRAMMYs
/
Aug 29, 2023 - 09:09 pm
When NCT released their debut album, NCT 2018 Empathy, an accompanying documentary video mapped out what connects all of its pieces. "NCT shares dreams," utters a voice in English, with another adding in Mandarin, "The tones become one and become music."
This comprehensive scope — where "openness" and "expandability" are the main principles — began developing in January 2016. Then, SM Entertainment founder Lee Soo-man announced the origin of a mega-ensemble called Neo Culture Technology that would have an ever-growing number of members organized under different units with the objective of transforming into a global entity. In the spring of that year, the first iteration, NCT U, debuted with "The 7th Sense," setting the rollout for the subgroups NCT 127, NCT Dream and WayV.
Fast forward to present times, and this supergroup has become one of the most influential K-pop acts in the industry. Currently, there are 20 active members highly skilled in a diverse amount of fields, and each NCT ramification — now six in total — stands out with a unique identity. The entire NCT collective has also teamed up for full-length productions (2018's Empathy, 2020's NCT 2020 Resonance, 2021's Universe, and the newly minted Golden Age), showcasing the full extent of their potency.  
Considering all of this, 2023 has been a transitional year. NCT Dream and NCT 127 concluded their first world tours since the Coronavirus pandemic hit; WayV had its first ventures outside Asia; NCT DoJaeJung was formed; and leader Taeyong debuted as the first official NCT soloist. But most notably, SM Entertainment ended the group's endless expansion, with the upcoming NCT Tokyo being the last subgroup joining the juggernaut.
To celebrate the Aug. 28 release of NCT's fourth studio album, Golden Age, GRAMMY.com breaks down every permutation existing within the NCT system. 
NCT U
As NCT's first subunit, NCT U is considered the core of the intricate engine that binds the supergroup's system. Its constitution is multifaceted and malleable, embodying the premise of all that is the world of Neo Culture Technology, a dominion where the possibilities are infinite.
This extension operates as a nexus where the presence and number of members vary depending on the conceptual choices for each release, opening the door to countless alliances that flaunt their artistic agility. The "U" of its name means "United" — referring to the link between the NCT family.
In early April 2016, the initial lineup of NCT U — Taeyong, Ten, Doyoung, Jaehyun, and Mark — released its debut single "The 7th Sense"; later comebacks like "Baby Don't Stop" and "BOSS" now exist as some of the best songs K-pop has offered in recent years. For Golden Age, this first combination of NCT U got together once again for the record's title track "Baggy Jeans."
NCT 127
By taking Seoul, South Korea, as their base of operations, NCT 127 — its name representing the longitude coordinates of this capital city — have made headway in the world of K-pop as an overwhelming force. For the nine-member contingent (Taeyong, Taeil, Johnny, Yuta, Doyoung, Jaehyun, Jungwoo, Mark, and Haechan) maximalism is a major part of their artistry, and their stage power is nothing short of exciting.
It all starts, of course, with a catalog heavily rooted in EDM and hip-hop, sometimes laced with irresistible R&B transitions that emphasize the shapeshifting eccentricity of their soundscape. The 2016 debut single "Fire Truck" activated this distinctive (and often divisive) music style that eventually stretched to achieve mainstream acknowledgment. But don't be fooled — the group also know how to tap into the luscious side of things (think 2017's "Sun & Moon" and 2019's "Highway to Heaven").
With the release of their second full-length project, NCT #127 Neo Zone — The 2nd Album, in 2020, NCT 127 cemented their position in the upper echelons of K-pop; the album sold a little over million copies, a first for any NCT division. But their next productions, 2021's "Sticker" and 2022's "2 Baddies," proved to be even bigger, both commercially and sonically — they each surpassed 2 million sales, and the booming experimentation continued pushing boundaries. 
Just when you think NCT 127 is living in their zenith, they keep bringing surprises to the game. And they will likely do it again with their fifth full-length album, Fact Check, which is slated for Oct. 6.
NCT Dream
Youthful, captivating and graciously irreverent, NCT Dream is composed of Mark, Renjun, Jeno, Haechan, Chenle, Jaemin, and Jisung. They entered the K-pop landscape hoverboarding (literally) in 2016 with their debut single "Chewing Gum," a joyful vignette of their budding talent.
Originally devised to be both an entry and a nonpermanent harbor for the freshest recruits until they reach the age of 19, NCT Dream had its graduation system dissolved by SM Entertainment in 2020, thus earning a fixed status. Then, Mark Lee — the group's leader and the only member who left — returned for the arrival of NCT 2020 Resonance, where the song "Déjà Vu" saw the septet reunited after almost two years. It was a moment of equal happiness for the fans and the members, as the looming uncertainty of the group's fate vanished.
And as The Dreamies (as they're affectionately called) matured, so did their music. The aural landscape evolved from ebullient teen pop to an adventurous blend of hip-hop and R&B steered by their vocal prowess, resulting in a formula that has paid off. NCT Dream's first studio album, 2021's Hot Sauce, gave them the title of "million-sellers," a milestone replicated in subsequent projects "Hello Future," Glitch Mode, "Beatbox," and their latest full-length venture, ISTJ, which was released on July 17.
WayV
In NCT's oneiric cosmos, WayV (an abbreviation of "We Are Your Vision") is a subgroup whose identity stems from an amalgamation of C-pop and K-pop. Its artistic components fuse Mandarin, Korean and English to navigate lyrical tales threaded with blaze and fantasy, all while bending the frontiers of time. "I finally saw the light hidden behind the darkness," they sing in their 2020 single "Kick Back." "After deciding on the final truth / Unfold the secret of time again."
Formed by Kun, Ten, Xiaojun, WinWin, Hendery, and YangYang, this China-focused iteration debuted in January 2019 with "Regular," the lead song of their first single album, "The Vision." Since their conception, WayV have molded a niche of entrancing, genre-defying music, and B-sides like "Love Talk," "Electric Hearts," or "After Midnight" showcase said idiosyncrasy. Within their lineup, the subunits WayV-TEN&YANGYANG and WayV-KUN&XIAOJUN also inject inventiveness to their repertoire, proving they're authentic chameleons.
At the tail end of 2022, the sextet unveiled Phantom, their fourth EP that marked the conclusion of a two-year lethargy, and a new beginning where they stand stronger than before. 
NCT DoJaeJung
While sonic risks permeate as the key ingredients across all the NCT branches (mainly in their title tracks), this trio — made of vocalists Doyoung, Jaehyun and Jungwoo — found its footing in more conservative territories. The creative direction is nectarous and seductive, dabbling with motifs of longing and romance.
The development of NCT DoJaeJung was previewed in October 2022 during NCT 127's concert tour Neo City – The Link, but the official outset happened last April with their first EP, Perfume. The six-track mini album shines a light on the three members' voices that dazzle over classic cuts of R&B, with the eponymous lead single being the climax. This is a mere taste of what these guys can offer, and a prologue for more alluring releases to come.  
NCT Tokyo
With the concept of NCT's unlimited expansion reaching its final phase, SM Entertainment also announced the formation of one last subgroup — tentatively named NCT Tokyo. 
This ramification already includes Sion and Yushi, members of the pre-debut team known as SM Rookies, who were presented to the public last June and will be completed by aspiring idols selected through the reality show "NCT Universe: LASTART." 
As of press time, the competition is ongoing and features trainees from Japan and South Korea challenging missions to display their range of abilities. Throughout the episodes, they are being mentored by different SM artists, and at the end of each round, evaluations come courtesy of K-pop legends BoA, Super Junior's Eunhyuk and vocal trainer Jang Jinyoung. The debut date of NCT Tokyo is yet to be determined, but it will surely serve as a dynamic addition to the NCT universe.
Breaking Down Every Solo Act From BTS: Singles, Debut Albums & What's Next For The Septet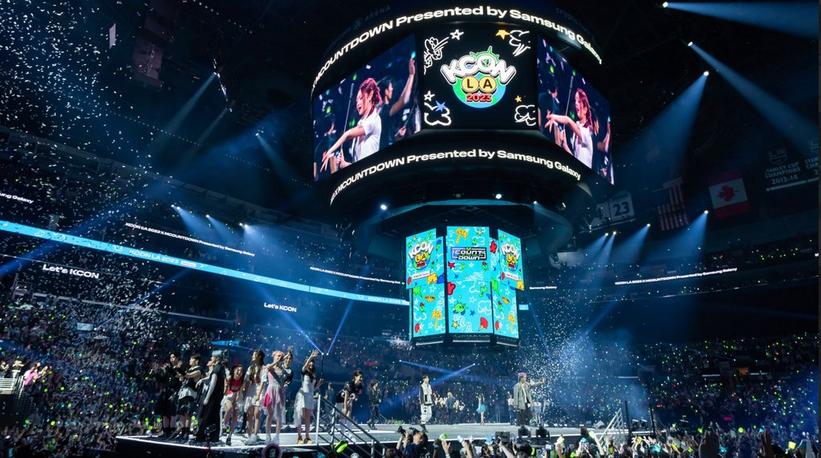 list
9 Thrilling Moments From KCON 2023 L.A.: Stray Kids, RIIZE, Taemin & More
KCON's lineup featured over 20 acts over three nights, drawing legions of dedicated fans who experienced some of K-pop's biggest acts for the first time in the States.
GRAMMYs
/
Aug 22, 2023 - 07:24 pm
For over a decade, KCON has regularly touched down in Los Angeles to create a weekend festival dedicated to all things Korean pop culture. 
With a convention floor highlighting everything from K-dramas to K-beauty, the real stars of the show were, of course, K-pop idols. Along with meet-and-greets and special performances throughout the weekend, three nights of concerts brought some of the most popular K-pop stars to the U.S., including headliners Taemin, ATEEZ, and Stray Kids.
Performances at KCON festival were a display of old and new, with rising stars and more senior talent performing alongside one another. Covers of the hits of a decade ago and a variety of "name that song" games in-between sets drew the K-pop generations together, creating an environment that both older and newer fans of Korean popular music could revel in.
Headlining performances were livestreamed from the Crypto.com Arena, and by South Korean TV channel Mnet (operated by the same company, CJ ENM, as KCON). 
KCON's lineup featured over 20 acts, including Cravity, IVE, NMIXX, Taemin, Taeyong, Ateez, INI, Verivery, Kep1er, Xikers, Zerobaseone, and JO1. From groups to solo acts, read on for 10 of the most exciting moments from KCON 2023. 
All photos by CJ ENM.
IVE Show Off Their "It Girl" Energy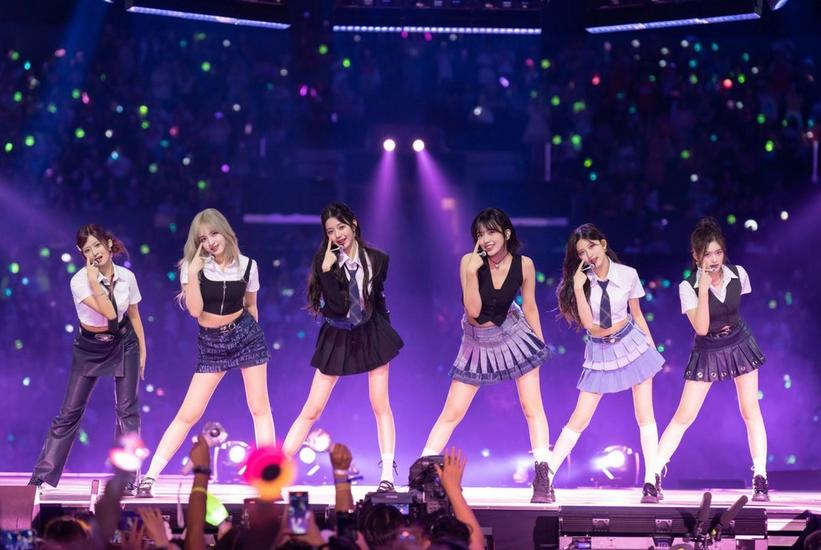 Known for their fashionable, charming demeanor and rousing dance-pop songs that often feel better suited for stadiums than headphones, IVE's dynamism and energetic, vocal freewheeling throughout each of their performances made it very clear why they are one of the leader's of this generation's K-pop "It" girls. 
The six-member IVE took to the stage twice on Friday night, first to perform the nostalgia-fueled "Kitsch'' and the exuberant "Love Dive." They then came back later to perform the unique "Dream Stage," a KCON highlight where concert attendees get the chance to perform on-stage with their favorite K-pop stars. Following a competition held during the KCON convention, tens of amateur dancers joined the members of IVE in a rousing rendition of their most recent single, "I Am." 
Bringing the songs off of the streaming apps and into a 20,000-arena capacity made them, and IVE's success, feel like the sort of pop grandeur that doesn't happen everyday.  
Taemin Moved The Crowd With His Legendary Aura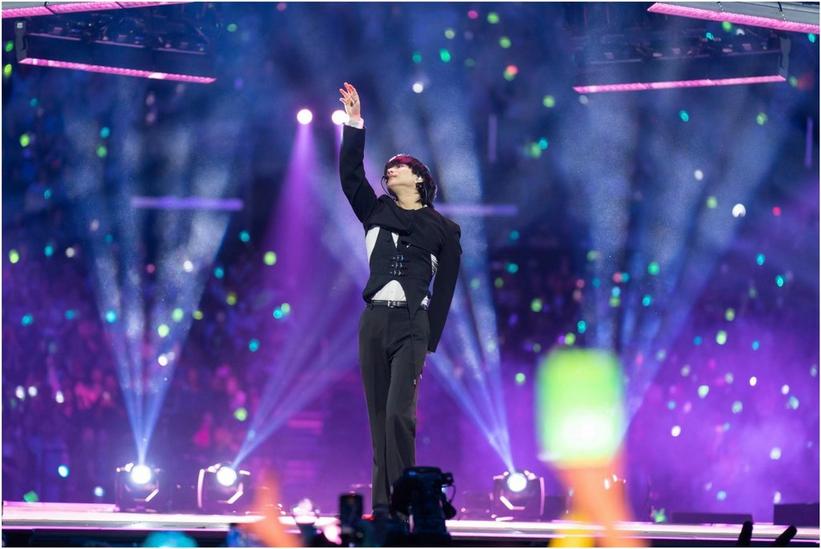 Taemin and his group SHINee have rarely appeared in the U.S. and never toured as solo artists, making his appearance at KCON a rarity. 
But it wasn't just diehard fans — known as Shawol (short for "SHINee World") — there to see Taemin. Younger performers were seen coming from backstage to witness the three-song set by the now 30-year-old icon who debuted in SHINee when he was just 14 years old.
Taemin's distinct brand of seductive alt R&B and darker contemporary dance numbers was front-and-center as he performed "Advice," "Criminal," and "Move." Known for his genderfluid performances that push the boundaries of what male pop idols and boy band members are typified by, Taemin's powerful set confidently and skillfully showed the thousands of fans at KCON why he is known as one of the best.  
WayV & Taeyong Showcased NCT'S Sonic Diversity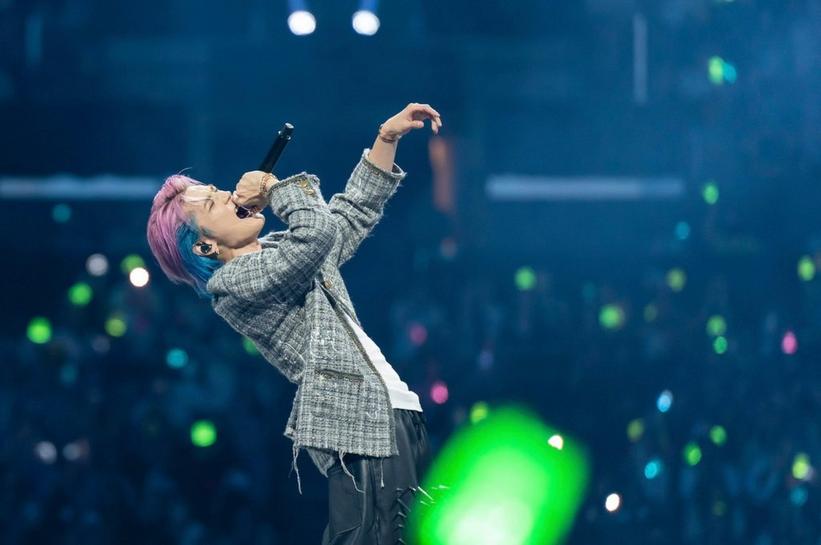 Taeyong
Boy band Wayv performed in the U.S. for the first time at KCON 2023 L.A., opening the weekend's concerts with the official KCON theme song "Poppia." Later, the sextet performed sensual fan favorite, "Love Talk," followed by their most recent single, December's dramatic, pulsating  "Phantom." 
Though the act's leader Kun was MIA, the remaining members' first appearance in the U.S. was eagerly anticipated by their fans, known as Wayzennies, who came out in droves, passionately cheering and waving along their glowing green, leek-shaped lightsticks. 
As the Chinese contingent of the larger SM Entertainment boy band brand NCT, WayV's Ten was joined by fellow NCT member Taeyong. The pair performed their alluring 2018 duet "Baby Don't Stop," which captivated fans with its hypnotic beats and come-hither verses. The duo are also part of cross-label boy band SuperM, and their reunion was one of the highlights of KCON's day one concert. 
The penultimate act of the night was NCT 127's charismatic leader, with Taeyong's two-song set giving him his chance to shine. his recent single, the groovy, funky hip-hop swagger of "Shalala" and the breezy, summertime "Gwando," a b-side on the Shalala album. 
ATEEZ's Warrior Theatrics Struck A Chord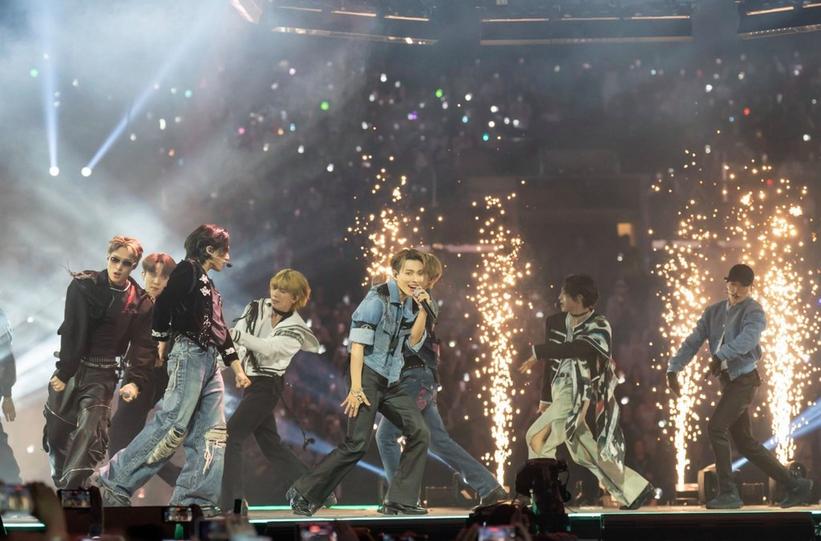 One of the biggest draws of the weekend was boy band ATEEZ, who have become one most dedicatedly theatrical world-building teams since their debut in 2018. With lyrics and related content positioning them as some sort of Peter Pan-esque Lost Boys but also pirates (it's complicated!), the eight-member act are fittingly bombastic, bringing their riotous tunes to stage in the most theatrical of ways, with weapons raised and flags hoisted to herald the grandeur of ATEEZ's reign.
Declaring their presence with a wide array of songs from throughout their discography, including their debut single "Pirate King" as part of a special "Hi My First" segment, ATEEZ brought the KCON crowd into their "Wonderland" before spicing things up with "Bouncy (K-Hot Chilli Peppers)" before ending things with "From" and "Guerrilla."
Zerobaseone Excite As The "New Kidz on the Block"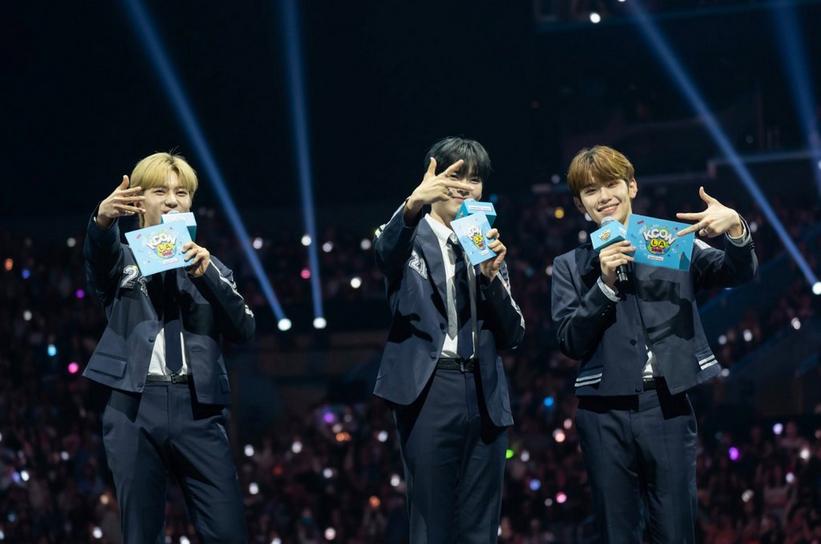 Fans camped out for days to be front row for Zerobaseone's first stateside performance, creating one of the biggest draws at KCON. Also known as ZB1, were formed during this year's competition show "Boys Planet 999" and released their first album, Youth In the Shade in July. Security had to turn people away after two members made a last-minute appearance during KCON's convention portion. 
During the show itself, ZB1 showcased their bright, rookie energy on the ebullient "In Bloom'' and "New Kidz on the block." The group later performed a "Dream Stage" version of "Here I Am," the theme song for "Boys Planet 999." In a bit of a nod to the competitive nature of ZB1's formation, the group were joined by fan dancers who competed over their weekend for the spot on the KCON stage along with fellow performers from the competition TV show. 
XG Prove That They're Truly "Xtraordinary Girls"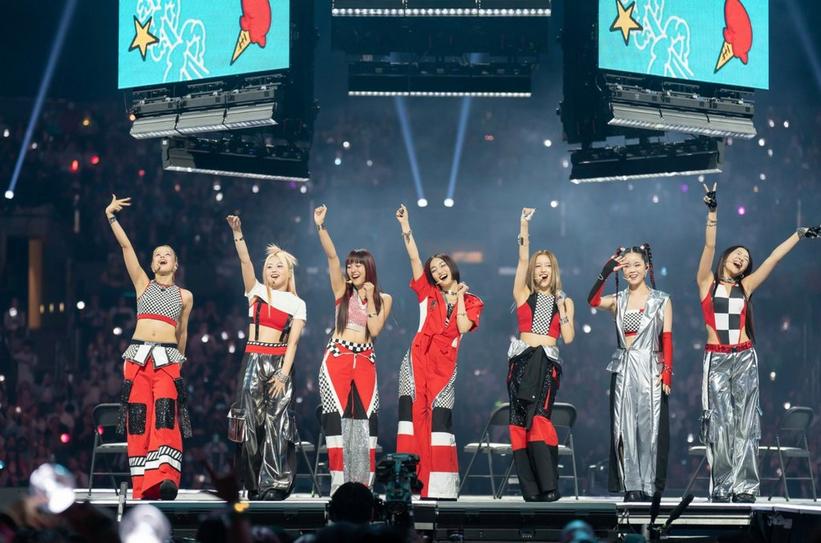 Since March of last year, the girl group XG have been impressing with their fierce hip-pop anthems and sleek dance numbers. A Japanese girl group made with K-pop know-how and a rising star at music festivals, XG performed several times throughout the weekend. The group won over the convention floor on Sunday, as a sizable crowd watched XG talk to the audience and play some games. 
While the majority of their formal concert set was spent putting the spotlight on their song "TGIF" and "Girl GVNG" off of September's upcoming New DNA EP, XG performed the popular songs "Shooting Stars" and "Left Right." However, a surprise performance of 2NE1's 2011 hit "I am the Best" remixed with elements of "TGIF" exemplified their star power. 
Covers and nostalgia in general are a popular element of KCON. 2000s R&B-pop icon RAIN performed, and Kep1er — the female counterparts of ZB1 who were produced during 2021's "Girl Planet 999" — thrilled with their own set and a cover of Girls' Generation's 2014 hit "Mr. Mr." JO1, a Japanese boy band produced in collaboration with CJ ENM, covered Seventeen's hit "Super" from this year. 
RIIZE Preview Their Rising Power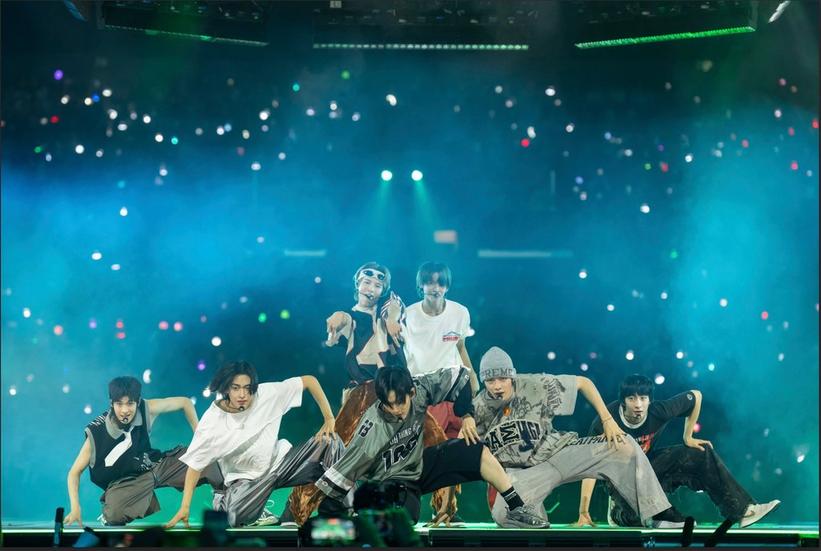 ON the third day of KCON, all eyes were on SM Entertainment's forthcoming new boy band, RIIZE. Set to drop their first single album Get a Guitar on Sept. 4, the seven-member team performed singles from the album twice — first on the convention stage and then later during the final concert's pre-show. 
While a rare hurricane delaying the final night's concert, the propulsive "Siren" and the synth-pop "Memories" gave a taste of the skill this septet have to offer, whetting appetites for SM Entertainment's first non-NCT-associated boy band since 2016. 
EVERGLOW Return To "Slay"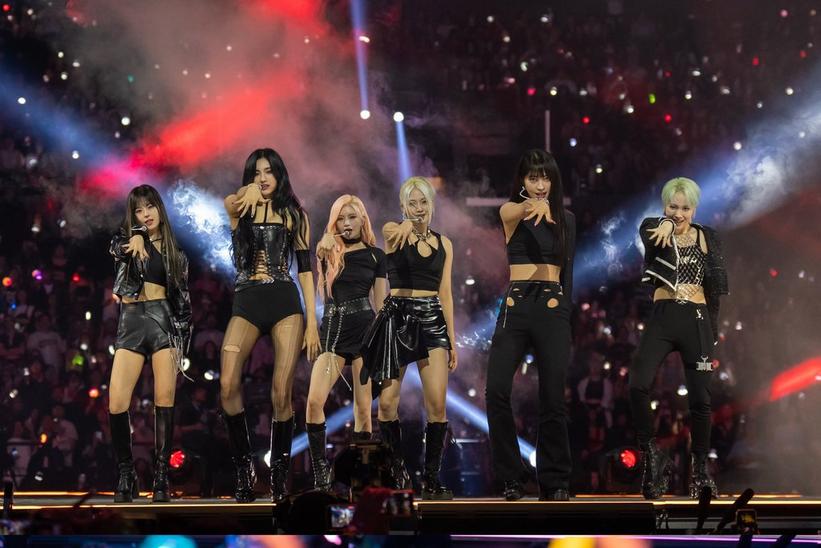 Not heard from since 2021's Pirate, Everglow's latest song "Slay" arrived on the first day of KCON. Known for their energetic, EDM-flavored songs, the girl group's anthemic, girl power dance tracks engendered diehard fans. Anticipation was high to see what they'd perform at KCON. 
While the new song "Slay" and longtime favorite "Dun Dun" thrilled, it was their finale of 2020's hit "La Di Da" that felt truly like it heralded the return of the group; the entire arena was sing-cheering along to the rousing "Everglow, forever let's go" chant. 
Stray Kids Are Clearly At The Top Of The Class 
Stray Kids debuted in 2018 with their first single "District 9" after a series of preview releases, and quickly earned a reputation for being rambunctious, self-produced and unafraid to hype themselves. Within five years, Stray Kids became one of the biggest acts in the game, selling out stadiums regularly. As the finale closers at KCON 2023, they revisited their roots, most recent hits, and long term faves to give their fans (known as "Stays") a night to remember.
Kicking things off with their recent single "S-Class" and its braggadocios declarations and creative choreography, Stray Kids then brought it back to "District 9" as part of the "Hi My First" KCON segment, pairing their recent successes with their earliest days. 
The remainder of their set was full of the unrestrained renditions of "Super Bowl," "God's Menu" and "Topline," more recent songs that roused the crowd - and the members of Stray Kids themselves — ending KCON 2023 Los Angeles on a major high, filling Crypto.com arena roaring with cheer and dancing in approval to the S-class superstars that are Stray Kids. 
What's Next For K-Pop? A Roundtable Unpacks The Genre's Past, Present And Future