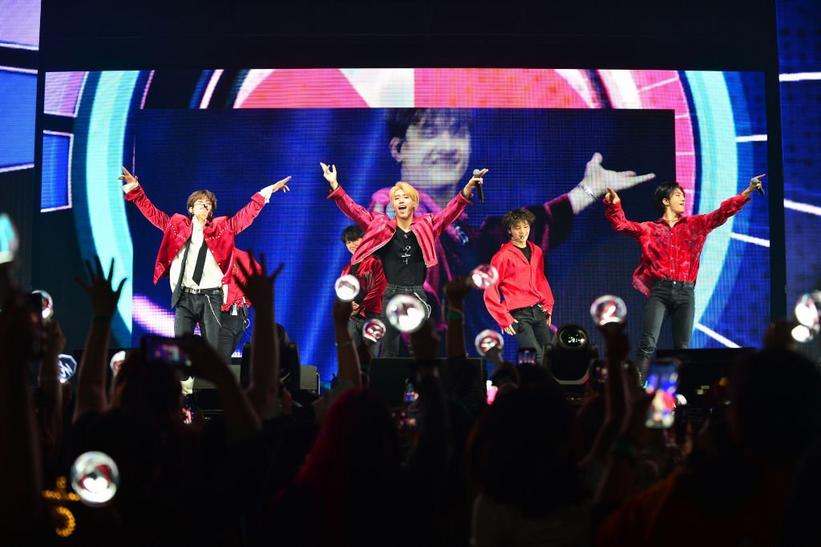 Photo by Johnny Louis/Getty Images
news
K-Pop Sensation Stray Kids On Their New LP, 'Go Live': "We Wanted To Show Everyone What Our True Colors Were"
The eight-piece troupe spoke to GRAMMY.com about the creation process behind their debut LP, enjoying food together and how "every member really trusts and loves each other"
GRAMMYs
/
Jun 29, 2020 - 10:52 pm
"Hello, we are Stray Kids!" they shout enthusiastically, just before someone howls for a few seconds with exuberance. It's fitting, considering that the South Korea-based boy band just released their first LP, Go Live, prior to hopping on the phone to discuss the June 17 release.
Featuring a total of 14 tracks, Go Live is a sonic taste of what Stray Kids has to offer. A group of eight members who hail from Asia and Australia and came together under K-pop label JYP Entertainment in 2017, the act has been together for less than half a decade. But in that short while, since the drop of their first "unofficial" release, 2017's Mixtape, which arrived before their formal debut as a K-pop act in 2018 with the I am trilogy followed by their 2019 Clé album series, they've made a name for themselves for their fiercely frank approach to both their world view and experimental music making, with internal production team 3racha, made up of members Bang Chan, Changbin and Han, taking center stage as the guiding hands of Stray Kids' discography.
Go Live, which debuted at No. 6 on Billboard's World Albums chart upon its release, is a different look for the group. They did away with the thematic approach they used when crafting prior album series', and instead decided to go with a more free-flowing, spontaneous creation method, which resulted in a diverse soundscape that reflects the moments they ideated songs (see the culinarily inspired single "God's Menu").
"Because it's our first full album, we want to show a vast variety of colors, or taste, in our so-called menu of the track list," Changbin told GRAMMY.com during a conversation with Stray Kids over the phone from Seoul about the act's first LP. "The creative process just happened on the spot, so we just wanted to make it raw and feel alive, as much as there are a lot of different flavors in Stray Kids and our music."
This interview was edited for clarity, and was conducted in both English and Korean.
How're you feeling nowadays? You must be pretty busy considering you just released the new album.
Bang Chan: We've been busy, but luckily everyone's been in the finest condition, so we're all really good right now.
Felix: We're healthy!
Always good to hear, especially considering all that's going on in 2020. Which, excitingly, includes the release of your first official LP, Go Live. What inspired you to release this album to the world?
Bang Chan: Because it's our first official full one, I think we put a lot more effort into it and we really wanted to show everyone what our true colors were, what Stray Kids is best at. I think what really inspired us to complete this album was to show what we make on the spot. This is really hard to explain, can you give me a moment? [Pauses.] Okay, so before, with our other [I am and Clé] series' albums, we thought of the message we wanted to write about, and then we would write the music and sort things out. But with this album, we made everything on the spot. Whatever we wanted to say, we just made it.
You mentioned that you wanted Go Live to show your true colors. Do you feel the past albums didn't really do that?
Bang Chan: In our past albums there were our true colors as well, but what I meant was that through this album the process was just a bit different. Before, we would choose the message first but with this one it was more about a right now kind of thing. Whatever happened happened, and it would come out as it is.
So this album is kind of a reflection of the moment rather than an idea or message you're putting into it.
Bang Chan: Yes. For example, our first song "God's Menu." It might be weird to see the title, "God's Menu." But in Korean, it's called "Shin Menu (神메뉴)," and it has two meanings. One is "God's Menu" and one is "New Menu." With that wordplay, we wanted to relay how the way we relate to music could be like cooking [something new up], we wanted to take that image and put it out to show what we're made of.
You must have a strong relationship to food to base your whole album on it?
Bang Chan: Everyone loves food in our team.
Felix: Ever since, you know, we trained [to be part of Stray Kids under JYP], we had food together so it's become natural for us to eat a lot together. And, even without me realizing, way before this album came out, I started cooking food for the team just as a hobby, seeing I could bring my energy to the group that way. I feel that it was really right for this album, since I cook and love food.
Why did you decide to name the album Go Live?
Bang Chan: We wanted to exhibit something different. Of course, we could have named this whole album God's Menu but we wanted to show that we, Stray Kids with their music, are that itself. They are alive, they are raw, there's no special ingredient, there's no special filter. It is what it is, and that's what we wanted to show through this album.
Beyond the single, are there any songs that members have particular connections to? Either as songwriters or just because you like them?
Bang Chan [about Changbin]: He's thinking deeply. He loves every song.
Changbin: "God's Menu."
I.N: "Haven"
Han: I'm going to choose "Blueprint." That's a good song.
Hyunjin [sings]: "TA"
Seungmin: "Blueprint" also.
Felix: "God's Menu."
Bang Chan: I will have to choose "God's Menu." Yea, I can't choose.
Lee Know: "Easy."
Han: Nobody answered [the song I wrote the lyrics for] "Another Day." A bit sad. Yea… Nobody. No one. [Members all laugh.]
This is your first LP, so, aside from how you approached the creative process differently, were you in a different headspace while approaching this release?
Seungmin: The albums that we released so far have our own story, but this full-length album, I think, contains what Stray Kids is all about. For example, there is a lot of music of various genres, because we wanted to tell you that we can enjoy these different kinds of music. It's very meaningful that it's our first full-length album so we worked more and more hard.
Stray Kids is known for its kind of edgy, experimentally aggressive approach to music, especially for singles, but on this album there's a lot of diversity, and a lot of the songs, like "Another Day," "Blueprint" and "Phobia" were pretty mellow. Is that because rather than telling a story you were focused on showing a broader, truer representation of Stray Kids?
Bang Chang: Well, I mean, we do experiment a lot with our songs. But like you said there are some easygoing songs as well as experimental songs. There's a whole package, isn't it? That's what we're going for, because there can be times when you need to take a break. Even in a novel, there's a whole structure where it goes really crazy but then cools down for a bit. Even in a full-course meal, you get the appetizer, the entree, the dessert. It's all one big package, and that's what we were going for.
You have had a hands-on approach to songwriting since prior to your debut. Do you feel your songwriting process has changed at all over the years?
Changbin: If there's one thing we've gotten better at, or grown out of, is that our creative writing process comes a lot faster. What we want to write about in the moment, the ideas come faster as well. Because it's our first full-length album, we were able to put in a lot of songs so that being an opportunity for us was just really exciting, it was really exhilarating, it made us more excited and it made us want to create more ideas to write about. The whole creative process of this full-length album, it was really special. Just playing around with music and being able to do whatever we want. I think that was really special.
What's the overall message you want listeners to take away from Go Live?
Bang Chan: There's a lot of flavors in the album, but if there's anything that we want listeners to get out of it… You know, "Stray Kids has their own very special genre." I mean, I can't tell them to think like that. But if they do think like that, I think it would be one of the hugest compliments we can get, for Stray Kids' music to have their own different genre. I think that'd be really amazing. I think it'd be really special for us. Yeah… But for the first listen of our album, I hope listeners can realize that Stray Kids really have fun when making their own music, and really experiment a lot, and really enjoy making genuine music.
You mentioned how fun the process is to create music, but it's still work. How do you keep finding motivation and joy in this even when those times come where it may be hard to approach your work?
Felix: Honestly, for us, we have no problems at all because, all thanks to [our fandom], Stay [Stray Kids' fandom name] we're still on our track, still on this journey. For us, there's no end to it, so we always keep striving towards the goal we haven't seen yet. There are always bits and pieces that we're still picking up together. It's all thanks to Stay, that they're right beside us, that we get to walk this journey without any trouble.
Bang Chan: And another thing to add onto what Felix said. Of course, we have our fans, our lovely Stay who are right there with us. Not only that, but what's most important for Stray Kids is Stray Kids itself. Every member relies on each other, every member really helps each other, every member really trusts and loves each other, and that's what's really important for Stray Kids.
Felix: Woah… Mic drop. [All cheer.]
Felix said that you're still on your path to achieving your as-of-yet undetermined goal. So what is something you think you might want to achieve in the future?
I.N: One of my main goals, and one of Stray Kids' goals, in 2020 is to show not only Stay but a lot of people what Stray Kids' performance is all about. I want to give a lot of people energy through performances, and energy, inspiration, and strength through our music.
Final question: What's something random you've never told your fans?
Bang Chan: I really enjoyed watching Community, it's really, really funny. And The Big Bang Theory.
Felix: I actually enjoy baking instead of cooking. So far I make brownies, but I'm trying to find other stuff to do.
Bang Chan: Yea, I'm trying to make him make chocolate chip cookies. He won't make it, but I really like chocolate chip cookies. He's being annoying. He makes a whole lot of brownies, just to be energizer.
BTS Talk New Album 'Map Of The Soul: 7': "The Genre Is BTS"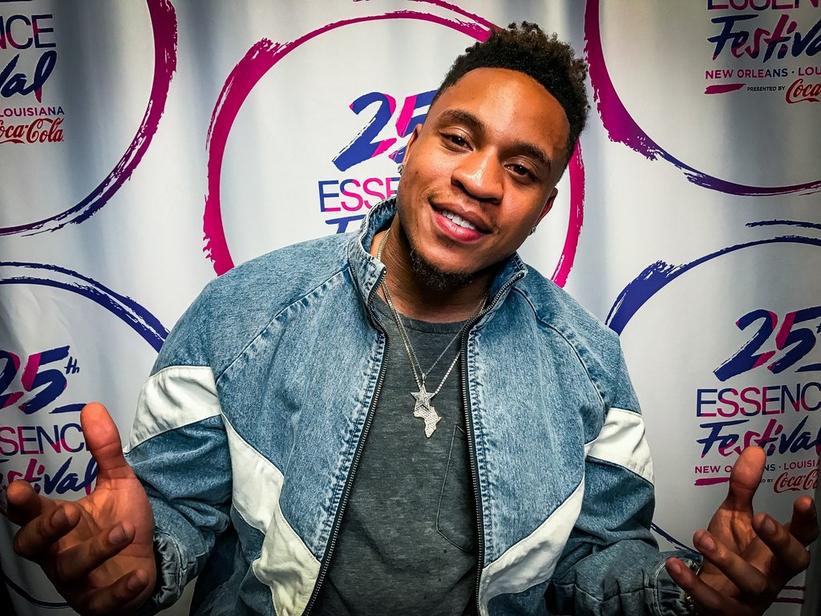 news
Rotimi On Performing At ESSENCE Fest, Growing Up African-American & More
The Nigerian-American singer and actor sat down with the Recording Academy to talk about what inspired his latest album, 'Walk With Me'
GRAMMYs
/
Jul 8, 2019 - 10:04 pm
In 2015, Rotimi stepped into the New Orleans Superdome for the first time to experience the magic of ESSENCE Fest. Four years later, in 2019, the "Love Riddim" singer returned to the celebration as a performer, something he said was spoken into existence.
"Last year me and my manager had a conversation and I said, 'Listen, I'm going to be on the [ESSENCE] mainstage this year. 365 days later, we did it," Rotimi told the Recording Academy at the 25th annual ESSENCE Fest.
Rotimi, also an actor on Starz' "Power," has evolved since his last album, 2017's Jeep Music, Vol.1. The singer said he really hit home with its follow-up, the recently released Walk With Me, a project he worked hard for, putting in hours in the studio after filming on set.
"Walk With Me is the first time I actually felt like I was giving myself as an artist, and personally I feel like with everything else I have going on I wanted to show people that this is really what I do," he said. "I wanted people to understand who Rotimi is, who Rotimi was before, who I want to be and just understand my growth and the journey and my passion for what I do."
Part of why the album felt like such a representation of him is because it embodies beats of his African roots, something he said was very present growing up Nigerian-American.
"I grew up with a lot of Fela Kuti and I grew up with Bob Marley," he said of his musical roots. "But I also grew up with Carl Thomas and Genuine and Usher, so there was a genuine mixture of who I am and what I've grown up to listen to. The actual Walk With Me project was a mixture of influences of Akon and Craig David."
Mumu Fresh On What She Learned From Working With The Roots, Rhyming & More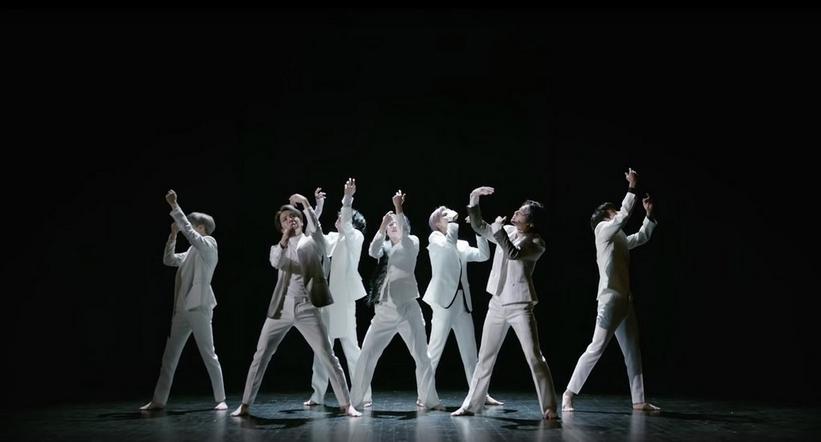 BTS - "Black Swan" Music Video
news
BTS Release Stunning Music Video For 'Map Of The Soul: 7' Single "Black Swan"
The striking visual is the latest offering from the South Korean septet's chart-topping album
GRAMMYs
/
Mar 4, 2020 - 11:19 pm
BTS are back with another stunning music video off their newly released, chart-topping album Map Of The Soul: 7. Today (March 4), the global pop superstars released the official music video for "Black Swan," the first single off the album.
Simple yet striking, the "Black Swan" video shows the South Korean septet deliver a gorgeous dance performance inside an equally beautiful theater. Directed by YongSeok Choi and co-directed by Guzza, both from the Lumpens creative collective, the visual depicts the members of BTS transforming from swans into the song's eponymous black swans onstage.
The "Black Swan" video follows the group's recent cinematic visual for Map Of The Soul: 7 single "ON," which last week (Feb. 28) broke YouTube's record for most views for a video premiere. Last month (Feb. 21), BTS released the Kinetic Manifesto Film: Come Prima, the first visual for "ON" that unfolds like a short film.
Released last month, Map Of The Soul: 7, BTS' fourth studio album, is breaking records around the world. Already the best-selling album of the year worldwide, the album topped the Billboard 200 chart, their fourth No. 1 album in the U.S., while lead single "ON" currently sits at No. 4 on the Billboard Hot 100 chart, marking their highest record on that chart to date.
Read: BTS Talk New Album 'Map Of The Soul: 7': "The Genre Is BTS"
In an interview with the Recording Academy last month, BTS explained their creative approach to Map Of The Soul: 7, which sees the group exploring everything from pop ballads to hip-hop jams.
"I think it's less and less meaningful to divide music into genres now," BTS member Suga said.
"The genre is BTS. That's the genre we want to make and the music that we want. New genre," the group's Jungkook, V and J-Hope added.
Map Of The Soul: 7 follows a dazzling performance from BTS at the 62nd GRAMMY Awards last month. They joined Lil Nas X in a star-studded performance of "Old Town Road" that also featured Billy Ray Cyrus, Diplo and Mason Ramsey.
Map Of The Soul: 7 marks BTS' first full-length project since their 2018 album, Love Yourself: Tear, which topped the Billboard 200 chart and solidified the group as the first Korean act to accomplish that record-setting feat. It's also the second installment in BTS' ongoing Map Of The Soul series, which launched with the chart-topping Map of the Soul: Persona EP last April.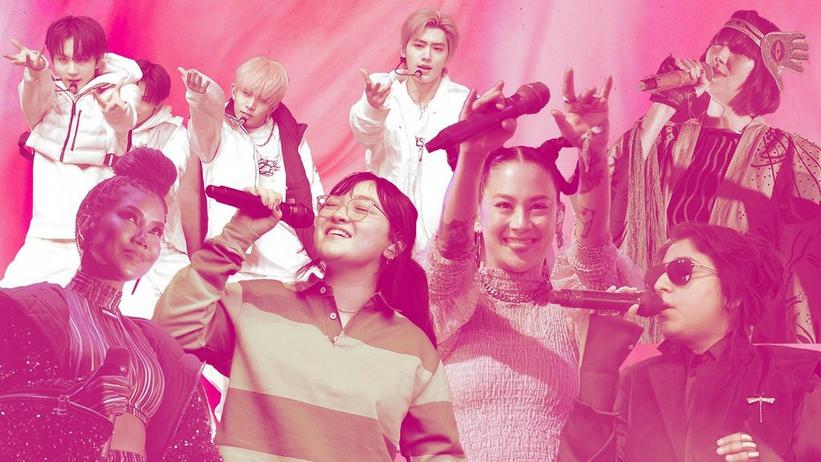 (Clockwise L-R): ENHYPEN, Karen O, Arooj Aftab, Japanese Breakfast, mxmtoon, Jhené Aiko
Source Photos (Clockwise L-R): The Chosunilbo JNS/Imazins via Getty Images; Rick Kern/WireImage; Scott Dudelson/Getty Images for Coachella; Scott Dudelson/Getty Images for Coachella; FilmMagic/FilmMagic for Outside Lands; Scott Dudelson/Getty Images for Coachella
list
Japanese Breakfast, Blackpink, Enhypen, Stray Kids, Mxmtoon & More | Listen To GRAMMY.com's AAPI Month 2022 Playlist
As we celebrate the contributions of AAPI artists throughout the month of May, GRAMMY.com presents a genre-spanning playlist of emerging and established artists you should know, including BTS, Jhené Aiko, B.I, TWICE, Arooj Aftab, and many more.
GRAMMYs
/
May 19, 2022 - 11:02 pm
Asian American and Pacific Islander (AAPI) musicians have created a plethora of transformative art, which is ripe for exploration. To help you do it, GRAMMY.com has put together a 30-song list with music from AAPI musicians including Luna Li, Wallice, Weston Estate, Kainalu and OHYUNG, along with other AAPI artists you should know like Deb Never, Lucy Liyou and Sunset Rollercoaster. You may even find your new favorite artist along the way.
This playlist spans genres and moods, and its primary goal is to expose you to fantastic new AAPI artists you might not find in less curated places, like your motionless Spotify algorithm or crooning through your car radio. You can think of this playlist as a first-rate tasting menu of what AAPI-made music has to offer — something to turn to when you're looking for solidarity, inspiration or just some really good music.  
Listen to GRAMMY.com's official 2022 AAPI Month playlist below and follow the Recording Academy/GRAMMYs on Spotify, Apple Music, Amazon Music and Pandora. Playlist powered by GRAMMY U.
5 Emerging AAPI Artists You Need To Listen To: Luna Li, Wallice, OHYUNG & More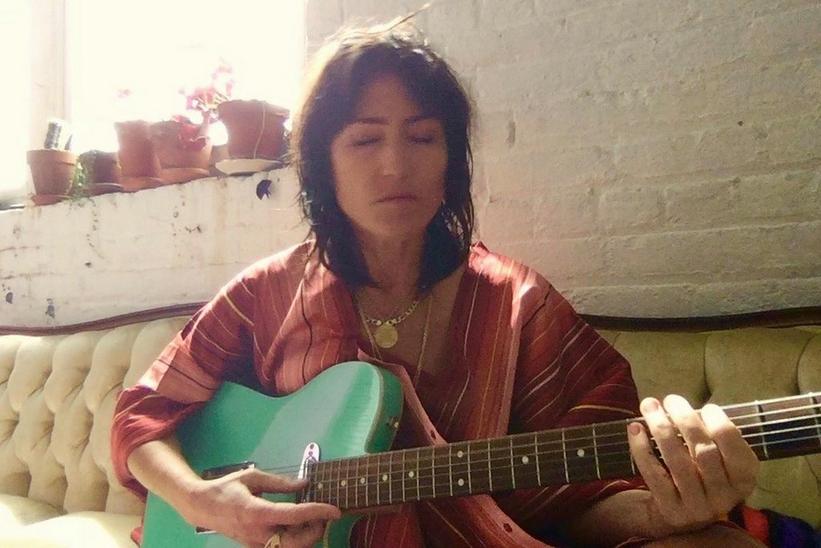 news
Quarantine Diaries: Joan As Police Woman Is Bike Riding, Book Reading & Strumming D'Angelo
As the coronavirus/COVID-19 pandemic continues to rock the music industry, the Recording Academy reached out to a few musicians to see how they were spending their days indoors
GRAMMYs
/
Apr 7, 2020 - 07:21 pm
As the coronavirus/COVID-19 pandemic continues to rock the music industry, the Recording Academy reached out to a few musicians to see how they were spending their days indoors. Today, singer/songwriter Joan Wasser of Joan as Police Woman, whose forthcoming covers album, COVER TWO, includes tracks by The Strokes, Prince, Talk Talk, and more, shares her Quarantine Diary.
Thursday, April 2
[10 a.m.-12 p.m.] Went to bed at 4 a.m. last night after getting drawn into working on a song. Put on the kettle to make hot coffee while enjoying an iced coffee I made the day before. Double coffee is my jam. Read the news, which does not do much for my mood. Catch up with a few friends, which does a lot of good for my mood. Glad it goes in this order.
[12 p.m.-2 p.m.] Make steel cut oats with blueberries, raspberries, strawberries, fresh ginger, fresh turmeric, a sprinkling of cinnamon and cardamom, and of course, coconut butter to melt on top. If you're not into coconut butter (sometimes marketed as coconut "manna"), I'd suggest just going for it and getting it (or ordering it) and putting it on your sweet potatoes, your oats, anywhere you'd put butter. I'm not vegan but I do enjoy hearing the tiny scream uttered by a strawberry as I cut into it.
Contemplate some yoga. Contamplate meditating. Do neither. Resume work on the song I want to finish and send today. I have a home studio and I spend a lot of my time working on music here. The song is a collboration sent to me from Rodrigo D'Erasmo in Milano that will benefit the folks who work behind the scenes in the music touring system in Italy.
[2 p.m.-4 p.m.] I traded in a guitar for a baritone guitar right before all this craziness hit but hadn't had the time to get it out until now. I put on some D'Angelo, plugged into my amp and played along as if I were in his band. Micahel Archer, If you're reading this, I hope you are safe and sound and thank you immensely for all the music you've given us always.
[4 p.m.-6 p.m.] Bike repair shops have been deemed "necessary," thank goodness, because biking is the primary way I get around and I need a small repair. I hit up my neighborhood shop and they get my bike in and out in 10 minutes, enough time to feel the sun for a moment.
I ride fast and hard down to the water's edge and take in a view of the East River from Brooklyn. There are a few people out getting their de-stress walks but it is mostly deserted on the usually packed streets.
[6 p.m.-8 p.m.] Practice Bach piano invention no. 4 in Dm very, very, very slowly. I never studied piano but I'm trying to hone some skills. Realize I'm ravenous. Eat chicken stew with wild mushrooms I made in the slow cooker yesterday. It's always better the second day.
[8 p.m.-10 p.m.] Get on a zoom chat with a bunch of women friends on both coasts. We basically shoot the sh*t and make each other laugh.
Afterwards I still feel like I ate a school bus so I give into yoga. I feel great afterwards. This photo proves I have a foot.
[10 p.m.-12 a.m.] Record a podcast for Stereo Embers in anticipation of my new release on May 1, a second record of covers, inventively named COVER TWO. Continue to work on music (it's a theme).
[12 a.m.-2 p.m.] Tell myself I should think about bed. Ignore myself and confinue to work on music.
[2 a.m.-4 a.m.] Force myself into bed where I have many books to choose from. This is what I'm reading presently, depending on my mood. Finally I listen to Nick Hakim's new song, "Qadir," and am taken by its beauty and grace. Good night.
If you wish to support our efforts to assist music professionals in need, learn more about the Recording Academy's and MusiCares COVID-19 Relief Fund.
If you are a member of the music industry in need of assistance, visit the MusiCares website.