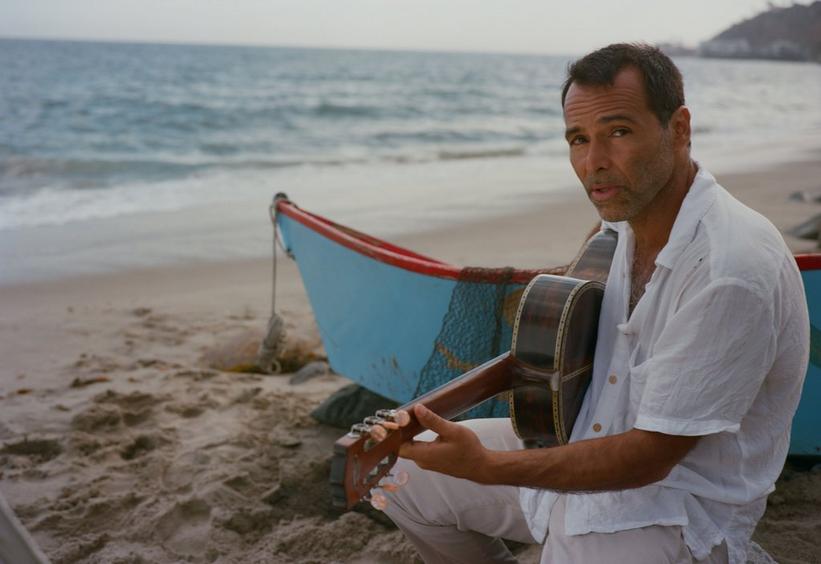 feature
Samba Star Rogê Created His "Most Brazilian" Album A World Away From Home
Twenty years after his debut, Rogê delivered his first-ever U.S. album, 'Curyman' — a masterclass in what happens when you "jump into the darkness" and take artistic risks.
GRAMMYs
/
Mar 6, 2023 - 08:08 pm
Rogê has walked through many worlds. The singer and guitarist's samba-soul has garnered him a popular 10-year residency at one of Rio de Janeiro's most important venues, brought him behind the scenes at the Olympics, taken flight to Holland and eventually landed him in Los Angeles. 
Tonight Rogê is in New York City, where he's performing at a members-only club overlooking the Manhattan skyline. At first, the guests seem vaguely disinterested in the show. Yet, together with percussionist Stephane San Juan, Rogê's  gravely yet sweet vocals and spirited acoustic guitar styling commands the room's attention. Within minutes, the crowd is clapping along, and the increasingly exuberant Rogê exclaims "saúde!" (Portuguese for "to your health"). 
Like his idols — Brazilian legends Jorge Ben, Milton Nascimento and Seu Jorge, among others — Rogê has seemingly managed to harness a universality that defies location, mother tongue or genre. His debut U.S. album, Curyman, is a testament to Rogê's wide-ranging appeal, filled with joyous samba-funk and subtly heartbreaking ballads. Set against emotive string arrangements by master Brazilian composer Arthur Verocai, Curyman seems to transcend language. 
The album is "a great picture of my life here," Rogê tells GRAMMY.com, adding that the record — his ninth of original material — was recorded with players he had never worked with previously. "It's my first album that an American guy [recorded] with a vision and a different angle for Brazilian music. But this album is very me, a lot more than other ones. I'm singing, playing everything, guiding everyone." 
Curyman — an amalgamation of Rogê's last name, Cury, the indigenous language Guarani and a reference to singer/songwriter Dorival Caymmi — is filled with references to his homeland. Brazil's natural beauty ("Grito Do Natureza"), its ancient gods ("Yemanjá"), plethora of rhythms ("Retumbar Do Meu Tambor") and vibrant energy ("Pra Vida") course through the album's 11 tracks. Despite this specificity, the album was designed as aural cinema — something that is as much vibe as it is a poignant portrait.
"The emotion is jumping out of the speakers," says producer Tom Brenneck. Although he doesn't speak Portuguese, Brenneck asserts that Rogê's singing was "incredibly charming." 
"Language barriers be damned. I knew what every song was about, even though it was never translated," he says.
While Curyman is distinctly Brazilian in sound and language, the album could only have been created outside of the country. Despite various successes — an acclaimed residency in Rio, a co-writing credit on the theme for the 2016 Olympic Games, and a Latin GRAMMY nomination for his work with sambista Arlindo Cruz — Rogê was "knocking the ceiling with my head." As Brazil's political and cultural climate became increasingly perilous, the musician packed up his young family and moved to L.A. in 2019. 
After a rough start stateside ("Some days I went to bed early to not think too much about how I would pay the bills next month," he told the LA Times in 2022), Rogê connected with legendary Brazilian singer/actor Seu Jorge. The two shuttled over to the Netherlands to record an EP, Seu Jorge & Rogê: Night Dreamer Direct-to-Disc Sessions, and completed three of a scheduled 23-date U.S. tour before the pandemic hit.
Watch: Rogê Debuts New Song "Camará" With An Intimate Acoustic Performance From Home | Global Spin
Rogê wrote furiously for the Seu Jorge EP — "Composing something is a spiritual thing," he contends. "I think the perfect composer is the balancing inspiration and technique" — and a handful of those songs on Curyman. He played some of the compositions for Brenneck at Sound Factory studios in Hollywood, where the two were working on whistler Molly Lewis' 2021 record, Oceanic Feeling. Rogê and Brenneck had never met.
"I was floored instantly," recalls Brenneck, who quickly suggested Rogê record some demos. "Rogê recorded 12 songs in like an hour and a half. His guitar playing was outrageous. The songwriting was incredibly sophisticated. His singing was amazing. So it was like, Yeah, let's do a record."
Rogê and Brenneck recorded Curyman over four days at various studios in a series of live sessions. The project encompassed a number of firsts: The first time both musicians had worked together; the first time Rogê worked with a cast of entirely American session players; and the first Brazilian record Brenneck had ever worked on.
"I was in new territory, I was a bit out of my league. His music was harmonically far more sophisticated than anything else I've ever done in my life," notes Brenneck, whose credits include production and session work with Amy Winehouse, Lady Gaga and Bruno Mars. "Something that [Rogê] said to me over and over again, throughout the process of the record, was 'This record never would have been made in Brazil.' Because in Brazil, more is more; my approach was less is more. The record is very true to what was performed in studio."
Rogê was also working in new territory, away from his homeland and trusted musical community. "But it's beautiful when you're in the arts [and] when you jump in the darkness. That's why I made an album with a guy who had never made a Brazilian [album before]," Rogê says. "I had to explain a lot of things of Brazilian music."
Yet their collective musical chemistry superseded barriers. With rhythm tracks and vocals in hand, the two flew to Rio during the summer of 2022 and watched as Verocai — a friend of Rogê's, to Brenneck's disbelief — added strings and a transcendent level of emotion. 
"It literally felt like I went back in time and, like, understood how, like, Frank Sinatra records went down," Brenneck says of the sessions. "When Verocai was putting strings on [the ballad 'Se u du Amor'] I felt like that was perhaps the greatest achievement I might ever f—ing do."
In attempting to establish himself in America, Curyman has led Rogê to feel even more Brazilian. While his previous albums skewed poppier, "This album is real deal Brazilian: A lot of flavors, different styles of Brazilian music. I felt more freedom to do that here."
For Brenneck, creating with Rogê helped him work through five years of grief following the death of his close friend and musical partner Charles Bradley. "Because everything was so new about it was a different genre, different language, different musical language for musical palette, and I just felt I got so much inspiration. It showed me that there'll be life after," he says. (A testament to that new life, Curyman will be the debut release for Brenneck's new label, Diamond West Records.)
Rogê, meanwhile, is "just starting to write my story" in America, but believes in the universality of his messages and brand of Brazilian music. "Jorge Ben, Dorival Caymmi sound more than Brazilian. Somewhere, in some space, everybody understands [their music]. They're connected. I really believe that."
Meet Tobias Jesso Jr., The First-Ever GRAMMY Winner For Songwriter Of The Year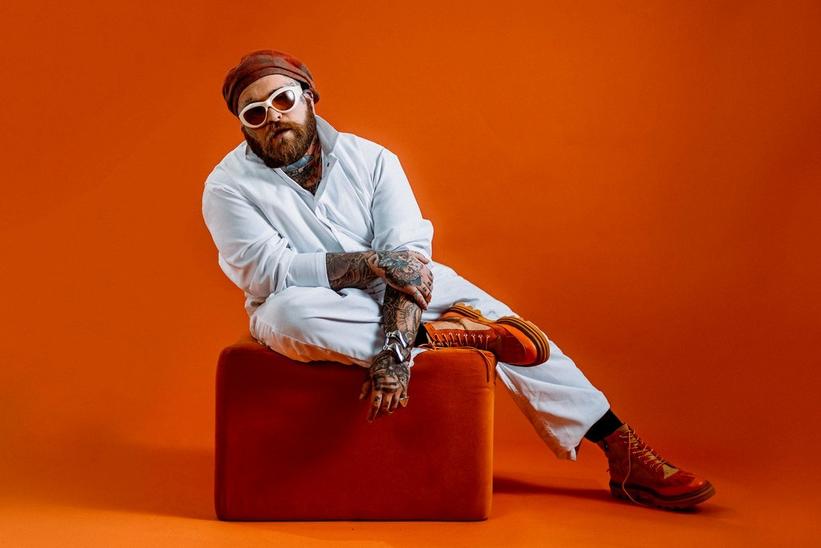 interview
Teddy Swims Is Letting Himself Be Brutally Honest On 'I've Tried Everything But Therapy'
As the world continues to discover the magnitude of Teddy Swims' soulful voice, he realized the power of opening up and letting go with his debut album, 'I've Tried Everything But Therapy.'
GRAMMYs
/
Sep 21, 2023 - 04:38 pm
Four years into his career, Teddy Swims made a promise to himself to be more honest. With that in mind, he decided to be unflinchingly real with his debut album title: I've Tried Everything But Therapy.
While the title may be true for now, Swims is incredibly vulnerable. Across 10 tracks, he divulges the raw emotions of heartbreak, from reeling over what could've been in opener "Some Things I'll Never Know" to leaning into new love — while still in repair — on closer "Evergreen."
"It's the most honest I've ever let myself be," Swims, born Jaten Dimsdale, says of the album. "I'm proud of it, and I'm proud of myself. And it's a f—ing relief to just get it off my shoulders."
For someone who bares his soul in his music, both lyrically and vocally, it's rather surprising to think that he wouldn't be the type for therapy. But now that the album is out, his next step is seeking professional help — another promise he made to himself upon choosing the candid title.
In the meantime, Swims is already seeing the impact of being more and more open in his music. "Lose Control," the album's lead single, has earned Swims his first entry on the Billboard Hot 100 and first solo radio hit (in 2022, his Meghan Trainor collab "Bad For Me" reached No. 15 on Billboard's Adult Pop Airplay chart). But perhaps more notably, his powerful vocal runs on the song's dynamic chorus are stopping listeners in their tracks. As one YouTube commenter put it, "Man has a voice that speaks to the core of your soul."
Just before the album's arrival, Swims talked with GRAMMY.com about how I've Tried Everything But Therapy has helped him understand the impact of wearing his insecurities on his sleeve — and how his bewitchingly soulful voice ties it all together. 
How does this album feel different from what you've put out before this, whether it's lyrically or sonically, or even how you feel mentally based around the process?
I feel like this is maturity. I can listen to these songs and I feel proud of them. 
Everybody kinda doesn't like their own voice, you know? But I feel like I belong on those songs, and nobody could say what I needed to say the way I could say it. I feel like I'm saying something that I need to say and get off my chest in an entirely different way than I ever have. 
I'm kind of an emotional toddler. I'm getting more of a grasp on what I want to say and how to say it, how to talk about my feelings more. I feel like the more I do it, the longer I do it, the more honest I become, the more I get out of the way of things. I'm learning to get out of the way and let the creative flow just be what it is now.
Going into writing this album, like, what were you going through? And did you have a goal in mind about what you wanted the album to be?
I really didn't know at the time. In the last four years, I've written maybe four or five hundred songs. I didn't write it knowing that it was an album, or write it knowing that this was going to be the album; but more so, when it started coming together, it just felt like things fell into place. 
I realized that I've been circling around the same feelings and emotions for a very long time. It's always about — I was in a very toxic relationship, and I have been a lot in my life. This is me kind of learning that I can be loved, and that I am beautiful, and I deserve love. That's kind of what the struggle is and always has been.
The album title is interesting to me, because so many artists compare songwriting to therapy. But has songwriting always felt like therapy for you? 
Songwriting can be therapeutic if you have a feeling that you need to get out, and you write that feeling down, and you get it out. But what I tend to do a lot in my life, I'll write it down into a song, and then I'll write it into another song from a different perspective. And I'll write it down 100 different ways, in 100 different perspectives, to the point that it ends up that that small problem has now turned into the biggest problem in my life, because I've thought about so many different ways. 
Instead of being more therapeutic, [songwriting has] been more of a way of highlighting what I'm going through, sometimes way too much.
The title itself was kind of a promise to myself that I would go to therapy when the album comes out. I think it's something that everyone can benefit from, especially me. But there's still something about me — maybe it's a generational mindset, like, I'm not crazy, I don't need that, or maybe there's answers to questions I don't really want to ask that I'm gonna get. 
I like my coping mechanisms. I like how I am and who I am when I do cope. So there's a part of me that's afraid that I'll have to change.
But I made a promise to myself, put a deadline on myself where I'll go and I'll seek help, and I'll try. It's also me being honest and open about that, to you and to everyone, that I'm like, "I need help, that's okay." I'm gonna ask for help, and that's a liberating and equally terrifying thing.
The nice thing is, there has been a lot more public acceptance of mental health in recent years. How have you felt that change since you started releasing music, and how has it impacted your songwriting?
I think what's so great about our industry these days is that I'm not held to the same standard as, like, Stevie Wonder or Michael Jackson, where I have to be such a star, and you don't know anything about me. These days, as an artist, I get to be absolutely insecure and absolutely terrified, and it's what makes my artistry beautiful. And people that feel the way I feel can look at me and say, "That guy's so insecure, and he's so scared. But he's doing it, and we want him to win." 
I don't want to swallow my insecurities. I don't have to wait until I feel like I'm worthy of love to put myself out there. Every bit of insecurity, and everything that's going on in my life, I'm allowed to just wear it and put it on for everybody to see. That has helped me in more ways than me trying to be anything I'm not.
You've said that for a long time, you worried about giving too much of yourself in your music, but seeing people connect to the music has made you realize it's actually making a difference. When did you start realizing that? 
I am very lucky — every show we do, I have a meet and greet where I can talk to 100 people, and they tell me things that have changed their life, ways that I've affected them, and the ways that I've touched their lives. 
I also want them to know that I'm just that fat kid from Rockdale County, Georgia, and still feels like that. And they make me be able to be honest and have an outlet to turn my trauma into something positive in me. 
I feel like I learn it more and more every day that I am in a safe space, and I've created a safe space for people, and I become safer in that all the time. And I'm becoming more honest with myself, with them, in the safe space. It's just sacred, you know?
Was there a song of yours that kind of opened that up for you, because of the way that people connected to it? 
I've had a few like that, but "Simple Things" that I released on one of my EPs is still a song I sing all the time. I thought the verses were only specific to my life and what I was going through — that was the first time I was honest, and I wrote from only what I was going through specifically to my life, and that connected and did more for people than anything I did [previously]. 
You've said that you're insecure, but would you consider yourself an introvert?
I think the more that I do this, the more I become one. I used to be the biggest extrovert in the world, but the more I do this job, the more I have to be social, I feel myself becoming more of an introvert. 
Well, I brought that up because so many artists consider themselves introverts, when you are pouring your heart out in music that is then heard by thousands, if not millions, of people. Has that dichotomy ever crossed your mind? 
Yeah, but that's kind of why I think I've become more introverted, because I gotta figure out what's still mine or if there should be anything that I should hold to myself. That is the question: What is still for me, or should there still be anything just for me?
That's so interesting to think about — I've never really thought about the battle that an artist can have when they share so much. Because it's like, at that point, you're so exposed, how are you even supposed to function as a private person in any regard? 
Yeah. You figure it out, you let me know. [Laughs.]
It's cool that you're feeling so proud of this album, though, because I'd say that means that you haven't gone too far. 
It's the most honest I've ever let myself be. And I don't feel exposed — I just feel like I said what I needed to say.
I've heard that I've Tried Everything But Therapy is coming in multiple parts and this is just part one. Is that true?
Yeah, we're planning on part two, but I don't know what that looks like yet. But I want to put out more music. And I think I want to come from a different place of what I've learned from how I've healed. I just don't feel like this story's done yet. 
But you said you're going to start therapy after this album releases — so you're going to release a part two of I've Tried Everything But Therapy after you've been in therapy?
Yeah, I guess that doesn't make sense. But it will!
It would be kind of interesting to have part two be the response to therapy after you have done it.
Yeah, exactly. That's the vibe. Maybe we just go straight to part three and skip part two altogether. 
Before you even released part one, people were going crazy over "Lose Control" because of how soulful you sound on it. When did you realize you had such a captivating voice?
It wasn't really a realization — I was bad for a long time. But I love this, and I wanted this, so I worked hard to become good at it. I wanted to be the best I could at it, because using my voice means everything to me, and I want to know how to do everything I can with it. 
Well, you're doing something right, because people are exclaiming about it left and right. I saw a comment on one of your Instagram posts that said, "I just threw my shoe across my damn office, you better sing!" Do you feel the power of your own music?
I know, technically and dynamically, I am a good singer. When I listen to myself, I can't say I can't sing, because it's all there. Any singer or vocal coach could tell "That kid knows what he's doing. He can sing his ass off." 
But also, there's part of me that still doesn't like my voice, too, just like anyone else. And I think that might be why I became so good at it. Because I want to hear it and be like, "Well, you can't tell yourself you ain't good, 'cause that was f—ing — that takes skill." I've learned enough to know that I can't tell myself I'm bad. [Laughs.]
And I have to say, I've been impressed with all of the people you've posted singing their own versions of "Lose Control."
People can sing! And people have been writing verses to it too. The love on it has been so rewarding.
I feel very justified [that the music] is connecting. I feel like it's already helping. I feel very humbled, appreciated and loved.
On 'Super Over,' Leah Kate Offers Advice On Cutting Off Toxic Relationships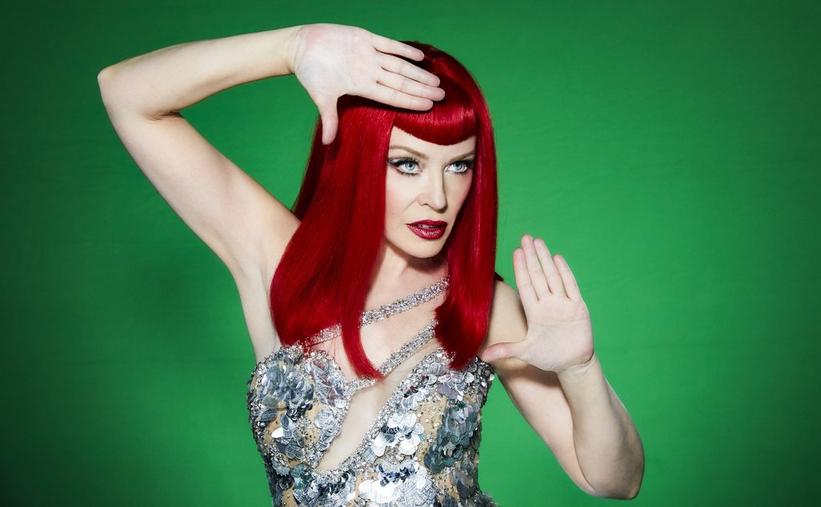 interview
Kylie Minogue On The Freedom Behind 'Tension,' Being A Gay Icon & "Padam Padam"
Kylie Mingoue's new album, 'Tension,' had no theme. Instead, the pop star tells GRAMMY.com, the album offered a space to be free in the music-making process.
GRAMMYs
/
Sep 21, 2023 - 12:56 pm
Kylie Minogue certainly knows her way around an infectious dance pop bop. Look no further than the wild and campy "Padam Padam" — the lead single to her upbeat new album Tension, which arrives Sept. 22. 
It's the song of the summer that a large segment of Americans didn't even know about. In the U.S., the song reached No. 7 on Billboard's Hot Dance/Electronic chart. In the U.K., it was a No. 1 pop hit that the radio wouldn't play — a move that the song's writers, and Kylie herself, consider to be ageist (and sexist, because they do play David Guetta, who is also 55).
Yet when "Padam Padam" dropped this spring, it was an immediate hit within the LGBTQ+ community. "Padam" became a greeting, a verb, an adjective, and the inspiration for many, many memes.
A select handful of shimmering pop stars from every generation are adopted by the LGBTQ+ community (among them, Grace Jones, Cher and Beyoncé), and Kylie has maintained her status as a pop queen and gay icon for decades. It's something Kylie doesn't take for granted, and she is deeply appreciative of the loyal support of the gay community.
"It's hugely important to me and so touching," Kylie recently told GRAMMY.com when we asked what their support means to her. "It's very genuine — long-standing mutual respect, support and love."
The second lead single and title track, "Tension," is another sexy dance pop banger, with a joyful piano house tilt. On it, she confidently encourages her lover to make her feel good while simultaneously reminding the world of her popstar status: "I'm a star babe-babe-babe / Do this all day-day-day."
The two lead singles showcase the vibe of the playful, upbeat album. Yet Tension, Kylie explains, had no theme. Instead, the album offered a space to be free in the music-making process with her beloved regular collaborators, Biff Stannard and Duck Blackwell.
Tension follows 2020's DISCO, a glittering pandemic album dedicated to the dancefloor and the genre it's named after. DISCO: Guest List Edition continued the funky shimmer with remixes with fellow disco-loving pop artists (who she's inspired) Jessie Ware and Dua Lipa, along with disco legend Gloria Gaynor and nu disco champ Purple Disco Machine.
Back in 1988, a 20-year-old Kylie released her eponymous debut album, featuring her debut global hit single "Locomotion." Since making that first big splash, she's remained dedicated to the art of dance pop, dropping an album every couple of years. Her eighth studio album, 2001's Fever, made synthy waves around the globe, and its lead single "Can't Get You Out of My Head" remains her most memorable song. Fever's equally catchy "Love At First Sight" and "Come Into My World" were nominated for Best Dance Recording at the 45th and 46th GRAMMY Awards, respectively.
For those who somehow forgot about Kylie, or only know her as the "Can't Get You Out of My Head" singer, or were born after 2001, it's the perfect time to allow her nearly endless catalog of dance pop jams to padam into your heart. The sessions that led to Tension began as Kylie's personal sonic escape, and now she's offering those 11 playful tunes for us to move our bodies to and maybe even make our own.
Ahead of the Tension's release, GRAMMY.com caught up with the Australian pop queen about its music and how it came together. Sometimes, when you get a short interview slot with a pop star, they repeat canned answers or avoid offering up too many details. Not Kylie. She gave thorough and thoughtful answers, demonstrating her care and love for the music she makes, her fans, and pop music itself.
Tension is filled with upbeat songs about joy and pleasure. What was your vision for this project and how did the songs make you feel?
Initially, there wasn't a vision. [Chuckles.] I just really wanted to feel. This was early 2021, so, COVID's still present and there were these windows where I can go to my happy place and be in the studio with one of my favorite collaborators. And if nothing came of it professionally, we love each other and we love to make music together. There was a gentle meander into that space. Maybe a couple months after that, I agreed with my label that, "Okay, this is happening, we're gonna make an album."
My previous album [2020's DISCO] was made largely in lockdown. It's like wanting to run out into the field and just going, Yes, I want to start fresh. No more lockdown videos, none of that stuff. I really wanted new material, vibrancy. And we ended up getting it.
There was a point where we were talking about the album thematically having a kind of '80s entrance point, but it just wasn't hitting the mark so we abandoned all that. I think the turning point for the album was the decision that there's no theme — go in, have fun. My A&R said to me, almost as an aside, "Just go in, write songs. Do a Kylie song." We know kind of what that is, but actually doing it's another matter. 
And he said, "As long as it's not boring." That's actually not the worst advice. Yes, you want it to be amazing and moving, or escapism or whatever, but I think we can safely say that we did our best to make sure it's not boring.
It's quite eclectic. I think you can feel that [sense of] feeling liberated with not having a theme and not being afraid to self-reference, either — '80s, '90s, '00s. And I ended up in a good space personally at the end of this album. In a year and a half, a lot happens, so there's moments in the album that attest to that. A strong DNA of my music is, even if it's a challenging subject or emotion, it remains hopeful.
I love that. I was reading that the album was recorded over five days or so in an Airbnb.
Not all of it, but a really important chunk of it. [Biff Stannard has] a perfectly amazing basement studio in which many hits for various artists have been written. It's a pleasure to be there, but we really wanted to have our own writing camp. Because of his phobia of flying, we agreed, "Okay, we can do South of France. You can take the ferry." I can't tell you how many places I looked at online that didn't work. It just got too complicated, so we ended up going about 40 minutes from where he lives.
We achieved what we hoped we would achieve. It was so glorious. Me, Bick, Biff, Duck [Blackwell], Jon Green, and another engineer. We woke up and talked about music. We had breakfast and talked about music. It was just all day, amazing love and creativity. We all had this sensation that it was a special time. "Tension" and "Things We Do For Love" were written on the same day, so we were jumping from different genres, different feelings.
It would be a shame to not talk about "Padam Padam." The gay community went super hard for "Padam" and made it a pride anthem. What does having the support of the queer community and being celebrated as a gay icon mean to you?
It's hugely important to me and so touching. It's a difficult one to unpack — I'm always asked, "How did you become a gay icon?" I don't have the answer. I don't want the answer. It's very genuine — long-standing mutual respect, support and love. 
It came to me many, many years ago. I can only imagine that the community saw something in me that made sense to them. I mean, I've had my own kind of struggles when I was starting out of being accepted in my field, which is very different to one's sexuality. But yeah, they pretty much adopted me. 
I hope that for that community and beyond, I just want to say I am open-minded and I want people to be happy in themselves. That community needed support and still needs support. I'm here. And they padamed for me. 
I had another question about "Padam" — 
My favorite meme. 
Which one? 
I don't know. There's so many. 
When you first heard the demo for "Padam Padam" what did you think? What was your reaction? 
Love. Absolutely loved. I know where I was, where I was sitting, what I was doing. I was getting glammed up for something in Miami. When they're outside songs — separate to songs that I'm involved with writing — it's always an exciting moment. My A&R sends me something and says, "Hey, what do you think of this?" I have no idea what to expect. In that moment, there's before and after, if it's a good moment. 
So already the title was intriguing; I already knew the Édith Piaf song "Padam Padam." Straightaway, I was in. At first, I couldn't understand every lyric, so I listened again and was like that is really, really clever. I called Jamie straightaway, "Yes, yes. I love it. I think it's great on its own, but what's more, I think it's perfect for me. When can I get my vocals on it?" And the rest, as they say, is history. 
The thing with "Padam" is that it fed itself, it just kind of powered itself. The closest it would remind me of is "Can't Get You Out Of My Head," where it just took off like a rocket. I'm almost like a bystander. "Oh, Padam? Where have you gone?" It's utterly enthralling to watch that unfold in front of my very eyes from day one to day two, and still happening now.
 Did you have any idea that it would be received in the way that it was? 
Who could predict that? Who would even dare to dream of that? I finally get TikTok. Yes, I've been slow but I finally am there. Honestly, it took all of us by surprise. And I think it's telling that now I think opening myself up to that community and having that relationship will be fruitful in the future and I hope to continue having fun with that. But I think in that initial moment, they decided — you know, the grand they. It was really organic. I don't think you can force that. It happened and I loved every second of it.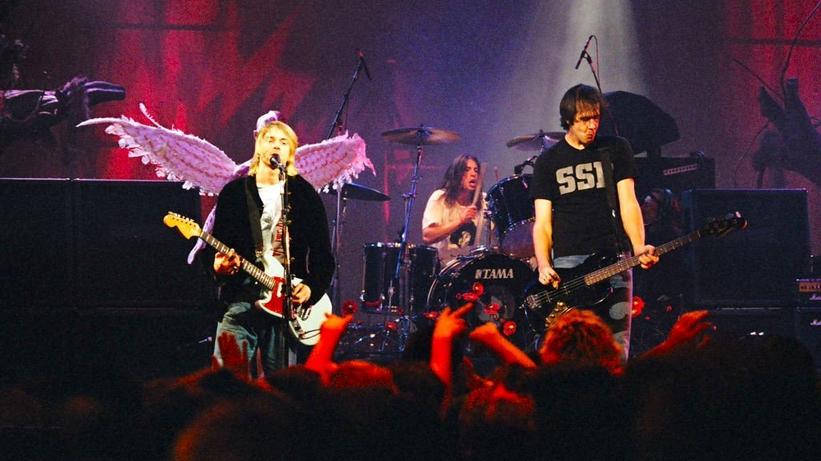 Nirvana performs on "MTV Live and Loud" in December 1993
Photo: Jeff Kravitz/FilmMagic, Inc
list
11 Reasons Why 1993 Was Nirvana's Big Year
While 1991 was the year Nirvana broke, the Seattle grunge pioneers continued their impressive streak. With the release of 'In Utero,' multiple massive shows and now-legendary appearances on MTV programs, 1993 ended up being Nirvana's most productive year.
GRAMMYs
/
Sep 21, 2023 - 12:33 pm
By most measures, 1992 was a massive year for  Nirvana. The Seattle grunge pioneers achieved international fame when their major label debut, Nevermind, topped the charts and was nominated for Best Alternative Music Album at the 34th GRAMMY Awards. 
But the band (and lead singer/guitarist Kurt Cobain in particular) quickly became overwhelmed by their unexpected success. Nirvana retreated for most of the year, only playing about a month's worth of shows and delaying work on a follow up album. 
So there was much ground to make up in 1993.
But Kurt Cobain, Krist Novoselic, and Dave Grohl rose to the challenge. There were a few bumps along the way — such as a kerfuffle when it was reported that Nirvana bowed to record company pressure to remix tracks on their new album, thus making them "sellouts" (the band insisted they alone decided what changes needed to be made) — but '93 ended up being one of Nirvana's most productive years.
Thirty years ago, Nirvana released an acclaimed third album (In Utero), an indie single ("Oh, The Guilt"), and created one of their most haunting videos ("Heart-Shaped Box"). And throughout their first U.S. tour since 1991, the band proved again and again what a powerful live act they were — whether playing a former movie house or a mega stadium — showing that a noisy band could still pack a punch by going acoustic. 
In honor of the 30th anniversary of In Utero (and a forthcoming reissue), GRAMMY.com revisits 11 of Nirvana's most memorable moments from 1993.
Nirvana Affirm Their Indie Cred With "Oh, The Guilt"
Nirvana recorded three songs during their sole studio session in 1992. "Curmudgeon" ended up as the B-side of "Lithium," "Return of the Rat" appeared on a Greg Sage compilation, and "Oh, The Guilt" finally turned up as part of a split single with Jesus Lizard on Touch and Go Records. 
Back in 1988, Cobain had sent several copies of Nirvana's first demo to the Chicago-based Touch and Go. Following the major label success of Nevermind, Nirvana clearly wanted to make the effort to keep in touch with their indie roots. 
"Nirvana became like the Beatles of the '90s, but they still wanted to do it," Jesus Lizard's David Yow told Seattle music magazine The Rocket. "And we had to figure out, well, do we want to do this and look like we're riding on Nirvana's coattails, or we could just do it and not worry about it, which is what we ended up doing." 
Released on Feb. 22, the grinding "Oh, The Guilt" set the stage for the rawer sound of Nirvana's next album.
The Band Played "One Of The Best Shows Of Their Lives" At The Cow Palace
Nirvana had played only five major U.S. concerts in 1992, so there was much anticipation for this concert in Daly City, just south of San Francisco. Nirvana bassist Krist Novoselic organized the show, a benefit for the Tresnjevka Womens' Group, a Zagreb-based organization aiding Bosnian War rape survivors and refugees. 
"The Cow Palace show was high-stakes," says Michael Azerrad, author of Come As You Are: The Story of Nirvana (due to be reissued next month in an expanded edition), who was at the show. "Some of the people who worked with Nirvana were a little dubious about the material the band had recently recorded for  In Utero.  Kurt, Krist and Dave knew they had something to prove. But they hadn't played live in a couple of months — and now they had to get up in front of an audience and play one of the best shows of their lives. And they did just that." 
At the April 9 show, the band came roaring out of the gate with "Rape Me," and went on to deliver a fiery 23-song set, debuting a number of songs from In Utero, and encoring with a noise jam that ended with the obligatory instrument destruction. In Azerrad's view, "The Cow Palace show was truly a triumph."
Fans Got A Taste Of Pre-Fame Nirvana In
1991: The Year Punk Broke
When David Markey packed up his Super-8 camera to follow various indie bands on a European tour in 1991, he had no idea he'd be capturing Nirvana on the verge of becoming the biggest band in the world. In Come As You Are: The Story of Nirvana Cobain recalled this as the period when "there's so much excitement in the air you can just taste it," and it's riveting to see the band without the baggage of worldwide fame dragging them down. 
Markey's documentary, 1991: The Year Punk Broke, was released on home video in April 1993. "Smells Like Teen Spirit," not yet released as a single, sounds fresh and invigorating; older numbers like "School" and "Negative Creep" are sizzling. 
"That tour was easily the most fun I've ever had on any tour, anywhere, anytime," says Markey. "And that feeling was shared by everyone who was on it, I promise. Forget the fact that Nirvana and Sonic Youth were on fire at every stop along the way. Same with the other bands: Dinosaur Jr. Babes In Toyland. Gumball. And of course the Ramones. 
"I remember nothing but smiles and laughter," he continues. "The fact that I was tasked with documenting it with nine hours of Super-8 film cartridges shoved into a giant suitcase seemed like an afterthought. It wasn't just a job. It was everything."
The "Sliver" Video Offers A Glimpse Into Cobain's World
In December 1992, DGC, the same label that put out Nevermind,  released Incesticide, a collection of Nirvana's non-album tracks. The video for "Sliver"  was belatedly released to promote it in May 1993, but what's more interesting is the glimpse it gives into Cobain's private world.
Originally released as a single on Sub Pop Records, the song is a childhood reminiscence that showed Nirvana charting a new course into more pop-driven territory. The band members look like giddy teenagers practicing in their parent's garage, and the location is, indeed, Cobain's own garage. It's a room filled with ephemera: a wind-up toy of a monkey playing the cymbals, a can of Prairie Belt sausages, a copy of Better Homes and Gardens with the words "Indie punx still sucks" scrawled on the mailing label. It's no surprise to see a poster of Mudhoney on the wall — but Mikhail Gorbachev as well? As a bonus, Cobain's daughter Frances Bean Cobain pops up repeatedly throughout the proceedings.
Nirvana Go Bigger, And Acoustic, At The Roseland Ballroom
Nirvana was a last-minute addition to the roster of acts performing during the New Music Seminar, a summer convention for music industry professionals in New York City. The July 23 performance served as a dry run for Nirvana's Unplugged performance later in the year. 
The band also experimented with filling out their sound by adding a second guitarist (John Duncan as a temporary fill in). They performed most of the songs from In Utero, sounding a good deal tougher live than on record. Then, to the audience's surprise, the band sat down and brought on cellist Lori Goldston for a short acoustic set. The set is initially hampered by a poor sound mix (Novoselic can be heard calling out "More cello!") and disinterest on the part of some loudly talking audience members. 
Listening now, it's an impressive moment, as the band works to make their performance more than simply a standard run through of the hits. As Everett True wrote in his review of the show for Melody Maker, "Cobain is, in his way, a master manipulator, a brilliant strategist who understands that noise alone is not drama and that good hooks always draw blood."
Nirvana Raised Money For The Mia Zapata Investigative Fund
Theater in Seattle raised money to help solve the murder of Gits' singer Mia Zapata, who had been killed the previous month, with TAD headlining. Nirvana was added to the bill to boost sales.
While the crowds turned up, according to guitar tech Earnie Bailey, they nearly missed out. The show was running overtime, meaning a full changeover of gear between TAD's and Nirvana's sets would mean Nirvana could only play one or two songs. Instead, the TAD crew allowed Nirvana to use their gear, and Nirvana went on to have great fun with their set, throwing in covers of Led Zeppelin's "No Quarter," and, more unexpectedly Terry Jacks' weeper "Seasons in the Sun." 
The show has never been released in any form, so there was great excitement when a 20-minute excerpt appeared on YouTube this past August. It was Nirvana's last show as a trio.
Cobain & Co. Release Their Third Album,
In Utero
Nirvana's long-awaited third album was first released in the U.S. on vinyl on Sept. 14; the CD version, the dominant audio format at the time, followed on Sept. 21, and debuted on Billboard's Top Albums chart at No. 1. 
In Utero  stands as Cobain's most personal work, his response to the turbulent events of 1992: the sudden rush of fame, substance abuse, parenthood, and the demonization of his wife. In contrast to the commercial sheen of Nevermind, In Utero  has a harsh, confrontational sound; songs like "Scentless Apprentice," and "tourette's" are frightening in their intensity. And even if you don't take lines like "What is wrong with me?" ("Radio Friendly Unit Shifter") and "Look on the bright side is suicide" ("Milk It") as foreshadowing, they're nonetheless indicative of the pervasive sense of unease that permeates the record. 
From the opening salvo of "Serve the Servants" that caustically rejects fame ("Teenage angst has paid off well/Now I'm bored and old") to the plea for transcendence in the closing "All Apologies," In Utero is an album of emotional pain that rivals John Lennon/Plastic Ono Band. A 30th anniversary release of In Utero is set for October 2023.
"Heart-Shaped Box" Single And Video Are Released
Released in September, "Heart-Shaped Box" shares the same sonic dynamics as "Smells Like Teen Spirit" (quiet verse, loud chorus), but is tempered by an underlying melancholy, along with striking imagery ("meat-eating orchids," "umbilical noose"). The song's video was equally compelling — and spooky. The main set is a creepy forest where fetuses dangle from the trees and an elderly man in a Santa Claus hat climbs on a cross to be crucified. 
In the director's cut of the video, the last verse shows Cobain lying asleep in a field as mist slowly rises around him, an image that became even more haunting to look at after his death (in the initial cut, Cobain is shown singing the final verse). The hospital sequences echo the album's themes of illness and decay. Cobain later told MTV, "That video has come closer to what I've seen in my mind, what I've envisioned, than any other video."
Nirvana Appear On "Saturday Night Live" 
This was the first opportunity for most fans to see how In Utero's songs translated to live performance. First up is "Heart-Shaped Box," more powerful than on record, Cobain's vocals transitioning easily between the subdued verses and the raging chorus. 
"Rape Me" debuted on the 1991 tour; Cobain subsequently added a bridge attacking media hypocrisy, and this performance burns with righteous fury. The show also marked the debut of Pat Smear, formerly guitarist with L.A. punk act the Germs, to the lineup, sharing guitar duties with Cobain. He's certainly the most animated band member, bouncing around the stage with high-spirited energy. And don't overlook how forcefully Grohl attacks his drum kit.
Nirvana Do A Masterful Performance On MTV's "Unplugged" 
The idea of an incendiary band like Nirvana doing an "unplugged," sans their raging volume, seemed an oxymoron. Even the group seemed uncertain how to handle the task. The show's producer, Alex Coletti, later recalled how MTV execs were unhappy that the band didn't want to perform their signature hits, and that their choice of musical guest was not a similar headliner like Eddie Vedder, but a lesser-known indie act, the Meat Puppets. Before the taping on Nov. 18, the band hadn't even done a complete run through of the set. 
It was a situation ripe for disaster. Instead, Nirvana pulled off what's considered one of their most masterful performances. The band chose their more acoustically-driven numbers ("About a Girl") and songs that worked in a stripped down format ("Come As You Are"), though they weren't entirely unplugged; Cobain's guitar was put through a Fender Twin Reverb amp and effects boxes. 
The covers proved to be the most interesting choices — David Bowie's "The Man Who Sold the World" was mesmerizing — and the Meat Puppets' numbers underscored Nirvana's own idiosyncratic indie roots. "I thought the Meat Puppets' inclusion was especially magical," says Lori Goldston, cellist during Nirvana's fall tour. "Curt [Kirkwood, Meat Puppets' guitarist] was used to being the lead, not an accompanist, and afterwards he mentioned that it felt luxurious to play guitar without having to worry about doubling as a vocalist," a hint at how collaborations with other artists might have gone. 
The band finished up with an extraordinary performance of Huddie "Leadbelly" Ledbetter's "Where Did You Sleep Last Night?" that left the audience stunned.
Nirvana Close Out 1993 With MTV's
Live and Loud
Pearl Jam's loss was Nirvana's gain. After Eddie Vedder declined to appear at MTV's New Year's Eve gig (which was actually taped on December 13), Pearl Jam was cut from the lineup and Nirvana's set was extended (other acts included Cypress Hill and the Breeders). 
The band had been on the road for two months now, and were firing on all pistons; the relentless "Radio Friendly Unit Shifter" proved to be a powerhouse opening number and there was a scorching performance of "Scentless Apprentice." One moment not seen in the original broadcast (the entire show's since been released on DVD) was when an audience member shrieked out "MTV sucks!" In response, Cobain smiled and quite sensibly asked, "Then why are you here?" But he perhaps revealed his own feelings about the network when, during the closing jam/end-of-show destruction, he looks straight into the camera and spits onto the lens. 
The final destruction sequence was particularly intricate on this night, starting out simply enough with Novoselic strumming his bass, then rising and falling in volume over the course of ten minutes, climaxing with Cobain swinging his guitar and decapitating one of the stage props. It brought Nirvana's year to a suitably explosive close. 
How Hole Moved Beyond The Grunge Scene By Going Pop On 'Celebrity Skin'
Tom Waits
From left: David Corio/Redferns; Paul Natkin/Getty Images; Scott Gries/Getty Images; Richard E. Aaron/Redferns
feature
Songbook: A Comprehensive Guide To Tom Waits' Evolution From L.A. Romantic To Subterranean Innovator
As Tom Waits' series of Island Records releases from the '80s and '90s are being reissued, take an album-by-album trip through the legendary singer/songwriter's significant body of work.
GRAMMYs
/
Sep 20, 2023 - 06:44 pm
When Tom Waits warned on "Underground," the first song on his transformational 1983 album Swordfishtrombones, "there's a rumblin' groan down below," he very well could have been describing the artistic awakening that made him a legend.
Once an earnest yet good-humored singer/songwriter, Tom Waits is the rare artist in the past 50 years to successfully pull off something as radical as a complete artistic reinvention. A songwriter with a taste for the dark and grotesque as much as the theatrical, Waits has built up a catalog heavy on bizarre characters, morbid nursery rhymes, gruff junkyard blues and a uniquely unconventional take on rock music. And though it took some experimentation, trial and error and eventually getting married to arrive on the sound we hear today, he's made a five-decade career of embracing sounds on the fringe and turning them into memorable melodies.
A Southern California native who got his start playing folk clubs in San Diego before relocating to Los Angeles in the 1970s, Tom Waits debuted as a relatively conventional singer/songwriter with a twinge of blues and jazz in his bones. And where his earliest records found him singing with more of a raspy croon, he adopted a vocal growl more spiritually akin to Louis Armstrong and Captain Beefheart. 
Waits never quite fit in alongside peers such as Jackson Browne or James Taylor. His instincts often pushed himself somewhere a little dirtier and darker, favoring tales of vagabonds and outcasts told with an inebriated sentimentality and irreverent humor. Throughout his decades-long career, the two-time GRAMMY winner never let go of the emotional honesty in his songwriting. 
Waits has joked that he makes two types of songs: grim reapers and grand weepers. The former became his staple sound in the 1980s after he married longtime creative partner Kathleen Brennan and began his decade-long tenure on Island Records, which still occasionally found him returning to the latter via less frequent but no less disarming ballads. 
What once was a songbook reflective of the bars and familiar streets evolved into surreal dens of iniquity and theaters of the grotesque. Waits' knack for storytelling and character development only strengthened over the years, even as his songs took more oddball and ominous shape. Swordfishtrombones' "Sixteen Shells from a Thirty-Ought Six" follows a hunter following a crow into a Moby Dick-like epic; spoken word standout "What's He Building In There?," from 1999's Mule Variations, prompts the listener to ponder who's really up to no good. 
Though his record sales have been modest, Waits' songs have been covered by the likes of Rod Stewart and Eagles, and he's collaborated with everyone from Bette Midler to Keith Richards. His songwriting and unique musical aesthetic have influenced records by Andrew Bird, Neko Case, Morphine and PJ Harvey.
As Waits' acclaimed series of albums on Island Records from the '80s and '90s are being reissued in remastered form — some for the first time on vinyl in decades — GRAMMY.com revisits the legendary singer/songwriter's significant body of work via each of his studio albums. Press play on the Spotify playlist below, or visit Apple Music, Pandora, and Amazon Music to enter Waits' sonic wonderland of '70s era  ballads and his plethora of twisted narratives and experimental sounds.
The Barroom Balladeer
Though often treated to his own idiosyncratic filter, Waits' early output in the '70s reflected the glamor and sleaze of his Los Angeles surroundings. 
Closing Time (1973)
Making his debut at the height of the '70s singer/songwriter boom, Tom Waits revealed only slight glimpses of his myriad idiosyncrasies on 1973's Closing Time. Heavily composed of ballads, the album's sound is a result of a compromise between Waits' own preference for more jazz-leaning material and producer Jerry Yester's penchant for folk. 
Despite, or perhaps because of, that creative tension, Closing Time has a unique character. A sense of wanderlust and escape within its 12 piano-based songs feels like a jazzier, West Coast counterpart to Bruce Springsteen. Waits imbues the call of the road with a sense of melancholy on gorgeous opener "Ol' 55" and gives a hefty tug at the heartstrings on the aching "Martha." He kicks up the tempo on "Ice Cream Man." Closing Time is often at its best when it's more quietly haunting, like on the bluesy "Virginia Avenue."
Though the album didn't initially garner much critical or commercial attention, it's since become regarded as one of the finest moments of Waits' early recordings. It also quickly earned the respect and admiration of other artists, with various songs from Closing Time being covered by Bette Midler, Eagles and Tim Buckley. 
The Heart of Saturday Night (1974)
After establishing himself with the romantic ballads of his debut album, Waits waded deeper into the waters of boho jazz and beat poetry in its follow-up, The Heart of Saturday Night. 
Waits shares his perspective from the piano bench and the barstool, occasionally delving into a sing-speak delivery against upright bass and brushed-drum backing. Throughout, Waits serves up colorfully embellished imagery about nights on the town and getting soused on the moon. Though not as experimental or sophisticated as some of his later recordings, The Heart of Saturday Night nonetheless finds Waits in a more playful mood, more overtly showcasing his sense of humor and penchant for a particular kind of down-and-out protagonist. Fittingly, the album's title track was directly inspired by Jack Kerouac.
The Heart of Saturday Night is somewhat autobiographical in that it's one of the few albums that repeatedly features references to his youth growing up in San Diego. Most famously on "San Diego Serenade," as well as in his narrative of driving through Oceanside in "Diamonds on My Windshield," and his name-drop of Napoleone's Pizza House, the pizzeria in National City where he worked as a teenager, in "The Ghosts of Saturday Night."
Nighthawks at the Diner (1975)
As Tom Waits further established himself as a singer/songwriter more at home in the naugahyde and second-hand smoke of a seedy nightclub than a folk festival, he sought to replicate the atmosphere of a jazz club on his third album. It's not a live album in a literal sense; Waits invited a small crowd into the Record Plant studio in Los Angeles on two nights in July of 1975, and though the venue is artifice, the crowd reactions are genuine. 
More heavily rooted in jazz than Waits' first two albums, Nighthawks at the Diner mostly follows a particular pattern: An "intro" track featuring some witty barfly banter, followed by an actual song. Introducing each song with a round of inebriated wordplay ("you've been standing on the corner of Fifth and Vermouth," "Well I order my veal cutlet, Christ, it just left the plate and walked down to the end of the counter…") is a bit of a gimmick, yet for all its loose, freewheeling feel, the album features some of his best early songs, including "Eggs and Sausage," "Warm Beer and Cold Women" and "Big Joe and Phantom 309." 
Releasing a manufactured live album early on proved a canny gambit for Tom Waits and resulted in his highest charting album up to that date. And it's easy to see why: Nighthawks showcased the raconteur persona that'd come to define much of Waits' work to come. 
The Bluesy Bohemian
Embracing a grittier sound and a more character-driven approach to storytelling, Tom Waits entered a period of creative growth in the second half of the '70s that saw him balancing a darker tone with a wry sense of humor.
Small Change (1976)
On his second and third albums, a jazz influence and increasingly prominent humor saw Waits  developing not just as a distinctive personality, but as a character. His raspy growl deepened onSmall Change, as Waits'  barfly persona finds himself in increasingly seedier surroundings. This new area is  best showcased through the amusingly unsexy striptease scat of "Pasties and a G-String" and the surreal and misty eyed "The Piano Has Been Drinking."
Small Change isn't nearly as jokey as the previous year's Nighthawks at the Diner, but Waits carries a persistent smirk as he rattles through a laundry list of hucksterish advertising slogans in the carnival-barker beat jazz of "Step Right Up": "It gets rid of unwanted facial hair, It gets rid of embarrassing age spots, It delivers the pizza." He even ramps up an element of danger in the noir poetry of "Small Change (Got Rained on With His Own .38)".
Still, the heartache and romance remains within the album's best ballads, including the gorgeous opener "Tom Traubert's Blues" and the imagined depiction of a lonely waitress in "Invitation to the Blues." 
Foreign Affairs (1977)
Tom Waits' fifth album Foreign Affairs unexpectedly became one of his most consequential releases. 
A rare Waits album that opens with an instrumental ("Cinny's Waltz"), Foreign Affairs finds him taking on more narrative driven songwriting, as in the lengthy noir tale of "Potter's Field" and the nostalgic road-movie recollection of "Burma-Shave." It seems fitting that this is the moment where Hollywood began to crack a door open for Waits — these songs sound like they were made for the silver screen. 
Indeed, album standout  "I Never Talk to Strangers," a duet with Bette Midler, inspired Francis Ford Coppola's 1981 film One From the Heart. Waits wrote and performed on its  soundtrack, and would work with Coppola multiple times.
Blue Valentine (1978)
Parallels between Waits' music and his acting career crop up throughout , beginning with 1978's Blue Valentine. Released the same year that he made his acting debut in Paradise Alley — cast as a piano player named Mumbles, an apt role to be sure — Blue Valentine opens with a big, cinematic number itself, Rodgers and Hammerstein's "Somewhere," the famous ballad from West Side Story.
Blue Valentine also finds Waits in character development mode, increasingly populating his bluesy and bedraggled songs with widows and bounty hunters, night clerks and scarecrows wearing shades. It also features one of his most heartbreaking songs in "Christmas Card from a Hooker in Minneapolis," in which Waits' first-person epistle comes from the voice of the title character who reaches out to an old friend in a hopeful and warm update on the changes she's made for the better. And then he seamlessly, devastatingly pulls out the rug from underneath it all, as only a fabulist like Tom Waits can. 
Heartattack and Vine (1980)
The transition from one decade to the next couldn't have been starker for Tom Waits as he entered the 1980s. His final album for Asylum Records seemed to signal a sea change, with its leadoff track steeped in scuzzy, distorted guitar and gruff blues-rock rather than piano balladry, jazz and beat poetry.
Heartattack and Vine is in large part more of a proper rock record than any of Waits' earlier albums, as he lends his husky growl to gritty songs such as "Downtown" and "In Shades." Still, it's the most tender moments that comprise some of Heartattack and Vine's most enduring songs, such as "On the Nickel" and, in particular, "Jersey Girl," covered four years later by the Garden State's own Bruce Springsteen. 
The Avant-Garde Auteur
Tom Waits underwent a significant transformation in the 1980s, mostly leaving behind the smoky jazz-club ballads of the '70s in favor of a more avant garde take on rock music, rife with an arsenal of unconventional instruments. 
Swordfishtrombones (1983)
The most dramatic shift in Tom Waits' career came with the release of 1983's Swordfishtrombones, his first release for Island Records and the first album of what came to be the sound most often associated with Waits. It's rougher, rawer, more experimental and offbeat. A great deal of the credit goes to Waits' wife, Kathleen Brennan, who introduced him to artists like Captain Beefheart and who became his creative partner, co-writing many of his best-known songs. 
Waits trades the piano and strings of his earlier material for arrangements better fit for junkyard jam sessions and New Orleans funerals. Though he's delivered a long list of releases that have since usurped such a title, Swordfishtrombones certainly sounded like his weirdest album at the time. Very little of it sounded like a conventional pop song;it's interwoven with spoken-word pieces both hilarious and unnerving ("Frank's Wild Years," "Trouble's Braids"), instrumentals ("Dave the Butcher," "Rainbirds"), boneyard bashers ("Underground," "16 Shells from a Thirty-Ought Six") and even a few tender ballads ("Johnsburg, Illinois," "Town With No Cheer"). 
Though arguably far less commercial than anything he'd released prior, Swordfishtrombones still cracked the bottom half of the album charts. It also received the attention of critics, who praised Waits' bold new direction and unconventional stylistic choices. 
Rain Dogs (1985)
For much of the 1970s, Tom Waits took inspiration from the seamier side of Los Angeles, with occasional sentimental nods to his youth further south along Interstate 5 in San Diego. With 1985's Rain Dogs, however, he relocated to New York City to capture an even grimier and grittier album inspired by its outcasts and outlaws. 
Recorded in what was then a rough part of Manhattan in 1984, Rain Dogs continues the stylistic experimentation of Swordfishtrombones with an unusual array of instruments for a rock album, including marimba, trombone and accordion, the latter of which opens the title track in dramatic fashion with an incredible solo.
Rain Dogs also began Waits' long collaborative relationship with Marc Ribot, whose guitar playing helps craft the album's signature sound. Through his Cuban jazz-inspired playing on "Jockey Full of Bourbon" and the scratchy and dissonant solo on "Clap Hands." Yet the album also finds him in the company of Keith Richards, whose licks appear on the album's most famous song, "Downtown Train," which became a hit for Rod Stewart when he covered it in 1991.
Rain Dogs features Waits' first co-writing credit from Brennan, brought dded gravitas to the aching ballad "Hang Down Your Head." It's one of a few moments that cuts through the carnivalesque atmosphere of the album (see the demented nursery rhyme "Cemetery Polka," the crime-scene poetry of "9th and Hennepin" and the litany of misfortunes in "Gun Street Girl"). IRain Dogs is Tom Waits perfecting his approach, completing a stylistic transformation with one of his greatest batches of songs.
Frank's Wild Years (1987)
One of the highlights of Waits' 1983 album Swordfishtrombones was a humorous spoken-word jazz interlude wrapped up in a David Lynch nightmare, titled "Frank's Wild Years," in which the titular Frank settles down into a suburban lifestyle, only to set his house on fire and drive off with the flames reflecting in his rearview mirror. Those 115 seconds or so were enough for Waits and Brennan to spin the idea out into a stage play, with this album serving as its soundtrack. (Its original cast at Chicago's Steppenwolf Theatre included Gary Sinise and Laurie Metcalf.) 
Frank's Wild Years likewise comprises songs performed in the play, though without the context of knowing its origins, it doesn't so easily scan as a set of songs written for the stage. It continues the aesthetic vision that Waits pursued on his two previous Island Records albums, steeped in Weill-ian cabaret and mangled lounge-jazz renditions, like in the hammy Vegas version of "Straight to the Top." Waits continues to run wild stylistically, however, veering from junkyard blues-rock in opener "Hang On St. Christopher" to the tenderness of the lo-fi 78-style recording of closing ballad "Innocent When You Dream."
Fifteen years after its release, "Way Down in the Hole," was given a second life as the theme for the HBO drama "The Wire," each season featuring a different artist's rendition of the song. Waits' original scores the opening credits for season two. 
Bone Machine (1992)
The title of Tom Waits' tenth album fairly accurately sums up the sound of the record, which finds Waits incorporating heavier use of curious forms of percussion, many of them he played himself. Opening track "Earth Died Screaming" even resembles the sound of bones clanking against each other as Waits growls his way through an apocalyptic nightmare.
It's fitting that Bone Machine coincided with Waits' appearance as Renfield in Francis Ford Coppola's Bram Stoker's Dracula. A macabre sensibility and grotesque narratives permeate this record:Acts of violence become a form of entertainment in "In the Colosseum," and he retells an actual story of a grisly homicide in "Murder in the Red Barn." There's levity too, like in the delusions of a fame-seeker in the rowdy "Goin' Out West," which, along with half the songs on the album, was co-written by Brennan.  
Eerie and macabre as Bone Machine is, it earned Waits his first  GRAMMYAward, for Best Alternative Music Album in 1993. Likewise, the Ramones covered standout track "I Don't Wanna Grow Up" three years later on their final album ¡Adios Amigos!; Waits repaid the favor in 2003 with a cover of the band's "Return of Jackie and Judy." 
The Storyteller's Songbook
Deeper into the '90s and '00s, Waits became more active in writing music for the theatrical stage, albeit filtered through his own peculiar lens. He also closed out the '90s with his longest album, helping to usher in a late-career renaissance. 
The Black Rider (1993)
The soundtrack to a theatrical production,The Black Rider closed Waits' tenure with Island Records with the soundtrack to a theatrical production. Though his music appeared in films by the likes of Jim Jarmusch and Francis Ford Coppola, and he entered the world of theater with Frank's Wild Years, this was his released  composed in collaboration with playwright Robert Wilson — they would work on three productions together — based on German folktale Der Freischütz. In fact, Waits affects his best German accent in the title track, in which he beckons, "Come on along with ze black rider, we'll have a gay old time!"
Highlights "Flash Pan Hunter," "November" and "Just the Right Bullets" juxtapose distorted barks against ramshackle arrangements of plucked banjo, clarinet and singing saw. , The structure of the album — rife with interludes, instrumentals and reprises — sets it apart from any of his prior works, leaving room for the listener to fill in the visual blanks. 
Mule Variations (1999)
The release of Mule Variations coincided with the launch of Anti- Records, an offshoot of L.A. punk label Epitaph that was more focused on legacy artists in a variety of genres. This also resulted in the unlikely instance of a song by Tom Waits appearing on one of Epitaph's famed Punk-O-Rama compilations, which typically featured selections by the likes of skatepunk icons NOFX and Pennywise. 
The longest studio album in Waits' catalog, Mule Variations makes good on a six-year gap by being stacked with an eclectic selection of songs, most of them co-written with Brennan (who also co-produced the album). From the lo-fi beatbox bark that blows open the doors of leadoff track "Big In Japan," Waits essentially takes a tour through a disparate but cohesive set of songs that feels like a career summary, from tent-revival blues ("Eyeball Kid"), to devastating balladry ("Georgia Lee") and rapturous gospel ("Come On Up to the House"). 
A new generation of TikTok users received an introduction to this album via a meme featuring the album's "What's He Building In There?", an eerie spoken-word track from the perspective of a paranoid, busybody neighbor that became an unlikely viral sensation. 
Blood Money & Alice (2002)
 Another collaboration with playwright/director Robert Wilson, Blood Money and Alice were released on the same day in 2002. Co-written by Brennan, both are the soundtracks to  two plays, the former based on an unfinished Georg Büchner play Woyzeck and the latter an adaptation of Alice in Wonderland. 
Blood Money is darker and harsher in tone, kicking off with the satirically pessimistic "Misery is the River of the World," and featuring highlights such as the obituary mambo of "Everything Goes to Hell" and the charmingly tender "All the World Is Green."
Alice — whose songs had been circulated for years in bootlegs in rougher form — is more subdued and strange, its gorgeously lush and haunting opening ballad an opening into a head-spinning world of Lewis Carroll surrealism and disorientation. "Kommienezuspadt" soundtracks White Rabbit hijinks through German narration and Raymond Scott machinations, "We're All Mad Here" lends a slightly darker shadow to an uneasy tea party, and "Poor Edward" diverts slightly from Carroll canon to visit the story of Edward Mordrake, a man born with a face on the back of his head. 
The Catalog Continues…
Though Waits hasn't been quite as prolific in the past two decades as he had been from the '70s through the late '90s, he continued to refine and evolve his strange and uncanny sound, while sharing a triple-album's worth of rare material that offered a wide view of his evolution over the prior two decades.
Real Gone (2004)
Waits maintained his prolific streak with the lengthy Real Gone, which featured 16 songs and spans nearly 70 minutes — just a hair shorter than his longest, Mule Variations. It's also the rare Tom Waits album to feature no piano or organ, its melodies primarily provided via noisier guitar from Harry Cody, Larry Taylor and longtime collaborator Marc Ribot, along with contributions from Primus bassist Les Claypool and Waits' own son, Casey, who provides percussion and turntable scratches. 
Real Gone is, at its wildest, the most abrasive record in Waits' catalog, clanging and clapping and clattering through uproarious standouts such as the supernatural mambo of "Hoist That Rag," the CB-radio squawk of "Shake It" and creepy-crawly stomp "Don't Go Into That Barn," one of his better scary stories to tell in the dark. He leaves a little room to ease back on dirges like the haunting "How's It Gonna End" and the subtly gorgeous "Green Grass," but every corner of the album is populated by outsized characters and ominous visions that seem larger than ever.
Orphans: Brawlers, Bawlers and Bastards (2006)
A career as long and fruitful as that of Tom Waits is bound to leave some material on the cutting room floor, the likes of which is compiled on the triple-disc set Orphans. Composed of non-album material that stretches all the way back to the 1980s, it's divided into three distinctive themes: Brawlers, a disc of rowdier rock 'n' roll and blues material; Bawlers, a set of ballads; and Bastards, made up of what doesn't fit into the other two categories — essentially Waits' most fringe, peculiar music. 
In drawing the focus toward each distinctive type of songs, Waits lets listeners experience more intensive, discrete aspects of his music. It's the "Bastards," however, that tap into the extremes of Waits' unique talents, comprising strange and macabre storytelling, unintelligible barks, even a wildly distinctive take on "Heigh Ho," from Snow White and the Seven Dwarfs.
Some of these songs had previously been released in some fashion — many of them appearing on movie soundtracks as well as collaborative efforts like Sparklehorse's "Dog Door" — Orphans  speaks to how productive he's been over the past 40 years. 
Bad As Me (2011)
Tom Waits' final album (so far) hit shelves 12 years ago, the aftermath of which opened up his longest stretch without any new music since he began releasing records. Yet Bad As Me only offers the suggestion that Waits still has plenty of energy and inspiration left in the tank, as the album — released when he was 61 years old — comprises some of the hardest rocking material he's ever committed to tape. It's an album heavy on rowdy rock 'n' roll guitar, including that of Keith Richards, who had also previously lent his guitar playing to 1985's Rain Dogs, as well as longtime collaborator Marc Ribot and Los Lobos' David Hidalgo. Waits mostly adheres to concise, charged-up barnburners such as "Let's Get Lost," "Chicago" and the more politically charged anti-war song "Hell Broke Luce." Though when Waits does ease off the throttle on songs like the eerie "Talking at the Same Time," the results are often spectacular. 
If Tom Waits were to simply leave this as the end of his recorded legacy, it'd be a satisfying closing statement, though the closing ballad "New Year's Eve" — ending on a brief round of "Auld Lang Syne" — would suggest new beginnings ahead of him. As it turns out, Bad As Me isn't intended to be his last; earlier this year he confirmed that, for the first time in over a decade, he's been working on writing new songs. 
Songbook: A Guide To Wilco's Discography, From Alt-Country To Boundary-Shattering Experiments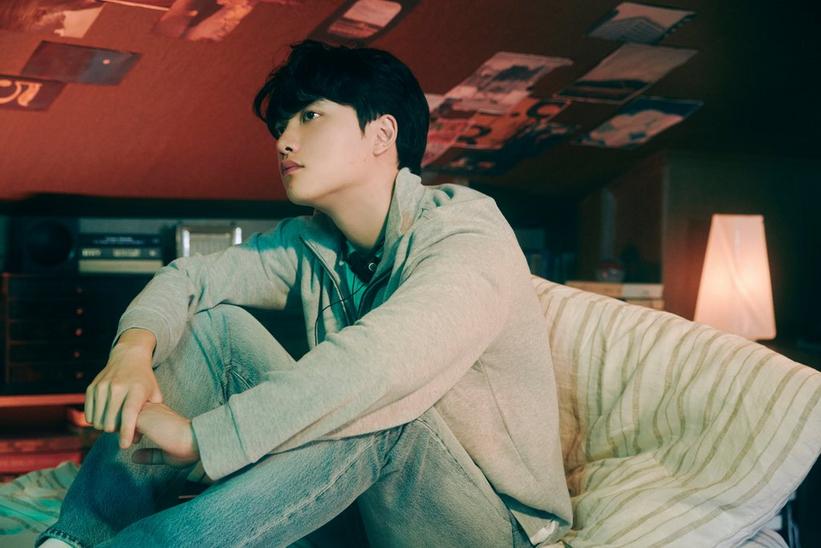 D.O.
Photo: Courtesy of SM Entertainment
news
Korean Pop & Film Star D.O. Exceeds 'Expectation' On New EP
Over the years, D. O. has come to be known as an artist in constant motion. His latest EP, 'Expectation,' is an aural treasure that reflects his longstanding creative drive.
GRAMMYs
/
Sep 20, 2023 - 01:35 pm
The ability to transmit the most genuine emotions and make the audience truly feel the lyrical meaning of a composition is what sets apart the best singers. It's an earnest gift that furthers the linkage between artist and audience, endowing any performance.
In the competitive K-pop industry, few are the vocalists who boast this virtue, and one of them is — unquestionably — EXO's D.O. He has become a paragon of excellence, a man whose irresistible voice has enthralled beyond the borders of South Korea. 
As part of EXO, one of K-pop's most legendary groups, D.O. reached stratospheric heights and a much-anticipated career as a soloist. And though it took him nearly 10 years to strike out on his own, his July 2021 solo debut, Empathy, landed with great success – and enthusiasm for more offerings.
Now he's back again with his second EP, Expectation. Out Sept. 18, the record is an aural treasure that lays out D.O.'s greatest strength: bending any melody to his will with an evocative tessitura with exceedingly emotional effect.
Debuting With EXO
A native of Goyang, Gyeonggi Province, South Korea, the artist born Doh Kyung-soo developed a musicality during his elementary school days, with singing being his creative medium of choice. Growing up, he constantly captivated with his maturing vocal abilities, and in 2010, he won a competition that prompted SM Entertainment — a K-pop label that is one of the heavyweights in the industry — to recruit him. Given his shy nature, Doh Kyung-soo kept his new reality as an idol trainee low-key from people until his subsequent debut two years later.
Amid considerable anticipation, SM Entertainment began introducing the 12 members of its new boy group (the first one since SHINee's debut in 2008). Doh Kyung-soo — now going by the stage of D.O. — was revealed alongside power vocalist Baekhyun as part of the lineup with the sublime prelude single, "What's Love," at the end of January 2012. 
With a larger-than-life concept including superpowers and a metaphysical storytelling, the upcoming act would be known as EXO, taking its name from the exoplanets. To broaden the expanse of possibilities and impact, the group was split into two parallel contingents: EXO-M (who were molded to promote in China) and EXO-K (a group mainly focused on South Korea).
EXO officially broke into the K-pop sphere on April 8, 2012, with "Mama" — a bold and colossal production composed by SM's revered singer/songwriter Yoo Young-jin — the title track from their first EP, ushering a soon-to-be volcanic trajectory. D.O. impressed as one the group's vocalists with a beautiful technique, showcasing how his versatile voice could smoothly glide across all types of genres.
EXO's Success & D.O.'s Expanding Artistry
While many weren't initially convinced by EXO's premise, the group's reputation skyrocketed in the summer of 2013 with the release of "Growl," the lead single from the repackaged version of their first studio album, XOXO. All 12 members of EXO-K and EXO-M united under the same banner to elevate the spectacularity of the production, subverting expectations and flaunting their undeniable chemistry. 
"Growl," an effortlessly magnetic hip-hop cut, received widespread acclaim and topped South Korean charts. As a result of the single's popularity, EXO became million-sellers for the first time in their careers, and they won 14 first place trophies in the weekly music shows.
K-pop idols tend to combine their group efforts with other individual endeavors, and for D.O., acting was always a calling. In 2014, he landed his first supporting role in the film Cart, also contributing to the soundtrack with the song "Crying Out."
In the SBS-produced series, "It's Okay, That's Love," D.O. had a breakout portraying Han Kang-woo, a young, aspiring writer who ends up becoming a central piece to the protagonist's narrative arc. It was a heart-wrenching interpretation, with D.O. rendering vulnerability and tenderness over a storyline that revolved around sensitive topics such as domestic abuse and mental health. The performance resulted in a nomination as Best New Actor in the category of Television at the Baeksang Arts Awards — one of the leading entertainment ceremonies in South Korea — and an accolade for Best New Actor at the APAN Star Awards.  
Meanwhile, EXO's status continued to rise in the ranks of the K-pop industry, transforming into an example for future generations. Following the triumph of "Growl," the group released the extended plays Miracles in December, Overdose and Sing For You, and their second studio album EXODUS, along with its repackage Love Me Right. (With some lineup changes in between, the separation of EXO-K and EXO-M was unofficially blurred). They also made their Japanese debut in November 2015 with the arrival of their single album Love Me Right ~ romantic universe ~, which peaked at No. 1 on both the Oricon and Billboard Japan charts.
In 2016  D.O began to show the range of his acting abilities through leading roles. He starred in the movie Pure Love and the web-series "Be Positive," dabbling with genres like romance, drama, and comedy. Another important project for him was My Annoying Brother, a dramedy where he brought Go Doo-young to life, a judo athlete who loses his sight and has to deal with a brother that suddenly returns after disappearing for years. The movie turned out to be a success, and D.O. was recognized as Best New Actor during the Blue Dragon Film Awards in 2017. 
Though his notoriety as an actor evolved in prominence, his commitment to EXO and singing never faded away. After all, it remains his first love. In February 2016, D.O collaborated with Yoo Young-jin to release a special duet titled "Tell Me (What Is Love)," a song performed during EXO's first tour a few years earlier and was part of SM Entertainment's newest musical initiative, "SM Station."
At this point, his artistry stretched all-encompassing: a protean entertainer regarded as one of the finest vocalists in the world of K-pop, and a renowned idol-actor. D.O. seamlessly created a balance between his own artistic growth and EXO's ascension.
"We always say to each other that we should really be together as a team," he said in an interview with The Korea Herald in reference to EXO's symbiosis. "As I have continued my acting and idol career without causing trouble, I want to continue to do that for the rest of my life." 
A Temporary Farewell With "That's Ok" 
By the end of 2018, the now nine-member act had completed four tours, sold 10 million record in their home country — making history as the first group to do so in the 2000s — and even performed at the 2018 PyeongChang Winter Olympics closing ceremony, which earned them the title of the "the Nation's Pick." But at the same time, a period of change was quickly approaching.
For every K-pop boy group, there comes a phase where its members need to fulfill a mandatory military conscription of almost two years. EXO entered this pivotal term in 2019 with the enlistment of Xiumin, the oldest member born in 1990, and the collective focus (momentarily) slowed down to make way for different ventures like subunits and solo debuts. In turn, D.O. continued expanding his filmography with his first protagonist role on the silver screen with the historical K-drama "100 days my prince," and a major participation in the feature film Swing Kids, incarnating a North Korean soldier who gets immersed into the world of tap dancing while imprisoned in a war camp. 
Despite a string of back-to-back professional accomplishments under his belt and the public eagerly awaiting for his next project, D.O. unexpectedly announced his early enlistment in May 2019. "I hope that everyone will always be healthy and have [days] that are filled with things that make you laugh," he wrote in a message posted on EXO's official fan website. "I will carefully serve and return to greet you all with a healthy image."
Before enlisting, D.O. recorded the gentle, self-penned ballad "That's Ok" in an uplifting farewell. "I'll shine on you with all the light I have / So don't hide yourself. Will you show me you?" He sweetly croons accompanied solely by acoustic guitar strings. "Be comfortable with the way you are / That's right. It's okay to be okay."
The track became a source of healing and comfort for a lot of his peers in the industry. One notable example is IU, arguably the most lauded K-pop female soloist from the last decade, who offered her own rendition of it, later saying in a radio interview that "That's Ok" is the first song that moved her to tears in 10 years. 
D.O.'s Long-Awaited Solo Debut:
Empathy
After 19 months of military service, D.O. was discharged in January 2021, just in time for the release of EXO's seventh mini-album, Don't Fight The Feeling. The EP was their first musical offering in two years, with Xiumin and D.O. rejoining the group. Don't Fight The Feeling became their sixth record to surpass one million copies sold; more than a comeback, it was a celebration of EXO's legacy in the industry. 
To say D.O.'s solo debut was highly-anticipated isn't an exaggeration, and with his talent, it became a matter of when, not if. So, in the summer of 2021, when SM Entertainment confirmed his first EP, Empathy, many rejoiced. The eight-track album casts a soothing ambience, and it was an important opportunity for him to "make the music he wanted to do" and to etch his feelings in the skyline through his most genuine songwriting. 
"One of the thoughts that came to mind was love, an emotion that anyone can feel," D.O said in an interview with the South Korean newspaper The Dong-a Ilbo. "I also thought that it would be good to provide comfort like the previously released 'It's Okay', so I took on the challenge of writing lyrics myself."
Empathy tempers D.O.'s rich vocals with minimalistic arrangements where the main components are nostalgic-laced guitar chords, a reflection of his well-known tranquil aura. He delivers solace at the length of the record, with the titular song, "Rose," collating the fragments of an endearing admission of love. But perhaps the brightest diamond is "Si Fueras Mía," the Spanish version of the B-side, "It's Love (다시, 사랑이야)," a tune that portrays D.O. longing for a love unmet, and could only be reached in dreams. His wistful tone captured the romance ingrained in the language, and for some part, it also symbolized a throwback to EXO-K's cover (from almost ten years ago) of the famous bolero called "Sabor a mí."
EXO's Seventh Album &
Expectation
Just as he reached his 10th debut anniversary with EXO in 2022, saw D.O. take on his second leading role on television in the series "Bad Prosecutor." But as most of his groupmates completed their military service by 2023, the prospect of a second solo release and an EXO comeback was drawing near.  
Suho, the group's leader, confirmed EXO's return in the last days of 2022; in June 2023, news surfaced they were gearing up their seventh full-length album, EXIST. The group dropped the pre-release singles "Let Me In" and "Hear Me Out," preparing the stage for the record's titular song "Cream Soda." 
The July 2023 release was the first time D.O. stepped into the South Korean music shows since the release of the group's fifth studio album, Love Shot, in 2018, and it marked EXO's first promotional cycle since 2019's Obsession. Seeing them together — except for Kai and Lay, who are currently inactive — enjoying a performance again was a treat for fans and K-pop artists alike.
Over the years, D. O. has come to be known as an artist in constant motion, always with a new endeavor lined up. Case in point: Before he completed his military service, he was selected as the protagonist of the sci-fi movie The Moon, the release of which nearly coincided with the end of EXO's latest album cycle.
Simultaneously, the excitement for D.O.'s second mini-album increased, especially after he revealed in an interview with the South Korean outlet SportSeoul  that he had finished the structuring of it in May 2022. "I wanted to prepare early, so I did it in advance before I went into another shoot," D.O. said, also adding that it would contain "a lot of acoustic songs." The first teaser and the name of the record, Expectation, was unveiled in August. 
True to his title, the record's essence derives from a contemplation about the desires and consequences of love — from professions of devotion to its contradictory nature. Lead single "Somebody" talks about the yearning for a significant other who can embrace us through our flaws and walk hand-in-hand carefree.
That sense of hope expands to the melodies of "Wonder" and "I Do," until melancholia hits on the second half of the album with "Lost," "Ordinary Days," and "The View." Throughout, D.O.'s alluring timbre draws ruminations in a sonic canvas that certainly will linger as another harbor for his ever-evolving journey. 
K-Pop's Hip-Hop Roots: A History Of Cultural Connection On The Dancefloor