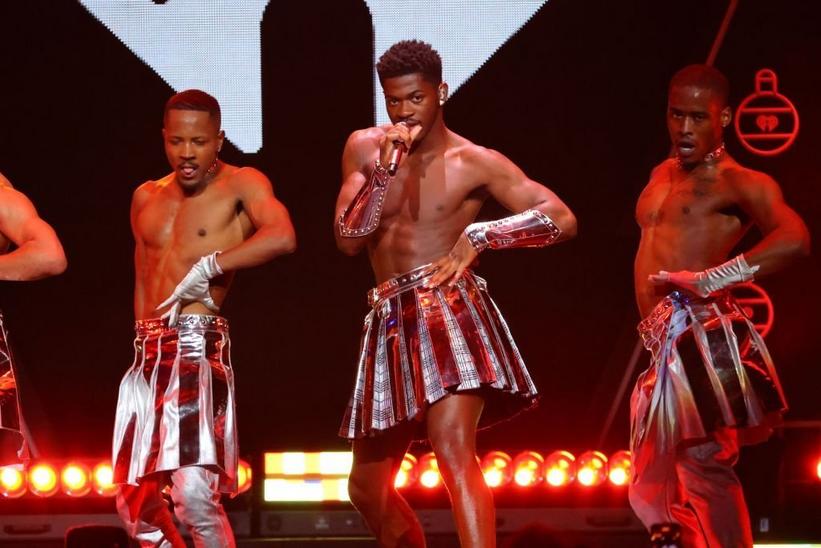 Lil Nas X performs onstage during iHeartRadio Z100 Jingle Ball 2021.
PHOTO: Mike Coppola / Staff
feature
The Incomparable Creative Vision Of Lil Nas X: 'Montero' Collaborators Detail How "We're All Just An Extension Of Him & His Ideas"
Lil Nas X stretches the bounds of his identity and artistry at every turn, expertly spinning his debut LP 'MONTERO' into a multi-layered promotional spectacle. GRAMMY.com spoke with Nas' visual collaborators about the star's unflinching genius.
GRAMMYs
/
Apr 1, 2022 - 10:31 pm
In the music video for "MONTERO (Call Me By Your Name)," Lil Nas X opens the gates of his visual empire. "In life, we hide the parts of ourselves we don't want the world to see," he says in the introduction. "But here, we don't. Welcome to Montero." What follows is a brazen voyage into the depths of hell.
Co-directed by Lil Nas X and Tanu Muino, the video is a theatrical extravaganza that stars the rapper in nearly every role: a devious snake, a banished Adam, a crowd of stone spectators. Lil Nas X pole dances his way to the throne and secures his spot, displacing the devil with a spicy lap dance and a swift decapitation.
It was unabashedly sexual and provocative, a pertinent introduction to MONTERO, his eponymous debut album (the musician was born Montero Lamar Hill). The video spectacle sparked conversation far beyond its comment section and was boosted, in part, by backlash from people weighing in on his queer identity. More importantly, MONTERO received an outpouring of encouragement from the communities who encounter the same adversity.
Lil Nas X stretched the bounds of both his identity and his artistry at every turn, expertly spinning the backlash to "MONTERO (Call Me By Your Name)" into a multi-layered promotional spectacle. "MONTERO" has been nominated for both Record and Song of the Year, and the LP is up for Album of the Year.
That's the thing about Lil Nas X: The over-the-top music videos and quick-witted Twitter clapbacks are all gasoline poured onto the already blazing fire of his mere existence. To have an artist not only exist, but excel, at the intersection of Blackness and queerness, as both a rapper and a pop star, is nothing short of revolutionary. When the CGI stripper pole burst through the clouds in "MONTERO (Call Me By Your Name)," it shattered the glass ceiling on its way down — and he was just getting started.
After unveiling an unauthorized limited edition pair of Nike Air Max 97s —  made with a drop of real human blood — he flipped the Nike lawsuit that followed into an elaborate courtroom skit announcing "Industry Baby," his collaboration with Jack Harlow that's nominated for Best Melodic Rap Performance.
More frenzy followed the "Industry Baby" music video, particularly in response to a scene where Lil Nas X dances naked in a bright pink prison shower with half a dozen male dancers. Recreating the scene on the MTV Video Music Awards stage, Nas reinforced his commitment to performance as an art and bold representation.
Speaking with GRAMMY.com, Lil Nas X's visual collaborators — choreographer Sean Bankhead, "Industry Baby" music video director Christian Breslauer, Roc Nation Creative Director of Live Performances Jed Skrzypczak and skit director Adrian Per — about the visually distinct MONTERO, creating career-defining performances on stage and online, and celebrating Lil Nas X as an unflinching Black, gay pop-rap star.
This interview has been lightly edited for clarity.
Lil Nas X Writes His Own Music Video Treatments
Sean Bankhead (Choreographer): I am very inspired by how creative he is. Because I don't think people really understand that Nas writes his own treatments for every single music video. So these aren't directors coming to him with ideas. I've seen him sit in the corner of rehearsal. And I'm like, What are you doing? He's like, "I'm just getting ideas for a music video." And then it turns out to be "Industry Baby." And it's so refreshing to see an artist who actually has creative vision and actually cares about all those details — from the rollout to all the skits that he does, to now mix it with dance and choreography and a big stage performance.
Christian Breslauer ("Industry Baby" Director): Nas' original idea was generally close to the music video you saw, except if you watch the whole music video as it exists now, where our video ends is where the middle of the section right before Jack Harlow's verse [would have been]. His verse was basically originally set up in Nas' treatment as like: they burst out of jail and then they rob a bank. And then Nas is surfing on top of a bus. It was very grand. So [Lil Nas X's video commissioner] asked me, "Do you have a way to take the general idea of what he's trying to do and make it doable?"
The Iconic "Industry Baby" Shower Scene Almost Didn't Happen
Christian Breslauer: Nas originally had a lunch room performance scene, but I was like, I don't really feel it's grand enough, like it sells enough. I pitched him the idea [of tackling] the prison shower scene.
He initially was like, "I don't know if I want to do it." And then after sitting with it, he all of a sudden switched up in the middle of our meeting, and he was just like, "You know, actually yeah, let's do it." He had already been practicing the choreo with Sean. And he had a whole thing for that moment.
Sean Bankhead: Me and [Breslauer], were like, it would be dope if they would be dancing in the shower. And they were like, "Well, if you're dancing in the shower, you got to be butt naked." But it's those moments that Nas is like, "Yeah, f<em></em>* it, let's do it."
He's The Mastermind Behind The Elaborate Rollout Skits, Including Giving Birth To
Montero
Adrian Per (MONTERO Skit Director): Here's the thing about Nas. Not to discredit myself or anybody else on the team, we all give our own flavor to things, but ultimately, almost 99 percent of everything was his inception. He is such a visionary, such a creative, that it almost feels like we're all just an extension of him and his ideas.
Christian Breslauer: He's a marketing genius when it comes to that. All that stuff is him, the whole shoe scandal and leading it into the court date into "Industry Baby," that's all his marketing. The kid gets it, he's smart as s<em></em>*. And that's where I think for this generation, he's going to be a superstar because of that. He just gets it.
He was like a professional troll <a href="https://www.youtube.com/watch?v=r7qovpFAGrQ">on Twitter before "[Old Town Road"], he knows how to stir the pot. I'm just a creative mind and can come up with ideas that give the moment. And then him just knowing how to take that little piece of content that I create, and blow it up and stretch it 8,000 ways…. I don't think there's anybody who does that.
Adrian Per: He basically came to me with this concept, [saying]: "I want to give birth to my album. We've got to make it funny. It's got to be in a hospital or something." We did that entire skit with no script. Everything was on the fly. But Nas is so good at what he does — acting, being a troll, all of that — it was easy. We did everything I believe in six hours when something like that would probably be a 12 hour day.
Everything has been done before to a certain capacity, but this idea of his producers [Take A Daytrip] rolling him into a delivery room, then we pull the vinyl record out and it's shining rainbow colors to represent his sexuality [hadn't been done before]. Having a good song is barely half the battle, getting people to listen to it, getting people's attention, the life after the song drops — everything he comes up with supports all of those different facets.
Lil Nas X's Cementing His Pop Star Status As An Explosive Performer
Sean Bankhead: Performance is a huge part of being a pop star: how you perform, your dancers, what your dancers look like, how your stage moves, how you walk, how you talk. You can have hit music, but we want the VMA performances. We want the BET-winning, the VMA-winning music video. We want the ones that are nominated for GRAMMYs. We want to keep being invited back to the GRAMMY stage because the last time we came…we shut it down.
Jed Skrzypczak (Roc Nation Creative Director): Now, a lot of people just scale down. They just do small performances versus [asking]: What would Britney do in the 2000s? Or all of those crazy Missy Elliott performances? That's always the energy and craziness we try to bring on a stage. We always compare [Lil Nas X] to who the best live female performers are, because they [set] this standard of live performance. And that's what we try to achieve with that as well.
Sean Bankhead: There are no Black male rappers who are doing that at all. And so take the gay part out of it and he's still breaking another mold, where he has dope visuals, dope choreography, dope dancers, and really takes risks. He rehearses really hard and is learning how to be a better artist in that regard, with the rapping and dancing at the same time.
His

"

SNL"

Debut Was A Bold Statement In More Ways Than One

Jed Skrzypczak: "Call Me By Your Name" was such a big song everywhere and there was already a visual aspect of it that people were already connected to from the music video. But ["Saturday Night Live"] was our moment to introduce him to a bigger audience.

Sean Bankhead: I think it was the first time that he really trusted a choreographer who was young, Black and gay as well – who understood the pop space and who also has pushed a lot of envelopes, if you will, when it comes to the risky stage performances or the provocative music videos.

I was like, "So do you really want to be that be that n<em></em><em></em>? Do you want to represent and be provocative? And do things that you haven't done?" He was like, "Absolutely." I said, do you want to swing on a pole? He said, absolutely. I said, Do you want to kiss a boy? He's like, "Absolutely."

Jed Skrzypczak: We had a whole conversation about celebrating queerness, and giving a platform to and also celebrating people of color and Blackness. He just wants to give a platform to the dancers and performers, who usually are overlooked or not included and don't have as many opportunities.

Sean Bankhead: I feel very special, because I've been able to bring a lot of young, gay, cool, Black and people of color dancers around him so that he has some culture, he has a hand in the pot. This industry can be very whitewashed, and he's in the pop space; he's not really dealing with the ratchet stuff that a lot of the Black artists have to deal with. He has — excuse my French — a white following, a white team, he gets that treatment. So it's important that him being an openly gay Black male, he still has that surrounding him, which comes with his dancers.
The BET Awards Kiss Was A Close-Kept Secret
Jed Skrzypczak: With the BET Awards performance, we were like: we have to show people that Nas is becoming a king of pop music. That's how we connected it to the "Remember The Time" Michael Jackson references. We wanted to pay homage to the music video and connect it to the already existing aesthetic that we're tying into the performances of the song. 
The funny thing about the kiss is that almost nobody knew about it. There was only a really small group of people, even on Nas' team — even BET didn't know about it. So that was even more pressure on everyone, because we really didn't know how people were gonna react. And it turned out to be such an amazing and big and important moment. After that performance, so many people reached out to the whole team, to Nas, even to me, saying how important it was for them to see representation like this on TV because when they grew up, they never had a moment like this.
Sean Bankhead: I love to shake the table because that's what I grew up on in pop culture. I grew up watching Madonna and Britney doing their thing. And I'm so bored with performances and pop culture; with shock value for a cause and not just, let's just do it just because. We knew people were going to talk about it as soon as they started humping and jiving on each other. But two performances prior to that, I believe, was Roddy Ricch — the girls were rubbing up and down each other and no one said anything about it.
Jed Skrzypczak: At the beginning, when Nas performs, you can see how he acts — he's slightly nervous about it, because it's so much pressure on him. He's so young and already so experienced, but there's still so much pressure on this stage [in front of] all those people who sometimes have completely different views than him.
Sean Bankhead: We want to keep challenging those those norms and keep pushing the boundaries, but still making sure that it's not stupid. It's actually: If we're going to do this, let's make sure it's the best performance. Let's make sure that there are iconic dance moments and there are iconic sound bites or other things that can go with a Britney-esque, "I'm a Slave 4 U" type performance.
Lil Nas X Was Ready To Go Even Bigger For The 2021 MTV VMAs
Jed Skrzypczak: Until that moment, the BET Awards and the VMAs, I think he felt like he had to keep proving to people who he is. With this performance, we had this idea to recreate the iconic music video because it was already so big. 
Nas really wanted to have the marching band, you know, open big. It's slightly a homage to Spongebob because he's obsessed with SpongeBob. We managed to get the band. And then the whole thing goes: How we can translate to the music video and make it cool, from the video music aspect to aspects of the stage. 
Sean Bankhead: When we shot the music video, everyone was busting their ass. No matter what the floor, dancing barefoot with water [while] doing choreography is tricky. And Nas was so nervous. He was like, "I do not want to fall. I don't know if I'm gonna fall on a live VMA performance." We had to keep, throughout rehearsals, testing different floors, testing with water. 
There were a lot of limitations with the stage, the screen going up and revealing the stage behind — that was a special build that we had to get from MTV. Then, we found out that once we got in the wet shower, we couldn't come back to the mainstage. So we had to finish the performance in the shower. I got in trouble because we weren't supposed to have the orgy at the end. And it was a decision that I told the dancers to do 20 minutes before they went live.
The
MONTERO
Era Shows That Lil Nas X Is Just Getting Started
Christian Breslauer: If you look at the '80s, or even '90s or '70s, some of the most talented musicians were gay and they weren't able to be these icons until after the fact. All these guys who kind of stayed closeted, or they ended up coming out after the fact, but they were shunned for it to a degree. But Nas has kind of created this new narrative. I've seen him grow just as an artist and now he's moved and this last album was definitely his true coming out [saying]: "This is who I want to be as an artist."
Adrian Per: There isn't a single person for artists who's doing it at that level, with that many eyes looking at them. Whether it makes people hate him or disagree with him, or they like it, he knows how to create a tension around something that he's about to drop. It's so calculated in his brain so far ahead of time, before anything drops. I just don't know anybody else who's doing that to that level. 
Sean Bankhead: I'm gonna stay hard on him. I see the potential, I see the future, but I also see what he represents. And if I was growing up, and I had a representational figure like him on TV being great — and not just because he's gay, but actually puts in work and does phenomenal music videos, and makes incredible music. He's still young, and he still has a long way to go. So I want to make sure that I stay on him to keep growing and to stay focused, and to push harder, and keep being free. Because people are watching. People are rooting for him. No matter what the headlines may say. 
Inside The Visual World Of Billie Eilish's 'Happier Than Ever,' A Testament To Her "Brilliant" Creative Vision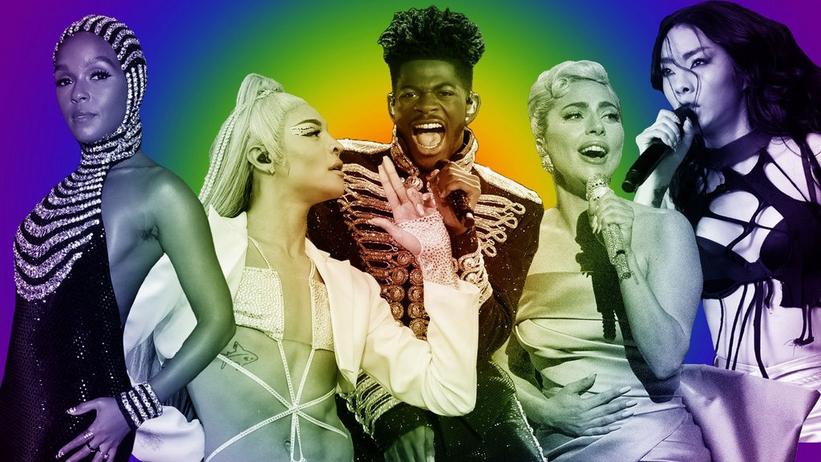 (L-R): Janelle Monáe, Pabllo Vittar, Lil Nas X, Lady Gaga, Rina Sawayama
Source Photos (L-R): Cindy Ord/MG22/Getty Images for The Met Museum/Vogue; Mauricio Santana/Getty Images; Rich Fury/Getty Images for The Recording Academy; Emma McIntyre/Getty Images for The Recording Academy; Scott Dudelson/Getty Images for Coachella
list
Listen To GRAMMY.com's LGBTQIA+ Pride Month 2022 Playlist Featuring Elton John, Lady Gaga, Lil Nas X, Ricky Martin, Rina Sawayama & More
For LGBTQIA+ Pride Month 2022, GRAMMY.com presents a genre-spanning playlist of emerging and established artists you should know, including RuPaul, Janelle Monáe, Kim Petras & many more.
GRAMMYs
/
Jun 1, 2022 - 07:19 pm
Now more than ever in the music industry, artists are out, proud and loud about being open members of the LGBTQIA+ community. Across all genres and music of different languages around the world, musicians are joyfully embracing their queer identities while creating much-needed visibility for their queer-identifying fans. As calls for LGBTQIA+ fairness and equality continue, artists throughout the world are amplifying the voices of the global LGBTQIA+ community.
In honor of LGBTQIA+ Pride Month 2022, GRAMMY.com has put together a playlist celebrating 50 artists across the LGBTQIA+ spectrum from throughout the decades and across all genres.
Listen to GRAMMY.com's official LGBTQIA+ Pride Month 2022 playlist below and follow the Recording Academy/GRAMMYs on Spotify, Apple Music, Amazon Music, and Pandora. Playlist powered by GRAMMY U.
Among the queer icons who paved the way for representation in pop music and culture are Elton John, Queen's Freddie Mercury, and George Michael of Wham! In the '90s, drag queen superstar RuPaul took the world by storm and would soon lead a drag revolution of her own. Into the 2010s, Puerto Rican superstar Ricky Martin kicked down the proverbial closet door and led the way for more Latin and queer Latin acts to follow in his footsteps. Lady Gaga took queer culture into the stratosphere with her global Pride anthem, "Born This Way." Frank Ocean created waves through R&B and pop as a Black queer innovator with the release of his breakthrough single, "Thinkin Bout You."
The last decade has welcomed more openly LGBTQIA+ artists than ever. South Korean singer Holland has led the way for queer voices in K-pop, Kim Petras has become a pop beacon for trans representation, and Lil Nas X remains one of the biggest rappers and singers in the world today. Also, legendary musicians like Lesley Gore and Chavela Vargas opened up about their queer identities later in their lives.
As LGBTQIA+ representation continues to grow across the music industry, may more artists and music fans keep living their truths and expressing themselves openly and safely.
Japanese Breakfast, Blackpink, Enhypen, Stray Kids, Mxmtoon & More | Listen To GRAMMY.com's AAPI Month 2022 Playlist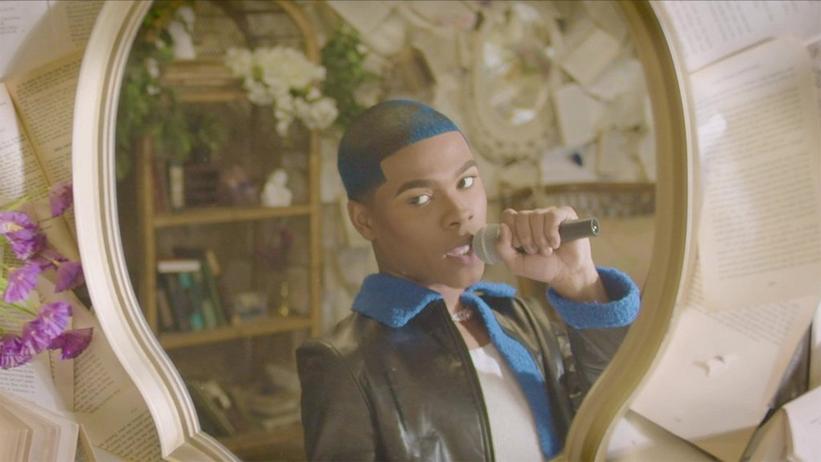 Kidd Kenn
Photo: Courtesy of Kidd Kenn
video
ReImagined At Home: Kidd Kenn's "Old Town Road" Cover Tips Its Cowboy Hat To Lil Nas X's Country Trap Classic
Kidd Kenn gives Lil Nas X's breakout hit "Old Town Road" a glam update by adding some of his own signature flair.
GRAMMYs
/
Aug 24, 2022 - 05:00 pm
Before Lil Nas X ruffled feathers by (literally) dancing with the devil in 2021, he first caused controversy with "Old Town Road." Labeled "country trap," the song sparked a fierce debate on the definition of the country genre. Yet, its instantly memorable hook — and cinematic music video — helped launch Lil Nas X into pop superstardom.
In this episode of ReImagined at Home, the song gets a fresh look from Kidd Kenn, an enigmatic, 18-year-old rapper from Chicago who shares Lil Nas X's penchant for eye-catching, forward-thinking imagery. Kenn delivers his version of "Old Town Road" while lounging in a wicker chair, seated in a light-filled room with walls decorated with book pages and a lush backdrop of vines and flowers. 
The performance lends a glamorous, feminine touch to the song, like when Kenn sings into a vanity mirror. But sonically, his interpretation is fairly faithful to the original "Old Town Road," layering smooth-as-honey vocals against rap lyrics and a sizzling trap beat.
Both Lil Nas X and Kidd Kenn broke into the scene as teens. Though the former artist is only 23 today, he's an inspiration to many in his genre, Kenn included: Nas X came out as gay early on — a fairly rare occurrence in the rap genre — and Kenn has been out since fans first got to know him.
"People in my community [are] building stuff in this game and it shows from what everybody is doing that [success] is going to happen. We're making room. We're here," Kenn commented to Red Bull, acknowledging Lil Nas X as well as Tyler, the Creator for helping destigmatize queer stories in hip hop. 
Press play on the video above to watch Kenn's interpretation of this modern-day classic, and keep checking GRAMMY.com for more episodes of ReImagined at Home.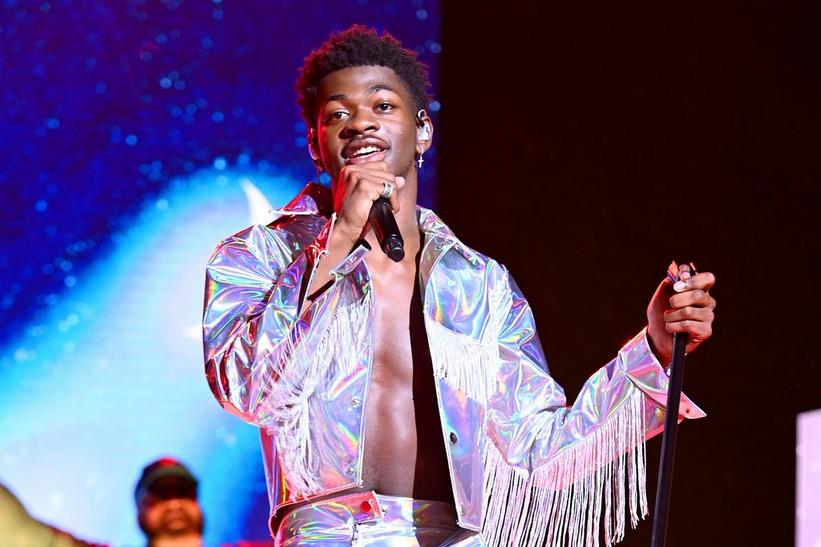 Photo: Noam Galai/Getty Images for BuzzFeed
news
Lil Nas X's No. 1 Run Began With TikTok, Now The Music Industry Is Taking Notice
"We get 10 to 15 inquiries a day from artists and labels wanting to pay us to use their song," Devain Doolaramani, who manages over 20 TikTok users, recently told Rolling Stone
GRAMMYs
/
Aug 27, 2019 - 01:22 am
Whether or not you've ever downloaded the app, it's likely you've been hearing about TikTok more and more this year. Though it may be most popular among teens and pre-teens, the short-form video app is not one to brush off as a mindless youth trend. Its users upload 15-second videos set to music (denoted in text at the bottom of the clip) onto the platform, offering the chance for both the uploader and the artist of the song to gain viral fame. And while striving for your moment—however brief—in the spotlight is nothing new, teens' obsession with the year-old app is already making waves in the music industry.
Last month, 20-year-old Lil Nas X broke records as his viral Billy Ray Cyrus-assisted "Old Town Road" took the longest run ever at No. 1 on Billboard's Hot 100, holding its reign on the all-genre chart for 17 weeks in a row. Back in February, the then-unknown rapper, two months after self-releasing the original version of the country-trap song, uploaded it to TikTok along with a "challenge": to change into Western garb before the drop. The song went viral on the app as users like Michael Pelchat, a.k.a. NiceMichael, added their own versions. A month later, Lil Nas X signed to Colombia Records and in April they released the record-breaking remix.
Lil Nas X is not the only notable artist to effectively harness the power of TikTok. Lizzo joined the platform in June and offered the #DNATest challenge, featuring her 2017 bop "Truth Hurts"—she opens the song with "I just took a DNA test, turns out I'm 100% that bitch." This month, the two-year-old song became her first top 10 track on the Hot 100, hitting No. 4 on Aug. 10. "Juice," from her latest LP Cuz I Love You, is her only other song to date to make the all-genre chart, reaching No. 9. The newfound viral moment of "Truth Hurts," similar to that of Lil Nas X, led Lizzo to release a new remix, featuring DaBaby.
A recent Rolling Stone feature examining the app's rapid growth and impact on the music industry highlights the move for labels and artists to push their music on the platform. "We get 10 to 15 inquiries a day from artists and labels wanting to pay us to use their song," Devain Doolaramani, who manages over 20 TikTok users, recently told the outlet. The article explains that the Chinese company Bytedance purchased the lip sync video app Musical.ly in late 2017, and, in August 2018, shut it down and migrated its user base to the new TikTok, giving it a starting point of 500 million monthly global users.
Speaking to both active uploaders and people who support its uploaders, like Doolaramani, Rolling Stone found that the algorithm better supports the chance for 15 seconds of fame, as it "is constantly searching for new clips, rather than just pushing out the latest videos from already popular users." The algorithm also seems to push videos and challenges—and their featured songs—that are already doing well to the next level. Doolaramani noticed that songs featured in around 3,000–5,000 videos seem to get more a bigger boost once they reach that point.
The platform even offers "creator partner managers" for popular users invited into their Creators Program. Pelchat, whose profile says he has over 922,400 fans, is part of the program. As he told Rolling Stone, his manager can help push his videos with lower views to the next level.
"Within the hour, [the video] had 80,000 more likes than what it had before. They have some magical button that they can press and just promote [a video] to the world," Pelchat said, when describing what happens after he reaches out about a video. He added that managers "have a very key part in pushing what [TikTok] wants to do."
Yet, while record labels are currently paying popular TikTok-ers to promote their songs, they could require the platform to pay for the rights to use their music in the future. The article points to a recent Bloomberg report that Universal, Sony and Warner are all renegotiating their existing deals, which expire soon, with the platform.
While it's not clear exactly what the future of TikTok will look like, it is clear that the way young people consume music is ever-changing, and the short-form video app is a major part of that.
Watch: Lizzo & Missy Elliott Turn Up The "Tempo" In Brand-New Video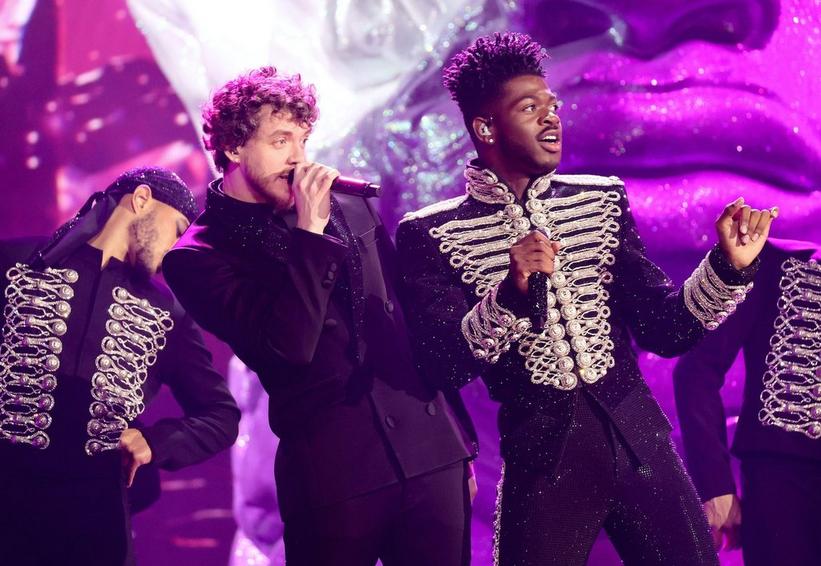 (L-R): Jack Harlow & Lil Nas X
Photo: Emma McIntyre/Getty Images for The Recording Academy
news
Watch Lil Nas X & Jack Harlow Give A Show-Stopping Performance Of "Industry Baby" | 2022 GRAMMYs
Lil Nas' medley at the 64th GRAMMY Awards also included "Dead Right Now" and "MONTERO (Call Me By Your Name)"
GRAMMYs
/
Apr 4, 2022 - 02:05 am
Lil Nas X had everyone on their feet for his exhilarating medley at the 2022 GRAMMYs, which included MONTERO album highlights "Dead Right Now," "Industry Baby" and "Montero (Call Me By Your Name)."
"Dead Right Now" served as the cinematic opener, as Lil Nas X performed alongside a massive backing choir and drummers. The two-time GRAMMY winner quickly dove into "Montero (Call Me By Your Name)," giving a wink to the single's nationwide controversy with news coverage clips and tweets plastered onto the screen. 
Lil Nas X amped up the energy with the addition of "Industry Baby," his hit collaboration with fellow rapper Jack Harlow. Seemingly paying homage to Michael Jackson's iconic fashion during 1995's HIStory: Past, Present and Future, Book I era and Janet Jackson's "Rhythm Nation" video, Lil Nas and his dancers showcased militant choreography. 
Harlow was the perfect performance topper, entering the stage with his infectious swagger and cheeky guest verse. The near-tangible energy reflected Lil Nas X's massive past year, as "MONTERO (Call Me By Your Name)" and "Industry Baby" became his respective second and third Billboard Hot 100 No. 1 hits following 2019's "Old Town Road."
Lil Nas X earned five nominations at the 64th GRAMMYs ceremony. "MONTERO (Call Me By Your Name)" scored nods for Record Of The Year, Song Of The Year and Best Music Video, while the rapper also received nods for Album Of The Year (MONTERO) and Best Melodic Rap Performance ("Industry Baby").
Check out the complete list of winners and nominees at the 2022 GRAMMYs.
The Incomparable Creative Vision Of Lil Nas X: 'Montero' Collaborators Detail How "We're All Just An Extension Of Him & His Ideas"