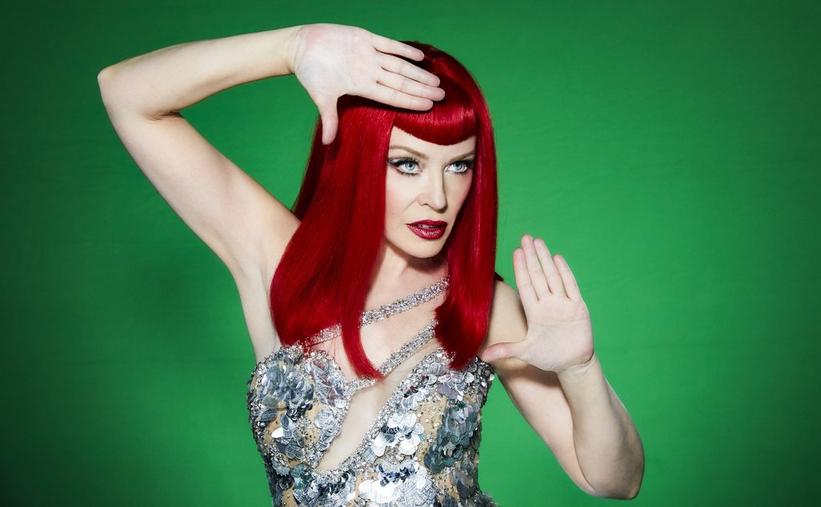 interview
Kylie Minogue On The Freedom Behind 'Tension,' Being A Gay Icon & "Padam Padam"
Kylie Mingoue's new album, 'Tension,' had no theme. Instead, the pop star tells GRAMMY.com, the album offered a space to be free in the music-making process.
GRAMMYs
/
Sep 21, 2023 - 12:56 pm
Kylie Minogue certainly knows her way around an infectious dance pop bop. Look no further than the wild and campy "Padam Padam" — the lead single to her upbeat new album Tension, which arrives Sept. 22. 
It's the song of the summer that a large segment of Americans didn't even know about. In the U.S., the song reached No. 7 on Billboard's Hot Dance/Electronic chart. In the U.K., it was a No. 1 pop hit that the radio wouldn't play — a move that the song's writers, and Kylie herself, consider to be ageist (and sexist, because they do play David Guetta, who is also 55).
Yet when "Padam Padam" dropped this spring, it was an immediate hit within the LGBTQ+ community. "Padam" became a greeting, a verb, an adjective, and the inspiration for many, many memes.
A select handful of shimmering pop stars from every generation are adopted by the LGBTQ+ community (among them, Grace Jones, Cher and Beyoncé), and Kylie has maintained her status as a pop queen and gay icon for decades. It's something Kylie doesn't take for granted, and she is deeply appreciative of the loyal support of the gay community.
"It's hugely important to me and so touching," Kylie recently told GRAMMY.com when we asked what their support means to her. "It's very genuine — long-standing mutual respect, support and love."
The second lead single and title track, "Tension," is another sexy dance pop banger, with a joyful piano house tilt. On it, she confidently encourages her lover to make her feel good while simultaneously reminding the world of her popstar status: "I'm a star babe-babe-babe / Do this all day-day-day."
The two lead singles showcase the vibe of the playful, upbeat album. Yet Tension, Kylie explains, had no theme. Instead, the album offered a space to be free in the music-making process with her beloved regular collaborators, Biff Stannard and Duck Blackwell.
Tension follows 2020's DISCO, a glittering pandemic album dedicated to the dancefloor and the genre it's named after. DISCO: Guest List Edition continued the funky shimmer with remixes with fellow disco-loving pop artists (who she's inspired) Jessie Ware and Dua Lipa, along with disco legend Gloria Gaynor and nu disco champ Purple Disco Machine.
Back in 1988, a 20-year-old Kylie released her eponymous debut album, featuring her debut global hit single "Locomotion." Since making that first big splash, she's remained dedicated to the art of dance pop, dropping an album every couple of years. Her eighth studio album, 2001's Fever, made synthy waves around the globe, and its lead single "Can't Get You Out of My Head" remains her most memorable song. Fever's equally catchy "Love At First Sight" and "Come Into My World" were nominated for Best Dance Recording at the 45th and 46th GRAMMY Awards, respectively.
For those who somehow forgot about Kylie, or only know her as the "Can't Get You Out of My Head" singer, or were born after 2001, it's the perfect time to allow her nearly endless catalog of dance pop jams to padam into your heart. The sessions that led to Tension began as Kylie's personal sonic escape, and now she's offering those 11 playful tunes for us to move our bodies to and maybe even make our own.
Ahead of the Tension's release, GRAMMY.com caught up with the Australian pop queen about its music and how it came together. Sometimes, when you get a short interview slot with a pop star, they repeat canned answers or avoid offering up too many details. Not Kylie. She gave thorough and thoughtful answers, demonstrating her care and love for the music she makes, her fans, and pop music itself.
Tension is filled with upbeat songs about joy and pleasure. What was your vision for this project and how did the songs make you feel?
Initially, there wasn't a vision. [Chuckles.] I just really wanted to feel. This was early 2021, so, COVID's still present and there were these windows where I can go to my happy place and be in the studio with one of my favorite collaborators. And if nothing came of it professionally, we love each other and we love to make music together. There was a gentle meander into that space. Maybe a couple months after that, I agreed with my label that, "Okay, this is happening, we're gonna make an album."
My previous album [2020's DISCO] was made largely in lockdown. It's like wanting to run out into the field and just going, Yes, I want to start fresh. No more lockdown videos, none of that stuff. I really wanted new material, vibrancy. And we ended up getting it.
There was a point where we were talking about the album thematically having a kind of '80s entrance point, but it just wasn't hitting the mark so we abandoned all that. I think the turning point for the album was the decision that there's no theme — go in, have fun. My A&R said to me, almost as an aside, "Just go in, write songs. Do a Kylie song." We know kind of what that is, but actually doing it's another matter. 
And he said, "As long as it's not boring." That's actually not the worst advice. Yes, you want it to be amazing and moving, or escapism or whatever, but I think we can safely say that we did our best to make sure it's not boring.
It's quite eclectic. I think you can feel that [sense of] feeling liberated with not having a theme and not being afraid to self-reference, either — '80s, '90s, '00s. And I ended up in a good space personally at the end of this album. In a year and a half, a lot happens, so there's moments in the album that attest to that. A strong DNA of my music is, even if it's a challenging subject or emotion, it remains hopeful.
I love that. I was reading that the album was recorded over five days or so in an Airbnb.
Not all of it, but a really important chunk of it. [Biff Stannard has] a perfectly amazing basement studio in which many hits for various artists have been written. It's a pleasure to be there, but we really wanted to have our own writing camp. Because of his phobia of flying, we agreed, "Okay, we can do South of France. You can take the ferry." I can't tell you how many places I looked at online that didn't work. It just got too complicated, so we ended up going about 40 minutes from where he lives.
We achieved what we hoped we would achieve. It was so glorious. Me, Bick, Biff, Duck [Blackwell], Jon Green, and another engineer. We woke up and talked about music. We had breakfast and talked about music. It was just all day, amazing love and creativity. We all had this sensation that it was a special time. "Tension" and "Things We Do For Love" were written on the same day, so we were jumping from different genres, different feelings.
It would be a shame to not talk about "Padam Padam." The gay community went super hard for "Padam" and made it a pride anthem. What does having the support of the queer community and being celebrated as a gay icon mean to you?
It's hugely important to me and so touching. It's a difficult one to unpack — I'm always asked, "How did you become a gay icon?" I don't have the answer. I don't want the answer. It's very genuine — long-standing mutual respect, support and love. 
It came to me many, many years ago. I can only imagine that the community saw something in me that made sense to them. I mean, I've had my own kind of struggles when I was starting out of being accepted in my field, which is very different to one's sexuality. But yeah, they pretty much adopted me. 
I hope that for that community and beyond, I just want to say I am open-minded and I want people to be happy in themselves. That community needed support and still needs support. I'm here. And they padamed for me. 
I had another question about "Padam" — 
My favorite meme. 
Which one? 
I don't know. There's so many. 
When you first heard the demo for "Padam Padam" what did you think? What was your reaction? 
Love. Absolutely loved. I know where I was, where I was sitting, what I was doing. I was getting glammed up for something in Miami. When they're outside songs — separate to songs that I'm involved with writing — it's always an exciting moment. My A&R sends me something and says, "Hey, what do you think of this?" I have no idea what to expect. In that moment, there's before and after, if it's a good moment. 
So already the title was intriguing; I already knew the Édith Piaf song "Padam Padam." Straightaway, I was in. At first, I couldn't understand every lyric, so I listened again and was like that is really, really clever. I called Jamie straightaway, "Yes, yes. I love it. I think it's great on its own, but what's more, I think it's perfect for me. When can I get my vocals on it?" And the rest, as they say, is history. 
The thing with "Padam" is that it fed itself, it just kind of powered itself. The closest it would remind me of is "Can't Get You Out Of My Head," where it just took off like a rocket. I'm almost like a bystander. "Oh, Padam? Where have you gone?" It's utterly enthralling to watch that unfold in front of my very eyes from day one to day two, and still happening now.
 Did you have any idea that it would be received in the way that it was? 
Who could predict that? Who would even dare to dream of that? I finally get TikTok. Yes, I've been slow but I finally am there. Honestly, it took all of us by surprise. And I think it's telling that now I think opening myself up to that community and having that relationship will be fruitful in the future and I hope to continue having fun with that. But I think in that initial moment, they decided — you know, the grand they. It was really organic. I don't think you can force that. It happened and I loved every second of it.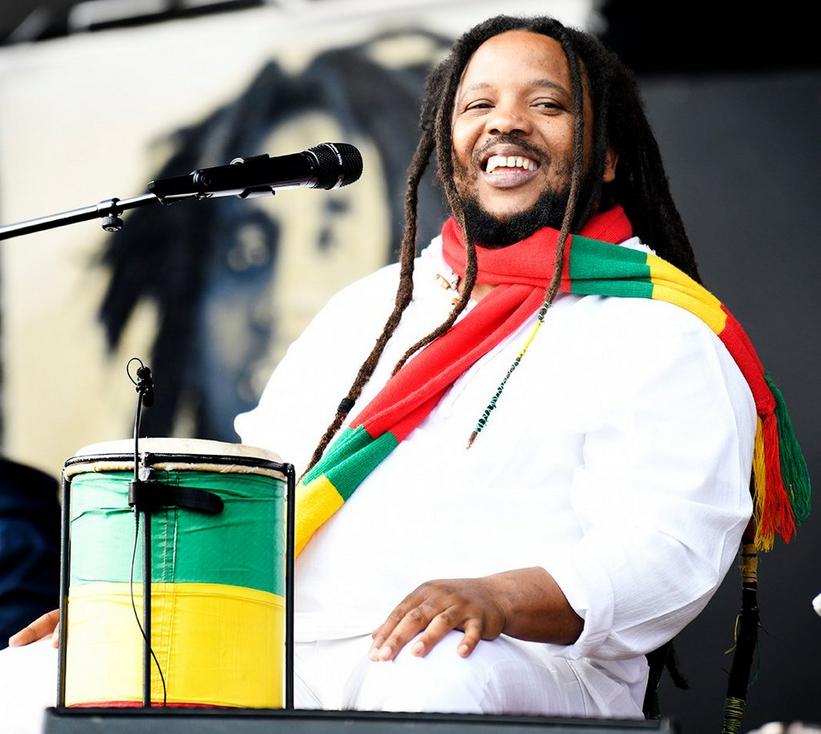 Stephen Marley
Photo by Stephen Lashbrook
news
Living Legends: Stephen Marley On 'Old Soul,' Being A Role Model & The Bob Marley Biopic
On his new album of covers and originals, Stephen Marley recruited Bob Weir, Jack Johnson, Eric Clapton, and his own siblings. Marley spoke with GRAMMY.com about his multifaceted career, including supervising music for 'Bob Marley: One Love.'
GRAMMYs
/
Nov 30, 2023 - 09:22 pm
Living Legends is a series that spotlights icons in music who are still going strong today. This week, GRAMMY.com spoke with eight-time GRAMMY winner Stephen Marley. The reggae multi-hyphenate is the youngest son of Bob and Rita Marley.
Stephen Marley is a reggae Renaissance man. An eight-time GRAMMY winning singer, songwriter, multi-instrumentalist and producer, Stephen's nuanced releases retain an authentic Jamaican identity while organically incorporating a broad range of influences. His latest album, Old Soul, continues this boundary-blurring trajectory.
Primarily recorded during the pandemic inside a garage on a family farm in Florida, Old Soul brings renewed luster to reggae classics and standards by the Beatles, Ray Charles and Frank Sinatra alongside stunning originals, each delivered with Stephen's warm rasp. It's an endearing and eclectic acoustic set, awash in filigreed guitar strums, tinkling piano keys, swirling flutes, and mesmerizing percussion patterns.
Old Soul's reflective title track honors Stephen's musical inspirations — especially his father: "Fast forward to 1981, my dad moved on and so did I, inside I kept his songs alive, so they say I'm an old soul, tribute to the ones who made it all possible/inside me your legacy lives on." "Cool As The Breeze" is a heartrending tribute to Stephen's son, reggae artist Jo Mersa Marley, who died of acute asthma exacerbation in December 2022 at just 31 years old.
Stephen continues to build upon his own esteemed legacy. The youngest son of Bob and Rita Marley, the 51-year-old's musical journey commenced at age 6 when he formed the Melody Makers with his older siblings, sisters Cedella and Sharon and brother Ziggy, the group's leader. Rita managed the Melody Makers and Bob wrote their first single, 1979's "Children Playing in the Streets." In 1981 the spotlight shone on Stephen's precocious talents when he took the lead on "Sugar Pie."
A guitarist, percussionist, vocalist and songwriter with the Melody Makers, Stephen also assisted in the production of each of their albums including the GRAMMY winning Conscious Party (1989), One Bright Day (1990) and Fallen Is Babylon (1997). He went on to helm the production on projects by several Marley family members including youngest brother Damian's GRAMMY winning albums Halfway Tree and the influential blockbuster Welcome To Jamrock.
Stephen's long-awaited, self-produced debut solo album, the multi-genre spanning Mind Control arrived in early 2007 followed in late 2008 by the stripped-down Mind Control Acoustic — both GRAMMY recipients. Stephen dropped another GRAMMY winner, Revelation Part I The Root of Life as a celebration of roots rock reggae, in 2011. Revelation Part II: The Fruit of Life, released five years later, incorporates various styles that have emanated from reggae's core. 
Old Soul is Stephen's first full-length project since 2016 and he's recruited an outstanding cast of collaborators including Grateful Dead founding member Bob Weir, singer/songwriter Jack Johnson, rock-reggae outfit Slightly Stoopid, his brothers Ziggy and Damian and Eric Clapton, whose bold, bluesy guitar riffs color Bob's "I Shot the Sheriff," became a No. 1 hit for Clapton in 1974.
GRAMMY.com recently spoke to Stephen Marley about his illustrious, multi-faceted career including his most recent role as music supervisor for the upcoming Marley biopic, Bob Marley: One Love, due in theaters on Feb. 14.
Please tell me about the process of recording the Old Soul album.
It was during the thick of COVID-19; the walls were closing in so to speak. My uncle said "we need a farm" because we didn't know what the next day would bring in terms of the control the government had. So, we looked and found a little farm. 
During that time, I was very much distracted [with regards to making music], but when we came down to the farm, it was nature, escape and I caught back a groove. Old Soul wasn't what we set out to do, but because of the circumstances, we started jamming in the garage and, well, it felt good, so we said, let's give the people something to soothe them. 
The choices of cover versions on Old Soul are fascinating. How did you decide which songs you would cover?
"Don't Let Me Down" was suggested by [producer] Salaam Remi, he thought that song would fit in the acoustic style. I know that song from sister Marcia [Griffiths], she did an old version of it; I didn't really know it was a Beatles tune. [Laughs.]
Most of the others are songs that I play in solitude or just go to songs like "Georgia On My Mind" or "These Foolish Things (Remind Me of You)." It was just part of getting back in the groove, with songs I would sing anyway. I love those songs; it doesn't matter where they come from.
You also cover reggae classics. "Thanks We Get (Do Fi Dem)" featuring Buju Banton, is a Lee "Scratch" Perry composition initially recorded with his band the Upsetters in 1970. When was the first time you heard that song?
I first heard that song from Reggie [Upsetters' guitarist Alva "Reggie" Lewis] singing it to me; I had never heard the record.
Reggie is one of the persons credited with teaching my father how to play guitar. This man lived among us, he was always at the [Bob Marley] museum, at [the Marley family-owned] Tuff Gong [studios] and at one point, he stayed at my house, too. He was always singing, "look what we do fi dem, this is the thanks we get, what an ungrateful set," that's how I knew it; I never listened to the record until I was going to record it; that's when I discovered that Scratch wrote it.
"There's A Reward" is a poignant, motivational song, written by Wailers mentor Joe Higgs, who taught Bob, Bunny Wailer and Peter Tosh how to harmonize. Can you share some of your memories of interacting with Joe Higgs over the years?
From child to young adult until him move on [Higgs passed away in 1999], he was always encouraging. I vividly remember those days when he would come and see my dad. He was like an uncle, he always showed love and encouragement. 
Doing that song was definitely one of the highlights of the album for me and Ziggy as well but I really didn't know the song before recording the album. It really moved me, and I heard the similarities between him and Bob, so I said, yeah, I have to record that one.
Old Soul's title track was originally written by Jamaican singer/songwriter OMI. What changes did you make to the song's lyrics?
The song, as he wrote it, was pretty similar to what's on the album, but it never had my birth year in it, when I graduated, all of those facts. In that sense, I put my life into it, but it already had Bob and Peter in the lyrics ("I knew every Nesta Marley line/You knew that Peter Tosh was fly, in diamond socks and corduroy"). 
OMI is a great songwriter, and the song was about people who influenced him, "tribute to the ones who made it possible," so he was already paying homage.
Your song "Let The Children Play" on Old Soul references the Melody Makers' first single "Children Playing In The Streets." What are some of your fondest memories of your years with the Melody Makers?
It is such a significant part of our lives, so any memory puts a smile on our faces. One of my fondest memories is, there's a place in Half Way Tree in Kingston called Skateland and every Saturday we would perform there. One Saturday, our dad came and watched us, and we didn't know he was there until after.  He wrote our first song, he was pretty into us. He wasn't a man that would tell you too much, but he would tell his friends, "Yeah, them youth go on good," he was very proud of us. 
The integrity that goes into our music has never changed. From the time we were kids singing "Children Playing in the Streets," we were always singing social songs, meaningful music. I am 51 now, so do the math.
As the music supervisor of the upcoming Bob Marley: One Love biopic, do you choose which songs are used or how they are used in the film?
I don't choose alone in that sense. The movie is set in a time period, it's not Bob's whole life. There are scenes where he is remembering, and you see him when he is young, but the movie focuses on the Smile Jamaica concert (Dec. 5, 1976), the One Love Peace Concert (April 22, 1978) and the songs he was working on in those times. Anything to do with the music in the film runs through me.
I just came back from California to finish up some of the music. We did the music before the actual filming. What you will be hearing has to coincide with what you are seeing; like the live concerts, if the drummer hits the drum, you have to hear the beat at the same time. Some of the music was re-recorded for the film. Like "Smile Jamaica" is a live recording so we had to do some live overdubbing for the quality and the experience in the theater. It has been a great learning experience for me as well.
You produced the Celebrating Nina: A Reggae Tribute To Nina Simone EP featuring exclusively female artists, released in 2022; Nina Simone is an artist that you enjoy listening to. Who are some of the other artists you listen to when you have time to relax?
I listen to Ray Charles, Nat King Cole, Ella Fitzgerald, James Brown. When I was 17, 18, those were the songs that played in my car. As far as our music, people like Toots, Burning Spear, Culture, Steel Pulse — all of those elders were great, and are still great musicians.
Your 1999 production Chant Down Babylon paired rappers with your father's vocals on hip-hop renditions of his classic songs, such as the Roots on "Burnin' and Lootin,'" Chuck D on "Survival a.k.a. Black Survivors." Was the album successful in terms of better acquainting the hip-hop community with your dad's music?
It very much accomplished what I set out to do, especially with the young artists at that time. Lauryn Hill was a staple. I have a lot of testimonies from people about that. People discovered Bob's "Turn Your Lights Down Low" because Lauryn was on the track.
Have you considered doing an updated version of Chant Down Babylon?
It's funny you bring this up because Cedella [Cedella Marley, CEO, Bob Marley Group of Companies] just asked me if I can bring it together for Bob's 80th birthday.  It's too early for details but definitely Chant Down Babylon 2 is on the table.
Damian's 2004 single "Welcome to Jamrock" won a GRAMMY for Best Alternative Hip-Hop Performance, to date, he's the only Jamaican artist to be so honored. The single was praised for its gritty lyrics depicting the politically divisive violence in Kingston's poorest communities, while your production merged hip-hop percussion with swaggering reggae and influenced Jamaican artists including Chronixx, Protoje, and Koffee. How does it feel to have had such a profound impact on a younger generation of artists?
It is a great feeling to have your music recognized. I had the privilege of being around great musicians and engineers, the best of the best, so it is really passing down those lessons, showing what I've learned. To influence the youths coming up is a really great feeling but at the same time, I take it as a "we" thing, more than "I" did this.
Did you delay the release of your debut album Mind Control until 2007 because of the success of Welcome to Jamrock?
Yes. At the time, I was kind of conflicted: Did I want to stick to producing or become a solo artist, so to speak? Being in the Melody Makers from age 7 to then having kids and still being in the Melody Makers, I had to get used to it being about Steve.
So, I decided to put time aside and focus on my record, but it was very important to me to first make sure Damian, my youngest brother, was good. We are very close and if him was alright, then I can focus on myself. Before Mind Control, I put out a teaser, Got Music? "Winding Roads" was on that, but it didn't make the album.
"Winding Roads" fits in beautifully on Old Soul.
Yes, that's why I always tell my children that music is a timeless thing so don't give up on any inspiration or creation.
How did Jack Johnson and Bob Weir come to be featured on "Winding Roads"?
My manager always liked the song, and he has a relationship with them. Bob Weir and Jack heard the song and were willing to be a part of it. I went to Bob's studio, he is a great man, and a true musician. We did a few jams, but "Winding Roads" was the one he gravitated towards.
You released Revelation Part I: The Root of Life in 2011 — which included the anthem "Jah Army" — as a showcase of the revolutionary sentiments and musical excellence intrinsic to reggae. At that time, those standards were overshadowed by the widespread criticism of X-rated lyrics in some dancehall hits. In the 12 years since, have you seen any significant progress in quality Jamaican reggae receiving the recognition it deserves?
I do see a difference. As you mentioned, the youths them that rise up — Chronixx, Protoje, etc. — The Root of Life was a calling for that generation. Over the past 12 years, technology has progressed, social media, how people put products out there now is really different….The quality music is there but you really have to search for it because there are so many distractions.
That was one of the reasons for making the Old Soul record; it wasn't a reggae album so to speak, but our Jamaican spirit is in the music. When people hear it, it shifts their meditation, appealing to a part of them that is kind of suppressed because of all of the distractions that are going on.
Living Legends: Reggae Great Marcia Griffiths Looks Back On Her 60-Year Legacy, Working With Bob Marley & Inspiring The Next Generation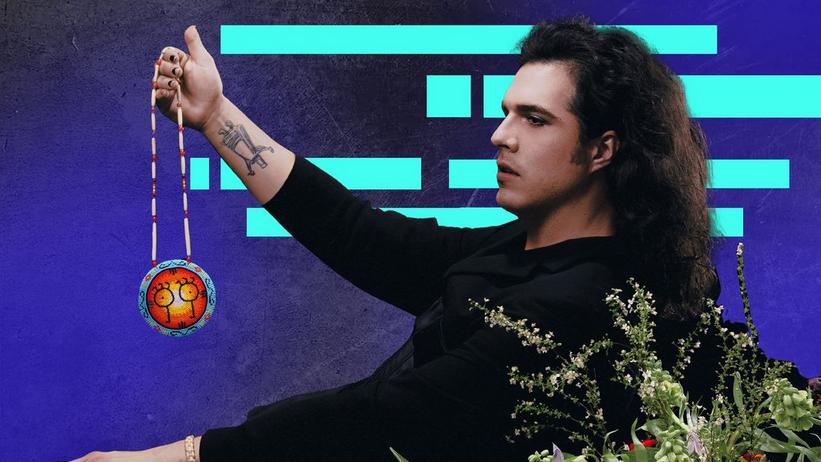 Jeremy Dutcher
Photo: Courtesy of Jeremy Dutcher
video
Global Spin: Watch Jeremy Dutcher Deliver An Empowering Performance Of "Pomawsuwinuwok Wonakiyawolotuwok"
Two-spirit Indigenous musician Jeremy Dutcher performs a captivating performance of "Pomawsuwinuwok Wonakiyawolotuwok (People Are Rising)," a resistance song from his latest LP, 'Motewolonuwok.'
GRAMMYs
/
Nov 30, 2023 - 06:17 pm
As a two-spirit Indigenous person, Canadian musician Jeremy Dutcher knows judgment lurks on every corner. It's brought resilience to their life and a drive to fight against it, and they're more than ready to invite more to join the ongoing revolution.
"People are rising/ So, we stand up," Dutcher sings on the outro of "Pomawsuwinuwok Wonakiyawolotuwok (People Are Rising)," strategically using English to welcome listeners beyond his Wolastoq community.
In this episode of Global Spin, Dutcher performs a stripped-down performance of the track on the piano, allowing his fiery vocals to move the performance.
"Pomawsuwinuwok Wonakiyawolotuwok (People Are Rising)" is the "resistance song for all voices" on Dutcher's new album, Motewolonuwok. In a press statement, they explain that "Motewolonuwok," or "witch," is a phrase commonly used for two-spirit people: "They're the people of great spiritual power. The honor and the strength of that, rather than it being something to be ashamed of."
Dutcher will close out 2023 with the final two shows of his Motewolonuwok Tour, which see him returning to his home country. He'll make two stops in Ontario: St. Catharines on Dec. 7, and Toronto on Dec. 9.
Press play on the video above to watch Jeremy Dutcher advocate for change with this performance of "Pomawsuwinuwok Wonakiyawolotuwok," and check back to GRAMMY.com for more new episodes of Global Spin.
5 Indigenous Artists You Need To Know: Earth Surface People, Sage Cornelius & More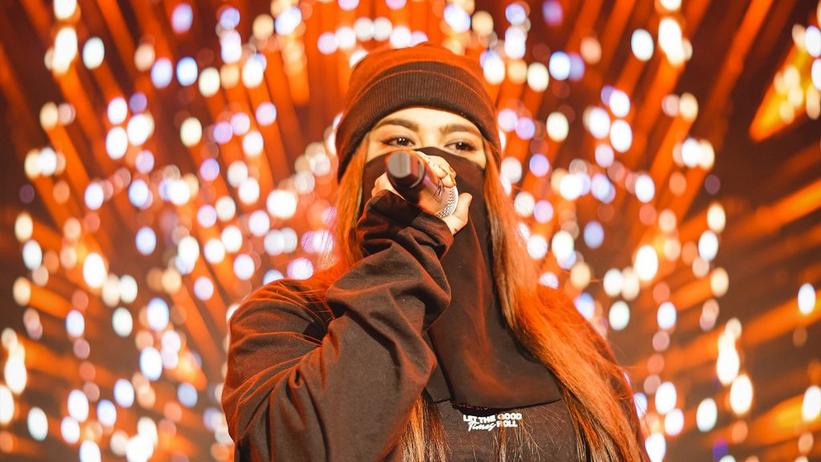 video
It Goes To 11: Eva B Shares The M-Audio Microphone That Helps Her Share Her Voice With The World
Meet Pakistani rapper Eva B's favorite piece of musical equipment, her trusty microphone that empowers her to make a positive impact on society.
GRAMMYs
/
Nov 29, 2023 - 06:05 pm
As a rapper, Pakistani artist Eva B's most important tool is her voice, so it's no surprise that her favorite piece of musical tech is her prized M-Audio microphone.
It was the first piece of gear she bought, and the mic introduced her to new software and recording systems. She didn't know it at first, but she could hear herself while recording, which motivated her to write three songs daily.
"I think it gives me the confidence to speak," she explains in this episode of It Goes To 11. "Besides, my voice reaches the whole world through it."
She believes "music can become a medium for changing perspectives. Music transforms philosophies and fosters a sense of peace." And that's what she hopes to achieve with her microphone and songwriting.
Now, it's her medication. Even if she's depressed, her mic infuses her "with energy and optimism" and empowers her to keep spreading positivity with her lyricism.
"That microphone really helped me out," she explains. "I learned a lot of new things" — about herself and the impact of her music.
Press play on the video above to learn more about Eva B's bond with her M-Audio microphone, and check back to GRAMMY.com for more new episodes of It Goes to 11.
It Goes To 11: AGNEZ MO Shares The Golden Piece Of Equipment That Perfects Every Performance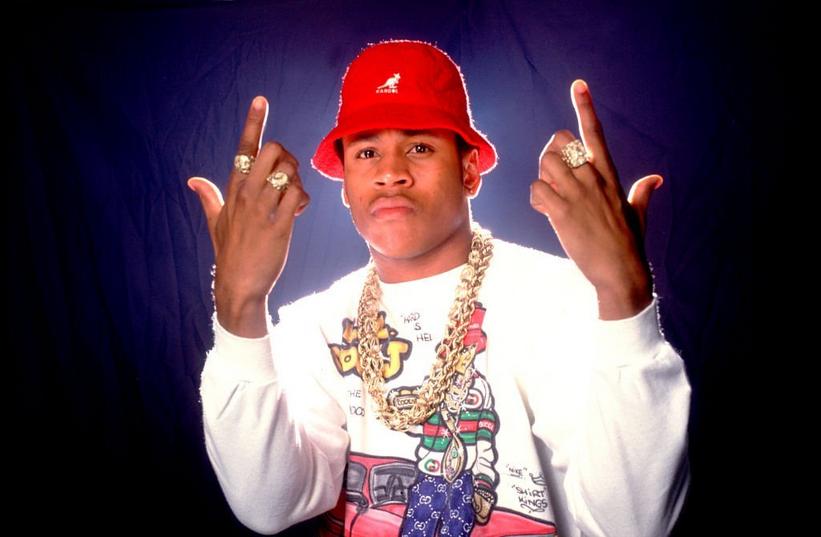 LL Cool J
Credit: Paul Natkin/Getty Images
news
20 Iconic Hip-Hop Style Moments: From Run-D.M.C. To Runways
From Dapper Dan's iconic '80s creations to Kendrick Lamar's 2023 runway performance, hip-hop's influence and impact on style and fashion is undeniable. In honor of hip-hop's 50th anniversary, look back at the culture's enduring effect on fashion.
GRAMMYs
/
Nov 29, 2023 - 03:01 pm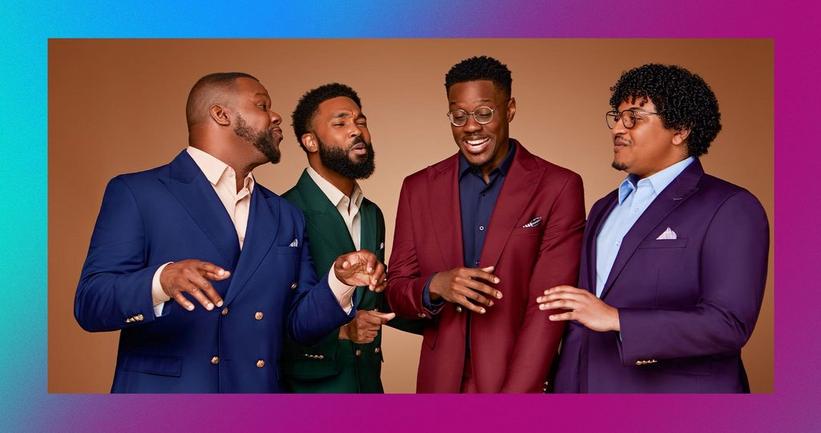 Kings Return
Photo: Courtesy of Kings Return
video
Positive Vibes Only: Kings Return Kick Off The Holiday Season With A Jolly Performance Of "Mary, Did You Know?"
Dallas-based a cappella group Kings Return celebrates the holidays with a unique arrangement of "Mary, Did You Know?," a Christmas classic addressed to Mary, the mother of Jesus.
GRAMMYs
/
Nov 28, 2023 - 10:42 pm
This Christmas season, Dallas-bred a cappella group Kings Return honor the truth of Jesus — tracing back to the Nativity scene in the Bible when the world first met Him on the track "Mary, Did You Know?"
"Mary, did you know/ That your baby boy is Lord of all creation?/ Mary, did you know/ That your baby boy would one day rule the nations?," the quartet sings. "This sleeping child you're holding/ Is the great I am."
In this episode of Positive Vibes Only, Kings Return perform a stunning rendition of "Mary, Did You Know?," standing around one mic to let their four harmonies shine.
"Mary, Did You Know?" is a track from Kings Returns' newest Christmas EP, We Four Kings, which also features original arrangements of festive hits like "Let It Snow," "I'll Be Home for Christmas" and more. We Four Kings is the second holiday EP in their discography; they released their first, A Merry Little Christmas, in 2021.
Kings Return will further celebrate the holiday season with their Holiday Tour, beginning Dec. 1 in Washington D.C. and concluding on Dec. 22 in their native Dallas — just in time for Christmas.
Press play on the video above to hear Kings Return's jolly rendition of "Mary, Did You Know?," and check back to GRAMMY.com every Monday for more new episodes of Positive Vibes Only.
Positive Vibes Only: Red Rocks Worship Reveals God's "Good Plans" With This Tranquil Performance