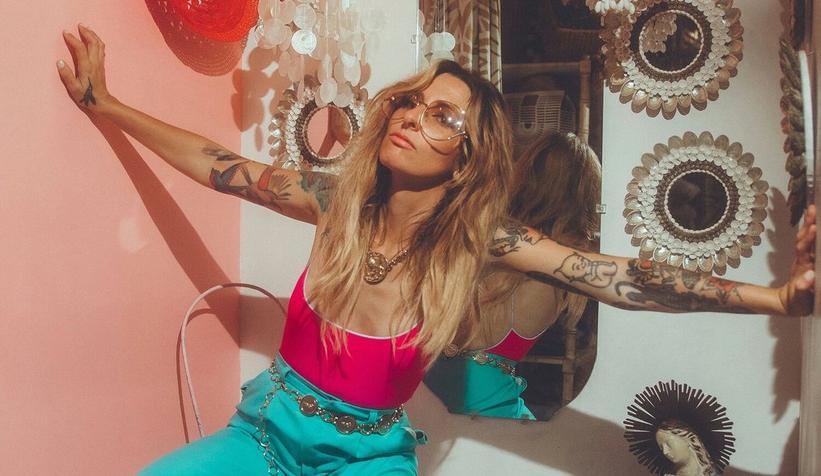 interview
Indie Singer Kendra Morris Discusses How Heartbreak, Unexpected Life Changes And Imperfections Led To Her Intimate Pop-Soul Album 'Nine Lives'
The New York artist's new LP, 'Nine Lives' blends dynamic vocals with the sensitive sensibility of classic singer/songwriters. After spending the past few years doing backing vocals for others, Kendra Morris is officially reclaiming the spotlight.
GRAMMYs
/
Feb 17, 2022 - 09:12 pm
"I've always felt like I've lived multiple lifetimes," singer/songwriter Kendra Morris says.
The past 10 years alone have certainly warranted that feeling: Along with releasing several singles and EPs, Morris has toured with guitar legend Dennis Coffey, played in a band with Scarlett Johansson, collaborated with icons like MF DOOM and DJ Premier, had a child, and turned a visual arts hobby into an animation career.
It's fitting, then, that her second LP is titled Nine Lives. The 10-track album (due Feb. 18 via Karma Chief Records, her label debut) is intimate, showcasing Morris' heartfelt songwriting on the delicate "Penny Pincher," but never shying away from highlighting the fullness of her range on reverb-drenched power anthems such as the sun-soaked "This Life" and the operatic "Who We Are."
The Tampa-raised, Brooklyn-based singer has an Americana cool aesthetic — big blonde hair, cut in a shag; oversized glasses; a wide smile with a gold tooth; a flair for '70s and '80s era vintage clothes — and a booming, throaty voice that belies her petite frame. Morris is similarly cool carving her own musical lane, deftly navigating pop, rock and soul influences. And after spending the past few years doing backing vocals for others, she is officially reclaiming the spotlight.
Ahead of the release of Nine Lives and an upcoming tour opening for labelmate Neal Francis, GRAMMY.com spoke with Morris about vulnerability in song, her creative process and favorite collaborations. 
This interview has been edited and condensed for clarity.
How long have you been working on Nine Lives?
It's been about nine years, it's a continuation of [my 2012 debut LP] Banshee.
The last one I wrote for the album was "Drag On." It was when we were all just finally able to start going out again as COVID first was starting to let down around the springtime. I just remember having social anxiety of like, I don't know if I want to go outside. I don't know how to talk to people. I feel like [lockdown] did something; I don't know how to be the same person I was before this or how to socialize the same way.
And even before then, I've always felt like I've lived multiple lifetimes. I think everybody goes through multiple lives in a lifetime, hopefully. That's how you grow, through phases and mistakes and shedding stuff. 
Beyond the pandemic, what else has happened in your life since Banshee?
I've been an on-and-off sober person; right when Banshee came out, I was sober for four years. I fell off of that, and then got pregnant and had a kid [which was] not planned — nothing in my life has ever been planned. The only thing that I've ever had my eye on is just music and performing, and writing and being an artist, being creative, and self expression to keep me alive. And hopefully, other people can tap into that as well. 
With these last 10 years, I was never like, "Oh woe is me, how can this be?" It's always been roll with the punches. If you roll with it, if you follow the current, you're going to surf the wave, you're not going to have the current pull you under. 
With having my daughter, I was in the middle of touring Europe [on] pretty big stages. You wouldn't believe the amount of people that think that, as a woman, if you have a child, that you have to quit everything. I had so many people that were like, "So what are you gonna do now that you can't be a singer?" Or "You can just be a mommy now." I just was like, why would I quit? I'm just gonna find a way to make it a part of my life.
As always, it's an uphill battle. Relationships, people in your life, are not guaranteed; I've had some major heartbreaks in my life. And I just really like to write those experiences into a song. If I'm hurting, that's how I can write myself out of the emotions — find the right words for them, and then try to move on from them.
Yeah, I can hear the frustration in your voice on "Who We Are." Your vocals on that song are so powerful and commanding. Are there any songs on this album that are particularly meaningful?
["Who We Are" is] one of my favorites to do live. It's definitely the hardest vocally to do — I can't move around on stage. It's a powerful message and I feel I need to harness all of me, down to my belly button, to really sing it to the back of the room.
I love "Penny Pincher" because it's so naked and vulnerable. I love imperfect music. I think that's why I'm so drawn to old soul music and vocalists of the '60s; you heard their voice as it was. I love some of those really young girl groups and [songs like] Penny and the Quarters' "You And Me" or even Little Ann "Deep Shadows" because you can hear their voices crack — you can hear how this young girl was sitting there, just letting it out, and there was no technology to Melodyne it. The reverb was because of the room they were in.
One of the reasons I love "Penny Pincher" is because I can hear where my voice was very imperfect. It wasn't my best vocal take, but it was my most emotional vocal take, and that was really important for me for that song.
Then you have a song like "This Life" — I was really happy when I wrote that. I was having a lot of fun playing blackjack, hanging out at the casinos in Tampa all night with a bunch of old men.
There are a lot of ballads on Nine Lives; some are really hopeful, some seem sorrowful and others are both within the same song. I think it builds to a really interesting album and highlights your complexity of emotion.
I finally sent it to my parents and they're listening while they play dominoes. My mom's like, "I didn't know you had such depth." Thanks mom! [Laughs].
When I'm out, I can come off as a very silly, goofy person. But I'm actually really shy and awkward, and I have a lot of social anxiety. My logo is a sad clown — it's an old tattoo flash design that my husband drew for me — and that kinda is me. I'm allowed to like goofiness and silliness, but also, I can be very withdrawn and am thinking all the time. That's the way that I come out in my music, and my music is always vulnerable. You'll find the most honesty of me in a song.
For "Circle Eights," I was going to a bunch of rooftop Jonathan Tobin Our Wicked Lady parties. I remember, one night, standing outside of the bar, looking around and feeling totally alone. And feeling like I was just watching New York from a distance and watching everyone; I felt outside of my body. That song is just about… these are all these nice new people, but do they really care about me? And I think we all go there sometimes when we're out at night, but I think New York is a big, lonely city.
It certainly can be. I'd love to hear about the album creation process. Who from the big lonely city is in your band?
Jeremy Page — I've worked with him for years, we've been writing partners, and he's produced me since Banshee. When you look back at a lifetime and nine lifetimes, there's usually some sort of common thread that stitches it all together. He's definitely part of this one stitch with the music. He's been a constant.
I'm a fan of habits, even though they kill me sometimes. [Jeremy] is in Bushwick and it would always be going over there and writing twice a week. That's how this record kind of came to be too — him messing around with some sounds and then me kind of doing the diary entry of what was on my mind. Even during COVID, I was still over there, double masked up, and writing through it.
In so many ways. I've had the same crews of guys on all this music. And that's been nice to have relationships with the same people for 10 years. But Jeremy is the one who will bring in and kind of set [the players].
You put out a few singles between Banshee and Nine Lives, as well as an EP, but you've also done a lot of work with other people. Tell me about your favorite collaborations.
My favorite has been all the CZARFACE stuff. On "Phantoms," which was MF DOOM and Open Mike Eagle, they used a sample from a really old song of mine called "Spooky Boy." Even though I didn't get to meet DOOM, it was still such an honor to be on tracks with him and to know that he heard me.
I also really love working with [TV on the Radio's] Dave Sitek. I did a girl band with Scarlett Johansson, who's a buddy of mine, and my best buddy Julia Haltigan. We did that mostly out of just wanting a reason to hang out and make some music together, but I met Dave through that. Nothing really came of it, but it was another part of another life. It all comes back to, like, do cool things with people you care about and enjoy every minute of it. Enjoy even the s****y moments.
You also toured with famous session guitarist Dennis Coffey. How did that come to be?
Dennis Coffey is the most sampled guitarist of all time in hip-hop. When I signed with Wax Poetics' [record label], the first thing that I put out with them was a converse split 45 with Syl Johnson on one side. This guy, Chris, who lived in Detroit was a big Wax Poetics fan and he just happened to be managing Dennis Coffey.
Chris put together a band and recorded a comeback record for Dennis. And he's like, "we're going to be doing dates and South by Southwest and we need someone to sing on all these songs he played on." [Dennis] played on Stevie Wonder's early tracks, he played on the Temptations, he was a part of Motown soul. I was just a sponge around him.
I'm a big, firm believer of just saying yes to things and being open to opportunities and chances.
You've been posting a lot of fun, interesting promo videos for your album and have done a lot of them yourself.
I've always been into visual arts and was always drawing, making my own clothes. I used to bartend in the East Village at Library Bar for 13 years on really boring day shifts, and I would sit alone at the bar and collage on anything, like matchbooks. I would create my own CD covers and pass them out.
When [Banshee came out] it was important to have videos and video was really expensive —  there was no such thing as apps. I was like, well, I can't afford a music video, maybe I'll just try to learn animation.
I spent a summer doing a stop motion thing and I found it was kind of a meditation. People responded to it [and] I had a lot of fun, so I just kept doing it. CZARFACE saw me posting stuff… suddenly it was like I just kept going down the rabbit hole and challenging myself to do more.  Now I've had a whole second career; I just did a Kangol campaign, [turning] their whole campaign into collage animation. I did a new video for Skinshape — I [previously] did a video for his "I Didn't Know."
Creativity is like this current that flows, and if I'm spending time doing visual arts and music videos and then I go back to writing a song or singing, it's like I'm reinspired.
What do you think your next "life" will look like? What do you hope Nine Lives will bring to you?
I like when people send me a message like, "Hey, I'm listening to this and it's really helping me today." I know that sounds corny, but I want to share this way that I deal with things and see things. I love tapping into that energy, I love singing, and I hope that this record will just keep me doing it.
Everybody has their calling. I will do this for one person until the day I die, for 20 people, for 2,000 people, for 2 million people. I do it because it's just who I am. That thread of nine lives is made out of iron.

Living Legends: Jazz Titan Dee Dee Bridgewater On Fighting For Her Rights, Mentoring Young Women & Not Suffering Fools On The Bandstand