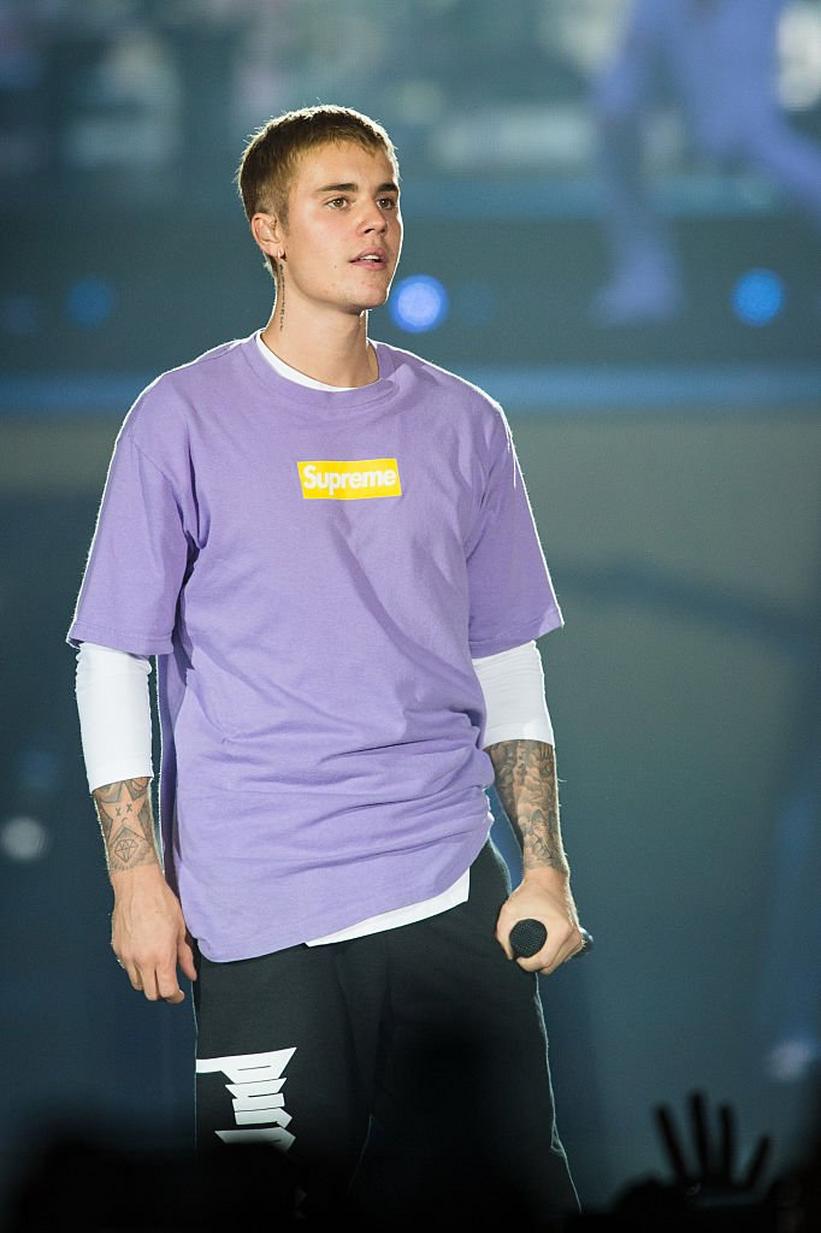 Justin Bieber performs in 2016
Photo: David Wolff - Patrick/Redferns
news
Justin Bieber, Miguel, The Chainsmokers And More Offer "Once-In-A-Lifetime Experiences" For ALL IN Challenge COVID-19 Relief Campaign
The world's leading artists and entertainers are donating prized possessions and creating one-off experiences to help raise funds for nonprofit organizations working to "eliminate food insecurity during these challenging times"
GRAMMYs
/
Apr 15, 2020 - 08:50 pm
Justin Bieber, Miguel, The Chainsmokers, Meek Mill, Migos member Quavo and Tainy are among some of the superstar artists offering "once-in-a-lifetime" fan experiences and unique items as part of the newly launched ALL IN Challenge, an online fundraiser providing food for those affected by the COVID-19 pandemic.
As part of the ALL IN Challenge, the world's leading artists, celebrities, entertainers, athletes and business heads are donating prized possessions and rare items and creating one-off experiences that are then offered online as auction items and raffles through the benefit's website. Users can also donate directly to the fundraiser without participating in the auctions or raffles.
The money raised through the initiative will benefit several nonprofit organizations working to "eliminate food insecurity during these challenging times," according to the fundraiser's website, including Meals On Wheels, No Kid Hungry and America's Food Fund, which is directly benefiting Feeding America and World Central Kitchen.
Some of the unique items and experiences available now include: a personal visit from Justin Bieber, who will sing his hit "One Less Lonely Girl"—at your house!; a chance to bid on Meek Mill's 2018 Rolls-Royce Phantom; exclusive studio time with superproducer Timbaland; and much more.
Other artists and celebrities from the sports, entertainment and business worlds involved in the ALL IN Challenge include Leonardo DiCaprio, Will Ferrell, Tom Brady, Mark Cuban, Magic Johnson, Tony Hawk, Ryan Seacrest, rapper Yo Gotti, TikTok stars Charli + Dixie and many others.
Created by Michael Rubin, the founder and executive chairman of global licensed sports retailer and merchandiser Fanatics and Philadelphia 76ers partner, the ALL IN Challenge, operated and sponsored by the All In Challenge Foundation, has already raised more than $2.5 million since launching Tuesday (April 14), at the time of this writing.
Read: Recording Academy And MusiCares Establish COVID-19 Relief Fund
In a video post shared on the Fanatics Instagram page announcing the fundraiser, Rubin explained his vision behind the ALL IN Challenge. "Together what we wanna do, is literally build the largest movement with all the best entertainers, celebrities, athletes, business titans, coming together to make a real impact on this issue ... If we all work together, I think we can make a huge impact on feeding people."
According to the fundraiser's website, "The ALL IN Challenge aims to be the world's largest digital fundraiser in history by raising tens of millions of dollars to feed those in need. Food insecurity is a mounting issue but never more important than during COVID-19 and the unprecedented shortage of food resources our nation is facing."
Since going live, the fundraiser has attracted backing from several major artists and celebrities who have shared their involvement and support on social media.
Performing Rights Organizations ASCAP, BMI & SESAC Join In Support Of MusiCares COVID-19 Relief Fund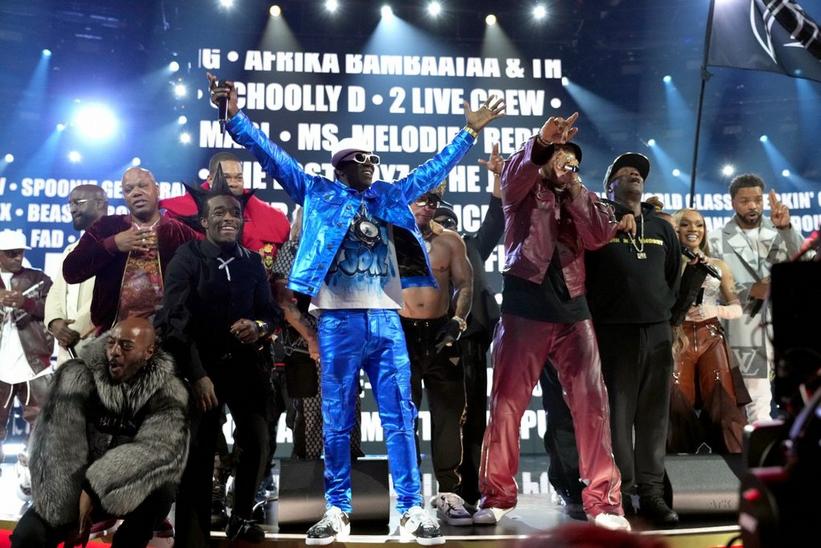 LL Cool J, Flavor Flav, Busta Rhymes, Lil Uzi Vert, Nelly, Spliff Star, Queen Latifah, Ice-T, Chuck D, Joseph Simmons, Darryl McDaniels, Grandmaster Flash, and Black Thought at the 2023 GRAMMYs
Photo: Kevin Mazur/Getty Images for the Recording Academy
list
How Hip-Hop Took Over The 2023 GRAMMYs, From The Golden Anniversary To 'God Did'
It's the 50th anniversary of hip-hop, but the 2023 GRAMMYs celebrations didn't stop at the epic, MC-saturated blowout. Here are five ways the genre took over Music's Biggest Night.
GRAMMYs
/
Feb 6, 2023 - 10:06 pm
The 2023 GRAMMYs' ambitious, world-beating tribute to hip-hop's 50th anniversary is getting a lot of ink — for a very good reason.
Featuring an ensemble ranging from progenitors like Grandmaster Flash and Run-DMC, to legends such as Too Short and Missy Elliott, and modern-day practitioners like Lil Baby, GloRilla and Lil Uzi Vert, the tribute segment was stunning not only on a logistical level, but on conceptual, emotional and historical planes.
But the Recording Academy's tribute to this landmark in time wasn't siphoned off to that 15-minute segment — not even close. In fact, the entirety of Music's Biggest Night radiated with the courageous, intrepid, forward-thinking spirit of hip-hop.
The tribute performance was just one of many nods to rap during GRAMMY week. Days before, Lil Wayne, Missy Elliott and Dr. Dre were honored by the Recording Academy's Black Music Collective in a ceremony that contained performances by Snoop Dogg, 2 Chainz and Ciara. And the pre-GRAMMY gala featured a performance from Weezy, Latto and Lil Baby.
At Music's Biggest Night, the hip-hop love roared fully to life. Here are five ways hip-hop took over the 2023 GRAMMYs, a foreshadowing of an entire year in celebration of the epochal artform — with the extended hip-hop tribute as a springboard.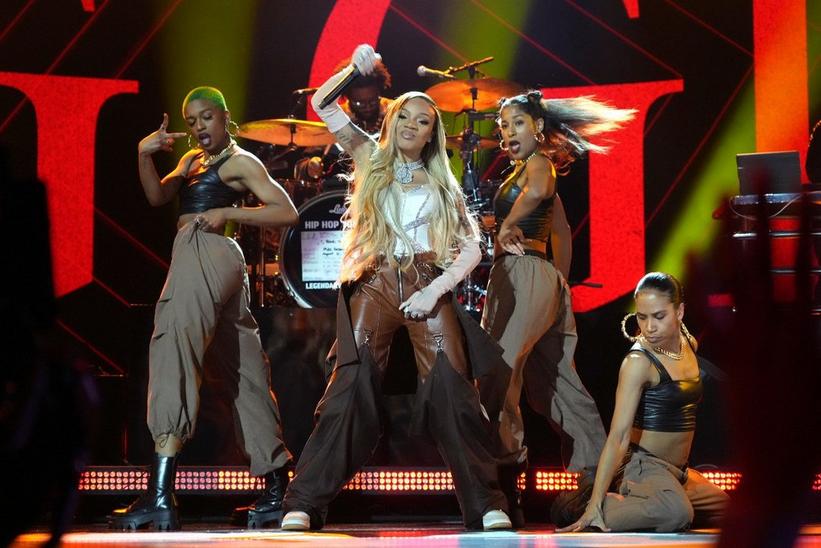 GloRilla performing at the 2023 GRAMMYs. Photo: Getty Images for the Recording Academy
A Global Hip-Hop Rager For The Ages
Until Music's Biggest Night, to fit hip-hop's evolution and essence into 15 minutes would seem logistically untenable. But the Academy did the impossible.
The Questlove-curated set moved lightning-quick from '70s and '80s pioneers, to 2000s radio dominators like Nelly, all the way to the current era.
Like with the last Super Bowl's ensemble cast of rap greats, the result was emotionally walloping, historically edifying and visually spectacular.
Most importantly, the music was exceptional — a tip of the hat to a precious form of American expression. To anyone who still subscribes to some form of stigma — you don't know what you're missing.
The Rap Categories Contained Serious Jewels
Let's take a step back, though, and examine the 2023 GRAMMYs' hip-hop nominees and winners themselves.
Kendrick Lamar was well-represented in both the General and Rap fields, and commensurately for Mr. Morale and the Big Steppers and Lamar's non-album single "The Heart Pt. 5."
For the former, Lamar won Best Rap Album; for the latter, Best Rap Song and Best Rap Performance. With the success of "The Heart Pt. 5," he is now the most-awarded artist in the latter category.
Together, these offerings comprise something of a creative and emotional watershed for Lamar. As for Pusha T, It's Almost Dry — nominated for Best Rap Album — contained some of his most crystal-sharp coke raps to date.
Plus, the sheer range of guests on DJ Khaled's GOD DID — nominated for Best Rap Album — could be the ultimate testament to his indomitable spirit, curatorial acumen and infectious sense of largesse.
This also applies to fellow nominees from Future, who won Best Melodic Rap Performance for "WAIT FOR U," to Jack Harlow, who was nominated liberally throughout the Rap field.
Given the level of craft throughout, hip-hop isn't just ripe to be celebrated for its past, but for its boundless future.
Dr. Dre Was Presented With A Global Impact Award
At the 2023 GRAMMYs, seven-time GRAMMY winner Dr. Dre was the recipient of the inaugural Dr. Dre Global Impact Award for his multitude of achievements through his innovative, multi-decade career.
Dr. Dre was presented the award after a plethora of televised bona fides, and offered his thanks to the Recording Academy and Black Music Collective for the prestigious honor in light of the Recording Academy's celebration of the 50th anniversary of hip-hop.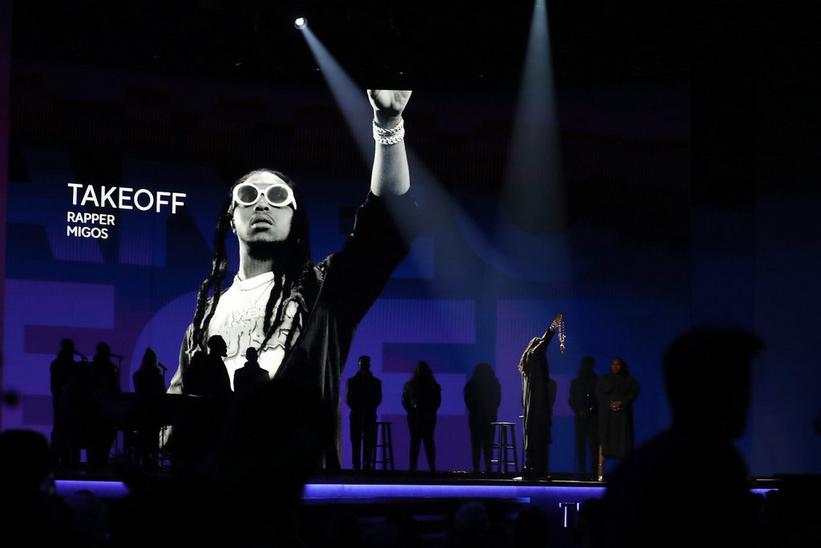 A tribute to Takeoff during the 2023 GRAMMYs. Photo: Getty Images for the Recording Academy
Quavo Performed A Moving Tribute To The Late Takeoff
There's a bittersweetness to celebrating hip-hop on a global scale in 2023, as so many of its best and brightest have died far too young in recent years.
Among these tragedies was the senseless death of Takeoff, one-third of the family-bound rap trio Migos, along with Offset and Quavo.
Read More: Remembering Takeoff: Why The Unassuming Rapper Was Foundational To Migos
As part of the In Memoriam segment, backed by worship ensemble Maverick City Music, Quavo honored his late nephew with a soul-searing version of "Without You."
"Tears rollin' down my eyes / Can't tell you how many times I cried," he rapped before an empty microphone stand, poignantly hung with Takeoff's chain. "Days ain't the same without you / I don't know if I'm the same without you."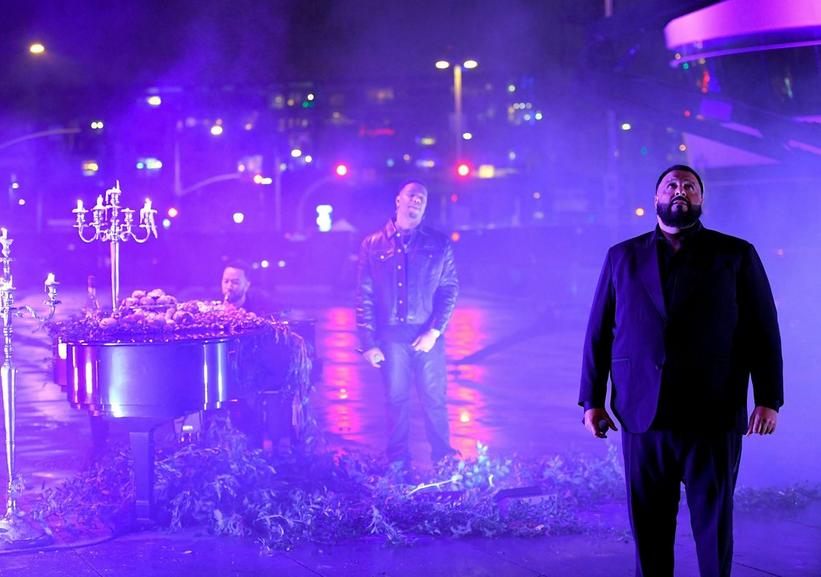 John Legend, Fridayy, and DJ Khaled performing at the 2023 GRAMMYs. Photo: Kevork Djansezian/Getty Images for The Recording Academy
DJ Khaled & Company Closed The Curtain With "GOD DID"
At the end of the ceremony, DJ Khaled brought out collaborators Jay-Z, John Legend, Lil Wayne, Fridayy, and Rick Ross for a rendition of GOD DID's title track, which was nominated for Song Of The Year, Best Rap Song and Best Rap Performance.
Seated horizontally in an opulent, Last Supper-esque tableau, the stars sang their hooks while bathed in purple light, closing out the 2023 GRAMMYs with laconic flair.
It was a fitting conclusion to Music's Biggest Night, one that placed hip-hop where it belongs: on the top shelf.
2023 GRAMMY Nominations: See The Complete Winners & Nominees List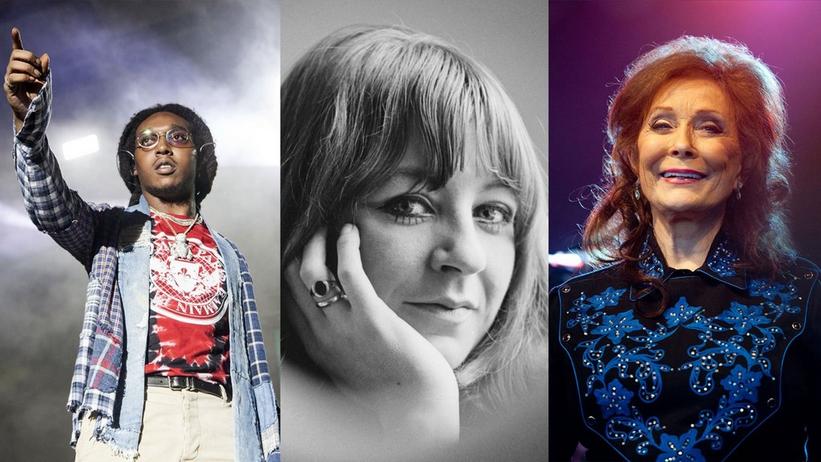 (L to R): Takeoff, Christine McVie, and Loretta Lynn
Photos: Jeff Hahne/Getty Images; Evening Standard/Hulton Archive/Getty Images; Erika Goldring/WireImage
news
2023 GRAMMYs To Pay Tribute To Lost Icons With Star-Studded In Memoriam Segment Honoring Loretta Lynn, Christine McVie, And Takeoff
The GRAMMY Awards segment will feature Kacey Musgraves in a tribute to Loretta Lynn; Sheryl Crow, Mick Fleetwood and Bonnie Raitt honoring Christine McVie; and Maverick City Music joining Quavo as they remember Takeoff, airing live on Sunday, Feb. 5.
GRAMMYs
/
Feb 1, 2023 - 04:00 pm
The lineup for the 2023 GRAMMYs on Sunday, Feb 5, will include an In Memoriam segment paying tribute to some of those from the creative community that were lost this year with performances by GRAMMY-winning and -nominated artists.
The segment will feature Kacey Musgraves performing "Coal Miner's Daughter" in a tribute to three-time GRAMMY winner and 18-time nominee Loretta Lynn; Sheryl Crow, Mick Fleetwood and Bonnie Raitt honoring three-time GRAMMY winner Christine McVie with "Songbird"; and Maverick City Music joining Quavo for "Without You" as they remember the life and legacy of Takeoff.
The 2023 GRAMMYs, hosted by Trevor Noah, will broadcast live on Sunday, Feb. 5, at 8 p.m. ET/5 p.m. PT on the CBS Television Network live from the Crypto.com Arena in Los Angeles. Viewers will also be able to stream the 2023 GRAMMYs live and on demand on Paramount+.
Before, during and after the 2023 GRAMMYs, head to live.GRAMMY.com for exclusive, never-before-seen content, including red carpet interviews, behind-the-scenes content, the full livestream of the 2023 GRAMMY Awards Premiere Ceremony, and much more.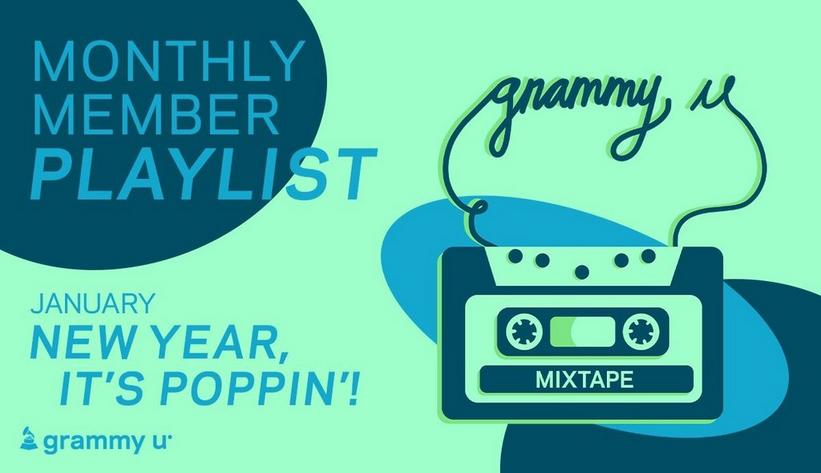 news
Press Play On GRAMMY U Mixtape: New Year, It's Poppin'! Monthly Member Playlist
The GRAMMY U Mixtape is a monthly, genre-spanning playlist to quench your thirst for new tunes, all from student members. GRAMMY U celebrates new beginnings with fresh pop tunes that will kickstart 2023.
GRAMMYs
/
Jan 6, 2023 - 12:17 am
Did you know that among all of the students in GRAMMY U, songwriting and performance is one of the most sought after fields of study? We want to create a space to hear what these students are creating today!
The GRAMMY U Mixtape, now available for your listening pleasure, highlights the creations and fresh ideas that students are bringing to this industry directly on the Recording Academy's Spotify and Apple Music pages. Our goal is to celebrate GRAMMY U members, as well as the time and effort they put into making original music — from the songwriting process to the final production of the track.
Each month, we accept submissions and feature 20 to 25 songs that match that month's theme. This month we're ringing in 2023 with our New Year, It's Poppin'! playlist, which features fresh pop songs that bring new year, new you vibes. Showcasing talented members from our various chapters, we felt these songs represented the positivity and hopefulness that GRAMMY U members embody as they tackle this upcoming year of exciting possibilities.
So, what's stopping you? Press play on GRAMMY U's Mixtape and listen now on Spotify below and Apple Music.
Want to be featured on the next playlist? Submit your songs today! We are currently accepting submissions for songs of all genres for consideration for our February playlist. Whether you write pop, rock, hip hop, jazz, or classical, we want to hear from you. Music must be written and/or produced by the student member (an original song) and you must be able to submit a Spotify and/or Apple Music link to the song. Students must be a GRAMMY U member to submit.
About GRAMMY U:
GRAMMY U is a program that connects college students with the industry's brightest and most talented minds and provides those aspiring professionals with the tools and opportunities necessary to start a career in music.     
Throughout each semester, events and special programs touch on all facets of the industry, including the business, technology, and the creative process.
As part of the Recording Academy's mission to ensure the recorded arts remain a thriving part of our shared cultural heritage, GRAMMY U establishes the necessary foundation for music's next generation to flourish.
Not a member, but want to submit to our playlist? Apply for GRAMMY U Membership here.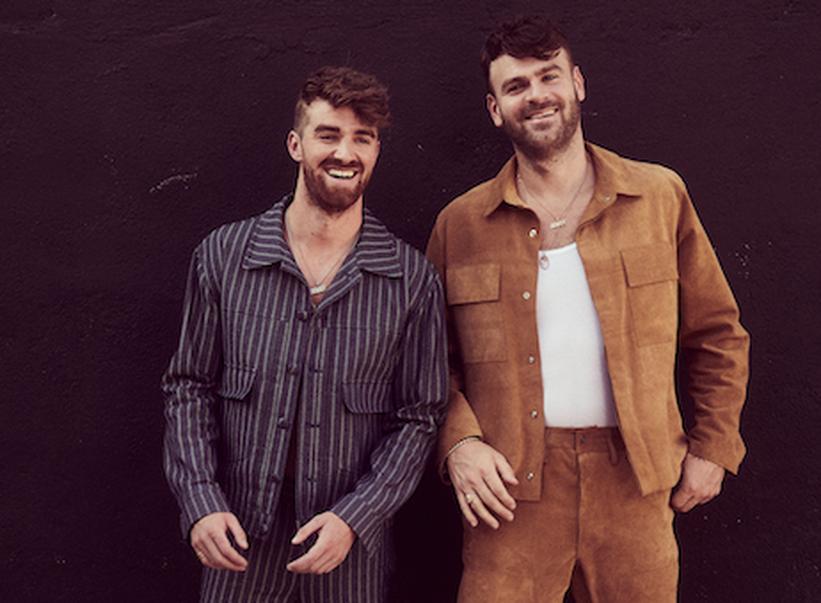 interview
Catching Up With The Chainsmokers: Their Hopes For Another "Golden Age" Of Dance Music, A Latin Collab And Yes, Going To Space
This year saw the Chainsmokers make a return with their most mature album yet, 'So Far So Good.' The dance duo reflect on another wild year, which included planning a trip to perform in space in 2024.
GRAMMYs
/
Dec 15, 2022 - 07:01 pm
From the moment the Chainsmokers took off in 2016 with "Roses," they never slowed down. The duo of Drew Taggart and Alex Pall delivered three albums between 2017 and 2019, in addition to a rigorous global touring schedule that included a three-year Las Vegas residency. They had the career artists dream of, but they were burnt out. So what did they do? Well, slow down.
Even before the world shut down in March 2020, the Chainsmokers planned to take the year off — for their own sakes, but mostly for the band's sake. Shortly after their 2019 tour ended, they took a two-week trip to Hawaii in hopes of a reset. 
"What we were making before was great, but we felt like it didn't have a thesis, [and it] kind of lost its soul a little bit," Taggart admits. "We wanted to rediscover what made us most excited about being in this band."
That trip ignited the process for their fourth studio album, So Far So Good, a 16-track display of a rejuvenated, mature Chainsmokers. Its wide array of production techniques showed the duo's growth as well as their true talent — something that they're highly aware has been mocked. They even made that clear in their album announcement, a video titled, "Sorry, the Chainsmokers are back." 
Though the album wasn't their most commercially successful, So Far So Good received glowing reviews from fans upon its May 2022 release. ("I saw comments that were like, 'This is my favorite album' and 'This is the most complete album you guys have put out,'" Pall recalls.) But after hearing them talk about the album for even just a few minutes, it's clear that the Chainsmokers didn't really care about how their music was received — they're just happy to still be making it.
The Chainsmokers sat down with GRAMMY.com to reflect on what their return meant to them, their place in today's dance scene, and that crazy announcement about performing in space.
Earlier this year, you did a cover story for Billboard, which touched on the fact that you guys had an unfair reputation in the beginning of your career. Regardless of what has been said, how do you two feel about your place in the dance world?
Pall: I think we've done a lot of growing up. It's such a wild ride. No one can truly prepare you for what we went through. We definitely made some mistakes and missteps and things, but I'd like to think we owned the moments and made ourselves better afterwards. 
And as far as the dance music community, this is what brought us together. There's nothing more important to us than staying connected to the electronic scene. And there's a lot of great artists like that right now, like Fred again.. and other people that are doing some really awesome, inspiring things. We hope we continue to be a big part of that world and find ways to bring the pieces of it that made us so excited about it back [in the beginning] — reinventing and innovating and creating new sounds and styles of music that people are fond of. 
That's the challenge right now for us — finding that balance of making things that we want to keep coming back to that sound fresh and exciting, but also unique to what makes the Chainsmokers' music special. 
I think every artist kind of endures this moment where you become successful for a sound or style, and then you try to prove to yourself that you're more than that sound and style. You go on this, like, tangential journey that isn't not important because it's like leaving home — you have to just discover yourself again. 
Ultimately, we learned a lot. We certainly improved a lot of our production and songwriting and everything. And now, it's like, going back to those important principles that got us here in the first place and innovating them. And I think So Far So Good did a really good job of that — finding some of those pieces and making them more interesting and exciting. We weren't scared about taking songs in really experimental directions.
It is interesting thinking about the complex of being an artist who has a hit song. That has to be so tricky, especially when you are eager to show that you are more than your big hit.
Taggart: Now more than ever, a lot of the artists that we look up to — that are some of the most popular in the world — they aren't ones that are living and dying by hit songs. They're obviously some amazing, massive artists that can consistently deliver big songs, but they don't have the highest streaming numbers. But, they still do arenas and massive festivals because they're really good at playing to their fan base and really focusing on that. I think that's the most important thing that any artist can do.
Pall: Yeah, if you want that longevity, it's [about] building worlds that people can live in with you. And that is why we hang out on our Discord and different channels so much — we want to keep connecting with those people, let them be a part of the process, listen to them, even. And hopefully, we'll figure out where we want to go next. 
It's a cool time in music, with everything that's happening from the technology side to the GRAMMYs adding a songwriter category. It's certainly been an interesting year.
I watched your interview with Zane Lowe, and you were talking about the time that you were coming up with all of these other dance artists. You're just name-dropping all these people, and I was like, "Holy crap, I don't think I realized just how monumental dance was in the early 2010s!" And it does feel like it's coming back around now.
Pall: Back then, it was this really interesting time where you had bands like MGMT and Passion Pit and Phoenix, but then you had like Mastercraft, Boys Noize and Daft Punk — these kind of electro acts that were making really exciting and interesting music. And then it evolved into this Skrillex, Zedd, Avicii, Calvin Harris era, which was just like, the golden age of dance music, when we were getting into the scene.
Taggart: It does kind of feel like that now. Hard house is like, so big in Europe right now. It doesn't really have much presence in the U.S., but that could be the kind of the Boys Noize electro scene, and then you have techno and deep house that's really popping off. Where all this leads, I'm not sure, but it's really an exciting time that feels like the beginning of how it started before. 
Pall: And you need producers. We have so much respect for artists like Flume and ODESZA and countless other acts [who are] experimenting. Experimenting and remixes ultimately led us to discovering our sound with "Roses." And I think that's why So Far So Good was so important to us, because it was that process of removing any sort of limitations and expectations that allowed us to dive into all these genre-bending songs. And then you kind of come out the other side with clarity on the things that really feel like you were honing in on something special.
You guys have already been in the scene for 10 years, and I feel like dance has completely changed in that time, in a cool way. Where do you think dance is at now?
Taggart: I haven't seen this many people excited about dance music in quite some time. I'm seeing so many more underground techno DJs build really massive followings that compete with more EDM [acts] and their followings on Instagram [and such]. They [post] videos of them playing shows, and the engagement is super high. And then you have new artists like Fred again.. that everyone is just rallying around right now. He's built this really unique, genuine, awesome, energetic show. 
And then, of course, you have Beyoncé and Drake dropping albums that have a lot of dance-influenced [tracks] on there too. It feels like the world's kind of coming back to it, so I'm hoping that this leads to some innovation and we have another golden age of dance music. 
I think people really just want to have fun right now, coming out of the pandemic. We've been in a hip-hop wave for about seven years now — which has been awesome, and there's been so much amazing, interesting music. I just think things are gonna change again now. And whether dance music becomes a leading genre, I hope that people get excited about it again, these festivals pop off again, and it leads to more innovation in the space.
You've both mentioned Fred again.., but are there any other dance acts — or maybe even people who aren't quite in the dance space, but are dabbling in it — that is really awesome and might even be kind of changing the game for dance?
Pall: There are a lot of cool artists — I love this group Ship Wrek, they have a really interesting sound. Tale Of Us, a deep house group, has been making really euphoric, cinematic, Hans Zimmer-type deep house records that are really cool. Rüfüs Du Sol obviously tapping into this really unique — I don't even know how you describe it — it's like, deep house, but it's from the perspective of a band. 
Taggart: ARTBAT is these two Ukrainian DJs that are amazing. They have this massive sound that is just an experience that you can get lost in.
There's a ton out outside of dance music that we're super into too. I feel like our take on dance music has always been kind of combining indie/alternative stuff with traditional EDM energy.
I'm obsessed with this kid called Versace right now. And I don't know how that makes its way into our music, but his stuff sounds so fresh. It feels like I'm discovering Post Malone for the first time.
Is there anyone you're looking to collaborate with?
Pall: We've been super inspired by the Latin scene, from our friends like Sebastian Yatra and Bad Bunny and Maluma and Bizzarap. That's probably when we're at our strongest, when we do those really interesting types of collaborations that maybe people didn't expect. We're for sure gonna go further down that road in the future.
Have you guys done a Latin collaboration yet?
Taggart: Never.
Pall: We've worked on a ton of different things. And it's got to feel right. It's got to have the DNA of Chainsmokers. You gotta find that right moment, right song, right collaboration. [We're] definitely exploring it, but it's just a matter of feeling really confident about the song itself.
Well, and you don't want to come off as like, "Hey, Latin music is really popular. We want to get in on that."
Pall: 100 percent. Now, if you hung out with us, I feel like 85 percent of the music we listen to is exclusively Latin music. So it'd be coming from a real genuine place now if it happened.
I mean, there's a lot of awesome beats in that world! I don't know how more dance artists aren't tapping into that.
Taggart: Yeah, I mean, there's a lot of songs that are great reggaeton songs, but a lot of artists that we love in that scene are multi-genre. I feel more comfortable about us fitting into the world than I did probably five years ago, when it was strictly something that wasn't anything we had traditionally come up in. Now it's more genre-bending.
Pall: For me, listening to Bad Bunny's amazing melodies and these incredible voices, it feels reminiscent of getting into dance music. It's a feeling that you get.
So aside from a Latin collaboration, are there things that you feel like you haven't achieved yet, whether musically or something that you want to do in your career?
Taggart: I just have been enjoying where we're at right now. We're having more fun writing music than ever before, and I feel very open-minded about trying new things. I just want to be around and be able to work with great new talent that comes out, and have fun, and kind of expand my artistic palette. 
It's crazy to have a 10-year career in music. Going forward, I just want to be very embracing of everything that's new, [but] stick to our core, and remain authentic, and just lean into all that.
Pall: I don't know if we could ever recreate the amazing run we had for ourselves again, but if we ever found ourselves [with] a song that the world was embracing [again], [I'd want to] do things right, and enjoy that process more. Because, again, it was like us playing catch-up. [We were] just young and trying to figure it out. I would love to have the opportunity to live through an exciting moment like that again, and do it the way that we know we could now.
But if it doesn't come, that's totally fine, too, to Drew's point. We're having a blast, we have so many exciting things that we're working on and a part of. We're just grateful to be here, and we want to continue to feel like this into the future.
Did you ever think you'd add performing in space to your resume?
Taggart: [Laughs] Umm…we'll see how that goes.
Pall: It's such a Chainsmoker headline. It was funny, actually — obviously, we knew about this for a while, and there's still a lot of things that need to be figured out, whether this is a reality or not. But hopefully it works out. So much has been happening that we forgot about it. And we woke up that morning to like, 25 messages from friends being like, "You're going to space?" And we were like, "Oh s—, this is real now."
Better get your spacesuits on and train!
Pall: Daft Punk might have been a more suitable option to send into space, but we'll try our best.
I mean, you have until 2024. You've got time to figure things out.
Pall: I had a conversation with my girlfriend that morning. She's like, "You're doing what?" And I was like, "Don't worry about this yet." [Laughs]
That's definitely the kind of thing where no one will think you're serious until you're actually doing it. But I do feel like that's kind of like the way the music is going, though. I don't think it's that out of left field for an artist to perform in space.
Pall: It's always funny to me, the things we set our sights on as a human race. Like, "How cool would that be to say that you were the first artist to play in space?" But also, it's like, "Why are we playing music in space?"
In the meantime, I'm glad to hear that you feel like you are in the best place you've ever been as artists. I saw that you're already working on the next album — it must be nice knowing that you're going into this next phase of making music feeling so good.
Pall: Yeah, and not be so protective over it. Before, it was like, we'd make a song and we were basically in a bubble — we weren't allowed to play a song that we just made and dance with your friends and see how they feel [about it.] Now, it's the complete opposite. It's like nothing is sacred. We could go upstairs and post a video on our story of a song we're working on and everyone can say, "Holy s—, we want this!" It's definitely exciting times in that regard. 
We're here for our fans that have supported us from the get go. We want to keep pushing ourselves to be bold as we write and produce, and continue to tap into those things that not only made us fall in love with music, but hopefully made people fall in love with the sounds that we create.
Since you're feeling so good about where you're at, how do you hope that this chapter of the Chainsmokers and what's to come is perceived?
Taggart: I've kind of given up on hoping for that. We just make stuff that we think is awesome and just keep doing that. It's all you can control.
A Guide To Modern Funk For The Dance Floor: L'Imperatrice, Shiro Schwarz, Franc Moody, Say She She & Moniquea