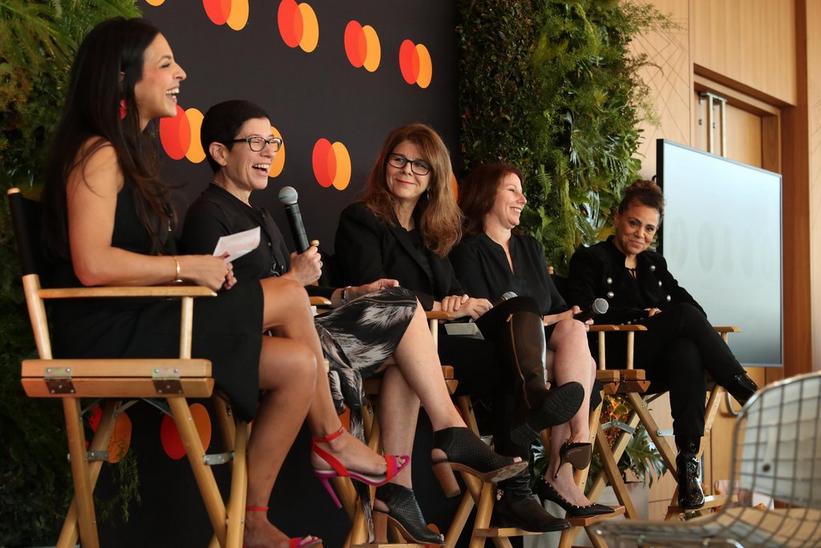 Cheryl Guerin, Lori Feldman, Gabrielle Armand & Stacy Smith
Photo credit: Joshua Applegate
news
Emily Lazar, Linda Perry & Other Powerful Industry Women Talk Inclusivity In Music
During GRAMMY Week 2020, seven women paving the way for greater inclusion in the music industry shared their stories, statistics and advice on how to reshape the system and make more space for women and other underrepresented groups
GRAMMYs
/
Jan 26, 2020 - 12:34 am
Two years ago, the USC Annenberg Inclusion Initiative, led by Stacy Smith, released their first study of inclusivity in music, provided some eye-opening statistics that revealed the male-dominated status quo of the industry. This week, on Jan. 23, industry professionals and musicians gathered together in a sunny room of MasterCard's special GRAMMY Week One Love Hotel experience on Sunset Boulevard to hear from barrier-breaking women on exactly how we can even the playing field and fix these numbers.
Split up with two delicious meals and space to chat with fellow attendees on the sunny, L.A. skyline-backed patio, Designing a Better Music Industry for Women: Equality on Both Sides of the Board featured two dynamic conversations that brought forward actionable ways we can all create a more inclusive music industry. The first conversation was a panel moderated by SiriusXM Hits Host Nicole Ryan and featuring Cheryl Guerin, Vice President of Marketing/Communications at Mastercard, Lori Feldman, Chief Marketing Officer at Paradigm, Stacy Smith, Founder/Director of USC Annenberg Inclusion Initiative and Gabrielle Armand, Vice President of Marketing of Jazz at Lincoln Center. The after-lunch "fireside chat," moderated by Andrew Hampp of Variety, featured two behind-the-board powerhouses, GRAMMY-nominated producer, songwriter and former Four Non Blondes lead singer Linda Perry and GRAMMY-winning engineer and The Lodge Founder Emily Lazar. Here are the four major themes that emerged over the course of the day.
Sharing Truth With Data & Taking Action
While the statistics brought forth by the Annenberg studies can feel shocking, angering or even overwhelming, instead it is exactly these numbers that motivate action and can measure change. During her introduction, Smith declared her work's focus is to "disrupt systems of injustice" and later pointed to how the study helped highlight all the work that needed to be done and serve as a rallying point for many people across all touchpoints of the industry, including 2020 GRAMMY host Alicia Keys, who was inspired to start the new nonprofit music network, She Is The Music.
"Collective action only happens when people link arms and say we're going to do this together," Smith shared, pointing to She Is The Music as a perfect example of collective action making change.
She also noted the improvement they've already seen in 2019, as opposed to 2017's numbers, including doubling the number of female producers that worked on hit songs. While there is still plenty of room for improvement, the shifts prove that change can be made when intention and energy is put towards doing things differently. "I'd never seen something like this happen so quickly and so sustained," Smith stated.
Read: Women In Music And Film Talk Self-Confidence & Inclusion At The GRAMMY Museum
Ryan, who underscored the very male-heavy world of radio, feels that really showing those standing against you how they are wrong, so they can actually understand it and see from your perspective, is one of the most fulfilling things to do. When she became pregnant, one of her coworkers at Sirius told her career was over. While it was an upsetting comment to receive, she later sat him down and explained why his opinion was unfair. When she did become a working mother, she demonstrated exactly how she could continue to achieve work-life balance with a child, like many women do.
Everyone's stories echoed Ryan's point that not only is it important to stand strong in what you know is right and true, but to also go above and beyond often-limited expectations others may have of you. That in itself will not only bring you forward, but help pave the way for others.
Identifying Barriers & Breaking Them
Armand, who got her start in the industry 30 years ago at a jazz label, said that it was knowing her worth that always kept her on the right path: "I knew what my value, what my truth was." As she moved up in her career, she realized the value of modeling this for everyone around her, especially younger people.
As Feldman said, sometimes in the moment, it's hard to really see how bad things are, especially when others see them as "just how it is." Looking back, she's amazed at some of the behaviors that were left unchecked, like a male college photocopying (in the pre-cell phone days) an unflattering picture of her and passing it to all the other men in the office.
As everyone's stories of perseverance highlighted, you often aren't thinking about the fact that you're a female professional until your "otherness" is pointed out to you.
For Lazar, who won her first GRAMMY last year for Best Engineered Album, Non-Classical on Beck's Colors, the first female mastering engineer to ever win this award, the weight of it didn't hit until she won and was informed of this powerful accomplishment.
When Hampp asked how they faced challenges in their path, especially when doors sometimes weren't even there, Lazar had a poignant answer grounded in optimism and courage. "It's about seeing the doors, seeing the giant padlock and kicking it down. For me, there's doors everywhere."
Advocating For Yourself & Others
All the women echoed the importance of mentorship, fostering opportunities and education.
With The Lodge, the mastering studio Lazar founded back in 1997 in New York City, she has an open-door policy and celebrates doing whatever creative things work best for the art. She also feels a responsibility to educate young engineers, so she speaks on college campuses to kids interested in a career in music "to show that it's okay to follow your dream."
Meanwhile, Perry works with her We Are Hear organization and donates hours of her time to countless panels and workshops across her home city of L.A. "If we can offer you one little nugget that can help your career, that's what we are here for," she said.
Guerin, who is grateful to work at an organization like MasterCard that values diversity both internally and with their many community programs, said it well: "Education is continuously important." Education should be ongoing and ever-evolving and really reflect the people they claim to serve. She shared that while women are opening up businesses at twice the rate of men, they are only receiving two percent of the venture capital funding.
More: Linda Perry, Natasha Bedingfield & More Talk Creating A Collaborative Community For Female Artists At The GRAMMY Museum
Helping Artists Identify Methods Of Distribution
"When you find people in this field that are really accomplished, they're usually more than one thing," Lazar said. "We need to protect those special people; I'm here to protect artists." She underscored the vital importance of giving artists the space to make good art and to also help them distribute it in ways that allow it to really be heard as they intended.
The official programming ended on this inspiring high note, but really it was just the beginning of many conversations, meeting new faces and, perhaps, movements that will come out of it.
Latin Music Industry And Artists Discuss The Genre's History, Cultural Impact And Future Trends At 2020 GRAMMY Week Panel
The end of GRAMMY Week is near, but there is still plenty more to unpack and celebrate, with the 62nd GRAMMY Awards taking place tomorrow, Sun. Jan. 26. You'll be able to view the Premiere Ceremony and Red Carpet livestreams right here on GRAMMY.com. Then, tune into CBS at 5 p.m. PT / 8 p.m. ET to watch Music's Biggest Night live.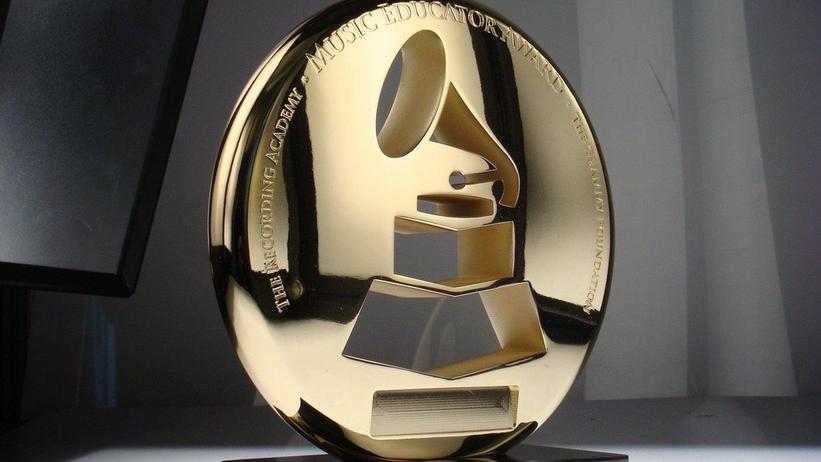 Music Educator Award
Photo Courtesy of the Recording Academy and GRAMMY Museum
news
212 Quarterfinalists Announced For The 2024 Music Educator Award
The Recording Academy and GRAMMY Museum have announced the quarterfinalists for the 2024 Music Educator Award, which recognizes educators who have made a significant contribution and demonstrate a commitment to music education.
GRAMMYs
/
May 8, 2023 - 01:00 pm
Today, the Recording Academy and GRAMMY Museum have announced a total of 212 music teachers as quarterfinalists for the 2024 Music Educator Award, which recognizes current educators — kindergarten through college across public and private schools — who have made a significant and lasting contribution to the field of music education and who demonstrate a commitment to the broader cause of maintaining music education in the schools. The quarterfinalists, who hail from 197 cities, were selected from more than 2,000 initial submitted nominations. In addition to the quarterfinalists, 123 legacy applicants from 2023 will also be eligible to win the Music Educator Award this year.
Semi-finalists for the 2024 Music Educator Award will be announced this September. The ultimate recipient will be recognized during GRAMMY Week 2024.
Read More: Meet The 2023 Music Educator Award Recipient: How Pamela Dawson Helps Her Students Achieve Healing And Catharsis
A joint partnership and presentation between the Recording Academy and GRAMMY Museum, the Music Educator Award is open to current U.S. music teachers, and anyone can nominate a teacher — students, parents, friends, colleagues, community members, school deans, and administrators. Teachers are also able to nominate themselves, and nominated teachers are notified and invited to fill out an application.
Each year, one recipient is selected from 10 finalists and recognized for their remarkable impact on students' lives. The 10th annual honoree will be flown to Los Angeles to attend the 2024 GRAMMYs, officially known as the 66th GRAMMY Awards, as well as a range of GRAMMY Week events. The nine additional finalists will receive a $1,000 honorarium, and the schools of all 10 finalists will receive matching grants. Fifteen semi-finalists will receive a $500 honorarium with matching school grants.
Read More: 8 Artists Who Were Inspired By Their Teachers: Rihanna, Adele, Jay-Z & More
The matching grants provided to the schools are made possible by the generosity and support of the GRAMMY Museum's Education Champion Ford Motor Company Fund. In addition, the American Choral Directors Association, National Association for Music Education, NAMM Foundation, and National Education Association support this program through outreach to their constituencies.
Learn more about the Music Educator Award.
See the full list of the 2024 Music Educator Award quarterfinalists and legacy applicants below:
2024 MUSIC EDUCATOR AWARD 

QUARTERFINALISTS
Name

School

City

State

Casie Adams
Martinsburg High School
Martinsburg
West Virginia
Bruce Adams
Sam Houston High School
San Antonio
Texas
Miguel Aguiar
Southwest High School
San Antonio
Texas
Derek Alexander
Orville Bright Elementary School
Chicago
Illinois
Dawn Amthor
Wallkill Senior High School
Wallkill
New York
Jonathan Anderson
University High School (Volusia)
Orange City
Florida
Christopher Andrews
Hephzibah High School
Hephzibah
Georgia
Jeanne Andrews
Pauline J. Petway Elementary School
Vineland
New Jersey
Justin Antos
Dwight D. Eisenhower High School
Blue Island
Illinois
Javier Arau
New York Jazz Academy
New York
New York
Andrea

 

Armour
Christian County Middle School
Hopkinsville
Kentucky
Timothy Arnold
Orono High School
Long Lake
Minnesota
Shawn Athey
Veterans Memorial High School
Corpus Christi
Texas
Elizabeth Baker
Mary Martin Elementary
Weatherford
Texas
Jeremy Bartunek
Greenbriar School
Northbrook
Illinois
Adem Birson
New York University
New York
New York
Benjamen Blasko
Lipscomb University
Nashville
Tennessee
Amanda

 

Blevins
Tri-Valley High School
Dresden
Ohio
Susan Boddie
Valdosta State University
Valdosta
Georgia
Adrain

 

Bonner
Lancaster High School
Lancaster
Texas
Cherie

 

Bowe
Pascagoula High School
Pascagoula
Mississippi
Andrew Bowerly
Tenino High School
Tenino
Washington
George Bradshaw
Dover Area High School
Dover
Pennsylvania
Gwendolyn Brazier
Lathrop High School
Fairbanks
Alaska
Steve Browne
Nashville Community High School
Nashville
Illinois
Matthew Brusseau
Davie County High School
Mocksville
North Carolina
Ryan Bulgarelli
Loyalsock Township High School
Williamsport
Pennsylvania
Cathryn Burt
East Newton High School
Granby
Missouri
James Byrn, Jr.
Maconaquah High School
Bunker Hill
Indiana
Mary Catherine Campbell
Seven Pines Elementary
Sandston
Virginia
Helen Capehart
Bridgeport High School
Bridgeport
Texas
Marcos Carreras
Conservatory of The Arts
Springfield
Massachusetts
Michael "Patrick" Carte
Scott High School
Madison
West Virginia
Curtis Carver
Harlem High School
Harlem
Georgia
Roger Chagnon III
Westfield Academy and Central School
Westfield
New York
Kristopher Chandler
Gautier High School
Gautier
Mississippi
Jeff Chang
Decatur High School
Federal Way
Washington
Krista Clay
West Branch High School
Beloit
Ohio
Travis Coakley
William Carey University
Hattiesburg
Mississippi
Vanessa Cobb
Montgomery Central High School
Cunningham
Tennessee
Mark Collins
John S. Battle High School
Bristol
Virginia
Trish Conover
Community Middle School
Plainsboro
New Jersey
John Contreras
Pueblo High School
Tucson
Arizona
Kyle Cook
Western Branch Middle School
Chesapeake
Virginia
Travis Cook
Plymouth Christian Academy
Canton
Michigan
Daniel Cook
University of North Texas
Denton
Texas
Andrew Cote
Merrimack College
North Andover
Massachusetts
Drew Cowell
Belleville East High School
Belleville
Illinois
Cory Craig
Benton Intermediate School
Benton
Louisiana
Matthew Cunningham
Brockton High School
Brockton
Massachusetts
Shannon Curtis
Zimmerman Middle High School
Zimmerman
Minnesota
Isaac Daniel
Stax Music Academy
Memphis
Tennessee
Jim Daughters
Southeast Missouri State University
Cape Girardeau
Missouri
Marci DeAmbrose
Lincoln Southwest High School
Lincoln
Nebraska
Jackie Deen
Pottsboro High School
Pottsboro
Texas
Matthew Denman
Classen School of Advanced Studies
Oklahoma City
Oklahoma
Ryan Diefenderfer
Paradise Valley High School
Phoenix
Arizona
Jennifer DiVasto
Pennridge High School
Perkasie
Pennsylvania
Antoine

 

Dolberry

P.S. 103x Hector Fontanez

Bronx
New York
George Dragoo
Stevens High School
Rapid City
South Dakota
Marisa Drake
Patuxent High School
Lusby
Maryland
Kathleen

 

Dudley
Andrew Cooke Magnet School
Waukegan
Illinois
Jonathan

 

Eising
James Hubert Blake High School
Silver Spring
Maryland
Jonathan Eldridge
Weston High School
Weston
Massachusetts
Carol Evans
Gwynedd Mercy University
Gwynedd Valley
Pennsylvania
Anthony Ferreira
Suffield High
West Suffield
Connecticut
Tamara Frazier
North Valleys High School
Reno
Nevada
J.D. Frizzell
Briarcrest Christian School
Eads
Tennessee
Chesteron Frye
St. Helena College & Career Academy
Greensburg
Louisiana
Nicholas Garofalo
Chattahoochee High School
Johns Creek
Georgia
Matt Gerry
Salina South Middle School
Salina
Kansas
Anna Girling
Sebastopol Attendance Center
Sebastopol
Mississippi
Vivian Gonzalez
Miami Arts Studio 6-12 @ Zelda Glazer
Miami
Florida
Johnathan Gore
Sandy Run K8 School
Swansea
South Carolina
Serena Gorham
Weare Middle School
Weare
New Hampshire
Kylie Griffin
Dozier Elementary
Erath
Louisiana
Jess Gronberg
Hawkes Bluff Elementary
Davie
Florida
Alan Guckian
Manor High School
Manor
Texas
Nathaniel Gunter
Greer High School
Greer
South Carolina
Amy Hannequin
Bethel Middle School
Bethel
Connecticut
Crystal Harding
Ypsilanti Community High School
Ypsilanti
Michigan
Diana

 

Harrigan
Bloom High School
Chicago Heights
Illinois
Toye Harris
Miami High School
Miami
Oklahoma
Chris Hayslette
Bridgeport Middle School
Bridgeport
West Virginia
Colette Hebert
Ella Fitzgerald Academy
Yonkers
New York
Martha Heise
Seventh Street Elementary School
Oil City
Pennsylvania
Jonathan Helmick
Slippery Rock University
Slippery Rock
Pennsylvania
Corey Hermens
Grant County High School
Dry Ridge
Kentucky
Joel Hill
Velma Jackson High School and Shirley D. Simmons Middle School
Camden
Mississippi
Autumn Danielle Hodges
Clarksville- Kraus Middle School
Clarksville
Arkansas
Elaine Holmes
Comsewogue High School
Port Jefferson Station
New York
Gene Hundley
Swainsboro Middle School
Swainsboro
Georgia
Victor Iapalucci
Philip Barbour High School
Philippi
West Virginia
Devin James
Salem High School
Conyers
Georgia
Heidi Jaye
Daniel Webster Elementary School
New Rochelle
New York
Luke Johnson
Ingalls Elementary
Ingalls
Kansas
Jamie Jones
Manzano Day School
Albuquerque
New Mexico
Tyler Jones
Thompson Middle School
Alabaster
Alabama
Daniel Joosten
Edgerton High School
Edgerton
Wisconsin
Brett Keith
Northern Bedford County Middle/High School
Loysburg
Pennsylvania
Deonte Kennedy
Craigmont High School
Memphis
Tennessee
Matthew Kilby
Fort Dorchester HS
North Charleston
South Carolina
Lou Kitchner
Bedford Middle School
Westport
Connecticut
Michael Kiyoi
San Marcos High School
Santa Barbara
California
Kate Klotz
Monarch High School
Louisville
Colorado
Heidi Kohler
Clarence Middle School
Clarence
New York
Michael Lapomardo
Shrewsbury High School
Shrewsbury
Massachusetts
Michael Lee
Jericho Middle School
Jericho
New York
Morgan Lentino
Otter Creek Elementary
Elgin
Illinois
Joshua Light
Soddy-Daisy HS
Soddy-Daisy
Tennessee
Lisa Linde
Newton South High school
Newton
Massachusetts
Wes Lowe
The King's Academy
West Palm Beach
Florida
Cole Lundquist
Gloucester High School
Gloucester
Massachusetts
Robert Mamminga
St. Francis High School
Wheaton
Illinois
Peter Manzi
Carlsbad High School
Carlsbad
California
Samuel Maran
Lake High School
Millbury
Ohio
Jayson Martinez
Arts High School
Newark
New Jersey
Kevin McDonald
Wellesley High School
Wellesley
Massachusetts
Jill Melchitzky
Northwestern Middle School
Albion
Pennsylvania
Larrian Menifee
Ball High School
Galveston
Texas
Kimberly Mettert
East Noble Middle School
Kendallville
Indiana
Natalie Moore
Sullivan High School
Sullivan
Missouri
Mario Morales
Granbury High School
Granbury
Texas
Coty Raven Morris
Portland State University
Portland
Oregon
Brian Nabors
Shelby High School
Shelby
Ohio
Jenny Neff
The University of the Arts
Philadelphia
Pennsylvania
Cassandra Nelson
Mountaineer Middle
Morgantown
West Virginia
Trevor Nicholas
Senn Arts at Nicholas Senn High School
Chicago
Illinois
Adam Nobile
Big Spring High School
Newville
Pennsylvania
Sam Noyce
Thomas Jefferson Jr. High School
Kearns
Utah
Tim O'Donnell
Ephrata High School
Ephrata
Washington
John Panella
Cottondale High School
Cottondale
Florida
James Patterson
Kingstree High School
Kingstree
South Carolina
Shakia Paylor
City Neighbors High School
Baltimore
Maryland
Fernando Penaloza
Savanna High School
Anaheim
California
Kathy Perconti
Wayne Central High School
Ontario Center
New York
Jordan Peters
Dr. E Alma Flagg School
Newark
New Jersey
Catherine Plichta
Theatre Arts Production Company School
Bronx
New York
Felix Ponce
Back of the Yards College Preparatory High School
Chicago
Illinois
David Pope
Baldwin Wallace University
Berea
Ohio
Ær Queen
Braddock Elementary School
Annandale
Virginia
Brian Querry
Charles A. Huston Middle School
Lower Burrell
Pennsylvania
Rebecca Raber
University of Mary
Bismarck
North Dakota
Marc Ratner
Mineola High School
Garden City Park
New York
Lance Rauh
Patriot Oaks Academy
St Johns
Florida
Hoza Redditt
MSA East Academy
St. Gabriel
Louisiana
Heather Rentz
St. Mark Westpark
Cleveland
Ohio
Aaron Rex
Mason Middle School
Mason
Ohio
Angela Rex
Riverside Middle School
Greer
South Carolina
Chris Richard
Rogers Heritage High School
Rogers
Arkansas
Sarah Riechers
Thurgood Marshall Elementary School
Manassas
Virginia
Stephanie Robertson
Ponchatoula High School
Ponchatoula
Louisiana
Bethany Robinson
Noblesville High School
Noblesville
Indiana
Keith Robinson
Jefferson Avenue Elementary
Seguin
Texas
Alberto Rodriguez
Mount Vernon High School
Alexandria
Virginia
Chad Rose
Sheridan High School
Sheridan
Wyoming
Stewart Rosen
Walter Reed Middle School
North Hollywood
California
Shawn Royer
Marian University
Indianapolis
Indiana
Dayshawn Russell
North Iberville Elementary
Rosedale
Louisiana
Hannah Ryan
University of Virginia's College at Wise
Wise
Virginia
Kyle Ryan
Turkey Hill School
Orange
Connecticut
Ashley Sands
Kennedy Secondary School
Fergus Falls
Minnesota
Mark Santos
Santa Ana High School
Santa Ana
California
Danni Schmitt
Roland Park Elementary/Middle School
Baltimore
Maryland
Kevin Schoenbach
Oswego High School
Oswego
Illinois
Eric Schultz
Coastal Carolina University
Conway
South Carolina
Jessica Schwartz
Denham Springs High School
Denham Springs
Louisiana
Josh Settlemyre
R.J. Reynolds High School
Winston-Salem
North Carolina
Jason Shiuan
Saratoga High School
Saratoga
California
Katie Silcott
Olentangy Shanahan Middle School
Lewis Center
Ohio
Kerra Simmons
Fort Worth Academy of Fine Arts
Fort Worth
Texas
Joani

 

Slawson
Holy Trinity Episcopal Academy
Melbourne
Florida
Timothy Patrick Sloan Sr.
Albright Middle School
Houston
Texas
Jessie Smith
Yes Prep Public Schools
Houston
Texas
Cathryn Smith
Coleman High School
Coleman
Texas
Patrick Smith
Cooperative Arts and Humanities High School
New Haven
Connecticut
Tony Spano
Culver City High School
Culver City
California
Wes Sparkes
Eagleview Middle School
Colorado Springs
Colorado
Julian Spires
Meade Middle School
Fort Meade
Maryland
Shannon Stem
University Academy
Panama City
Florida
Harold Stephan
Stuyvesant High School
New York
New York
Cassandra Sulbaran
Braintree High School
Braintree
Massachusetts
Lynn Sweet
Mount Anthony Union High School
Bennington
Vermont
Agnes Tech
Indian Prairie Elementary School
Crystal Lake
Illinois
Chris Toomey

Mineola High School

Garden City Park
New York
Tom Torrento
Grosse Pointe North High School
Grosse Pointe Woods
Michigan
Jessica Torres
Elmont Memorial Jr. Sr. High School
Elmont
New York
Michelle Trinidad
Sacred Heart School
Bronx
New York
Alice Tsui
New Bridges Elementary
Brooklyn
New York
Jordan Tupper
Episcopal School of Baton Rouge
Baton Rouge
Louisiana
Martin Urbach
Harvest Collegiate High School
New York City
New York
Johny Vargas
Pueblo High School
Tucson
Arizona
Amy Villanova
Canyon Crest Academy
San Diego
California
Valerie Vinnard
Webster Elementary
Long Beach
California
Kenneth Walker
Ralls High School
Ralls
Texas
Kathy Wallace
Willard Elementary
Winchester
Indiana
Jennifer Walter
University of North Carolina at Greensboro
Greensboro
North Carolina
John Ware
Stovall Middle School
Houston
Texas
Brandon Weeks
North Polk High School
Alleman
Iowa
Lisa Werner
St. Bruno Parish School
Dousman
Wisconsin
Scott Weyman
Solanco High School
Quarryville
Pennsylvania
Elizabeth White
Holcomb RIII
Holcomb
Missouri
Tyler Wigglesworth
West Covina High School
West Covina
California
Derrick Williams
Vista Heights Middle School
Moreno Valley
California
Paula Williams
The Ron Clark Academy
Atlanta
Georgia
Sandi Wilson
Franklin School of Innovation
Asheville
North Carolina

Matthew Wiltshire

Lewiston High School

Lewiston

Maine

Damion Womack

The Montgomery Academy

Montgomery

Alabama

Tammy Yi

Chapman University

Orange

California

Nicholas Young

Altus High School

Altus

Oklahoma

Jason Younts

Samuel V. Champion High School

Boerne

Texas

DeAnna Zecchin

Indian River High School

Dagsboro

Delaware
2024 MUSIC EDUCATOR AWARD LEGACY APPLICANTS
Name

School

City

State

Phil Aguglia

Kenmore East High School

Tonawanda

New York

Heather Akers
Central Middle School
Dover
Delaware
Eric Allen
Western Middle School for the Arts
Louisville
Kentucky
Calandria Allen
Zachary Community Schools
Zachary
Louisiana
Abigail Alwin
Clague Middle School
Ann Arbor Public Schools
Michigan
David Amos
Heritage Middle School
Painesville
Ohio
Luke Aumann
Appleton North High School
Appleton
Wisconsin
Elizabeth Baker
Ilima Intermediate School
Ewa Beach
Hawaiʻi
Andre Barnes
Science Park High School
Newark
New Jersey
Conesha Barron
Lanier High School
Jackson
Mississippi
Lyndra Bastian
Creekside Middle School and Woodstock High School
Woodstock
Illinois

William Bennett

Cane Bay High School

Summerville

South Carolina

Heather Bice
Ridgeview High School
Orange Park

Florida

Charlie Bradberry
Iowa Park High School
Iowa Park
Texas
Justin Britt
Kingston Public Schools
Kingston
Oklahoma
Shantavia Burchette
East Side High School
Newark
New Jersey
John Burn
Homestead High School
Cupertino
California
Alexander Busby
Oviedo High School
Oviedo
Florida

Aaron Bush

Foxborough High School

Foxborough

Massachusetts

Meg Byrne
Pleasant Valley High School
Bettendorf
Iowa
Philip Carter
O'Fallon Township High School
O'Fallon
Illinois
Elizabeth Carter
Snowden School
Memphis
Tennessee
Francis Cathlina
University of Memphis
Memphis
Tennessee
Tiffany Chiang
Mark Twain I.S. 239
Brooklyn
New York

Ernesta Chicklowski

Roosevelt Elementary

Tampa

Florida

Michael Coelho
Ipswich Middle School and Ipswich High School
Ipswich
Massachusetts

Christine Cumberledge

Central Junior High School

Euless

Texas

Heather Dipasquale
Todd County Middle School
Elkton
Kentucky

Jack A. Eaddy, Jr.

Western Carolina University

Cullowhee

North Carolina

Dominique Eade
New England Conservatory of Music
Boston
Massachusetts
Cuauhtemoc Escobedo
Eckstein Middle School
Seattle
Washington
Jasmine Faulkner
Polaris Expeditionary Learning School
Fort Collins
Colorado
Daniel James Felton
Tartan High School
Oakdale
Minnesota
Nicholas Fernandez
Bentonville Schools
Bentonville
Arkansas
Cathryn Fowler
Health Careers High School
San Antonio
Texas

Marisa Frank

Explore! Community School

Nashville

Tennessee

Jasmine Fripp
KIPP Nashville Collegiate High School
Nashville

Tennessee

Jacob Garcia
Tennyson Middle School
Waco
Texas

Jorge L. Garcia

Elias Herrera Middle School

Laredo

Texas

Tina Gibson
Jefferson County Traditional Middle School
Louisville
Kentucky
Alex Gittelman
Haverford Middle School
Havertown
Pennsylvania
Guillermo Gonzalez
James A. Garfield High School
Los Angeles
California
Mansa Gory
Denzel Washington School of the Arts
Mount Vernon
New York
Deanna Grandstaff
Cecil Intermediate School
McDonald
Pennsylvania
Amanda Hanzlik
E.O. Smith High School
Storrs
Connecticut
Marvin Haywood
John Ehret High School
Marrero
Louisiana
Kristin Howell
Syosset High School
Syosset
New York
Emmanuel Hudson
Booker T. Washington High School
Shreveport
Louisiana
Karla Hulne
Blair-Taylor Middle/High School
Blair
Wisconsin
Mia Ibrahim
Health Opportunities High School
Bronx
New York
Luis Ingels
Candor Elementary School
Candor
New York
Justin Janer
Pinewood School Middle Campus
Los Altos
California
Daryl Jessen
Dakota Valley School
North Sioux City
South Dakota
De'Evin Johnson
Duncanville High School
Duncanville
Texas
Amir Jones
Harvey High School
Painesville
Ohio
Allison Kline
Blue Mountain Area School
Orwigsburg
Pennsylvania
Kenneth Kosterman
Rockwall-Heath High School
Heath
Texas
Joshua Krohn
Brent Elementary School
Washington
District of Columbia
Sarah Labovitz
Arkansas State University
Jonesboro
Arkansas
Heather Leppard
Girls Academic Leadership Academy (GALA)
Los Angeles
California
Hope Lewis
Charles O. Dickerson HS
Trumansburg
New York
Meredith Lord
Burncoat High School
Worcester
Massachusetts
Brendon Lucas
Nyack High School
Nyack
New York
Christian Lucas
Mariners Christian School
Costa Mesa
California
Alison McCarrey
Romig Middle School
Anchorage
Alaska
Angie McDaniel
Forest Creek Elementary
Round Rock
Texas
Ashleigh McDaniel Spatz
Burgess Peterson Academy
Atlanta
Georgia

Matthew McKagan

Lindero Canyon Middle School

Agoura Hills

California

Brian McMath

Northwest Guilford High School

Greensboro

    

North Carolina

Phillip McMullen
Silver Creek Central Schools
Silver Creek
New York
Tracy Meldrum
Verrado High School
Buckeye
Arizona
Xochilt Melendez Munguia
Gainesville Middle School for the Arts and Sciences
Gainesville
Virginia
Kris Milby
Greenup County High School
Greenup
Kentucky
Dana Monteiro
Frederick Douglass Academy
New York
New York
Shelby Montgomery
George Jenkins High School
Lakeland
Florida
David Moore
Inspire Charter Academy
Baton Rouge
Louisiana
Ryan Moseley
Appoquinimink High School
Middletown
Delaware
David Moss
West Hopkins School
Nebo
Kentucky
Deborah Muhlenbruck-Fleischer
Gunderson Middle School
Las Vegas
Nevada
Vicki Nichols
Grandview Elementary
Grandview
Texas
Jeremy Overbeck
Century High School
Bismarck
North Dakota
John Pachence
Penn State Abington
Abington
Pennsylvania
Jennifer Page
Niles North High School
Skokie
Illinois
Matthew Pitts
Robert JC Rice Elementary School
Gilbert
Arizona
Courtney Powers
Muhammad Ali School 23
Passaic

New Jersey

Natalie Pratt
Brentwood High School
Brentwood
Tennessee
William Rank
Oak Prairie Junior High School
Lockport
Illinois
Brett Rankin
Wilde Lake High School
Columbia
Maryland
Annie Ray
Annandale High School
Annandale
Virginia
Tracy Resseguie
Staley High School
Kansas City
Missouri
Giovanni Santos
La Sierra University
Riverside
California
Ruth Schwartz
Chugiak High School and Mirror Lake Middle School
Chugiak
Alaska
Laura Shapovalov
Walden III Middle and High School
Racine
Wisconsin
James Sheffer
Medford Memorial Middle School and Haines Sixth Grade Center
Medford
New Jersey

Matthew Shephard

Meridian Early College High School

Sanford

Michigan

Dylan Sims
York Middle School
York
South Carolina
Thomas Slater
Chestnut Oaks Middle School
Sumter
South Carolina
Michele Slone
Urbana Elementary and Jr. High School
Urbana
Ohio

Tony Small

St. Vincent Pallotti Arts Academy

Laurel

Maryland

Andrew Smith
Charlotte Central School
Charlotte
Vermont

Wayne Splettstoeszer

Torrington High School

Torrington

Connecticut

Elizabeth Steege
Cass High School
Racine
Wisconsin
Lawrence Stoffel
California State University, Northridge
Los Angeles
California
Tyler Swick
Robert and Sandy Ellis Elementary
Henderson
Nevada
Elizabeth Taylor
La Crosse Elementary School
La Crosse
Virginia
Cami Tedoldi
Foxborough High School
Foxborough
Massachusetts
Kylie Teston
Leonardtown High School
Leonardtown
Maryland
Jonathan Todd
Palisades High School
Charlotte
North Carolina
Matthew Trevino
Roan Forest Elementary
San Antonio
Texas
Alexis True
Thomas Downey High School
Modesto
California
Gregory Urban
Dunedin Highland Middle School
Dunedin
Florida
Jon Usher
Hidden Springs Elementary
Moreno Valley
California
Michael Vasquez
Charles L. Kuentz Jr. Elementary
Helotes
Texas
Aaron Vogel
Mountain Ridge High School
Glendale
Arizona
Bryen Warfield
Homestead High School
Fort Wayne
Indiana
Sarah Wehmeier Aparicio
Waukesha South High School
Waukesha
Wisconsin
Christopher White
Hickory Ridge High School
Harrisburg
North Carolina
Tammy White
Kiser Middle School
Greensboro
North Carolina
Tyron Williams
New Visions Charter High School for the Humanities IV
Far Rockaway
New York
Krista Williams
Floretta P. Carson Visual and Performing Arts Academy
Mobile
Alabama
Kelly Winovich
Northgate Middle/Senior High School
Pittsburgh
Pennsylvania
Hayley Winslow
Snow Canyon Middle School
Saint George
Utah
Ronnie Ziccardi
Avonworth
Pittsburgh
Pennsylvania
Working For Students: How Music Industry Professionals Find Fulfillment In Education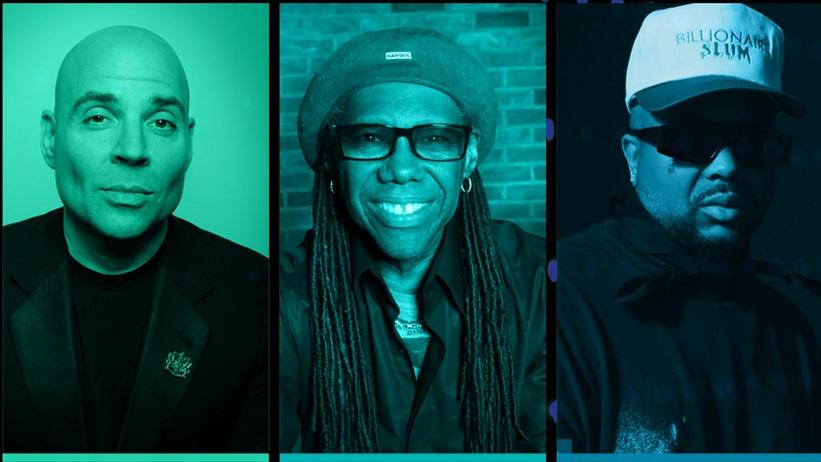 (L-R): Merck Mercuriadis, Nile Rodgers and THE-DREAM
Photo: Jill Furmonvsky; courtesy of THE-DREAM
news
The GRAMMY Museum Announces Official GRAMMY Week 2023 Programming Schedule
Join in on the GRAMMY Museum's GRAMMY Week 2023 education programs and panels ahead of Music's Biggest Night. Here's the lineup for the upcoming, can't-miss events from Jan. 30 - Feb. 3.
GRAMMYs
/
Jan 23, 2023 - 02:00 pm
With the 2023 GRAMMYs just around the corner, the GRAMMY Museum has announced its official GRAMMY Week 2023 programming schedule ahead of GRAMMY Sunday.
Flush with unique education and community engagement programs, the events offer conversations, live performances and exclusive content from GRAMMY Award-winning and -nominated musicians and industry professionals. From panels discussing what it takes to have a career in the music industry to a celebration of GRAMMY nominee Muni Long, you won't want to miss the GRAMMY Museum's GRAMMY Week programming.
Join in on these GRAMMY Week festivities from Monday, Jan. 30, to Friday, Feb. 3, with the full lineup as listed below.
Watch the 2023 GRAMMYs, officially known as the 65th GRAMMY Awards, on Sunday, Feb. 5, live on the CBS Television Network and live and on-demand on Paramount+ at 8-11:30 p.m. ET/5-8:30 p.m. PT.
Mon, Jan. 30:
EVENT: Careers in Music: Music Producers Panel with Isla Management
WHAT: A conversation with GRAMMY® Award-winning and -nominated producers Boi-1da, Jahaan Sweet, Sevn Thomas, Leon Thomas, and Isla Management Founder and Manager Simon Gebrelul on the creative process, working with artists, and what it takes to have a career in the music industry as a music producer.
WHEN: 11 a.m. – 12 p.m.
REGISTER: Click here.
EVENT: Careers in Music: Latin Music Panel
WHAT: A conversation celebrating the culture and impact of Latin Music with singer-songwriter, Gaby Moreno, Vice President of Latin Division at Peermusic, Yvonne Drazan, and Founder and President of Cosmica Records, Gil Gastelum.
WHEN: 1 p.m. – 2 p.m.
REGISTER: Click here.
Tues, Jan. 31:
EVENT: Backstage Pass: Global Music Panel
WHAT: A conversation celebrating music from around the world with GRAMMY-nominated artist Zakes Bantwini, CEO of Creative Agency GridWorldwide Adam Byars, TV/Radio personality and entrepreneur Anele Mdoda, Talent Manager and Music/Entertainment Executive Sibo Mhlungu, and Entrepreneur CEO & Founder of Bathu Sneakers Theo Baloyi. This program will also include a live performance by Zakes Bantwini and Nomcebo Zikode.
WHEN: 11 a.m. – 12 p.m.
REGISTER: Click here.
EVENT: Backstage Pass: LGBTQ Panel & Performance presented by the Ally Coalition
WHAT: Backstage Pass is a career exploration program that gives students a first-hand look at what it takes to get a job in the music industry. This Backstage Pass program will consist of a question-and-answer session with music industry professionals from the LGBTQ community.
WHEN: 1 p.m. – 2 p.m.
REGISTER: Click here.
EVENT: Celebrating GRAMMY® Nominee: Muni Long
WHAT: Join us for this exclusive GRAMMY Week event to celebrate this year's three-time GRAMMY nominee, Muni Long, just ahead of GRAMMY Sunday. Nominated for Best New Artist, Best R&B Song and Best R&B Performance, Long was an in-demand songwriter for Rihanna, Mariah Carey, Madonna, Ariana Grande, and more before breaking through as a solo artist.
WHEN: 7:30 p.m.
TICKETS: Click here.
Wed, Feb. 1:
EVENT: Careers in Music: 1500 Sound Academy
WHAT: 1500 Sound Academy is a trailblazing music education institution that strives to produce passionate sound creators through mentorship, positive mindset and professional development. Join us for a moderated Q&A with founders of the 1500 Sound Academy and of the legendary musical ensemble, 1500 or Nothin', GRAMMY Award winners James Fauntleroy and Larrance "Rance" Dopson.
WHEN: 11 a.m. – 12 p.m.
REGISTER: Click here.
EVENT: Live Out L!ve Presents: Beyond the Mainstage – Black Professionals in Live Music
WHAT: Join us as we go beyond the mainstage and explore the success, challenges and reality of being a Black professional in the live entertainment industry. In this conversation, we will hear from professionals of color who are leading innovation and change in their respective roles. Our panelists will share their journey of becoming a live industry leader and resources for breaking into the industry, and answer questions from the next generation of music industry leaders.
WHEN: 1 p.m. – 2 p.m.
REGISTER: Click here.
Thurs, Feb. 2:
EVENT: Backstage Pass: Hawaii Day w/ Bobby Moderow, Jr. & Kawika Kahiapo
WHAT: A celebration of the music and culture of Hawaii, this Backstage Pass program will consist of a question-and-answer session as well as a live performance of two to three songs.
WHEN: 11 a.m. – 12 p.m.
REGISTER: Click here.
Fri, Feb. 3:
EVENT: Careers In Music: Merck Mercuriadis, Nile Rodgers and 2023 Six-Time GRAMMY
®
-nominated Singer/Songwriter/Producer THE-DREAM
WHAT: A conversation with Merck Mercuriadis, Nile Rodgers and The-Dream discussing their background in the music industry, the importance and power of the songwriter, sustaining a career, and celebrating the songs past and present that have led to The-Dream having more than 20 GRAMMY nominations and five wins throughout his career. The-Dream is one of the first nominees for the inaugural Songwriter Of The Year, Non-Classical Award and we are here to celebrate his achievements and those of the other great songwriters being honored including his collaboration with Nile Rodgers, Beyoncé and others on "CUFF IT."
WHEN: 1 p.m. – 2 p.m.
REGISTER: Click here.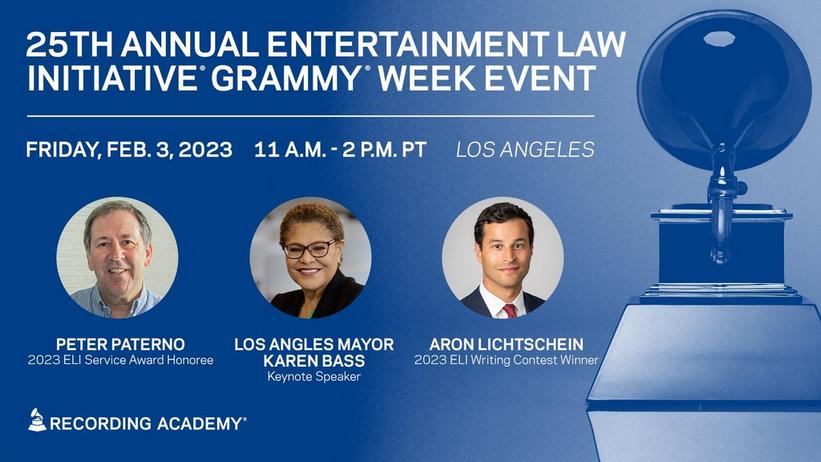 (L to R): Peter Paterno, Mayor of Los Angeles Karen Bass, and Aron Lichtshein
news
Mayor Of Los Angeles Karen Bass To Give Keynote Address At 25th Annual Entertainment Law Initiative During 2023 GRAMMY Week Event
The Recording Academy Entertainment Law Initiative will welcome Los Angeles Mayor Karen Bass as the keynote speaker for its annual GRAMMY Week Event.
GRAMMYs
/
Jan 20, 2023 - 02:00 pm
Ahead of the 2023 GRAMMYs, the Recording Academy Entertainment Law Initiative will welcome Los Angeles Mayor Karen Bass as the keynote speaker for its annual GRAMMY Week Event. Mayor Bass will join leaders in the legal and creative communities at the Beverly Wilshire Hotel on Fri, Feb. 3, as they celebrate the work of their peers and the year-round efforts of the Entertainment Law Initiative, which aims to encourage discussion and debate around the impact of legal affairs on the music industry.
"We are honored to welcome Mayor Karen Bass to the ELI GRAMMY Week Event as we gather and celebrate with the trailblazing professionals and students who are paving the way forward in the entertainment law industry," Recording Academy CEO Harvey Mason jr. said. "Mayor Bass has been a longtime supporter of music creators' rights in her legislative roles, and she has a unique understanding of how the creative industries intersect with law and policy that we look forward to hearing at this year's event."
"I'm proud to support GRAMMY Week because of the role that our entertainment industry plays in powering our local economy and to encourage efforts to increase equity and opportunities for Angelenos to break into the music business," Mayor Bass said.
Mayor Bass was sworn in as L.A.'s mayor on Dec. 11, 2022, after representing California's 33rd Congressional District from 2011 to 2013 and its 37th Congressional District from 2013 to 2022 in the U.S. House of Representatives. Between 2004 and 2010, she served in the California State Assembly and was elected as Speaker in 2008. 
The event will also honor the winner and runners-up of the Entertainment Law Initiative Writing Contest, co-sponsored by the American Bar Association (ABA). The contest challenges students in Juris Doctorate and Master of Laws programs at U.S. law schools to research a pressing legal issue facing the modern music industry and outline a proposed solution in a 3,000-word essay. The winner of this year's Writing Contest is Aron Lichtschein, a JD student at NYU School of Law, for his essay, "Tickets to Ride: NFTs and the Future of Concert Ticketing." Lichtschein will receive a $10,000 scholarship as well as tickets to the 2023 GRAMMY Awards and other GRAMMY Week events. As well, his essay will be published in the ABA's journal Entertainment & Sports Lawyer. Runners-up Gina Maeng and Amanda Sharp, students at Georgetown Law School and University of San Diego School of Law, respectively, will each receive $2,500 scholarships for their essays.
The Recording Academy announced last month that Peter T. Paterno, Partner at King, Holmes, Paterno & Soriano, LLP, will receive the 2023 Entertainment Law Initiative Service Award at the ELI GRAMMY Week Event; the award is presented each year to an attorney who has demonstrated a commitment to advancing and supporting the music community through service.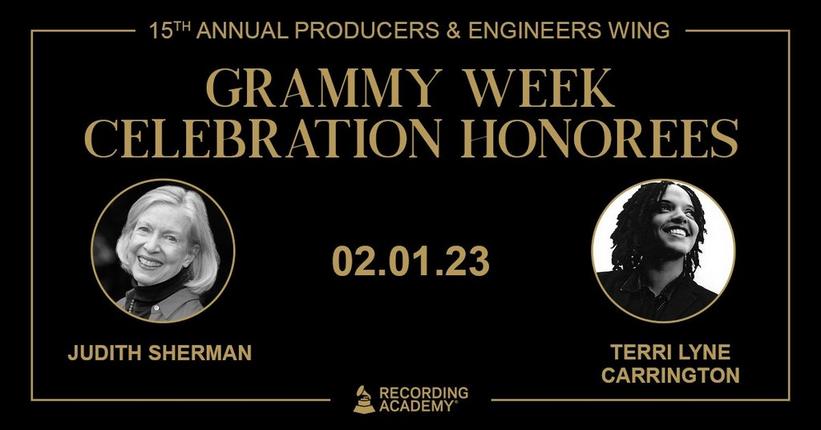 (L-R): Judith Sherman, Terri Lyne Carrington
Source Photos (L-R): Courtesy of the Recording Academy® / Photo by Jason Kempin for Getty Images © 2023; Courtesy of the Recording Academy® / Photo by Alexandra Wyman for Getty Images © 2023
news
The Recording Academy Producers & Engineers Wing To Honor Trailblazers Terri Lyne Carrington And Judith Sherman
The Recording Academy's Producers & Engineers Wing will honor three-time GRAMMY winner Terri Lyne Carrington and revered classical producer and 13-time GRAMMY winner Judith Sherman at its annual GRAMMY Week event in February.
GRAMMYs
/
Jan 6, 2023 - 02:00 pm
The Recording Academy has announced Terri Lyne Carrington and Judith Sherman as honorees for their accomplishments as pioneering women in jazz and classical music. They will be honored at the Recording Academy Producers & Engineers Wing GRAMMY Week Event on Feb. 1 at The Village Studios in Los Angeles. The 15th annual event will return in-person for the first time since 2020, to kick off GRAMMY Week 2023. 
In addition to celebrating the achievements of three-time GRAMMY winner Terri Lyne Carrington and revered classical producer and 13-time GRAMMY winner Judith Sherman, the event will celebrate the year-round work of the Producers & Engineers Wing and its members. They advocate for excellence and best practices in sound recording, audio technologies and education in the recording arts, along with proper crediting, recognition and rights for music creators.
"We're thrilled to return live to The Village Studios for the first time in three years to celebrate two groundbreaking music creators who are dedicated to innovating both creatively and technically in the recording field," said Harvey Mason jr., CEO of the Recording Academy. "Both Terri Lyne and Judith have made indelible contributions to music, and we look forward to bringing together producers, engineers and artistic professionals to honor these incredible artists and kick off our GRAMMY Week celebrations."  
Terri Lyne Carrington is an NEA Jazz Master, Doris Duke Artist, and three-time GRAMMY-winning drummer, composer, producer, and educator. She is the founder and artistic director of the Berklee Institute of Jazz and Gender Justice, as well as the artistic director for both Next Jazz Legacy program (a collaboration with New Music USA) and the Carr Center in Detroit. She has performed on more than 100 recordings over her 40-year career and has toured and recorded with luminaries such as Herbie Hancock, Wayne Shorter, Stan Getz, Esperanza Spalding, and numerous others.
Her artistry and commitment to education has earned her honorary doctorates from York University, Manhattan School of Music and Berklee College of Music, and her curatorial work and music direction has been featured in many prestigious institutions internationally. The critically acclaimed 2019 release, Waiting Game, from Terri Lyne Carrington + Social Science, earned the esteemed Edison Award for music and a GRAMMY nomination. In the fall of 2022, she authored two books, Three of a Kind (The AllenCarringtonSpalding Trio) and the seminal songbook collection, New Standards: 101 Lead Sheets By Women Composers. Her current GRAMMY-nominated album, New Standards Vol.1 (Candid Records), and her visual art curatorial debut at Detroit's Carr Center, Shifting the Narrative Part 1: New Standards, have accompanied the songbook release as part of the Jazz Without Patriarchy Project. 
Carrington is a 2022 inductee into the American Academy of Arts and Sciences and is co-executive producer and musical director for the newly formed Jazz Music Awards.
Judith Sherman has made an indelible contribution to the catalog of recorded classical music. 
She is an 18-time GRAMMY Award nominee and 13-time GRAMMY winner, including six GRAMMYs for Producer Of The Year, Classical (at the 36th, 50th, 54th, 57th, 58th, and 64th GRAMMY Awards). Early in her career she was employed at WBAI-FM in New York City, beginning as an engineer and over the course of four years working her way up to become producer and then music director. She was the recording engineer for the Marlboro Music Festival in Vermont during the summers of 1976 through 1994 and worked as audio faculty at the Banff Centre in 2006 and 2008. A member of the board of directors of Chamber Music America, Sherman served first as secretary in 2002, and thereafter as vice president. She currently works as a freelance recording producer and engineer in New York.
Sherman has collaborated with a vast number of artists throughout her career including Rudolf Serkin, Ursula Oppens, Marc-André Hamelin, Llŷr Williams; with the Kronos Quartet and the Cleveland, Ying, Takács, and Pacifica String Quartets; with eighth blackbird and the American Brass Quintet; and with conductors such as Christoph Eschenbach, Donald Runnicles and David Zinman. Her recordings in the field of contemporary classical music have been particularly noted, including work with such composers as Steve Reich, Elliott Carter, Steve Mackey, Charles Wuorinen, John Adams, Shulamit Ran, David Rakowski, Philip Glass, Eric Moe, Joan Tower, and Terry Riley. Her recordings have appeared on many labels, including Nonesuch, Telarc, Cedille, New World, Avie, Albany, Signum, Hyperion, and Bright Shiny Things. 
"The Producers & Engineers Wing is privileged to pay tribute to two women who have pushed boundaries both in and outside of the studio," said Maureen Droney, Vice President of the Producers & Engineers Wing. "As GRAMMY nominees this year, Terri Lyne and Judith are awe-inspiring honorees who represent the best of the recording industry and whose contributions to their respective genres continue to resonate with our music community."