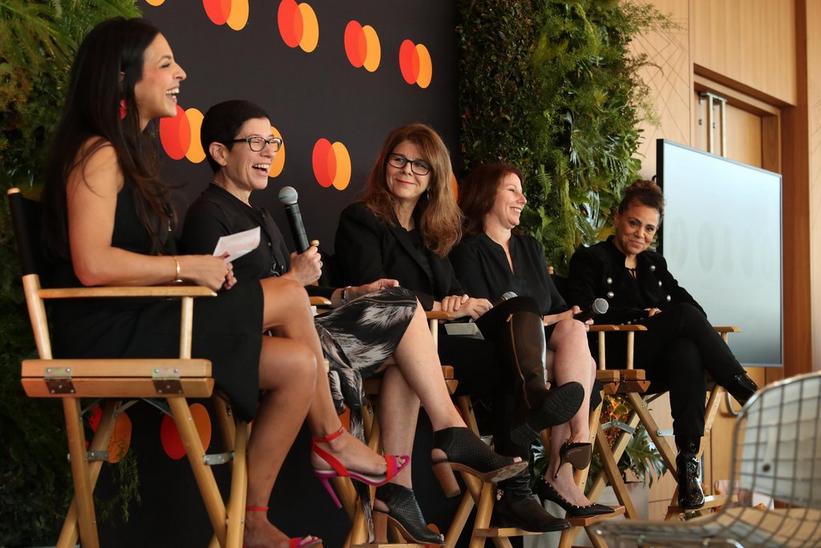 Cheryl Guerin, Lori Feldman, Gabrielle Armand & Stacy Smith
Photo credit: Joshua Applegate
news
Emily Lazar, Linda Perry & Other Powerful Industry Women Talk Inclusivity In Music
During GRAMMY Week 2020, seven women paving the way for greater inclusion in the music industry shared their stories, statistics and advice on how to reshape the system and make more space for women and other underrepresented groups
GRAMMYs
/
Jan 26, 2020 - 12:34 am
Two years ago, the USC Annenberg Inclusion Initiative, led by Stacy Smith, released their first study of inclusivity in music, provided some eye-opening statistics that revealed the male-dominated status quo of the industry. This week, on Jan. 23, industry professionals and musicians gathered together in a sunny room of MasterCard's special GRAMMY Week One Love Hotel experience on Sunset Boulevard to hear from barrier-breaking women on exactly how we can even the playing field and fix these numbers.
Split up with two delicious meals and space to chat with fellow attendees on the sunny, L.A. skyline-backed patio, Designing a Better Music Industry for Women: Equality on Both Sides of the Board featured two dynamic conversations that brought forward actionable ways we can all create a more inclusive music industry. The first conversation was a panel moderated by SiriusXM Hits Host Nicole Ryan and featuring Cheryl Guerin, Vice President of Marketing/Communications at Mastercard, Lori Feldman, Chief Marketing Officer at Paradigm, Stacy Smith, Founder/Director of USC Annenberg Inclusion Initiative and Gabrielle Armand, Vice President of Marketing of Jazz at Lincoln Center. The after-lunch "fireside chat," moderated by Andrew Hampp of Variety, featured two behind-the-board powerhouses, GRAMMY-nominated producer, songwriter and former Four Non Blondes lead singer Linda Perry and GRAMMY-winning engineer and The Lodge Founder Emily Lazar. Here are the four major themes that emerged over the course of the day.
Sharing Truth With Data & Taking Action
While the statistics brought forth by the Annenberg studies can feel shocking, angering or even overwhelming, instead it is exactly these numbers that motivate action and can measure change. During her introduction, Smith declared her work's focus is to "disrupt systems of injustice" and later pointed to how the study helped highlight all the work that needed to be done and serve as a rallying point for many people across all touchpoints of the industry, including 2020 GRAMMY host Alicia Keys, who was inspired to start the new nonprofit music network, She Is The Music.
"Collective action only happens when people link arms and say we're going to do this together," Smith shared, pointing to She Is The Music as a perfect example of collective action making change.
She also noted the improvement they've already seen in 2019, as opposed to 2017's numbers, including doubling the number of female producers that worked on hit songs. While there is still plenty of room for improvement, the shifts prove that change can be made when intention and energy is put towards doing things differently. "I'd never seen something like this happen so quickly and so sustained," Smith stated.
Read: Women In Music And Film Talk Self-Confidence & Inclusion At The GRAMMY Museum
Ryan, who underscored the very male-heavy world of radio, feels that really showing those standing against you how they are wrong, so they can actually understand it and see from your perspective, is one of the most fulfilling things to do. When she became pregnant, one of her coworkers at Sirius told her career was over. While it was an upsetting comment to receive, she later sat him down and explained why his opinion was unfair. When she did become a working mother, she demonstrated exactly how she could continue to achieve work-life balance with a child, like many women do.
Everyone's stories echoed Ryan's point that not only is it important to stand strong in what you know is right and true, but to also go above and beyond often-limited expectations others may have of you. That in itself will not only bring you forward, but help pave the way for others.
Identifying Barriers & Breaking Them
Armand, who got her start in the industry 30 years ago at a jazz label, said that it was knowing her worth that always kept her on the right path: "I knew what my value, what my truth was." As she moved up in her career, she realized the value of modeling this for everyone around her, especially younger people.
As Feldman said, sometimes in the moment, it's hard to really see how bad things are, especially when others see them as "just how it is." Looking back, she's amazed at some of the behaviors that were left unchecked, like a male college photocopying (in the pre-cell phone days) an unflattering picture of her and passing it to all the other men in the office.
As everyone's stories of perseverance highlighted, you often aren't thinking about the fact that you're a female professional until your "otherness" is pointed out to you.
For Lazar, who won her first GRAMMY last year for Best Engineered Album, Non-Classical on Beck's Colors, the first female mastering engineer to ever win this award, the weight of it didn't hit until she won and was informed of this powerful accomplishment.
When Hampp asked how they faced challenges in their path, especially when doors sometimes weren't even there, Lazar had a poignant answer grounded in optimism and courage. "It's about seeing the doors, seeing the giant padlock and kicking it down. For me, there's doors everywhere."
Advocating For Yourself & Others
All the women echoed the importance of mentorship, fostering opportunities and education.
With The Lodge, the mastering studio Lazar founded back in 1997 in New York City, she has an open-door policy and celebrates doing whatever creative things work best for the art. She also feels a responsibility to educate young engineers, so she speaks on college campuses to kids interested in a career in music "to show that it's okay to follow your dream."
Meanwhile, Perry works with her We Are Hear organization and donates hours of her time to countless panels and workshops across her home city of L.A. "If we can offer you one little nugget that can help your career, that's what we are here for," she said.
Guerin, who is grateful to work at an organization like MasterCard that values diversity both internally and with their many community programs, said it well: "Education is continuously important." Education should be ongoing and ever-evolving and really reflect the people they claim to serve. She shared that while women are opening up businesses at twice the rate of men, they are only receiving two percent of the venture capital funding.
More: Linda Perry, Natasha Bedingfield & More Talk Creating A Collaborative Community For Female Artists At The GRAMMY Museum
Helping Artists Identify Methods Of Distribution
"When you find people in this field that are really accomplished, they're usually more than one thing," Lazar said. "We need to protect those special people; I'm here to protect artists." She underscored the vital importance of giving artists the space to make good art and to also help them distribute it in ways that allow it to really be heard as they intended.
The official programming ended on this inspiring high note, but really it was just the beginning of many conversations, meeting new faces and, perhaps, movements that will come out of it.
Latin Music Industry And Artists Discuss The Genre's History, Cultural Impact And Future Trends At 2020 GRAMMY Week Panel
The end of GRAMMY Week is near, but there is still plenty more to unpack and celebrate, with the 62nd GRAMMY Awards taking place tomorrow, Sun. Jan. 26. You'll be able to view the Premiere Ceremony and Red Carpet livestreams right here on GRAMMY.com. Then, tune into CBS at 5 p.m. PT / 8 p.m. ET to watch Music's Biggest Night live.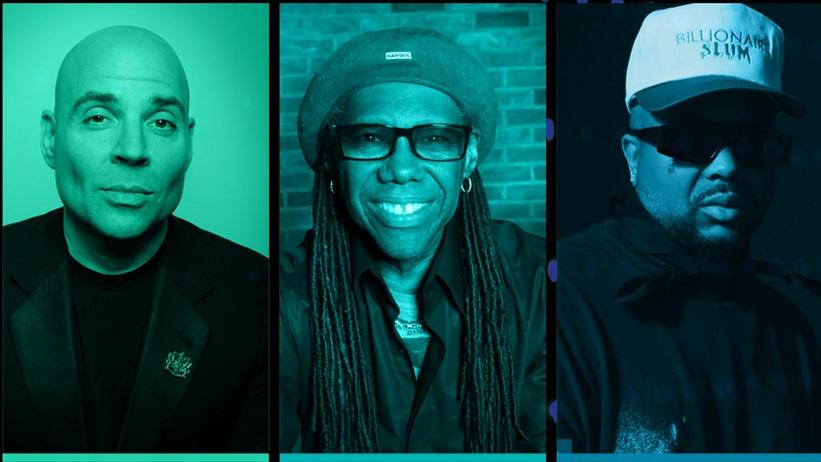 (L-R): Merck Mercuriadis, Nile Rodgers and THE-DREAM
Photo: Jill Furmonvsky; courtesy of THE-DREAM
news
The GRAMMY Museum Announces Official GRAMMY Week 2023 Programming Schedule
Join in on the GRAMMY Museum's GRAMMY Week 2023 education programs and panels ahead of Music's Biggest Night. Here's the lineup for the upcoming, can't-miss events from Jan. 30 - Feb. 3.
GRAMMYs
/
Jan 23, 2023 - 02:00 pm
With the 2023 GRAMMYs just around the corner, the GRAMMY Museum has announced its official GRAMMY Week 2023 programming schedule ahead of GRAMMY Sunday.
Flush with unique education and community engagement programs, the events offer conversations, live performances and exclusive content from GRAMMY Award-winning and -nominated musicians and industry professionals. From panels discussing what it takes to have a career in the music industry to a celebration of GRAMMY nominee Muni Long, you won't want to miss the GRAMMY Museum's GRAMMY Week programming.
Join in on these GRAMMY Week festivities from Monday, Jan. 30, to Friday, Feb. 3, with the full lineup as listed below.
Watch the 2023 GRAMMYs, officially known as the 65th GRAMMY Awards, on Sunday, Feb. 5, live on the CBS Television Network and live and on-demand on Paramount+ at 8-11:30 p.m. ET/5-8:30 p.m. PT.
Mon, Jan. 30:
EVENT: Careers in Music: Music Producers Panel with Isla Management
WHAT: A conversation with GRAMMY® Award-winning and -nominated producers Boi-1da, Jahaan Sweet, Sevn Thomas, Leon Thomas, and Isla Management Founder and Manager Simon Gebrelul on the creative process, working with artists, and what it takes to have a career in the music industry as a music producer.
WHEN: 11 a.m. – 12 p.m.
REGISTER: Click here.
EVENT: Careers in Music: Latin Music Panel
WHAT: A conversation celebrating the culture and impact of Latin Music with singer-songwriter, Gaby Moreno, Vice President of Latin Division at Peermusic, Yvonne Drazan, and Founder and President of Cosmica Records, Gil Gastelum.
WHEN: 1 p.m. – 2 p.m.
REGISTER: Click here.
Tues, Jan. 31:
EVENT: Backstage Pass: Global Music Panel
WHAT: A conversation celebrating music from around the world with GRAMMY-nominated artist Zakes Bantwini, CEO of Creative Agency GridWorldwide Adam Byars, TV/Radio personality and entrepreneur Anele Mdoda, Talent Manager and Music/Entertainment Executive Sibo Mhlungu, and Entrepreneur CEO & Founder of Bathu Sneakers Theo Baloyi. This program will also include a live performance by Zakes Bantwini and Nomcebo Zikode.
WHEN: 11 a.m. – 12 p.m.
REGISTER: Click here.
EVENT: Backstage Pass: LGBTQ Panel & Performance presented by the Ally Coalition
WHAT: Backstage Pass is a career exploration program that gives students a first-hand look at what it takes to get a job in the music industry. This Backstage Pass program will consist of a question-and-answer session with music industry professionals from the LGBTQ community.
WHEN: 1 p.m. – 2 p.m.
REGISTER: Click here.
EVENT: Celebrating GRAMMY® Nominee: Muni Long
WHAT: Join us for this exclusive GRAMMY Week event to celebrate this year's three-time GRAMMY nominee, Muni Long, just ahead of GRAMMY Sunday. Nominated for Best New Artist, Best R&B Song and Best R&B Performance, Long was an in-demand songwriter for Rihanna, Mariah Carey, Madonna, Ariana Grande, and more before breaking through as a solo artist.
WHEN: 7:30 p.m.
TICKETS: Click here.
Wed, Feb. 1:
EVENT: Careers in Music: 1500 Sound Academy
WHAT: 1500 Sound Academy is a trailblazing music education institution that strives to produce passionate sound creators through mentorship, positive mindset and professional development. Join us for a moderated Q&A with founders of the 1500 Sound Academy and of the legendary musical ensemble, 1500 or Nothin', GRAMMY Award winners James Fauntleroy and Larrance "Rance" Dopson.
WHEN: 11 a.m. – 12 p.m.
REGISTER: Click here.
EVENT: Live Out L!ve Presents: Beyond the Mainstage – Black Professionals in Live Music
WHAT: Join us as we go beyond the mainstage and explore the success, challenges and reality of being a Black professional in the live entertainment industry. In this conversation, we will hear from professionals of color who are leading innovation and change in their respective roles. Our panelists will share their journey of becoming a live industry leader and resources for breaking into the industry, and answer questions from the next generation of music industry leaders.
WHEN: 1 p.m. – 2 p.m.
REGISTER: Click here.
Thurs, Feb. 2:
EVENT: Backstage Pass: Hawaii Day w/ Bobby Moderow, Jr. & Kawika Kahiapo
WHAT: A celebration of the music and culture of Hawaii, this Backstage Pass program will consist of a question-and-answer session as well as a live performance of two to three songs.
WHEN: 11 a.m. – 12 p.m.
REGISTER: Click here.
Fri, Feb. 3:
EVENT: Careers In Music: Merck Mercuriadis, Nile Rodgers and 2023 Six-Time GRAMMY
®
-nominated Singer/Songwriter/Producer THE-DREAM
WHAT: A conversation with Merck Mercuriadis, Nile Rodgers and The-Dream discussing their background in the music industry, the importance and power of the songwriter, sustaining a career, and celebrating the songs past and present that have led to The-Dream having more than 20 GRAMMY nominations and five wins throughout his career. The-Dream is one of the first nominees for the inaugural Songwriter Of The Year, Non-Classical Award and we are here to celebrate his achievements and those of the other great songwriters being honored including his collaboration with Nile Rodgers, Beyoncé and others on "CUFF IT."
WHEN: 1 p.m. – 2 p.m.
REGISTER: Click here.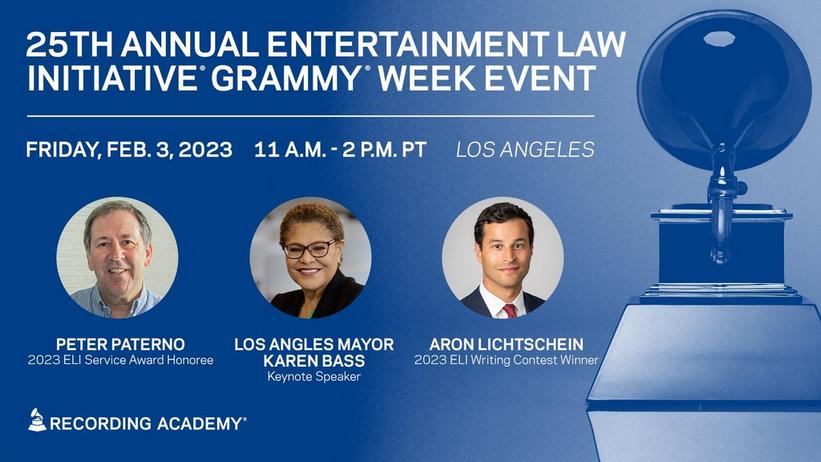 (L to R): Peter Paterno, Mayor of Los Angeles Karen Bass, and Aron Lichtshein
news
Mayor Of Los Angeles Karen Bass To Give Keynote Address At 25th Annual Entertainment Law Initiative During 2023 GRAMMY Week Event
The Recording Academy Entertainment Law Initiative will welcome Los Angeles Mayor Karen Bass as the keynote speaker for its annual GRAMMY Week Event.
GRAMMYs
/
Jan 20, 2023 - 02:00 pm
Ahead of the 2023 GRAMMYs, the Recording Academy Entertainment Law Initiative will welcome Los Angeles Mayor Karen Bass as the keynote speaker for its annual GRAMMY Week Event. Mayor Bass will join leaders in the legal and creative communities at the Beverly Wilshire Hotel on Fri, Feb. 3, as they celebrate the work of their peers and the year-round efforts of the Entertainment Law Initiative, which aims to encourage discussion and debate around the impact of legal affairs on the music industry.
"We are honored to welcome Mayor Karen Bass to the ELI GRAMMY Week Event as we gather and celebrate with the trailblazing professionals and students who are paving the way forward in the entertainment law industry," Recording Academy CEO Harvey Mason jr. said. "Mayor Bass has been a longtime supporter of music creators' rights in her legislative roles, and she has a unique understanding of how the creative industries intersect with law and policy that we look forward to hearing at this year's event."
"I'm proud to support GRAMMY Week because of the role that our entertainment industry plays in powering our local economy and to encourage efforts to increase equity and opportunities for Angelenos to break into the music business," Mayor Bass said.
Mayor Bass was sworn in as L.A.'s mayor on Dec. 11, 2022, after representing California's 33rd Congressional District from 2011 to 2013 and its 37th Congressional District from 2013 to 2022 in the U.S. House of Representatives. Between 2004 and 2010, she served in the California State Assembly and was elected as Speaker in 2008. 
The event will also honor the winner and runners-up of the Entertainment Law Initiative Writing Contest, co-sponsored by the American Bar Association (ABA). The contest challenges students in Juris Doctorate and Master of Laws programs at U.S. law schools to research a pressing legal issue facing the modern music industry and outline a proposed solution in a 3,000-word essay. The winner of this year's Writing Contest is Aron Lichtschein, a JD student at NYU School of Law, for his essay, "Tickets to Ride: NFTs and the Future of Concert Ticketing." Lichtschein will receive a $10,000 scholarship as well as tickets to the 2023 GRAMMY Awards and other GRAMMY Week events. As well, his essay will be published in the ABA's journal Entertainment & Sports Lawyer. Runners-up Gina Maeng and Amanda Sharp, students at Georgetown Law School and University of San Diego School of Law, respectively, will each receive $2,500 scholarships for their essays.
The Recording Academy announced last month that Peter T. Paterno, Partner at King, Holmes, Paterno & Soriano, LLP, will receive the 2023 Entertainment Law Initiative Service Award at the ELI GRAMMY Week Event; the award is presented each year to an attorney who has demonstrated a commitment to advancing and supporting the music community through service.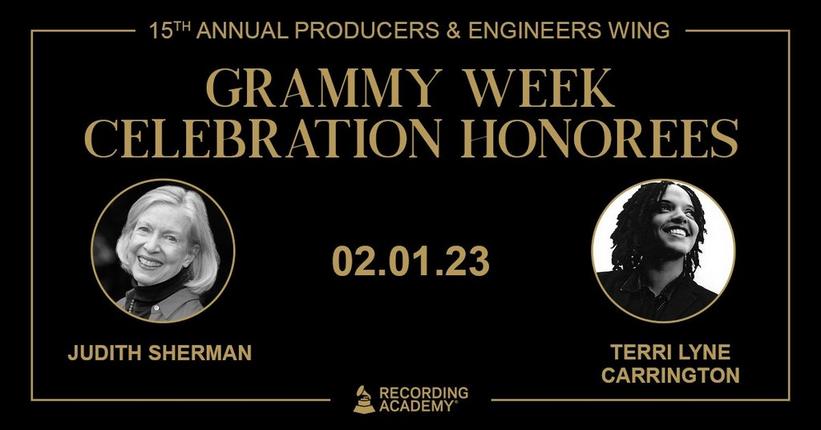 (L-R): Judith Sherman, Terri Lyne Carrington
Source Photos (L-R): Courtesy of the Recording Academy® / Photo by Jason Kempin for Getty Images © 2023; Courtesy of the Recording Academy® / Photo by Alexandra Wyman for Getty Images © 2023
news
The Recording Academy Producers & Engineers Wing To Honor Trailblazers Terri Lyne Carrington And Judith Sherman
The Recording Academy's Producers & Engineers Wing will honor three-time GRAMMY winner Terri Lyne Carrington and revered classical producer and 13-time GRAMMY winner Judith Sherman at its annual GRAMMY Week event in February.
GRAMMYs
/
Jan 6, 2023 - 02:00 pm
The Recording Academy has announced Terri Lyne Carrington and Judith Sherman as honorees for their accomplishments as pioneering women in jazz and classical music. They will be honored at the Recording Academy Producers & Engineers Wing GRAMMY Week Event on Feb. 1 at The Village Studios in Los Angeles. The 15th annual event will return in-person for the first time since 2020, to kick off GRAMMY Week 2023. 
In addition to celebrating the achievements of three-time GRAMMY winner Terri Lyne Carrington and revered classical producer and 13-time GRAMMY winner Judith Sherman, the event will celebrate the year-round work of the Producers & Engineers Wing and its members. They advocate for excellence and best practices in sound recording, audio technologies and education in the recording arts, along with proper crediting, recognition and rights for music creators.
"We're thrilled to return live to The Village Studios for the first time in three years to celebrate two groundbreaking music creators who are dedicated to innovating both creatively and technically in the recording field," said Harvey Mason jr., CEO of the Recording Academy. "Both Terri Lyne and Judith have made indelible contributions to music, and we look forward to bringing together producers, engineers and artistic professionals to honor these incredible artists and kick off our GRAMMY Week celebrations."  
Terri Lyne Carrington is an NEA Jazz Master, Doris Duke Artist, and three-time GRAMMY-winning drummer, composer, producer, and educator. She is the founder and artistic director of the Berklee Institute of Jazz and Gender Justice, as well as the artistic director for both Next Jazz Legacy program (a collaboration with New Music USA) and the Carr Center in Detroit. She has performed on more than 100 recordings over her 40-year career and has toured and recorded with luminaries such as Herbie Hancock, Wayne Shorter, Stan Getz, Esperanza Spalding, and numerous others.
Her artistry and commitment to education has earned her honorary doctorates from York University, Manhattan School of Music and Berklee College of Music, and her curatorial work and music direction has been featured in many prestigious institutions internationally. The critically acclaimed 2019 release, Waiting Game, from Terri Lyne Carrington + Social Science, earned the esteemed Edison Award for music and a GRAMMY nomination. In the fall of 2022, she authored two books, Three of a Kind (The AllenCarringtonSpalding Trio) and the seminal songbook collection, New Standards: 101 Lead Sheets By Women Composers. Her current GRAMMY-nominated album, New Standards Vol.1 (Candid Records), and her visual art curatorial debut at Detroit's Carr Center, Shifting the Narrative Part 1: New Standards, have accompanied the songbook release as part of the Jazz Without Patriarchy Project. 
Carrington is a 2022 inductee into the American Academy of Arts and Sciences and is co-executive producer and musical director for the newly formed Jazz Music Awards.
Judith Sherman has made an indelible contribution to the catalog of recorded classical music. 
She is an 18-time GRAMMY Award nominee and 13-time GRAMMY winner, including six GRAMMYs for Producer Of The Year, Classical (at the 36th, 50th, 54th, 57th, 58th, and 64th GRAMMY Awards). Early in her career she was employed at WBAI-FM in New York City, beginning as an engineer and over the course of four years working her way up to become producer and then music director. She was the recording engineer for the Marlboro Music Festival in Vermont during the summers of 1976 through 1994 and worked as audio faculty at the Banff Centre in 2006 and 2008. A member of the board of directors of Chamber Music America, Sherman served first as secretary in 2002, and thereafter as vice president. She currently works as a freelance recording producer and engineer in New York.
Sherman has collaborated with a vast number of artists throughout her career including Rudolf Serkin, Ursula Oppens, Marc-André Hamelin, Llŷr Williams; with the Kronos Quartet and the Cleveland, Ying, Takács, and Pacifica String Quartets; with eighth blackbird and the American Brass Quintet; and with conductors such as Christoph Eschenbach, Donald Runnicles and David Zinman. Her recordings in the field of contemporary classical music have been particularly noted, including work with such composers as Steve Reich, Elliott Carter, Steve Mackey, Charles Wuorinen, John Adams, Shulamit Ran, David Rakowski, Philip Glass, Eric Moe, Joan Tower, and Terry Riley. Her recordings have appeared on many labels, including Nonesuch, Telarc, Cedille, New World, Avie, Albany, Signum, Hyperion, and Bright Shiny Things. 
"The Producers & Engineers Wing is privileged to pay tribute to two women who have pushed boundaries both in and outside of the studio," said Maureen Droney, Vice President of the Producers & Engineers Wing. "As GRAMMY nominees this year, Terri Lyne and Judith are awe-inspiring honorees who represent the best of the recording industry and whose contributions to their respective genres continue to resonate with our music community."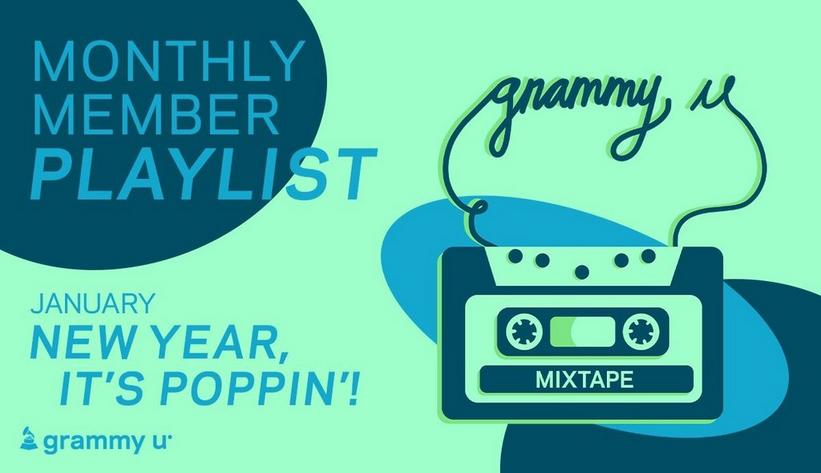 news
Press Play On GRAMMY U Mixtape: New Year, It's Poppin'! Monthly Member Playlist
The GRAMMY U Mixtape is a monthly, genre-spanning playlist to quench your thirst for new tunes, all from student members. GRAMMY U celebrates new beginnings with fresh pop tunes that will kickstart 2023.
GRAMMYs
/
Jan 6, 2023 - 12:17 am
Did you know that among all of the students in GRAMMY U, songwriting and performance is one of the most sought after fields of study? We want to create a space to hear what these students are creating today!
The GRAMMY U Mixtape, now available for your listening pleasure, highlights the creations and fresh ideas that students are bringing to this industry directly on the Recording Academy's Spotify and Apple Music pages. Our goal is to celebrate GRAMMY U members, as well as the time and effort they put into making original music — from the songwriting process to the final production of the track.
Each month, we accept submissions and feature 20 to 25 songs that match that month's theme. This month we're ringing in 2023 with our New Year, It's Poppin'! playlist, which features fresh pop songs that bring new year, new you vibes. Showcasing talented members from our various chapters, we felt these songs represented the positivity and hopefulness that GRAMMY U members embody as they tackle this upcoming year of exciting possibilities.
So, what's stopping you? Press play on GRAMMY U's Mixtape and listen now on Spotify below and Apple Music.
Want to be featured on the next playlist? Submit your songs today! We are currently accepting submissions for songs of all genres for consideration for our February playlist. Whether you write pop, rock, hip hop, jazz, or classical, we want to hear from you. Music must be written and/or produced by the student member (an original song) and you must be able to submit a Spotify and/or Apple Music link to the song. Students must be a GRAMMY U member to submit.
About GRAMMY U:
GRAMMY U is a program that connects college students with the industry's brightest and most talented minds and provides those aspiring professionals with the tools and opportunities necessary to start a career in music.     
Throughout each semester, events and special programs touch on all facets of the industry, including the business, technology, and the creative process.
As part of the Recording Academy's mission to ensure the recorded arts remain a thriving part of our shared cultural heritage, GRAMMY U establishes the necessary foundation for music's next generation to flourish.
Not a member, but want to submit to our playlist? Apply for GRAMMY U Membership here.