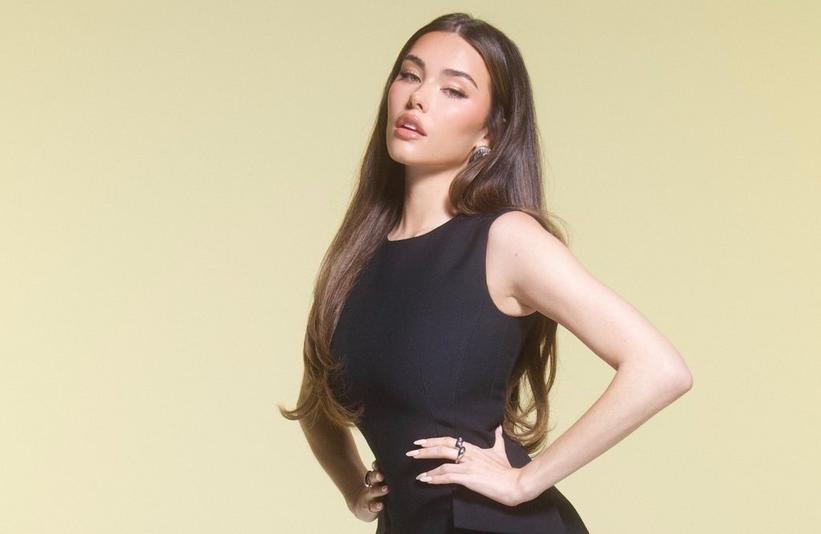 interview
How Madison Beer Broke Free From Pressures Of Internet Fame & Created Her New Album 'Silence Between Songs'
Three years in the making, Madison Beer started her next chapter with "Home to Another One," the first single from her second album. The singer details her "freeing" journey to creating 'Silence Between Songs.'
GRAMMYs
/
Jun 6, 2023 - 09:04 pm
In today's viral era, internet personalities are not always hard to come by. But what isn't so easy to find is an internet personality with longevity — and Madison Beer has proven she's more than a fleeting viral star.
Beer started posting cover songs to YouTube in 2012, showing off her pop prowess and ethereal vocals at the age of just 13. She briefly went on the teen pop star trajectory after Justin Bieber signed her to Island Records that same year, but first found her true musical voice on her debut EP, 2018's As She Pleases. And once she took full control with her debut album, 2021's Life Support — co-writing and co-producing all 17 songs — she fully settled into Madison Beer the artist.
Now on the cusp of releasing her second album, Silence Between Songs (due Sept. 15 via Epic Records), Beer aims to expand on the mix of unflinching vulnerability and infectious melodies she's showcased since stepping into her own. She first gave a taste of that with "Home to Another One," an airy track that's a mix of Lana Del Rey and Tame Impala — two of her biggest inspirations, the former of whom even gave Beer feedback on the album. 
Del Rey's approval is one of many reasons Silence Between Songs is special to Beer, along with the fact that she once again co-wrote and co-produced every song. But perhaps the most important aspect of the project is the freedom she found through the nearly three-year process.
"As an artist, sometimes we're told that if we take a break someone will replace you, someone's gonna be coming up right behind you," Beer says. "I don't subscribe to that anymore, and I think that's been a really freeing thing."
Beer spoke to GRAMMY.com about how becoming more grounded in her personal life inspired the new music, and why, despite her online fame, she's "actually quite terrified of the internet at times." 
Congratulations on the release of "Home to Another One" and the album announcement. I would imagine it's nerve-wracking because one is never really sure how things will be perceived. What's it like finally starting to get everything out there?
"Home to Another One" I actually only just made six months ago, so it was one of the last additions to the album before I turned it in. It hasn't been too painful of a waiting process like the other ones. But I think the reveal of the album title was actually kind of the most intense for me. I've been sitting on it for three years, so to have it out there feels pretty surreal. But people's responses have been really positive and people feel excited, which I'm so grateful for. 
It is a bit of a new sound for me; it has a different energy from my other songs. But the real fans who listen to my interviews or see me on tour, they know my music catalog of things I listen to is quite electric or different; there's not just one genre I love. There's nothing I can do that would really surprise them, because they know I love all kinds of music.
Album titles, and titles in general, are always tricky. Tell me how you came up with yours, Silence Between Songs? 
I was really young when I first saw a poem or a book about this kind of idea. It was about missing someone, and it said "I miss you so much in between the time it takes for the next song to start." 
I always thought that was such a cool concept, and wanted to do something with that idea for my debut album. But when we started creating the album in 2020, the song "Silence Between Songs" was one of the first that we created, so it was the first title I had in mind. We worked off of that, and now three years later, it has proper meaning for me. I've grown so much since I started creating it, and the album is really about how you can grow by tuning the noise out. 
It's a testament to the title that you stuck with it for three years and nothing overtook it. How have you found that you settle down and tune the noise out? 
Definitely, the title has been non-negotiable for me since. But coming off of tour, it's hard to decompress and settle down. I actually did have a hard time coming back from my last tour, and coming back down to reality; you're just so crazy busy, and it's such a dopamine hit every day. It was a bit hard to settle back down, but it is in those moments that I learn the most about myself. 
Now I prioritize my alone time and down time; I let my body rest and don't feel pressured to go out and do things all the time. If I want to stay home and relax in bed the whole weekend, I'll do that. I'm trying to understand and not feel guilty for the downtime and rest times. 
As an artist, sometimes we're told that if we take a break someone will replace you, someone's gonna be coming up right behind you. I don't subscribe to that anymore, and I think that's been a really freeing thing.
Is that why you felt like you had to keep going? 
I think in the past it was that thing of whether people I worked with or people online; this notion who's always going to be willing to do more than you and do everything, and if you aren't you're gonna get replaced. That was a real fear I had for a long time. I don't let that happen anymore, though. I've been dropped from a label and I've been replaced, so the fear is real, and for a long time I was quite scared of that. But I'm not anymore. 
Do you ever worry about revealing too much or too little of yourself? As an artist, too much may seem like oversharing; yet too little, you're not being totally honest. Where's the balance for you, and how have you struck it? 
It's definitely interesting to discuss, because in this day and age of social media a lot of us have this pressure to be relatable and likable. But again, I don't put that pressure on myself, because I think that I'm not the kind of person who wakes up every single day and feels the need to make a video about these personal things. I'm down to do it when I feel like it, but I feel it's inauthentic to force yourself into doing it just to be liked. So I try to just post when I feel like it. I think my fans know me and my fans love me. I don't need to win over the hearts of the general public in order to get my music out there and to be received. I don't want to ever force myself into doing anything I don't want to do.
"Home to Another One" is a melancholy anthem with a breakdown. I'm wondering what the genesis of that song was?
Well I thought, "What is my pop sound?" In the past when I've made upbeat songs, they've kind of been maybe not so authentic to me, or songs that I wouldn't get in the car and want to listen to. So I thought, "What can I do that is poppy and fun, but still is me, and not selling out to make a song that's classified as upbeat?" 
When I heard it, vocal-wise, it reminded me so much of Lana Del Rey. Would that be fair to say?
Definitely. I'm a huge, huge fan of hers and I feel she's integrated in me in ways I can't even pinpoint.
When you're writing music, as a co-producer, do you know where your songs are going to go style-wise off the bat? What's your process?
I am a co-producer on all of the songs, which has been another awesome endeavor of mine. I'm lucky to work with my amazing producer Leroy Clampitt who's willing, and actually eager, to hear my opinion, and wants me to co-produce everything. 
It's not really calculated, I don't think. It just really flows. It's kind of a bummer that we didn't have a camera in the room when we were making it, because I was really involved in every single sound that you hear. My relationship with Leroy is really special because I can make a sound like mmmmm and he'll know what I mean. Everything is very meticulously planned, but it's not like, "I want this type of synth." We let the song flow. and build as we go.
A lot of artists are credited as co-writers on songs, but not many are credited as co-producers. Why was it important for you to be credited as a co-producer on your own tracks? 
Working with the same producer for five-plus years now, I feel like I can voice my opinion and it not be weird. Leroy was the one who was gracious enough to say he thought I should get a co-producer credit. He said, "You've done just as much as me." All of the ideas stem from me and us, and we do everything together.
Your debut album came out a couple years ago and you started working on this in 2020. Why such a long process?
It wasn't supposed to be. Time gets away from you, and I definitely went back in the studio many times to redo things and edit. We've had multiple test pressings of the vinyl, and many times I thought it was finished and then went back in. 
I don't know, I feel like this is kind of how I am. I'm never really overly satisfied. But my goal now is to try to get an album out within the next year or so after this one drops. I want to get into a groove of dropping music more frequently and not taking three-year gaps between all of them.
You have such a massive internet footprint, with 34 million followers on Instagram alone. Is a following like that a gift or a burden? How do you grapple with that in your mind knowing you can pick up your phone and post something for an audience of millions?
I've been steadily gaining flowers for 12 years, so it's something that didn't happen overnight for me. There's a big difference in the way I go about it now than a couple years ago. I don't force myself to be engaged all the time or posting every single day. 
I'm actually quite terrified of the internet at times. The way it moves can be really scary and I think we don't give each other room to make human errors. If I do state an opinion online or want to say something, It's not that I don't care what people say about it, but I know my intentions are. I'm never going to appeal to and please everyone, but I do know when I want to speak and share, it's authentic and it's coming from a good place.
Kesha Reveals The 10 Most Important Songs Of Her Career, From "Tik Tok" To "Eat The Acid"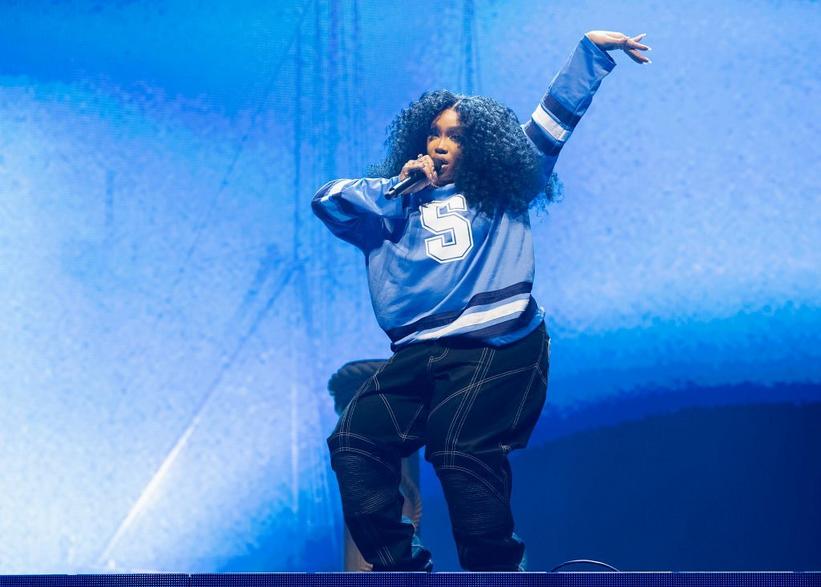 SZA performs during her The SOS North American Tour
Photo: Andrew Chin/Getty Images
news
New Music Friday: Listen To New Songs From SZA With Drake & Justin Bieber, Offset, Tate McRae & More
From highly anticipated collabs to long-awaited album teasers, take a listen to six new tracks that arrived on Sept. 15.
GRAMMYs
/
Sep 15, 2023 - 06:41 pm
It's yet another big day for music enthusiasts, as listeners were gifted with unexpected collaborations and fresh new melodies from artists of every genre on Sept. 15. 
With an Instagram caption-worthy single from Drake and SZA , a playful, self-confident anthem from Tate McRae, and a chill, euphoric vibe from Noah Kahan & Lizzy McAlphine, there's plenty of different sounds to dive into. 
As you're putting together your autumn 2023 playlist, add these six new tracks to the mix.
Drake feat. SZA - "Slime You Out"
Just hours after GRAMMY winners Drake and SZA announced they'd be teaming up for a new track, the pair unleashed "Slime You Out" promptly at noon ET on Sept. 15. 
As the song's title insinuates, the duo seem to express their thoughts on someone "sliming" them out — which, in this case, refers to someone playing with their feelings. "Tryna build trust, showin' me your DMS, how they tryna bag you / Ironic how the news I got about you ended up bein' bad news."
Drake's clever wordplay paired with SZA's mellow, hypnotic voice make the single a memorable one. But perhaps it's even more memorable because it's been a team-up long in the making: according to Drake's eyebrow-raising line in his 21 Savage collab "Mr. Right Now," the two used to date "back in '08."
SZA feat. Justin Bieber - "Snooze (Acoustic Remix)"
As SZA fans awaited her song with Drake, she gave them another high-profile collab in the form of a "Snooze" remix with Justin Bieber. An alluring, stripped-down version of the original SOS track, the "Snooze" remix sees SZA and Bieber passionately harmonize; added guitar chords add a dreamy touch to the song.
The remix also marks a full-circle moment for the pair, as Bieber starred in the original "Snooze" music video, which was released on Aug. 25.  
Offset - "Fan"
Kicking off what seems to be his Michael Jackson era, Offset has released this newest single, "Fan." This song features an infectious, hype beat with lyrics presenting a nonchalant 'IDGAF' attitude: "You supposed to hold me down, but it didn't happen (You supposed to hold me down)/ Now I'm over it." 
"Fan" is a taste of Offset's forthcoming second album, Set It Off, which he will release on October 13. The LP follows his debut solo album, 2019's Father of 4, which landed him a Best Rap Performance GRAMMY nomination for the single "Clout" featuring his wife, Cardi B. 
In the "Fan" music video, Michael Jackson is heavily referenced, with moments including Offset transforming into werewolf and zombie, and dance moves like the reverse moonwalk. 
Tate McRae - "Greedy"
self-confidence single "greedy." This song is a testament to McRae's inner thoughts, as the lyrics let listeners know she's not tolerating insecurities — and definitely not enabling any "greedy" men. 
"I would want myself/ Baby, please believe me/ I'll put you through hell/ Just to know me, yeah, yeah," she sings on the chorus.
"Greedy" is McRae's first release in 2023, and first solo single since her 2022 debut album, i used to think I could fly. She also teamed up with DJ/producer Tiësto for the late 2022 hit "10:35."  
Noah Kahan feat. Lizzy McAlpine - "Call Your Mom"
Folk-pop favorite Noah Kahan teamed up with rising pop singer Lizzy McAlpine to create a new version of "Call Your Mom," an emotional track from his hit 2022 album Stick Season.
Kahan recently brought McAlpine out as a surprise guest during his sold-out show at L.A.'s Greek Theatre on Aug.11, where the two singer/songwriters performed the song for the first time together. 
Written about giving unconditional support to a loved one struggling with mental health issues and depression, the moving song reaches new heights with two voices on it. Kahan's and McAlpine's voices perfectly blend together and capture the lyrics' powerful  emotions.  
Maren Morris -

The Bridge
Maren Morris dropped not one, but two new songs, "The Tree" and "Get The Hell Out of Here," which both seem to focus on a new chapter in Morris's life. "The Tree" feels like a farewell, as she proudly sings,"I'm done fillin' a cup with a hole in the bottom/ I'm takin' an axe to the tree/ The rot at the roots is the root of the problem/ But you wanna blame it on me."
"Get The Hell Out of Here" has a more mellow country melody that also talks about growth and navigating different areas of her life. Both songs share a different story, yet share the same theme of a transitional period in her life — and tease what's to come on her next album, which will follow 2022's Humble Quest. 
As Morris said in a statement, "These two songs are incredibly key to my next step because they express a very righteously angry and liberating phase of my life these last couple of years, but also how my navigation is finally pointing toward the future." 
Listen: *NSYNC Announce "Better Place," First New Song In 20 Years — Hear A Snippet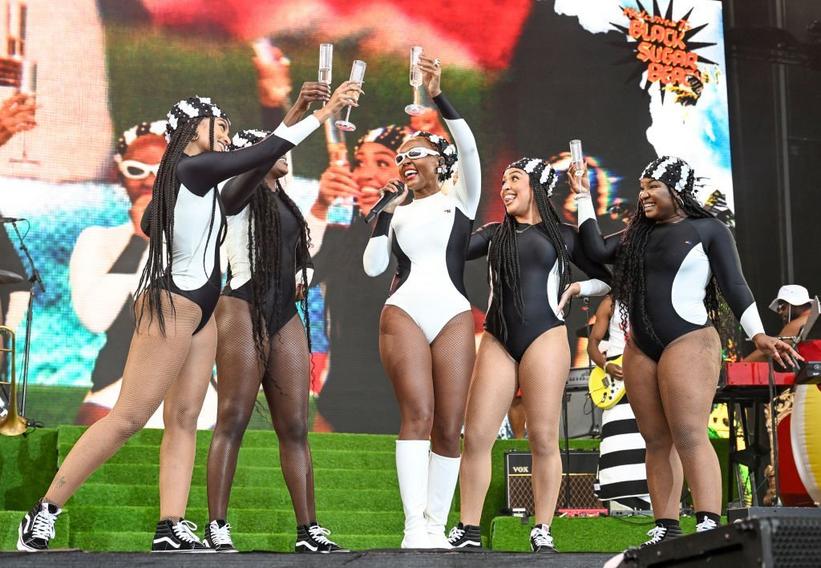 Janelle Monáe performs at the 2023 Outside Lands Festival
Photo: Steve Jennings/WireImage
list
7 Unforgettable Sets From Outside Lands 2023: Foo Fighters' Special Guests, Lana Del Rey's Return & A Superhero DJ Shaq
The 15th edition of San Francisco's foggy summer festival brought the musical heat — and lots of wild surprises.
GRAMMYs
/
Aug 15, 2023 - 01:57 pm
On Aug. 11-13, Outside Lands returned to San Francisco's Golden Gate Park for the 15th time. The city's premiere multi-day music and food festival attracted approximately 75,000 daily attendees, and promoter Another Planet says that about half of the 225,000 ticket holders live outside the Bay Area. 
Though it takes place in the peak of summer, San Francisco in August is relatively cold and nicknamed "Fogust," which may have shocked any of the out of towners who showed up in shorts and barely-there tops.
The mild weather conditions meant that the true heat was left up to the performers  to generate, and the more than 90 acts happily delivered. Below, we recount seven of the sets that were worth braving the summer cold to witness.
Shaq Takes Day One Championship
Moonlighting as DJ Diesel, NBA legend Shaquille O'Neal apologized for starting his incredibly surprising set a few minutes late.
"Sorry I'm late, I was just hanging with Steph Curry and Draymond Green," he said, name checking the Golden State Warriors' star players. He laced his banter with basketball metaphors and later brought out Warriors guard Gary Payton II to play Queen's "We Are The Champions" in the team's honor.
After dropping jaws by firing up aggressively, atonal EDM beats, he invited the crush of fans to come up on stage and "party with Diesel" one at a time. His set veered from Guns N Roses to Imogen Heap and he has to be the first DJ to call for a "ladies only mosh pit" while playing Aqua's "Barbie World." 
When he threw a young blonde boy on his shoulders and they both pumped their fists in unison, it was everything — and that's how a superhero DJs.
Janelle Monáe Celebrates The Fam
With a towering stack of Jamaican sound system-styled speakers, giant beach balls, a towel-waisted band and swimsuited dancers, Janelle Monáe brought the sexy "Black Sugar Beach" and "Lipstick Lover" vibes of her new album The Age of Pleasure to the Lands End main stage, which she last graced in 2018. 
Monáe has since come out as nonbinary and greatly expanded her fanbase; at Outside Lands, she dedicated her performance to "my community, the LGBTQIA+ community," saying, "I love you so much. To be Black, to be queer, to be nonbinary, to evolve and to have family like you is a blessing."
Monáe's natural charisma has only gotten sharper over time, and her dance moves are more infused with the quick steps of the Godfather of Soul James Brown and Prince. Her almost Rockettes-level line choreography with her dancers has leveled up as well.
This year's Outside Lands also saw the debut of the LGBTQIA+-centric Dolores' stage, which was powered all weekend by local party crews such as Hard French, Fake and Gay and Oasis. A highlight was Reparations, an all-Black drag show hosted by the incomparable Nicki Jizz, San Francisco's serial Drag Queen of the Year (according to local publication 48 Hills) who wore a large penis hat that she claimed was true to her actual size. The most overtly queer-friendly edition of Outside Lands was something beautiful to continue and build on in the future.
Kendrick Lamar Brings The Friday Night Light
Last seen rapping to a small but rapturous crowd on a secondary stage at Outside Lands in 2015, Kendrick Lamar has grown immeasurably as a recording artist and live performer. Lamar commanded the Lands End stage, closing the festival's first night with quietly assertive control and grace in a performance that felt like a rightful graduation. This veritable elder statesman slot has been previously held by major acts like Radiohead, Neil Young With Crazy Horse and Paul McCartney.
His 2022 album Mr. Morale & the Big Steppers featured prominently in the 21-song set, which included leftfield covers of Pusha T's "Nosetalgia" and The Weeknd's "Sidewalks." But Lamar knows that people still want to yell their lungs out to earlier cuts like "Swimming Pools (Drank)," "Bitch, Don't Kill My Vibe," "m.A.A.d city," "HUMBLE." and "Alright" and he obliged.
Lana Del Rey Swings Back To Twin Peaks
Flower crowns were all the rage when Lana Del Rey made her Outside Lands debut in 2016 at Twin Peaks, the festival's second largest stage. A new generation has since discovered the singer's outsize character and vibe, and as the gates opened on Saturday, giddy groups of teenage girls rushed to park themselves at the edge of that very same stage to catch Del Rey's big return to Golden Gate Park.
This time, Del Rey's set included a projection that said "God Bless You San Francisco" and a giant swing woven with flowers that flung her into the air while she sang. Her set spanned her classics, like "Video Games" from 2012's Born To Die, current hits, such as the title track from this year's album Did You Know That There's a Tunnel Under Ocean Blvd., and a loving cover of Tammy Wynette's 1968 country hit "Stand By Your Man." 
Though she's revered as an almost otherworldly figure and was an angelic vision in white, Del Rey doesn't act untouchable in 2023 — in fact, she literally came down and touched some of those fans who waited all day for her.
Foo Fighters Come Out Crooning
"We've gotta fit 28 years into two f—ing hours!" Dave Grohl explained early in the Foo Fighters' set. It was a towering goal that they tackled with consummate ease, reaching back to hits such as "Times Like These" and "The Pretender" and showing the continuum through to recent songs like "Rescue."
After playing a few choice riffs of "Enter Sandman," it would have been less of a surprise to see a member of two-time Outside Lands headliner (and Bay Area natives) Metallica join them on stage than who actually came out for a cameo. After flying in from Argentina, Michael Bublé initially pretended to be a regular audience member before going onstage to sing his hit "Haven't Met You Yet." 
The Foo-Bublé connection is fun and surprising: New drummer Josh Freese has also played for the Canadian crooner, and "Haven't Met You Yet" is part of a medley that the Foo Fighters are doing on tour that is comprised of other bands Freese has supported (including Devo's "Whip It" and Nine Inch Nails' "March of the Pigs").
Of course, the late drummer Taylor Hawkins will always be a prominent part of the Foo Fighters and their shows, and they played "Aurora" in his memory. As the park's Polo Field lit up in violet-colored lights, Grohl's 17-year-old daughter Violet Grohl also joined to sing three songs with her father, which he said was his absolute favorite thing in the world to do. 
"I'm sure I'm embarrassing her right now!" he said.
Gabriels Tributes Tina Turner
"We're California boys, but this is our first time in San Francisco," shared Gabriels singer Jacob Lusk before turning the Sutro stage into the Church of Outside Lands, and instructing everyone to share some neighborly love.
The Los Angeles band has some meteoric fans: Elton John invited Lusk, whose early resume includes being a former "American Idol" contestant who was in a gospel group with the late Nate Dogg, to sing with him on stage at this year's Glastonbury. Lusk's incredible vocal range flexes from baritone to falsetto on a dime, and he frequently takes a step back from the microphone while singing, as if not to overwhelm it.
In a particularly touching moment, Gabriels performed Tina Turner's "Private Dancer" while a montage of footage of Turner filled the screen.
Megan Thee Stallion Triumphs Over Tragedy
Fog flooded the park as a super snatched Megan Thee Stallion took to the stage in a hot Barbie pink outfit and long red hair, but she blazed through the haze with ground-sweeping twerking and saucy tracks like "Body," "Her," "WAP" and "Big Ole Freak." It was her first performance since Tory Lanez was sentenced to 10 years for shooting her, and she was feeling noticeably buoyant.
"F— all my haters!" she said in the middle of the set. "None of the s— you was doing or saying broke me." 
She received nothing but love from the crowd, and she was delighted by a big pocket of "boys" that she saw. Meg truly loves her "Hotties," and even stopped in between songs to sign someone's graduation cap. A recent grad herself, she is proud of her fans who follow suit.
"Real college girl s—!" she exclaimed.
7 Blazing Sets From Rolling Loud Miami 2023: Travis Scott, Sexyy Red, Rae Sremmurd & More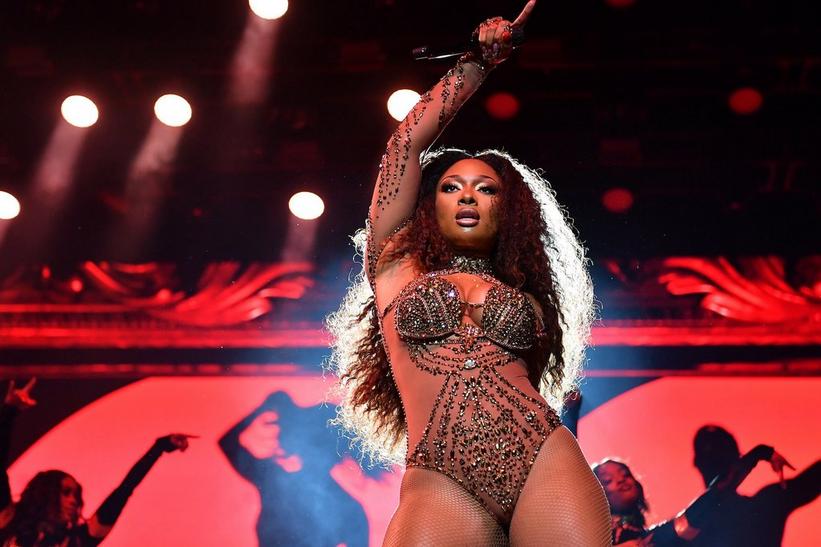 Megan Thee Stallion performs at ESSENCE Festival Of Culture in July 2023.
Photo: Paras Griffin/Getty Images
list
Outside Lands 2023: 10 Female And LGBTQIA+ Performers Taking Center Stage, From Lana Del Rey To Megan Thee Stallion
Outside Lands is stacking a sensational lineup for its 15th anniversary from Aug. 11 to 13. From aespa to Janelle Monáe, here's 10 awe-inspiring female and nonbinary artists who are ready to rule San Francisco's Golden Gate Park.
GRAMMYs
/
Aug 10, 2023 - 04:16 pm
This year marks the 15th anniversary of San Francisco's Outside Lands, and while the festival always boasts the Bay Area's best, the 2023 lineup is especially stacked with incredible female and nonbinary talent. From aespa making K-pop history to La Doña's homecoming, the fest's latest iteration is bound to be badass.
Whether you're planning on shimmying to Janelle Monáe, spitting every Megan Thee Stallion verse, or sobbing to Lana Del Rey, Outside Lands will be bursting with energy and seemingly endless options.
As San Francisco transforms Golden Gate Park into a lavish festival ground for three days, check out these 10 performers ready to electrify the city.
Megan Thee Stallion
Time to get lit like a match. Megan Thee Stallion has been hitting stages across the country this year — from LA Pride to her hometown of Houston for the Men's NCAA Final Four — and there's no doubt she'll bring the heat to Golden Gate Park on Sunday. Though the three-time GRAMMY winner is known for her high-hype, feel-good freestyles, her latest album, Traumazine, opens up about anxiety and the importance of self-care. So whether you're having a hot or healing girl summer, her headlining set will be the spot for festgoers to let loose.
Janelle Monáe
On Friday, Janelle Monáe will usher San Francisco into The Age of Pleasure. Sensuality and freedom flood the singer's most recent album, and for Monáe's headlining show, fans can expect bursting psychedelic soul, pop and hip-hop in an evening full of color and love.
Emphasizing intersectionality and identity (Monáe identifies as nonbinary), her wide-ranging performance will traverse her trailblazing concept albums like GRAMMY-nominated Dirty Computer and The ArchAndroid. Having conquered both the big screen and the stage as a multihyphenate, Monáe's set will be nothing short of a spectacle.
beabadoobee
Hot off supporting Taylor Swift's Eras Tour, beabadoobee is headed to Golden Gate Park on Sunday afternoon. The Filipino-English singer/songwriter has carved out a space for herself between indie rock and bedroom pop, first becoming known for her sweet, spacey falsetto and her sleeper hit "Coffee" in 2020. The indie star has since expanded her worldbuilding abilities rapidly, spinning intricate scenes from her debut Fake It Flowers into her scenic second album Beatopia — similarly, beabadoobee's Outside Lands set will likely flaunt the vitality of her imagination.
Raveena
Raveena is the definition of grace, and her Friday Outside Lands set is sure to swell with serenity. Mindfulness is the objective of the singer's soulful music as she grounds herself through tranquil mixes of R&B and pop. From her 2019 debut Lucid to 2022's Asha's Awakening, her voice epitomizes comfort whether it floats through delicate strings or stony drums. At Golden Gate Park, Raveena will bring momentary, blissful peace to the festival's chaotic fun.
Ethel Cain
Ethel Cain is ready to take concertgoers to church — even on a Friday. The experimental breakout star is known for dissecting dark, Southern Gothic themes in her music, establishing herself as a rising leader in the modern alternative genre (and also in the LGBTQIA+ community, as she is a trans woman). Her debut album Preacher's Daughter only came out last year, but the critically acclaimed album swiftly earned the musician a cult following. After bewitching Coachella audiences back in April, Cain's upcoming Outside Lands set is sure to be compelling.
NIKI
More than 10 years after she wrote her first original song, NIKI is ready to storm the Twin Peaks stage. Her deeply sincere indie pop drifts with bittersweetness, and it's powerful to witness how well the Indonesian singer's intimacy translates to massive crowds.
Signed to label 88rising in 2017, NIKI soon found herself playing concerts for a growing global fan base that resonated with her heart-to-heart songwriting. Ranging from the dramatic depths of her debut album, MOONCHILD, to 2022's earnest self-titled Nicole, NIKI's Outside Lands set will be perfect for listeners who want to escape with their head in the clouds.
Lana Del Rey
Lana Del Rey is the reigning queen of summertime sadness, and she'll be doin' time at Golden Gate Park as one of Saturday's headliners. Known for spinning tales of tragic romance, the GRAMMY-nominated singer/songwriter plans to enchant audiences at Twin Peaks stage following her release of Did You Know There's a Tunnel Under Ocean Boulevard. Her discography haunts and aches, filled with everything from folky gospel to trap pop; if one thing's for sure, Del Rey's highly anticipated performance is bound to be a spiritual journey.
La Doña
Born and raised in San Francisco, La Doña is making her city proud by performing at the Bay's biggest annual music festival. Taking the Lands End stage with her 11-piece band on Friday, the Chicana musician has come a long way since picking up the trumpet at age 7.
Centering around personal identity and community, her music beautifully merges traditional Latin folk with modern cumbia, reggaeton, and hip-hop. La Doña's progressive sound just earned her a spot on Barack Obama's annual summer playlist, and less than a month later, her hometown will get to see what all of the hype is about.
aespa
When aespa takes to Twin Peaks stage Friday, they'll make history as the first K-pop act to ever perform at Outside Lands. Exploding onto the music scene in 2020, the innovative South Korean girl group gives K-pop a fresh edge, distinctively inspired by hyperpop and hip-hop. The group's name combines the words "avatar," "experience," and "aspect," representing their futuristic style that's often embellished by a metaverse aesthetic. Their mind-blowing Coachella and Governors Ball debuts hinted that aespa is ready to pull out all the stops for their Outside Lands crowd.
Maggie Rogers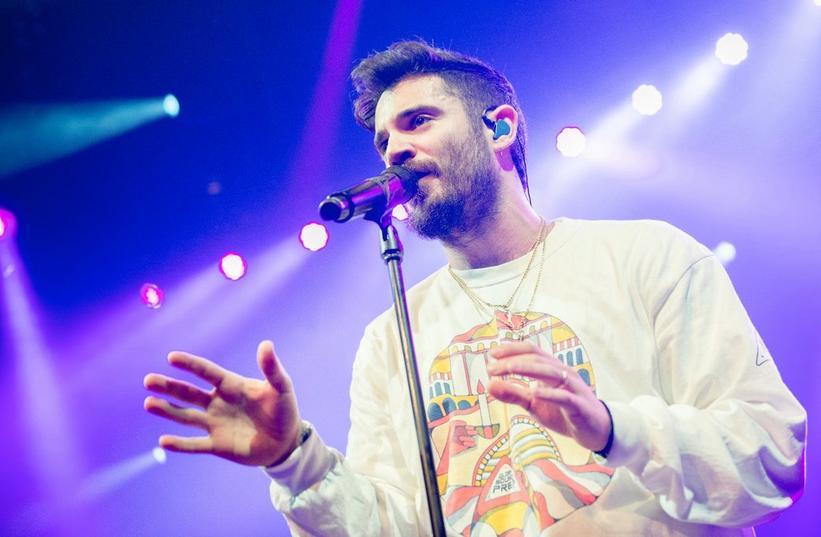 Jon Bellion performs in London in 2019.
Photo: Ollie Millington/Redferns
list
9 Songs You Didn't Know Jon Bellion Wrote & Produced: Hits By Justin Bieber, Selena Gomez & More
Pop superproducer Jon Bellion is the man behind Tori Kelly's new ep, 'tori,' but he's also been involved with countless hits for more than a decade. Check out nine of Bellion's biggest songs, from Eminem to Jonas Brothers.
GRAMMYs
/
Aug 3, 2023 - 01:36 pm
If the name Jon Bellion sounds familiar, it's probably because of his 2016 single "All Time Low." With its relentless "low-low-low-low-low" chorus, the electronic-fused pop confection scored Bellion his first major hit — as a solo artist, that is.
Prior to Bellion's breakthrough with his debut solo single, he'd already made a name for himself behind the scenes by writing and producing songs for the likes of Eminem, Jason Derulo, Zedd and CeeLo Green. And in the seven years since "All Time Low" became a top 20 hit, he's celebrated plenty of other smashes with some of pop's A-listers from Christina Aguilera to Justin Bieber.
This year alone, he worked with the Jonas Brothers to executive produce their statement-making record The Album, helped shape Maroon 5's "Middle Ground" — which is expected to be the lead single off the veteran pop-rockers' forthcoming eighth studio album — and teamed up with Switchfoot for an orchestral 2023 update of the band's 2003 breakout single "Meant to Live."
Bellion's most recent work can be heard on Tori Kelly's new self-titled EP tori, which dropped July 28. Along with producing the project, Bellion joined Kelly for a magnetic, electro-tinged track titled "young gun." Upon the EP's release, Kelly herself noted Bellion's impact, calling their collaboration "the start of something really special."
In honor of Bellion's latest project, take a look at nine songs you may not have known contained Bellion's signature touch — a roadmap to his becoming one of the most in-demand producers of the moment.
Eminem feat. Rihanna — "The Monster"
One of Bellion's earliest smashes came courtesy of Eminem — well, and Bebe Rexha. The pop singer penned the track's dark hook while working on her debut album, but it later made its way to Eminem and eventually shapeshifted into his fourth collaboration with Rihanna. The song became the duo's second No. 1 collaboration following 2010's "Love The Way You Lie" and remains one of most monstrous hits in Bellion's career.
Jason Derulo — "Trumpets"
Jason Derulo worked solely with Bellion on this top 20 hit from his 2013 Tattoos, which was later re-packaged as 2014's Talk Dirty. Built around an irresistible horn line of, yes, literal trumpets, Bellion and Derulo concocted a bouncy, flirtatious symphony to smoothly objectify the R&B singer's lady love, and manages to name drop Coldplay, Katy Perry and Kanye West over the course of just three minutes and thirty-seven seconds.
Christina Aguilera feat. Demi Lovato — "Fall in Line"
Bellion handled production on Christina Aguilera's fierce 2018 team-up with Demi Lovato, "Fall in Line," off the former's 2018 LP Liberation. Behind the boards, Bellion effectively captured all of the feminist rage and empowerment that the two vocal powerhouses lit into their lyrics, pairing their sneering vocals with a vamping strings section, rattling chains and a robotic male overlord futilely demanding, "March, two, three, right, two, three/ Shut your mouth, stick your ass out for me."
"Fall in Line" scored a nomination for Best Pop Duo/Group Performance at the 2019 GRAMMYs, marking Aguilera's twentieth career nod and Lovato's second. 
Maroon 5 — "Memories"
To kick off their seventh album, JORDI, Maroon 5 enlisted Bellion to co-write lead single "Memories." The gentle ballad found frontman Adam Levine mourning the loss of a friend, pouring one out over a lilting reggae-pop line that cleverly samples Johann Pachelbel's "Canon in D Major." While the heartfelt song is dedicated to the band's longtime manager (and namesake of the LP) Jordan Feldstein, who tragically passed away in 2017 due to a blood clot, the relatable sentiment of "Memories" helped it peak at No. 2 on the Hot 100.
In addition to "Memories," Bellion also worked with the band on two other songs from JORDI, co-writing fourth single "Lost" as well as Anuel AA and Tainy collab "Button." Three years later, he would reunite with the band to co-write and co-produce their latest, equally delicate single "Middle Ground" alongside the likes of Andrew Watt and Rodney Jerkins.
Miley Cyrus — "Midnight Sky"
Miley Cyrus came raring into her glam rock-inspired album Plastic Hearts on the back of "Midnight Sky," an unapologetic statement of independence following her split from longtime love Liam Hemsworth. Dripping in sultry synths, the power ballad took a page from '80s rock icons like Joan Jett, Debbie Harry and Stevie Nicks.
The sound was an entirely new one for Cyrus — which is one of Bellion's tools when working with a new superstar for the first time. In a 2023 Billboard interview, he likened his approach to inventing a new kind of ride for the given A-lister. "They have already built an amazing theme park: millions of people go to it and experience their roller coasters," he said. "They put me in charge of revamping or creating a new section of the theme park, and they let me be the foreman of it all." The new style worked in Cyrus' favor, and earned Bellion yet another top 20 hit on the Hot 100.
Justin Bieber — "Holy"
Bellion's fingerprints are all over Justin Bieber's 2021 album Justice, starting notably with its Chance the Rapper-assisted lead single "Holy," which he both co-wrote and co-produced. The superproducer contributed to six other songs on the pop-driven LP — including the pop radio No. 1 "Ghost," which was inspired by Bellion's late grandmother — as well as three deluxe tracks. And though Bellion didn't have any credited features, his voice can still be heard: he offered background vocals on seven of the songs.
Justice earned Bellion his very first GRAMMY nomination, as the project was nominated for Album Of The Year at the 2022 GRAMMYs (Bieber also received seven other nods). 
Selena Gomez — "My Mind & Me"
Bellion first collaborated with Selena Gomez on Rare album cut "Vulnerable" alongside Amy Allen, Michael Pollack and The Monsters & Strangerz. Two years later, the entire team reunited for the title track to the pop singer's Apple TV+ documentary My Mind & Me.
Bellion and co. helped Gomez tap even further into the most vulnerable side of her psyche to date. "Vulnerable" saw Gomez letting her guard down with a new flame, but "My Mind & Me" allowed her to completely lay bare her mental health journey. "Sometimes I feel like an accident, people look when they're passin' it/ Never check on the passenger, they just want the free show," she sings. "Yeah, I'm constantly tryna fight somethin' that my eyes can't see," over spare guitar and piano.
Jonas Brothers — "Waffle House"
After the success of their 2019 comeback album Happiness Begins with producer Ryan Tedder, the Jonas Brothers recruited Bellion to helm the boards on their 2023 follow-up The Album. The producer helped the hitmaking siblings tap into a new facet of their pop-rock sound, finding inspiration in the '70s music their dad raised them on. (As Joe Jonas told GRAMMY.com upon the album's release, Bellion "was saying exactly what we were hoping for" when they first met to mull over ideas.)
While Bellion had a hand in every song on The Album, second single "Waffle House" is the latest to earn both him and Jonas Brothers a top 15 hit on pop radio. Bellion also serves as the one and only featured artist on The Album, coming out from behind the boards and into the vocal booth for bombastic closer "Walls."
Tori Kelly — "missin u"
Tori Kelly first linked up with Bellion thanks to Justin Bieber, as the pair worked together with the Biebs on tender bonus cut "Name" from the Justice sessions. So, when it came time to launch a new era with her self-titled EP tori, the songstress turned to Bellion to help bring her vision to life.
On lead single "missin u," the two-time GRAMMY winner throws the guitar-driven singer/songwriter vibes of her past work out the window in favor of a sleek R&B sound reminiscent of the early 2000s. The sonic gear shift is a natural fit for her lithe voice as she replays a romance that "was rainin' purple skies in my room." Somehow, Kelly even manages to outdo the vocal acrobatics of "missin u" with a deliriously brilliant "R&B edit" that adds even more layers, soul and vocal flourishes to the single.
"When I first started working with Jon Bellion, we were just beginning to scratch the surface on a new sound that truly felt like my own," Kelly explains in a video celebrating the release of her self-titled EP tori. "I know that I'm gonna look back on this collaboration as the start of something really special." As for Bellion's thoughts on his latest project? "Tori Kelly's the greatest vocalist of all time!"
Ariana Grande's Musical Growth In 15 Tracks, From "The Way" To "Positions"