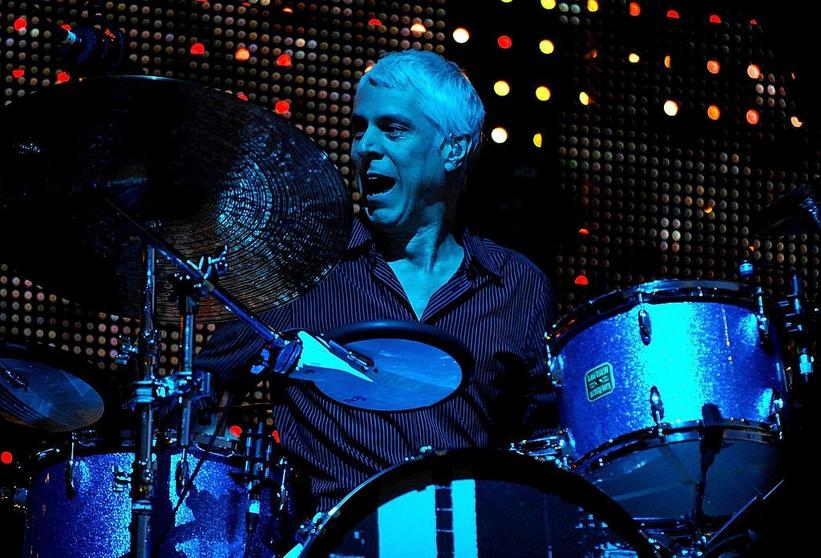 Photo by Shirlaine Forrest/WireImage
news
Bill Rieflin, Ministry, R.E.M, King Crimson Drummer, Dies At 59
The renowned musician had been battling cancer for eight years
GRAMMYs
/
Mar 26, 2020 - 01:59 am
Industrial rock/metal drummer and multi-instrumentalist Bill Rieflin who popularly performed alongside GRAMMY-nominated bands like Nine Inch Nails, R.E.M, King Crimson and Ministry, has passed away from cancer at the age of 59.
His death was confirmed by his family in a statement that revealed the well-known Seattle-born musician as having suffered an eight-year-long battle with the disease.
In the statement, his family wrote: "Bill was a world-class musician who was at home on the drums, guitar, bass, and keyboards. He was also an accomplished composer and producer who possessed a sophisticated ear, a depth of rare talent and complete dedication to his craft."
They continued, saying, "His refined manner, brilliant mind, eye for the ironic and legendary sense of humor defined him as a man of discerning taste, palate, and company. We will miss him terribly."
Throughout his 30-year career, Rieflin jumped from group to group, supporting acts with work that spanned playing bass, drums, keys and even occasionally contributing vocals. He appeared as a drummer on his first record in 1988 with the release of Ministry's The Land Of Rape And Honey. Throughout the '90s and 2000s he rose to prominence for collaborative recordings with groups including the Revolting Cocks, KMFDM, Pigface and Swans as well as a slew of solo recordings and releases. His latest release came in the form of King Crimson's live 2018 album, Meltdown: Live In Mexico City, for which he handled the keyboard and production on the record.
His notable versatility and spirit of creative cooperation was adored by artists around the world and across music communities.
Various musicians and music community members took to social media to express their condolences, pay tribute and share personal memories with the artist.
Our dear wonderful Bill Rieflin flew from this world today. Much loved HUMAN and member of King Crimson. Family by his side. Forever in our hearts. #billrieflin pic.twitter.com/Z4FkM74X1X

— Toyah Willcox (@toyahofficial) March 24, 2020
Today we lost a wonderful artist, tremendous human being and an integral part of Ministry's developments and success…

Safe travels my brother on the way to your next universal gig.

R.I.P Bill Rieflin#MinistryBand #WeAreMinistry #Ministry #Revco #BillRieflin #RestInPeace pic.twitter.com/5YfhvGUZcR

— Ministry (@WeAreMinistry) March 24, 2020
Paying tribute to one of the most respected industrial drummers, Seattle-born, Bill Rieflin on @kexp He played drums with Ministry, the Revolting Cocks, Lard, KMFDM, Pigface, Swans, Chris Connelly, and Nine Inch Nails. He was most recently a member of King Crimson. pic.twitter.com/2wyYZZyWcz

— Kevin Cole (@djkevincole) March 24, 2020
Seeing news that my old friend Bill Rieflin has died of cancer. You know him as a mighty drummer for bands from Ministry to later R.E.M. To me he was the kindest guy who worked with me at Tower Records SF when I was 19 and so uncool. Hadn't seen him for a while but I am so sad. pic.twitter.com/MAXjc3TzNX

— Feeling Distant (@annkpowers) March 24, 2020
Last year, Rieflin's wife of 27 years and painter Francesca Sundsten passed away after her own bout with cancer.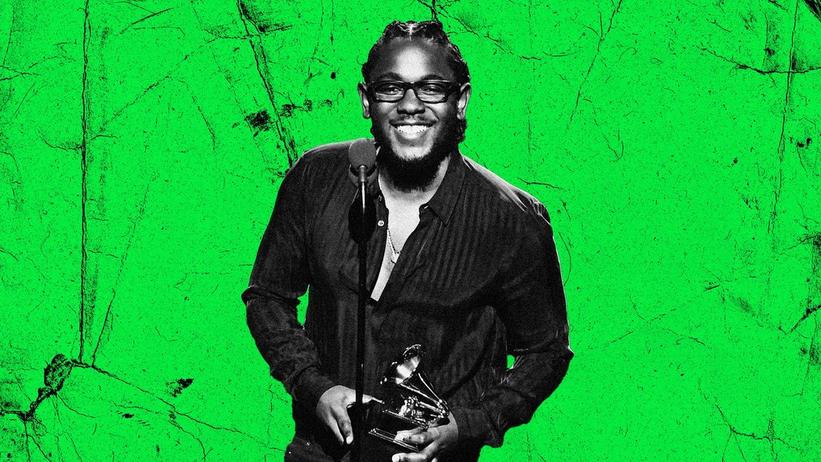 Kendrick Lamar
Photo: Jeff Kravitz/FilmMagic
video
GRAMMY Rewind: Kendrick Lamar Honors Hip-Hop's Greats While Accepting Best Rap Album GRAMMY For 'To Pimp a Butterfly' In 2016
Upon winning the GRAMMY for Best Rap Album for 'To Pimp a Butterfly,' Kendrick Lamar thanked those that helped him get to the stage, and the artists that blazed the trail for him.
GRAMMYs
/
Oct 13, 2023 - 06:01 pm
Updated Friday Oct. 13, 2023 to include info about Kendrick Lamar's most recent GRAMMY wins, as of the 2023 GRAMMYs.
A GRAMMY veteran these days, Kendrick Lamar has won 17 GRAMMYs and has received 47 GRAMMY nominations overall. A sizable chunk of his trophies came from the 58th annual GRAMMY Awards in 2016, when he walked away with five — including his first-ever win in the Best Rap Album category.
This installment of GRAMMY Rewind turns back the clock to 2016, revisiting Lamar's acceptance speech upon winning Best Rap Album for To Pimp A Butterfly. Though Lamar was alone on stage, he made it clear that he wouldn't be at the top of his game without the help of a broad support system. 
"First off, all glory to God, that's for sure," he said, kicking off a speech that went on to thank his parents, who he described as his "those who gave me the responsibility of knowing, of accepting the good with the bad."
He also extended his love and gratitude to his fiancée, Whitney Alford, and shouted out his Top Dawg Entertainment labelmates. Lamar specifically praised Top Dawg's CEO, Anthony Tiffith, for finding and developing raw talent that might not otherwise get the chance to pursue their musical dreams.
"We'd never forget that: Taking these kids out of the projects, out of Compton, and putting them right here on this stage, to be the best that they can be," Lamar — a Compton native himself — continued, leading into an impassioned conclusion spotlighting some of the cornerstone rap albums that came before To Pimp a Butterfly.
"Hip-hop. Ice Cube. This is for hip-hop," he said. "This is for Snoop Dogg, Doggystyle. This is for Illmatic, this is for Nas. We will live forever. Believe that."
To Pimp a Butterfly singles "Alright" and "These Walls" earned Lamar three more GRAMMYs that night, the former winning Best Rap Performance and Best Rap Song and the latter taking Best Rap/Sung Collaboration (the song features Bilal, Anna Wise and Thundercat). He also won Best Music Video for the remix of Taylor Swift's "Bad Blood." 
Lamar has since won Best Rap Album two more times, taking home the golden gramophone in 2018 for his blockbuster LP DAMN., and in 2023 for his bold fifth album, Mr. Morale & the Big Steppers.
Watch Lamar's full acceptance speech above, and check back at GRAMMY.com every Friday for more GRAMMY Rewind episodes. 
10 Essential Facts To Know About GRAMMY-Winning Rapper J. Cole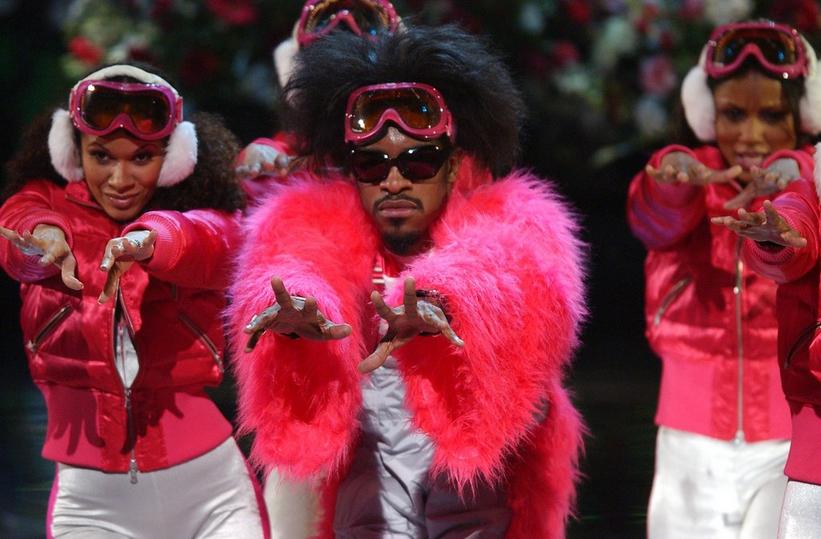 André 3000 of Outkast performs "Hey Ya" at the VH1 Big In '03 in 2003.
Photo: M. Caulfield/WireImage for VH-1 Channel - New York
list
15 Songs That Will Make You Dance And Cry At The Same Time, From "Hey Ya!" To "Dancing On My Own"
Whether it's "Tears of a Clown" or "Tears in the Club," take a listen to some of the most sneakily sad songs by Outkast, TLC, Avicii and more.
GRAMMYs
/
May 22, 2023 - 05:20 pm
In 2003, OutKast scored their second No. 1 hit with "Hey Ya!" The timeless track has an upbeat energy that makes you want to shake it like a polaroid picture — until you happen to catch its rather unhappy lyrics.
"Are we so in denial when we know we're not happy here?" André 3000 sings on the second verse. The line that follows may sum up its contrasting nature: "Y'all don't wanna hear me, you just wanna dance."
The ability to make listeners feel (and physically react) to a wide range of emotions is part of the genius of songwriting. Tunes like "Hey Ya!" — a sad narrative disguised by an infectious melody — is one trick that has been mastered by Outkast, R.E.M., Smokey Robinson, Robyn and many more. 
If you've ever happily boogied to a beat before realizing that the lyrics on top are actually a big bummer, you're certainly not alone. BBC and Apple Music both call such tracks Sad Bangers, a fitting name for what's become an unofficial genre over the past half-century. 
In light of Mental Health Awareness Month this May, GRAMMY.com compiled a list of 15 songs that will both get you in your feelings and get your body moving. 
Smokey Robinson & The Miracles — "The Tears of a Clown" (1967)
The upbeat music on this Motown classic was written by Stevie Wonder, a 25-time GRAMMY winner who is deft at crafting tearjerkers that will tease your body into joyful dancing. The bassoon-bottomed song registers at 128 beats per minute, a tempo that's still favored by modern dance music producers. So when Smokey sings, "The tears of a clown/When there's no one around," you'd be forgiven for also welling up just a little bit while you're in the groove.
Gloria Gaynor — "Never Can Say Goodbye" (1975)
Gloria Gaynor reimagined the Jackson 5's 1971 pop hit "Never Can Say Goodbye" for the disco era. The sweeping string arrangements and trotting beat helped to fill dance floors, and to make the poignant song about holding onto a love of her own. Other cover versions by Isaac Hayes and the Communards also capture the contradictory vibe.
Tears For Fears — "Mad World" (1983)
British duo Tears For Fears became internationally known after outfitting their first danceable hit with a depressing and dramatic chorus that's hard to shake even 40 years after its release: "I find it kinda funny, I find it kinda sad, the dreams in which I'm dying are the best I've ever had." Roland Orzabal and Curt Smith would later release more uplifting fare, such as "Everybody Wants to Rule The World" and "Sowing the Seeds of Love."
Kate Bush — "Running Up That Hill" (1985)
Kate Bush has had three twirls through charts around the world with "Running Up That Hill," beginning with its 1985 release and then as an unlikely Summer Olympics closing ceremony song in 2012.
"And if I only could, I'd make a deal with God/And I'd get him to swap our places/Be running up that road/be running up that hill/With no problems," she sings in the chorus of the racing track, longing to be more worry-free.
More recently, a placement in the Netflix drama Stranger Things in 2022 earned the weepy, minor key-led dance number a whole new generation of fans. The English artist was recently named a 2023 Rock & Roll Hall of Fame inductee.
Midnight Oil — "Beds Are Burning" (1988)
Midnight Oil lead singer Peter Garrett channeled the rage he felt from early climate change and the lack of Aboriginal land rights in the Australian Outback into "Beds Are Burning." The powerful dance tune flooded airwaves and dance floors around the world in the late '80s, reaching No. 17 on the Billboard Hot 100 chart.
"How can we dance when the Earth is turning?" he sings in the rousing chorus. "How do we sleep while the beds are burning?"
Garrett clearly had a personal connection to the song's yearning message: He later dedicated his life to environmental activism as the leader of the Australian Conservation Foundation, and became an elected Member of Australia's House of Representatives.
Crystal Waters — "Gypsy Woman (She's Homeless)" (1991)
A house music hit about a woman without a home, "Gypsy Woman (She's Homeless)" helped New Jersey singer Crystal Waters achieve international success despite a somewhat somber subject. A subsequent parody on the sketch comedy series "In Living Color" drew attention to the contrast of having happy and upbeat instrumentation with dispiriting lyrics.
"She's just like you and me/But she's homeless, she's homeless," rings the chorus. "As she stands there singing for money/La da dee la dee da…"
R.E.M. — "Shiny Happy People" (1991)
This upbeat collaboration is between rock group R.E.M. and B-52's singer Kate Pierson.The jangly guitar pop makes you want to clap your hands and stomp your feet, but the lyrics make you question if everything is indeed quite so shiny and happy.
The song is rumored to be about the massacre in China's Tiananmen Square, because the phrase "Shiny Happy People" appeared on propaganda posters. Pierson isn't so sure about that, though.
"I can't imagine that R.E.M. was thinking at the time, Oh, we want this song to be about Chinese government propaganda," she said in a 2021 interview with Vulture. "It was supposed to be shiny and happy. It was a positive thing all-around."
TLC — "Waterfalls" (1994)
"Waterfalls" was a worldwide hit for TLC in 1994, thanks to its sing-along chorus and funky bassline. The song's insistent bounce softens a firm lyrical warning that pulls people back from the edge: "Don't go chasing waterfalls/Please stick to the rivers and the lakes that you're used to/I know that you're gonna have it your way or nothing at all/But I think you're moving too fast."
"We wanted to make a song with a strong message — about unprotected sex, being promiscuous, and hanging out in the wrong crowd," Rozonda "Chilli" Thomas shared with The Guardian in 2018. "The messages in 'Waterfalls' hit home. I think that's why it's our biggest hit to date."
Outkast — "Hey Ya!" (2003)
André 3000 sings about loveless relationships to a whimsical, time-shifting dance beat on this Billboard Hot 100 chart-topping smash. The seriousness of the song — which André 3000 once explained is about "the state of relationships in the 2000s" — got lost among many listeners.*
Its unhappy lyrics were masked by André's peppy singing, as well as the song's jangly guitar and keyboard-led groove, which infectiously doubles up in speed at the end of every four beats. Even Outkast themselves couldn't help acknowledging the song's juxtaposition in a 2021 tweet.
Robyn — "Dancing On My Own" (2010)
A penultimate example of a sad banger is "Dancing On My Own" by Swedish pop star Robyn. The rueful song — a top 10 hit in multiple countries — commands you to shake your stuff, while also picturing yourself watching your ex move on at the club. Calum Scott's 2016 cover really brings out the sadness that can be obscured by Robyn's uptempo version.
"Said, I'm in the corner, watching you kiss her, oh no/And I'm right over here, why can't you see me?" Robyn sings in the chorus. "And I'm giving it my all/ But I'm not the girl you're taking home."
Fun. — "Some Nights" (2012)
fun. (the trio of Jack Antonoff, Andrew Dost and Nate Ruess) is best known for the zeitgeist-grabbing pop-rock power ballad "We Are Young," which is about the relentlessly positive enthusiasm of youth out on the town. The title track to their 2012 album Some Nights (which contains "We Are Young") is a much dancier, yet sadder song.
"What do I stand for?" Ruess asks as your feet shuffle along to the beat. "Most nights, I don't know anymore."
Avicii — "Wake Me Up" (2013)
Avicii collaborated with soulful pop singer Aloe Blacc for this worldwide chart-topper that is considered one of EDM's peak anthems. The slapping beat masks the track's sad, self-reflective lyrics about being lost.
The Swedish DJ/producer's 2018 death by suicide adds an even heavier air to Blacc's impassioned chorus: "So wake me up when it's all over/When I'm wiser and I'm older/All this time I was finding myself, and I/I didn't know I was lost."
Flume featuring Kai — "Never Be Like You" (2015)
"Never Be Like You" isn't the fastest cut in Australian DJ/producer Flume's bass-heavy discography, but the wispy track still has an irresistible bump to it. Canadian singer Kai begs her lover not to leave her ("How do I make you wanna stay?"), but her lovely tone still manages to keep the song hopeful.
FKA twigs featuring The Weekend — "Tears In The Club" (2022)
Perhaps the most overt selection of this entire list is "Tears In The Club," which finds FKA twigs and The Weeknd taking to the dancefloor to shake off the vestiges of a bad relationship. The singer/dancer has been candid about being in an abusive relationship, and the song is a lowkey bop that's buoyed by despairing chants such as, "I might die on the beat, love."
Everything But The Girl — "Nothing Left to Lose" (2023)
Nearly 30 years after DJ/producer Todd Terry helped introduce Everything But the Girl to the international dance music community with a remix of "Missing," the duo leaned into their electronic side on "Nothing Left to Lose." A single from their first album in 24 years, Fuse, "Nothing Left to Lose" features a squelching electronic bassline that contrasts the song's helpless yearning.
"I need a thicker skin/ This pain keeps getting in/ Tell me what to do/ 'Cause I've always listened to you," the pair's Tracy Thorne sings on the opening verse. Later, she makes a demand that fittingly sums up the conflicts of a quintessential sad banger: "Kiss me while the world decays."
10 Artists Who Are Outspoken About Mental Health: Billie Eilish, Selena Gomez, Shawn Mendes & More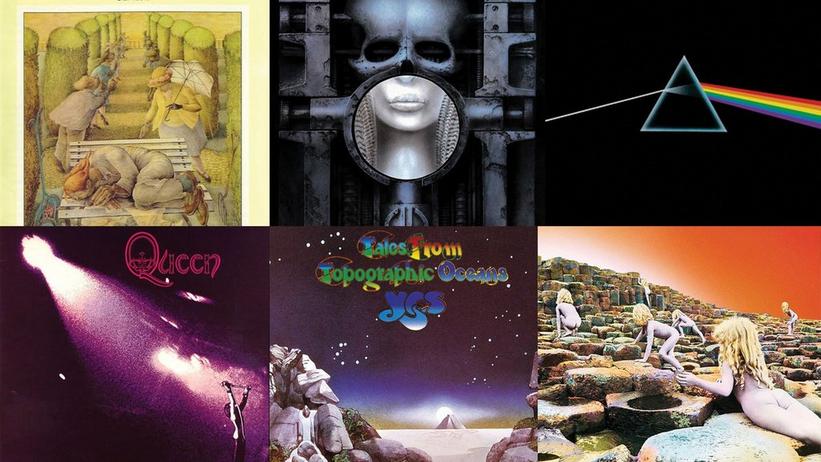 Album covers (L to R): Genesis – Selling England by the Pound; Emerson, Lake & Palmer - Brain Salad Surgery; Pink Floyd – The Dark Side of the Moon; Queen - Queen I; Yes -Tales from Topographic Oceans; Led Zeppelin - Houses of the Holy
list
How 1973 Shaped Classic Rock: 10 Essential Albums From British Artists
Fifty years ago, there was a creative apex in what we now call classic rock. However, the sounds of '73 were wildly progressive and diverse, with influences that ranged from blues and baroque, to free jazz and acid-folk.
GRAMMYs
/
Feb 27, 2023 - 04:07 pm
Fifty years ago, a young generation of British rock 'n' rollers were ready to show the world that the lessons learned from the Beatles were not lost on them. If the kaleidoscopic Sgt. Pepper's had proven that pop music could be anything you wanted it to be, the artists that followed took those radical ideas to a new level. 
United by the vague, umbrella-like term of progressive rock, bands like Genesis, Pink Floyd, Queen and King Crimson expanded the lexicon of rock with influences that ranged from classical and baroque to free jazz and acid-folk; blues to reggae and music hall. Today, these records define the sound of classic rock.
1973 signified an absolute apex — the sweetest moment in time when everything seemed possible and each new album gleamed with the joy of innovation. Here are 10 records from British artists that marked a before and after for classic rock.
Pink Floyd –
The Dark Side of the Moon
Years of psychedelic wanderings and space-rock exploration — not to mention the trauma of losing a beloved bandmate to drugs — crystallized into Pink Floyd's unequivocal masterpiece. An album so sublime, it makes the seven LPs that preceded it sound like rough sketches in comparison. 
The lyrics are wicked in their cynicism and existential malaise, and the band finally sounds tight and economical. But Dark Side's greatest virtue here is the sheer beauty of the melodies, one gauzy song leading into the other with effortless grace. "Money" was the hit single and "Time" redrew the boundaries of rock through immersive sound effects. But "The Great Gig in the Sky," with its wordless female vocals and achingly nostalgic chords, showed that the Floydian mystique was as soulful as the blues.
Emerson, Lake & Palmer -
Brain Salad Surgery
Trilogy, the dreamy 1972 album by mad keyboardist Keith Emerson, bassist/vocalist Greg Lake and drummer Carl Palmer, had been constructed in the studio with layers and layers of overdubs. As a natural reaction, the trio decided their next effort should be the kind of record they could play in a live setting.
Sporting an ominous cover by Alien visual artist H. R. Giger, Brain Salad Surgery is, strangely enough, the antithesis of prog-rock pomp. Behind the epic length of multi-part symphony "Karn Evil 9" lurk visceral touches of dissonance and noise, nocturnal piano harmonics and a goofy sense of humor. At the time, ELP was vilified for its pretension to merge rock with classical. Half a century later, they deserve praise for letting their collective imagination run wild.
King Crimson –

Lark's Tongues in Aspic
Led with unspoken dictatorial fire by acerbic guitar mastermind Robert Fripp, the mid-'70s incarnation of the ever-evolving King Crimson played abstract heavy metal for the soul. All hell breaks loose when the freeform improvisation of "The Talking Drum" gives way to the demonic groove of "Lark's Tongues in Aspic (Part II)," enhanced by the pristine clang-clang finesse of Bill Bruford, the most intellectual drummer of his generation. 
All Crimson albums drown their sorrows in an unexpected moment of pastoral bliss, and "Book of Saturday" doesn't disappoint, the lament of vocalist John Wetton framed by Fripp's avant-pop guitar — a song so quiet and beautiful, it almost hurts.
Camel –
Camel
There was a pervasive sweetness of spirit, a caramel tint to Camel's nimble instrumental workouts and monotone vocals. Their soundscapes were a tad too delicate and whimsical to match the imposing scale of '70s heavyweights like Genesis and Floyd. 
In retrospect, Camel stands as the most criminally underrated band of the classic prog movement. This full-bodied debut is jazzy and psychedelic, showcasing the wide-eyed melodic sense of guitarist Andy Latimer and keyboardist Pete Bardens. Camel proved that you don't need a powerful vocalist to make the music soar.
Genesis –
Selling England by the Pound
A doorway into an enchanted world of sumptuous keyboard solos, 12-string guitars and rambunctious drum fills (hello, Phil Collins), Genesis' fifth studio album has mystified and enthralled generations of art-rock lovers. The sonic manifesto of five young musicians at the top of their game (all of whom would eventually enjoy success as solo artists), Selling combines a wacky, quintessential British eccentricity with sweeping melodies, social satire and the surreal imagery of singer/lyricist Peter Gabriel. 
Keyboardist Tony Banks found inspiration in Rachmaninoff for the majestic intro to "Firth of Fifth," while "The Cinema Show" namedrops T.S. Eliot. "The Battle of Epping Forest" turns a gang massacre over urban boundaries into a delirious mini-opera. An album of limitless imagination, it has aged remarkably well.
Queen –

Queen I
Many fans prefer Queen's early, heavier glam-rock albums over the polished commercial blockbusters that followed — and they have a point. An exhilarating debut, Queen I is deliciously rough around the edges, but at the same time brims with the grandeur and melodic genius that characterized the London quartet from its inception. "Liar" boasts the singalong melodrama that would explode in A Night at the Opera, while guitarist Brian May's "The Night Comes Down" hums with folk-rock longing. Funky and defiant, opening cut "Keep Yourself Alive" unlocks the hit-making blueprint of a band poised to conquer the world.
Yes –
Tales from Topographic Oceans
At the time of its release, Yes' sprawling double album based on four separate volumes of ancient Hindu scriptures appeared to encapsulate the excesses of '70s rock — and why the punk movement would aim to counteract and destroy rock. Tales even motivated keyboardist Rick Wakeman to leave the band, claiming that he couldn't play music that he didn't comprehend (no worries, he would return to the fold several times.) 
Five decades later, it can be appreciated for what it really is: An ambitious sonic adventure that is in no rush whatsoever to take you to the bridge. Its four, 20 minute-long "songs" are cohesive, ethereal and filled with lovely moments, from the gentle meditation of "The Remembering" to the percussion freakout that brings "Ritual" to a feverish climax. Not for everyone's taste, sure enough, but as dense and rewarding as a Gustav Mahler symphony.
Roxy Music –
Street Life
"Here as I sit at this empty café, thinking of you," croons a mournful Bryan Ferry on "A Song for Europe." As the six-minute track meanders on – torrid sax lines, grandiloquent piano, lyrics in Latin and French — the Roxy Music aesthetic blooms, fully formed. 
The third of eight exquisite albums that make up the Roxy canon, Street Life betrays Ferry's fine arts studies at Newcastle with its combination of garish pop spectacle, avant-garde esoterics and a perverse obsession with the beauty of everything — from the group's legendary LP covers to the ornate hooks and the aural architecture of it all. And the bridge, it sighs.
Mike Oldfield –
Tubular Bells
Wunderkind Mike Oldfield was only 19 when he recorded the majority of this remarkable debut, performing every instrument himself. Inspired by the mystical sweep of English folk and drawn to minimalism and multi-tracking, the guitarist was in tune with the progressive trends of the time, but his long form pieces are stubbornly idiosyncratic. 
Tubular's opening theme was used in the horror movie hit The Exorcist and Oldfield became an instant rock star. Still, this album is only an intriguing opening statement for the many masterpieces that followed – most notably, Ommadawn (1975) and Incantations (1978.)
Led Zeppelin –
Houses of the Holy
Having cemented the bulldozer-like propulsion of its hard-rock creed, Led Zeppelin spent most of 1972 making an album that reflected the current times: expansive, stylistically omnivorous, preoccupied with grander themes. Seeped in haunting Mellotron textures, "The Rain Song" is the quartet's proggiest moment, and "D'yer Mak'er" goes reggae-rock with impeccable taste. Conservative Zep fans found solace in the rollicking opener "The Song Remains the Same,"  proving that hardrock still enjoyed a creative peak in 1973. They had a dream, oh yeah, a crazy dream, and we're still grooving along.
20 Albums Turning 50 In 2023: 'Innervisions,' 'Dark Side Of The Moon' 'Catch A Fire' & More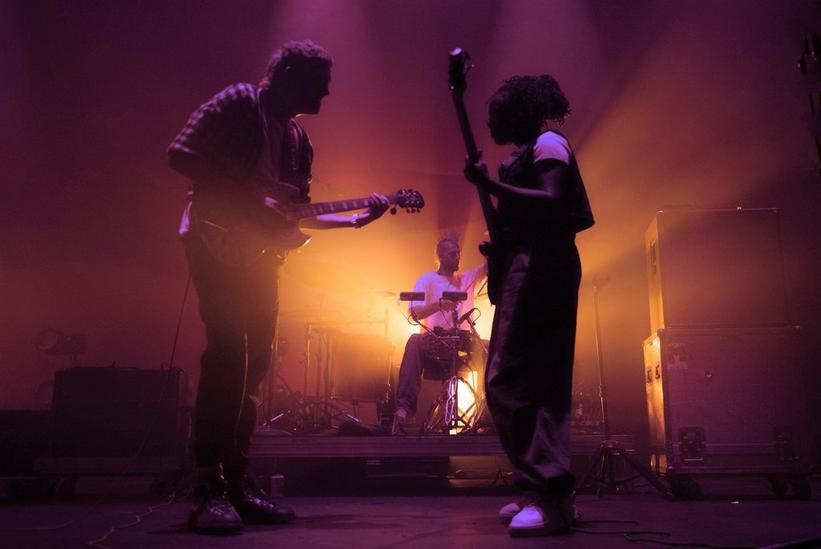 list
A Guide To Modern Funk For The Dance Floor: L'Imperatrice, Shiro Schwarz, Franc Moody, Say She She & Moniquea
James Brown changed the sound of popular music when he found the power of the one and unleashed the funk with "Papa's Got a Brand New Bag." Today, funk lives on in many forms, including these exciting bands from across the world.
GRAMMYs
/
Nov 25, 2022 - 04:23 pm
It's rare that a genre can be traced back to a single artist or group, but for funk, that was James Brown. The Godfather of Soul coined the phrase and style of playing known as "on the one," where the first downbeat is emphasized, instead of the typical second and fourth beats in pop, soul and other styles. As David Cheal eloquently explains, playing on the one "left space for phrases and riffs, often syncopated around the beat, creating an intricate, interlocking grid which could go on and on." You know a funky bassline when you hear it; its fat chords beg your body to get up and groove.
Brown's 1965 classic, "Papa's Got a Brand New Bag," became one of the first funk hits, and has been endlessly sampled and covered over the years, along with his other groovy tracks. Of course, many other funk acts followed in the '60s, and the genre thrived in the '70s and '80s as the disco craze came and went, and the originators of hip-hop and house music created new music from funk and disco's strong, flexible bones built for dancing.
Legendary funk bassist Bootsy Collins learned the power of the one from playing in Brown's band, and brought it to George Clinton, who created P-funk, an expansive, Afrofuturistic, psychedelic exploration of funk with his various bands and projects, including Parliament-Funkadelic. Both Collins and Clinton remain active and funkin', and have offered their timeless grooves to collabs with younger artists, including Kali Uchis, Silk Sonic, and Omar Apollo; and Kendrick Lamar, Flying Lotus, and Thundercat, respectively.
In the 1980s, electro-funk was born when artists like Afrika Bambaataa, Man Parrish, and Egyptian Lover began making futuristic beats with the Roland TR-808 drum machine — often with robotic vocals distorted through a talk box. A key distinguishing factor of electro-funk is a de-emphasis on vocals, with more phrases than choruses and verses. The sound influenced contemporaneous hip-hop, funk and electronica, along with acts around the globe, while current acts like Chromeo, DJ Stingray, and even Egyptian Lover himself keep electro-funk alive and well.
Today, funk lives in many places, with its heavy bass and syncopated grooves finding way into many nooks and crannies of music. There's nu-disco and boogie funk, nodding back to disco bands with soaring vocals and dance floor-designed instrumentation. G-funk continues to influence Los Angeles hip-hop, with innovative artists like Dam-Funk and Channel Tres bringing the funk and G-funk, into electro territory. Funk and disco-centered '70s revival is definitely having a moment, with acts like Ghost Funk Orchestra and Parcels, while its sparkly sprinklings can be heard in pop from Dua Lipa, Doja Cat, and, in full "Soul Train" character, Silk Sonic. There are also acts making dreamy, atmospheric music with a solid dose of funk, such as Khruangbin's global sonic collage.
There are many bands that play heavily with funk, creating lush grooves designed to get you moving. Read on for a taste of five current modern funk and nu-disco artists making band-led uptempo funk built for the dance floor. Be sure to press play on the Spotify playlist above, and check out GRAMMY.com's playlist on Apple Music, Amazon Music and Pandora.
Say She She
Aptly self-described as "discodelic soul," Brooklyn-based seven-piece Say She She make dreamy, operatic funk, led by singer-songwriters Nya Gazelle Brown, Piya Malik and Sabrina Mileo Cunningham. Their '70s girl group-inspired vocal harmonies echo, sooth and enchant as they cover poignant topics with feminist flair.
While they've been active in the New York scene for a few years, they've gained wider acclaim for the irresistible music they began releasing this year, including their debut album, Prism. Their 2022 debut single "Forget Me Not" is an ode to ground-breaking New York art collective Guerilla Girls, and "Norma" is their protest anthem in response to the news that Roe vs. Wade could be (and was) overturned. The band name is a nod to funk legend Nile Rodgers, from the "Le freak, c'est chi" exclamation in Chic's legendary tune "Le Freak."
Moniquea
Moniquea's unique voice oozes confidence, yet invites you in to dance with her to the super funky boogie rhythms. The Pasadena, California artist was raised on funk music; her mom was in a cover band that would play classics like Aretha Franklin's "Get It Right" and Gladys Knight's "Love Overboard." Moniquea released her first boogie funk track at 20 and, in 2011, met local producer XL Middelton — a bonafide purveyor of funk. She's been a star artist on his MoFunk Records ever since, and they've collabed on countless tracks, channeling West Coast energy with a heavy dose of G-funk, sunny lyrics and upbeat, roller disco-ready rhythms.
Her latest release is an upbeat nod to classic West Coast funk, produced by Middleton, and follows her February 2022 groovy, collab-filled album, On Repeat.
Shiro Schwarz
Shiro Schwarz is a Mexico City-based duo, consisting of Pammela Rojas and Rafael Marfil, who helped establish a modern funk scene in the richly creative Mexican metropolis. On "Electrify" — originally released in 2016 on Fat Beats Records and reissued in 2021 by MoFunk — Shiro Schwarz's vocals playfully contrast each other, floating over an insistent, upbeat bassline and an '80s throwback electro-funk rhythm with synth flourishes.
Their music manages to be both nostalgic and futuristic — and impossible to sit still to. 2021 single "Be Kind" is sweet, mellow and groovy, perfect chic lounge funk. Shiro Schwarz's latest track, the joyfully nostalgic "Hey DJ," is a collab with funkstress Saucy Lady and U-Key.
L'Impératrice
L'Impératrice (the empress in French) are a six-piece Parisian group serving an infectiously joyful blend of French pop, nu-disco, funk and psychedelia. Flore Benguigui's vocals are light and dreamy, yet commanding of your attention, while lyrics have a feminist touch.
During their energetic live sets, L'Impératrice members Charles de Boisseguin and Hagni Gwon (keys), David Gaugué (bass), Achille Trocellier (guitar), and Tom Daveau (drums) deliver extended instrumental jam sessions to expand and connect their music. Gaugué emphasizes the thick funky bass, and Benguigui jumps around the stage while sounding like an angel. L'Impératrice's latest album, 2021's Tako Tsubo, is a sunny, playful French disco journey.
Franc Moody
Franc Moody's bio fittingly describes their music as "a soul funk and cosmic disco sound." The London outfit was birthed by friends Ned Franc and Jon Moody in the early 2010s, when they were living together and throwing parties in North London's warehouse scene. In 2017, the group grew to six members, including singer and multi-instrumentalist Amber-Simone.
Their music feels at home with other electro-pop bands like fellow Londoners Jungle and Aussie act Parcels. While much of it is upbeat and euphoric, Franc Moody also dips into the more chilled, dreamy realm, such as the vibey, sultry title track from their recently released Into the Ether.
The Rise Of Underground House: How Artists Like Fisher & Acraze Have Taken Tech House, Other Electronic Genres From Indie To EDC