Takeoff performing in Charlotte, North Carolina, in 2018.
Photo: Jeff Hahne/Getty Images
feature
Remembering Takeoff: Why The Unassuming Rapper Was Foundational To Migos
Takeoff may not have been as extroverted as Quavo, or as hyper-ambitious as Offset. But there's a very good reason Offset declared "Takeoff got some strong s—. He's just powerful."
GRAMMYs
/
Nov 1, 2022 - 07:25 pm
There's a meme going around about Takeoff — one third of the dominating hip-hop group Migos — that captures his distinct energy.
Back in 2018, the trio tooled around L.A. with the jocular James Corden, for a "Carpool Karaoke" segment. As the bejeweled relatives rapped along with their most famous hits, Quavo hammed it up while riding shotgun; Offset bolstered him in the backseat. 
During the bit, Takeoff played the subdued wingman — less animated than either his uncle or cousin. And one particularly dry expression he flashed at Corden took off online. (Not for nothing did it attract the caption "When your driver miss your exit and you're tryna figure out if you're getting kidnapped.")
Quiet, discerning, yet ready to leap into action: all these traits defined his role in the Migos and earned him his ascendant nickname.
Sadly, the MC born Kirshnik Khari Ball passed away in the early hours after Halloween night, a victim of gun violence at a private party at a bowling alley in Houston, where he and Quavo were playing dice. A representative confirmed the sad news to AP; he was 28. (Two other people were injured; Quavo was unharmed.)
The tributes rolled in expeditiously, including from Recording Academy CEO Harvey Mason jr.
"It's a sad day for our music community. With Migos, Takeoff created a signature sound that broke boundaries and rapidly influenced the musical landscape," he stated. "We're so lucky to have witnessed his artistry and the significant contributions he made to our industry in his 28 years. We send our condolences to his family, friends and fans during this difficult time."
As Twitch streamer Adin Ross tweeted, "Rest in peace to Takeoff, I just spoke to him too. I'm in shock right now, I can't believe it. I pray to god it's fake. This s— just ain't fair bro wtf." Elliott Wilson, the chief content officer at Tidal, tweeted a photo of himself with Takeoff: "This makes no sense. I'm heartbroken." 
And Houston mayor Sylvester Turner went deeper: "Young men of color are killing themselves. They are pulling their guns and shooting and just like that someone(s) is dead… This cannot be our future when our young are dying young."
this makes no sense. i'm heartbroken. @1YoungTakeoff gone at 28 🙏🏼 pic.twitter.com/yEr7S53vmM

— Elliott Wilson (@ElliottWilson) November 1, 2022
A Rolling Stone cover story from 2018 is instructive as to the personalities of the three Migos. In the feature, the trio — who were raised by Quavo's mother in one three-bedroom house — revel in their newfound opulence, devise outsized business plans, and demonstrate their creative interplay.
Therein, Takeoff is described as something of a detached observer, rolling blunts and saying little. But he turns around when the topics of Tupac and Biggie come up; suddenly, he's extrapolating on and theorizing about their demises at a mile a minute.
"He is outspoken with the people he f— with, he love, but he quiet to everyone else," Offset says in the piece. "He analyze a lot, that's why I think his raps be so strong. Takeoff got some strong s—. He's just powerful."
Takeoff may have perished young, but his legacy with the Migos is mighty. The three blew up in 2013 with "Versace" and kept on growing; their biggest hit came in 2016 with the No. 1 smash "Bad and Boujee." To date, they've been nominated for two GRAMMYs; their most recent release was 2021's Culture III. But at the time of Takeoff's death, the three were at something of a crossroads. 
Just weeks ago, Quavo and Takeoff released a co-created LP, Only Built for Infinity Links. While the group never formally split, the album pointed to a potential future where they would have continued as a duo.
"We stand on loyalty. And sometimes that s— ain't displayed," Quavo said at the time. "Right now we gon' be the duo 'til time tell." Added Takeoff: "We don't know all the answers. God know. We pray a lot so only time will tell. Ain't nothing got to change."
GRAMMY.com caught up with Migos less than a year before Takeoff's passing, for its Up Close & Personal video interview series. It's almost surreal to hear Takeoff talk, however offhandedly, about the legacies of Pop Smoke and Juice WRLD — both who appeared on Culture III. "It's unfortunate that they ain't here," Takeoff said, "but their legacies will live on."
That Takeoff himself had to be ripped from the world so soon after speaks to the ongoing epidemic of gun violence — especially in the hip-hop community. As an eye-opening Vulture piece in 2019 headlined "We're Losing Another Rap Generation Right Before Our Eyes" pointed out, Mac Miller, Nipsey Hussle, Lil Peep, XXXTentacion, and numberless other visionaries are gone as a result of shootings, drug problems, or other causes; it's an eerie reminder of the 10-year period from 1996 to 2006 that saw the loss of Biggie, 2Pac, Eazy-E, and several more rap stars.
It's impossible to predict how Takeoff would have evolved and flourished from here. But the rap game has been unquestionably enriched by his presence, talents, and brotherhood with the other two Migos.
Because of those things and more, Kirshnik Ball was able to take off — and the world watched in amazement.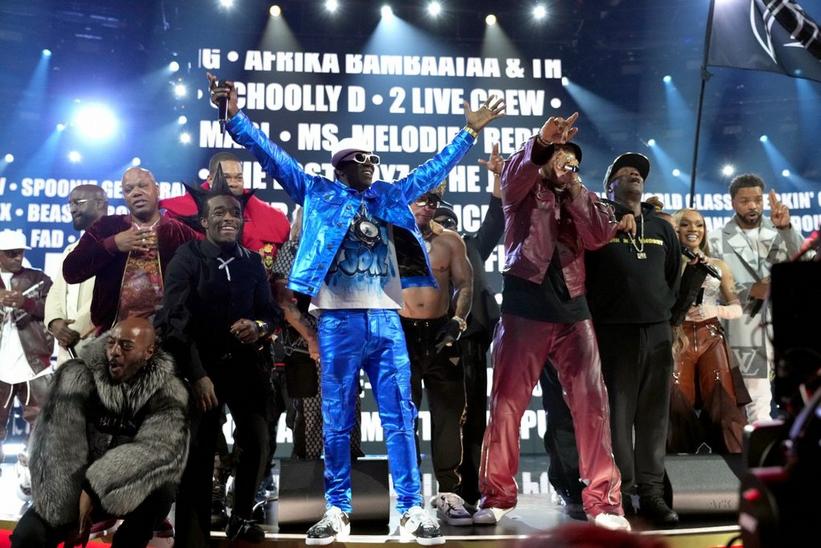 LL Cool J, Flavor Flav, Busta Rhymes, Lil Uzi Vert, Nelly, Spliff Star, Queen Latifah, Ice-T, Chuck D, Joseph Simmons, Darryl McDaniels, Grandmaster Flash, and Black Thought at the 2023 GRAMMYs
Photo: Kevin Mazur/Getty Images for the Recording Academy
list
How Hip-Hop Took Over The 2023 GRAMMYs, From The Golden Anniversary To 'God Did'
It's the 50th anniversary of hip-hop, but the 2023 GRAMMYs celebrations didn't stop at the epic, MC-saturated blowout. Here are five ways the genre took over Music's Biggest Night.
GRAMMYs
/
Feb 6, 2023 - 10:06 pm
The 2023 GRAMMYs' ambitious, world-beating tribute to hip-hop's 50th anniversary is getting a lot of ink — for a very good reason.
Featuring an ensemble ranging from progenitors like Grandmaster Flash and Run-DMC, to legends such as Too Short and Missy Elliott, and modern-day practitioners like Lil Baby, GloRilla and Lil Uzi Vert, the tribute segment was stunning not only on a logistical level, but on conceptual, emotional and historical planes.
But the Recording Academy's tribute to this landmark in time wasn't siphoned off to that 15-minute segment — not even close. In fact, the entirety of Music's Biggest Night radiated with the courageous, intrepid, forward-thinking spirit of hip-hop.
The tribute performance was just one of many nods to rap during GRAMMY week. Days before, Lil Wayne, Missy Elliott and Dr. Dre were honored by the Recording Academy's Black Music Collective in a ceremony that contained performances by Snoop Dogg, 2 Chainz and Ciara. And the pre-GRAMMY gala featured a performance from Weezy, Latto and Lil Baby.
At Music's Biggest Night, the hip-hop love roared fully to life. Here are five ways hip-hop took over the 2023 GRAMMYs, a foreshadowing of an entire year in celebration of the epochal artform — with the extended hip-hop tribute as a springboard.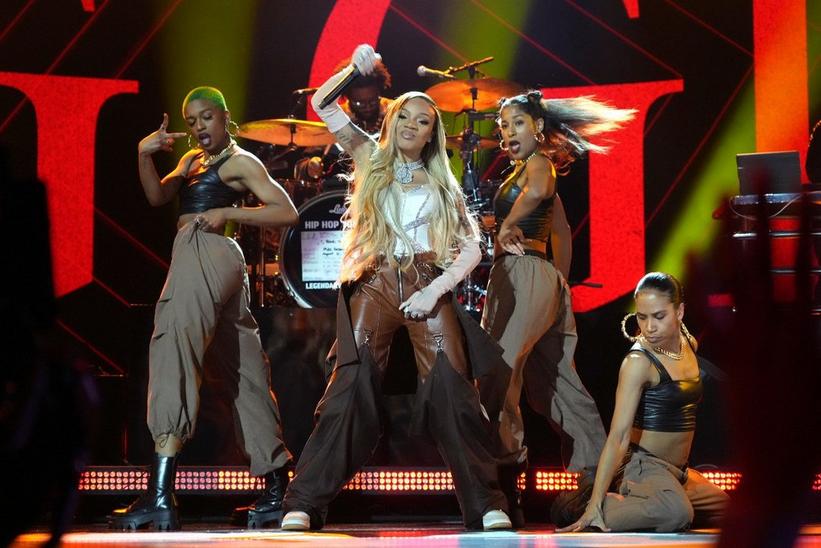 GloRilla performing at the 2023 GRAMMYs. Photo: Getty Images for the Recording Academy
A Global Hip-Hop Rager For The Ages
Until Music's Biggest Night, to fit hip-hop's evolution and essence into 15 minutes would seem logistically untenable. But the Academy did the impossible.
The Questlove-curated set moved lightning-quick from '70s and '80s pioneers, to 2000s radio dominators like Nelly, all the way to the current era.
Like with the last Super Bowl's ensemble cast of rap greats, the result was emotionally walloping, historically edifying and visually spectacular.
Most importantly, the music was exceptional — a tip of the hat to a precious form of American expression. To anyone who still subscribes to some form of stigma — you don't know what you're missing.
The Rap Categories Contained Serious Jewels
Let's take a step back, though, and examine the 2023 GRAMMYs' hip-hop nominees and winners themselves.
Kendrick Lamar was well-represented in both the General and Rap fields, and commensurately for Mr. Morale and the Big Steppers and Lamar's non-album single "The Heart Pt. 5."
For the former, Lamar won Best Rap Album; for the latter, Best Rap Song and Best Rap Performance. With the success of "The Heart Pt. 5," he is now the most-awarded artist in the latter category.
Together, these offerings comprise something of a creative and emotional watershed for Lamar. As for Pusha T, It's Almost Dry — nominated for Best Rap Album — contained some of his most crystal-sharp coke raps to date.
Plus, the sheer range of guests on DJ Khaled's GOD DID — nominated for Best Rap Album — could be the ultimate testament to his indomitable spirit, curatorial acumen and infectious sense of largesse.
This also applies to fellow nominees from Future, who won Best Melodic Rap Performance for "WAIT FOR U," to Jack Harlow, who was nominated liberally throughout the Rap field.
Given the level of craft throughout, hip-hop isn't just ripe to be celebrated for its past, but for its boundless future.
Dr. Dre Was Presented With A Global Impact Award
At the 2023 GRAMMYs, seven-time GRAMMY winner Dr. Dre was the recipient of the inaugural Dr. Dre Global Impact Award for his multitude of achievements through his innovative, multi-decade career.
Dr. Dre was presented the award after a plethora of televised bona fides, and offered his thanks to the Recording Academy and Black Music Collective for the prestigious honor in light of the Recording Academy's celebration of the 50th anniversary of hip-hop.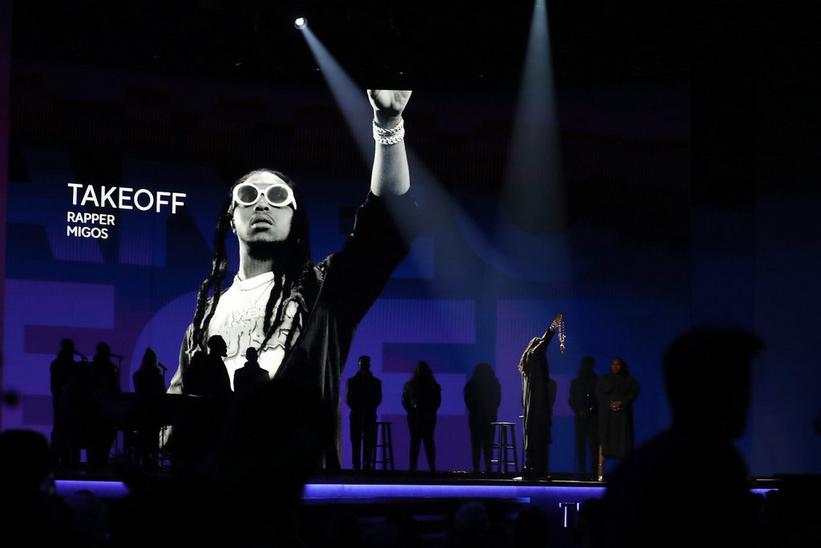 A tribute to Takeoff during the 2023 GRAMMYs. Photo: Getty Images for the Recording Academy
Quavo Performed A Moving Tribute To The Late Takeoff
There's a bittersweetness to celebrating hip-hop on a global scale in 2023, as so many of its best and brightest have died far too young in recent years.
Among these tragedies was the senseless death of Takeoff, one-third of the family-bound rap trio Migos, along with Offset and Quavo.
Read More: Remembering Takeoff: Why The Unassuming Rapper Was Foundational To Migos
As part of the In Memoriam segment, backed by worship ensemble Maverick City Music, Quavo honored his late nephew with a soul-searing version of "Without You."
"Tears rollin' down my eyes / Can't tell you how many times I cried," he rapped before an empty microphone stand, poignantly hung with Takeoff's chain. "Days ain't the same without you / I don't know if I'm the same without you."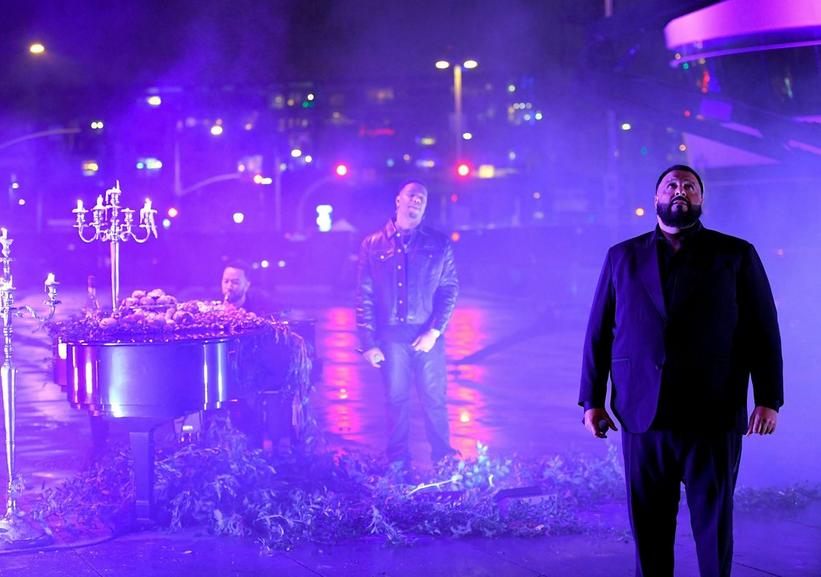 John Legend, Fridayy, and DJ Khaled performing at the 2023 GRAMMYs. Photo: Kevork Djansezian/Getty Images for The Recording Academy
DJ Khaled & Company Closed The Curtain With "GOD DID"
At the end of the ceremony, DJ Khaled brought out collaborators Jay-Z, John Legend, Lil Wayne, Fridayy, and Rick Ross for a rendition of GOD DID's title track, which was nominated for Song Of The Year, Best Rap Song and Best Rap Performance.
Seated horizontally in an opulent, Last Supper-esque tableau, the stars sang their hooks while bathed in purple light, closing out the 2023 GRAMMYs with laconic flair.
It was a fitting conclusion to Music's Biggest Night, one that placed hip-hop where it belongs: on the top shelf.
2023 GRAMMY Nominations: See The Complete Winners & Nominees List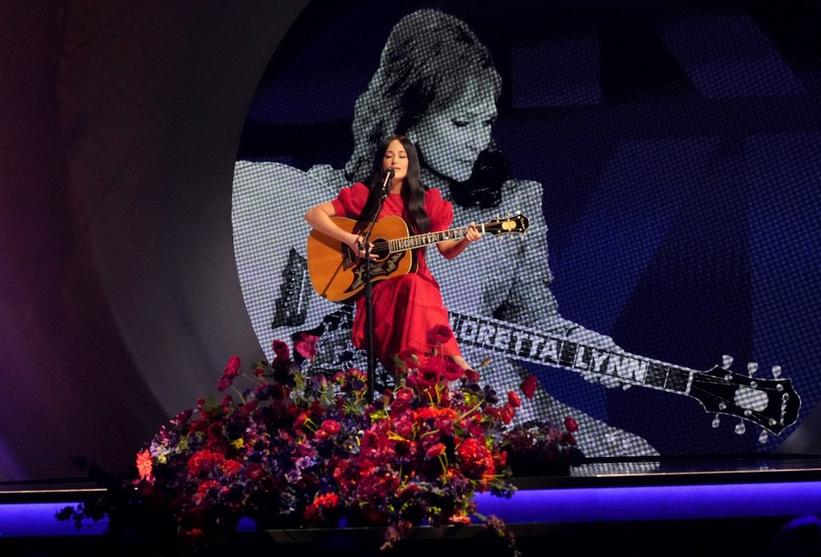 Kacey Musgraves paying tribute to Loretta Lynn during the 2023 GRAMMYs
Photo: Kevin Mazur/Getty Images for The Recording Academy
news
Watch The 2023 GRAMMYs Star-Studded Tribute To Lost Legends Loretta Lynn, Christine McVie & Takeoff | 2023 GRAMMYs
The moving GRAMMY Awards segment featured friends, family and bandmates honoring their departed loved ones in song — including tributes from Kacey Musgraves, Quavo, and Sheryl Crow, Mick Fleetwood, and Bonnie Raitt.
GRAMMYs
/
Feb 6, 2023 - 03:38 am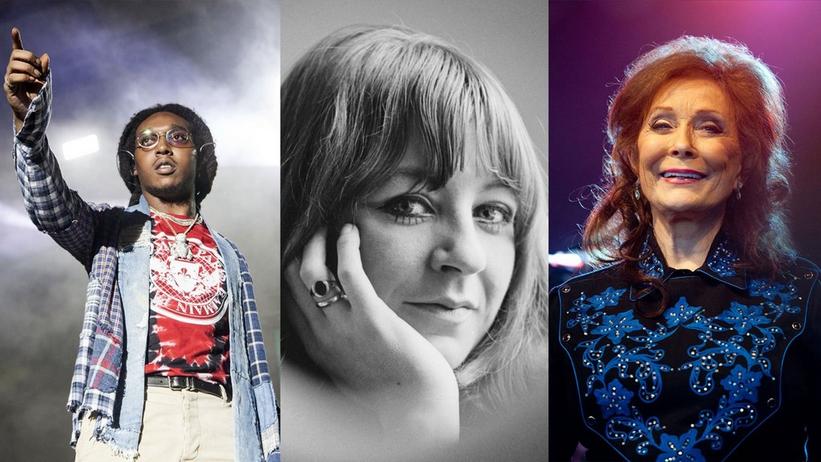 (L to R): Takeoff, Christine McVie, and Loretta Lynn
Photos: Jeff Hahne/Getty Images; Evening Standard/Hulton Archive/Getty Images; Erika Goldring/WireImage
news
2023 GRAMMYs To Pay Tribute To Lost Icons With Star-Studded In Memoriam Segment Honoring Loretta Lynn, Christine McVie, And Takeoff
The GRAMMY Awards segment will feature Kacey Musgraves in a tribute to Loretta Lynn; Sheryl Crow, Mick Fleetwood and Bonnie Raitt honoring Christine McVie; and Maverick City Music joining Quavo as they remember Takeoff, airing live on Sunday, Feb. 5.
GRAMMYs
/
Feb 1, 2023 - 04:00 pm
The lineup for the 2023 GRAMMYs on Sunday, Feb 5, will include an In Memoriam segment paying tribute to some of those from the creative community that were lost this year with performances by GRAMMY-winning and -nominated artists.
The segment will feature Kacey Musgraves performing "Coal Miner's Daughter" in a tribute to three-time GRAMMY winner and 18-time nominee Loretta Lynn; Sheryl Crow, Mick Fleetwood and Bonnie Raitt honoring three-time GRAMMY winner Christine McVie with "Songbird"; and Maverick City Music joining Quavo for "Without You" as they remember the life and legacy of Takeoff.
The 2023 GRAMMYs, hosted by Trevor Noah, will broadcast live on Sunday, Feb. 5, at 8 p.m. ET/5 p.m. PT on the CBS Television Network live from the Crypto.com Arena in Los Angeles. Viewers will also be able to stream the 2023 GRAMMYs live and on demand on Paramount+.
Before, during and after the 2023 GRAMMYs, head to live.GRAMMY.com for exclusive, never-before-seen content, including red carpet interviews, behind-the-scenes content, the full livestream of the 2023 GRAMMY Awards Premiere Ceremony, and much more.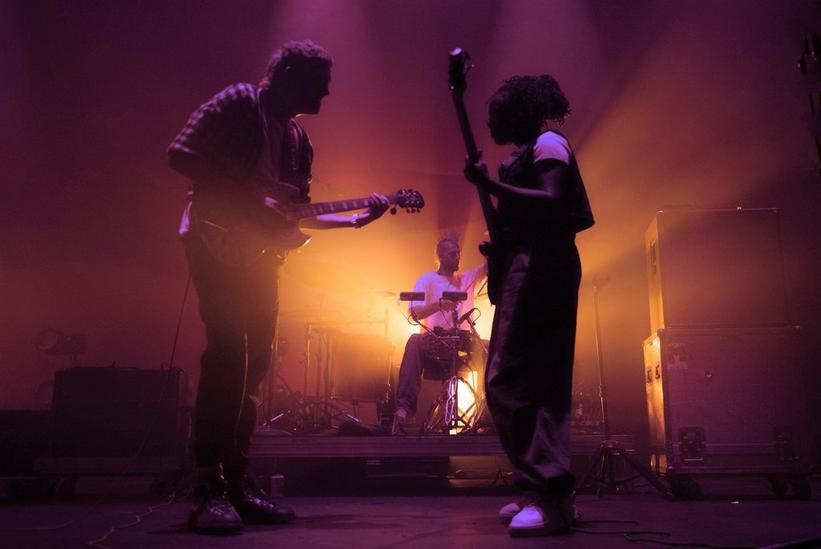 list
A Guide To Modern Funk For The Dance Floor: L'Imperatrice, Shiro Schwarz, Franc Moody, Say She She & Moniquea
James Brown changed the sound of popular music when he found the power of the one and unleashed the funk with "Papa's Got a Brand New Bag." Today, funk lives on in many forms, including these exciting bands from across the world.
GRAMMYs
/
Nov 25, 2022 - 04:23 pm
It's rare that a genre can be traced back to a single artist or group, but for funk, that was James Brown. The Godfather of Soul coined the phrase and style of playing known as "on the one," where the first downbeat is emphasized, instead of the typical second and fourth beats in pop, soul and other styles. As David Cheal eloquently explains, playing on the one "left space for phrases and riffs, often syncopated around the beat, creating an intricate, interlocking grid which could go on and on." You know a funky bassline when you hear it; its fat chords beg your body to get up and groove.
Brown's 1965 classic, "Papa's Got a Brand New Bag," became one of the first funk hits, and has been endlessly sampled and covered over the years, along with his other groovy tracks. Of course, many other funk acts followed in the '60s, and the genre thrived in the '70s and '80s as the disco craze came and went, and the originators of hip-hop and house music created new music from funk and disco's strong, flexible bones built for dancing.
Legendary funk bassist Bootsy Collins learned the power of the one from playing in Brown's band, and brought it to George Clinton, who created P-funk, an expansive, Afrofuturistic, psychedelic exploration of funk with his various bands and projects, including Parliament-Funkadelic. Both Collins and Clinton remain active and funkin', and have offered their timeless grooves to collabs with younger artists, including Kali Uchis, Silk Sonic, and Omar Apollo; and Kendrick Lamar, Flying Lotus, and Thundercat, respectively.
In the 1980s, electro-funk was born when artists like Afrika Bambaataa, Man Parrish, and Egyptian Lover began making futuristic beats with the Roland TR-808 drum machine — often with robotic vocals distorted through a talk box. A key distinguishing factor of electro-funk is a de-emphasis on vocals, with more phrases than choruses and verses. The sound influenced contemporaneous hip-hop, funk and electronica, along with acts around the globe, while current acts like Chromeo, DJ Stingray, and even Egyptian Lover himself keep electro-funk alive and well.
Today, funk lives in many places, with its heavy bass and syncopated grooves finding way into many nooks and crannies of music. There's nu-disco and boogie funk, nodding back to disco bands with soaring vocals and dance floor-designed instrumentation. G-funk continues to influence Los Angeles hip-hop, with innovative artists like Dam-Funk and Channel Tres bringing the funk and G-funk, into electro territory. Funk and disco-centered '70s revival is definitely having a moment, with acts like Ghost Funk Orchestra and Parcels, while its sparkly sprinklings can be heard in pop from Dua Lipa, Doja Cat, and, in full "Soul Train" character, Silk Sonic. There are also acts making dreamy, atmospheric music with a solid dose of funk, such as Khruangbin's global sonic collage.
There are many bands that play heavily with funk, creating lush grooves designed to get you moving. Read on for a taste of five current modern funk and nu-disco artists making band-led uptempo funk built for the dance floor. Be sure to press play on the Spotify playlist above, and check out GRAMMY.com's playlist on Apple Music, Amazon Music and Pandora.
Say She She
Aptly self-described as "discodelic soul," Brooklyn-based seven-piece Say She She make dreamy, operatic funk, led by singer-songwriters Nya Gazelle Brown, Piya Malik and Sabrina Mileo Cunningham. Their '70s girl group-inspired vocal harmonies echo, sooth and enchant as they cover poignant topics with feminist flair.
While they've been active in the New York scene for a few years, they've gained wider acclaim for the irresistible music they began releasing this year, including their debut album, Prism. Their 2022 debut single "Forget Me Not" is an ode to ground-breaking New York art collective Guerilla Girls, and "Norma" is their protest anthem in response to the news that Roe vs. Wade could be (and was) overturned. The band name is a nod to funk legend Nile Rodgers, from the "Le freak, c'est chi" exclamation in Chic's legendary tune "Le Freak."
Moniquea
Moniquea's unique voice oozes confidence, yet invites you in to dance with her to the super funky boogie rhythms. The Pasadena, California artist was raised on funk music; her mom was in a cover band that would play classics like Aretha Franklin's "Get It Right" and Gladys Knight's "Love Overboard." Moniquea released her first boogie funk track at 20 and, in 2011, met local producer XL Middelton — a bonafide purveyor of funk. She's been a star artist on his MoFunk Records ever since, and they've collabed on countless tracks, channeling West Coast energy with a heavy dose of G-funk, sunny lyrics and upbeat, roller disco-ready rhythms.
Her latest release is an upbeat nod to classic West Coast funk, produced by Middleton, and follows her February 2022 groovy, collab-filled album, On Repeat.
Shiro Schwarz
Shiro Schwarz is a Mexico City-based duo, consisting of Pammela Rojas and Rafael Marfil, who helped establish a modern funk scene in the richly creative Mexican metropolis. On "Electrify" — originally released in 2016 on Fat Beats Records and reissued in 2021 by MoFunk — Shiro Schwarz's vocals playfully contrast each other, floating over an insistent, upbeat bassline and an '80s throwback electro-funk rhythm with synth flourishes.
Their music manages to be both nostalgic and futuristic — and impossible to sit still to. 2021 single "Be Kind" is sweet, mellow and groovy, perfect chic lounge funk. Shiro Schwarz's latest track, the joyfully nostalgic "Hey DJ," is a collab with funkstress Saucy Lady and U-Key.
L'Impératrice
L'Impératrice (the empress in French) are a six-piece Parisian group serving an infectiously joyful blend of French pop, nu-disco, funk and psychedelia. Flore Benguigui's vocals are light and dreamy, yet commanding of your attention, while lyrics have a feminist touch.
During their energetic live sets, L'Impératrice members Charles de Boisseguin and Hagni Gwon (keys), David Gaugué (bass), Achille Trocellier (guitar), and Tom Daveau (drums) deliver extended instrumental jam sessions to expand and connect their music. Gaugué emphasizes the thick funky bass, and Benguigui jumps around the stage while sounding like an angel. L'Impératrice's latest album, 2021's Tako Tsubo, is a sunny, playful French disco journey.
Franc Moody
Franc Moody's bio fittingly describes their music as "a soul funk and cosmic disco sound." The London outfit was birthed by friends Ned Franc and Jon Moody in the early 2010s, when they were living together and throwing parties in North London's warehouse scene. In 2017, the group grew to six members, including singer and multi-instrumentalist Amber-Simone.
Their music feels at home with other electro-pop bands like fellow Londoners Jungle and Aussie act Parcels. While much of it is upbeat and euphoric, Franc Moody also dips into the more chilled, dreamy realm, such as the vibey, sultry title track from their recently released Into the Ether.
The Rise Of Underground House: How Artists Like Fisher & Acraze Have Taken Tech House, Other Electronic Genres From Indie To EDC