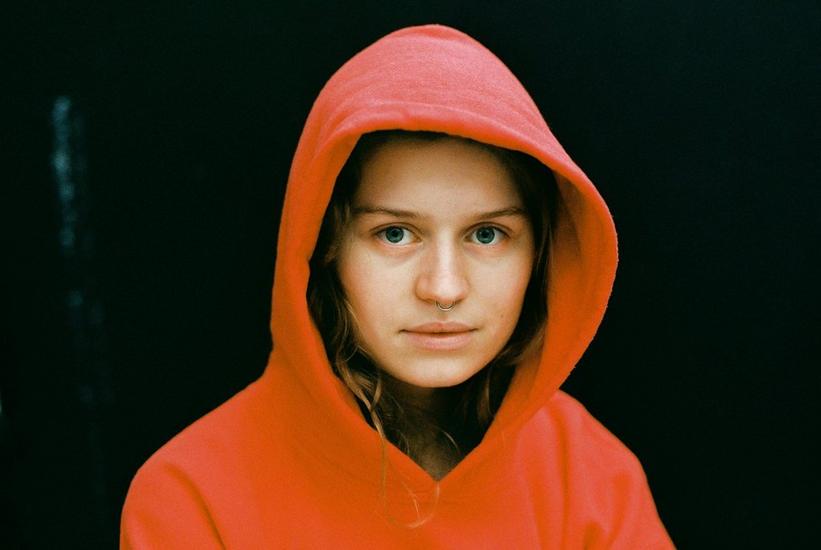 news
Girl In Red On New Album 'If I Could Make It Go Quiet,' Why The First Thought Isn't Always The Best Thought
'If I Could Make It Go Quiet' is Marie Ulven Ringheim's most significant work to date. But the singer/songwriter also known as girl in red didn't get there through impulsivity or scrappiness, but sheer meticulousness—a desire to get this thing right.
GRAMMYs
/
Oct 12, 2021 - 06:05 pm
Why is "first thought, best thought" a goalpost to strive for?
To authors like Allen Ginsberg, it meant letting go of the conditioned mind, seizing the truth before inner or outer biases alter it. This might be helpful for forms like, say, free-verse poetry. But when it comes to crafting pop songs, it's potentially a different story. How does Marie Ulven Ringheim—the Norwegian singer/songwriter also known as girl in red—craft tunes that lodge in people's hearts?
"I would say rewriting is a good way—to not settle on the first thing you write," Ringheim tells GRAMMY.com over Zoom. "Say you wrote something personal: Ask yourself the question, "Could I apply this to someone else's life?" I usually don't ask myself those questions, but you could do that, maybe. You've got to not be too specific."
Read More: Herbal Tea & White Sofas: Girl In Red Wants A Private Jet But She'll Settle For Twizzlers
By straddling the spheres of the personal and the universal, girl in red has won over millions of fans, even securing a direct support spot for Billie Eilish in 2022. And as per her comments, Ringheim's latest album, If I Could Make It Go Quiet, is the work of a meticulous craftsperson.
Still, even this is a balance: Tracks like "Serotonin," "Body and Mind" and "I'll Call You Mine" required killer ideas at their core before Ringheim and her collaborators—including co-producer FINNEAS—went about futzing with them in post-production.
GRAMMY.com caught up with girl in red to discuss the making of If I Could Make It Go Quiet, her process as a songcrafter and what fans can expect from her on stage in 2022.
This interview has been edited and condensed for clarity.
Mental health is kind of the focal point of If I Could Make It Go Quiet. Is it challenging to make something scary and negative into art?
I guess, a little bit. When I was making that song, "Seratonin," I knew you have to talk about it delicately. You have to talk about it in a way that's relatable for everyone to understand it—and also not make it too personal. I feel like songs that are too personal—about a very specific topic—aren't relatable.
But it wasn't really that challenging, because I've been going through intrusive thoughts for a very, very long time. When I wrote this song, I felt like I was able to deal with them a lot more. It was like writing any other song, but it was also a very cool song to write.
As a lyricist, how do you achieve that balance between the personal and the universal?
That's the magic. I really don't know! I would say rewriting is a good way—to not settle on the first thing you write. Say you wrote something personal. Ask yourself the question: "Could I apply this to someone else's life?" I usually don't ask myself those questions, but you could do that, maybe. You've got to not be too specific.
But that's also limited. Phoebe Bridgers is super-specific in her songwriting and that makes her Phoebe Bridgers, if that makes sense. I'm not sure if you're into her songwriting, but I think it's really dope—it's really cool.
I don't know. I feel like songwriting is such a mystery to me. I feel like I don't know how to write songs. But, apparently I do, and I've done it many, many times now. I wish I had a more sensible answer.
Read More: The Phoebe Bridgers Songs That Helped College Students Through Tough Times
What do you think it is about Phoebe that resonates with so many people? What is that ineffable something?
I don't know—it's just her vibe. I'm really coming to terms with even the word "vibe" recently. I'm not that much into analyzing what works or doesn't work, but she has a vibe that's good and tangible. It's relatable. It just feels good. She's very human. She's just cool.
I think people just like listening to music that's cool and feels like it wasn't made by 100 different people. There's something about her. I usually don't think too much about what makes people different. I just think "There's something cool about that person."
On the topic of intrusive thoughts, what tends to stick in your craw? Are you a big-picture worrier or do you sweat the small stuff?
I mean, I've thought about dying a lot before. It's actually less of that now. Honestly, I'm actually doing really well lately when it comes to my anxiety. I have GAD [generalized anxiety disorder], so I've been sweating the small stuff. I've been worrying about everything. But I've learned great techniques that I'm using in my everyday life to just get by.
I'm not constantly thinking about death anymore, which I used to. I used to go to a concert and go, "We're literally all skeletons here. We're all just dead people." I used to think everyone would just be dead all the time. It wasn't a very positive thing. Now, anxiety- and intrusive thoughts-wise, I'm actually dealing with them instead of letting them control my life.
As common fears go, it's said that public speaking surpasses death. As somebody dealing with anxiety disorder, what's it like to sing in front of thousands of people?
I don't feel any anxiety when I'm onstage, in that way. I always end up nervous before I go on stage, which is incredibly human. But just because I have anxiety doesn't mean I'm scared to go on stage, if that makes sense. And I'm not scared to talk in public.
I actually really enjoy rambling on stage. I really love talking about my day and making jokes and making 20,000 people laugh. It feels amazing to have all those people in front of you and make 20,000 people sing. It's an anxiety-free space when you're on stage because it's just fun, you know?
You've said that If I Could Make It Go Quiet is your most ambitious work to date. In which sense of the word do you mean? Lyrical ambition? Production ambition?
I feel like my ambitions for the album are everything. Lyrically, it's on a whole other level than all my previous work—and the work I hear, also. I just think it's a really, really ambitious album lyrically. It's smart and, melodically, I think it's really cool.
I think the production is really ambitious because I've never made a record that sounds like this. I've actually never made a record in my life, other than this one. I'm not trying to sound like anyone. I'm just trying to create my own lane. That, in itself, is an ambition: To stay true to what I want to say in my music.
I also want to take over the world with it. I want everyone to hear it. That in itself is also very ambitious—my mom, maybe, would say naïve, but I don't know!
Was most of the heavy lifting in pre-production, rewriting and rewriting songs? Or was it in post-production, trying to get it right behind the board?
The main idea can sound more demo-y, but I think the coolest ideas are the ones that are really clear from the beginning. You can tweak them a lot, but they'll sound good stripped back as well.
But in terms of creating, I'm all over everything, all the time. I've been turning the knobs and geeking over the sound of the entire record for a year and a half to make it feel like something new and exciting and different for me.
How do you craft melodies? Are you the type of melodist who works them out on the piano? Do they just come tumbling out of you?
They just come out. I just improvise. I just sing into my microphone and play some chords, and then I start improvising and seeing what's cool and hooky. I think I have a good ear for melodies because, sometimes, they come out really quick.
I feel like I wouldn't ever say "I wrote those melodies," even, because I just sang those melodies. Does that make sense? For some people, maybe that's writing—I don't know. But I feel like they come out of me quite naturally and quickly. The lyrics, obviously, also dictate where the melody goes.
Do you labor over little details like the number of syllables in a phrase?
Oh, yeah. Syllables and starting a word with a v or a d or a w sound. A "we" sound or a "he" sound, and making it so the articulation comes through perfectly. The melody amplifies that articulation. I'm a huge nerd when it comes to words and rhythms and syllables.
girl in red. Photo: Jonathan Kise
How did your path lead you to connect with Billie Eilish?
I mean, I wouldn't say we're that connected; I feel like I would be saying it's something it isn't. I'm a huge fan of Billie and I know she's heard some of my music. I guess my path has just been to keep going and do what I think is cool and what I like. She's heard some of that and that's been the connection, but we don't know each other or anything.
Well, what can fans expect from you on stage with Billie in 2022?
We have a connection in that sense. We've met very briefly and she knows me. She and her team, obviously, invited me to [open at] the O2 Arena next year.
What can we expect? It's going to be fing lit—that's all I can say. I haven't started planning it yet, but I want my one shot at the O2 Arena to be fing cool. I don't want to blow that s*. I definitely want it to be really cool. Even though there will probably be 20,000 people there, I want to do something really special and intimate.
If I Could Make It Go Quiet is your most substantial work yet. Do you think your best music is ahead of you?
[Face visibly lights up.] Dude! As a musician, that's exciting as f*! I mean, I hope so. I can only hope so. That's all I can do. Fingers crossed: The best music I will ever make is still ahead of me.
Billie Eilish's Road To Happier Than Ever: How The Superstar Continues To Break Pop's Status Quo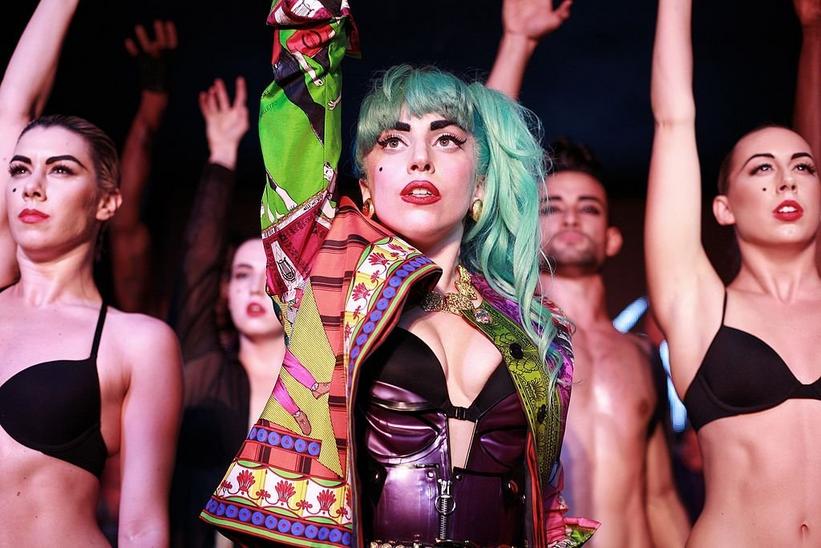 Lady Gaga appears at Sydney gay club Nevermind on July 11, 2011 in Sydney, Australia
PHOTO: Mitch Fong-Cool Kids Club/WireImage
feature
The Rise Of The Queer Pop Star In The 2010s
The 2010s were a transitional and formative period for queer pop artists. From "Born This Way" to "I Kissed A Girl" and Ariana Grande's "Monopoly," LGBTQ+ artists and allies have grappled with identity — and a fair share of haters — on a world stage.
GRAMMYs
/
Jun 20, 2022 - 01:42 pm
"Girls like girls like boys do/nothing new," Hayley Kiyoko, affectionately known as "Lesbian Jesus" by her fans, sings on her second EP, This Side of Paradise.  
The accompanying music video for "Girls Like Girls," released in June 2015, features two gal pals falling in love while a violent boyfriend looms in the background. The reception was so encouraging that Kiyoko herself came out as bisexual. Two days later, the Supreme Court legalized gay marriage in all 50 states.
While the timing of the Supreme Court announcement was apt for Lesbian Jesus, Kiyoko is one of many queer pop artists to receive mainstream shine in recent years. The 2010s in particular were a liminal era where pop dipped its toes into queerness, testing the waters when artists and society at large weren't entirely sure if it felt "wrong or right."
The second decade of the new millennium saw a shift away from the tepid engagement with queer identity in pop. Lyrics became less thematically subtle, instead favoring direct and prideful exclamations, as well as nuanced songs of heartbreak. The rise of self-publishing platforms such as Instagram, YouTube and TikTok further enabled artists to better control their narratives around sexuality, such as Troye Sivan coming out in a viral video in 2013, a year before his debut EP. 
Although queer imagery and lyrical leanings aren't new, displays of queer sentiment in pop culture have historically been viewed as provocational, rather than a necessary means of engaging with queer identity. Yet as queerness has become more "acceptable" in mainstream entertainment and American politics, it's not surprising that pop stars may refocus on their identity as a means of negotiating the constant demand for reinvention inherent to pop music.
Born That Way: Queer Pop's Early Aughts Origins
When Lady Gaga burst onto the scene in early 2008, the media zeroed in on her eccentric costumes and zany ear-worms. Yet her bisexuality and support for the LGBTQ+ community through song — most notably, 2011's "Born This Way" — was often criticized and allyship largely considered an eccentricity. Even still, her fame skyrocketed in an incredible show of progress. Gaga became a global sensation at a time where any political sentiment was rarely rewarded.
In a 2018 video interview with Vogue, Gaga commented that these formative pop songs were a career defining moment. "I want to be remembered for the message behind 'Born This Way.' I would like to be remembered for believing that people are equal," Gaga said. "I would like to be remembered for being courageous and different."
As Brian O'Flynn wrote in the Guardian: "Gaga did for my generation what Bowie did 20 years earlier. She re-queered a mainstream that had fallen back into heteronormative mundanity."
Did It Feel Wrong Or Right?
Gaga's queer-friendly pop would be emulated and iterated on for years to come. But the dawn of the 2010s brought with it a new age of queer pop, one where authenticity seemed to reign supreme and identity was placed under a microscope.
Released in 2008, Katy Perry's "I Kissed A Girl'' saw phenomenal success but was deliberately marketed as a cheeky, bi-curious "phase." Perry, who is bisexual, admitted that the marketing was problematic, later saying she would have rewritten the song to confront this stereotype.
Queerness as a so-called marketing plot is commonplace, though it can also result in an artist's sexual orientation being dismissed or diminished. Halsey, Kiyoko and Miley Cyrus have all had to defend their status as LGBTQ+,  reflecting the ways  bisexuality is often criticized in queer circles. When Billie Eilish posted a behind the scenes picture from her of a music video featuring all girls, with the caption "I love girls," she was bombarded with invasive questions about her sexuality. The constant demand for reinvention demanded by pop music, as well as the increase in fandom throughout the 2010s, means that a pop star's real life and marketing often exist in tandem.
This often leads to accusations of queerbaiting (where a creator hints at LGBTQ representation, but doesn't confirm openly), which became a more common occurrence in the 2010s. Rita Ora's "Girls" featuring Cardi B and Charli XCX attracted criticism in 2018 after its lyrics "Red wine/ I just wanna kiss girls, girls, girls" implied that Ora only wanted to kiss girls when intoxicated. This forced Ora to come out via Twitter.
The following year, Ariana Grande's "Monopoly" featured lyrics about liking "women and men" and resulted in a flurry of accusations of queerbaiting, as well as speculation that Grande might be bisexual. The song claimed the No. 1 spot on the iTunes chart 24 hours after release and has over 52 million views on YouTube, hinting that the appetite for queer representation in pop music is not dying down.
While some artists are accused of queerbaiting, others must deal with intersectional issues of identity. After coming out in 2019, Lil Nas X has become one of the best-known Black queer male artists — an especially significant fact as his has experienced success in both country and hip-hop — and boldy embraces his sexuality across platforms. The rapper has reveled in turning homophobic rhetoric on its head with outspoken lyrics, and explicitly devilish videos and performances.
Yet Black queer pop stars such as Lil Nas X face an extreme level of backlash around sexual performances that their straight, white counterparts often don't get. When he openly kissed a dancer at the BET Awards — an unexpected, but authentic act of self-expression as a gay man — Nas X was demonized (so much that he commented that, next time, he would have sex onstage). None of the vitriol stopped Nas from achieving his second No. 1 of the year or winning Best Music Video at the 2020 GRAMMY Awards.
It appears that artists such as Lil Nas X are starting the 2020s off with pride — and more unabashed, explicitly queer music.
Shade Never Made Anyone Less Gay
This emphasis on authenticity that grew from the 2010s is, perhaps, both to the detriment and aid of LGBTQ+ pop and identity.
Emboldened by vocal online fans, queer musicians are able to reach huge audiences and raise awareness around LGBTQ+ identities. Yet criticism and backlash can still derail careers. Hayley Kiyoko was the only openly queer artist to break the top 40 on the US Billboard Hot 100 chart in 2018; meanwhile, Sam Smith's album sales fell when they publicly came out as non-binary in 2019.
However, successes are still common: Demi Lovato came out as non-binary in 2021and Miley Cyrus openly declared her pansexuality to mostly praise; Ben Platt came out in the emotive music video for "Ease My Mind" in 2019.  In 2021, listening to Norwegian singer/songwriter Girl in Red, is almost synonymous with identifying with queer labels. As Spotify streams and YouTube videos can now translate into the charts, homegrown LGBTQ+ stars have even more ability to change pop music into a more inclusive space.
LGBTQ + allies have also emerged left, right and center. Taylor Swift used her 2019 single "You Need To Calm Down" to campaign for the Equality Act, breaking her long held silence on political issues, and even namechecking GLAAD in one of her lyrics. Beyoncé was honored by GLAAD in the same year for her allyship.
It is a sign of progress that we are beginning to dissect and examine these issues of queerness rather than ignore them. Yet the obsession with "true" identity and "correct" ways of expression can hamper queer creativity, especially for those with other intersecting identities. As LGBTQ+ stories are embraced in the 2020s, acceptance of queer pop artists can't be contingent upon the public's comfort with specific presentations of queerness.
We shouldn't have to force pop stars to come out, or publicly present their sexuality, for us to appreciate their queer work — but if they choose to do so, we shouldn't be trying to shove them back into that respectable, comfortable queer box. Long live the queer pop star, in any way they wish to exist.  
Shawn Mendes Wants You To Analyze His Music: "It's All About Being Vulnerable And Making People Feel Seen"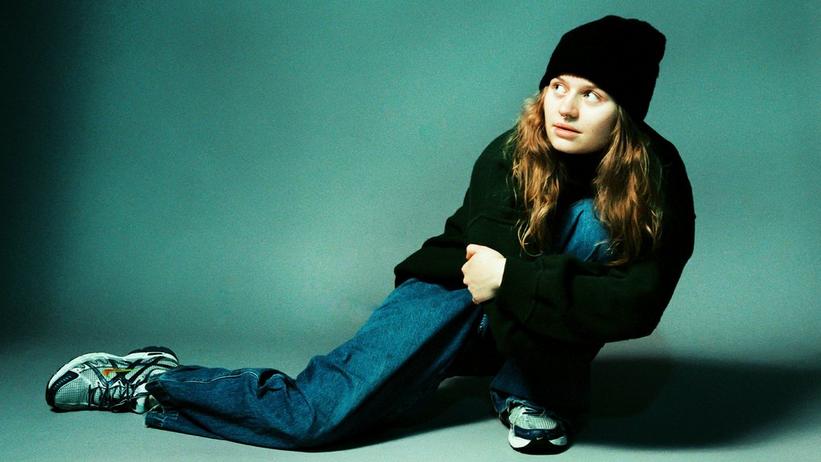 news
Herbal Tea & White Sofas: Girl In Red Wants A Private Jet But She'll Settle For Twizzlers
From exactly five packs of gum to a candy she can't find back home, singer/songwriter girl in red breaks down her backstage rider on the latest episode of Herbal Tea & White Sofas
GRAMMYs
/
Sep 13, 2021 - 11:35 pm
Maria Ulven, also known as girl in red, doesn't hold back with her music, often sharing the most vulnerable sides of her life like love troubles and self-hatred, but her most demanding request when she hits the road is candy.
"There's one thing that I always like to get when I'm on the road—and that's Twizzlers because those are kind of hard to get here in Norway," the 22-year-old singer/songwriter tells GRAMMY.com in the latest episode of Herbal Tea & White Sofas below. "American candy is just so much better than Norwegian candy."
Twizzlers may be the one food that Ulven always searches for when she leaves home, but she says the aspect of touring she loves most is feeding off the energy of the crowd.
"My favorite thing about being on stage is probably hearing the crowd sing my songs," Ulven tells GRAMMY.com. "Feeling the energy of a crowd is just so insane."
Watch the "Serotonin" singer break down her full rider below, and click here or on the slider below to find out what other artists can't live without on the road.
Listen: 50 Essential Tracks By Joni Mitchell, Revolutionary Singer/Songwriter & 2022 MusiCares Person Of The Year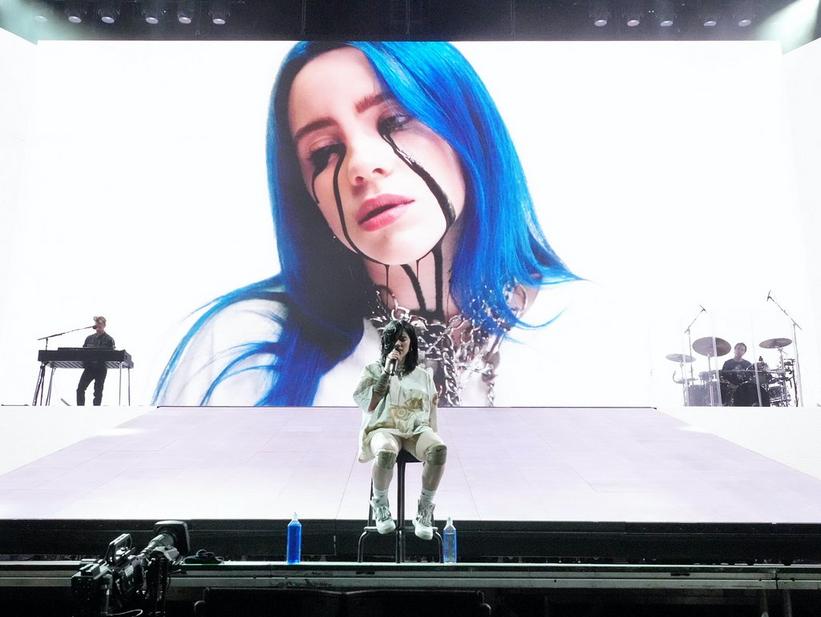 Billie Eilish performs at the 2022 Coachella Valley Music And Arts Festival.
Photo: Kevin Mazur/Getty Images for ABA
feature
The Psychology Of "Sad Girl" Pop: Why Music By Billie Eilish, Gracie Abrams, Olivia Rodrigo & More Is Resonating So Widely
As Olivia Rodrigo, Tate McRae and more of pop's current leading ladies continue to pour their hearts out in song, three music psychology experts assess what makes their vulnerability so connective.
GRAMMYs
/
Jul 13, 2022 - 07:48 pm
Olivia Rodrigo probably never imagined that a drive through the suburbs would become a rallying cry for anyone who's ever mourned a relationship. But when she released her debut single, the racing power ballad "drivers license," in January 2021, suddenly she had the biggest song in the world.
"drivers license" broke streaming and chart records upon its release, debuting at No. 1 on the Billboard Hot 100 and inspiring memes across social media. While it wasn't exactly uplifting —  Rodrigo vividly details the devastation of trying to move on from an ex, and laments the milestones they were supposed to celebrate together — the song became universally celebrated, sending listeners into a nostalgic haze of first heartbreaks. Everyone was screaming, crying and dancing at the same time. 
"drivers license," one could say, is the latest centerpiece of "sad girl" pop — the specific aesthetic of artists who write songs through a dreamy, yet raw lens of rage, pining, heartbreak or rejection. The music itself creates a spectrum of emotions where you might want to sway at one point, but scream like Zach Braff and Natalie Portman at the rock quarry in Garden State at another.
Though Rodrigo is one of the stars at the center of "sad girl" pop, it had been percolating long before the explosion of "drivers license." After all, artists like Fiona Apple and Alanis Morrisette were the poster girls for it in the mid-to-late '90s. But one could argue that this iteration of "sad girl" pop found its roots in the 2010s, thanks to artists like Lana Del Rey, whose palpable aching and loneliness became inescapable anthems like "Video Games" and "Summertime Sadness"; Taylor Swift, whose first crossover success Red spawned the still-heart-wrenching fan favorite  "All Too Well"; Robyn, who created the ultimate crying-at-the-club banger "Dancing on My Own"; and MARINA, care of the depressed-Barbie era of her album Electra Heart. 
Even with all of its origins, "sad girl" pop didn't truly begin to form its own sort of subgenre until Billie Eilish and her whispery, gloomy music emerged in 2016. Others have steadily begun following suit: Sasha Alex Sloan emerged with a debut EP aptly titled Sad Girl two years later; Gracie Abrams' intimate, diaristic tracks served as major inspiration for Rodrigo (who later recruited Abrams as a tour opener); Tate McRae has turned her insecurities into aspirational, sad-pop anthems like "she's all i wanna be."
While "sad girl" pop isn't exactly new (most music trends are cyclical, of course), the way that people are clinging to it is. "There's a cliche about pop that it represents a retreat from reality, an escapist fantasy world where listeners get to leave their fears and anxieties in a vision of Katy Perry's 'Teenage Dream' or fun.'s 'We Are Young,'" says Nate Sloan, host of Switched on Pop and assistant professor of musicology at USC Thornton School of Music. "But modern listeners — especially young people — are pushing back against that paradigm, celebrating artists like Billie Eilish, Halsey, and girl in red, who don't shy away from the troubles of the world but sublimate them into their music." 
Their music, in turn, helps them cope with their own "lived realities." It's equal parts celebration of the artist and found community for someone who, in a world away, relates.
Which is why the rise of "sad girl" pop feels synonymous with the current state of the world. To varying degrees, we've all endured the trauma of a pandemic that hasn't ended, particularly the mental and emotional toll of isolation and anxiety that has transpired. There's also been the weight of police brutality, school shootings and the impending death of democracy for people to bear. Finding comfort in nostalgia — especially within pop culture — was natural for many.
Some retreated to the music, TV or films they listened to when they were teenagers, while others sought relief in music that evoked the feeling of being young and carefree. It's also why recent vulnerable, melancholy pop tracks became such a balm — and ultimately solidified the power of "sad girl" pop.
But the group that seems to be drawn to this niche pop aesthetic are teenagers. It makes sense: Gen Z is coming of age at a time when there's less of a stigma around discussing mental health. Celebrities and artists are arguably more open than ever about their struggles — Shawn Mendes, for instance, has often shared his battle with anxiety, sharing a super honest message with fans in April; Selena Gomez opened up about her bipolar diagnosis in 2020, and launched a multimedia company dedicated to mental health this year.
And it isn't just young women dominating this niche area of pop. Male artists like Conan Gray, Dean Lewis, Jeremy Zucker and Lewis Capaldi are delivering bedroom pop anthems ranging from angsty to wistful, overall unafraid to showcase raw vulnerability. Their music has proven to similarly resonate, with Capaldi's pained breakup ballad "Someone You Loved" hitting No. 1 on the Hot 100 in 2019 and Dean Lewis' "Be Alright" reaching No. 1 on Billboard's Adult Pop Songs chart that same year.
Read More: How James Bay Found The Courage To Be Vulnerable For New Album 'Leap'
"Shame is gradually being removed, so people are talking more about their feelings and their mental health — and audiences can relate to it," says Jodi Milstein, MA, LMFT, LPCC, music therapist.
When their emotions are reflected back to them in a song by a public figure, sometimes that's the key to getting help and seeking therapy. "A lot of times, we can't tell people, 'you need to do this, this and this to feel better.' We just have to set an example," Milstein explains.
Gen Z is much less filtered than other generations, and more candid about their own mental health struggles, as a 2018 survey by the American Psychological Association and a 2019 report by the American Psychiatric Association showed. And it's not uncommon to see them pouring their hearts out on TikTok or Instagram. But their connection to hyper-vulnerable music is also the result of where they are in their lives. Because their brains are still developing, they "tend to have a more difficult time modulating their emotions," says Sloan.
"At the same time, they feel things more deeply than adults might, especially music," he continues. "Studies have shown that the developing brain creates strong neural pathways between music and emotion in the teenage years, so that the music we listen to at that phase of our lives tends to stay with us, no matter how far we get from that period.".
Despite the lyrics — or even the mood — of the artist, "sad girl" pop is no different than other subgenres of music. "What's true of 'sad girl' pop is true of all music: it's essential to try and hear a piece of music as expression, not fact," Sloan adds.
In other words, girl in red may be singing about depression in "Seratonin," but it doesn't mean that the listeners themselves are depressed. They could be, but they could also find catharsis or joy in hearing someone detail a similar experience. And at a young age, especially, there's so much power in being seen and heard by a song.
"Several studies have shown that when listeners listen to sad music, they can experience [it] as if it was kind of empathizing with them," says Jonna Vuoskoski, associate professor in music cognition at the University of Oslo. "Music is almost like a virtual friend."
But while the music is resonating, there is a flipside to "sad girl" pop. The label, which has helmed the conversation around this music, can be diminishing to the artists who are pouring their feelings into these songs. Despite all of the aforementioned artists whose vulnerability has helped their listeners heal, filing music under "sad girl" writes off a person's — particularly a woman's — emotional trauma as something not to be taken seriously.
It can also glorify the idea that it's "cool" to be sad, which is rarely the intention of these artists. When it comes down to it, their songs are about as personal and vulnerable as one could get. They're creating deeply moving material — and an importantly deep connection with those who listen.
"They're speaking up for themselves — they're setting limits or setting boundaries," says Milstein. "On Instagram and Tik Tok, people get on there and will say, 'Hey, this happened to me, and I'm not gonna deal with this anymore.' People have been more expressive. You see other people actually talking about [this] stuff, which before you didn't see that."
From Abrams to Rodrigo, these artists aren't singing about their insecurities and pain for cachet: They're simply young women (and men) trying to navigate young adulthood. What they're sharing is courageous — and should they decide to move out of the "sad girl" box they've been placed in, we should be ready to grow with them.
How Tate McRae Turned A "Full Identity Crisis" Into Her Debut Album, 'I Used To Think I Could Fly'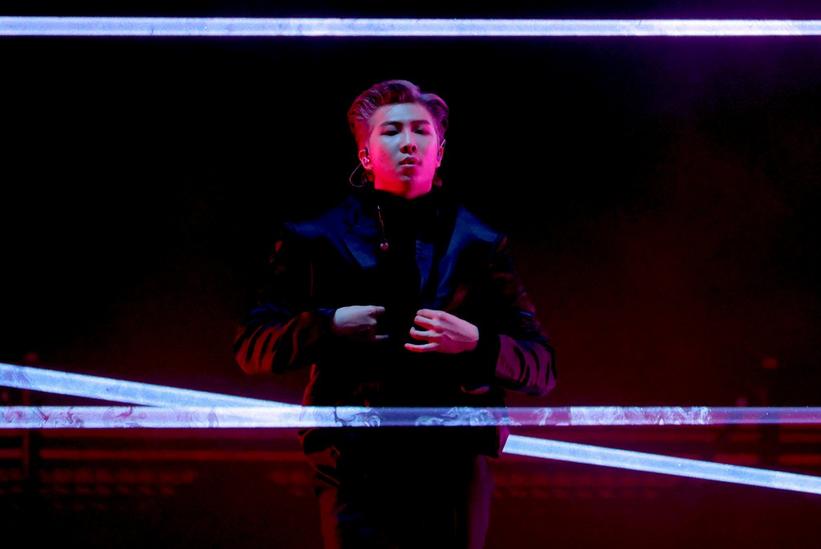 RM performing at the 2022 GRAMMYs.
Photo: Rich Fury/Getty Images for The Recording Academy
list
5 Takeaways From RM's New Solo Album 'Indigo'
BTS leader RM makes his official solo debut with his first studio album, 'Indigo,' which showcases a new level of artistry from the rapper.
GRAMMYs
/
Dec 5, 2022 - 08:03 pm
Like many of his BTS cohorts, RM has shown off his solo musical talents long before this year. His first mixtape RM came out in 2015, capturing the rapper's raw hip-hop roots. His second mixtape Mono was released to critical acclaim in 2018, when BTS were just scratching the surface of their worldwide domination. But this year took RM's solo efforts to the next level with his first-ever studio album, Indigo. 
Across 10 tracks, RM's official solo debut documents the multilingual rapper, producer and singer/songwriter's journey through his twenties. Meshing Korean and English, his reflections about life under the public eye weave through genres and moods organically. And with diverse collaborations — from R&B legend Erykah Badu to fellow South Korean star parkjiyoon — to boot, RM uses Indigo to bring fans deeper into his expansive musical universe.
Now that the highly anticipated project has finally arrived, take a look at five key takeaways from RM's debut studio album, Indigo.
It's Connected To The Art He Loves
RM is known for being a lover of nature and fine art, and that is reflected within Indigo. Promotional photos for the album featured Yun Hyong-Keun's painting "Blue"; RM is known to be a supporter of the late South Korean artist, so the rapper's inclusion of the work shows the intentionality behind his debut — musically and beyond. 
He isn't afraid to mesh artistic mediums, and the sonic and stylistic choices made reflect this. From then sampling Korean Hyong-Keun's reflection on Plato's humanity in the opening track "Yun" to even titling a song "Still Life," the inspiration is present. RM may have refined taste, but he makes it easily digestible through his music.
It's A Reflection Of His Life Up To Now
According to RM himself, Indigo serves as a diary of the last three years of his life. Even so, the album's messages can be a blueprint for anyone going through a transitional period in life, thanks to RM's honest, open-minded and unfiltered lyrics. 
On "Lonely," he candidly exudes his frustrations over a tropical beat. "I'm f—king lonely/ I'm alone on this island," he raps. He later sings, "So many memories are on the floor/ And now I hate the cities I don't belong/ Just wanna go back home." 
The contrast between the song's upbeat melody and longing lyrics provide a dichotomy that perfectly captures the highs and lows of fame. That's a theme that carries throughout the album, further showcasing why RM has become so admired by his fans and peers alike.
The Features Tell A Lot About His Artistry
Eight of the 10 tracks on Indigo are collaborations, all of which display RM's love of diverse genres and musical eras. They also reflect the caliber of artistry RM has reached — he got Erykah Badu! — as well as his ability to bridge the gap across borders. Along with Badu, he teamed up with two other R&B stars, Anderson .Paak and Mahalia, along with several Korean artists: Paul Blanco, Tablo, Kim Sawol, Colde, youjeen, and parkjiyoon. 
There's A Song For Everyone
Many praise RM for his ability to touch people with his leadership qualities and words, and this album may just be the strongest example of that. The project is noticeably more upbeat than Mono, but RM still takes time to break his emotions down lyrically. 
His first verse on the opening track "Yun" declares "F-k the trendsetter, I'ma turn back the time," setting the tone for how RM feels artistically. Then, the high-energy track "Still Life" with Anderson .Paak expresses joy and resilience, proving that one can still stand tall despite difficulty. As he says to .Paak on the track, "S— happens in life, but what happens is what happens."  
Overall, Indigo shows off RM's versatility in a much more impactful way than his previous mixtapes. This album is about the art of music, not breaking records or following trends. It feels like an exploratory culmination of various emotions, moods, and experiences, which helps each track feel relatable in a different way. 
There's A Lot To Look Forward To
RM displayed an immense maturity in his artistic expression through Indigo. He explores emotions both good and bad, but what remains throughout the entire project is a lingering feeling of hope for a better future. 
RM has always been a symbol of hope and grace as he has served as the spokesperson for his fellow members, both musically and in the public eye. But now, RM is getting to express himself for himself — and if Indigo is any indication, this is just the beginning of his journey inspiring the masses as a soloist.
K-Pop Icon B.I Isn't Afraid To Explore Growth And Freedom On 'Love Or Loved Pt. 1'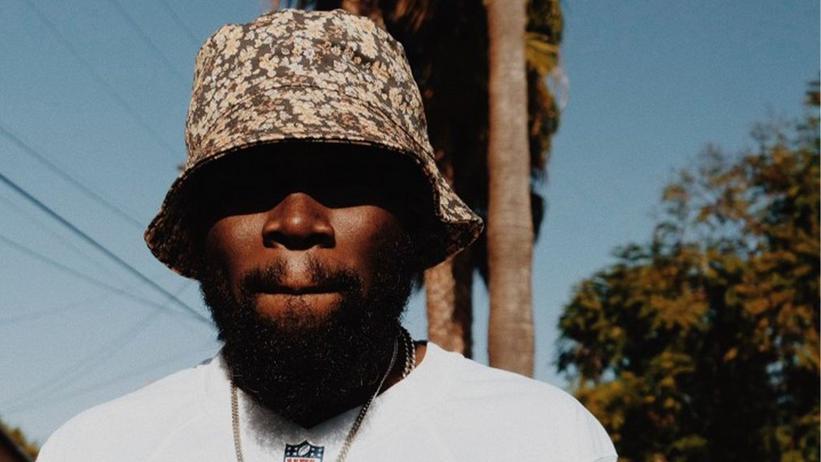 Juls
Photo: Mahaneela Choudhury-Reid
video
Herbal Tea & White Sofas: Juls' Must-Have Tour Item Is An African Instrument That Doubles As A Stress Reliever
The producer and DJ introduces fans to his kosh kash — a pocket-sized, egg-shaped instrument that is so versatile, he carries it with him everywhere when he's on the road.
GRAMMYs
/
Dec 5, 2022 - 06:59 pm
Juls — also known as Juls Baby, and born Julian Nicco-Annan — is perhaps known best for his work as a producer, helping create hits for acts like Burna Boy, Mr. Eazi and GoldLink. But the Ghanian-British producer and DJ is also a touring act who plays sets around the world — and he makes sure he has his trusty kosh kash with him.
In this episode of Herbal Tea & White Sofas, Juls introduces viewers to the egg-shaped African percussion instrument, which is also known as a Kashaka. The pocket-sized instrument is made up of two small gourds bound together by a string, and makes a rhythmic, rattling noise when shaken. It serves a lot of purposes, Juls explains.
"It's kind of like a shaker. It's kind of like a stress reliever when I'm preparing tours. It also helps me to make music," he says. "So any time I have an idea, I just record it on my phone in Voice Memos. I carry this everywhere I go when I travel."
Another mainstay of Juls' tour rider is "one of the best drinks in the world: Supermalt," the artist continues. "It's like a malt drink, made of wheat, with other things like added sugar and starch."
The non-alcoholic and caffeine-free malt beverage first originated in the early 1970s and served as a cheap energy source for the Nigerian Army. To this day, it's still an Afro-Caribbean staple — and now, a road necessity for Juls. "Definitely need to have that on the rider," he adds.
Press play on the video above to learn more about Juls' road essentials — plus how he prepares for his shows every night — and keep checking back to GRAMMY.com for more new episodes of Herbal Tea & White Sofas. 
Press Play: AkayCentric Delivers A Tender, Stripped-Down Performance Of "Body And Soul"