The Linda Lindas perform at Outside Lands on Saturday.
list
Relive The Music, Fashion & Excitement Of Outside Lands 2022 In This Photo Gallery
Experience a taste of Outside Lands 2022 with this photo gallery and get lost in the musical woods of Golden Gate Park.
GRAMMYs
/
Aug 9, 2022 - 07:46 pm
Over 200,000 people attended the annual Outside Lands music and arts festival in San Francisco's Golden Gate Park Aug. 5-7. Over three days and on six stages, attendees — many of whom donned '90s and early aughts-inspired attire or their colorful festival best — were treated to a wide variety of dance music, rap, rock and indie acts.

The festival featured headliners SZA, Green Day, Post Malone and Kali Uchis, in addition to dozens of DJs, artists and bands. In addition to music, Outside Lands offered extensive food and drink options (a nod to San Francisco's wide-ranging culinary scene), as well as a cannabis marketplace and consumption area. 

In the below photo gallery, revisit Outside Lands 2022 if you were there — and if you weren't, enjoy the sights of San Francisco and keep your ear to the ground for next year's lineup.
10 Moments From Outside Lands 2022: Kim Petras Covers Kate Bush, Larry June Gets Healthy & An Illegal Afterparty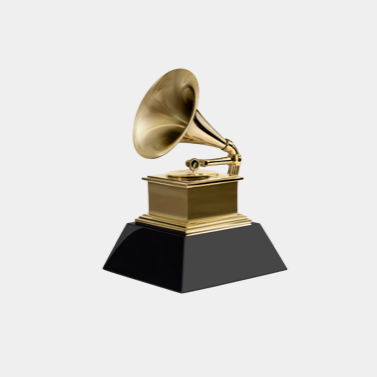 Get notified of exciting GRAMMY Award news and upcoming events!
Be the first to find out about GRAMMY nominees, winners, important news, and events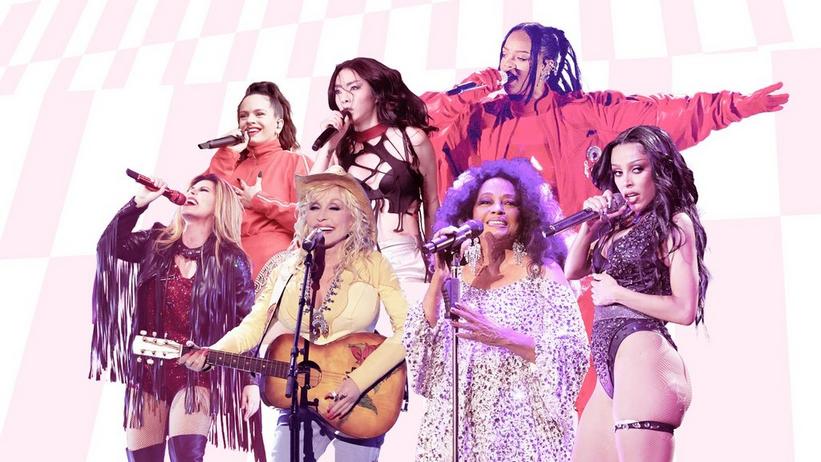 (L-R, clockwise): Rosalía, Rina Sawayama, Rihanna, Doja Cat, Diana Ross, Dolly Parton, Shania Twain
Photos (L-R, clockwise): Kevin Mazur/Getty Images for Roc Nation, Scott Dudelson/Getty Images for Coachella, Adam Bow/Icon Sportswire via Getty Images, Kevin Winter/Getty Images for Coachella, Kevin Mazur/Getty Images for Academy Museum of Motion Pictures, Kevin Winter/Getty Images for ACM, Terry Wyatt/Getty Images
news
Listen To GRAMMY.com's Women's History Month 2023 Playlist: Swim In The Divine Feminine With These 40 Songs By Rihanna, SZA, Miley Cyrus, BLACKPINK & More
Who run the world? Harness positive energy during Women's History Month with this immersive playlist honoring Beyoncé, Rina Sawayama, Kim Petras, and more female musicians.
GRAMMYs
/
Mar 1, 2023 - 03:59 pm
In the words of recent GRAMMY winner Lizzo, it's bad b— o'clock. To kick off Women's History Month, GRAMMY.com is celebrating with an extensive playlist spotlighting women's divine musical artistry. Perpetually shaping, reinvigorating, and expanding genres, women's creative passion drives the music industry forward.
This March, get ready to unlock self-love with Miley Cyrus' candid "Flowers," or hit the dancefloor with the rapturous Beyoncé's "I'm That Girl." Whether you're searching for the charisma of Doja Cat's "Woman" or confidence of Rihanna's "B— Better Have My Money," this playlist stuns with diverse songs honoring women's fearlessness and innovation.
Women dominate the music charts throughout the year, but this month, dive into their glorious energy by pressing play on our curated Women's History Month playlist, featuring everyone from Dua Lipa to Missy Elliott to Madonna to Kali Uchis.
Listen below on Amazon Music, Spotify, Apple Music, and Pandora.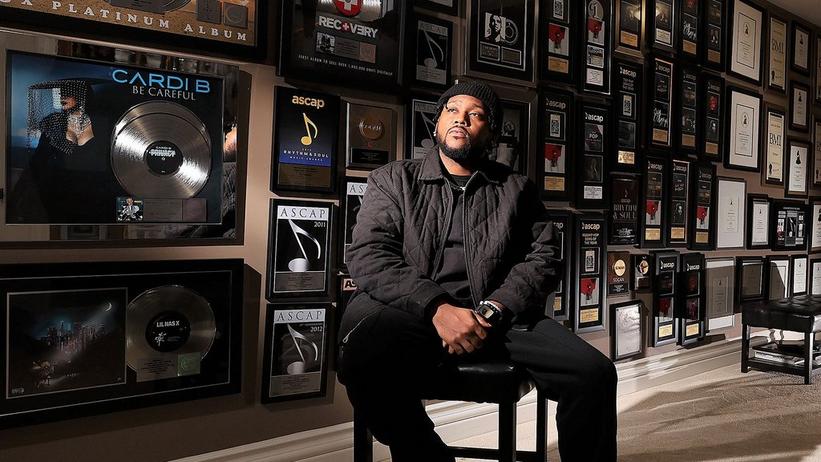 Boi-1da in Toronto in January 2023.
Photo: Steve Russell/Toronto Star via Getty Images
interview
Hip-Hop's Secret Weapon: Producer Boi-1da On Working With Kendrick, Staying Humble And Doing The Unorthodox
The self-described "young veteran" producer, up for four awards at the 2023 GRAMMYs, including Producer Of The Year, Non-Classical, has his hand on songs by Drake, Beyoncé and Kendrick Lamar. He spoke with GRAMMY.com about creating with hip-hop greats.
GRAMMYs
/
Feb 1, 2023 - 04:22 pm
If a rapper staying atop the mainstream for more than a decade is a herculean feat, then a producer doing the same is downright sisyphean. Boi-1da, the 36-year-old Canadian producer who netted four nominations at the 2023 GRAMMYs — including the coveted Producer Of The Year, Non-Classical — has risen to the very top of the industry, and remained there because he hasn't lost the perspective from when he first started rolling the boulder up the hill
"I feel like my awareness is a lot of the reason I've been doing this for a long time, because I'm very socially aware of what's going on and I can see," he tells GRAMMY.com. "In some rooms, you've got to find out what role you play. Sometimes, you've gotta play a bigger role. I find, working with newer artists, you have to play more of a mentoring role. But I find with other people, it's about finding your use and being a utility." 
Boi-1da initially rose to prominence as one of Drake's trusted beatsmiths and has his thumbprint on hits like "Best I Ever Had," "Over," and the GRAMMY-winning "God's Plan." His credits grew to include Rihanna's "Work" and Kanye West's Donda. Yet, even by these standards, 2022 was a banner year: Boi-1da contributed to Beyoncé's Album of the Year nominee Renaissance ("Heated"), scored a pair of credits on Kendrick Lamar's progressive, polarizing AOTY hopeful Mr. Morale & the Big Steppers ("N95," "Silent Hill"), and crafted the understated, elegant instrumental for Jack Harlow and Drake's Best Rap Song contender "Churchill Downs." 
Hip-hop producers are often pigeonholed, but Boi-1da's three biggest records from last year have virtually no sonic overlap. This malleability is the cornerstone of the self-described "young veteran"'s success, as he realized that eschewing one signature sound was the best way to remain in the zeitgeist.
"There have been many times where I've created sounds and it gets emulated and everybody starts doing it," he says. You're liable to hear Boi-1da in every phylum of contemporary rap and pop music, from the horror movie menace of Nardo Wick's "Wicked Freestyle," to Alessia Cara's emphatic kiss-off "Lie to Me" to the bristling boom-bap of Freddie Gibb's "Space Rabbit." More than 15 years into his career, Boi-1da continues to reinvent himself, and is gearing up to release his first solo studio album later in 2023.
Ahead of Music's Biggest Night, the GRAMMY-winning producer shared stories about working with Drake, Beyoncé, and Kendrick, as well as the importance of mentoring young talent, and why even after more than a dozen nominations, getting GRAMMY recognition still feels special.
This is your second time getting the Producer Of The Year nod after being nominated in 2019. What does that recognition mean to you and are there any ways it feels different than the first time?
I feel like it's the highest honor as a producer. So I was extremely honored the first time and to be here again is even more of an honor. I'm not gonna lie, the first time I did it, I was going crazy and I was like, Man, that was so hard to even get nominated. I didn't win the first time, so I was like, I'm gonna try equally hard and see if I can get back here. And by the grace of God, I'm back here again. You know, it just took a lot of hard work, a lot of putting my head down and making a lot of sacrifices.
What do you think has changed the most about the way you've approached making music since you were last nominated?
I think the growth point is truly the way I listen to music and the way I intake music. I'm learning to do that differently. I think the approach of creating is always the same for me, other than adding new elements, new sounds and whatnot. 
I feel like music is so different and it's rapidly changing, so there's a lot of adjustments. I feel like that's the only thing that has really changed for me. I've been doing this for a long time; I feel like I'm kind of like a young veteran. Right now, there are a bunch of new kids growing up in this generation of music and their taste and style is totally different. I like to come left-field and do stuff unorthodox and different, so figuring out how to pivot and keep yourself relevant is what I've been doing.
The Daft Punk sample on that Drake and 21 Savage song "Circo Loco" feels like something the Boi-1da of 10 years ago wouldn't have done.
Definitely. What I find today with a lot of music is people love extremely familiar samples over really straight-to-the-point beats. Not a lot of detail, something familiar, which is basically what we did with a song like "Circo Loco." The type of producer I am, I like to make beats; I'll make one of five types of beats that sound the same, or use ideas that sound the same, and then I'll move on.
That's the way I've been able to stay relevant for so long, moving on from sounds. There have been many times where I've created sounds and it gets emulated and everybody starts doing it. You can be mad and sit there and be like, "Yo, everybody's biting my style." I feel like I'm just that creative where I can move onto the next thing and be like "Okay, cool, you guys can have that. I'll make something else."
It shows, because the three biggest songs you produced this year, "Heated," "Churchill Downs," and then "N95," those are wildly different poles in rap/R&B/pop music production. Were you and Drake already working on "Heated" when Beyoncé reached out?
Drake had been working with B; that was just an idea that we had started with Drake and he and B ended up finishing up the idea with me. I think Beyoncé added to the production as well.
I wasn't around for the process of Beyoncé making that song, but I was heavily involved in the production. Whenever I work with Drake or someone like Beyoncé, it's on easy mode. You have something they like, they usually know exactly what they want to do with it and you just trust 'em completely. Sometimes, I'm hands off, I'm like, "Cool, y'all like it? Here you go. I know what you guys do and you guys do that."
The liner notes on a lot of your songs, like "I Got a Shot" off Jack's album, that has a ton of people credited. Is there a level of ego sublimation with that where it's like "You might not be able to hear my contributions in the final product, but I know that I did my part to get this song where it needs to go?"
[Jack Harlow] likes it to be a room full of producers. It's like a band. We'd construct stuff and put it together. I have no ego when it comes to collaborating. I really just want the song to sound exactly how I want it to sound. If it takes 50 people to do that, then so be it. I'd rather it sounds the best that it can sound than like, "Oh, no, I'm getting lower publishing on this song."
It's so fun to be in there with a bunch of people. You get that feeling of doing something and you see somebody else's reaction and it just motivates you to be like, "Yeah, okay, I know what I'm doing." When I was younger, I'd sit in a room by myself and make music. That's cool and all and I still do it, but it's so much fun to be in a room of people with different energies. 
How did the "Churchill Downs" record come together?
When it comes to "Churchill Downs," I worked pretty closely with Jack. He and Drake are very good friends. Jack would always say, "Yo, I wanna do a song with Drake. Let's make an idea." We were really and truly figuring it out. We were working in L.A. for some-odd weeks and I ended up going back home.
I went to a friend's birthday party and he told me, "I've been working with this producer, I want you to hear some of his stuff." He gave me a flash drive…and it was full of samples. The first sample I heard was the one for "Churchill Downs." It sounded like a harp and a woman singing. I got home and chopped it up and did a little bounce to it and sent it over to my boy [TT] Audi, and he added some stuff to the beat and it was complete. 
I had sent it to Jack because he was still in the studio. He immediately fell in love with the beat. He played me his part in the song and said, "I really want Drake on this record." I was like, "S—, you're homies with Drake, too. Just hit him. I'm pretty sure he'll rock with this. It's hard." They met up on their own and recorded that song together.
I was amazed looking back through stuff you were doing 10, 11 years ago that there were songs of yours that Kendrick was on back then. How has your creative relationship with Kendrick changed over the decade that you've known each other?
I've known Kendrick Lamar for a long time. I knew him actually before Good Kid, M.A.A.D. City. I had met him through one of my good friends who actually signed him.  Our relationship hasn't changed. Kendrick is one of the coolest guys ever. Me and him always lock in and create music together. We have tons of music that we've made together and he's just a great dude. 
Kendrick really makes folks wait and wants to come with something that feels totally different and distinct with each new body of work. What was the direction that he was trying to push on Mr. Morale, and what did you bring to it?
When it comes to me working with Kendrick, it's really just raw ideas and raw thoughts. A lot of the time, I'm not sure where it's going or what he's gonna do with it because I'm not really around for the song recording process. I like to sometimes just give artists…their own creative space and free-flow and whatnot. That's why he's one of my favorite guys to work with, because you go in there and it's like, "Alright, what are we doing?" 
I didn't really know what was gonna happen with ["N95"] and where he was gonna go with it lyrically. I just recall me, Jahaan [Sweet] and Sounwave in there, we had cooked up the idea and I was like, "Man, this sounds really dope but I'm not sure where it's going." 
I ended up hearing it right before the album came out. We had done that before the pandemic and the pandemic happened and nobody saw each other for the longest time…and he did what he did to it. It's always fun working with Kendrick because it's just raw, it's literally everybody doing whatever they wanna do and it meshing together.
You've done a lot through collaborations with Splice and people like Jahaan Sweet and WondaGurl, who've come up as proteges of yours. Why is taking that active role in mentorship and demystifying the production process important to you?
I didn't have a mentor. I didn't have YouTube, I didn't have tutorials, I had to figure out everything [on my own]. I lived in Durham, Ontario, there was absolutely nothing to do, nothing going on. There was no way of reaching out to artists or reaching out to producers. So it's like, if I could be some kind of mentor or do anything for anybody, I do it because I never had it. I know how it feels to be not heard and have to fight, tooth and claw, to get to where you gotta get to.
The feeling of serving and giving back is always rewarding, more rewarding than getting, to be honest. Remember, I had nothing, I came from Canada. People didn't know we made hip-hop music in Canada or take us seriously. I'd go to America and people would ask me if there were polar bears where I live. But that's the reason why I do it and I love it and I still continue to do it. I give bursaries to the highest music marks of my high school. I just always stay in tune and check stuff out. I love music and I love being around it and inspiring as much as I can.
You gotta stay in tune with the young guys, that's the future right there. You've gotta [be] tapped in with them, because at the end of the day, it's like you're making music for them.
You've been nominated for 19 GRAMMYs, that's staggering. Does that ever stop feeling special for you and the people in your circle, like Drake and 40?
No, it always feels great to be nominated and even win awards, as well. It just goes to show that sometimes, everybody that's a human being will get into their head, especially as a musician. Especially someone like myself who has been doing it for a really long time, you sometimes question if you're still doing the right thing, if you're still dope. So literally being nominated for awards is a great feeling and [one] that will never get old to me. It lets me know that I'm still doing stuff that people love and heading in the right direction. 
Is there anything else you want to mention about what you're working on in 2023?
I'm working on a compilation album right now. It's gonna be really dope, a lot of your favorite artists, a lot of new artists you've never heard of. A lot of dope music and I'm really excited to finish it and put it out. 
It's been in the works for a while. I've started and stopped it a few times because I'm really a perfectionist and I want to get it right. I'm not caring about numbers, I want to make the best project. I want people to hear it and be like "Wow, this is amazing." I care more about that than anything, which is why I've started and stopped it so many times. Music changes and I really just want to get it perfect.
Babyface Reflects On Collaborating With Whitney, Toni, Ella Mai & More: How The Legendary Hitmaker Learned To "Speak In Their Voices"
feature
The Soundtrack Hit Makes A Comeback: How 'Encanto,' 'Top Gun' & 'Black Panther' Went From Chart-Toppers To GRAMMY Nominations
The once-golden bridge between Hollywood and Billboard has been quiet in recent years, perhaps due in part to the pandemic. But over the past 12 months, that trend has been truly broken.
GRAMMYs
/
Jan 23, 2023 - 04:15 pm
It's the kind of development even an animated fortune teller voiced by John Leguizamo couldn't have predicted.
Lin-Manuel Miranda's 2021 animated film Encanto was all-conquering, and its success also touched the Billboard charts. The film's "We Don't Talk About Bruno" entered the first Hot 100 chart of 2022 at No. 50, quickly becoming a record-breaking, multi-million-selling phenomenon. It also led to the renaissance of a particular crossover: the soundtrack hit.
With the domestic box office now showing signs of returning to pre-COVID days, the soundtrack single has, once again, become a key marketing tool and chart staple. The nominees for Best Song Written For Visual Media at the 2023 GRAMMYs are proof: Four of the six nominated songs charted on the Billboard Hot 100, with "We Don't Talk About Bruno" sitting at No. 1 for five weeks — the highest tally for a soundtrack release in seven years. (Aladdin favorite "A Whole New World" is also in the exclusive club of Disney animation No. 1s.)
2022 spawned five Top 10  hits from film soundtracks — a feat last achieved in 2018 via Kendrick Lamar's Black Panther collabs with the Weeknd ("Pray for Me") and SZA ("All the Stars"), Swae Lee and Post Malone's "Sunflower" (Spiderman: Into the Spider-Verse), Khalid & Normani's "Love Lies" (Love, Simon), and the A Star Is Born cut "Shallow." Yet the once-golden bridge between Hollywood and Billboard was quiet in the intervening years, perhaps due in part to the pandemic.  Not one TV or movie tie-in graced the Top 10 in 2021 or 2020. And although Oscar-winning "Shallow" reached pole position in 2019, it began its chart trajectory the year previously.
Over the past 12 months, however, this drought has been well and truly broken. And for a while, single-handedly by Encanto.
The Encanto OST picked up three GRAMMY nominations — Best Compilation Soundtrack For Visual Media, Best Score Soundtrack For Visual Media and Best Song Written For Visual Media for "Bruno" — and spawned seven Hot 100 singles, including another Top 10 smash, "Surface Pressure." Not bad for an album which in its first week entered the charts at No. 197.
Unlike the inescapable "Let It Go" from 2013's Disney juggernaut Frozen, the success of "Bruno" happened more organically. Its chart and streaming dominance wasn't steered by record executives, but by the public who deemed it more stream-worthy than any other track from the film. The biggest soundtrack from a live-action film, Top Gun: Maverick, told a similar story.
Lady Gaga's power ballad "Hold My Hand" was primed to replicate the chart-topping, Academy Award-winning success of Berlin's "Take My Breath Away" from the 1986 original. But while Gaga's lead single received a Best Song Written For Visual Media nomination at the 65th GRAMMY Awards, its chart peak was overwhelmingly eclipsed by OneRepublic's "I Ain't Worried."
The uptempo Peter, Bjorn and John-sampling track played over key scene where Tom Cruise, Glen Powell and Miles Teller play football shirtless on the beach, and became Ryan Tedder and co.'s biggest hit since 2013's "Counting Stars" (No. 6 on Hot 100, over 660 million streams). The synergy between moviegoers and OneRepublic fans caught the band's record label off guard; Interscope pulled promotion of then-current single "West Coast" to capitalize on all the buzz.
2022 also witnessed a return-to-form from pop music-savvy director Baz Luhrmann, whose expert curation helped Romeo and Juliet, Moulin Rouge and The Great Gatsby spawn radio hits. Luhrmann was never going to give his Elvis Presley biopic a traditional soundtrack; instead he favored a mix of nostalgia and anachronism.
Elvis is peppered with songs performed by The King himself, as well as covers sung by former teen idol/lead actor Austin Butler and a host of newcomers and established artists. Yet the film's sole Top 10 hit was contemporary: Doja Cat's "Hound Dog"-sampling "Vegas." For Luhrmann's vision, Elvis was nominated alongside Encanto, "Stranger Things," Top Gun: Maverick and West Side Story for Best Compilation Soundtrack For Visual Media GRAMMY Award.
Even Rihanna came out of self-imposed musical retirement for a film soundtrack, releasing the lead single from Black Panther: Wakanda Forever in late October. While the dramatic balladry of "Lift Me Up" might not have been the floor-filling banger many fans hoped for — the song is Rihanna's first solo single in six years — it still returned the Barbadian to the upper echelons of the hit parade, reaching No. 2.
No stranger to the film soundtrack, Taylor Swift's contribution to haunting drama Where the Crawdads Sing, "Carolina," is also nominated in the Best Song Written for Visual Media category alongside "Nobody Like U" — Turning Red's fictional boyband song co-penned by Billie Eilish. And while the monolithic state of the comic book universe has rarely translated to the singles chart, The Batman's use of Nirvana's "Something In The Way" catapulted 1992's Nevermind up the charts.
As movie hits were abundant, so were songs featured in big-time TV shows — bringing new songs and decades-old hits back into public consciousness. Chief among these small screen-to-chartoppers was  Kate Bush's 1985 single "Running Up That Hill," which played over a significant moment in the mammoth fourth season of Netflix's "Stranger Things."
The song was the British singer/songwriter's first Top 40 hit in the U.S., peaking at No. 30 on the Hot 100 in the '80s. Nearly 30 years later, without any label backing, the majestic synth-pop classic enjoyed a much-deserved second wind, shooting all the way up to No. 3 faster than you can say "flesh-eating Demogorgon."
The sci-fi nostalgia-fest also gave another, although much heavier, '80s gem a new lease of life when Joseph Quinn's Eddie Munson shredded Metallica's "Master of Puppets" in its season finale. The thrash metal favorite subsequently enjoyed a belated chart debut at No. 35, returning the headbangers to the Hot 100 for the first time in 14 years.
Elsewhere, video game adaptation "Arcane" spawned the first TV theme hit in eons with unlikely dream team Imagine Dragons and JID's "Enemy," while "Euphoria" regular Labrinth scored a chart hit with "I'm Tired," a gospel-tinged song he performs in the second season's fourth episode as Zendaya's Rue imagines entering a church. The new golden age of television combined with the return to multiplexes ensured that 2022 was a banner year for the OST.
2023 looks promising, too: Dua Lipa is rumored to be contributing to Barbie's long-awaited cinematic debut; Disney is set to give The Little Mermaid the live-action treatment featuring Chloe x Halle's Halle Bailey; and several franchises that previously spawned No. 1 soundtrack songs have new installments on the way (The Hunger Games: The Ballad of Songbirds and Snakes, Fast X). Regardless, expect the soundtrack hit renaissance to continue growing like the "grapes that thrive on the vine."
Watch The 2022 Nominees For Best Song Written For Visual Media Nominees At The 2023 GRAMMY Awards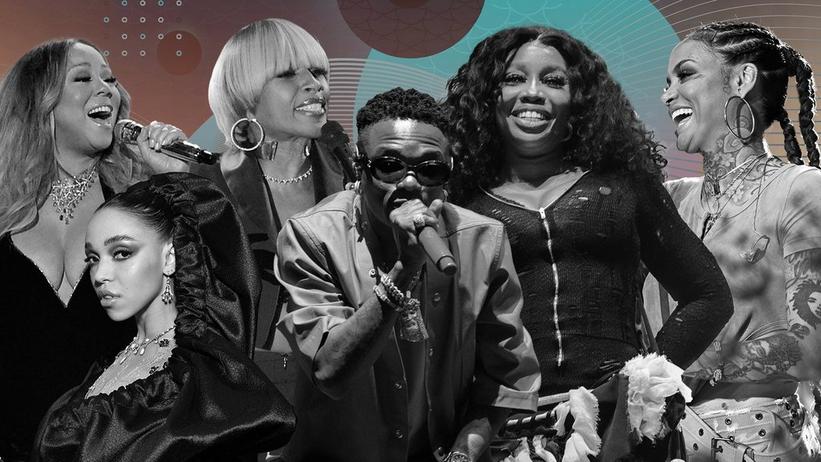 (L-R) Mariah Carey, FKA Twigs, Mary J. Blige, Wizkid, SZA, Kehlani
Photo: (L-R) Aaron J. Thornton/Getty Images for BET, Emma McIntyre/Getty Images for The Recording Academy, Scott Dudelson/Getty Images, Timothy Norris/Getty Images, Erika Goldring/WireImage, Bryan Bedder/Getty Images for Grey Goose Essences
list
2022 Year In Review: 7 Trends That Defined R&B
From the return of beloved mainstays to unexpected collaborations, revisit some of the year's biggest moments in R&B.
GRAMMYs
/
Dec 26, 2022 - 05:24 pm
2022 was a glowing year for R&B, with newcomers and legends alike shattering claims that the genre is on the brink of losing its popularity. It was quite the opposite, actually — newer R&B stars like Flo helped revive '00s nostalgia, and veterans like Babyface showed that there's strength in collaboration.
As the world re-emerges from the pandemic, artists channeled a brighter energy in their music, using more upbeat melodies and lyrics that emphasized fun and romance. Chlöe provided the twerk-friendly anthems, while FKA Twigs' Caprisongs mixtape featured a song for every kind of party imaginable.
There were plenty more R&B stars new and old who contributed to the genre's shine this year. Below, revisit some of 2022's biggest moments in R&B.
The Ladies Seduced Us
R&B has always maintained a sensual core, and the women of the genre confidently reminded listeners of that fact throughout 2022. On her second album Age/Sex/Location, ​​Ari Lennox explored the ebbs and flows of lust with songs like the NSFW "Leak It" (featuring Chlöe) and the flirtatious "Hoodie." Chlöe also continued to unleash her seductive goddess on her solo single, "Surprise."
Two years before SZA dropped her long-anticipated second album, SOS, in December, she showed off her pole-dancing skills in a 2020 Instagram post teasing single "Shirt." (And when lead single "Good Days" arrived in March, she continued her seduction in the outro of the music video.) The LP details the journey of post-lust heartbreak and how to regain one's confidence, from the sneaky affair of "Low" to feeling empty on the punk rock-inspired "F2F."
Peacock's Bel-Air star Coco Jones proved her singing ability was equally as strong as her acting skills, as she captured hearts with her debut EP, What I Didn't Tell You, including the yearning single "ICU." Amber Mark, also a fellow newcomer, released her debut album Three Dimensions Deep. The LP features an array of genres, but songs like "Softly" are what really entranced listeners.
Singers From Across the Pond Ruled
The appreciation for R&B spans shores, and British artists delivered fresh spins on the genre. Cheltenham's FKA Twigs set the energetic tone with the January release of her first mixtape, Caprisongs, which is filled with a kaleidoscope of sounds from drum and bass to trap. Leicester's Mahalia navigated heartbreak with her Letter To Ur Ex EP. Southampton native Craig David tapped back into his '00s style with his nostalgic eighth album, 22, which opens with an interpolation of fellow R&B star Jon B.'s 1998 classic, "They Don't Know."
After winning over stateside fans in 2018 with her GRAMMY-winning single "Boo'd Up," London-born Ella Mai returned with her sophomore album Heart on My Sleeve — a self-described "therapy session" that highlighted the artist's diaristic songwriting. London also spawned a new girl group this year with Flo, a trio who channeled the heydays of '00s pop&B with their debut EP, The Lead.
Afrobeats Trickled Into The Genre
Afrobeats' international popularity has surged over the past few years, so much so that other genres are now borrowing its infectious groove. This year, R&B singers infused the genre into their own sounds, further showcasing Afrobeats' versatility.
FKA Twigs' Caprisongs features "Jealousy," a mellow collab with burgeoning Nigerian artist Rema. Two months later, Rema dropped R&B-infused music of his own on his debut album, Rave & Roses, which featured guests like 6lack and Chris Brown.
The month of June gave way to sweltering summer collaborations. Diddy paired up with Bryson Tiller on the brooding "Gotta Move On," which scored the music mogul his 11th No. 1 on Billboard's Adult R&B Airplay chart. And in true Diddy fashion, he dropped a "Queens" version featuring Yung Miami and Ashanti.
Not long after, Chris Brown and Wizkid joined forces for "Call Me Every Day." Marking their third collaboration, the sultry smash illustrated just why they're crowned the princes of R&B and Afrobeats, respectively.
Artists Took It Back To The Club
R&B is not always about love songs and heartbreak. Rather than dwell in their feelings, a handful of singers opted for a more lighthearted approach in their music. After jumpstarting her solo era with last year's booty anthem "Have Mercy," Chlöe kept the ode to curves going with "Treat Me." Built atop a sample of Bubba Sparxxx and the Ying Yang Twins' 2005 hit "Ms. New Booty," "Treat Me" is a self-confidence anthem.
Baby Tate also borrowed an Atlanta crunk staple from the same year for "Ain't No Love." Featuring fellow Georgia native 2 Chainz, the bouncy tune samples Ciara's "Oh" collaboration with Ludacris, spinning the '00s classic into a modern-day jam.
On the opposite coast, Los Angeles' own Blxst solidified his signature laid-back style with his debut album, Before You Go. Lead single "About You" is best served with a cold one and a two-step.
Kehlani then took listeners to their native Bay Area with April's Blue Water Road album (where Blxst also makes an appearance). The Slick Rick-sampling "Wish I Never" is the ultimate '90s house party jam while the upbeat "Up At Night" with Justin Bieber will do just what its title implies.
Other club genres also came into play, with Ravyn Lenae experiencing house euphoria on Hypnos' "Xtasy" and FKA Twigs going full dancehall alongside shygirl with Caprisongs' "Papi Bones."
There Were Many '90s Celebrations
The '90s still has a tight grip on R&B's current sound, and the artists who ruled that decade proudly reminded us of that fact in 2022. For the 25th anniversary of Mariah Carey's transitional Butterfly album, the icon released a special re-edition that features an updated version of "The Roof" (with added vocals from Brandy) and "Whenever You Call" (with Brian McKnight), a live version of "My All" from VH1 Divas Live, the "Amorphous Anniversary Club Remix" of the title track and more.
Usher also got in the commemorative spirit, releasing My Way (25th Anniversary Edition) — which happens to share the same Sept. 16 anniversary as Carey's Butterfly. The new edition included reimagined versions of three tracks: "My Way (Ryan James Carr Remake)," "Nice & Slow (Ryan James Carr Remake)" and "You Make Me Wanna… (Ryan James Carr Remake)."
To commemorate another 25th anniversary, Erykah Badu celebrated her GRAMMY-winning Baduizm debut with a pair of shows at London's Royal Festival Hall.
Other '90s celebrations came from R&B quartet Xscape, who received the Lady of Soul honor at the 2022 Soul Train Awards, and new artist LAYA, who honored Missy Elliott with a cover of the rapper's 1997 single "Sock It 2 Me" for Women's History Month.
Alt-R&B Girls Made A Return
The beauty of R&B is in its sonic diversity. Alternative R&B has blossomed in popularity over the years, and 2022 saw the return of some of the subgenre's leaders.
Santigold made a thrilling return with Spirituals, the singer's first album in six years. An emotional journey through lockdown, the LP fuses gospel, electronica, punk and pop, all tied together with Santigold's signature yelps.
Another long-awaited comeback came from Kelela, who re-emerged in September after a five-year hiatus. Her single "Washed Away" is the launchpad to her second album Raven, which will be released next February. "Raven is my first breath taken in the dark, an affirmation of Black femme perspective in the midst of systemic erasure and the sound of our vulnerability turned to power," Kelela shared in a press release.
Although Solange didn't give fans new music in 2022, the singer was honored with the 2022 NYU Global Trailblazer Award for Creative and Artistic Excellence in March. And ever the ever-unpredictable star, she composed a score for the New York City Ballet that came to life with a performance at the Lincoln Center in September.
Old School Met New School
This year, there was no separation of generations. Rather, the "legend vs. newcomer" hierarchy was completely dismissed, as artists from the '60s to today joined forces in the recording studio.
Ronald Isley and Beyoncé wooed soul fans with their rework of "Make Me Say It Again, Girl," which originally appeared on the Isley Brothers' 1975 album, The Heat Is On. Isley's wife/manager Kandy told Billboard that Beyoncé's mother Tina Knowles-Lawson was integral in the collaboration, marking a full-circle moment for the star, who grew up listening to the group. "The fact that they are giving us permission to put it out at this time is just overly special," Kandy said.
Ciara and Summer Walker's lilting vocals complemented each other on "Better Thangs," while  SZA (whose stage name pays homage to Wu-Tang Clan member RZA) featured the late Ol' Dirty Bastard on SOS. Elsewhere, PJ Morton's latest album is a celebration of collaboration, with guests Stevie Wonder and Nas on "Water," and Jill Scott and Alex Isley on "Still Believe."
In October, Babyface passed down his GRAMMY-winning torch to the women of R&B with his collaboration album, Girls Night Out. Solely featuring the new generation of female singers, from Muni Long to Ari Lennox, the album showed that romance has no age.
Mary J. Blige donned her Queen of Hip-Hop Soul crown on her latest album, which features rappers like Dave East and Fivio Foreign. On the opposite end, Toronto R&B duo dvsn teamed with male R&B group Jagged Edge on "What's Up" from the former's Working on My Karma album.
Whether it was R&B's legends or promising newcomers making waves, this year had plenty of proof that the genre is still thriving — and never going anywhere.
R&B Isn't Dead: Listen To 51 Songs By Summer Walker, Josh Levi & More Artists Who Are Pushing The Genre Forward