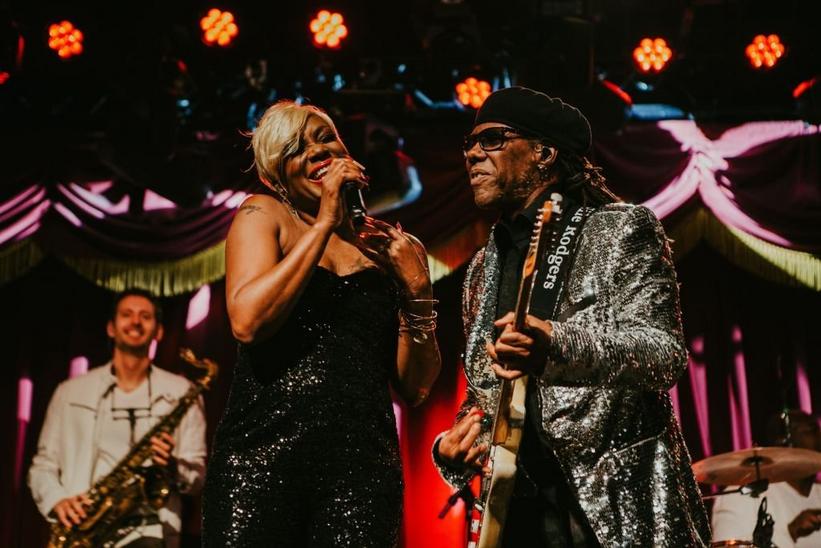 Nile Rodgers (R) and CHIC perform during the Robert Randolph Foundation Presents 2021 Juneteenth Unityfest.
Photo: Dani Barbieri/The Robert Randolph Foundation via Getty Images
list
5 Free Musical Events To Observe Juneteenth 2022: Unityfest, Something In The Water & More
In observance of Juneteenth, the holiday commemorating emancipation, Black musical communities are utilizing performance to celebrate the plight of their ancestors. Here are 5 events to attend virtually or in person to observe Juneteenth.
GRAMMYs
/
Jun 17, 2022 - 09:51 pm
Juneteenth originated on June 19, 1865 in Galveston, Texas to commemorate the official end of enslavement in the United States. The oldest and only day of its kind is a chance for African Americans and people from various ethnicities to gather for picnics, family gatherings, church services and fellowship time to pay homage to Black people who gave their blood, sweat and tears to this country.
On June 17, 2021, Congress passed legislation to make Juneteenth a federal holiday. President Joe Biden signed it into law as the Juneteenth National Independence Day Act, the first federal holiday signed into law since observing Martin Luther King, Jr. Day in 1983.
The Black music and entertainment communities in particular are leading the charge to utilize both performance and sound to celebrate the plight of their ancestors. An incredible range of GRAMMY winners and nominees have come together to share their catalogs, family trees, stages and creative talents to show their appreciation for history and culture and to also raise money for various charitable causes relating to people of African descent.
Also in time for Father's Day and Black Music Month, here are a list of music festivals, special programs and live performances that are held in person, and airing online and on network television in observance of Juneteenth 2022.
Juneteenth: A Global Celebration for Freedom (Sunday, June 19 - 8 p.m ET on CNN and live in Los Angeles)
Produced in partnership with Live Nation Urban, the Hollywood Bowl is presenting a live music festival rich with Black artists spanning all genres of music. Conductor Thomas Wilkins and musician/composer Derrick Hodge will guide the Re-Collective Orchestra — the first all-Black symphony orchestra in the venue's 100-year history — with Ahmir "Questlove" Thompson and Adam Blackstone providing musical direction.
Other performers include Anthony Hamilton, Billy Porter, Jhene Aiko, Khalid, Killer Mike, Lucky Daye, Mary Mary, Mickey Guyton, Robert Glasper, the Debbie Allen Dance Academy, Michelle Williams, the Roots and Earth, Wind and Fire.
Juneteenth UnityFest (Sunday, June 19 - 7:30 p.m. ET, Brooklyn, NY)
GRAMMY-nominated string pedal guitarist/bandleader Robert Randolph and his 501c3 nonprofit the Robert Randolph Foundation return for his second annual multicultural, music and grassroots organization festival.
Livestreamed from various locations across Brooklyn, N.Y., this year's UnityFest kicks off with an afternoon block party featuring DJ Spinna, Josh Milan, Soul Summit Music, and Descendants of Sound. In partnership with BRIC Celebrate Brooklyn, a concert will also be held at the Lena Horne Bandshell in Prospect Park. Headlined by inspirational artist Tye Tribbett and features recording artists Deborah Cox, Mali Music, Israel Houghton, and Randolph. Viewers can stream the concert on the Robert Randolph Foundation's YouTube channel or from Juneteenth UnityFest's mobile app.
National Museum of African American Music's Home Grown Culture Juneteenth Block Party (Sunday, June 19, Assembly Food Hall at Fifth & Broadway in Nashville - 11 a.m. CT)
The only museum dedicated to celebrating the range of musical accomplishments and styles by people of African descent is bringing together legends like Ray Parker Jr. and DJ Collipark with live performances by the Shindellas, Mike Floss, Daru Jones, Willie Jones, Jeverson and O.N.E. The Duo for a free block party for ages 21 and over at the Food Assembly's Skydeck.
The outdoor event in downtown Nashville celebrates freedom through musical expression and is produced following the museum's second annual State of Black Music Summit. The block party is a companion to the Community Day activities at the Roots Theater, which features musicians Tramaine Artemis, Cojo Ko, Thomas Spann, Millie McClain, Candi Willette, Matthew McCoy and Dave Ragland.
The Black Pack Excellence and Brandon Leake: A Family Affair (Sunday, June 19 from 8 - 10 p.m. ET on the CW Network)
"All American" star Taye Diggs, GRAMMY-winning singer/songwriter Ne-Yo and R&B vocalist Eric Bellinger bring some 1960s Vegas strip-style flavor for an hour-long special to commemorate the holiday and celebrate entertainer Sammy Davis, Jr. The trio will be joined by special guest artists Tank and Jordin Sparks.
Immediately following, the "America's Got Talent" winner will showcase eight original spoken word pieces, as well as animation and vignettes about his immediate and extended family tree. The event will be taped at the Haggin Museum in his hometown, Stockton, California.
Something in the Water Festival (Friday, June 17-19 at 3 p.m. ET on Amazon Prime and Twitch)
The three-day music festival created by Pharrell Williams on Independence Ave. in Washington, D.C. this year returns following the GRAMMY-winning superproducer's advocacy efforts to make Juneteenth both an observed and paid holiday in his home state of Virginia. The stage at West Potomac Park will host a pop-up church service for praise and worship near the Martin Luther King Jr. Memorial.
Something in the Water's roster includes 21 Savage, 6LACK, Anderson .Paak and the Free Nationals, Q-Tip, Ashanti, Ja Rule, Calvin Harris, Bia, Chloe x Halle, and Dave Matthews Band.
Listen: GRAMMY.com's Black Joy Playlist, Featuring Stevie Wonder, Beyoncé, Anderson .Paak & Many More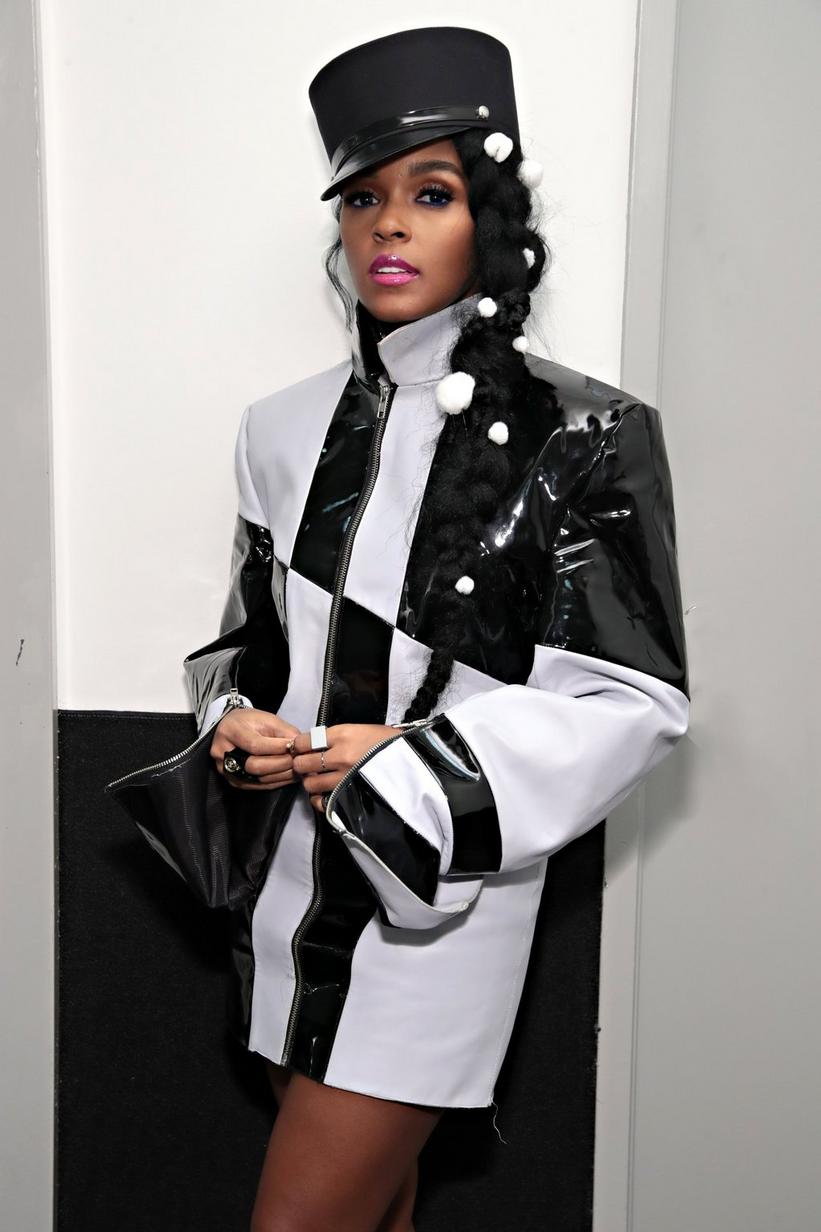 Photo: Cindy Ord/Getty Images
news
Janelle Monáe: 'Dirty Computer' Track List Features Brian Wilson, Pharrell Williams
The R&B singer reveals the inspiration behind each of the 14 tracks on her upcoming studio album
GRAMMYs
/
Apr 25, 2018 - 10:30 pm
We're just two days out from Janelle Monáe's first studio album since 2013's The Electric Lady, and today she revealed the LP's track list thanks to an interactive website packed with goodies.
The interactive website announcing Dirty Computer's track list requires users to type "I am a dirty computer" before entering. Then we get to the details, including the titles, guest artists and inspirations behind the 14-track album — which are prompted when a user clicks through the tracks on an orange circular backdrop.
Dirty Computer will feature guest appearances by former Beach Boy Brian Wilson ("Dirty Computer"), Zoë Kravitz ("Screwed"), the previously released collaboration with Grimes ("Pynk"), and Pharrell Williams ("I Got The Juice").
We also learn the wide-ranging and often political influences Monáe has channeled for the LP, which range from Bible verses to the National Museum of African American History and Culture in Washington, D.C., to Barack Obama, Quincy Jones, Prince, and Black Panther and "the vibranium in Wakanda."
The reveal of Dirty Computer's track list also comes one day before the 44-minute sci-fi Dirty Computer: An Emotion Picture short film starring Monáe and actor Tessa Thompson that will air exclusively on MTV and BET on April 26. It features a futuristic storyline in a society where citizens are referred to as "computers" and will set the tone for the album's release the following day on April 27.
"Dirty Computer is a near-future story about a citizen who finds love and danger in a totalitarian society. She's an outlaw because she's being herself," she said, per Billboard. "Overall, I wanted to reflect what's happening in the streets right now, and what might happen tomorrow if we don't band together and fight for love."
Catching Up On Music News Powered By The Recording Academy Just Got Easier. Have A Google Home Device? "Talk To GRAMMYs"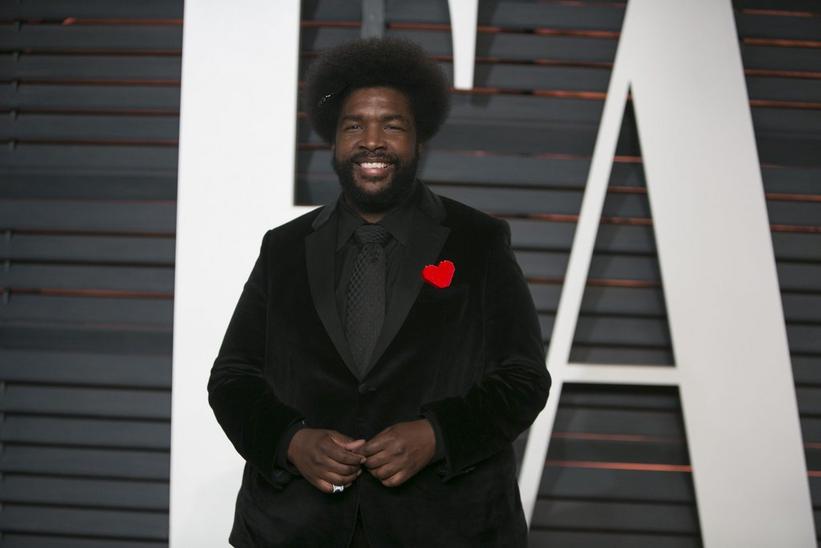 Photo: Adrian Sanchez-Gonzalez/AFP/Getty Images
news
Questlove Pens New Book: 'Creative Quest'
GRAMMY-winning Roots drummer set to release his fourth book on the creative process in April 2018
GRAMMYs
/
Sep 22, 2017 - 01:34 am
No stranger to writing books, Questlove has announced his fourth book, Creative Quest, will arrive April 24, 2018.
According to a statement from the book's publisher, Creative Quest "synthesizes all the creative philosophies, lessons and stories [Questlove has] heard from the many creators and collaborators in his life, and reflects on his own experience, to advise readers and fans on how to consider creativity and where to find it."
Not only will the Roots ​drummer provide personal examples of creativity, he also taps into the lessons he has learned from other notable artists, such as George Clinton, Björk, Ava DuVernay, and David Byrne, equaling a journey full of creative inspiration.
The book is available to pre-order, and follows his other books: 2016's Something To Food About: Exploring Creativity With America's Most Innovative Chefs, 2015's Mo' Meta Blues: The World According To Questlove and 2013's Soul Train: The Music, Dance And Style Of A Generation.
Gucci Mane Releases Autobiography, Hints Second Book On Its Way
news
Jay Z Tops 56th GRAMMY Nominations With Nine
Kendrick Lamar, Macklemore & Ryan Lewis, Justin Timberlake, and Pharrell Williams earn seven nods each; other top nominees include Daft Punk, Drake, Lorde, Bruno Mars, and Taylor Swift
GRAMMYs
/
Dec 3, 2014 - 05:06 am
Nominations for the 56th GRAMMY Awards were announced tonight by The Recording Academy and reflected one of the most diverse years with the Album Of The Year category alone representing the rap, pop, country and dance/electronica genres, as determined by the voting members of The Academy. Once again, nominations in select categories for the annual GRAMMY Awards were announced on primetime television as part of "The GRAMMY Nominations Concert Live!! — Countdown To Music's Biggest Night," a one-hour CBS entertainment special broadcast live from Nokia Theatre L.A. Live.

Jay Z tops the nominations with nine; Kendrick Lamar, Macklemore & Ryan Lewis, Justin Timberlake, and Pharrell Williams each garner seven nods; Drake and mastering engineer Bob Ludwig are up for five awards.

"This year's nominations reflect the talented community of music makers who represent some of the highest levels of excellence and artistry of the year in their respective fields," said Neil Portnow, President/CEO of The Recording Academy. "Once again, The Academy's awards process and its voting membership have produced an impressive list of nominations across various genres promising music fans a spectacular show filled with stellar performances and unique 'GRAMMY Moments.' We are off to a great start and look forward to GRAMMY Sunday as Music's Biggest Night takes the stage."

Following are the nominations in the General Field categories:
Album Of The Year:
The Blessed Unrest — Sara Bareilles
Random Access Memories — Daft Punk
Good Kid, M.A.A.D City — Kendrick Lamar
The Heist — Macklemore & Ryan Lewis
Red — Taylor Swift

Record Of The Year:
"Get Lucky" — Daft Punk & Pharrell Williams
"Radioactive" — Imagine Dragons
"Royals" — Lorde
"Locked Out Of Heaven" — Bruno Mars
"Blurred Lines" — Robin Thicke Featuring T.I. & Pharrell Williams

Song Of The Year:
"Just Give Me A Reason" — Jeff Bhasker, Pink & Nate Ruess, songwriters (Pink Featuring Nate Ruess)
"Locked Out Of Heaven" — Philip Lawrence, Ari Levine & Bruno Mars, songwriters (Bruno Mars)
"Roar" — Lukasz Gottwald, Max Martin, Bonnie McKee, Katy Perry & Henry Walter, songwriters (Katy Perry)
"Royals" — Joel Little & Ella Yelich O'Connor, songwriters (Lorde)
"Same Love" — Ben Haggerty, Mary Lambert & Ryan Lewis, songwriters (Macklemore & Ryan Lewis Featuring Mary Lambert)

Best New Artist:
James Blake
Kendrick Lamar
Macklemore & Ryan Lewis
Kacey Musgraves
Ed Sheeran

Following is a sampling of nominations in the GRAMMY Awards' other 29 Fields:

For Best Pop Solo Performance, the nominees are "Brave" by Sara Bareilles; "Royals" by Lorde; "When I Was Your Man" by Bruno Mars; "Roar" by Katy Perry; and "Mirrors" by Justin Timberlake.

The nominees for Best Pop Duo/Group Performance are "Get Lucky" by Daft Punk & Pharrell Williams; "Just Give Me A Reason" by Pink Featuring Nate Ruess; "Stay" by Rihanna Featuring Mikky Ekko; "Blurred Lines" by Robin Thicke Featuring T.I. & Pharrell Williams; and "Suit & Tie" by Justin Timberlake & Jay Z.
For Best Dance/Electronica Album, the nominees are Random Access Memories by Daft Punk; Settle by Disclosure; 18 Months by Calvin Harris; Atmosphere by Kaskade; and A Color Map Of The Sun by Pretty Lights.

The Best Rock Performance nominees are "Always Alright" by Alabama Shakes; "The Stars (Are Out Tonight)" by David Bowie; "Radioactive" by Imagine Dragons; "Kashmir (Live)" by Led Zeppelin; "My God Is The Sun" by Queens Of The Stone Age; and "I'm Shakin'" by Jack White.

For Best Alternative Music Album, the nominees are The Worse Things Get, The Harder I Fight, The Harder I Fight, The More I Love You by Neko Case; Trouble Will Find Me by The National; Hesitation Marks by Nine Inch Nails; Lonerism by Tame Impala; Modern Vampires Of The City by Vampire Weekend.

The nominees for Best Rap/Sung Collaboration are "Power Trip" by J.Cole Featuring Miguel; "Part II (On The Run)" by Jay Z Featuring Beyoncé; "Holy Grail" by Jay Z Featuring Justin Timberlake; "Now Or Never" by Kendrick Lamar Featuring Mary J. Blige; and "Remember You" by Wiz Khalifa Featuring The Weeknd.

For Best Rap Album, the nominees are Nothing Was The Same by Drake; Magna Carta…Holy Grail by Jay Z; Good Kid, M.A.A.D City by Kendrick Lamar; The Heist by Macklemore & Ryan Lewis; and Yeezus by Kanye West.

The Best Country Album nominees are Night Train by Jason Aldean; Two Lanes Of Freedom by Tim McGraw; Same Trailer Different Park by Kacey Musgraves; Based On A True Story by Blake Shelton; and Red by Taylor Swift.

The nominees for Best Americana Album are Old Yellow Moon by Emmylou Harris & Rodney Crowell; Love Has Come For You by Steve Martin & Edie Brickell; Buddy And Jim by Buddy Miller And Jim Lauderdale; One True Vine by Mavis Staples; and Songbook by Allen Toussaint.

This year's Producer Of The Year, Non-Classical nominations go to Rob Cavallo, Dr. Luke, Ariel Rechtshaid, Jeff Tweedy, and Pharrell Williams.

This year's GRAMMY Awards process registered more than 22,000 submissions over a 12-month eligibility period (Oct. 1, 2012 – Sept. 30, 2013). GRAMMY ballots for the final round of voting will be mailed on Dec. 11 to the voting members of The Recording Academy. They are due back to the accounting firm of Deloitte by Jan. 8, 2014, when they will be tabulated and the results kept secret until the 56th GRAMMY telecast.

The 56th Annual GRAMMY Awards will be held Jan. 26, 2014, at Staples Center in Los Angeles and once again will be broadcast live in high-definition TV and 5.1 surround sound on CBS from 8–11:30 p.m. (ET/PT). The 56th Annual GRAMMY Awards are produced by AEG Ehrlich Ventures for The Recording Academy. Ken Ehrlich is executive producer, and Louis J. Horvitz is director.

For updates and breaking news, visit The Recording Academy's social networks on Twitter and Facebook.
news
Ed Sheeran: GRAMMY winner to make 'Game Of Thrones' cameo
GRAMMY winner joins Janelle Monáe and John Legend as the latest artists to crossover into the world of TV and film
GRAMMYs
/
May 15, 2017 - 01:36 pm
Ed Sheeran's having a big month. His latest album, Divide, has raced up the charts to No. 1 on both sides of the Atlantic, and he broke a Spotify streaming record for number of first-day streams. But for Sheeran fans, perhaps the most exciting development is his upcoming role on season seven of "Game Of Thrones."
Watch Ed Sheeran perform "Shape Of You" at the 59th GRAMMYs
"Game Of Thrones" executive producers David Benioff and D.B. Weiss made the announcement at a SXSW panel on March 12. The details of Sheeran's role have yet to be announced, but the producers originally extended an ask in season three. The reason? "Game Of Thrones" star Maisie Williams, who plays Arya Stark, is a big Sheerio.
"For years we were trying to get Ed Sheeran on the show to surprise Maisie and this year we finally did it," said Benioff.
Sheeran will join a line of previous musical "Game Of Thrones" guest stars, including Snow Patrol's Gary Lightbody, Coldplay's Will Champion and three members from GRAMMY-nominated metal band Mastodon. But Sheeran is just the latest artist to take his talents from the stage to the screen. The Best Picture Oscar nominees this year had no shortage of musician actors.
GRAMMY-nominated R&B singer/songwriter Janelle Monáe had supporting roles in both the Best Picture Oscar-winning Moonlight and Best Picture-nominated Hidden Figures. She studied acting before her music career took off, so the smooth transition she's made into the film world makes sense.
She was called to her surrogate mother-figure role in Moonlight, a coming of age film about a young black man growing up in a rough Miami neighborhood, because of her understanding of what it means to be "other."
"As a black woman who has experienced sexism and racism, I feel obligated to say something," Monáe told Billboard. "The script had me crying as soon as I read it — I knew these characters."
Monae felt similarly called to her role in Hidden Figures, which tells the story of female African-American mathematicians, called "computers" in the days before such technology existed, who served vital roles in the U.S. space program in the 1960s, but were largely left out of history. GRAMMY winner Pharrell Williams, who served as a producer on the film, told Billboard, "Janelle poured her heart and soul into this role — this story was important for her to get right."
Another Best Picture-nominated film, La La Land, which was mistakenly announced as the winner during 2017's Academy Awards ceremony, stars GRAMMY winner John Legend, who plays a musician with aims to modernize jazz and bring it to the silver screen.
Legend identified with his character, Keith, on innovation in music. "As much as you can be influenced by the past or have heroes from the past, it's important to carry that forward and create something new," Legend told Entertainment Weekly. "Any artist that's been successful, no matter how much they've been influenced by other artists, they do something innovative."
For artists such as Sheeran, Monáe, Williams, and Legend, perhaps that innovation in our modern multimedia landscape means branching their talents out to roles large and small onscreen.
Want to watch more musicians on TV? Check out our Carpool Karaoke roundup