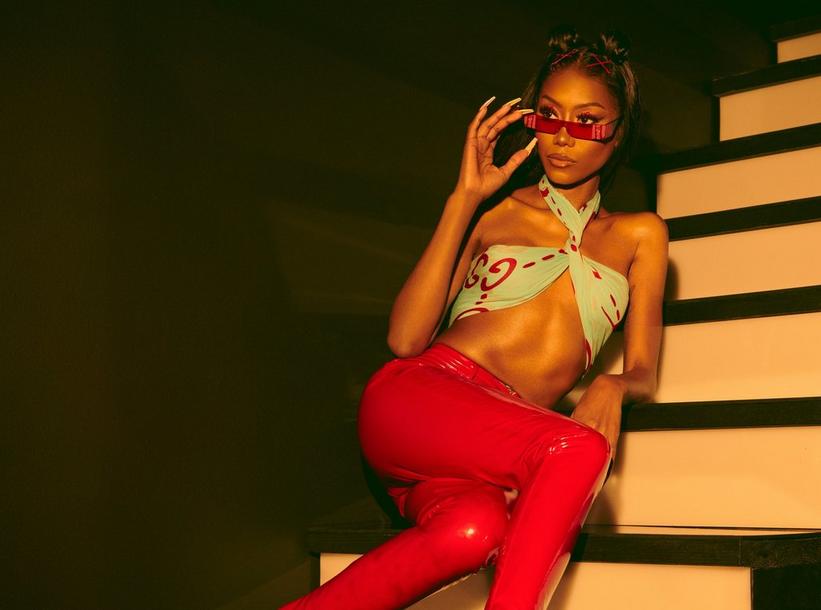 Muni Long
Credit: Tony Bee @tonybeephoto
interview
With 'Hrs And Hrs' Of Dedication, Muni Long Is Rising To The Occasion With Love
Priscilla Renea spent years as a prolific pop songwriter until she could reach her own limelight. After introducing herself to the world as Muni Long, the singer's "Hrs and Hrs" became a viral hit, and now platinum seller, dedicated to the power of love.
GRAMMYs
/
Mar 21, 2022 - 06:33 pm
Born to parents who happen to sing, in her formative years, Priscilla Renea knew she was destined to be a recording artist. The Los Angeles-based musician put in the self-work, and eventually signed to Capitol Records where she released her debut album, Jukebox. 
Yet Renea's words had the most resonance; as a songwriter, Renea used her pen to generate salable radio-played singles for artists including Kesha, Ariana Grande, Rihanna, and others. In 2019, Renea made a challenging career choice to transition away from recognizability and into a new phase of her life. 
"A lot of people didn't want me to change my name," Priscilla Renea says over Zoom. "They were like you are [Priscilla Renea], you've built such a reputation and that name holds weight. [But] that was as a songwriter and that was not my ultimate goal."
The young artist reintroduced herself as Muni Long to the music industry in 2020, steering clear from her past as a creator for others. She even developed her own independent label, Supergiant Records, during the initial stages of the pandemic. 
Muni Long has been building the infrastructure of the creative house in which she can thrive from the ground up, even funding for her own art. The resulting debut EP, Public Displays Of Affection, was released in November 2021 and has been a bursting musical channel for lovers and dreamers. Yet TikTok was the real ignescent digital force that sparked Muni Long's explosion into the mainstream (and to its now platinum status), bringing "Hrs and Hrs" (pronounced "hours") at the forefront of internet virality.  
The romantic, singalong serenade led to an explosion of loving cyberculture within the app and spurred users to #HrsandHrs in celebration of their partners. Muni Long's velvety croon was a unifying voice for multiple generations, and re-enforced the power of digital tools to give artists a larger platform. "Hrs and Hrs" went from a few hundred thousand plays on Spotify to over 50 million in just a few months. The single recently surpassed RIAA's Gold status ranking and is Muni Long's most-streamed song.
The aftershock of Muni Long's hit solidified the now, 33-year-old's ascent towards longevity as a recording artist. With patience and steady fortitude, Muni Long is enduring a soulful metamorphosis to reinvent her art and herself for the promising future that is ahead. Long connected with GRAMMY.com to talk about her philosophies on love, why she redirected her career, and the chartbusting influence of social media.
The loving message behind the chorus definitely re-surged that nostalgic sound in soul music that was needed back then to make a sensational R&B single viral in today's day and age. How has your life changed since "Hrs and Hrs?"
I definitely get a lot more opportunities now. In the beginning, when I started [my label] Supergiant Records, I was trying to find people to fill the different needs. It was tough because number one, we were at the beginning of a pandemic. We started in January 2020 and it was literally just me and two other people. A year and a half later, now having a giant hit shows me that it is possible. All the ups and downs and people quitting or not having the right energy was worth it. 
All of these things that I was dealing with behind the scenes; it really was kind of difficult for me. [With "Hrs and Hrs"] I can breathe now and can celebrate a little bit. My hand is in every pot as an independent artist… overseeing everything and just making sure that it was authentic. True to me, not allowing other people's judgments to affect mine. 
August 2019 is when I decided that I was going to change my name and, then January is when I put it into action. I can relax a bit and just enjoy the success. It isn't too good to be true. It's here, it's not going anywhere as long as I continue to be consistent with my creativity, my expression. Be respectful.
I'm just super excited. It's just a really awesome thing to hear people say… [I am] inspirational. I'm 33. I'm singing R&B music, spending my own money and these are all things that people said weren't possible.
TikTok has given many artists and creatives the platform to share their art. I believe it can be perceived as a tool, in light of there being more saturation in the music industry. Living through the early-to-booming digital age of music-making, what has influenced your perspective on the music industry?
I did get discovered on YouTube, so before viral was even a thing before it was even a word…I did have a few things that went viral, but that wasn't what we called it back then. 
I think what the internet has done is allow people to have freedom of expression. The most important thing is, just, I want to express myself freely and I think the more success you have, the more people sort of back off trying to limit you. Yeah, they give you more resources, they give you more space. They even contribute their own resources and relationships to your expression so that you can make the biggest and best thing that you can possibly make. 
The goal for me is to be able to freely express myself and inspire people the way that Queen inspired me, the way that Pink inspired me, the way Tina Turner inspired me.
With your EP, Public Displays of Affection reaching high numbers after your virality explosion from "Hrs and Hrs" and making your TV debut on "the Tonight Show Starring Jimmy Fallon," how are you approaching this chapter of your career?
Just being more mindful. 
I am learning to search myself for answers before I go outside and seek others. No additional approval or validation or help, because if you pay attention you will just make decisions based on the purest intention. Versus making a decision that's going to make things faster for you or bring you the most money…because you're blinded by your ambition. 
Making sure that I stay rooted and grounded and being able to make the purest decisions. Do things for the right reasons and do no harm.
If you could go back in time and tell younger you about the success you would see now, what would you try to echo to your younger self?
Be patient and work on you every day. 
Do something every day to improve your perspective. Forgive people; I do believe that has a huge part to do with success that I'm having my internal work done.
Do you have a dream collaboration?
I want to work with everybody, like I really do. I believe in collaboration. I miss the time when artists would do duets and sing together. Those were amazing moments and it's just all about the intention. 
Nowadays, people just want the money. I do think that sucks a little bit of creativity out. I want to work with everyone literally from Elton John to Beyonce to Kanye West to Teezo Touchdown, who's an incredible new artist on tour with Tyler, The Creator right now. 
Posthumously, even if I could get my hands on some of those sessions with legendary artists.
You have entered your Muni Long era as an identity switch. I feel like the name is suitable for you, considering how abundant your career will certainly be from 2022 and onward. Is there a moment of inspiration behind your artist name change?
I told my husband about what I was reading and he was like, you should pronounce it "money." My intentions are always coming from within, my decisions come from within. 
What I was reading about was in regards to meditating, reaching nirvana through meditating for hours, sitting in one spot, and the Filipino meaning of magmuni-muni is to think deeply within. 
The translation was very much part of my mantra, my belief system as an individual, just to make sure that all of my decisions and my perspective is self localized and all my choices are. Because that's what I want to do and not because somebody else is telling me that's what I should be doing. I'm doing it from the pure desire in my heart.
What do you do to get yourself in that zone to create?
I'm constantly doing something every day. I love to read. Relaxing; I get enough rest and I don't go in the studio every day. 
There are a lot of artists who go in every day. I was speaking with Ty Dolla $ign. He literally goes in the studio all the time. I don't do that per say, but I will go through beats and maybe find instrumentals that are like stockpile ideas.
Sometimes when I hear a track, I'll make a playlist of things that I miss hearing. Then when I hear tracks, I'll try to create that same energy that I felt in those songs, not necessarily chords and melodies. The essence of the song that makes you feel happy. That song that makes you want to be in love. 
Speaking of your lyric-making process and shrimp and lobsters towers, what would you say is your favorite dish to have on a romantic date with your husband?
I like crab legs. Lobster ravioli. Love seafood obviously.
How has your experiences in music helped inform your personal philosophies on love?
Honestly, I feel like it's the other way around. 
I'm super confident because of my relationship. I had to learn to be a whole person by myself before I could, like, really properly love someone, or just interact in a relationship because it's tough. 
Especially when you have two strong personalities. My husband and I both are very strong personalities. [My music] helped me become a better individual, which in turn affected how I am in the world and my business relationships. 
I don't really care what other people think about me, although we want to, I always treat people fairly and kind. 
Lastly, with you really taking charge of reviving R&B what are you hoping your music does for people who listen?
I hope they are inspired. I hope my music makes them want to do something like pursuing their dreams wherever that may be. 
Hopefully, it just fills a void because I do think there is a wide range of music that I miss anyway and hopefully, I can help fill that.
Amber Mark Opens Up About The 4-Year Journey Of Grief, Growth And Spiritual Awakening That Led To 'Three Dimensions Deep'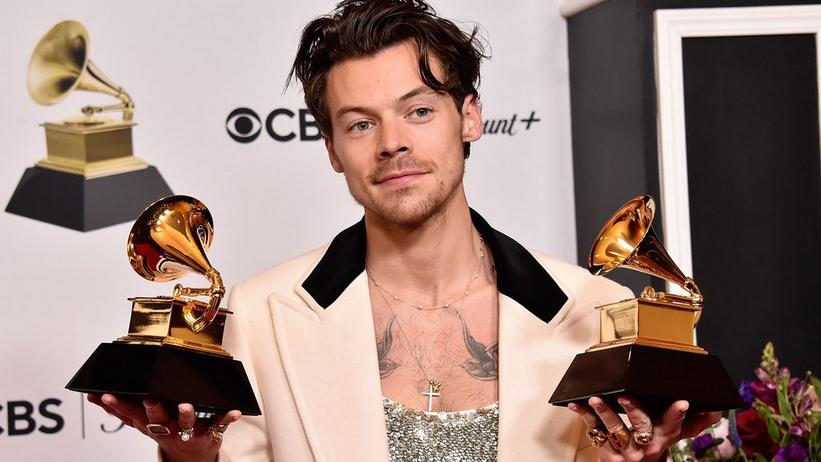 Harry Styles backstage at the 2023 GRAMMYs
Photo: Alberto E. Rodriguez/Getty Images for The Recording Academy
video
Here's What Harry Styles, Brandi Carlile & More Had To Say Backstage At The 2023 GRAMMYs
Backstage at the 2023 GRAMMYs, established and emerging stars alike — from Harry Styles to Samara Joy — opened up about what Music's Biggest Night meant to them.
GRAMMYs
/
Feb 8, 2023 - 10:31 pm
Like every edition of Music's Biggest Night, the 2023 GRAMMYs featured a wealth of funny, touching and inspiring onstage speeches — both at the Premiere Ceremony and the main telecast.
But artists tend to express themselves differently, more intimately, backstage — and this certainly applied to GRAMMY winners and nominees at this year's ceremony.
In the litany of videos below, see and hear stirring, extemporaneous statements from artists all over the 2023 GRAMMYs winners and nominees list, from Album Of The Year winner Harry Styles to Americana star-turned-rocker Brandi Carlile to Best Global Music Performance nominee Anoushka Shankar and beyond.
Throughout, you'll get a better sense of the good jitters backstage at Crypto.com Arena in Los Angeles on Feb. 5, and hear exactly what the golden gramophone means to this crop of musical visionaries.
The list of videos begins below.
Harry Styles
Steve Lacy
Muni Long
Bonnie Raitt
Kim Petras
Ashley McBryde
Carly Pearce
Anoushka Shankar
Masa Takumi
Kabaka Pyramid
Robert Glasper
Assassin's Creed
Encanto
White Sun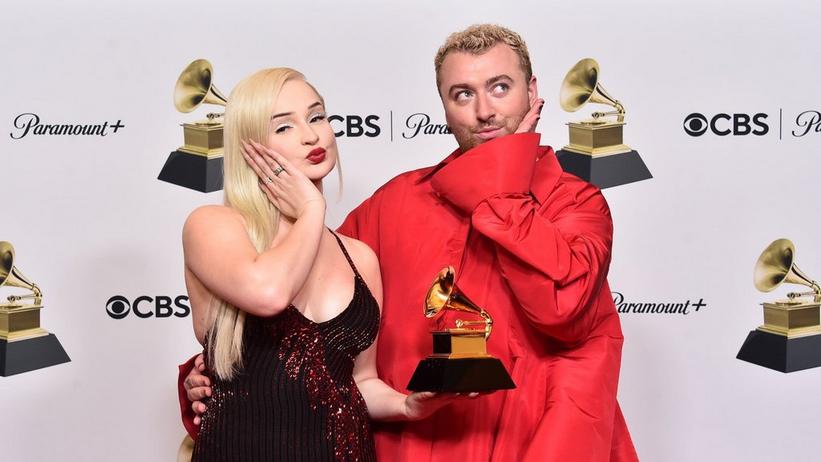 Kim Petras and Sam Smith backstage at the 2023 GRAMMYs
Photo: Alberto E. Rodriguez / Stringer / Getty Images
list
Watch Kim Petras, Muni Long, Steve Lacy & More React To Winning Their First GRAMMY
Many first-time GRAMMY-nominees became first-time GRAMMY-winners on Sun. Feb. 5 at the 2023 GRAMMYs. Hear the first-time winners react after their GRAMMY-winning moments.
GRAMMYs
/
Feb 8, 2023 - 09:00 pm
GREY GOOSE Passion Drop
Photo: Courtesy GREY GOOSE
news
The Recording Academy And GREY GOOSE Vodka Launch 'Sound Sessions' Featuring Muni Long, Ella Mai, and Pink Sweat$
As the Official Spirit of the GRAMMY Awards, the Recording Academy collaborated with GREY GOOSE Vodka to launch the digital series featuring exclusive performances from GRAMMY-winning and -nominated artists, including Muni Long, Ella Mai and Pink Sweat$.
GRAMMYs
/
Jan 24, 2023 - 12:29 am
Ahead of the 2023 GRAMMYs, GREY GOOSE is kicking off the second year of its partnership with The Recording Academy as the "Official Spirits Partner of the 65th Annual GRAMMY Awards" with GREY GOOSE x GRAMMYs: Sound Sessions, a weekly digital series that will feature current GRAMMY nominee Muni Long, acclaimed singer/songwriter Pink Sweat$, and GRAMMY winner and current GRAMMY nominee Ella Mai. Debuting Jan. 23, the series will stream on Instagram and YouTube now through GRAMMY weekend.
"We are thrilled to be continuing our partnership with the Recording Academy for a second year," said Aleco Azqueta, Vice President of Marketing for GREY GOOSE Vodka. "A celebration of the year's best music deserves the best cocktails, so GREY GOOSE is honored to toast to all of this year's nominees. Like the lyrics and melody of a great song, our Sound Sessions series shows just how well music and GREY GOOSE cocktails go together. It features some incredible talent and even a few surprises, so you won't want to miss each installment."
"The Recording Academy is dedicated to celebrating excellence in the recording industry and protecting music's place in our culture," said Adam Roth, Senior Vice President, Partnerships & Business Development at the Recording Academy. "We firmly believe GREY GOOSE shares this same sentiment, which is why we're so excited to partner together for a second year. Our Sound Sessions content series is a perfect example of what our two brands stand for when it comes to music: celebrating artistic expression and elevating creative voices."
The first Sound Sessions episode featuring Muni Long is now available on YouTube and will be followed by Pink Sweat$ on Thursday, Jan. 26, and Ella Mai on Thursday, Feb. 2. With every episode, fans can expect to see intimate musical performances and exclusive interviews where each artist will take them through the "ingredients" of their hit songs, while mixing together the ingredients of one of their favorite GREY GOOSE cocktails. 
"It's been a pleasure to be a part of Sound Sessions with GREY GOOSE Vodka and the Recording Academy to celebrate a year of incredible music," said four-time GRAMMY-nominated recording artist Muni Long. "I'm thrilled to perform my nominated song 'Hrs and Hrs,' and I hope it brings joy and inspiration to all my fans as their support means so much to me. It was also so fun to try my hand at making the official cocktail of the GRAMMYs, The Passion Drop!"
In addition to the Sound Sessions series, GREY GOOSE will have a full-scale presence at a variety of events throughout GRAMMY weekend, including the second iteration of their hit Sound Sessions Brunch on Saturday, Feb. 4. The star-studded affair will be held in Los Angeles and feature a live performance from two-time GRAMMY winner Jazmine Sullivan. The Passion Drop, a citrusy-sweet martini cocktail, will also return as the official drink of the GRAMMY Awards and be served at all Recording Academy events throughout the weekend.
All "GREY GOOSE x GRAMMYs: Sound Sessions" content can be accessed by following each artist, along with @greygoose and @recordingacademy, on all social platforms, as well as on the official GRAMMYs Content Hub.
GREY GOOSE PASSION DROP
1.5 oz GREY GOOSE ​Vodka

.5 oz Small Hand Foods Ginger Syrup ​

.5 oz Fresh Lemon Juice ​

.5 oz Boiron Passionfruit Puree ​

.25 oz Simple Syrup (1:1 ratio of sugar to water) ​
Method: Combine all ingredients in a shaker packed with ice. Shake and strain up in a GREY GOOSE martini glass.​
Garnish: Lemon twist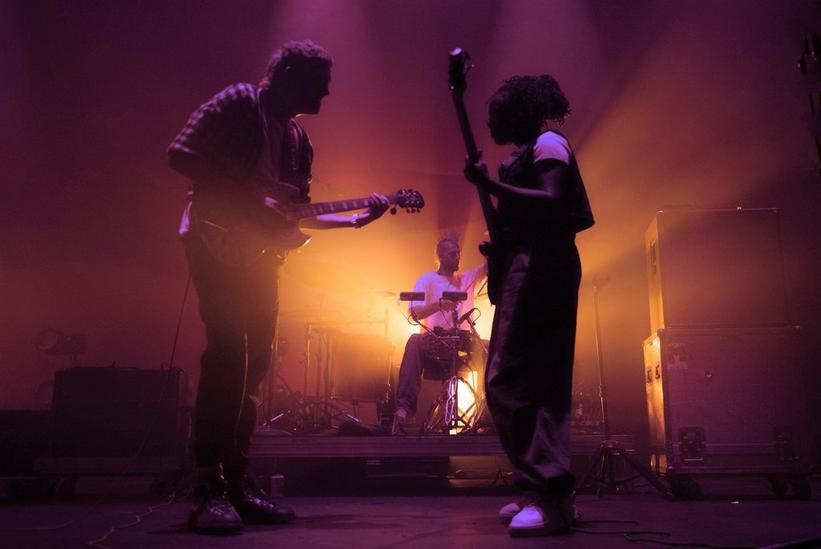 list
A Guide To Modern Funk For The Dance Floor: L'Imperatrice, Shiro Schwarz, Franc Moody, Say She She & Moniquea
James Brown changed the sound of popular music when he found the power of the one and unleashed the funk with "Papa's Got a Brand New Bag." Today, funk lives on in many forms, including these exciting bands from across the world.
GRAMMYs
/
Nov 25, 2022 - 04:23 pm
It's rare that a genre can be traced back to a single artist or group, but for funk, that was James Brown. The Godfather of Soul coined the phrase and style of playing known as "on the one," where the first downbeat is emphasized, instead of the typical second and fourth beats in pop, soul and other styles. As David Cheal eloquently explains, playing on the one "left space for phrases and riffs, often syncopated around the beat, creating an intricate, interlocking grid which could go on and on." You know a funky bassline when you hear it; its fat chords beg your body to get up and groove.
Brown's 1965 classic, "Papa's Got a Brand New Bag," became one of the first funk hits, and has been endlessly sampled and covered over the years, along with his other groovy tracks. Of course, many other funk acts followed in the '60s, and the genre thrived in the '70s and '80s as the disco craze came and went, and the originators of hip-hop and house music created new music from funk and disco's strong, flexible bones built for dancing.
Legendary funk bassist Bootsy Collins learned the power of the one from playing in Brown's band, and brought it to George Clinton, who created P-funk, an expansive, Afrofuturistic, psychedelic exploration of funk with his various bands and projects, including Parliament-Funkadelic. Both Collins and Clinton remain active and funkin', and have offered their timeless grooves to collabs with younger artists, including Kali Uchis, Silk Sonic, and Omar Apollo; and Kendrick Lamar, Flying Lotus, and Thundercat, respectively.
In the 1980s, electro-funk was born when artists like Afrika Bambaataa, Man Parrish, and Egyptian Lover began making futuristic beats with the Roland TR-808 drum machine — often with robotic vocals distorted through a talk box. A key distinguishing factor of electro-funk is a de-emphasis on vocals, with more phrases than choruses and verses. The sound influenced contemporaneous hip-hop, funk and electronica, along with acts around the globe, while current acts like Chromeo, DJ Stingray, and even Egyptian Lover himself keep electro-funk alive and well.
Today, funk lives in many places, with its heavy bass and syncopated grooves finding way into many nooks and crannies of music. There's nu-disco and boogie funk, nodding back to disco bands with soaring vocals and dance floor-designed instrumentation. G-funk continues to influence Los Angeles hip-hop, with innovative artists like Dam-Funk and Channel Tres bringing the funk and G-funk, into electro territory. Funk and disco-centered '70s revival is definitely having a moment, with acts like Ghost Funk Orchestra and Parcels, while its sparkly sprinklings can be heard in pop from Dua Lipa, Doja Cat, and, in full "Soul Train" character, Silk Sonic. There are also acts making dreamy, atmospheric music with a solid dose of funk, such as Khruangbin's global sonic collage.
There are many bands that play heavily with funk, creating lush grooves designed to get you moving. Read on for a taste of five current modern funk and nu-disco artists making band-led uptempo funk built for the dance floor. Be sure to press play on the Spotify playlist above, and check out GRAMMY.com's playlist on Apple Music, Amazon Music and Pandora.
Say She She
Aptly self-described as "discodelic soul," Brooklyn-based seven-piece Say She She make dreamy, operatic funk, led by singer-songwriters Nya Gazelle Brown, Piya Malik and Sabrina Mileo Cunningham. Their '70s girl group-inspired vocal harmonies echo, sooth and enchant as they cover poignant topics with feminist flair.
While they've been active in the New York scene for a few years, they've gained wider acclaim for the irresistible music they began releasing this year, including their debut album, Prism. Their 2022 debut single "Forget Me Not" is an ode to ground-breaking New York art collective Guerilla Girls, and "Norma" is their protest anthem in response to the news that Roe vs. Wade could be (and was) overturned. The band name is a nod to funk legend Nile Rodgers, from the "Le freak, c'est chi" exclamation in Chic's legendary tune "Le Freak."
Moniquea
Moniquea's unique voice oozes confidence, yet invites you in to dance with her to the super funky boogie rhythms. The Pasadena, California artist was raised on funk music; her mom was in a cover band that would play classics like Aretha Franklin's "Get It Right" and Gladys Knight's "Love Overboard." Moniquea released her first boogie funk track at 20 and, in 2011, met local producer XL Middelton — a bonafide purveyor of funk. She's been a star artist on his MoFunk Records ever since, and they've collabed on countless tracks, channeling West Coast energy with a heavy dose of G-funk, sunny lyrics and upbeat, roller disco-ready rhythms.
Her latest release is an upbeat nod to classic West Coast funk, produced by Middleton, and follows her February 2022 groovy, collab-filled album, On Repeat.
Shiro Schwarz
Shiro Schwarz is a Mexico City-based duo, consisting of Pammela Rojas and Rafael Marfil, who helped establish a modern funk scene in the richly creative Mexican metropolis. On "Electrify" — originally released in 2016 on Fat Beats Records and reissued in 2021 by MoFunk — Shiro Schwarz's vocals playfully contrast each other, floating over an insistent, upbeat bassline and an '80s throwback electro-funk rhythm with synth flourishes.
Their music manages to be both nostalgic and futuristic — and impossible to sit still to. 2021 single "Be Kind" is sweet, mellow and groovy, perfect chic lounge funk. Shiro Schwarz's latest track, the joyfully nostalgic "Hey DJ," is a collab with funkstress Saucy Lady and U-Key.
L'Impératrice
L'Impératrice (the empress in French) are a six-piece Parisian group serving an infectiously joyful blend of French pop, nu-disco, funk and psychedelia. Flore Benguigui's vocals are light and dreamy, yet commanding of your attention, while lyrics have a feminist touch.
During their energetic live sets, L'Impératrice members Charles de Boisseguin and Hagni Gwon (keys), David Gaugué (bass), Achille Trocellier (guitar), and Tom Daveau (drums) deliver extended instrumental jam sessions to expand and connect their music. Gaugué emphasizes the thick funky bass, and Benguigui jumps around the stage while sounding like an angel. L'Impératrice's latest album, 2021's Tako Tsubo, is a sunny, playful French disco journey.
Franc Moody
Franc Moody's bio fittingly describes their music as "a soul funk and cosmic disco sound." The London outfit was birthed by friends Ned Franc and Jon Moody in the early 2010s, when they were living together and throwing parties in North London's warehouse scene. In 2017, the group grew to six members, including singer and multi-instrumentalist Amber-Simone.
Their music feels at home with other electro-pop bands like fellow Londoners Jungle and Aussie act Parcels. While much of it is upbeat and euphoric, Franc Moody also dips into the more chilled, dreamy realm, such as the vibey, sultry title track from their recently released Into the Ether.
The Rise Of Underground House: How Artists Like Fisher & Acraze Have Taken Tech House, Other Electronic Genres From Indie To EDC