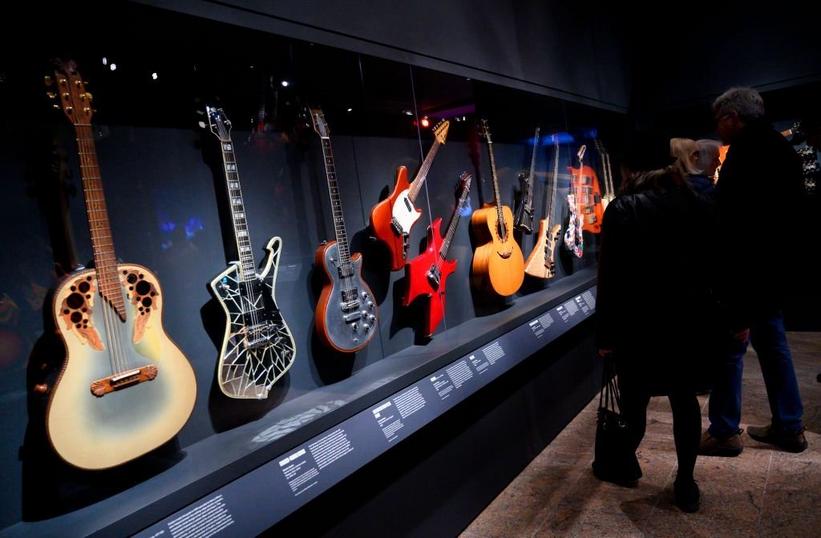 "Play It Loud: Instruments Of Rock & Roll"
Photo credit: DON EMMERT/AFP/Getty Images
news
The Met, "Play It Loud" & New York City's Love Affair With The Electric Guitar
Featuring pieces from more than 70 lenders, The Met's collaboration with the Rock & Roll Hall of Fame is the first major exhibition in an art museum dedicated entirely to instruments of rock 'n' roll
GRAMMYs
/
Jun 12, 2019 - 11:24 pm
New York is not nice. It is unnatural and otherworldly. There are moments it can be sweet, but at its best, it is jarring. It can be distorted, loud, unpredictable and heavy. It can make you feel like you're the only person in a crowded room. It can make you feel like you'll never be alone.
In his last interview, conducted during a long afternoon in his apartment on 6th avenue and 14th street, rock critic Lester Bangs was asked how he'd define good rock 'n' roll. He responded, "Rock 'n' roll is like an attitude, it's not a musical form of a strict sort. It's a way of doing things, of approaching things. Like, anything can be rock 'n' roll." He continued: "I mean, writing can be rock 'n' roll or a movie can be rock 'n' roll. It doesn't necessarily have to have anything to do with music. It's just a way of living your life, a way of going about things."
By that very definition, a city can be rock 'n' roll, and there is no doubt in my siren-filled, crowded, and oft-broken down subway of a mind that that city is New York.
More recently, and further uptown on 5th avenue, The Metropolitan Museum of Art gave the genre an equally elusive definition: loud. Not "loud" as the description of a sound, however, but as the text narrates on the wall of the "Play it Loud: Instruments of Rock & Roll" exhibit, "loud" as "an attitude." Manhattan's fine art institution has backed up that denotation with ample evidence consisting of more than 130 instruments, including rare guitars, bass, drum kits, keys and horns from more than 80 musicians, several rigs used in live performances, videos and even costumes that symbolically signify rock's showy sonics. Powered by five years of negotiations with almost 70 lenders, and a collaboration with the Rock & Roll Hall of Fame, it's the first major exhibition in an art museum dedicated entirely to instruments of rock 'n' roll.
As I told Jayson Kerr Dobney, the Met's Frederick P. Rose Curator in Charge of Musical Instruments, as we walked through the exhibition with Jimi Hendrix's "All Along The Watchtower" soundtracking our conversation, that seemed like a hell of a lot of coordinating. He agreed, saying, "Rock 'n' roll has been a favorite art museum topic for years now, but not every art museum has a musical instrument department. We're one of a handful. And so I think it took a place like The Met, which has a department of musical instruments who could kind of leverage that knowledge and those relationships to look at what I think are the most personal and important objects for rock 'n' roll."
Kerr Dobney shared that he wanted to give us audience members, who are primarily used to seeing instruments on stage from very far away, a rare opportunity to examine these iconic objects up close. But that meant not only focusing on the instruments, but the stories behind the people playing them. "That was a new area for me to explore, because the musicianship and musicians are so important to this story."
Many of the instruments displayed are nearly as well-known as their players, garnering enough fame and folklore to gain their own monikers, like Hendrix's "Love Drops," Eric Clapton's "Blackie," Eddie Van Halen's "Frankenstein," Jerry Garcia's "Wolf" and Joan Jett's "Melody Maker."
"It had to be something very special and important, whether it came from the musician or from a collector, quite frankly," said Kerr Dobney. "That's what we do in the department of musical instruments: We think about instruments and all of their multifaceted ways. Yes, they are musical tools and they're technology, but they are visual icons. They are performance pieces. They are beloved. They inspire music creation."
The exhibit is organized thematically, setting the stage with the Gibson ES-350T Chuck Berry enlisted to record "Johnny B. Goode," and giving Berry earned credit for establishing the electric guitar as the primary voice of rock and roll. Then there's a space that pays homage to iconic moments in rock 'n' roll and the instruments that helped define them like the Ludwig drum set Ringo Starr used to sync a million heartbeats when a little band from Liverpool called The Beatles made their US debut on the Ed Sullivan Show.
There's a section dedicated to expanding the band that displays a host of instruments utilized in the studio that fall outside of the archetypal four-piece: two electric guitars, one electric bass, and a drum set. Then there's a room dedicated to creating a sound focused on the electricity, technology and limitless options behind the texture, melodies, and tonal possibilities that make a signature sound possible. The gallery (where I spent an inordinate amount of time posing in front of a "Zoso" emblazoned amplifier) shows off rigs from four distinct guitarists—Jimmy Page, Keith Richards, Eddie Van Halen, and Tom Morello—as they would be displayed onstage or in their recording studios.
Eddie Van Halen's red-and-white "Frankenstrat," a.k.a. "Frankenstein" sits front and center.
"It's about how these choices are so important to the musicianship," said Kerr Dobney. "That's the artistry. It's not just which guitar you play and what notes you play, but there's this whole thing about the timbres that you can create and the sounds that you can create and that's so much a part of rock."
Once we'd made the rounds through each theme, from the objects consecrated by '60s guitar gods to the Ernie Ball Music Man that accompanied St. Vincent on her 2017 MASSEDUCTION tour, I asked Kerr Dobney where he thought this whole rock 'n' roll thing was going to go next.
"I think in rock music especially, there's a lot of cycles. You look at the way punk came and took everything back to the original and then grunge came. It just always turns back and forth. I think we don't know, but I think it's exciting. I don't think there's an end to this story."
My favorite moment in the exhibition, another spot where I lingered for too long, then circled back for more, was Jimmy Page's restored 1959 "Dragon Telecaster." Ash body, maple neck, rosewood fingerboard, and ornamented with a spiraling psychedelic dragon handpainted by Page himself; that alone made it gawk-worthy. However, it's not what Page played but how he played it that kept me magnetized. First with The Yardbirds, then in the studio for Led Zeppelin's eponymous debut, and, of course, with a violin bow during an experimental and transcendent "Dazed and Confused" guitar solo at New York's Filmore East in 1969.

See, that's what I love about the way Page commands the electric guitar. It is not nice. It is unnatural and otherworldly. There are moments when it can be sweet, but at its best, it feels jarring. It can be distorted, loud, unpredictable and heavy. It can make you feel like you're the only person in a crowded room. It can make you feel like you'll never be alone.
Mick Jagger Reveals New Rolling Stones Tour Details In First Interview Since Surgery
news
We Will, We Will Shock You
A collection of shocking album covers that might make you look twice (or look away)
GRAMMYs
/
Dec 3, 2014 - 05:06 am
As the baby boomer-fueled market moved from singles to albums in the '60s and '70s, artists began using LP covers as a means to create bold visual statements, occasionally using nudity, sexual imagery or striking graphics. Sometimes the purpose was to create art for the ages, while other times it was to push boundaries. Either way, the most controversial covers were often banned or altered by record companies for fear of public or retail outrage. One of the most famous cases of censorship was one of the first — the Beatles' "butcher" cover for 1966's Yesterday And Today, which featured a grinning Fab Four covered in raw meat and plastic baby doll parts. (The cover was reportedly an anti-Vietnam war commentary by the group.) Capitol Records issued a new cover with a less-shocking photo after the original caused an uproar. In the '70s and '80s, German rock band the Scorpions made a series of albums with disturbing sexual imagery, including 1976's notorious (and quickly banned) Virgin Killer featuring a nude young girl. The cover was replaced by a conventional band portrait.
While shocking album covers do still exist, they have occurred with less frequency since the '90s as CDs, which de-emphasized cover art, replaced LPs and pop culture grew more permissive. Now, as album sales shift from physical to digital, the age of shock album covers is starting to seem like a bygone era. Here are a few other album covers that shocked us, and might shock you too.

Moby Grape
Moby Grape, 1967
Shocking fact: Drummer Don Stevenson's (center) middle finger was airbrushed out on later pressings.

The Jimi Hendrix Experience
Electric Ladyland, 1968
Shocking fact: The British release featured a bevy of naked women on the cover.

John Lennon & Yoko Ono
Unfinished Music No. 1: Two Virgins, 1968
Shocking fact: Distributors covered the explicit content — nude front and back portraits of Lennon and Ono — in brown paper. Even today, full frontal nudity remains objectionable for many.

The Rolling Stones
Beggars Banquet, 1968
Shocking fact: The band's U.S. and UK labels originally rejected the cover featuring a toilet and graffiti-covered bathroom wall. Today, the cover seems remarkably tame.

Blind Faith
Blind Faith, 1969
Shocking fact: The original cover featured a young nude girl holding a small plane. The replacement cover featured a shot of the band.

David Bowie
Diamond Dogs, 1974
Shocking fact: The cover illustration of Bowie as a (noticeably male) dog had the offending organs edited out.

Ohio Players
Honey, 1975
Shocking fact: The sexually suggestive cover features Playboy Playmate Ester Cordet swallowing honey from a spoon.

Jane's Addiction
Nothing's Shocking, 1988
Shocking fact: An ironic twist to the list. This artsy cover depicts a realistic sculpture, created by frontman Perry Farrell, featuring nude conjoined twins with hair afire.

Millie Jackson
Back To The S*!, 1989
Shocking fact: The take-no-prisoners soul singer poses on a toilet seat with one shoe off while grimacing. Often called the worst album cover ever.

The Black Crowes
Amorica, 1994
Shocking fact: Original cover featured an American flag-printed G-string showing pubic hair.

news
Jackson Tops Dead Earners List
GRAMMYs
/
Dec 3, 2014 - 04:22 am
Jackson Tops Dead Earners List
GRAMMY winner and Recording Academy Lifetime Achievement Award recipient Michael Jackson topped Forbes' annual list of top-earning dead celebrities with $275 million, earning more than the combined total of the other 12 celebrities on the list. Elvis Presley ranked second with $60 million, John Lennon placed fifth with $17 million and Jimi Hendrix tied for 11th place with $6 million. Forbes compiled the list based on gross earnings between October 2009 and October 2010. (10/26)
UK Arts Council Announces Budget Cut Plans
Following a previous report, Arts Council England has revealed plans to implement the 30 percent cut to the UK's arts funding budget. The cuts will include a 7 percent cash cut for UK arts organizations in 2011–2012, a 15 percent cut for the regular funding of arts organizations by 2014–2015 and a 50 percent reduction to the council's operating costs. (10/26)
GRAMMY Winners To Perform At World Series
GRAMMY winners Kelly Clarkson, Lady Antebellum and John Legend are scheduled to perform "The Star-Spangled Banner" during Major League Baseball's 2010 World Series between the San Francisco Giants and Texas Rangers. Legend and Lady Antebellum will perform at games one and two in San Francisco on Oct. 27 and Oct. 28, respectively, and Clarkson will perform at game three on Oct. 30 in Arlington, Texas. (10/26)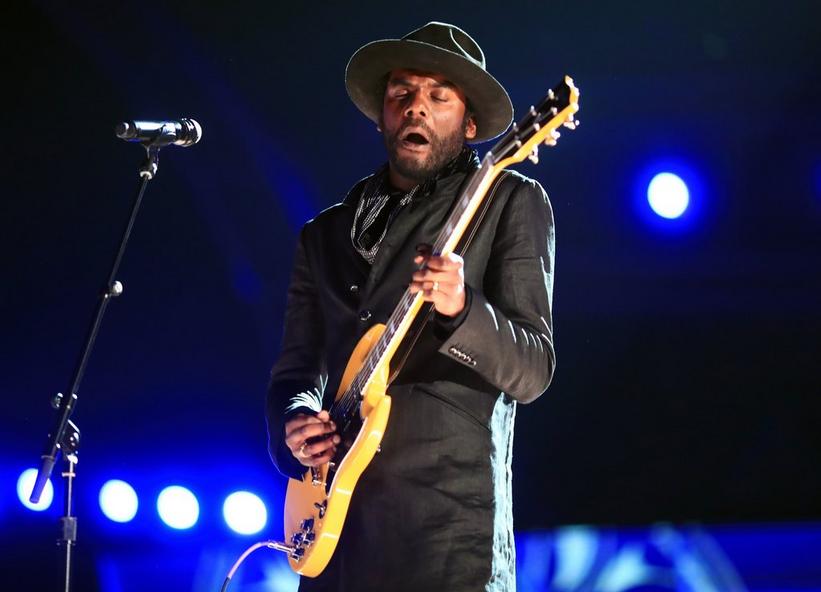 Gary Clark Jr. performs at the 59th GRAMMY Awards on Feb. 12, 2017
Photo: Christopher Polk/Getty Images
interview
Gary Clark Jr.: You can't shake Chuck Berry
GRAMMY-winning guitarist on the lasting influence of the late rock and roll icon and why classic rock equals "Chuck Berry licks with a little distortion and some fuzz"
GRAMMYs
/
May 15, 2017 - 01:36 pm
Chuck Berry was playing in my house and my grandparents' house so [his music] was [always] around. I think I really became conscious of how popular he was [when] — this sounds kind of silly to say, but I grew up in the '80s — Michael J. Fox played the Chuck Berry thing [in Back To The Future]. I was maybe 7 or 8 and saw him on TV this guy, this icon … I used to watch every award show and he'd be there. So I don't remember not knowing who Chuck Berry is.

[Then] I opened up for him in Austin, Texas, but I never met him. He just pulled up in his white Lincoln, hopped up onstage, got the money, and got out of there. This was when I was 21, so around the early 2000s.

I stayed and watched after I played and he was incredible, full of energy, duck walking — he played great. It was fun and wild and loose. It was cool, man. He was an icon standing there in my hometown doing his thing.
I may have only been 21, but I was pretty conscious and aware of what was happening and what I was a part of. The thing that I had in my mind the most was back then I was playing a lot more straight-ahead blues and rock and roll stuff and the whole time I was thinking, "Just whatever you do, don't play his licks all night. Try not to do Chuck Berry for Chuck Berry." But I felt I was a part of something and in those years I was moving around, meeting a lot of people — when you're young you meet these crazy icons, these people who paved the way.
But looking back to my early 20s and being on a bill with somebody like that is pretty amazing and there's a little bit of pressure and responsibility that goes with that. It's kind of a big deal, but yeah, I definitely appreciate those moments and understand how major they are for me as an artist.
There are a couple of songs in particular where you hear his influence in my music. There's one in particular called "Travis County" and there's another one called "Shotgun Man" that I did when I was a little kid and originally it was like a folk song and I just kind of switched it and got in Chuck Berry mode.
These are direct Chuck Berry influences that I knew. Anytime I am playing, I'll go, "I can't do that, I gotta get back into my own thing." But it is rock and roll. He invented it and his spirit will continue to last in a lot of music. Think of classic rock, it's Chuck Berry licks with a little distortion and some fuzz. It's everywhere and in my music [and] it's definitely a lasting influence. That's one of those things you pick up and you can't shake. Chuck Berry is everything.
Want more Chuck Berry? Watch his 1984 Lifetime Achievement Award acceptance speech
(GRAMMY winner Gary Clark Jr. performed "Born Under A Bad Sign" alongside William Bell at the 59th GRAMMY Awards. His latest album, Live/North America 2016, was released March 17.)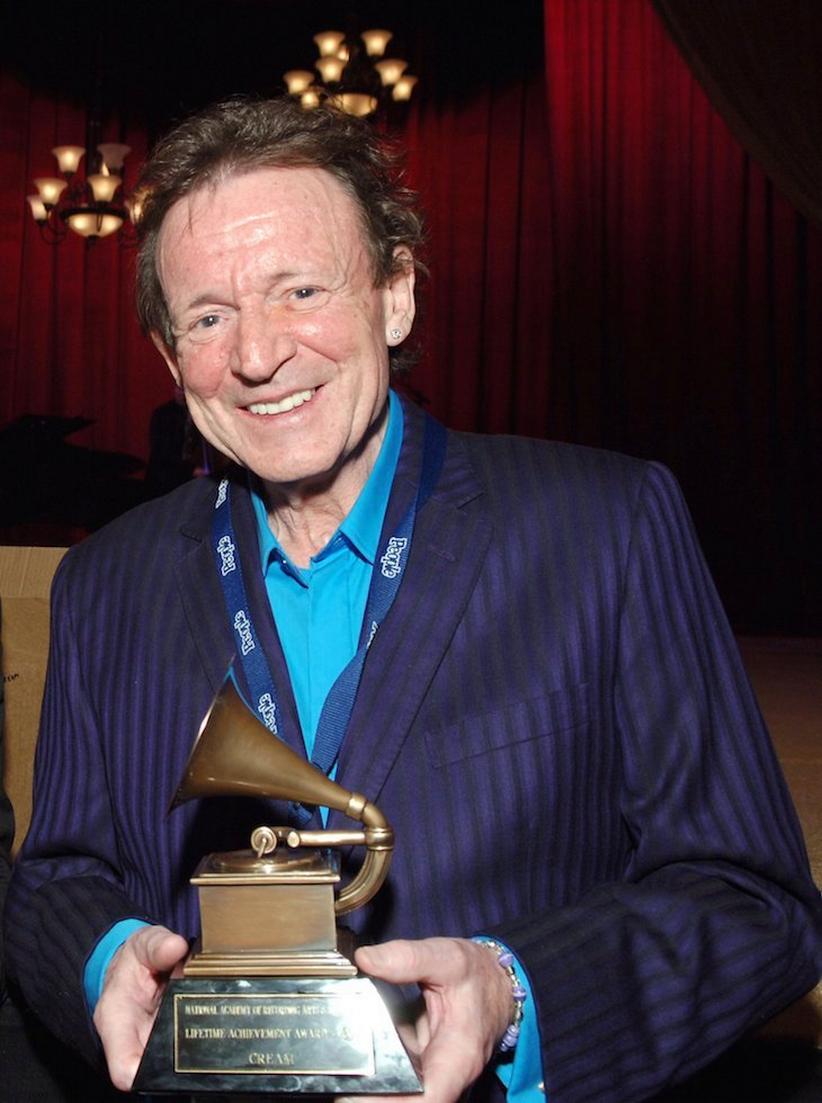 Jack Bruce at The Recording Academy's Special Merit Awards Ceremony in 2006
Photo: John Sciulli/WireImage.com
Cream bassist/vocalist dies at 71
GRAMMYs
/
Dec 3, 2014 - 05:06 am
Cream bassist/vocalist Jack Bruce died Oct. 25 from complications stemming from liver disease. He was 71. Founded in London in 1966, Cream — Bruce, guitarist Eric Clapton and drummer Ginger Baker — were hailed as one of rock's original supergroups with a sound marked by blues, hard rock and psychedelic flourishes. The trio released four studio albums in four years before disbanding, including 1968's Wheels Of Fire, which topped the Billboard 200. Lauded for his smooth vocals and melodic bass style, Bruce was a key architect of hits such as "Sunshine Of Your Love," "White Room" and "I Feel Free," among others. As a solo artist, Bruce released numerous studio albums during his career, including his most recent effort, 2014's Silver Rails. Cream were inducted into the Rock and Roll Hall of Fame in 1993. They later reunited in 2005 for a series of concerts at London's Royal Albert Hall, which resulted in a live album and a one-off U.S. concert at Madison Square Garden. Their sophomore studio album, Disraeli Gears, was inducted into the GRAMMY Hall Of Fame in 1999. Cream were honored with a Recording Academy Lifetime Achievement Award in 2006.