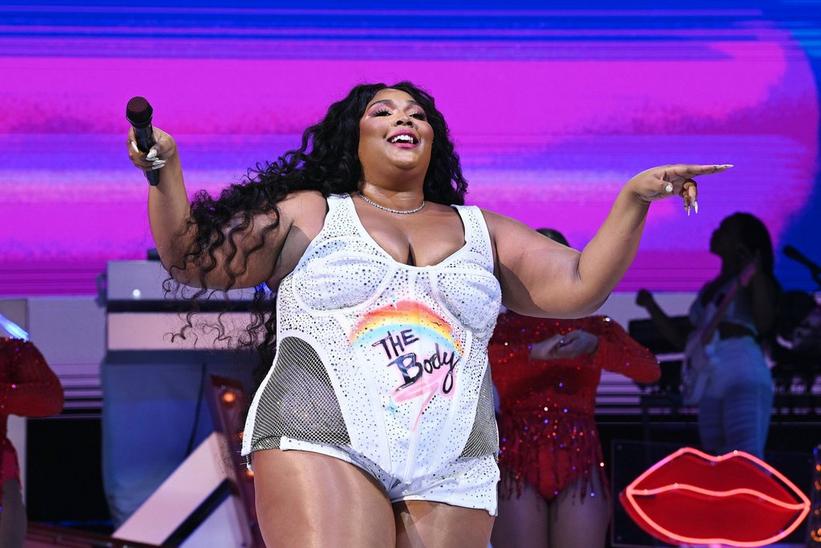 Lizzo performing at the Platinum Studio for American Express UNSTAGED Final 2021 Performance at Miami Beach EDITION in Dec. 2021.
Photo: Bryan Bedder/Getty Images for American Express
list
Everything We Know About Lizzo's New Album 'Special'
Ahead of the release of Lizzo's 'Special,' out July 15, here's a rundown of details about the much-anticipated new album.
GRAMMYs
/
Jun 15, 2022 - 09:26 pm
Lizzo has become one of music's most infectious talents, creating hits that shed light on important topics like self-esteem and inclusivity all topped with a cheeky smile. So when the Houston-repping artist took three years away to craft her new album to perfection, her fans — the Lizzbians, as Lizzo declared herself in 2019 — knew the wait was going to be worth it.
In April, Lizzo announced the release of her fourth studio album and second major-label LP, Special, due July 15. The news came just two days before the singer made her hosting debut on Saturday Night Live, where she also performed lead single "About Damn Time" and the title track — both of which tease that Special is going to be full of her trademark empowering anthems.
Special follows 2019's GRAMMY-winning Cuz I Love You, which took home gramophones for Best Pop Solo Performance ("Truth Hurts"), Traditional R&B Performance ("Jerome"), and Best Urban Contemporary Album in 2020. 
The new album also comes at a booming time in Lizzo's career: her reality competition series Watch Out For The Big Grrrls premiered on Amazon Studios in March, the same month she released her shapewear brand Yitty.
Below, see all the goods GRAMMY.com gathered about Lizzo's highly anticipated new album, Special, thus far. 
The Album Is Titled Special, Arriving July 15
After initially teasing the album's completion during her keynote speaker session at SXSW, Lizzo officially announced Special on Instagram on April 14. The singer kept her caption brief — "SPECIAL. THE ALBUM. JULY 15." — letting the striking black and white portrait cover speak for itself.
She Narrowed Down The 12-Song Track List From 200
As Lizzo told  SiriusXM's The Heat, she wrote nearly 200 songs for the album, which she started recording in 2018. 
"I needed to go through life and get a lot of things off my chest," she said. "I had a lot happen interpersonally, a lot has happened globally and I think I needed to process that. The way that I process things is through writing music. So I was writing these songs, but then I just needed to keep going until I found my sweet spot and what the world needed to hear. 
"I also wanted to make a thorough album," she continued. "I didn't want to just make a bunch of singles or random songs that I thought were the coolest. I wanted to put a real body of work together so I can make a classic album because I just want to only make classics. I like my music and I want to continue to like my music."
Although the album's full track list has yet to be revealed, Special will include 12 tracks according to its pre-order page on Apple Music.
The Title Is An Intentional Confidence Booster
Since her 2013 debut album Lizzobangers, Lizzo has always intended to make people feel like they belong with her music — so it's no surprise that her latest album is called Special. In an interview with Zane Lowe on Apple Music 1, she revealed that a certain pop music mastermind informed the title's decision-making.
"The album was called In Case Nobody Told You for a while, and then Max Martin came on and he helped me change the hook a little bit and restructured it," she explained. "He was like, 'Special, Special. The song is Special.' I was like, 'Okay.' Then one day, I had this aha moment where I'm like, 'Oh sh-t, the album is Special. Literally, the album is special, and I'm special.'
"I want the person [who hears] this to feel special," she added. "Everything now has this special feel to it, and this glow, this sparkle. Ever since that's the era I'm moving into. It's out of the darkness and into the light."
Lizzo Brands It As A "Love Album"
The singer's discography is filled with themes of love, from recovering from heartbreak to finding self-love. And for Special, she's doubling down from 2019's Cuz I Love You and exploring all facets of love — as evidenced by the vanity of "About Damn Time" and "Special" as well as the best friend anthem "Grrrls." 
In February, Lizzo shared with Variety how "shocked" she was that this is an album all about love. While she played it coy on whether she's currently enamored with a special someone, she did allude to the music reflecting her personal relationships.
"I think that I will never be the kind of artist that's like this album is about a story I wrote; it's not real," Lizzo said. "I'm always just a very personal, like I'm-talking-to-my-friend-on- the-phone-with-really-good-music-behind-me b<em></em><em></em>. I will say this: It is a love album."
It's Filled With Nonstop Bangers
For Special, Lizzo will continue to provide the same electric feeling found in hits like "Good As Hell," "Juice" and "Truth Hurts." 
During an April interview with ET Canada, the singer shared that she switched up the album last minute in order to match the sparkling vibe of "About Damn Time." "I think I had an epiphany like, 'Oh I only want songs that are love frequency', like, very about love, and also bangers," she explained. "I wanted to make Lizzobangers again. So even if it's a ballad, it bangs. Every song is memorable and delicious and you want to hear it again and again and again."
She Teamed Up With Various Pop Music Virtuosos
Lizzo isn't a one-genre woman: she's dabbled in rap, pop, R&B, and disco — and on top of that, she plays the flute as expertly as a classical musician. For Special, she's gathered top producers and songwriters who are also known for blurring the genre lines. 
Lizzo reunited with Ricky Reed — the producer behind "Truth Hurts" — and songwriter/producer Blake Slatkin (who produced 24kGoldn's "Mood" with iann dior and Kid LAROI's "Stay" with Justin Bieber) for her vibrant "About Damn Time" single. 
"She's just so herself, and I think she's unbelievably brave. She has stood up for a lot of things that she believes in in the past, and I always respect any artist that does that," Slatkin shared with Billboard in June. "She lets people into her life — I think the world feels like they're friends with her. She gives you the feeling that you know her and can talk to her, and if you were with her in the room, you would be dancing to her songs together. I've always admired artists that give you that feeling."
As she shared with Zane Lowe, Lizzo also got in the studio with Max Martin for the title track; additionally, she revealed to Australia's Cool Accidents that she collaborated with Mark Ronson. 
In an interview with the Spout Podcast, Lizzo said she jokingly asked actor Chris Evans — whom she has playfully flirted with in her DMs — to play piano on the album after the Captain America star showed off his skills on social media, but that didn't come to fruition. And unfortunately for those who love Lizzo's friendship with Harry Styles, it's looking like the pop star won't make an appearance either. 
"That is so funny. The internet going to internet," she said in the same interview. "That's all I'll say about that."
Read More: 10 Artists Who Have Stood Up For Women In Music: Taylor Swift, Lizzo & More
The Album Will Continue Her Mission To Motivate
Along with allusions to her love life, the album will embrace self-love — a theme that is the core of not just Lizzo's music, but her mission as an entertainer as a whole. As someone who has received backhanded compliments for her curves and how she embraces her sexuality, Lizzo aims for fans to discover unapologetic confidence just like she has. 
"I had a lot of fear, and I had to do the work on myself, and this music is some of that work in turning that fear into love," Lizzo told Zane Lowe. "I hope that when people listen to this album, it makes their day just a little bit better, a little bit more filled with love."
Lizzo Is Taking The Album On The Road Very Soon
Lizzo's Special era is about to become even more, well, special. She'll embark on her very first headlining arena tour in North America — aptly titled the Special Tour — this fall. 
"3 years since my last tour… and I'm finally coming back to YOU!" she posted on social media on April 25. The trek kicks off Sept. 23 in Florida's FLA Live Arena and will feature rapper Latto as support. 
With an album and tour on the horizon, there's no doubt that 2022 will be nothing short of Special for Lizzo and her Lizzbians.
070 Shake's 'You Can't Kill Me' Surrenders To Love & Mortality With '80s Flair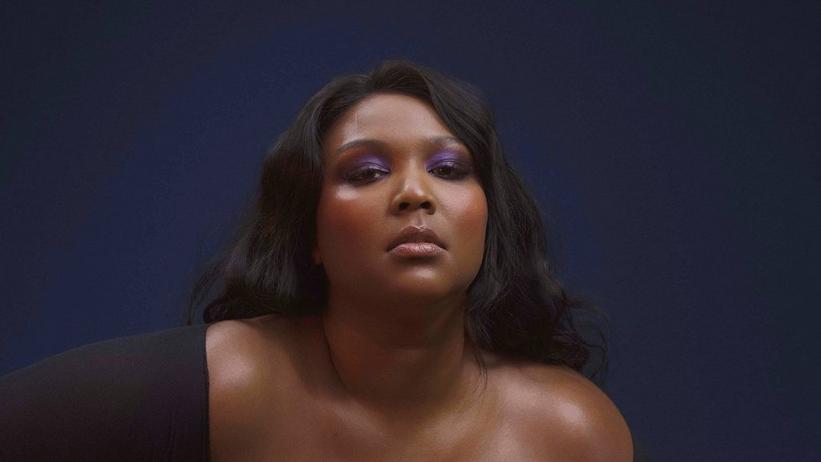 news
Lizzo, Billie Eilish, Aerosmith, Gwen Stefani And Blake Shelton To Perform At The 2020 GRAMMYs
Some of music's biggest stars will take the stage at the 62nd GRAMMY Awards, taking place Sunday, Jan. 26, 2020, and broadcasting live on CBS at 8 p.m. ET/5 p.m. PT
GRAMMYs
/
Jan 8, 2020 - 07:32 pm
Get ready to #UnexpectEverything as the first wave of performers for the 62nd GRAMMY Awards has been announced. Artists taking the stage on Music's Biggest Night are first-time nominee breakout stars Billie Eilish and Lizzo, who will each make their GRAMMY stage debuts; powerhouse artists Blake Shelton and Gwen Stefani, who will take the GRAMMY stage together for the first time ever; and four-time GRAMMY winners and 2020 MusiCares Person of the Year Aerosmith, who will perform a medley of some of their legendary hits. It all goes down on Sunday, Jan. 26, 2020, live from STAPLES Center in Los Angeles and broadcasted live on the CBS Television Network at 8 p.m. ET/5 p.m. PT.
Rock icons Aerosmith make their triumphant return to the GRAMMY stage this month as performers, nearly 30 years after making their GRAMMY stage debut at the 33rd GRAMMY Awards in 1991. In addition to their career-spanning performance, the legendary band is also being honored as this year's MusiCares Person Of The Year, which will recognize their considerable philanthropic efforts over five decades as well as their undeniable impact on American music history. Through the years, Aerosmith have shown support for a number of charities around the world, including frontman Steven Tyler's Janie's Fund.
The 2020 GRAMMYs will also feature highly anticipated debut performances from two of the biggest breakout artists of the past two years: Billie Eilish and Lizzo.
First-time GRAMMY nominee and performer Billie Eilish is in the running for some of the night's biggest awards, including: Best New Artist; Album Of The Year and Best Pop Vocal Album for her 2019 album, When We All Fall Asleep, Where Do We Go?; and Record Of The Year, Song Of The Year and Best Pop Solo Performance for album single "Bad Guy."
Lizzo, who received the most nominations at the 2020 GRAMMYs with a total of eight nods, is making her debut as both a GRAMMY nominee and performer this month. She's up for several major awards, including Best New Artist. Her 2019 album, Cuz I Love You [Deluxe], is also up for Album Of The Year and Best Urban Contemporary Album, while album track "Truth Hurts" is nominated for Record Of The Year, Song Of The Year and Best Pop Solo Performance. Album tracks "Exactly How I Feel" and "Jerome" are also nominated for Best R&B Performance and Best Traditional R&B Performance, respectively.
Taking the GRAMMY stage together for the first time ever, three-time GRAMMY winner Gwen Stefani will perform alongside Blake Shelton, a current GRAMMY nominee who's up for Best Country Solo Performance for his 2019 track, "God's Country."
Tune in to the 62nd GRAMMY Awards, which are once again hosted by Alicia Keys, on Sunday, Jan. 26, 2020, and broadcasting live on CBS at 8 p.m. ET/5 p.m. PT to catch all these amazing performances and to see who will take home the night's biggest awards.
Camila Cabello, H.E.R., Jonas Brothers, Bonnie Raitt & More To Perform At The 2020 GRAMMY Awards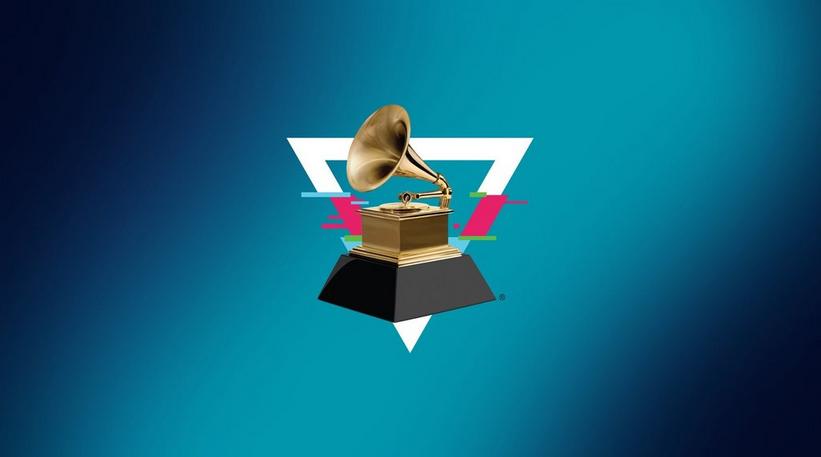 news
Find Out Who's Nominated For Best R&B Performance | 2020 GRAMMY Awards
GRAMMYs
/
Nov 20, 2019 - 06:27 pm
The 2020 GRAMMYs are just around the corner, and now the nominations are in for the coveted honor of Best R&B Performance. While we'll have to wait until the 62nd GRAMMY Awards air on CBS on Jan. 26 to find out who will win, let's take a look at which songs have been nominated for Best R&B Performance.
"Love Again" (Performed by Daniel Caesar & Brandy)
Released in July, "Love Again" is a duet between GRAMMY-winning pop/R&B icon Brandy and GRAMMY winner Daniel Caesar, taken from Caesar's second album Case Study 01. Caesar won Best R&B Performance at the 61st GRAMMY Awards for "Best Part."
"Could've Been" (Performed by H.E.R. Featuring Bryson Tiller)
"Could've Been" was the first and only single taken from H.E.R.'s I Used to Know Her: The Prelude and was later included on the singer's second compilation album, I Used to Know Her. Last year, at the 61st GRAMMY Awards, the perma-shaded artist earned five nominations, including one for Best New Artist. She also won Best R&B Album for her compilation album H.E.R., as well as Best R&B Performance for "Best Part.

"Exactly How I Feel" (Performed by Lizzo Featuring Gucci Mane)
"Exactly How I Feel" shows up on Lizzo's empowering third studio album, Cuz I Love You.
"Vulnerability and strength is what this album is all about," she recently told the Recording Academy in an Up Close & Personal interview.
"When you write these songs you get really excited about them and mind you, I had a song like 'Juice' just under my armpit in the darkness and nobody knew what it sounded like," the singer continued. "Or keeping it a secret that I had Missy Elliott on a song, at that point you just want to explode and when the album was out, I was so excited to just share the songs with people and the world."
"Roll Some Mo" (Performed by Lucky Daye)
The New Orleans R&B singer's first single "Roll Some Mo" is taken from his debut album, Painted, which dropped in May.
"Come Home" (Performed by Anderson .Paak Featuring André 3000)
GRAMMY winner Anderson .Paak brought former OutKast member André 3000 on the opener to his fourth studio album, Ventura, which came out last April.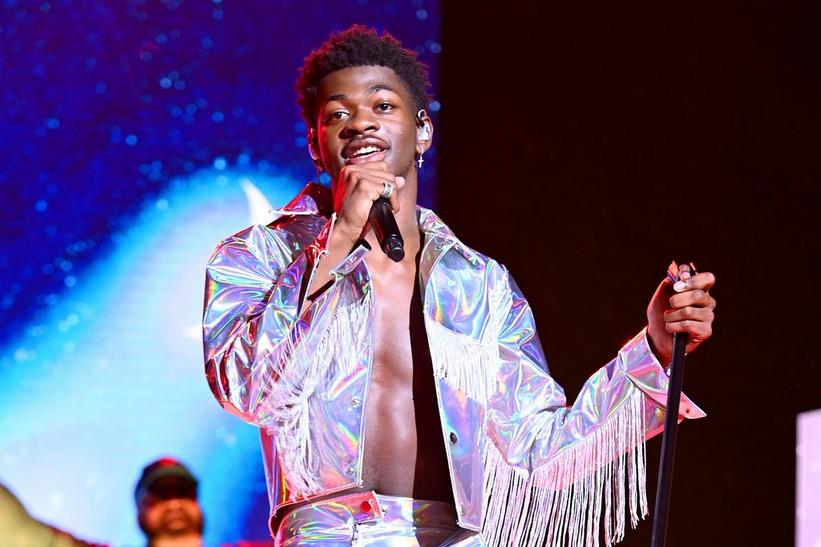 Photo: Noam Galai/Getty Images for BuzzFeed
news
Lil Nas X's No. 1 Run Began With TikTok, Now The Music Industry Is Taking Notice
"We get 10 to 15 inquiries a day from artists and labels wanting to pay us to use their song," Devain Doolaramani, who manages over 20 TikTok users, recently told Rolling Stone
GRAMMYs
/
Aug 27, 2019 - 01:22 am
Whether or not you've ever downloaded the app, it's likely you've been hearing about TikTok more and more this year. Though it may be most popular among teens and pre-teens, the short-form video app is not one to brush off as a mindless youth trend. Its users upload 15-second videos set to music (denoted in text at the bottom of the clip) onto the platform, offering the chance for both the uploader and the artist of the song to gain viral fame. And while striving for your moment—however brief—in the spotlight is nothing new, teens' obsession with the year-old app is already making waves in the music industry.
Last month, 20-year-old Lil Nas X broke records as his viral Billy Ray Cyrus-assisted "Old Town Road" took the longest run ever at No. 1 on Billboard's Hot 100, holding its reign on the all-genre chart for 17 weeks in a row. Back in February, the then-unknown rapper, two months after self-releasing the original version of the country-trap song, uploaded it to TikTok along with a "challenge": to change into Western garb before the drop. The song went viral on the app as users like Michael Pelchat, a.k.a. NiceMichael, added their own versions. A month later, Lil Nas X signed to Colombia Records and in April they released the record-breaking remix.
Lil Nas X is not the only notable artist to effectively harness the power of TikTok. Lizzo joined the platform in June and offered the #DNATest challenge, featuring her 2017 bop "Truth Hurts"—she opens the song with "I just took a DNA test, turns out I'm 100% that bitch." This month, the two-year-old song became her first top 10 track on the Hot 100, hitting No. 4 on Aug. 10. "Juice," from her latest LP Cuz I Love You, is her only other song to date to make the all-genre chart, reaching No. 9. The newfound viral moment of "Truth Hurts," similar to that of Lil Nas X, led Lizzo to release a new remix, featuring DaBaby.
A recent Rolling Stone feature examining the app's rapid growth and impact on the music industry highlights the move for labels and artists to push their music on the platform. "We get 10 to 15 inquiries a day from artists and labels wanting to pay us to use their song," Devain Doolaramani, who manages over 20 TikTok users, recently told the outlet. The article explains that the Chinese company Bytedance purchased the lip sync video app Musical.ly in late 2017, and, in August 2018, shut it down and migrated its user base to the new TikTok, giving it a starting point of 500 million monthly global users.
Speaking to both active uploaders and people who support its uploaders, like Doolaramani, Rolling Stone found that the algorithm better supports the chance for 15 seconds of fame, as it "is constantly searching for new clips, rather than just pushing out the latest videos from already popular users." The algorithm also seems to push videos and challenges—and their featured songs—that are already doing well to the next level. Doolaramani noticed that songs featured in around 3,000–5,000 videos seem to get more a bigger boost once they reach that point.
The platform even offers "creator partner managers" for popular users invited into their Creators Program. Pelchat, whose profile says he has over 922,400 fans, is part of the program. As he told Rolling Stone, his manager can help push his videos with lower views to the next level.
"Within the hour, [the video] had 80,000 more likes than what it had before. They have some magical button that they can press and just promote [a video] to the world," Pelchat said, when describing what happens after he reaches out about a video. He added that managers "have a very key part in pushing what [TikTok] wants to do."
Yet, while record labels are currently paying popular TikTok-ers to promote their songs, they could require the platform to pay for the rights to use their music in the future. The article points to a recent Bloomberg report that Universal, Sony and Warner are all renegotiating their existing deals, which expire soon, with the platform.
While it's not clear exactly what the future of TikTok will look like, it is clear that the way young people consume music is ever-changing, and the short-form video app is a major part of that.
Watch: Lizzo & Missy Elliott Turn Up The "Tempo" In Brand-New Video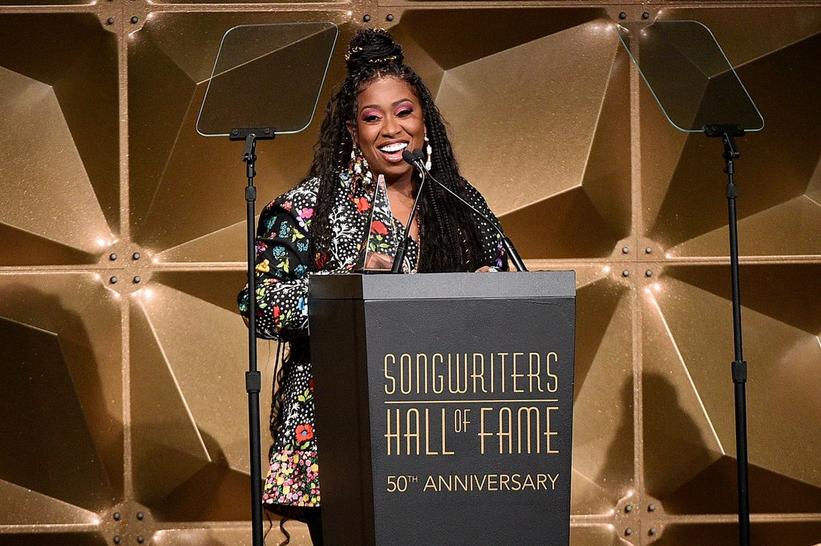 Photo: Theo Wargo/Getty Images for Songwriters Hall Of FameMissy Elliott
news
Queen Latifah Inducts Missy Elliott Into The Songwriters Hall Of Fame, Lizzo Performs
The GRAMMY-winning hip-hop icon, who became the first female rapper given the honor, gave an inspiring speech: "Don't give up, because I'm standing here. And this is big for hip-hop, too"
GRAMMYs
/
Jun 14, 2019 - 10:10 pm
Last November, GRAMMY winner hip-hop mainstay Missy Elliott made headlines as the first-ever female rapper nominated for the Songwriters Hall Of Fame. Last night, the all-around icon made history as she joined the 2019 class of inductees. She is just the third-ever rapper inducted, with GRAMMY winners JAY-Z and Jermaine Dupri preceding, becoming the first in 2017 and second in 2018, respectively.
Fellow GRAMMY-winning hip-hop heavyweight Queen Latifah presented Elliott with the award—and some loving words—during the ceremony held in New York. The evening was filled with a powerful energy, thanks to even more mega queens honoring Elliott, including the one and only Michelle Obama and rising rap goddess Lizzo.
"Missy, I want to thank you for all of your trailblazing ways," Obama said in the video message shared during the event, which Elliott also Tweeted out. "Thank you not for just sharing your gift with the world, but for being an advocate for so many people out there, especially young girls who are still figuring out how to make their voices heard."
Related: 'Da Real World' At 20: Missy Elliott Champions Women, Hip-Hop Rookies, And, Most Of All—Herself
Lizzo performed Elliott's classic 1997 mega-bop "Sock It 2 Me" while rocking an O.G.-Missy finger-wave hairstyle. GRAMMY-nominated rapper Da Brat joined her to hit her original bars on the Supa Dupa Fly track. As Lizzo strutted onto the stage, she shouted-out her idol:
"Missy, I want to thank you for inspiring young black girls like me to chase their dreams. I love you so much, I wouldn't be here without you. This is for you." Earlier this year, Lizzo got an assist from Elliott on her own fire track "Tempo."
Of course, Elliott had her own powerful words to add, offering gratitude for the honor. "I cry because it's a lot to take in. I'm thankful, humbled. I'm grateful to be up here with so many geniuses in this room, I've met so many people that I looked up to, and still look up to, as songwriters and producers," she said during her acceptance speech, which you can watch a clip of, along with part of Lizzo's performance, in the above video.
She continued: "I want to say one thing to the writers, to the upcoming writers, 'Do not give up.' We all go through writer's block. Sometimes you just have to walk away from a record and come back to it. But don't give up, because I'm standing here. And this is big for hip-hop, too."
In addition to all the amazing songs she's penned for herself, Missy's also written songs for an impressive list of artists. As ABC News points out, that list includes major music players like Aaliyah, Beyoncé, Whitney Houston, Mariah Carey, Ariana Grande and many others.
The 2019 Songwriters Hall of Fame class of inductees, who became eligible after putting in at least 20 years of hit-writing, also included GRAMMY-nominated singer Yusuf/Cat Stevens and GRAMMY-winning folk legend John Prine.
Jack Tempchin, a writer for the Eagles and GRAMMY winner Dallas Austin, a co-writer and producer behind many of TLC and other artists' hits, were also inducted last night. GRAMMY winner Justin Timberlake and GRAMMY-nominated pop star Halsey were honored with other awards during the ceremony, receiving the Contemporary Icon Award and Hal David Starlight Award, for "gifted" young songwriters, respectively.
Hit-Makers Share The Specialized, Intuitive Art Of Crafting The Perfect Song