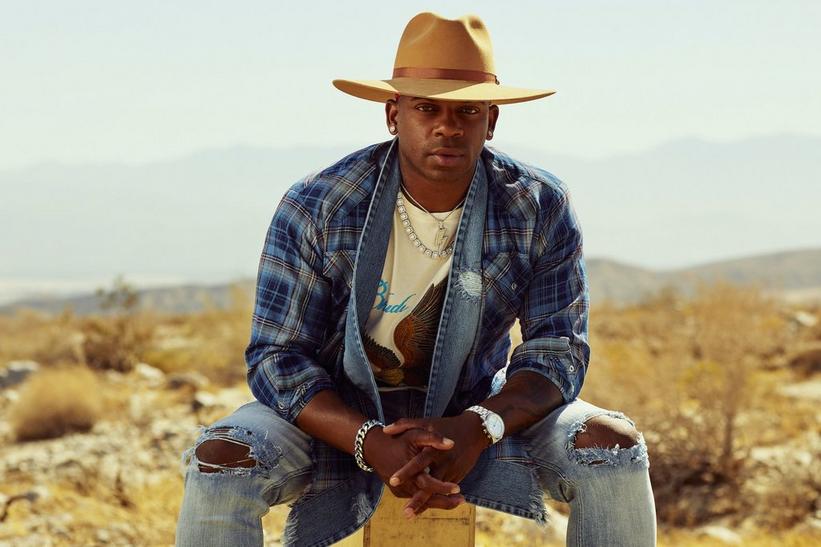 interview
Meet The First-Time GRAMMY Nominee: Jimmie Allen On How His Diverse Small-Town Upbringing Made Him One Of Country Music's Hardest-Working Hitmakers
The only country artist in this year's Best New Artist category, Jimmie Allen is one of the genre's leading Black voices. The singer/songwriter discusses the influence of growing up in a small, multi-racial town where music knew no color lines.
GRAMMYs
/
Mar 15, 2022 - 06:56 pm
Jimmie Allen may just be the busiest man in country music. In the past six months alone, the singer/songwriter has competed on "Dancing With the Stars," welcomed his third child, toured with Nelly, won his first Country Music Association award, landed his third No. 1 on country radio, and co-hosted the ACM Awards with Dolly Parton and Gabby Barrett.
Though he's been officially releasing music since 2017, Allen is inarguably having the biggest moment of his career thus far. As a result, he's nominated for Best New Artist at the 2022 GRAMMY Awards — the only country artist to receive the honor this year.
"I was shocked. People would say all the time, 'Jimmie, why aren't you nominated for a GRAMMY for this? You're doing it different, and you're different-looking than most people in your genre of music,'" Allen says. "I'm not really worried about that. How I do my thing is, I just keep my head down, I work, and the people who are meant to know who I am will. I just focus on creating, expanding my brand and having fun."
One scroll through Allen's Instagram page will tell you that he's definitely having fun. And rightfully so: Allen has been working to make a career in music happen since 2007, initially struggling so much that he had to sleep in his car.
But while he's basking in the success he's made for himself, Allen is also aware of the work that still needs to be done. The "Down Home" singer has plenty more career aspirations, and as one of country's leading Black voices, he's looking forward to creating more opportunities for himself and the genre's rising stars. "It takes us having the courage to actually go out there and do it, and try to do it, to help open the door for someone else," he asserts.
GRAMMY.com sat down with Allen to discuss the importance of his GRAMMY nomination, how his small-town upbringing influenced his genre-spanning sound, and the long list of ventures that are still on his horizon (hint: get ready for some Jimmie Allen deodorant).
You're extremely passionate about expanding your reach to people who don't necessarily listen to country music. So what does it mean to be the only country artist in this year's Best New Artist category?
It means a lot. It means that not only did I get votes in the country category, I had to have gotten some votes outside of it. When you think of artists that could have been nominated this year, from Gabby Barrett to Hardy, there's so many artists that are just killing it right now. For it to be me, that means it was all the different outlets my publicists have gotten me on — "Family Feud," "American Idol," "Dancing With the Stars," hosting this TV show, doing that performance — it all kind of paid out.
My overall plan was, I'm never gonna change the style of music I do, but in order to reach people that don't listen to country music, you've kind of got to go where they are. It's been cool to see it executed and kind of see everything coming together.
What some people may not know about you is that you've been grinding to make this happen since 2007. What kept you motivated to make this work in the toughest moments over the past 15 years?
See, I get motivated from people telling me I can't do something. There's nothing better than someone saying, "You shouldn't do this, it's not gonna work." That fires me up. A lot of the time when there's no confrontation, I'll create it in my head to motivate myself [Laughs].
2007 was rough, I ain't gon' lie to you. From living in that trailer with no electric, to living in my car for a while, to being told I'm too country for pop, I'm too pop for country. It was a weird space. But listening to encouragement from my father, my mother, my grandmother, saying, "Look, you know what you want to do, you know who you are. Just keep creating the music you love and eventually you'll find the place."
That's what happened. 2018, the first single came out, got my first No. 1 in November that year. I got my second No. 1 in 2020 — 2020 was kind of a wash. The world was shut down, and it felt every artist was on an equal playing field. So [I was] like, "Okay, nobody's doing nothing. This gives me a chance to get a little head start and set myself up, so when things do open back up, I'll be a little bit ahead of the game and not playing catch up."
You've put out so many different styles of music within your own catalog, from doing R&B with Babyface to a Latin-inspired song with Pitbull. How have you seen that versatility expand the reach and impact that you were hoping for?
I've seen it grow a lot. I've had people that don't listen to country music start following me because they said they heard the song I did with Babyface, or the song I did with Nelly or the Noah Cyrus song. A lot of those songs are what got attention in places where people don't really listen to country.
Genres are languages. We're all saying the same thing: We talk about love, we talk about hurt, we talk about loss, about inspiration. But the way you deliver it is different. I spent my years in college understanding different types of people. I didn't care about the degree, I just wanted to meet different people and be around different types of people, so that when it [came] to creating music, I [could] learn how to speak the way they do — whether the drum pattern goes this way, or there's guitar or no guitar, the different phrasing and the cadence, stuff like that that kind of opens their ear to be receptive to the message that you're spilling through their speakers.
That's the big thing that I always wanted to be able to do — speak different languages, aka different genres, to where people are receptive to what you have to say.
You grew up listening to a lot of different music, from Matchbox Twenty to Motown to Christian music to your dad's favorite, Aaron Tippin. What ultimately made you decide that country was your genre?
It's who I am. I look at country music like I do Christian music — it's not about how many dogs died in the song, or how many banjos you got on it, it's about the person. And I grew up a country boy in Delaware. Country was the one place where I could completely be myself and still make the different types of music that I love.
Do you feel like where you grew up impacted the kind of artist you'd become and/or the music you're making?
It made a big difference. Milton is a small, little country town, but there's different types of people. You walk into a place and everybody's listening to country music — Black people, Mexican people, people wearing cowboy boots, people wearing Jordans. It don't matter.
How I was raised played a big part, because I was taught at a young age that everyone listens to country music, everyone listens to Christian, to hip-hop, to pop, to jazz. So for me, there were never really any color stereotypes associated with different genres of music. It was just people that liked music. That's it. That definitely goes out to where I was raised and how I was raised.
So Milton, Delaware is more musical than people may assume!
The crazy thing is, I know people from the inner city that have never heard of Jason Aldean, Garth Brooks, Luke Combs, Luke Bryan. But every country town you go to, everybody knows who Michael Jackson is, everybody's heard of JAY-Z.
It's like, "Why can't we somehow take this approach with country, and expand the brand of country to where we're on the main stage just like hip-hop or pop?" And we kind of have our voice.
That's kind of how I look at this GRAMMY nomination. I'm privileged to be the face of country music in this Best New Artist category, and my job is to show people, "Look, anybody can listen to country. And country music has made huge steps." I'm a Black guy nominated for a GRAMMY because of my success in country. It says a lot. We're not where we want to be, but we're getting there.
You won the CMA for New Artist Of The Year two weeks before receiving your GRAMMY nomination. In your social media posts about each of them, you talked about how these awards and nominations mean acceptance for those who "color outside the lines," which I thought was a cool, big-picture way to think about it.
The biggest thing I tell artists all the time — I know a few Mexican country artists that want to get into it. I said, "You've got to do it. In order to see change, it takes someone willing to put themselves out there, and force the change."
If we didn't have Charley Pride, [who] had the courage to be a country artist in the '60s and '70s, there wouldn't be Darius Rucker. There wouldn't be me. There wouldn't be Kane [Brown], there wouldn't be Mickey Guyton.
In order to change the narrative, it takes people that have the courage to put themselves in a situation and careers where there's not a lot of people to look like them. And people say, "Well, it's harder." Yeah, it's harder. Sometimes I do have to work twice as hard to get half the reward that a white artist would get in country music. But it is what it is. You can't change the obstacles. We can only control our work ethic and the quality of music that we put out.
I was going to ask how being Black — especially in a genre that's predominantly white — informs the music that you create and the career music moves that you make, but it sounds like you might not even think about it. You just make the music that inspires you, and you do you.
Yeah, I just do me. This year was the first time my managers really got to see kind of what I go through as a Black artist in country music. There was a time [an outlet] posted me — I'll always read comments, because when people troll me, I love trolling them. I have the mentality of a hip-hop artist.
Every time [this outlet] posted [a picture of] me, this one guy was like, "Look at this thug from Compton. There's no way he's a country [artist]. Play real country artists." And he started naming people whose music sounds more pop than mine [Laughs]. I told him, "Man, you're a genius. Hands down the smartest person I've ever written to in my life. How did you get this smart?"
And then people just started going after my manager, Lauren — she said, "So this happens every time?" I say, "Oh yeah, you just get used to it." I don't let those comments affect me. That's why I call it self esteem. It's how you feel about yourself. Other people's opinions don't bother me at all. I lose zero sleep over it. And I feel like that's how it should be.
I'm sure Charley Pride would be proud of you for taking that stance.
Me and Charley talked a lot. We talked on the phone every other Sunday from the time we met to the day he died. He's a funny dude. I learned a lot from him, too — just how to handle yourself. Like, there's a way to be upset, but yet still word what you want to say in a way to where people are willing to listen.
What does it mean to you to be able to carry on his legacy, since he meant so much to you?
It's an honor. I have parents of Black children email me and say, "My son or my daughter listens to country music because of you being part of it. You inspired them to get into country music. You let them know that they're not weird for liking something different." If I could be a fraction of what Charley Pride was to me to someone, I feel like I'll be making a difference.
Along with collaborating with your hero, you've landed three No. 1 singles, launched a publishing and management company, published a book — the list goes on. Are there any career moves you're still looking to make?
I want to be on Broadway. I want to play Aaron Burr in "Hamilton" really badly. I want to host a couple shows on TV, have my own TV show, whether it's reality TV or a sitcom. I want to do movies. I want to have my own sneaker and my own boot, my own line of men's deodorant and facial products. I want to create kid's shoes.
My ultimate goal is to raise money to create a music school within my old high school in Delaware, and name it after my grandma. My buddy was like, "You don't want it to be named after you?" And I said, "Nah. I do want a statue though." And I want a statue while I'm alive. I want to see it. I don't want no memorial statue when I'm dead. That don't do me no good!
Would it just be your face or your whole body?
Oh, whole body. I want this thing like, 200 feet tall.
I feel like it needs to be the picture of you in the all-leather outfit that you posted with the caption "currently eating popcorn waiting for the 'this ain't country' comments."
Exactly. Even when I die, it'll say, "Jimmie Allen: Still waiting for the 'This ain't country' comments.'"
So you're really just trying to do literally everything you can with your platform.
Oh yeah. You got one life. I'd rather spend my life trying to do it than sit back wishing I would have done it.
Thinking back to the days when you were living in your car and trying to make this dream happen, how does where you saw things going compared to where you're at now?
It's right on track. My plan was always to get one No. 1, then start slowly try to venture outside of music, then get two No. 1s, and slowly get into TV and host [shows]. I never wanted to rush anything. I wanted to wait until my fourth single was out before I did my first headlining tour.
For me, it's all about executing, but also being patient and not rushing, and not competing with other artists. As artists, we're not in competition with anyone but ourselves, because there's no one who can do what we do but us. So as long as I keep that in mind, I can stay on my own path.
5 Women Essential To Country Music: Dolly Parton, Mickey Guyton, Jo Walker-Meador, The Love Junkies & Mother Maybelle Carter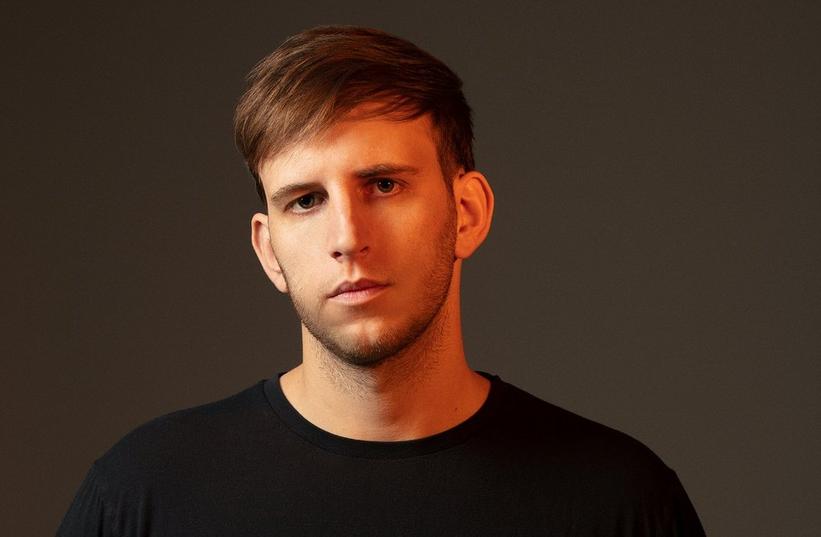 interview
Meet The First-Time GRAMMY Nominee: How Illenium Went From An "Obsessed" Dance Music Fan To An Arena-Filling DJ & Producer
With his fourth LP, 'Fallen Embers,' Illenium kicked off a new era that blends his love for electronic music and pop-punk. As he celebrates a GRAMMY nod, the producer looks back on his journey to stardom and shares how the dance genre changed his life.
GRAMMYs
/
Mar 21, 2022 - 07:37 pm
Growing up, Nick Miller never really listened to dance music. Now, he's one of the genre's most prolific stars, better known as Illenium — and is celebrating a GRAMMY nomination as a result.
Illenium's fourth album, 2021's Fallen Embers, is up for Best Dance/Electronic Music Album at the 2022 GRAMMY Awards. It's a pinnacle moment for Miller, who became "obsessed" with the electronic music world in 2009, launched his career with a self-released EP in 2013, then made his major-label debut in 2016.
Since then, Illenium has put out three more LPs and countless singles, teaming up with fellow dance titans like Gryffin and the Chainsmokers, as well as a variety of singers, from Georgia Ku to Jon Bellion. His versatility is perhaps most apparent on Fallen Embers, which features Tori Kelly, iann dior and Thirty Seconds to Mars, among others.
Though he's already teasing new music — which will debut during Illenium's set at Miami's Ultra Music Festival on March 26 — the producer/DJ feels the next chapter of his career truly began with Fallen Embers. With a GRAMMY nomination to validate his new direction, it may really just be the beginning.
GRAMMY.com sat down with Illenium to discuss the importance of Fallen Embers, how he transitioned from the crowd to the stage, and the role music played in changing — and saving — his life.
What initially made you realize that you were interested in producing — and that you were actually pretty good at it?
I started messing around in GarageBand in high school, and it introduced me to the idea of spending time creating something — even though that stuff back then was really bad. I moved to Colorado, and had some life-changing moments, and I started putting a lot of my time into it. A lot of the encouragement I got from friends, even though it was just mediocre music, was really exciting.
I was writing for music blogs, and I just loved the whole electronic music scene at that time. I would try to create what my idols were doing, and try to learn how they were doing it. I became obsessed, passionate and excited. I got addicted to trying to make songs. The feeling of doing it yourself, and being able to control every aspect of that, was really addicting.
I went to a Red Rocks show in 2012, and seeing that community, especially in Colorado — the Denver-based music scene is really tight-knit and communal, and it's really genuine. It was just really special. It was an experience that really drove me to want to succeed in it.
Was dance music your No. 1 genre growing up?
No, not at all. I didn't listen to much dance music until, like, 2009. I first got into it when I was living in San Francisco. I really liked a lot of the house stuff and trance, and then once I moved to Colorado, it turned into the bass music scene.
I grew up listening to a lot of pop-punk and rock, and my family listens to country a lot. A lot of hip-hop [too]. So I was all over the place in middle school and high school.
That's kind of all I listen to now. I listen to some pop, and a little bit of hip-hop, but it's almost all rock music and pop-punk.
Considering you were a teenager during the pop-punk explosion of the mid-2000s, that makes sense.
Totally. I feel like there's so much emotion and — it's not even aggression, but it's like, intensity, in that kind of music, where it can be really pretty melodically or lyrically, but the instrumental stuff behind it just like, hits. It hits me more than a lot of electronic music does nowadays. So I think that's why I'm transferring it into my type of thing.
Fallen Embers is the first album that doesn't start with "A," but its title still fits into the overall theme that Ashes, Awake and Ascend present. What's the story behind that?
My logo is a phoenix, [because] the imagery behind the phoenix really relates to me and the music that I make, and why I make music in the first place. So my first three albums were kind of this whole birth cycle of a phoenix. They all started with "A," it was a trilogy of that cycle. So Fallen Embers was kind of my take on what pieces were left — the embers fallen from the phoenix throughout that whole journey.
I made that album when I wasn't touring, and that's the first album I made in a long time [that] I wasn't touring, because I've been touring like crazy. It turned out much more calm and much more like a recharge album for me. Lyrically, it [details] the ebbs and flows of a relationship — it doesn't have to be a relationship, but just through finding yourself, and forgiving yourself for making mistakes and moving on.
Sonically, Fallen Embers has more rock elements. It's definitely calmer than Ascend. I love emotional music, so my music is always going to have an emotional aspect to it. That is not going to change. But I don't want to just keep repeating and chasing [the same sound], so now I'm moving very — like, totally — different, post-Fallen Embers. Fallen Embers, for me, was like a farewell, almost. I just wanted to be very clear that that was a trilogy, and now we're departed.
When you announced Fallen Embers, you said this is "the start of a new chapter." So is that kind of what you were talking about?
Yeah. I've been in LA five out of the past six months to start from scratch and write rock songs, and heavy aggressive s<em></em>*, because I feel like I took a break and made music that's kind of calm. Now I'm [going] a little more aggressive and adding some metal aspects.
There's this middle ground of electronic, rock and metal that can be really cool. And I feel like there's a lot of people doing similar stuff, but the songs can be really authentic and healing to people — right now, especially.
You also said this album was "an incredibly personal journey for me." Since it was so personal for you, did you see an even more meaningful impact from these songs?
Yeah. I mean, these past two years have been really challenging for a lot of people, myself included. Especially since shows have come back, you can definitely see in people the excitement to get a release of some sort. And to [just] enjoy — it's hard after a long time of people just going through the motions.
Especially in the electronic music scene, a lot of these people use these shows and the music for their healing and their escape. And that's really important for 'em. So to be able to give them a show and also give them new music, and see how that music has been their kind of crutch this past year, has been really beautiful for me.
You had everyone from Tori Kelly to Angels and Airwaves on Fallen Embers. What goes into finding the right vocalist for a track?
It's a mix. A lot of it is availability-based. When I first am working on a song, especially if it's a demo, it'd be like, "Who would sound good on this?" The "Blame Myself" demo had Emily Warren, who has a really amazing voice, and a very unique tone. So it's hard to fill that.
You get this thing called "demoitis," where you're used to the demo so much, it's hard to separate. But you've got to just find the right vocalist that is gonna bring her own or his own whole attitude to it. And you just kind of have to sit with it for a second because you're so obsessed with the first version.
It's not about, necessarily, the skill of singing. It's a lot of tone. Sonically, how you make a whole song, and you have a vocal in there, you need someone that fits that exact same spot. And that can be really challenging.
For "Paper Thin" with Tom and Angels and Airwaves, that was just a bucket list [thing] for me, I've always wanted to work with him. When we sent it to him, we were like, "They're probably not going to do this." Same with Jared [Leto, Thirty Seconds to Mars' frontman]. I'm the biggest fan of all of the people I collaborated with, so it's really been special.
I feel like a lot of people who aren't as familiar with the dance music scene may assume that producers like you, who aren't on their tracks vocally, might not write them. But you, and people like Kygo and Zedd — all of these huge names in the producer world — have proven that wrong. Do you feel like that's a common misconception?
I think there's always gonna be a misconception of a DJ/producer type thing. I don't think there's any way to get around it, unfortunately. But at the end of the day, it's okay. People [who like] different music have a whole different perspective.
When people see "DJ," they're like, "Oh, like, Vegas DJ. Throw a party!" They have no idea the complexities that go behind that. There are some producers out there that can do insane stuff. It's hard to even start describing that. There's some songs where we start with a guitar, and we write from scratch. It's just about having an ear for what is going to be successful, and also just having an ear of what you enjoy.
In 2018, you shared a really personal story about how music changed your life. Was it a certain song, album or artist that did that for you? Or was it being able to use the music that you were creating as your outlet? Or a combination of both?
It's definitely a mixture of both. When I turned my life around from that time period, it was a mixture of getting so curious about music production, but I was also obsessed with music — I was like, "How do these producers create these things?"
That little thought sparked so much curiosity in me, and [I] wanted to figure out how to implement my love for music and love for different genres. For it to change my life, it had to have all of those aspects — being obsessed with music, loving other people's music, and wanting to create my own.
Doing an action in one of those phases every day is what got me going and got me into the scene, and into my career. But also [made me] confident with myself and feeling like I had some sort of purpose. It was a really healing process for me, because I was kind of a s<em></em>*show before that. I needed something to put all of my energy into, and something that my family supported, and I had friends that supported me. So that was just really cool.
When I was so low, I had no faith in myself at all. You just have no confidence, and you're pretty broken. For you to even have an idea of "I might be good at something" or "I might get good at something if I work hard enough at it and I love it," then it's just full speed ahead.
What does 2012 Nick at Red Rocks think of 2022 Nick being a GRAMMY-nominated producer?
It's just mind-blowing. You know, I told myself when I saw the Red Rocks show in 2012, I was like, "Maybe in 10 years, I'll get to play at Red Rocks." I wasn't even saying headline or anything, just play at Red Rocks. I apparently set a very low goal for myself. [Laughs.]
Constantly having goals set and then reaching them throughout my whole career has been amazing, but it's crazy to think about being a GRAMMY-nominated artist. That is a whole different world that I never even thought — I just got into bass music and EDM, you know? To think of that transition, that's crazy.
We're Probably On An Irreversible Course Into The Metaverse. What Role Will Music Play In It?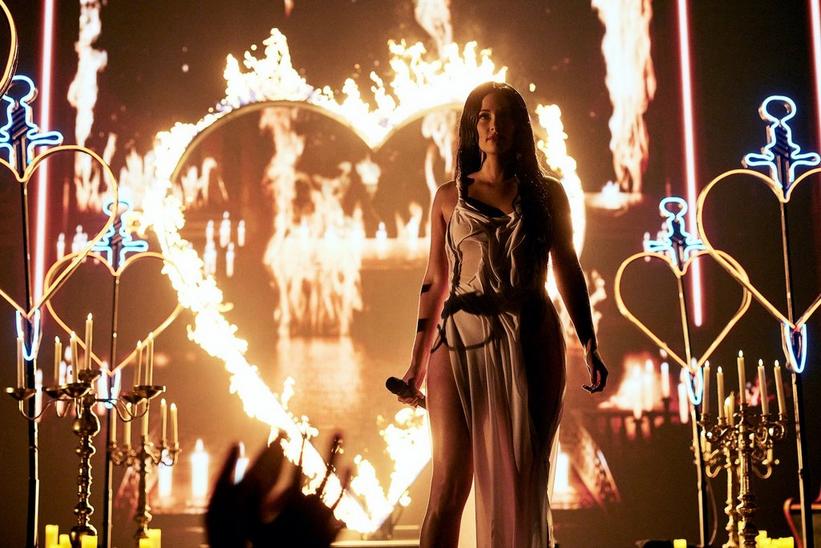 Photo: John Shearer/MTV VMAs 2021/Getty Images for MTV/ViacomCBS
news
2021 In Review: 8 Trends That Defined Country Music
Powerful narratives fueled country music in 2021, between vulnerable heartbreak-driven albums, Nashville veterans getting their spotlight, and Black voices finally being heard
GRAMMYs
/
Dec 23, 2021 - 07:10 pm
The genre known for three chords and the truth reached new heights of authenticity and storytelling in 2021. After a year of doubt, confusion and isolation in 2020, many country artists returned to the road and their careers with rejuvenated passion, releasing some of their most ambitious projects to date.
Grassroots ways of finding success emerged, with several artists — both established and up-and-coming — unlocking whole new fan bases thanks to social media. The result? Some unlikely hits made it up to the very top of the country radio charts, artists were able to release more music than ever before, and unprecedented cross-genre collaborations came out of quarantine connections.
Read on to learn more about some of the trends, both musical and cultural, that dominated country music in 2021.
Double and Triple Albums
During their pandemic-induced time off the road, many artists found that the one thing they could still do was write songs. By 2021, the plethora of music created in those sessions was recorded and ready for release, resulting in longer track lists and beefier projects.
One such trendsetter was Eric Church, who released a massive, 24-track Heart & Soul album spread out over three discs. Morgan Wallen dropped his 30-track — or 33-track, if you're counting the Target-exclusive and bonus editions — Dangerous: The Double Album in January. The latter made history, becoming the first country album to spend its first 10 weeks at No. 1 on the all-genre Billboard 200; it also spent 43 weeks in the chart's top 10, more than any other album in 2021. (Amid the album's success, Wallen sparked major controversy when a video surfaced of the singer using a racial slur. He issued an apology and claimed to make donations to Black-led groups, but was promptly shut out from country radio and streaming services, as well as several events and awards shows.)
Thomas Rhett and Jason Aldean also created multiple albums worth of music in 2021. Rhett released Country Again: Side A in April, announcing in November that Side B will arrive in fall 2022 following another album, titled Where We Started, which the star revealed will be out in "early 2022." Aldean had a similar release strategy, dropping Macon, the first half of his double album Macon, Georgia, in November and setting Georgia for April 22, 2022.
Success Stories Years in the Making
Longtime B-Listers finally got their country radio propers in 2021, due to ever-increasing opportunities for artists to create grassroots hits on social media. Walker Hayes' ubiquitous "Fancy Like" went viral on TikTok (particularly thanks to a family-friendly dance craze) and became a No. 1 hit on both Billboard's Country Airplay and Hot Country Songs charts. The song gave the singer — who moved to Nashville in 2005 — his first crossover hit, getting airplay on pop radio and climbing all the way to No. 3 on the Billboard Hot 100.
Parmalee also took country radio by surprise this year. The band hadn't had a No. 1 since 2013, and their two most recent singles fizzled without ever cracking the charts. But "Just the Way," an unlikely team-up with "The Git Up" star Blanco Brown, saw them cruising back into the top spot.
One more success story came from Lainey Wilson, another Nashville veteran who got her big break with the insightful hit "Things a Man Oughta Know." The song became her first No. 1 on country radio after nearly 10 years of releasing music. Her latest single, a collaboration with resident chart-topper Cole Swindell titled "Never Say Never," is currently climbing the charts.
Classic Hits Found New Life on TikTok
While TikTok was instrumental in creating new hits such as "Fancy Like" in 2021, it was also responsible for revitalizing a few old ones. Reba McEntire's 2001 hit, "I'm a Survivor" went viral thanks to a TikTok spoof trend, with users setting the song to video footage of themselves melodramatically doing everyday chores. McEntire herself got in on the fun, posting a clip of her attempt to feed a pair of ungrateful donkeys.
Shania Twain also reached brand-new audiences with her TikTok presence. She posts snippets of iconic selections from her discography, as well as her hilarious commentary on French fries, sneak peeks at her Las Vegas residency, and the occasional trend trade-off with Taylor Swift.
Career-Defining Divorce Albums
Breakups aren't exactly a new topic for country, but some country artists have gone through very public heartbreaks over the past couple of years. Carly Pearce split from fellow artist Michael Ray after just eight months of marriage, and Kacey Musgraves called it quits with her husband of two years, singer/songwriter Ruston Kelly.
But rather than go through these difficult times privately, both Pearce and Musgraves spun their heartache into gold, with each singer putting out her most revealing, personal and intricately-crafted record to date. Pearce leaned heavily into her country roots to make 29: Written in Stone, while Musgraves expertly defied genre boundaries to release star-crossed, a project so vulnerable that she performed one of its songs on Saturday Night Live wearing nothing but a strategically placed acoustic guitar.
Black Country Stars Broke Through
After the country world said goodbye to the legendary Charley Pride in December 2020, his trailblazing legacy lived on in 2021. Black country stars made waves in several ways this year, from winning awards, to launching business ventures, to making statements on stage and in song.
Hitmakers Kane Brown and Jimmie Allen — the latter of whom is the only country artist up for Best New Artist at the 2022 GRAMMYS — made history with their wins at the ACM Awards (Brown was the first Black artist to win Video of the Year; Allen was the first Black solo artist to win the New Male Artist of the Year). Both of them started their own businesses in 2021 as well: Brown started his own label, 1021 Entertainment (in partnership with his home label, Sony Music Nashville), and Allen launched both a publishing company, Bettie James Music Publishing, and a full-service management and production company, JAB Entertainment.
Mickey Guyton, who first caught attention outside of the genre for her GRAMMY-nominated single "Black Like Me" last year, continued making an impact with her powerful album, Remember Her Name. The album features several vignettes of her experience as a Black woman, including a bouncy anthem "Different" and a poignant ballad "Love My Hair." She delivered a moving performance of the latter track at the 2021 CMA Awards alongside rising stars Brittney Spencer and Madeline Edwards, two of the many promising Black voices in the genre, which also includes Yola, Breland, Willie Jones, and Shy Carter, among others.
Artists Lived Their Truth
Amid the challenges country music faced this year, there were also moments of personal authenticity and joy. Brothers Osborne's TJ Osborne came out as gay in a Time feature, and the sibling duo subsequently released "Younger Me," a compassionate, timely ode to the obstacles they overcame to become who they are today.
Osborne was one of two country acts signed to a major label to come out as gay: The other was Brooke Eden, who came out in January, and later in the year got engaged to her partner Hilary Hoover. She put out the first new songs she'd released in years, and in a Grand Ole Opry performance, she and Trisha Yearwood duetted on Yearwood's classic "She's in Love With the Boy," changing the lyrics to "She's in love with the girl."
Eden and Osborne are two of a very small — but growing — list of publicly gay country music major players, also including hit songwriter Shane McAnally and Americana star Brandi Carlile.
Dolly Parton Retained Her Reign as Country Queen
Dolly Parton was a major bright spot in the dark year that was 2020. Not only did she lift spirits by releasing her third Christmas album, A Holly Dolly Christmas, but she also made a $1 million donation to fund the Moderna COVID-19 vaccine.
It's hard to top that, but this year, Parton continued to trend for her uplifting acts of kindness and legendary musical feats. She sent social media into a frenzy when she celebrated "hot girl summer" — and the birthday of her husband of 57 years, Carl Dean — by recreating the iconic outfit she wore for her Playboy cover shoot back in 1978. She also duetted with Reba McEntire for the first time, landed on the list of Forbes' richest self-made women, and capped off 2021 by setting two brand-new Guinness World Records (and breaking a third record that she already held) for her long-standing chart accomplishments.
Full-Length Collaborations Albums
What's better than one duet? An album full of them, apparently. Collaborations were hot in country music in 2021, but lots of artists took that one step further, putting out full-length projects featuring a cast of duet partners.
The Hardy-curated Hixtape Vol. 2 dug deep into country lifestyle and party songs, courtesy of some of the biggest names from every corner of the genre. Brantley Gilbert, Brothers Osborne, Jon Pardi, Dierks Bentley and Jake Owen are just a few of the acts who lent their voices to the track list, which features a total of 33 guest artists across 14 songs.
While the Hixtape went ultra-country, other duets albums were genre-spanning. Rapper Nelly put out his Heartland project, featuring Darius Rucker, Breland and Florida Georgia Line. Jimmie Allen went even broader for his Bettie James Gold Edition, which featured everyone from rapper Pitbull to R&B/soul singer Monica and pop star Noah Cyrus.
2021 In Review: 8 Trends That Defined Rock
interview
Meet The First-Time GRAMMY Nominee: Japanese Breakfast's Michelle Zauner On Self-Actualization, Grieving In Public And Her Nominations For 'Jubilee' At The 2022 GRAMMY Awards
Japanese Breakfast is nominated for two GRAMMYs at the 2022 GRAMMY Awards. Their leader, Michelle Zauner, opened up to GRAMMY.com about how the nominations feel, and why personal and global crises just made her more motivated.
GRAMMYs
/
Mar 9, 2022 - 03:42 pm
When the pandemic first descended on humanity, countless millennials moved home, donned pajama pants and brooded at their parents' kitchen islands. In this sea of dejected Instagram posts, though, a few public figures stood out — those who decided to thrive during the age of demoralization. One conspicuous example was the singer, songwriter and debut author Michelle Zauner. 
Zauner hit two professional home runs during the pajama-pants era. In April 2020, she released her affecting memoir Crying in H Mart, and that June, her band Japanese Breakfast released a critically acclaimed album, Jubilee. Granted, the lion's share of both projects was completed before we started wiping down bags of Doritos — and Zauner wasn't immune to "being depressed and eating a lot." Still, the timing of her breakthroughs speaks to her character.
Read More: How Japanese Breakfast Found Joy On Her New Album Jubilee
"I've discovered through the past few years that I'm a surprisingly optimistic person — I'm a secret hopeful person!" she quips. "Because in any narrative or story I've told, it's been important for me to find some type of hope to cling to. I certainly am not one to dwell on the negative. It doesn't help me to have that be my end goal."
As such, accentuating the positive was something of an animating force while making Jubilee — and the result was a critically-acclaimed album on top of a New York Times bestseller.
Japanese Breakfast is nominated for two GRAMMYs at the 2022 GRAMMY Awards: one for Best New Artist, another for Best Alternative Music Album for Jubilee. In the above video, watch Zauner's recollection of drearily watching the nominations roll in, expecting nothing — and her very loud reaction at the results. 
That's her magic in microcosm, alchemizing the depressing into the sublime. And her mother (whose loss looms large in both Crying in H Mart and previous Japanese Breakfast music) would undoubtedly be proud. 
With the 2022 GRAMMY Awards on the immediate horizon (April 3), GRAMMY.com sat down with Zauner to discuss what motivates her during hard times, the palette of influences reflected on Jubilee, and the life-changing moments it produced— like watching Jeff Tweedy cover her Wilco-influenced song.
This interview has been edited for clarity. 
During the early pandemic, I felt drawn to people who rose above their circumstances and thrived, rather than sinking into a mire. Where did your motivation come from during a very demotivated time?
I will say that a majority of both Jubilee and Crying in H Mart were done prior to the pandemic, so I was kind of one of those people being depressed and eating a lot.
But I was able to work on the final, final draft of Crying in H Mart during a time I was supposed to be on tour. I do think that having the perspective of going into the final stages of this book, when I had a ton of time off for the first time, was actually kind of helpful for me to get some of the really good, final touches on this book.
Honestly, I feel like I became very motivated in general after a very dark time in my life. I became grounded by my work ethic and my ambition and sticking very close to routine after my mom passed away. So, after this dark limbo period, I recalled being a caretaker for six months and being stuck in the house in Eugene, Oregon. 
In a way, I feel like I've gone through this part of life before, and I felt prepared. I know what it feels like to be out of control of my life and watch a lot of darkness descend around me. I found that sticking close to a regimen or staying grounded through work is what helped me through that time. So, I think that's something I'm unfortunately used to at this point in my life. 
Some people view grievous loss as a moment where their life stops, and they just wander through the past after that. But it seems like you're more interested in moving forward and honoring your mom that way.
Yeah, I think I got there through working through it creatively, in a way. But it is really interesting; I think that happens really often. 
My father and I navigated our grief in totally different ways. I think that happens in families a lot — where one person goes on one path and another experiences it through another path. They can be at odds with one another.
But for me, personally, I was so worried about allowing myself to fall into a deep pit of depression about something very real for the first time — that I would struggle to ever pull out of it. I know my mom would want me to navigate my grief in this way, and that's what really helped me through that.
Another destabilizing factor for people in our age range can be a sense of futurelessness. Perhaps we share a drive to work around global traumas.
Yeah, I've discovered through the past few years that I'm a surprisingly optimistic person — I'm a secret hopeful person! Because in any narrative or story I've told, it's been important for me to find some type of hope to cling to. I certainly am not one to dwell on the negative. It doesn't help me to have that be my end goal.
Is it irritating to have to dredge up your personal adversities over and over and over in interviews?
Sometimes. Sometimes, it's honestly kind of therapeutic, which is, like, gross and weird. But there's this other stage of art making that I'm less prickly to than other artists. I learn a lot about what I've made through the press process. A lot of the themes and questions I navigate in the work get solidified with different perspectives through the press process. 
So, sometimes I don't mind it as much, because it can be kind of enlightening. But certainly, like everything, it can become exhausting.
What's your relationship with pop music, like making something that appeals to as many people as humanly possible? Do you feel like an odd duck on the GRAMMY nominees list?
Yes and no. I'm kind of a poptimist and I really admire great pop music. One of my favorite artists is, honestly, Ariana Grande. In some cases, there are top-tier composers, producers, arrangers, and mixing engineers working to create something with mass appeal, which is widely enjoyable.
Even in K-pop, it's like that. You have the greatest music video directors, the greatest production designers! The highest-paid costume [designers] and stylists and makeup artists! Watching a city come together to create a piece of art that can reach a lot of people is very inspiring to me.
As an indie artist, trying to reach beyond my means in a similar way, on a smaller scale, has always been something very fun for me. I don't like to make purposefully complicated music. I enjoy making what I think to be listenable, enjoyable music that a lot of people can get into.
So, I'm happy to be in this realm, and I think it's really exciting. It's an honor.
When making a record, I think of the canon almost as a buffet to pick from — a little Richard and Linda Thompson here, a little R.E.M. there. Who did you pick from the proverbial buffet for Jubilee?
I've never thought of it quite as a buffet, but I do really like that idea. One thing about Japanese Breakfast that I enjoy is that we have a pretty broad range of influences on all our records. There's a lot of range and diversity.
There was certainly a lot of Kate Bush in this buffet. A lot of Björk and Wilco. There was some Bill Withers and Randy Newman. Certainly, Fleetwood Mac. Alex G. Those were, I think, the main buffet trays.
I'm a Randy Newman fanatic — I love the Pixar soundtracks, the dark-humored stuff, the love songs. What's your Randy era or album?
It's either called Something New Under the Sun or it's self-titled.
Yeah, the debut.
It's the one with "Living Without You" on it. That was my introduction to Randy Newman. An ex-boyfriend had shown me that song and it just haunted me for years and years. He's just the master of a sweeping love song — a ballad. That was the inspiration for the piano and string arrangement on "Tactics." 
I was always trying to channel my inner Randy. I think he's timelessness incarnate.
Classic rockers are always thrown into court over "stealing," but I think that's part of the musical process. Do you ever hear a great lick and say "I'm going to place that right here"? 
I've never done that purposefully. But it's funny: When [Japanese Breakfast drummer and producer] Craig [Hendrix] and I were working on "Kokomo, IN" — I almost said "Kokomo, Etc." — we were definitely very inspired by the string arrangement on [Wilco's] "Jesus, Etc." The classic nature of that Beatles math that goes into a great pop song.
It was very funny, because Jeff Tweedy actually covered that song in one of his livestreams. I was super-inspired by "Jesus, Etc." for "Kokomo, IN," and I was also inspired by "At Least That's What You Said" — the solo — in the quiet acoustic section that leads to a big solo in "Posing for Cars."
It was amazing. I got to meet Wilco this year and see Jeff Tweedy cover my song! He's such a songwriting hero of mine.
I've never purposefully plopped a direct lick from anything. But there was a moment when we were doing "Kokomo" where we were like, "Are we biting 'Jesus, Etc.' a little too hard with the pizzacato strings?" But it's Jeff Tweedy-approved, so I don't think they'll be suing us anytime soon.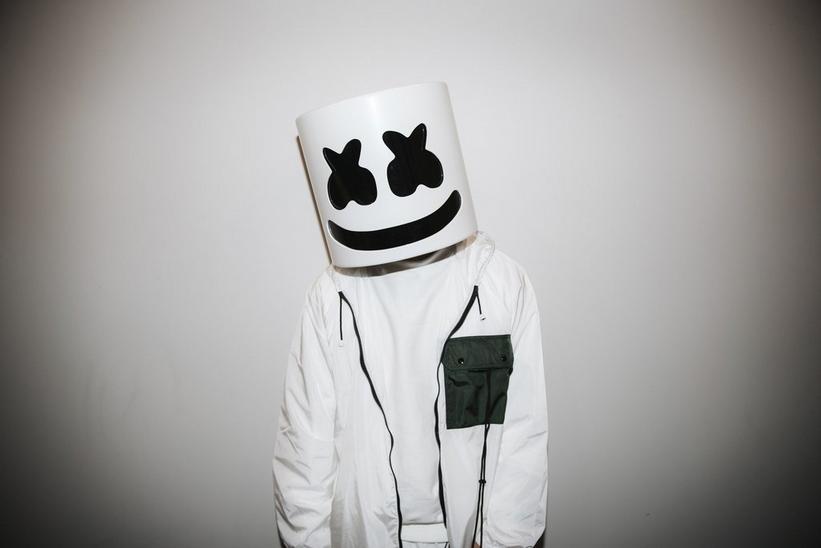 interview
Meet The First-Time GRAMMY Nominee: Why Marshmello Strived To Make 'Shockwave' His Most Diverse Album Yet — And How It Paid Off
Though 'Shockwave' earned Marshmello a GRAMMY nomination, the LP means more to him than just accolades. The illusive dance hitmaker's fourth album covers every aspect of electronic music, from eurodance to trap — serving as a true artist's statement.
GRAMMYs
/
Mar 31, 2022 - 06:43 pm
Marshmello has become one of the most recognizable faces in the modern music scene — by not showing his actual face. The electronic-pop producer has racked up billions of streams while maintaining complete recluse, thanks to a, well, marshmallow-shaped helmet that dons an adorable cartoon smile.
But even if Marshmello wasn't one of music's most mysterious identities (or a playable skin in the wildly popular video game Fortnite), his mountain of smash hits has turned the masked music man into a household name.
Since he first burst onto the scene with the Skrillex-approved "Find Me" in 2015, Marshmello's career has been in a league of its own. His record label debut "Alone" mixed buoyant synth sounds with upbeat rhythms (and his own helium-pitched voice), setting the tone for his sonic universe where youthful sing-alongs meet glass-shattering bass.
After winning over the EDM world, he soon took over the pop crossover realm, digging into his rock roots on collaborations with Noah Cyrus, Blackbear and Demi Lovato, Khalid, Selena Gomez, Bastille, and the Jonas Brothers, just to name a few.
Of course, a spotlight can also become a target, and Marshmello has had his fair share of detractors. On his fourth studio album, Shockwave, the dance star locks his X-shaped eyes directly at those haters and demonstrates just how dynamic his style can be.
It's his most diverse album yet, with features spanning from rap (Megan Thee Stallion and Juicy J) to fellow producers (Troyboi, DJ Sliink, Nitti Gritti) to a spattering of bass music heavyweights (Eptic, Peekaboo, Subtronic). Shockwave explores every corner of electronic music from Jersey Club to trap, dubstep to Eurodance and even pop-punk.
In the end, that experimentation earned Marshmello his first GRAMMY nomination for Best Dance/Electronic Album at the 2022 GRAMMY Awards. The producer chatted with GRAMMY.com about why his nomination is so meaningful, how he advanced the Marshmello sound with Shockwave, and why he feels he "needed this album."
Where were you when you found out about the nomination?
Well, I'm not really that good of a sleeper. I'm a person who needs to exude a lot of energy, so when I'm not touring and I'm home a lot, it's hard to stay asleep. I always wake up from 8 to 10 a.m., and it was during that time.
I'm half asleep, don't even know what's real, and I hear my phone vibrate. I see something about GRAMMYs, and when you're half awake — maybe a fourth awake — you don't even really process. That second or third time I really woke up, I was like, "Wait, did that happen?"
I'm sure it takes a while to sink in, even when you are fully awake for the news. What does it mean to you to be nominated?
It's something every artist strives for, even growing up. I didn't really know what to make of it, but in a good way. I was processing that, but I was just also really excited to tell everybody that was on the album. We made the album during the pandemic, and we really put a lot of — I don't know how to describe it.
Joytime I, II and III are very specific and intentionally sound, just, catchy. This album, I didn't name it Joytime. I wanted to try something different.
We did music videos very specific to each video, a lot of them with my ideas. The experience as a whole was different, and this was the album that got nominated for a GRAMMY.
That was all going through my head at once: "Everything was just different. I wonder why, blah blah blah." Then my next move was to tell everybody that was on it.
That intention does come through. It also struck me that the second song "Supernovacane" opens with a clip of some guy calling you an "overrated electronic artist," then you go on to mix your sound with revered artists and styles. Was your approach a message to people who would put you in a box?
I was going to start the album with that, but then I was also wrestling with this track "Fairytale," which is actually the intro that sounds much more like an intro.
Every artist has people that hate on them, right? I don't know if I can speak for them, but that was me saying, "I'm aware that people think this, and I'm just having fun with it."
Specifically with this album, the whole thing was like, "I want to do a trap song," so then I started the album with "Fairytale." I want to advance my Marshmello sound and try to use all my production tips and tricks that I have acquired over the years and just try something different.
Let's say somebody with this kind of hateful intention goes on to listen to that album, right? They turn that song on, and how would they feel hearing me acknowledge and even put in a song that somebody was saying what they were? I just did it because I can.
That matches with the rest of the album. It's like, "Yeah, I made this Vengaboys-sounding track with Carnage because I can. I made this Jersey Club future bass jam with DJ Sliink because I can."
Who's going to tell me not to? Joytime I, Joytime II, Joytime III, I've been doing that style for a long time. I needed this album, just to make the music that I like playing out.
Every single song, I remember sitting in my studio and thinking about playing it — and then seeing the show I haven't played yet and how the crowd would react in my head.
You have huge collaborators from all over the map on this LP, and you've had some really legendary collabs across your career. What makes a good collaboration?
Honesty. You don't want to tell somebody that you don't like their idea, and they don't want to tell you either. It's always tough. I'm not saying that everybody hated everybody's ideas. It's just like, instead of beating around the bush and dragging on, just getting right to that point, down to what everybody likes and just running with it.
Everybody that I worked with on this album, I know they really know how to produce. So you can have this connection — they've been through it all, too. It was very streamlined because of the talent, so that was really nice.
You've got so many fun sounds on this album. What style was most fun to explore?
That song I did with Carnage, I wrote all the lyrics and the melody. That was fun to step out of my box. It's old school, almost like Eiffel 65. I remember listening to Eiffel 65 on a CD. When there was a good song back in the day, you couldn't just get the song, you had to get the whole album. I'd be listening to Eiffel 65, and "Blue" was on there, but all the other songs really influenced me. I still remember them after how many years. It was cool to tap back on that.
It was really great to work with Sliink on the Jersey Club [track "Back It Up"]. I based a lot of my whole sound on Jersey Club, like a little twist on it. DJ Sliink is a legend. He would be able to whip something up and know "this is the right direction," because he is who he is.
I'm excited to see how it influences you going forward, having the opportunity to explore these other sides of yourself.
That was something that was really sweet about this album. I'm racking through my brain here, and I don't think any song does the same exact genre as any other. The Eptic dubstep is different than Subtronics' dubstep.
That was one thing that I wrestled with, the sequence of the album. You want to make it flow, so I decided to put all the heavy songs back to back, and then just close out the album with the title track.
Speaking of "Shockwave," we hear you singing, and while that's not something entirely new, it feels very personal. Are you more comfortable with your voice after spending the first few years of Marshmello anonymously?
I always grew up in bands, but being in front of people singing wasn't called for in the beginning years of Marshmello. Ironically, I did sing on a lot of stuff, but I pitched the voice up. "Alone" was me, and "WaNt U 2."
"You and Me" was the very first one, kind of a pop-punk EDM vibe, which inspired the whole album of Joytime III. I had it pitched up, and my manager was like, "Why don't you just pitch it down?" I'm like, "Yeah, but that's my real voice," and he's like, "Screw it!" I pitched it down and I was like, "Wait, this sounds sick."
That led into Joytime III which had "Proud," which did really well on [Sirius]XM and what is — I think — the biggest off that album. It's with me singing, too.
Was there a right moment to say "This is who I am under the helmet?" Did revealing your identity change the way you approached the project creatively?
Not really, because I don't really want to bring a lot of light to that. Being anonymous is a big part of the project and what I like about it now. It's not really about following a person around and watching everything they do. It's just listening to music, seeing the helmet and things that I say, which is fine, but I don't think it's about specifically who I am.
Video games are a big part of who you are, from your sound to your early days with Monstercat. There was the Fortnite concert which literally changed the way people see in-game opportunities, and you're a payable skin. What does it mean to you for Marshmello to be a video game character?
It's awesome. I like that people can buy Marshmello helmets in real life. I play a lot of video games, and I know a lot of people play video games. They can be Marshmello and have that feeling almost even more in the video game.
That goes back to the idea that everybody can be Marshmello. Now people who really identify with that can do it in a video game, too, and it stands out, right? All white with that smile. It just gives everybody a chance to connect more with myself.
You've accomplished a lot in your career, but is there a moment you're most proud of?
A lot of big shows that I've done — all the planning, and then executing. Those really stand out to me as far as accomplishments.
Coachella [2017], that was my first time playing. Lollapalooza [2021] really stands out. That was like two weeks of planning. Not even planning — that was two weeks of being on the stage that I played on, and then executing it to exactly where I, and everybody who worked on it, wanted it. I think we're going to come out with a little mini documentary about that whole thing.
So is that what's next for you?
There's a lot of things next. I like elements of surprise, so even if I could tell you, I don't want to.
Everybody wants that feeling of being a rock star in their own way, and in my way, it's DJing — and being able to craft a show with a group of guys that I spend most of my life with. Everybody's connected, all doing the same thing, and has the same passions. It's great to get together, make an idea, practice it, and do it.
I have a lot of songs ready. I'm really excited, and I have my head down right now. Expect to see me a lot [this] year, everywhere.
Meet The First-Time GRAMMY Nominee: How Illenium Went From An "Obsessed" Dance Music Fan To An Arena-Filling DJ & Producer