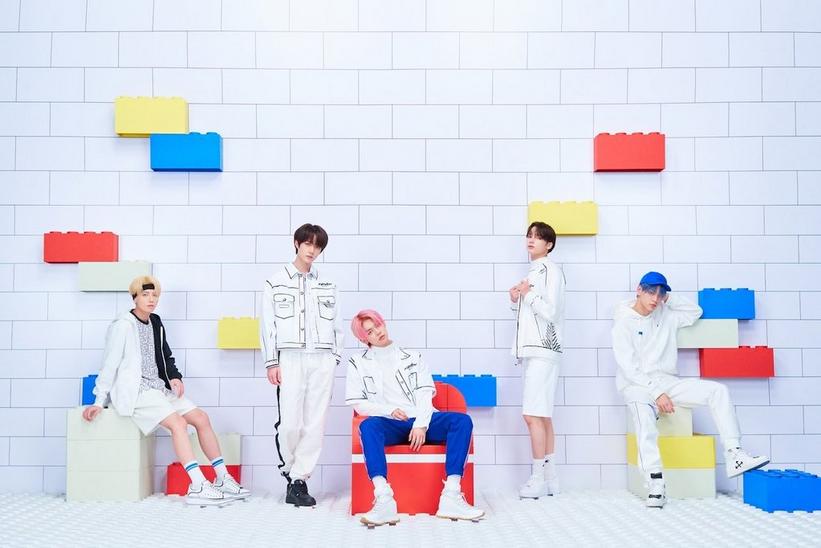 Photo Courtesy of Big Hit Entertainment
news
TOMORROW X TOGETHER On How Their New 'minisode1 : Blue Hour' EP Marks The Beginning Of A New Era
GRAMMY.com caught up with TXT to discuss how they've "changed and grown" on their new EP and what it means to them to be one of the leading K-pop acts of the next generation
GRAMMYs
/
Oct 26, 2020 - 06:38 pm
If there's any music act that can capture the multifaceted nature of youth, it's TOMORROW X TOGETHER (TXT). From the minds of Big Hit Entertainment, the parent company behind the international breakout success of BTS, TXT emerged last year as the first group to debut under the company since 2013. With such large shoes to fill, TXT have refreshingly forged a path distinctly their own, finding a unique voice along the way.
The five-piece K-pop group, composed of members SOOBIN, YEONJUN, BEOMGYU, TAEHYUN and HUENINGKAI, has since emerged as one of the biggest and most promising acts in K-pop—all in less than two years. They've won several accolades in Korea and abroad, topped the iTunes World Albums chart in 50 regions, received nominations for Best K-Pop act at the 2019 and 2020 MTV Video Music Awards, featured on the July 2020 cover of Teen Vogue and clutched the Radio Disney 2020 Song of the Summer title for their single, "Can't You See Me?"
TXT debuted last year with The Dream Chapter series: The Dream Chapter: STAR, their debut EP, in March 2019; The Dream Chapter: Magic, their debut album, in October 2019; and the concluding The Dream Chapter: Eternity EP this past May.
Their new five-track EP, minisode1 : Blue Hour, released today (Oct. 26), is the beginning of a new era for the group. A fitting next chapter, the EP dips into various genres new to TXT, including disco, dancehall, nu gaze, future R&B and pop-rock, while telling a story about boys who are forced to stand at the brink of the real world during the blue hour.
Throughout Blue Hour, a sort of pitstop on their next journey, TXT expertly address the conflicts of reality and reflect on the current need for a pause in real life. The EP's title track, "Blue Hour," follows the footsteps of BTS' chart-topping disco hit, "Dynamite," colored with TXT's unique spin. The EP also includes the COVID-19 themed "We Lost The Summer," which has the creative touch of Charli XCX. The TXT boys also wrote lyrics for some of the songs on the EP, including "Ghosting" and "Wishlist," proving their artistic growth and telling an authentic story for teens facing the pandemic. The EP's last song, "Way Home," is a future R&B track showcasing the vocal ability of the group while emphasizing a need for companionship.
GRAMMY.com caught up with TOMORROW X TOGETHER to discuss their new minisode1 : Blue Hour EP, how they created meaningful art despite the pandemic and what it means to them to be one of the leading K-pop acts of the next generation.
You guys are a youth-oriented group. As Gen Z artists, how do you aim to connect with audiences in a meaningful way?
HUENINGKAI: We've always actively tried to incorporate the thoughts and emotions that youth have into our music and lyrics. For example, our track "We Lost The Summer," from our newest EP, is about the loss of our daily and routine lives due to the COVID-19 pandemic. "Way Home" is about a boy's walk back home after school; the path feels off and even a little lonely in comparison to before, but he believes that as long as we remember one another, we will always be together no matter what. "Wishlist" is also quite relatable. It's about trying to figure out what gift to give to someone—someone very special. It can be a struggle if they don't let you know what it is they want. In such ways, we try to include a wide range of emotions and topics that are relevant for youths today, and we also try to stay connected with our fans by communicating these messages.
Blue Hour is the beginning of a new era now that you've closed off The Dream Chapter series, presenting the opportunity for new storylines and themes. What will stay consistent about TXT and what will change? What can we expect from this new era with Blue Hour?
SOOBIN: minisode1 : Blue Hour is our pitstop as we prepare to move onto our next series. It's about the feeling of unfamiliarity that can sometimes hit us all when our relationships with our friends undergo a change. What we've really tried to do through this EP was to deliver a story that only we can tell. It's our take on the experiences of unforeseen circumstances, such as the COVID-19 pandemic, and we have tried to tell it through our own sound and fresh energy.
BEOMGYU: You'll be able to see how much we've changed and grown as TOMORROW X TOGETHER by taking a look at the EP as a whole, but our choreography in particular. Our choreography used to be group-centric the majority of the time, but our newest performance actually includes solo dance sections for each member. We also had chances to work with dancers this time round, so it's all very new, refreshing and different. This EP dives into many genres and shows new and different sides of ourselves. I hope our fans, MOA, will like it!
Watch: Get To Know K-Pop Kings BTS | For The Record
The members actively wrote lyrics on this release, which was created during the pandemic. What were your thoughts and hopes while creating this album under such unique circumstances? How was your process different?
HUENINGKAI: We tried to reflect the sentiments of the current times in this album. Our goal was to make music that was relevant and relatable for many. For example, "We Lost The Summer" is about teenagers who are experiencing a completely changed world due to the pandemic. Everyone has lost the old norms of their lives, and as we were wondering how we could represent such a circumstance, our producer, Bang Si-Hyuk, was actually the one who came up with the idea from "Arcade" by Han's Band, a song that pictures Korea's financial crisis in the late 90s from a young [person's] perspective.
YEONJUN: We've been participating with the album's creatives by writing lyrics from the beginning of this EP's cycle. Not every idea was adopted, but the process allowed us to key in more ideas and lyrics for the accompanying tracks. We all put in a lot of effort; I worked on the pop-rock track, "Wishlist," with HUENINGKAI and TAEHYUN.
TAEHYUN: I worked on "Wishlist" and also "Ghosting" with SOOBIN. The lyrics for "Ghosting" reflect the disoriented emotional state of a boy who has been detached and cut off from the world. I think that the experience of working on this track has made me feel more hunger for future song- and lyric-writing opportunities.
I noticed the lead single, "Blue Hour," is a disco-oriented track, and your labelmates BTS also released a successful disco-themed song, "Dynamite." What is the attraction to disco for TXT? Why do you think it is a fitting soundtrack for right now?
SOOBIN: Disco/retro is a universal trend right now, not just in music but in culture as a whole. The disco we interpreted through "Blue Hour" is very boyish and also refreshing, which makes it perfect for this album. We also think it'll be very easy to enjoy and relate to for a lot of people. 2020 is a different year for everyone. We think it's a time for bright and energetic music, and "Blue Hour" is hopefully the dose of joy and vigor we all need.
Read: SuperM Talk 'Super One' & Finding Unity In The Covid Era
The EP features five songs that include diverse genres such as dancehall, future R&B and pop-rock. Do you each have a favorite song on the EP? Which songs are you most excited to perform?
YEONJUN: "We Lost The Summer"!
SOOBIN: I would have to say our lead single, "Blue Hour."
BEOMGYU: My favorite is "Ghosting," but I am especially excited to perform "Blue Hour" because we get to utilize props and costumes, and we'll be working with many dancers.
TAEHYUN: We've worked on "Blue Hour" for a long time, so I am very attached to it. I can't wait!
HUENINGKAI: I've never tried disco before, so my choice is "Blue Hour." I am super excited to perform this song in particular because there are so many standout dance moves.
What genres are you interested in trying in the future?
YEONJUN: I'd like to work on more future R&B as well as rap and hip-hop.
SOOBIN: I want to try a cappella.
BEOMGYU: I think it'd be amazing to do some acoustic tracks.
TAEHYUN: I would say soul.
HUENINGKAI: Piano rock! I think it would be really cool to play the piano at a concert someday.
Read: BLACKPINK Talk 'The Album': "The Spotlight Shed On K-Pop Is Just The Beginning"
The visual elements of your music have always stood out, and this time we're seeing bright colors and homestyle photoshoots. What is the inspiration behind the styling for this comeback?
BEOMGYU: The goal for the visual aspects of this album was to reflect the development of the online space as our hub of communication and togetherness while physically being home. It's become much more natural now to meet people and spend time with one another online; it's a change in our culture and the definition of the "space" we share with our friends. The visual elements are intended to represent the happiness and joy that we can still feel when connected with one another through online and virtual spaces. The bright and vivid colors represent our personal spaces.
What do you hope fans gain from listening to this new album?
YEONJUN: Through our album, we wish to share with our fans hope and positive energy.
SOOBIN: Nothing but joy and happiness.
BEOMGYU: Above all, I want our fans to know that regardless of any distance that sets us apart, we are all connected heart-to-heart. I also hope that they'll be able to watch us and gain some energy.
TAEHYUN: It's about the times, so I hope they'll be able to listen to it and relate based on their own personal experiences. As for the title track, it's disco, so I hope they'll enjoy it.
HUENINGKAI: Everyone's going through a rough time, so I hope we can cheer up and uplift altogether. It's what I want most.
TOMORROW X TOGETHER | Photo Courtesy of Big Hit Entertainment
As a leading fourth-gen K-pop group in a world that is increasingly paying more attention to the genre, how do you think you stand out from others in the industry?
YEONJUN: We're always working very hard to show our best in every aspect. I think that our forte is that we work with a diverse range of genres and try to put on a perfect performance for each and every one. We also aim to show progress as artists with every project.
Dreams and youthful elements are fitting for right now as everyone would rather be in a dreamlike state. You guys have consistently incorporated these elements into your music and message. Why do you find these themes important for your music?
YEONJUN: We are Gen Z artists, so we wanted to deal with emotions that our peers experience. "Dreams" and "youth" are key elements. Our Dream Chapter series dealt with stories of meeting friends for the first time, getting up to a bit of mischief together, as well as meeting conflicts with reality that tries to wedge apart our friendships. These stories are one continuous narrative of growth and change, which I hope has been and will continue to be relatable and comforting for fans and further audiences. It's what we strive for as artists: to grow and to be able to console and empathize.

TAEHYUN: We've always told our story in our albums. We've addressed concepts of dreams and youth in our albums because they're very important values and moments for anyone, including ourselves. We've told stories of being excited and making friends, dabbling together in a bit of teenage deviance and encountering a bit of discord within our friendships; thankfully, many people have let us know that they have had or were now undergoing similar situations. I think we've shown a lot of growth through our Dream Chapter series, and we really endeavor to grow further into artists who can provide understanding and consolation through music. Therefore, it was important for us to talk about the values that matter to us in our music. For us, that was dreams and youth.
Read: BTS Talk New Album 'Map Of The Soul: 7': "The Genre Is BTS"
How have you guys been coping with not being able to tour or promote like usual? What have you been doing to make life better?
BEOMGYU: We've been putting our all into rehearsals for this EP because we really want to deliver quality music and performances to our fans. We've also tried our best to consistently stay in touch with our fans through Weverse and Twitter.
TAEHYUN: We participated in various performance opportunities such as KCON. They were all very memorable moments.
You guys debuted in 2019 and have since experienced success both in Korea and abroad. How have you grown as a group since your debut and how has your dynamic changed? What has been the most surprising thing about your journey so far?
YEONJUN: I think I'm more relaxed and at ease on stage. I also like to think that I've matured a little in the way I think and carry myself.
SOOBIN: I can feel and recognize my own growth and can clearly see that our members are growing as well. It makes me proud.
BEOMGYU: I reckon the most surprising and amazing thing is that we have our fans, MOA: people who encourage and support us whenever, wherever.
TAEHYUN: The fact that we can share our music with and be loved by so many people in the world is something I'm still very thankful for and surprised at.
HUENINGKAI: Our lovely MOA have been so consistent with their love and support to us. I'm extremely grateful.
Read: K-Pop Superstar Baekhyun On His Sweet Solo Single "Candy" & Delightful Second Mini Album
What are your goals, both personally and professionally, for the future?
YEONJUN: Personally, I'd like to be able to share a mixtape or single that I've created from start to back. Professionally, I can't wait until the day we'll be able to host our own concert.
SOOBIN: I want to be someone whom my fans will be able to love and appreciate. As a person, I want to mature into a good adult.
BEOMGYU: I want to keep putting in my best efforts as I do now. I want to become an artist who can be a source of strength for somebody.
TAEHYUN: No matter how long it takes, I want TOMORROW X TOGETHER to become a great team that can mark down its name in K-pop history. Personally, I want to stay healthy and happy.
HUENINGKAI: Like YEONJUN, I'm also really eager for our first solo concert. In the future, I want to be able to go on a world tour and meet our MOA all over the world face-to-face.
K-Pop Sensation Stray Kids On Their New LP, 'Go Live': "We Wanted To Show Everyone What Our True Colors Were"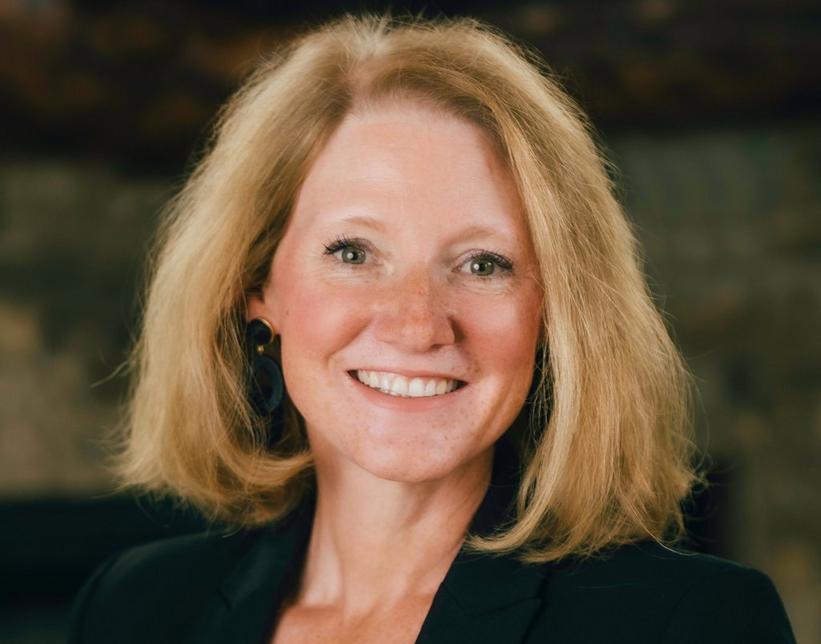 Theresa Wolters
Photo: Kelly Samson, Gallery Photography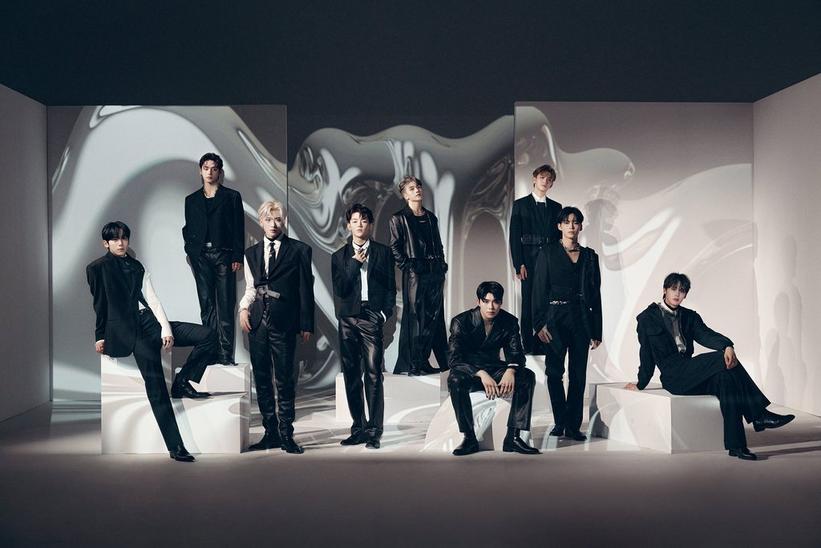 interview
ZEROBASEONE's Big Year: From Winning "Boys Planet" To The World Stage
The nine-member K-pop act have seen a stratospheric rise over the past year. GRAMMY.com spoke with ZB1 about the most exciting moments of their career and their recently released EP, 'Melting Point.'
GRAMMYs
/
Nov 8, 2023 - 06:02 pm
Rising K-pop stars ZEROBASEONE have experienced a rapid transition from boy group hopefuls to full-blown idols. While they're full speed ahead promoting their latest EP, Melting Point, it's necessary to turn back the clock and go into the very beginning to fully grasp how their growth has been unfolding.
Last fall, Zhang Hao, Kim Taerae, Sung Hanbin, Seok Matthew, Ricky, Park Gunwook, Kim Gyuvin, Kim Jiwoong, and Han Yujin received an announcement that changed the course of their personal journey: they were accepted into "Boys Planet," a televised K-pop survival series. This platform would introduce more than 90 idol trainees, each of whom strived for the opportunity to debut in a boy group. 
Each week of the competition was an uphill climb, but the nine singers were resilient. ZEROBASEONE (shortened as ZB1) emerged as the victors of "Boys Planet," voted by hundreds of thousands of fans around the world who watched them unlock their artistic potential that drafted sky-high expectations. 
That summer, the multicultural ensemble from South Korea, China, and Canada released their first mini album, Youth In The Shade. The six-track collection was helmed by "In Bloom," which alludes to the sentiments of flourishing despite the finite nature of a path. "Nothing lasts forever," they sing in the pre-chorus, later reassuring: "But I can change that, my fate."
It was a captivating entry into the world of K-pop and is now the best-selling debut record in K-pop history with almost two million copies sold to date — a milestone that elevated them as "monster rookies." And as such, in true K-pop fashion, they have been busy. 
ZEROBASEONE have graced the covers of some of the most prestigious South Korean magazines, made television appearances and circled the globe, all while preparing for Melting Point. In addition to their first performances in Europe, Japan and the U.S., ZB1 performed at the Gocheok Sky Dome in Seoul, an event that sold out in a matter of minutes.
But what makes ZB1 truly shine is their essence as artists and individuals. "We have become one," Seok Matthew tells GRAMMY.com over a video call from Seoul. "I just get these random feelings that make me think how grateful [I am] that I got to be a part of this group, and that I have these eight amazing members beside me."
Before ZEROBASEONE continues forging ahead with Melting Point, the group spent some time reminiscing about their big year. From how far they've come since "Boys Planet," to fully stepping into their new facet as K-pop idols, this is the initial stride of nine youngsters etching a future together.
The following interview has been edited for clarity.
Winning Big On "Boys Planet"
Seok Matthew: To be honest, I didn't even think I was going to pass the audition for "Boys Planet" because I went from company to company [when I was a trainee]. But, when I did get in, I was super happy because I found that Hanbin hyung also got accepted [into the show], and that made me feel a lot more relieved. I didn't have high hopes and I knew it was going to be a fierce competition…but he made me feel like I could go into this with a bit more confidence than I would have if I didn't go with him.
Sung Hanbin: When I met [my fellow ZB1 members] as trainees, I could tell from their eyes that they were not expecting "Boys Planet" to be hugely popular. We were all there because we just wanted to show off our potential and present something we hadn't been able to share with the world. 
We cannot forget about all the hard work from the program's producers, writers, and all staff members, but on top of that, all trainees' passion is what I believe made the program do so well. 
Kim Gyuvin: "Boys Planet'' was the program that made the dreams we have been desiring for a long time come true. I think it was the first step for us to receive the Rookie Of The Year awards [at The Fact Music Awards and the K-Global Heart Dream Awards], which [are] not easy to come by, so we are very thankful and feel extremely fortunate to receive that. "Boys Planet'' really served as a stepping stone for us, and I would say it was truly a life-changing experience.
Officially Becoming ZEROBASEONE
Park Gunwook: The realization [that my life was about to change] came pretty soon because after the final episode aired, we went to the dorm where we were going to live together. It was very exciting to learn that I was going to be starting my group activities and living together with these members that I love and respect so much. I felt like my stomach was full of butterflies every time I thought about that.
Ricky: For me, even before the final lineup was out, we already knew that "Boys Planet'' was getting bigger than we thought it would be. Honestly, I wasn't not sure if I was going to make it into the group, so the moment my name was called, and I went upstairs to sit in [one of the] top nine chairs, I thought, Oh, this is a big turning point in my life.
Kim Jiwoong: Something I want to mention is that we are a very funny group. [Laughs.] I think it shines through the content that we share with our fans and the general public, and they are getting to know a different side of ZEROBASEONE. 
Something that I learned by being close with the members is that I'm really cute — even more than I expected. [Laughs.] I'm the oldest member in the group and as I spend more time with the younger members, I find more pure and childish sides of me that I didn't even know. My relationship with the members has made me feel like a flower that is just blooming, and I'm glad I get to enjoy my youth with them.
Making A Statement At KCON Japan 
Zhang Hao: It was our first [official] performance as ZEROBASEONE, and we wanted to show who we are as a group to the world. We wanted to demonstrate what we could do as artists because people have been seeing us since we were trainees, and now we are a debut group. I truly think that the KCON Japan performance was my life's turning point because it announced the birth of ZEROBASEONE in front of everyone.
Kim Taerae: After we finished the performance, I felt very proud of our group because I think we did well. I also thought that we have a long way to go, and [I know] that we can do better, so we need to work even harder… and truly grow as artists while maintaining our youth and beginner's minds. That was something I was looking forward to right after coming off the stage.
Seok Matthew: I just remember vividly that we got to play with the fans, and we were handing out all these gifts to them. Everyone was having such a great time and I felt like we were actually giving back all the love that they gave us. 
At the end of KCON, we all went to the stage to say goodbye [to the audience], and we got to see our sunbaenims [senior groups] we have always admired…it was really an honor. I think that was the big point for us where, after we finished our performance, we thought, wow, I can't believe we just did that. At that point, that's when we were like, "we need to get as good as our sunbaenims."
Releasing Their Debut EP, Youth In The Shade, & Continuing To Grow
Han Yujin: On our debut day, I remember looking at the members and feeling absolutely proud of each and every one of them. And I had this thought that if we work harder, we are going to succeed and improve to be even better. I could just feel it. I also thought that, personally, I wanted to work even harder to resemble my amazing hyungs [older members]. I've been enjoying every single day since our debut.
Sung Hanbin: We chose this path because we've been enjoying the process and we love what we do. While preparing for Youth In The Shade, I learned that there are so many more things to learn — and it's not just about improving ourselves as performers, but also building our experience, attitude, and stage [presence]. 
We also need to consider our relationship with other seniors and colleagues as well, which I think is essential in this industry. The most important thing that I learned and I'm still figuring out is to be open about new things and grow every day.
Performing At Seoul's Gocheok Sky Dome
Han Yujin: I remember stepping out [to the stage] for the opening song, which was "Back to ZEROBASE." As we started singing the very first part of the song, the door in front of us opened and we were able to see all the audience cheering for us. It was just a very grand moment and I felt overwhelmed and somewhat emotional as well.
It immediately motivated me to give my best throughout the whole concert. I think that specific memory of just being on that stage for the first time and seeing our fans through an opening door will stay in my mind forever.
Conquering Big Stages Around The World
Ricky: KCON L.A. was special for me because Los Angeles is my second hometown, and it was my first time going back since we debuted. As soon as we got there, it made me realize that all the hard work was worth it.
Zhang Hao: And we met Ricky's mom! [Laughs.]
Ricky: It was the first time my family came to see us perform [as ZEROBASEONE], so it was an unforgettable moment. 
Seok Matthew: I'd say that one really good memory I have right now is [M Countdown] in France because I was a special MC. It was my first time being able to do something like that, so I did have a bit of pressure. Hanbin hyung was the main MC, and the fact that I was able to do it with him, it was a very cool experience. 
After that, I wanted to also get better at all the three languages that I speak, which are French, Korean, and English. And then, maybe in the future, I can get another chance to be an MC. It felt so different because France is really far [from South Korea], right? It was everyone's first time [visiting the country], and it was beautiful.
Releasing Their New Album,
Melting Point
Park Gunwook: I think our intention to tell our stories has never altered from our debut album, but we also wanted to show another side of us. In [Youth In The Shade], we wanted to talk more about our identity and who we are as ZEROBASEONE. But Melting Point serves as a chapter where we expand our sound and share our story with the audience and our fans.
We wanted to include some new sounds and powerful performances that we had never presented before. We wanted to show how much we had grown as a team, and how much chemistry we were able to build. Of course, we practiced very hard, but we also had a lot of discussions among ourselves, and we were very open [when] talking with each other.
Kim Taerae: Our debut track "In Bloom" and Melting Point are aligned in the message that we want to walk along with [our fans]. For "Crush," it's more about, "with all your love and support so far, we are determined to protect you." I think our new album serves as our future direction and our determination for our fans and our music.
K-Pop Group IVE Are Unabashedly Themselves On New EP, I've Mine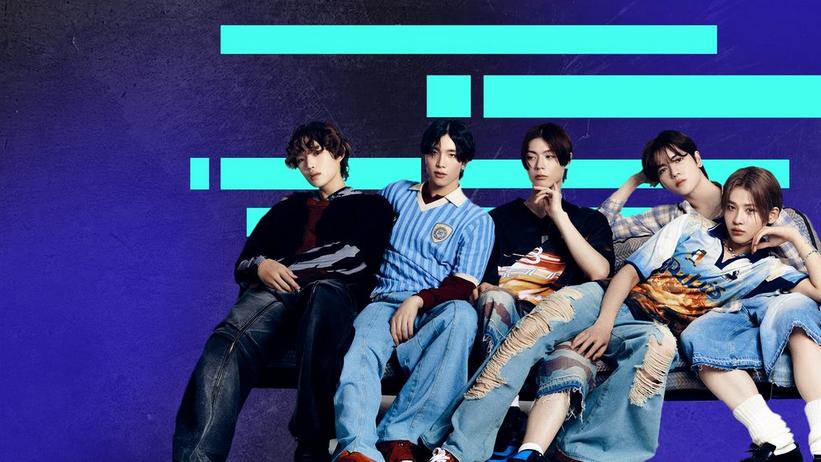 video
Global Spin: POW Offers A "Dazzling" Performance Of A B-Side From Their Debut EP, 'Favorite'
Just after making their official debut on Oct. 11, K-pop quintet POW deliver their first performance of "Dazzling," an easygoing love song from their mini-album, 'Favorite.'
GRAMMYs
/
Oct 19, 2023 - 06:04 pm
There's nothing quite like a summer fling; the feelings are high and the stakes are low. And as POW's love story "Dazzling" proves, sometimes a relationship — fling or not — can make every day feel like "a summer night," regardless of the season.
"Love and peace, young and free/ Here, good vibes only/ Hot and cold, fast and slow/ Life is sweet and salty," POW sings in "Dazzling," switching between English and Korean. "Let's seize the day/ For that someday when this becomes a gleaming memory."
In this episode of Global Spin, POW — the new K-pop group that just debuted on Oct. 11 — delivers a lighthearted premiere performance of "Dazzling." Each member takes a turn at the microphone as they sit in a clay room.
"Dazzling" is a B-side from their debut mini-album, Favorite. The K-pop quintet is the first group under GRID Entertainment. According to a press statement, POW hopes to "make a bold entrance to the music scene with a bang, promising an ambitious quest to deliver a refreshing and entertaining experience to global listeners."
Press play on the video above to watch POW's feel-good performance of "Dazzling," and check back to GRAMMY.com for more new episodes of Global Spin.
K-Pop Group IVE Are Unabashedly Themselves On New EP, 'I've Mine'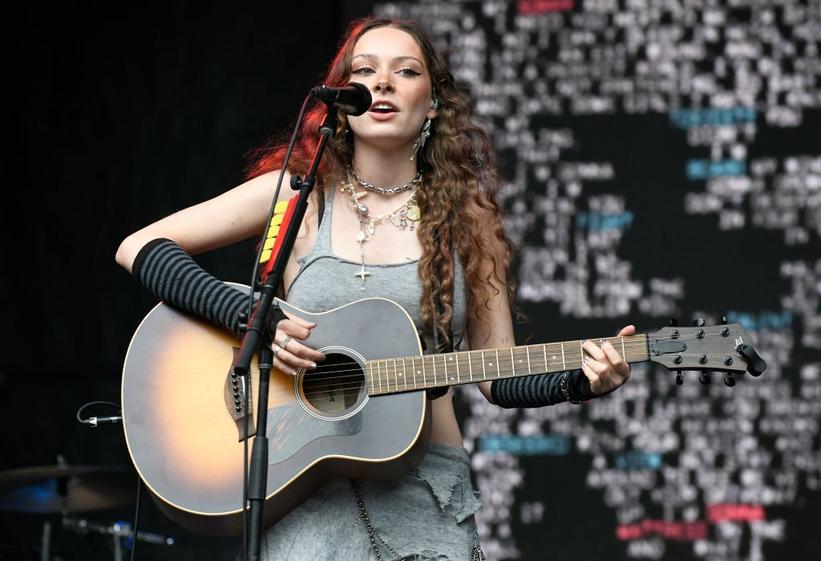 Holly Humberstone performs during Lollapalooza 2023
Photo: Jim Mosenfelder/Getty Images
news
New Music Friday: Listen To New Music From TXT, Margo Price, REZZMAU5 & More
Listen to these fresh tracks and collaborations from Tomorrow x Together, the Menzingers, the Libertines and others.
GRAMMYs
/
Oct 13, 2023 - 06:12 pm
As October unfolds, influential artists from across the globe continue to share new, dynamic sounds.
Friday, Oct. 13 is turning out to be anything but scary, with highly anticipated releases from megastars, newcomers and fan favorites. Among the day's biggest releases are Bad Bunny's Nadie Sabe Lo Que Va A Pasar Mañana, Offset's Set It Off,  a new EP from Ringo Starr, Troye Sivan's first album in five years, and a new EP rising K-pop stars IVE.
Elsewhere, K-pop group TXT explore the melodramatic moments of teenagehood on their new album, while pop singer/songwriter Holly Humberstone does some self-exploration on her debut album. 
This Friday, dive into seven new releases and consider adding these tracks into your monthly musical rotation.
TXT
-
The Name Chapter: FreeFall
K-pop group TOMORROW X TOGETHER, explore the depths of teen angst in their latest chapter LP, The Name Chapter: FreeFall. Following collaborations with Anitta and the Jonas Brothers, TXT have returned with a nine track album that navigates away from youthful optimism and dives into the harsh reality of adolescence.
One of TXT's Chapter series of releases, this latest release follows January's The Name Chapter: Temptation. "Our music contains this one story of growth and so we basically talk about the process of growth," member TAEHYUN told GRAMMY.com earlier this year. 
Tracks like "Growing Pain" and "Chasing That Feeling," guide listeners through the journey of growth, through melodic lyrics and punk-rock percussion. TXT member BEOMGYU showcases his own producing skills in the R&B, pop song, "Blue Spring." Through creative storytelling and embracing emotional vulnerability, this album isn't one to miss. 
The Menzingers -
Some Of It Was True
Four years after their last release, Pennsylvania punk outfit the Menzingers dropped their latest Some Of It Was True. The group's seventh album is a nostalgic journey about growing up and longing for a certain someone.
"I'm all alone in Dublin, searching for something / Wishing you were here with me," they sing in "Along in Dublin."
While tracks like "I Didn't Miss You (Until You Were Gone)" stay true to the group's traditional indie punk feel, songs like "Ultraviolet" explore the Mezingers' calmer, Springsteen-esque sensibility. Some Of It Was True shows the band's evolution and versatility, as they transition from self-reflective songs to addressing maturer, universal issues.
Holly Humberstone -

Paint My Bedroom Black
After opening for Olivia Rodrigo's Sour tour and being awarded BRIT's 2022 Rising Star, Holly Humberstone offers her debut record, Paint My Bedroom Black. The highly personal album explores themes of uncertainty and confusion, unpacking the array of emotions she experienced while on the road.
Each track is an odyssey of relatable Gen-Z experiences; songs like "Antichrist" and "Lauren" that talk about  experiencing conflicts in relationships, but with total honesty. Tracks such as "Room Service" employ folksy instrumentals and a mellow beats that pay homage to her family and friends. 
Humberstone's authenticity in lyrically discussing themes like love, friendship and identity make her debut  a relatable self-reflective anthem. 
REZZMAU5 - "Infraliminal" 
Spend your Friday night head-bopping to another powerful electronic collaboration from REZZ and deadmau5. Their latest song, "Infraliminal,"remixes deadmau5's "Superliminal" by adding a deeper bass and creating new energetic arrangements.
"A lil fact - the original "superliminal" by deadmau5 is one of the songs which inspired me to create music. Fast forward to now, we have a project together & are releasing a version (technically two versions, you'll see) of what I consider one of my favorite tracks by Joel ever," REZZ shared in an X post. 
The Libertines - "Run, Run, Run"
UK rock band the Libertines are back with their latest single, "Run, Run, Run," an energetic tale about running from the past and enjoying the present.
The quartet recently announced their new album All Quiet On The Eastern Esplanade, which will drop in March 2024. The album will feature 11 songs, produced by GRAMMY-nominated Dimitri Tikovoï. "Run, Run, Run" and the forthcoming album are the Libertines' first projects since their 2015 album Anthems for Doomed Youth. The group celebrated their 20th anniversary in 2022.
Margo Price -
Strays II
Nashville singer/songwriter Margo Price continues unveiling authentic tracks in Strays II, which takes listeners through her tales of trauma, loss and self journeys in three acts: "Topanga Canyon," "Mind Travel" and "Burn Whatever's Left." Strays II focuses on life's everchanging tapestry, marking her a true artist in storytelling.
The album features "Malibu," a collaboration with GRAMMY-nominated artists Big Thief's Buck Meek and Jonathan Wilson. The song brings listeners to the scenic West Coast, as Price serenely sings about chasing a dream all to end up stranded in the titular. 
On the other hand, the title track has more of an upbeat tempo with catchy guitar riffs that seem to echo the sounds of the '90s. This song paints a story on her early moments with husband Jeremy Ivey. 
How To Watch The 2024 GRAMMYs Live: GRAMMY Nominations Announcement, Air Date, Red Carpet, Streaming Channel & More