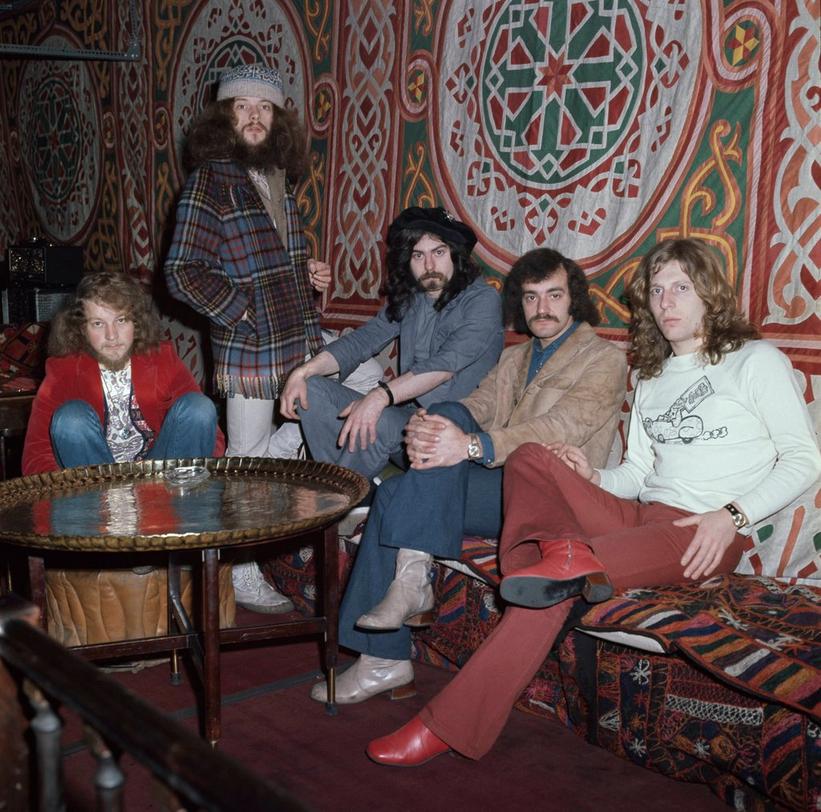 Photo: Michael Putland/Getty Images
news
Jethro Tull's 'Aqualung' At 50: Ian Anderson On How Whimsy, Inquiry & Religious Skepticism Forged The Progressive Rock Classic
Ian Anderson wasn't sure if Jethro Tull's fourth album, 'Aqualung,' could beat the last three. But the 1971 album turned out to be their masterpiece, consolidating Anderson's feelings about homelessness, love, God and an overpopulated Earth
GRAMMYs
/
Mar 20, 2021 - 12:28 am
By now, Jethro Tull's "Aqualung" has been lampooned by everyone from Ron Burgundy to Tony Soprano, but the song's import goes many layers deeper than throwaway jokes. It arguably could save the world.
Sure, everybody remembers that thunderclap six-note riff and leader Ian Anderson's snarling portrait of a disreputable street dweller, "eyeing little girls with bad intent." What happens next in the song is less discussed.
Over tranquil acoustic strums, Anderson sings of the itinerant character not with disgust but with almost Christlike compassion. He paints a detailed portrait of his daily routine. He takes pity on his loneliness. Most tenderly, he addresses him as "my friend."
Fifty years after Aqualung was released on March 19, 1971, it's safe to say this attitude hasn't been evergreen. In an era of quick demonization, most wouldn't try to understand Aqualung's plight or even give him the time of day.
"I felt it had a degree of poignancy because of the very mixed emotions we feel—compassion, fear, embarrassment," Anderson tells GRAMMY.com of the title track. "It's a very mixed and contradictory set of emotions, but I think part of the way of dealing with these things is to try to understand why you feel those things."
This spirit of open, honest dialogue imbues the entire album, which Anderson wrote and he, guitarist Martin Barre, bassist Jeffrey Hammond, keyboardist John Evan and drummer Clive Bunker performed. On "My God," "Hymn 43" and "Wind-Up," Anderson analyzed organized religion and its connection to God—or lack thereof.
"I don't believe you/ You've got the whole damn thing all wrong/ He's not the kind you have to wind up on Sundays," he proclaimed in "Wind-Up." Some foreign governments banned the album or bleeped out offending lyrics; Bible Belters burned it.
Is this how we should deal with offending art or those we find repugnant? To Anderson, the real solution begins with turning off social media and having authentic conversations. (Yes, even with those we can't stand.)
GRAMMY.com gave Ian Anderson a ring about the writing and recording of Aqualung, his complicated relationship with religion and why "ranting and raving on Twitter... does no good for anybody."
Where was Jethro Tull at the dawn of the decade, between 1970's Benefit and Aqualung?
On tour in the U.S.A., a great deal of the time. The songs for Aqualung began—not all of them, but many of them—in Holiday Inns and similar premises through the Midwest of America. The song "Aqualung," I remember writing in a hotel. We had moved on to having separate rooms by then, so it gave me some privacy to write songs and I always had a guitar with me.
So, I remember calling Martin Barre and saying, "Hey, come up to my room. I want to run through a new song with you." He came to my room with his electric guitar—no amplifier, so I couldn't really hear what he was playing—and I showed him the essential riffs and chords through "Aqualung." He didn't imagine, as I did, how it would sound if it was plugged into an amplifier turned up to [chuckles] number 11.
I said, "Trust me, trust me. Play this riff and it's going to be a big thing." I had an acoustic guitar and he wasn't plugged in, so you had to have faith and try to use your imagination. But as a record producer, that's what I was supposed to have, so I figured I would be able to demonstrate the drama and the contrast in the song when it came to playing it on stage.
I think "My God" was another early one that was written—and, in fact, performed—during the summer of 1970. It had slightly different lyrics, but it was one of the first songs that was complete for the Aqualung album. Many of the rest followed on toward the end of the year, and some of them were written pretty much in the studio or around the time of the recording sessions. So, it was varied.
"Mother Goose," I remember that. That was pretty early on. That was in the summer of 1970 as well. So, it spanned a period of time, really, from the summer of '70 through to the end of the year, writing the music and recording. It was an experience, being an album that suffered a little bit from production problems in the then-brand-new studio that Island Records had built from a converted church.
It wasn't a great place to work in. The big room, the big church hall was not a nice sound. Led Zeppelin were in the studio underneath in the crypt, which was much smaller and cozier and had a very neutral sound. That was a much easier place to work in. They had it pretty blocked out for their session. We were in there maybe just once—we managed to get in to record there.
But, yeah, it was a tricky album to make, and at the end of it, I wasn't really sure if it would be well-received, but it did OK. In the months and, indeed, the years following the release, it did much more than OK. It wasn't a really slow album, but it was a slow burn. It created a stir, but it was particularly in the year or two following the release that it became a flagship for Jethro Tull throughout the world.
Ian Anderson and Martin Barre in 1971.
What was the germ of the idea behind the title track? I understand you and your then-wife wrote it together, but what compelled you to write about a homeless person so poetically?
A photograph that she had taken. She was studying photography in London at the time and came back with some photographs of homeless people in the south of London. One particular one caught my eye and I said, "Let's write a song about this guy." Not trying to imagine much about his life, but more in terms of our reaction to the homeless.
I felt it had a degree of poignancy because of the very mixed emotions we feel—compassion, fear, embarrassment. It's a very mixed and contradictory set of emotions, but I think part of the way of dealing with these things is to try to understand why you feel those things. Some of them are reasonable, perhaps, and some of them are unreasonable.
But the song itself was one of the probably only two occasions I can think of in my life where I wrote a song with somebody else. Actually, that's not quite true—there were two or three very early songs I co-wrote with Mick Abrahams, our guitar player in the first year of Jethro Tull. But that's not something I normally do. I'm very private as a songwriter and find it much easier to be in isolation—in intellectual quarantine.
Aqualung is full of cynicism about organized religion. In past years, you've performed in churches and been involved in their preservation. But back in 1971, where was your head regarding that subject?
Oh, very much the same as it is today. I have a natural cynicism and questioning about all aspects of organized religion. It doesn't stop me from ultimately being a great supporter of Christianity in all of its many flavors. I thoroughly support the church, especially as we go through—I mean, 50 years ago, congregations were beginning to suffer, but the church still had pretty good attendance.
These days, it really is an enormous struggle in a very secular world to give people the options. So many churches these days are financially at the tipping point of having to fail or go bankrupt. Some of the cathedrals in the U.K. I played in to raise money for them have been literally at the point of having to close them down, just because of lack of support and, ultimately, lack of a congregation.
I mean, there are some fairly well-off, big cathedrals that charge entrance fees because they are historic buildings or very grand, but the lesser cathedrals and most churches don't have any income except for the generosity of visitors. Of course, that mainly means the regular congregation leaving some money, and sometimes, a legacy from somebody who can afford to leave money behind for posterity.
But it costs a lot of money to keep these places going. Even a little village church may still technically be open, but they only have a service once a month because they don't have a permanent priest. They have maybe a priest who looks after several different parishes and travels around taking it in turns to do a Sunday service.
It's tough times, and I'm very much in support of the idea that we should have that freedom to go into those historic buildings, which most of them are. In America, perhaps, not so, because you're a very young country. But a little village church somewhere could be a thousand years old.
It goes back, really, to Norman times. A lot of churches built in, say, 1100 or 1200, maybe they've changed a little bit along the way architecturally or the building of a new tower or chapel or whatever, but many of them really are between 500 and 1,000 years old, and that's something I think is something worth hanging onto while they still exist. Because one thing's for sure: we aren't going to build any more.
The Victorians did. The Victorians built a few big Gothic churches that were in the style of grand European churches, and so there are a few cathedrals in the U.K. that were built in 1700 crossing into 1800. By the mid-1800s, there was a revival in Gothic architecture, so the cathedrals that follow into the mid-1800s through to the turn of the century tend to be quite grand buildings. But I often feel they lack the buzz. They lack the atmosphere and the special spiritual charge of the truly ancient cathedrals.
To me, what you're saying is reflected in "Wind Up." In that song, you're not bilious toward faith as a whole. Rather, you seem almost defensive of the essence of it—God, or the idea of God.
Yeah. I don't think we want to overstate it, but I remember the first time I went to the Vatican when I first traveled to Italy. I lasted about five minutes because I just found it so opulent and over-the-top.
Catholicism does celebrate everything to do with art and gold-plated ornamentation. I found it very hard coming from a Protestant background in the Scottish-English churches, which were more Lutheran in their origins. Simpler, without a lot of ornamentation. So, I found Catholicism overwhelming and too obsessed with grandeur.
I don't feel that way any longer. Many of the churches in Europe that I've visited and managed to go perform in are indeed Catholic churches. I'm perhaps more relaxed about the way in which people celebrate that because a lot of relatively poor, ordinary people see this as a symbol of the thing they can never aspire to having in terms of their own surroundings. That opulence, that grandeur gives them some comfort and tuning-in to the greatness of God, as they are taught.
But I'm not a believer. I must say. I'm not somebody who has faith, as such. I don't believe in certainties. I believe in possibilities and, occasionally, I believe in probabilities. So, if you were to put me on the scale of agnosticism of one to 10, you could probably put me down for a six, maybe a seven on a good day, in terms of confidence about there being that absolute cosmic power that we call God.
While I greatly value the Bible, I view it as a gateway to spirituality in the same way that Islam is a gateway to spirituality and Hinduism and the world's great religions. They shouldn't be seen as absolute in terms of detail and being the only way to the truth.
I find more acceptance in the idea that they are all different doors entering the same great building. You can come through the side door, the front door, the back door or descend from the rafters. There are lots of ways in. That's how I see religion. I place value on it, but I don't like it being pushed to me as a message of absolute certainty.
As a child at school—14 years old, or whatever I was—I began to have feelings about the way I was being taught in regard to religion that expressed themselves in songs like "My God" and "Wind Up," for example.
And a lot of Aqualung's power lies in how it deals not only with big subjects, but small, almost mundane ones. "Wond'ring Aloud" portrays this quiet, domestic scene. What was going on in that song?
Well, it's as simple as it is. I don't very often write love songs, as such, and that is. It's a simple, calm, domestic, comfortable, cozy-warm-blanket kind of a song. A bit of a rarity for me. I tend to be more in social realism, in terms of subject matter, but I do stretch to the more whimsical, surreal songs like "Mother Goose." And songs where I'm actually giving you a little more of an insight into my own emotions.
But mostly, I'm writing about people in a landscape—almost like actors on a theater stage. I don't do close-ups of people. I don't do pure landscapes without people. I like to study people in the context in which I see them. And that comes probably from my earlier years studying painting and drawing and, indeed, photography. I see things with the eye of a photographer or a painter, and then I put them to music and words.
That perfectly encapsulates "Locomotive Breath," which sets characters against a wider landscape of capitalism run amok. Which is a theme you returned to later on with "Farm on the Freeway."
Well, the subject matter, yes, indeed. Things evolve, things change. We carry on with our expansion in terms of population and global economics. It's the reality that we have to face.
But if there's one thing I think "Locomotive Breath" is about, it's more about population growth rather than anything else. It's talking about the material world, but as a result of a growing population, one which seemed, back in 1970, to be out of control. And if it seemed like that in 1970—well, goodness, it seems a lot more so now!
Think about it this way. When I was born back in 1947, compared to now, the population of Earth has grown quite a bit. And if you were to ask the question, "Well, how much? 50%? 100%?" you would be surprised, I would expect, for me to tell you that since I was born, within the lifetime of one person—hopefully well within the lifetime of one person, in my case!—the population of planet Earth has slightly more than tripled. That should give pause for thought. In onegeneration, three times the population.
It clearly can't go on. There are signs, of course, that population growth in the so-called civilized Western world is slowing down. That the growth is below the threshold of sustainability, in the sense of fertility rates falling well below two through most of Europe.
Perhaps not in America, where people like to have big families and brag about them. But in the pragmatic world of European countries and many countries elsewhere that are not technically part of Europe but within that great landmass, you see populations diminishing because people choose not to have large families.
And so many women decide, given that they have a degree of freedom and the ability to be part of the choice, which they certainly didn't have 100 years ago. Now, they do, and they choose to have one child. Maybe two. Sometimes no children at all. So, on average, that falls to somewhere around 1.6 in the fertility rate on average around Europe.
But of course, in countries, particularly in Africa, we see that the fertility rate is somewhere up around five, six, seven. It continues to explode and brings with it, of course, overpopulation in some areas and the desperation to migrate from those areas to areas where people feel they have a better chance of survival and doing well. Add in climate change to that, and we have a recipe for mass migration in the next 50 years that will dwarf anything you've seen so far.
I would think Canada will be thinking of building a wall between the U.S.A. and Canada to stop you horny Americans from getting in!
Jethro Tull live in Germany, 1971.
Overpopulation was on your mind 50 years ago, and it still is. So were these themes of love and whimsy and religious hypocrisy. Then and now, did audiences have an accurate read on what you were trying to convey with Aqualung?
I don't really think I've ever given a great deal of thought to what audiences think or even what they want. It's not something that has ever driven me. It's an afterthought if, indeed, it's a thought at all.
I do remember finishing the Aqualung album. After the very last session, it was so late in the night it was early morning, and the keyboard player John Evans and I went into a little cafe near Basing St. in London where the studio was, that had just opened, to do a very early breakfast.
I remember saying to John, "What do you think? Do you think this is going to play well with our audiences and record-buyers and fans and the media?" He scratched his head and said, "I have absolutely no idea." I said, "Well, I'm a bit nervous, you know. I have my doubts it's going to hit the mark."
It was a bit nerve-wracking for the next month or two until the album was released. I did have my doubts that it was going to be a step upward from our previous album, Benefit. Either it was going to be the beginning of a new ascent to greater, loftier success, or it was going to be the beginning of the downhill slide.
I felt it was an important album and it was relatively well-received at the time of its release in the U.K, but not overwhelmingly so. I think some of the subject material put some people off. But it was important that over the next year or two, it really did consolidate the onward surge of Jethro Tull's success in global terms.
I mean, not global. It never did anything in China! But throughout Eastern Europe and Latin America and other places, it caught on.
But throughout Eastern Europe and Latin American places, it caught on. It might have taken a few more years to have penetrated. But Aqualung, by the mid-'70s, had become a very important and popular album throughout the European landmass, including Russia, and places where culture was very much not permitted.
So, along with everything else, our music was banned in several countries, and it was only heard by people prepared to smuggle in bought, black-market copies, and make illegal tape copies to listen to. I do sometimes feel a sense of awe, really, in the degree to which people grew up, listening to Western rock music in defiance of the law. And potentially, a breach that would put them in prison. Or indeed, in Pinochet's Chile, even worse.
So I thanked Mikhail Gorbachev personally when I met him some ten, 12 years ago, for being the man behind Glasnost and Perestroika. On his watch, Jethro Tull and The Beatles were the first acts from the West to be officially released on the Russian state record label Melodiya.
Was the record banned for its religious commentary? What was the deal there?
In some places, it was. For example, in Spain, in the final dying moments of Franco's fascist regime, it was indeed banned from the radio. Some words were bleeped out as well. I remember in the Bible Belt of the U.S.A., people were burning copies of Aqualung.
Jesus.
In the Evangelical South, it was seen to be sacrilegious and attracted a fair amount of attention. It had a little bit of notoriety attached to it. But, in Russia, it was just Western music generally. As indeed in some of the world's other countries, it was forbidden, verboten, because it was Western, decadent rock music, and it could seduce the youth and cause mayhem, madness, upheaval and revolution.
But in Gorbachev's time, I think he wisely released that it was time to gently release the safety valve and create a bit more freedom. And while, of course, he had nothing whatsoever to do with saying, "Oh, we'll release Jethro Tull. I've always liked them!" That's not what happened. It was just, he created an atmosphere where that could come about.
And so, I think we saw the end result is not only a growth of popularity and accessibility of Western rock music, but it also encouraged many of the homegrown rock bands to actively and more publicly pursue their dreams without fear of arrest. Which is a good thing.
Ian Anderson imitating the Aqualung cover art in 2011.
That level of censorship is alarming to me. Because it's not a record of blunt, ugly atheism; it's yearning and nuanced on that subject. Do you feel this one-dimensional attitude has taken hold in the 21st century as well?
I think I find that one-dimensional attitude liberally dispensed around the Old Testament of the Holy Book. That's what people go for. They like things black-and-white, and simple and direct, and they like a little bit of fear and diatribe and retribution thrown in. It's what happens.
But, of course, in our much more accessible world in terms of media, and social media in particular, people are able to express views instantly, loudly, even if sometimes they might regret them. And black-and-white is the order of the day, so everything is polarized and divisive.
And I think, America, perhaps, more than any country in the world is an absolute demonstration of that, in terms of the way politics have divided a nation. And the degree to which people might have had a genuine and positive and valuable feeling of loyalty to their country, it's become so split and polarized that I think past ways of looking at it have now become very hard to grasp.
Being a two-party system unlike Europe where there are many parties—and obviously, coalitions come about as a result of the failure of any party to achieve a massive level of superiority. In your country, it's essentially two parties, first past the post, and that's it. But, in fact, it's not it because, of course, you then contest the election result, and claim it was stolen.
So, it's a tough world these days, and I think we have a real problem on our hands, collectively. Not just in the U.S.A., but collectively, as a result of populist politics and the divisiveness that seems to go with it.
If we're not allowed to unpack and examine these complicated subjects as you did on Aqualung, we're going to have a sad, withered society. How do we restore nuance to the public discourse so we're not firing professors over tweets?
I think it is exactly by that. By having conversations as opposed to ranting and raving on Twitter, which does no good for anybody. I think it's about listening to other peoples' points of view and trying to understand them, even if don't agree with them. If you don't arrive at an agreement, at least you've hopefully had a conversation and let people know how and why you have the views that you do.
Because to some extent, it is about the media environment. As you say, societal norms that you've grown up in.
Is the problem that we often smear the person or write them off before the conversation begins?
Yeah. I think you've got to give people a chance, and sometimes you have to be discrete, and you can't always say what's on your mind.
I think my views of the Republican Party are of something a little bit more traditional, conservative, discrete, and gentlemanly. You can't actually describe the U.S. Senate in those terms today!
It's a little bent out of shape, and I personally think it's going to take a lot of calming down. People have to calm themselves down. But sore losers like Ted Cruz, or indeed Donald Trump, they're not going quietly into the background, they only see further opportunities to be exhibiting their extreme views, and trying to grab a bit more power. So, it's a scary world.
Ian Anderson live in Berlin, 2018.
I have a bit of a soft spot for George W. Bush. I felt he had a kind of gentlemanly spirit about him and a restraint. I don't know if you've ever read his book after his presidency was over. I'm assuming he didn't sit there and write every word himself, but it seemed very much the genuine sentiments of somebody who had, at least, painstakingly done it through a series of interviews. Or perhaps he had typed a lot of it out himself; I really don't know.
But it was, I think, a mark of the man, that he demonstrated a degree of his own failings, his dependence, as a U.S president, on listening to the advice coming from people around him. Obviously, notably Rumsfeld and Cheney. He didn't badmouth them, but you could tell from his book that he was circumspect, I think, in hindsight, about some of the things that he was given to work with.
He wasn't a great president, but he certainly wasn't a bad one. The world would be a much better place, right now, with George W. Bush as U.S president, than the previous one. And we are at this point, now, where we've got your oldest president—or to become president—the oldest man in historical terms to probably serve only a single term, before he has to hand it over to younger blood.
But boy, did he inherit the second-worst gig on planet Earth right now! In a pandemic year, or two, to try to gradually bring America back to some kind of prosperity, and a degree of normalcy, against all the odds. And everybody's waiting to find every potential failing to try and make him look ineffectual. It's the second toughest gig on planet Earth.
And in case you weren't going to ask me, "Well, who's got the worst gig on planet Earth?" I'll tell you. It's Frank! Pope Francis! It's a really rough time to be the Pope. Because you're presiding over what appears, to many, to be a sinking ship. Catholicism throughout the world is losing ground rapidly, and his role can't be to overturn things at a single throw. It's got to be gentle and gradual.
Just like the U.S president has to work with the House of Representatives and the Senate, the Pope has to work with his cardinals, and indeed, throughout the world, with a lot of people who view him as being far too liberal. So, it's a tough gig, and I don't envy his role at all. Nonetheless, I think he's definitely, in my world, a great improvement over the last few.
You just laid out nuanced portraits of complicated, often vilified figures. To me, that spirit of conciliation runs deep in Aqualung. And Steven Wilson's excellent remix [from 2011] means we can commune with that message more directly than ever.
I'm not sure that it demonstrates itself as well as it might, when you listen to it only on Spotify, let's say.
What Steven has done, being a sensitive and careful person, with great respect for the music as it was originally unveiled, all that time ago—not just our music, but other people that he's worked with, on remixing. What he does is to clarify, to put a little sparkle into the audio by cleaning everything up, to get rid of all those hums and buzzes and clicks and bits of spurious noise between passages of music that the analog world couldn't do.
In digital terms, you can create so much more transparency with the old analog tapes, if you just patiently go back, tidying everything up, so that you hear what you hear, only when it has something to say, rather than being 24 tracks of crumbling, rumbling, spurious tape noise and hiss.
But he doesn't mess too much with either the stereo layout of the instruments or, indeed the balance of the instruments. He takes the original mixes as his model and refines it with great care and discipline, and above all, I think, respect for the original work. It's at its best when you hear it in a high-quality digital format, but for most people, of course, it's an MP3, or it's streaming from some platform.
You probably still discern the differences, but it's at its best when you listen to it in higher quality. Even a very well-cut and -pressed vinyl album has a certain quality about it, these days. Much better than it did, back when I used to do it, in the '70s. Even though they're still using 1960s Neumann cutting lathes in the studios of the world, are still cut, master lacquers, for the industry. Even though it's ancient equipment, it's better understood, and it's maintained meticulously by people who are invariably music fans.
These days, you go into a cutting room, there's no smoking, there's no everything, it's air-conditioned, clean air, no dust, no mess, nothing to potentially ... It's more like laboratory conditions. And I saw that, actually, in Japan, when I went there, to JVC studios, in the early days of quadraphonic sound, and cutting the very first quadraphonic albums. Everybody was wearing face masks and white coats!
And I loved doing it back then; back in the early '80s. But the reality is that, these days, people take it so much more seriously, to get a good, clean, tidy cut. And they can do it. But, in the '70s, George "Porky" Peckham, one of the most famous cutting engineers that I used to work with, cut all the Led Zeppelin albums, as well as Jethro Tull, and a whole host of... everybody, I suppose, at that time.
He always had a cigarette in his mouth, and he would lean over the master lacquer, peering through the microscopy to check the grooves, with ash dropping onto the master. So it would probably be true to say there are probably some Led Zeppelin albums where you can't smell George Peckham's cigarette, but you can hear it! Little bits of ash that found their way into the groove and had got pressed!
That's all I've got, Ian. Thank you so much.
Well, nice to talk to you. Take care. Hopefully, in months and years to come, the music industry will be back to some kind of positive and fruitful level of activity again in the U.S.A. We're nowhere near that yet, that's for sure. Maybe six months from now, I think, you should be, hopefully, in a position to begin to do concerts again.
We have a U.K theater tour booked in September, which I'm hopeful we will be able to do. But, every week that goes by, we cancel or postpone concerts into 2022, which we've already postponed since 2020. We're having to push them even further away since they're not going to be feasible for the next three or four months.
We'll try and keep optimistic, and hope that we can all get back on the road.
Dave Mason On Recording With Rock Royalty & Why He Reimagined His Debut Solo Album, 'Alone Together'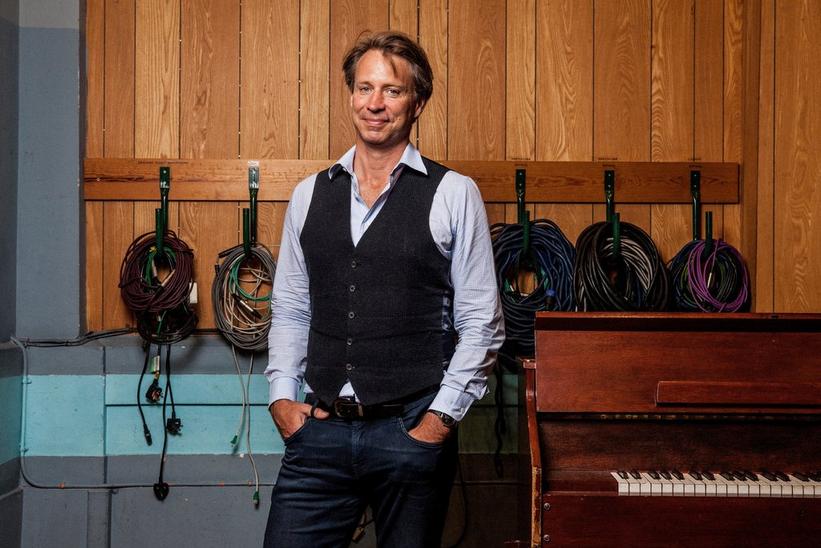 Giles Martin
Photo: Alex Lake | C A Management
news
Masterful Remixer Giles Martin On The Beach Boys' 'Pet Sounds,' The Beatles, Paul McCartney
Ahead of his spectacular, Dolby Atmos-elevated remix of the Beach Boys' 'Pet Sounds,' Giles Martin discusses the pressures and jubilation of handling such a precious album.
GRAMMYs
/
Jun 2, 2023 - 02:06 pm
Bicycle bells, Coca-Cola cans, sleigh bells, water bottles, French horn, Electro-Theremin — and that's just the tip of the iceberg.
Compared to even ambitious Beatles masterpieces like Revolver and Sgt. Pepper's, remixing the Beach Boys' Pet Sounds is an entirely different beast. While the Fabs' recordings were often deceptively sparse — "Taxman" is guitars, bass, drums and vocals — Pet Sounds is an ocean of eccentric, melancholic, joyful sound.
Astonishingly — by today's standards — the album was initially recorded to a four-track machine. A student of the studio might assume that remixing the such a record would require  some form of sacrifice during the remixing process, wherein various elements would have to be buried, or excised, to bring another to the light.
Giles Martin, who has remixed Sgt. Pepper's, The White Album, Abbey Road, Let It Be, and Revolver — and now Pet Sounds, for Dolby Atmos — has an incisive answer.
"Will I sacrifice taste or feel for the sake of it being an Atmos mix? If that starts getting compromised, then let's make it mono," two-time GRAMMY winner Martin tells GRAMMY.com. "It doesn't make any sense to affect the integrity of a song for the use of technology. Technology should be there to serve the music, as opposed to the other way around.
"I don't want people to listen to an Atmos mix I've done; I want people to listen to a song," he continues. "My mix is just a small part in the process."
But sitting in complete darkness in a Dolby screening room on Sixth Avenue in New York City, it was difficult to think of Martin's touch as being a "small part."
This version of Pet Sounds was nothing short of revelatory — shining up each Beach Boy's vocals, unburying numberless exotic instruments, mapping the musical elements in physical space. All without compromising Brian Wilson's timbral and harmonic syntheses that characterize this art-rock cornerstone.
Read on for a candid interview with Martin about his remixing philosophy, moving from the Beatles space to the Beach Boys space and what he wants to improve about his methodology — in short, "everything."
The Atmos mix of Pet Sounds is available now on Amazon Music, Tidal and Apple Music; stream it here.
This interview has been edited for clarity.
During Beatles listening events, there's a little bit of tension between yourself and that fan community. This Beach Boys event seemed to possess a completely different energy — less antagonistic, more of a lovefest. What's it been like moving from the Beatles world to the Beach Boys world as per their fan communities?
I don't know — I think that I may not be perceiving it right [laughs].
I never felt that there was a huge amount of antagonism with the Beatles thing. I think to begin with, there was. With the early days of me, certainly, doing Love, ironically, there was a suspicion of what I was up to — what are my motives, and what gives you the right to screw around with these tracks, and who the hell do you think you are, and that sort of thing.
I think there's been a sort of shift in a level of trust, hopefully, that people don't realize that I deliberately do this to try and screw things up.
I was actually more nervous going to a Beach Boys playback than I was going to a Beatles playback. With the Beatles, I kind of know where I am — and regardless of what anyone may think, I probably have more experience on this than most other people do.
The Beach Boys, I don't. It's my first rodeo, if you like, so I was probably a bit more nervous addressing their audience.
"Antagonism" is probably too strong a word. Just a little bit of tension in the air, when somebody's like, "What happened to that guitar squeak at 2:01 on 'Taxman,' Giles? Would you like to explain yourself?"
That always makes me laugh. There are two guys who are those people, and they come and listen in the studios. They came around recently for something, and they were like, "Well, we heard something at this moment."
I'll always listen and respect what they say, but then I'll just go… I do have Paul and Ringo. So they'll just go, "Well, we think it's fine."
I think what you are alluding to is there's a sense of ownership that people have over Beatles music. But I think that's the case with Pet Sounds and the Beach Boys as well.
From a business standpoint, what's it been like docking your spaceship on a new mothership?
I pay no attention to the business side of stuff. It's the same record label, actually — Capitol. I have a really good relationship with them, and they're great.
They know what they're getting themselves into by asking me to do stuff, which means that generally, things will be late; I'll miss deadlines. But they also know that I'll take care. And I think part of my job is, obviously, listening to what people have to say, and listening to and collaborating with other people on this, and doing it.
What role did the Beach Boys and Pet Sounds play in your life up to this point? Obviously, you're steeped in this overall miasma due to your lineage.
It's funny: as I said to my dad <a href="https://www.grammy.com/artists/george-martin/4663">legendary Beatles producer [George Martin], "It's amazing the work you did." And he was like, "Yeah, but I mean, compared to what Brian Wilson did when he was just on his own — you need to go listen to that." And so I did, and I suppose that there's an otherworldliness to it.
Just as a producer, or someone who loves music, Pet Sounds could not be ignored, because it's so intricate in the way it is, and it's an album that gets better the more you listen to it as well. And I hope that is sustainable in times of TikTok where people only have a short amount of time to pay anything attention.
I suppose that I wouldn't have agreed to do it if it wasn't important to me.You have to give it your all; you have to spend a lot of time listening to this music. It's such an important and influential record — not just for other people, but for me as well.
You mentioned during the listening party that you didn't have to employ the same AI techniques to unglue the tracks as you did on Revolver. Can you elaborate?
I wouldn't say it was unglued. If you imagine on, for instance, "That's Not Me," essentially, the band are kind of on three tracks a lot. So, they're stuck.
And "That's Not Me" has drums, organ, tambourine on one track. So, I can't move the organ or tambourine away from the drums. They have to be on one side. And I have bass and lead guitar on another track, so bass and guitar are going to be in the same place no matter what I do.
But there's an intent with this, where it's unlike having a band like the Beatles. This isn't really a band record; it's more of an orchestral record. It has a backing to it.
There's not really a drum kit on Pet Sounds, per se. There's drums on one or two tracks, but there's not really a drum kit. It's like orchestral percussion. So it's fine having those things glued together. Whereas on something like "Taxman," we have guitar, bass and drums — and only guitar, bass and drums going on for the whole song.
If you want to have a stereo record, you have to separate them — because otherwise, they're just on one side and the vocals on the other side; there's no reality. But with this, you have chunks of musicians in a room, and then you can create this real world around it.
Brian Wilson rightfully soaks up the lion's share of the discourse around Pet Sounds; he crafted the record. But in this process, what did you learn about them as per their group dynamic? You alluded to their vocal precision during the listening event. I love Carl and Bruce's vocals on "God Only Knows." I know that Carl and Dennis played on the record in a limited capacity.
I don't know what I learned that I didn't already know, apart from the fact that — this is what people miss — bands exist with resentment, and everything else. But bands exist because they're human beings in a room. The fact that you don't hear someone doesn't mean that they're not having influence.
With the Beach Boys, obviously, you hear their incredible harmonies. And Brian couldn't have done what he did without having the palette of outstanding musicianship, and the ability for these guys to harmonize and create these vocals that can't exist anywhere else.
So, that's what I suppose you hear. You hear the other members of the band come in on tracks, as you alluded to, and you suddenly think — not that it's a relief, but it's like, Oh my god, this is a band. This isn't just Brian. That's what I took from it.
I could genuinely sit there and think about the Beach Boys on a conceptual level and be entertained for hours. But is there a danger of overthinking an artifact like Pet Sounds? Or is it a fount for infinite analysis and edification?
No, I think you are absolutely right. You can take the fun out of it — and people do frequently — by being too pretentious about things. I find this quite amusing. It's almost like the song becomes the ownership of the journalist — or the expert, if you like — and not the person listening to it.
People are told what to listen to, and what to listen out for, in a sort of educational way: "You don't really understand this." It's that sort of thing: "If only you knew you knew how good this was, you'd be able to like it." That sort of conversation. "Music isn't like how it used to be, because it's not as good as this," and all this sort of conversation.
It's absolutely rubbish. It's like, let people enjoy what they want to enjoy. As long as you're passionate about something, it doesn't make a difference whether you like Megadeth or the Beach Boys.
You recently worked on a refreshed version of Paul McCartney's "Live or Let Die." That song is such a mind movie — and not just because it has James Bond roots. I'm sure you had fun with that one.
It was great. It's a bit like a lot of the projects I do; the expectancy is so vast spread.
It's quite tricky; how do you meet the expectation? Because one thing that mono or stereo or compression gives you, is it gives you loudness. You separate stuff in an immersive soundfield, you have to be careful that you don't start losing impact.
One thing that "Live and Let Die" has is impact. And that's the tricky thing about that song. But I'm really happy. It was actually a big mix to do; I can't lie. It was like, "Oh my god, here we go; I have to be fully qualified to do this mix."
But I'm really happy with it. I can't wait for people to hear it. I think it's super cool.
How do you want to get better at what you do? Where do you want to improve?
Oh, god. "Everywhere" is the answer. I think you are never done. It's only sometimes I hear things back and go, Oh, that actually sounds quite good. Oh, I did that. That's alright. Otherwise, you sort of hate everything.
I nervously watched you [all] through a screen in New York going, Oh my god, it sounds terrible. That's what goes through my head.
You still struggle with that, huh?
Yeah, of course. And then the thing is, I don't think, What if it sounds terrible? because of ego. It's, What if it sounds terrible because you guys really like this record and I need to do it justice? That's what goes through my head.
The Beach Boys' Sail On Sailor Reframes Two Obscure 1970s Albums. Why Were They Obscure In The First Place?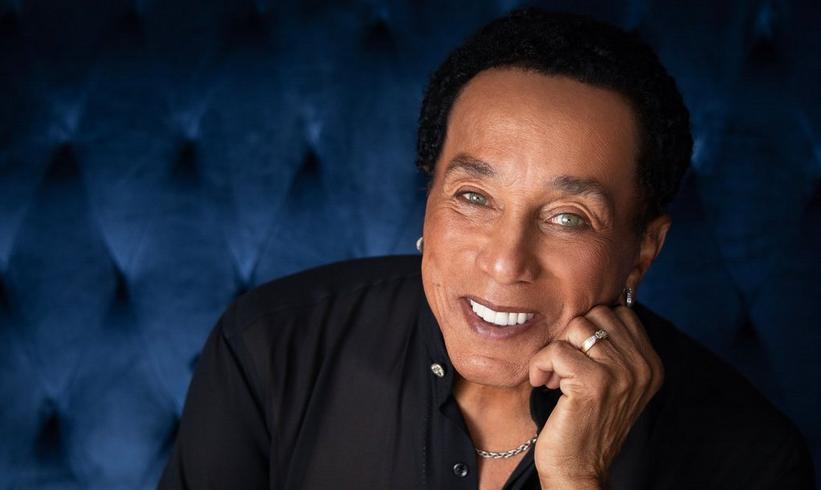 news
Living Legends: Smokey Robinson On New Album 'Gasms,' Meeting The Beatles & Staying Competitive
Fresh off the MusiCares 2023 Persons Of The Year gala that honored him and Berry Gordy, Smokey Robinson is out with his first album of new material in 14 years. 'Gasms' is about everything that lights up your brain.
GRAMMYs
/
May 2, 2023 - 09:57 pm
Living Legends is a series that spotlights icons in music still going strong today. This week, GRAMMY.com presents an interview with GRAMMY winner and lead Miracle Smokey Robinson, whose contributions to the American musical canon — chiefly via Motown — cannot be overstated. In 2023, he was honored alongside Motown founder Berry Gordy at the MusiCares Persons Of The Year Event. Robinson's new album, Gasms, is available now.
Smokey Robinson listens to everyone. If you're on the radio, he claims, he's heard you. It doesn't matter your age, or your genre — as the 83-year-old is still in the ring, he intends to keep his gloves up. "I'm not a prejudiced musical listener," he tells GRAMMY.com. "I've got to compete with them. I've got to know what they're doing."
In the middle of a question about who, specifically, he's enjoying from the new guard, his rep's drive through a tunnel abruptly ends the call. But the Miracles and Motown star's assertion checks out — partly on the strength of his new album, Gasms, his first album of new original material since 2009.
On hot-and-bothered highlights like "I Wanna Know Your Body," "Roll Around" and "Beside You," God's gift to green eyes — to borrow a phrase — proves his writing, vocal and performance abilities remain undimmed.
"My thoughts on it is that you can put it on and be with the person that you want to be with and just kick back and enjoy each other," Robinson told the AP. "It's more of the idea of love."
There's a lot of chatter about Gasms. Of course, that's by design, and Robinson's OK with the album title subsuming the conversation. (When asked about the central thesis of the record during its conception, he responds with one word: "Controversy.")
But by Robinson's assertion, Gasms refers to anything that makes you feel good, and the high-thread-count music signifies far more than horny man is horny. It's a treat to hear that the GRAMMY winner responsible for innumerable culture-shifting classics — who has been around long enough to have met the Beatles when they were playing basements — is still a force.
With the 2023 MusiCares Person Of The Year gala, which jointly honored Robinson and Motown founder Berry Gordy, in the rearview, GRAMMY.com sat down with the man himself about his past, present and future. The results might give you a… well, you know.
This interview has been edited for clarity.
How did it feel to be honored along with your best friend, Berry Gordy, at the MusiCares Persons Of The Year 2023 gala?
That was a wonderful experience. They had never honored two people at the same time, and for me to get honored with my best friend like that — it was an extraordinary night.
When you met all those years ago, was there any inkling your relationship would stretch so far into the future — and impact the planet on this scale?
You can't tell about people and relationships, man. We just struck up a relationship. And we were good in the very beginning, and it just lasted. I couldn't be with him then — or he with me — and say, "Oh, well, this is gonna last forever," like it has, because you just never know. Fortunately, for us, it has, and we're still best friends.
How do you keep a relationship like that going on such a grand scale for decades and decades?
You know, people have asked me that many times. Sometimes, it's six months and I don't even talk to Berry. But when I do, he's my best friend, and I'm his best friend. It's never "Let me get to know you again, or feel you out," or any of that. There's none of that happening.
As you've stated, the title of Gasms isn't expressly sexual. Rather, it refers to any number of mindblowing experiences. What was the last big experience in your life or career that gave you a "gasm," as it were?
I've had so many of those. You know, gasms are what makes you happy, and makes you feel good. Recently, I had one when I did "American Idol," because I hadn't been in a long time. I was on the second panel for judges when Simon Cowell was there. I got a chance to see [judges] Lionel [Richie] and Katy [Perry] and Luke [Bryan], and it was a wonderful night.
I've been a mentor; I've been a judge. "American Idol" is one of the main state talent programs in the world, so it's a great thing for the kids. Because before they even made a record or anything like that, from the very first auditions, being seen by millions of people is a great thing for them.
Let's get to the ground floor of Gasms, when you first picked up a pen and made some calls and put together these songs. What was the central idea you wanted to put forth, musically and creatively?
Controversy.
That was it, huh?
To raise curiosity, and have people wondering what it was before they even heard it.
It seems you succeeded.
It worked. So I'm very happy about that, man.
How did you curate the accompanists and producers on Gasms?
Most of the guys are guys I've worked with all the time in the studio. I've been working with them for years, so I didn't have to get to know them. The main guy — my arranger, David Garfield — is a well-known jazz pianist who makes his own albums and stuff like that. We just got together and did the arrangements at the studio.
I'm sure you were raring to get back to original material, as wonderful as the old Miracles songs and your Christmas stuff is, and  flex your songwriting muscles.
I write all the time, Morgan. It's something that I just do. It's not a conscious effort where I set aside some time to write or anything like that. It doesn't happen like that. For me, it just happens.
What are you working on lately?
Well, at the same time we were working on the Gasms album, we were working on one in Spanish. I've got two more songs I've gotta re-record for that. That's what I'm up to musically.
Is it a learning curve to record in another language, or are your Spanish chops sharp?
I've been learning Spanish for probably about a year. My housekeeper is a Spanish lady. She's from Guatemala, and she speaks four different languages, so she's been really helping me with it.
I'm not fluent in it where I understand everything. I watch the soap operas and news shows on Telemundo and stuff like that, trying to get better, but they're talking so fast. I try to get a word in every now and then and then try to pick out what they meant by the rest of the stuff.
But it's a great language, and I enjoy it very much, so I've been trying to write some songs in Spanish also.
Your voice is so pristine on Gasms. At times, it's like you haven't aged a day. How do you keep your instrument — your voice — sharp as the years and decades go by?
Well, first of all, I appreciate you saying that, man. Thank you very much.
Your voice is like your instrument, and if you take care of yourself, you have a better chance of it lasting and doing well for a long time. I don't think there's any secret formula — Lipton's tea with lemon and all that stuff like that. I've never done anything like that.
I just try to take care of myself. Occasionally, of course, your body will wear down and get hoarse, because you don't know how to play your instrument. I don't do any special stuff.
What are your habits, or what's your regimen, to keep your physical vessel in shape?
I think that the main one is yoga. I've been doing yoga for about 40 years, and I do it almost every day of my life. Then, I have workout programs I do. I have a half-hour workout program and then an hour one. At home, I do the full monte, because I can do everything; I have weights in the basement and so on and so forth.
When I'm on the road, I have a 45-minute regiment that I do most mornings, and it starts with stretching.
I really enjoy how you didn't feel the need to reinvent the wheel with Gasms. The songs could have been written 60 years ago or yesterday. What is it about the timelessness of songs about love, romance and sensuality?
Well, yeah, they all have a connotation; you can use your own ideas of what they mean. For instance, "gasms." That can mean whatever you want it to mean. I try to put that connotation in all of them, so whatever the person means, or who is the listener, it can be that for them.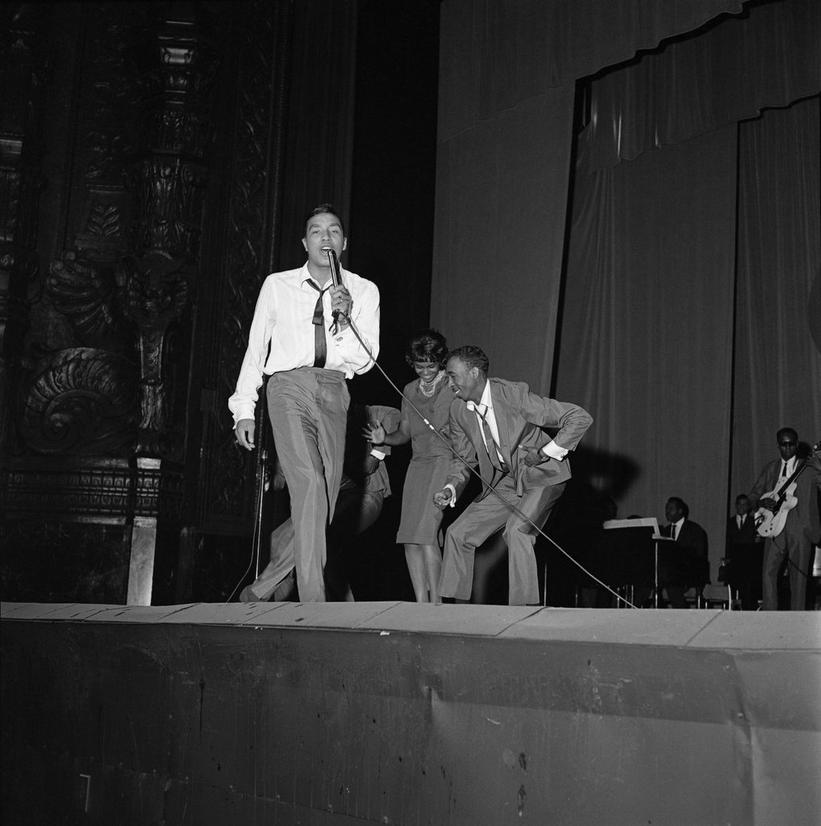 Smokey Robinson performing in 1964. Photo: PoPsie Randolph/Michael Ochs Archives via Getty Images
Speaking of timeless love songs, you play a huge role in the Beatles' rise. They worshiped you, and beamed you into millions of kids' heads via "You Really Got a Hold On Me" on With the Beatles. And you've covered them, too. Does it feel surreal to look back to your youth, and to these recordings, and say I wrote that?
You know, I don't think about that nowadays, man, unless somebody brings it up. It's not something I concentrate on, or anything like that, but it's a wonderful thing. 
It was especially wonderful — back then, they were the number one group in the world — to pick one of my songs. They were great songwriters themselves. So, to pick one of my songs to record was especially flattering.
What are your memories of those guys?
Oh, they were cool dudes, man. I had met them before they became [Adds air of thunderous significance] the Beatles. We met them in Liverpool; they were singing in a little club down in the basement. They were good guys, and I especially got close to George while he was alive, you know? He was my closest friend in that group.
He sure loved you. He wouldn't have written "Pure Smokey" if he didn't. Can you offer more memories of George?
George was just a great guy, man. He was a nice man. He was one of those people that if you meet him, you like him.
With Gasms out in the world, what do you hope people take away from it?
Oh, take away some enjoyment. I hope they enjoy it with themselves, alone, and with others also. That's what I want them to take away from it. If I can accomplish that, then I feel that I've done what I set out to do.
What has been giving you "gasms" lately? What are you watching, reading or listening to that has been inspiring you?
I listen to everyone, man. 
I'm a music lover, so I listen to all kinds of music. Especially when I'm in my car, and there's no telling what musical mood you're going to catch me in. Weeks happen where I don't listen to anything but classical — Chopin and Rachmaninoff and all that. Sometimes, I listen to hip-hop or jazz or alternative. I just love music, man.
What newer artists have you been checking out?
All of them, that are making music that I can hear on the radio. I listen to all of them, because I'm still making records, too. So, I've got to compete with them. I've got to know what they're doing. I'm not a prejudiced musical listener, whereas I think, OK, these are young people, so I'm not gonna listen to their music.
No, they're in the forefront of music right now. So I listen to everybody.
Living Legends: Van Morrison On New Album Moving On Skiffle, Communing With His Roots & Reconnecting With Audiences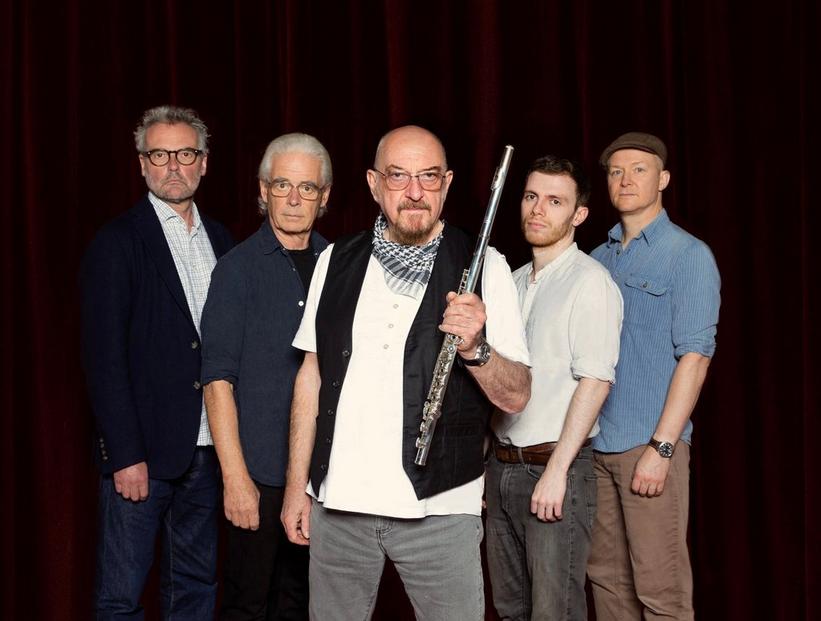 Jethro Tull in 2022 (L-R: John O'Hara, David Goodier, Ian Anderson, Joe Parrish, Scott Hammond)
feature
Ian Anderson Of Jethro Tull's Themes & Inspirations, From 'RökFlöte' Backward
Jethro Tull's new album 'RökFlöte' is deeply influenced by old Norse paganism. And as per Ian Anderson's bank of lyrical concepts, it only scratches the surface.
GRAMMYs
/
Apr 24, 2023 - 08:22 pm
Ian Anderson was finishing up an interview about the first Jethro Tull album in almost two decades, 2022's The Zealot Gene, when he offered GRAMMY.com some tantalizing news: the next one would arrive sooner rather than later.
"At 9 o'clock on the first of January, I will open my mind and heart to the visiting muse," Anderson said two weeks before the end of 2021. "Should she decide to visit — hopefully, by 10 o'clock, I'll have the beginnings of some kind of flicker of an idea." 
Where might Anderson, a voracious reader with a sweeping purview and a learned, gentlemanly air, go from there?
Fast forward to today, and we have the result: RökFlöte, which arrived April 21 and is based on "the characters and roles of some of the princip[al] gods of the old Norse paganism."
The GRAMMY-winning prog-rock heroes' catalog has always been flecked with similar mythology, especially on 1977's fantastical, bucolic Songs From the Wood. But never had Anderson dedicated an entire album to this specific system of concepts.
RökFlöte's opener, "Voluspo," is titled after the most famous poem in the Poetic Edda, which dates back centuries. Lead single "Ginnungagap" refers to the bottomless abyss that encompassed all things prior to the creation of the cosmos. "Ithavoll" is the meeting place of the gods.
This sheer depth of reference is not new for Anderson and company. A band less cited for their musical and philosophical depth than mined for cheap codpiece and Anchorman jokes, Jethro Tull contain multitudes just beneath the surface.
Take a stroll through the band's discography, and you'll find Anderson doesn't linger on one topic for long — and often addresses many concepts within the same album, or even song. Even Tull's most straightforward hits often contain richer meaning than what immediately meets the ear. 
To celebrate the release of RökFlöte, here's a by-no-means-comprehensive breakdown of the poles Anderson and crew have tended to touch on throughout the band' almost 60-year career.
Love (With Some Caveats)
"I am a descriptive writer," Anderson wrote in the preface to his career-spanning compendium of lyrics, Silent Singing. "Not so often a storyteller, and almost never a heart-on-sleeve love-rat. Social documentary that you can hum along to." 
True, this applies to the lion's share of his songs. But there are a couple of major exceptions — perhaps ones that prove the rule. 
Take "Wond'ring Aloud," his gorgeous acoustic ballad on 1971's Aqualung that clocks in at less than two minutes. If there's any kind of social commentary or obscure meaning in "Wond'ring Aloud," it's difficult to tease out. Rather, the tune unfurls a quiet, domestic tableau of romantic bliss: 
"Last night sipped the sunset/ My hand in her hair," he sings. "We are our own saviors as we start/ Both our hearts beating life into each other." The aroma of breakfast wafts through the kitchen; he considers their years ahead. Then, the unforgettable closing line: "And it's only the giving that makes you what you are."
Flash forward to "One White Duck / 0¹⁰ = Nothing at All," another gobsmacking acoustic-with-strings centerpiece, from 1975's Minstrel in the Gallery.
Online chatter seems to suggest that the image of "one white duck on your wall" refers to a domestic split. Whatever the case, the darkly romantic song is suggestive of packing and leaving: "There's a haze on the skyline to wish me on my way/ There's a note on the telephone, some roses on a tray." From there, the song unfurls into a litany of images, commensurately puzzling and evocative — and full of arcane British-isms.
Like every other arena of life represented in Jethro Tull songs, romance comes with bottomless shades and nuances — and Anderson's seemingly attuned to the full spectrum.
Religion (As A Nonbeliever)
Jethro Tull classics that address faith, like Aqualung's "My God," "Hymn 43" and "Wind Up," excoriate religious corruption and dogma — to the degree that Anderson comes across as defensive of God.
"It's about turning God into a vehicle for personal power and the glitz and paraphernalia that sometimes surrounds religion," Anderson wrote of "My God" in 2019's oral history of the band, The Ballad of Jethro Tull. "It's actually quite pro-God in asking: 'People what have you done/ Locked him in his golden cage?'"
In "Wind Up," he rails: "I don't believe you/ You have the whole damn thing all wrong/ He's not the kind you have to wind up on Sundays." But it's crucial to stress that Anderson is decidedly not a man of faith.
Read More: Jethro Tull's Aqualung At 50: Ian Anderson On How Whimsy, Inquiry & Religious Skepticism Forged The Progressive Rock Classic
"I've learned to describe myself as somewhere between a pantheist and a deist," he wrote. "I'm not a Christian, but I like to do things for the church. I've always believed there are certain aspects of our society that, while anachronistic, are still worth preserving."
In an Olde English font in the Aqualung sleeve, Anderson printed a facsimile of Genesis 1:1: "In the beginning Man created God; and in the image of Man created He him." 
Of the religious commentary scattered throughout Tull's discography, none seem to summarize Anderson's views like the above.
Nature (The Non-Human Kind)
Jethro Tull's so-called "folk trilogy" in the late 1970s — Songs From the Wood, Heavy Horses, and Stormwatch — address the natural world from three different angles.
Songs From the Wood is drenched in the atmosphere of the English countryside, where "fairytale creatures, ley lines, naughty equestriennes and the pre-Christian era old gods all came to call," Anderson writes in Silent Singing. The jangling "Jack-in-the-Green," about a raggy character somewhere between a hobbit and the wizard Radagast, is one irresistible highlight.
The majestic Heavy Horses is something of a song cycle about animal life. The serrating opener "...And the Mouse Police Never Sleeps" nails cats, with evocative lines including "Claws that rake a furrow red/ License to mutilate" and "Windy rooftop weathercock/ Warm-blooded night on a cold tile." From there: dogs, moths, weathervanes, the passing of equine generations.
While Stormwatch's compartmentalization as a "folk album" is somewhat suspect — only "Dun Ringill" really fits the mold — it's spiritually connected to Songs From the Wood and Heavy Horses on that conceptual front.
Anderson had addressed climate change before, as on "Skating Away on the Thin Ice of a New Day" on 1974's War Child. ("Predicated on the then-mistaken belief, in popular science circles, that we were headed toward another ice age," Anderson writes in Silent Singing.)
The gloomy Stormwatch takes that theme all the way home; the 1979 album draws its power from the weather and the ocean — as well as paranoia about humanity's bludgeoning impact on it.
As jabs at Exxon and their ilk go, "North Sea Oil" is up there with Neil Young's "Vampire Blues." The heavenward "Orion" is an awestruck gaze at the celestial panorama. And "Dun Ringill" warns "The weather's on the change/ Ice clouds invading and pressure forming."
Nature (The Human Kind)
Anderson may write his songs like a documentarian, but he's arguably at his most powerful when writes from the human side of the equation.
Their barreling hit "Locomotive Breath," from Aqualung, is about runaway population growth, through the lens of an "all-time loser" on a brakeless train, "headlong to his death."
Thirteen tracks into Tull's 1972 odds-and-ends album Living in the Past is their deep cut to end all deep cuts: "Wond'ring Again." A sequel to "Wond'ring Aloud," it's about as angry and voluble as the band ever got.
"The excrement bubbles, this century's slime decays/ And the brainwashing government's lackeys would have us say/ It's under control and we'll soon be on our way/ To a grand year for babies and quiz panel games," goes just one of its dizzying lines.
But Anderson's perspective isn't always from a 50,000-foot view. In other tunes, he cuts to the chase regarding what makes humanity tick.
Read More: Ian Anderson On The Historical Threads Of Fanaticism, Playing Ageless Instruments & Jethro Tull's New Album The Zealot Gene
A goof on what Anderson perceived as bloated concept albums of the day, the narrative of 1972's one-song album Thick as a Brick flows in all directions. Yet the opening salvo, titled "Ready Don't Mind" on later editions, is especially incisive in its needling of small-minded biases.
"I may make you feel, but I can't make you think," Anderson declares amid the backdrop of "the sandcastle virtues… all swept away/In the tidal destruction, the moral melee."
On "Aqualung," Tull's classic portrait of a seedy, streetbound derelict, Anderson zooms in on how the straights perceive this loathsome character.
"[It's] more in terms of our reaction to the homeless," Anderson explained to GRAMMY.com in 2021. "I felt it had a degree of poignancy because of the very mixed emotions we feel — compassion, fear, embarrassment. It's a very mixed and contradictory set of emotions."
Anderson's reflections on human nature and the social order are not always that heavy; 1976's underrated Too Old to Rock 'n' Roll: Too Young to Die! explores "the cyclical nature of fashion, music and youth culture" through the lens of a hapless, aging protagonist, trapped in the mire of his youthful interests.
The American rocker in "Said She Was a Dancer" from 1987's Crest of a Knave is similarly over-the-hill, as he flirts with a disinterested Muscovite. What a clash between "Eastern steel and Western gold": "You've seen me in your magazines, or maybe on state television," he complains. "I'm your Pepsi-Cola, but you won't take me out the can."
From here, you can open Silent Singing and head in any direction — horny Tull ("Kissing Willie," "Roll Yer Own"), tech-curious Tull ("Dot Com"), and even odes to household objects ("Wicked Windows," about eyeglasses.)
If you're already a Tull fan, chances are a dozen more examples of these umbrella concepts have already popped into your head. If you're a newbie, you've stumbled on one of the most eclectic, intelligent, criminally misunderstood rock bands of all time. Cheerio!
Songbook: A Guide To Every Album By Progressive Rock Giants Jethro Tull, From This Was To The Zealot Gene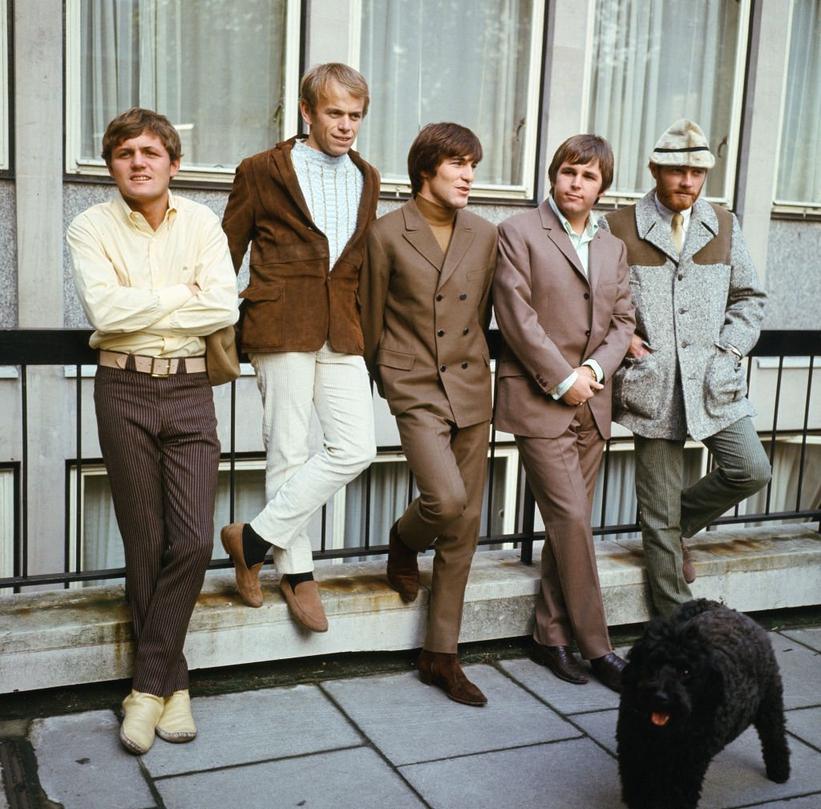 The Beach Boys: Bruce Johnston, Al Jardine, Dennis Wilson, Carl Wilson and Mike Love in 1966
Photo: Malcolm MacNeil/Mirrorpix/Getty Images
list
7 Artists Influenced By The Beach Boys: The Beatles, Weezer, The Ramones & More
Ahead of the re-airing of "A GRAMMY Salute To The Beach Boys" on Monday, May 29, take a look at the profound influence of the harmonious Southern California trailblazers of a new sound of surf-rock and good-time vibes in the 1960s.
GRAMMYs
/
Mar 27, 2023 - 01:42 pm
Updated Monday, May 22, to include information about the re-air date for "A GRAMMY Salute To The Beach Boys."
"A GRAMMY Salute To The Beach Boys" will re-air on Monday, May 29, at 9 p.m. ET/PT on the CBS Television Network, and will be available to stream live and on demand on Paramount+.
When talk turns to the history of American pop vocal groups in the 20th century, the conversation begins — and ends — with the Beach Boys. These California siblings and their high school compadres reinvented modern music, taking listeners on a sonic journey with their melodic harmony-rich hits. More than 60 years on, the group is still considered a touchstone for today's artists and the pinnacle of pop.  
The Beach Boys formed in the Los Angeles suburb of Hawthorne in 1961. The original lineup featured the three Wilson brothers (Dennis, Brian and Carl), cousin Mike Love and high-school friend Al Jardine. Initially, Murry Wilson (the siblings father) managed the group and helped land their first paying gig: opening for Ike and Tina Turner at the Ritchie Valens Memorial Dance in Long Beach on New Year's Eve 1961. 
It was an auspicious start to the year. That summer, the teenage quintet with a joie de vivre and a love of sun, surf, and sand signed to Capitol Records. The major label deal followed  the success of their first two singles: "Surfin,'" which reached No. 3 on West Coast regional charts and sold 40,000 copies,  and "Surfin' Safari." The band's debut full-length, Surfin' Safari, climbed all the way to No. 32 on the Billboard charts. 
The Beach Boys sophomore release, Surfin' U.S.A., came out less than six months after their debut and saw Brian Wilson experimenting more with innovative studio techniques like double-tracking vocals. The album hit No. 2 on the Billboard charts — but the band's success and innovation had far from peaked. 
1964's All Summer Long capped a year when the group played more than 100 shows around the world and recorded all or parts of four albums,  largely leaving the beachy parts of their sound behind in favor of new sonic textures and more personal  lyrics. Released in May 1966, Pet Sounds was the high point of this experimentation and cemented  the group as innovators. The intricately arranged concept album peaked at No. 10 in the U.S., but reached second spot in the British charts. The record came to represent the future possibilities of pop and signaled a shift in music-making and studio wizardry. Today, it's considered one of the most influential albums of the 20th century due to its pioneering production and introspective lyrics. 
Dozens of artists have covered the album's most well-known song: "God Only Knows," including: Glen Campbell, David Bowie, Olivia Newton-John and Wilson Phillips. Graham Nash cites "God Only Knows" as a significant inspiration to him when first learning the craft of writing songs.  
All told, the Beach Boys released 29 studio albums, 11 live recordings and dozens upon dozens of compilations. The group was inducted into the Rock and Roll Hall of Fame in 1988 and they have been nominated for four GRAMMY Awards. The band have impacted everyone from contemporaries like the Beatles to current indie-folk rockers Fleet Foxes. Beyond commercial success — more than 100 million records sold, four No.1 Billboard hits and more than 33 Platinum and Gold Records (the greatest hits album Sounds of Summer: The Very Best of the Beach Boys sold three million copies alone) — there are few genres these California kids have not had an influence on over the past six decades. 
In advance of the re-airing of the television special "A GRAMMY Salute to The Beach Boys" on Monday, May 29, at 9 p.m. ET/PT on CBS — which features Beck, Brandi Carlile, Fall Out Boy, Norah Jones, John Legend, Michael McDonald, Weezer, Charlie Puth and Mumford & Sons —  GRAMMY.com shines a light on seven artists who count these sweet-singing melody-making trailblazers as essential to their musical education.
Read More: How To Watch "A GRAMMY Salute To The Beach Boys," Featuring Performances From John Legend, Brandi Carlile, Beck, Fall Out Boy, Mumford & Sons, LeAnn Rimes, Weezer & More
The Beatles
Listen to the vocal harmonies in songs like "Paperback Writer" and the complex arrangements, orchestration and time-shifts on "A Day in the Life" and try not to hear the sonic similarities. Pet Sounds came out the year before the GRAMMY-winning Sgt. Pepper's Lonely Hearts Club Band, and early demos and acetates of the album ended up in the hands of the British band. Paul McCartney is also on record saying: "God Only Knows" is the greatest song ever written and he cries every time he hears it.  
George Martin, the "fifth Beatle" and GRAMMY-winning producer who was the studio architect of some of the Fab Four's biggest albums, heralded Wilson and acknowledged the Beach Boys' influence on Sgt. Pepper's. "Brian is a living genius of pop music. Like the Beatles, he pushed forward the frontiers of popular music," Martin says in Charles L Granata's book Brian Wilson And The Making Of Pet Sounds.
Bruce Springsteen 
"There's no greater world created in rock and roll than the Beach Boys, the level of musicianship, I don't think anybody's touched it yet," Bruce Springsteen said in the documentary Brian Wilson: Long Promised Road.
Listen to "Girls in Their Summer Clothes" from 2007s Magic, which sonically could have easily fit on Pet Sounds 40 years earlier. Or put on your headphones and zone out to "Hungry Heart," the Boss' first top 10 hit and try not to hear the Beach Boys' influence in the arrangement. In the documentary, Springsteen praises Wilson, his friend and musical mentor: "[He] just took you out of where you were and took you to another place."  
The Ramones
Surf-rock influencing punk-rock? You bet. The Ramones were well aware of, and influenced by, the SoCal music movement of the 1960s when they exploded onto the burgeoning punk scene in 1974. 
The Beach Boys were one of the messiahs from the past they worshiped and looked to while crafting some of their most enduring punk rock anthems. "Rockaway Beach" was penned by bassist Dee Dee Ramone to mimic the style of the Beach Boys earliest surf-rock hits, but was sped up to match the punk rockers energy. Many of the Ramones's song titles and lyrics — just like the California group — clung to the innocence of youth and name-dropped local attractions and experiences that kids growing up in the boroughs understood. 
Take these lines from: "I Don't Want to Grow Up" : "I'd rather stay here in my room/ Nothin' out there but sad and gloom/ I don't want to live in a big old tomb on Grand Street." Remind you of the pensive "In My Room" perhaps? Or, how about "Oh Oh I Love Her So," from Leave Home? Joey Ramone sings of falling in love by a soda machine and then riding the coaster with his girl down at Coney Island all night long. The song even ends with a surf-rock riff.
Weezer 
Not long after moving from the East Coast to Los Angeles, Weezer's lead singer and songwriter Rivers Cuomo bought a copy of Pet Sounds. The album would go on to influence the early days of the alternative-rock band and Cuomo's approach to songwriting, especially on their self-titled debut. 
Weezer once covered the Beach Boys' "Don't Worry Baby" and, on the GRAMMY-nominated Pacific Daydream (2017) there's a song called "Beach Boys." In an interview, Cuomo reflected on Wilson's wide-ranging, everlasting influence: "To me, he's one of the standout talents of the century or of our culture. I think I'm a pea in comparison. But I certainly emulate him as do countless others." On the forthcoming GRAMMY salute to the Beach Boys, Weezer covers "California Girls."
Fleet Foxes
While his friends were studying algebra, a teenage Robin Pecknold was studying The Beach Boys — specifically how they created their complex stacked harmonies. This musical education began the foundation for his band Fleet Foxes and their approach to harmonizing and making music. In this interview on Brian Wilson's website, the songwriter refers to the Beach Boys music as his "textbooks." "My parents bought me a four track for my1 5th birthday and I would practice stacking harmonies for hours on end," he recalled.
From the layered harmonies that open "Sun it Rises," the first track on the band's self-titled 2008 debut, and the intricate orchestration that follows, the Beach Boys comparison is evident. Pecknold acknowledges this influence in the liner notes, writing: "Whenever I hear 'Feel Flows' by the Beach Boys, I'm taken straight to the back of my parents' car on the way to my grandparents' place, fourteen with Surf's Up in my walkman and the Cascade Mountains going by in the window." 
In that same interview posted on Wilson's website, Peckhold raved about Brian Wilson's influence on him as a young musician. "I remember being so driven as a teenager by how much amazing music Brian made in his early 20s. That he was such a prodigious master of his craft, making Pet Sounds at the astounding age of 23, always pushed me to get as good as I could as a musician, as soon as I could," Peckhold reflected. "But at some point I accepted that haste is no substitute for brilliance, there is only one Brian Wilson." 
And, if this is not proof enough, Fleet Foxes sampled Wilson's voice from "Don't Talk (Put Your Head on My Shoulder)" on the song "Cradling Mother, Cradling Woman" on 2020s GRAMMY-nominated Shore. 
Phoenix
The French synth-rock quartet that formed in 1995 show how the Beach Boys' influence spans not only generations, but borders. This admiration for the California soft-rock sounds of the 1960s and harmonious pop is most apparent on the GRAMMY-winning band's sixth album: Ti Amo. Just like Pet Sounds, these cerebral musicians mine the depths of human emotions on this record and find the spaces in between to shed light on what we all feel. In this piece, Phoenix discusses how Brian Wilson and the Beach Boys influenced the sunny sounds of this 2017 record that is a love letter to Europe.    
The Sha La Das
Family harmonies? Check. Summer vibes? Check. Led by father Bill Schalda and featuring the sibling sounds of his three sons — Will, Paul and Carmine — this band hail from Staten Island. Growing up, the brothers often sang on the front stoop with Bill providing guidance. Later, they sang backup on the late Charles Bradley's Victim of Love. 
Listen to the old-soul and do-wop of "Summer Breeze" from the band's 2018 debut Love in the Wind and you are transported to southern California, circa 1961, and the first time the sunny sounds of the Beach Boys came across the airwaves. 
5 Memorable Highlights From "A GRAMMY Salute To The Beach Boys": Weezer, St. Vincent, John Legend & More