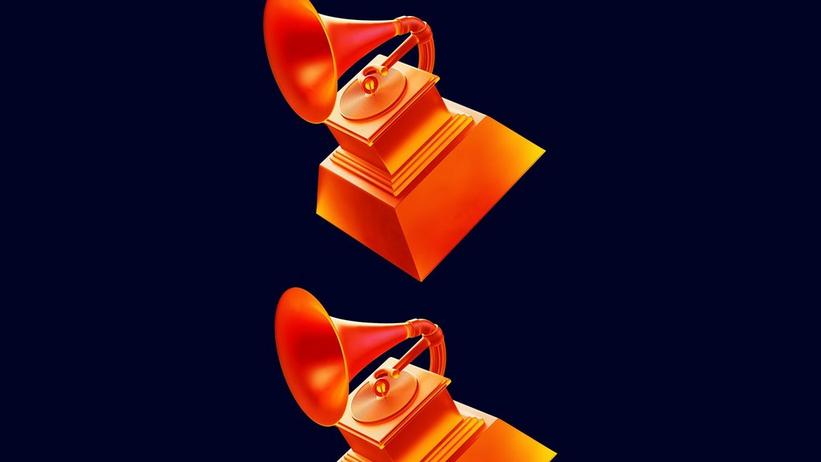 2023 GRAMMYs
Graphic: The Recording Academy
list
BTS & Bad Bunny Make History, Harry Styles Earns Big Nods And More Firsts From The 2023 GRAMMY Nominations
Upon the announcement of the 2023 GRAMMY nominees, take a look at some of the unique firsts that artists like Beyoncé, Adele and BTS are celebrating.
GRAMMYs
/
Nov 15, 2022 - 09:39 pm
The nominations for the 2023 GRAMMYs are officially here, and those who received nods are rejoicing. Of course, there are several artists who are celebrating GRAMMY nominations for the first time — as GRAMMY.com will highlight in January — but there are also several previous GRAMMY nominees with notable firsts this year.
For one, Beyoncé adds two new categories to her impressive GRAMMY resumé, earning two nods in the Dance/Electronic Music Field. (She earned a total of nine nominations, bringing her total to 88, which ties her and Jay-Z as the most nominated artists in GRAMMY history.) Bad Bunny and BTS also made history with their nominations, taking their global superstar statuses to an even higher level.
Those are just a few examples of firsts that came out of the 2023 GRAMMY nominations. Be sure to tune into the show on Feb. 5, 2023 — and in the meantime, check out some of the ways history could be made yet again on the GRAMMYs stage.
The 2023 GRAMMY nominations are officially here. See the complete list of nominees across all 91 GRAMMY categories.
Historic Nominations
After Bad Bunny smashed records with his fourth album, Un Verano Sin Ti, he's making history again at the GRAMMYs. Un Verano Sin Ti is the first album from the Latin Field to be nominated for Album Of The Year.
BTS received a nomination for Best Music Video for "Yet To Come," not only marking their first in the category — they're the first K-pop group to be nominated for Best Music Video.
First-Time Nominees (Sort Of)
As Beyoncé tied the all-time record for most nominations in GRAMMY history, she also earned her first nominations in the Best Dance/Electronic Recording and Best Dance/Electronic Music Album categories (for "BREAK MY SOUL" and RENAISSANCE, respectively).
Along with Beyonce, two other R&B artists celebrate their first nominations in the Dance Field: H.E.R. and Miguel. Both are nominated for Best Dance/Electronic Recording — H.E.R. with KAYTRANADA for "Intimidated," and Miguel with Diplo for "Don't Forget My Love." 
They're far from alone in celebrating nominations in new categories, too. Adele earned her first nomination in the Best Music Film Category (for Adele One Night Only); Future received his first nominations in the Rap Field categories, Best Melodic Rap Song (for "BEAUTIFUL" with DJ Khaled & SZA and "WAIT FOR U" with Drake & Tems) and Best Rap Album (for I Never Liked You); and Brandi Carlile landed her first nominations in two Rock Field categories, Best Rock Performance and Best Rock Song (both for "Broken Horses").
There are also several General Field nominees who are celebrating new noms. Harry Styles scored his first nominations for Record Of The Year, Song Of The Year and Album Of The Year (for "As It Was" and Harry's House, respectively); DJ Khaled has his first Song Of The Year nomination with "GOD DID"; ABBA earned their first nomination in the Album Of The Year category with Voyage.
What's more, ABBA are also first-time nominees in the Pop Field, as they are nominated for both Best Pop Duo/Group Performance and Best Pop Vocal Album. 
As announced in June, there will be five new categories awarded for the first time at the 2023 GRAMMYs: Songwriter Of The Year, Non-Classical; Best Alternative Music Performance; Best Americana Performance; Best Score Soundtrack For Video Games And Other Interactive Media; and Best Spoken Word Poetry Album. There will also be a Special Merit Award given for Best Song For Social Change.
Read More: 2023 GRAMMYs Explained: 6 Reasons To Be Excited About The New Categories & Changes
Triumphant Returns
A couple of '80s and '90s stars make their GRAMMYs return this year, as Bryan Adams earned his first nomination since 1998 and Sheryl Crow earned her first since 2009. Adams is nominated in the Best Rock Performance category for "So Happy It Hurts," and Crow is nominated in the Best American Roots Song category for "Forever."
Bonnie Raitt — who also had her heyday in the '90s but continues to tour and create, like Adams and Crow — earned her first GRAMMY nominations in 10 years, and in major fashion: She scored four nods, including the coveted Song Of The Year for "Just Like That."
Cool GRAMMY Feats
Mastering engineer Randy Merrill — who has won six GRAMMYs in the past six years thanks to his contributions to albums by Taylor Swift and Beck, among others — adds a first to his GRAMMY repertoire. He is nominated three times in the Album Of The Year category for his work on Adele's 30, Coldplay's Music Of The Spheres and Harry Styles' Harry's House — Merrill's first time being nominated for AOTY three times in the same year.
Jamie Foxx now has his first non-music nomination, as he's up for Best Spoken Word Album this year. To date, Jamie Foxx has won one GRAMMY and received nine nominations overall, with all of his prior nominations landing in the R&B and Rap Fields.
Another 2023 Best Spoken Word Album nominee is Viola Davis. Not only is the nod special because it's her first GRAMMY nomination, but if she wins, she'll officially be an EGOT winner.
Lots of potential history-making moments could happen at the 2023 GRAMMYs. Be sure to tune in when the 65th GRAMMY Awards air live on CBS on Feb. 5, 2023!
 The 2023 GRAMMYs, officially known as the 65th GRAMMY Awards, returns to Los Angeles' Crypto.com Arena on Sunday, Feb. 5, 2023, and will broadcast live on the CBS Television Network and stream live and on-demand on Paramount+ at 8-11:30 p.m. ET/5-8:30 p.m. PT.
The eligibility period for the 65th GRAMMY Awards is Friday, Oct. 1, 2021 – Friday, Sept. 30, 2022. All eligible awards entries must be released within this timeframe.
The Recording Academy and GRAMMY.com do not endorse any particular artist, submission or nominee over another. The results of the GRAMMY Awards, including winners and nominees, are solely dependent on the Recording Academy's Voting Membership.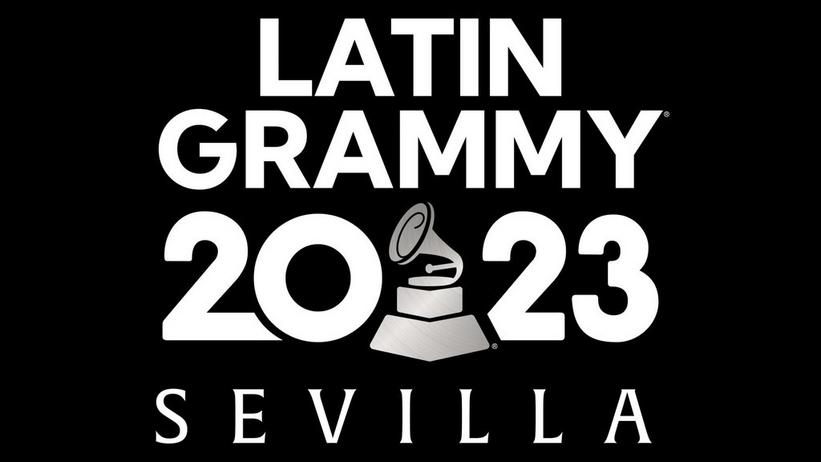 Art for the 2023 Latin GRAMMYs
Graphic Courtesy of the Latin Recording Academy
news
Latin GRAMMYs 2023: Song Of The Year Nominees — Read Them Here
Here are the nominees for Song Of The Year at the 2023 Latin GRAMMYs, which will air Thursday, Nov. 16 from Sevilla, Spain.
GRAMMYs
/
Sep 19, 2023 - 01:25 pm
The Latin Recording Academy has announced the complete list of nominees for the 2023 Latin GRAMMYs, and the race for Song Of The Year is on.
The prestigious Category features this year's most-nominated artist, Mexican American songwriter and producer Edgar Barrera, who earned an impressive 13 nods. It also includes three Colombian singers who have collaborated with Barrera — Karol G, Camilo, Shakira — the latter of whom set a record as the first artist to have three entries in Latin GRAMMYs' Song Of The Year Category.
The 2023 Latin GRAMMYs show will also make history, as the Thursday, Nov. 16, ceremony will be the first-ever international telecast in the history of the organization and awards, broadcasting from the Conference and Exhibition Centre (FIBES) in Sevilla, Spain.
Read on to learn more about the 10 bops nominated for Song Of The Year, and the artists and songwriters that penned them. (All lyrics noted below are translated from Spanish.)
Read More: 2023 Latin GRAMMYs: See The Complete Nominations List
"Acróstico" — Kevyn Mauricio Cruz Moreno, L.E.X.U.Z, Luis Fernando Ochoa & Shakira, songwriters (Shakira)
"Acróstico," the third lead single from Shakira's upcoming 12th studio album, is a heartfelt love letter to her young sons Milan and Sasha, in the wake of her split from their father Gerard Piqué. The tear-jerking ballad features her sons' vocals.
The track's Spanish title translates to acrostic, which is a poem where the first letter of each line spells out a word — and in Shakira's song, the opening lyrics spell out Milan. "This year Milan has written songs that have made me tear up, and Sasha has dedicated hours playing the piano and discovering his voice. Both have spent some time with me in the studio, and upon hearing this song, they've asked to be part of it," she wrote in Spanish in an Instagram post about the song.
Shakira co-wrote the song with a powerhouse team of Colombian gold:Keityn and L.e.x.u.z, of La Crème collective, and longtime collaborator Luis Fernando Ochoa, who first linked with Shakira back in 1995 on Pies Descalzos. (Keityn, born Kevyn Mauricio Cruz Moreno, also worked on two of Shakira's other big 2023 hits and Song Of The Year contenders: the record-breaking "Shakira: Bzrp Music Sessions, Vol. 53" with Bizarrap and "TQG" with Karol G.)
"Amigos" – Pablo Alborán & María Becerra, songwriters (Pablo Alborán Featuring María Becerra)
Spanish singer/songwriter Pablo Alborán linked up with Argentian reggaetónera María Becerra on "Amigos," a platonic love song to the friend that always has your back — and makes life a party. They wrote the sweet, vibey song together for his late-2022 album, La cuarto hoja.
"Amigos" opens with a chilled guitar instrumental, building up to an anthemic shout-it-with-your-bestie chorus: "I can see life in color/ the whole neighborhood looks at us/ We drink the hours as if it were liquor."
"De Todas Las Flores" – Natalia Lafourcade, songwriter (Natalia Lafourcade)
On "De Todas Las Flores," the title track of Natalia Lafourcade's first album of all original music in seven years, she beautifully paints the picture of a lost love. "Of all the flowers we plant/ There are only a few left/ Every morning they wonder/ When you will arrive to sing to them," she sings over sparse, tenderly melancholic instrumentation.
The backing vocals offer ethereal ooohs and ahhhs, like the fading memories shared with the lover no longer there. The Latin GRAMMY- and GRAMMY-winning Mexican singer/songwriter has always been a compelling storyteller, and it's a joy to hear her rich voice share new sonic poems on the project she's called an "extremely personal musical diary."
"Ella Baila Sola" – Pedro Julian Tovar Oceguera, songwriter (Eslabon Armado, Peso Pluma)
"Ella Baila Sola" (or, she dances alone) was written by 20-year-old Pedro Tovar, lead singer of Mexican regional band Eslabon Armado. It's about two friends noticing a pretty girl at a party, and one of them winning her affection.
The song features rapidly rising Mexican singer/rapper Peso Pluma, who is bringing Mexican corridos worldwide, fused with reggaetón and Latin trap. The dynamo pairing has helped "Ella Baila Sola" have a massive, record-breaking run; after it went viral on TikTok, it became the first regional Mexican song to reach the Top 10 on the Billboard Hot 100 (reaching No. 4) and the first performed on late-night TV. It was also the most-streamed song globally on Spotify this summer, and second-most streamed song in the U.S.
"NASA" – Édgar Barrera, Camilo & Alejandro Sanz, songwriters (Camilo & Alejandro Sanz)
On "NASA," Latin GRAMMY-winning Colombian singer/songwriter Camilo teams up with Latin GRAMMY- and GRAMMY-winning Spanish star Alejandro Sanz to ask his lover for forgiveness for what he admits is unwarranted jealousy.
"I know/ That NASA has cameras rotating in space/ They spend day and night looking up and down/ And I'm about to call and ask for a job/ To see if I relax." It's a tender, vulnerable love song with playful lyrics exchanged back-and-forth by the two Spanish-language crooners, who also co-wrote the song together.
"Ojos Marrones" – Luis Jiménez, Lasso & Agustín Zubillaga, songwriters (Lasso)
"It's the first time/ I invited someone/ Since you left/ And I'm fine," Lasso opens on "Ojos Marrones," before revealing he's only kinda sorta fine. "Nothing is the same / Nothing is the same/ Nothing/ without your brown eyes," Lasso repeats empathetically in the chorus.
It's a sunset-hued pop rock heater with dreamy guitar licks reminiscent of those in Chris Issak's classic "Wicked Game." The Venezuelan singer/songwriter paired up Luis Jiménez and Agustín Zubillaga to pen the impactful track about trying — and failing — to get over an ex with a new lover, which is featured on his latest album, Eva. The track went viral on TikTok after a user compared its narrative to Justin Bieber's relationships, and its success spawned a remix with Sebastian Yatra.
"Shakira: Bzrp Music Sessions, Vol. 53" – Santiago Alvarado, Bizarrap, Kevyn Mauricio Cruz & Shakira, songwriters (Bizarrap Featuring Shakira)
It's an understatement to say that Shakira has had a momentous year. As she went through a very public separation — and tabloids across the globe zeroed in on her every move and social media post — she proved yet again she's a global pop superstar at the top of her game.
She started the year off with the viral "Shakira: Bzrp Music Sessions, Vol. 53," a sassy, synth-pop clap back at her ex. In just 24 hours, it garnered over 15 million streams on Spotify to top the platform's Top 50 global list, and the video saw over 55 million views on YouTube, the record for a Spanish-language track.
On it, she asserts herself and reclaims her power — who needs trashy gossip rags when Shakira is here to tell it like it is? "A she-wolf like me/ isn't for guys like you," the Colombian queen declares. "I was out of your league/ That's why you're/ With someone just like you," also coming for her ex's new girlfriend (the Casio he traded in for a Rolex, as Shaki put it). The fiery diss track came out of a session with forever-sunglassed Argentinan DJ and producer Bizarrap. They co-wrote the song with Keityn and Santiago Alvarado.
"Si Tú Me Quieres" – Fonseca, Yadam González & Yoel Henríquez, songwriters (Fonseca & Juan Luis Guerra)
It was a dream of Latin GRAMMY-winning Colombian singer/songwriter Fonseca to collab with Latin GRAMMY- and GRAMMY-winning Dominican superstar Juan Luis Guerra. "Si Tú Me Quieres" is a sweet tropical pop love song, a gorgeous result of Fonseca's dream brought to life.
It was co-produced by Colombian pop/rock king Juanes, and was co-written by Fonseca with two Latin GRAMMY-winning songwriter/producers: Puerto Rican Yoel Henríquez and Cuban Yadam González. When Fonseca finished the initial demo, he imagined Luis Guerra's distinctive voice on it, who quickly agreed to join in on it. They bring their voices, styles and homelands together for a joyful fiesta, with delightful touches of Colombian vallenato and Dominican bachata.
"Tqg" – Kevyn Mauricio Cruz, Karol G, Ovy On The Drums & Shakira, songwriters (Karol G Featuring Shakira)
Shakira and Keityn strike again — this time alongside Colombian reggaetónera Karol G, and her regular collaborator Ovy On The Drums.
On "TQG," Karol G and Shakira link up for the first time and come for their exes, reminding them who's on top. "You left and I went triple 'M'/ Much hotter, much tougher, much more class," Shakira sings defiantly.
"TQG" stands for te quedó grande, which roughly means too much for you to handle, and is featured on Karol's fourth album, MAÑANA SERÁ BONITO. When Karol saw the gossip fodder about Shakira, she knew she was the perfect collaborator to add fire to the reggaetón diss track,which she wrote with Keityn and Ovy during the same session of "Mamiii," her collab with Becky G.
"Un X100to" – Bad Bunny, Édgar Barrera, Marco Daniel Borrero & Andrés Jael Correa Ríos, songwriters (Grupo Frontera Featuring Bad Bunny)
With "un x100to," Grupo Frontera, a Texas-based regional Mexican band specializing in norteños, struck gold and brought regional Mexican music to the top of the charts. The song peaked at No. 5 on Billboard's Hot 100 — the fifth regional Mexican song ever to chart on it — with a little help from Puerto Rican superstar Bad Bunny.
Frontera lead singer Adelaido "Payo" Solis II and Bad Bunny sing passionately about trying to reconnect with an ex with a harrowing 1 percent battery left on their phone, on a playful romp that mixes norteño and cumbia. What makes the track even more remarkable is that Grupo Frontera didn't know Bad Bunny would be on the track until he appeared at the music video shoot — proving that sometimes the most impactful collabs can come from an unexpected pairing.
Latin GRAMMYs 2023: Record Of The Year Nominees — Read Them Here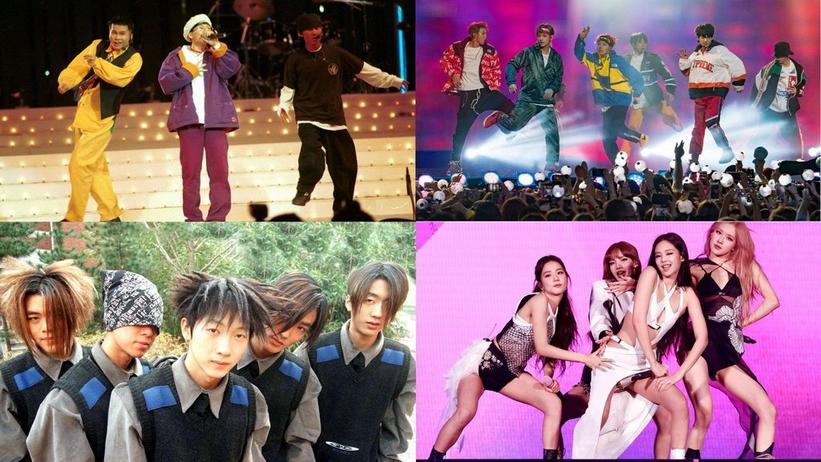 (Clockwise) Seo Taiji and Boys, BTS, BLACKPINK, H.O.T.
Photos: JTBC PLUS/ImaZinS Editorial; RB/Bauer-Griffin/GC Images; Emma McIntyre/Getty Images for Coachella; JTBC PLUS/ImaZinS Editorial
feature
K-Pop's Hip-Hop Roots: A History Of Cultural Connection On The Dancefloor
Although they might seem like disparate genres today, K-pop and hip-hop go way back. In honor of hip-hop's golden anniversary and K-pop's ever-growing popularity, GRAMMY.com explores the links between the sounds.
GRAMMYs
/
Sep 15, 2023 - 01:47 pm
Although they might seem like disparate genres today, K-pop and hip-hop go way back. Their link can be traced to a single nightclub in Korea: Moon Night. 
Located in Seoul's Itaewon neighborhood, Moon Night wasn't particularly remarkable among the many other bars catering to tourists and American servicemen at the nearby military base. However, in the late '80s and early '90s, the club was ground zero for the genesis of the nation's first K-pop group and the founding of the country's "Big 3" music entertainment labels. 
Moon Night is so crucial to the development of K-pop as we know it today because the club played music beloved by its target clientele: Americans. And in the midst of hip-hop's golden age, hip Korean audiences got hooked.
Over decades, that connection to hip-hop has developed and evolved to create the juggernaut that is contemporary K-pop. Today, the influence of hip-hop can be seen in K-pop dance, dress and even instrumentation.
Pioneering K-Pop On The Dancefloor
Where nightlife in Korea was long separated by nationality — Korean citizens had their own establishments, as did U.S. military personnel — a new kind of integrated club scene blossomed in the 1990s. For the first time, Koreans could legally patronize the same bars as American G.I.s. 
Around 1 a.m., clubs like Moon Night would transition from a "normal Korean club" to a foreigner haven, recalls Dr. Michael Hurt, an Assistant Professor at the University of Suwon's International College.
That Moon Night became the Ur of K-pop as we know it was chiefly because Black American soldiers patronized the club, which played hip-hop. As Koreans and Black soldiers socialized, a new culture of hip-hop dance, or "rap dance," and music grew. Dr. Hurt experienced the eagerness with which young Koreans learned hip-hop moves while visiting Moon Night in the '90s. 
Dr. Hurt — who is Black and Korean and has been living in country for various periods since the mid-'90s — recalls clubgoers asking to dance with him. They would follow along with every step. While hip-hop music was important to the progenitors of K-pop, Koreans at the time were most fascinated by dance moves, and the emphasis on dance remains an important aspect of K-pop today. 
By the early '90s, hip-hop had begun to egress its original audience and evolve into a new form. The cross-cultural connection happening at Moon Night was replicated across Seoul; Dr. Hurt notes that Koreans and Black Americans also found common musical interest at Blue Monkey in Sincheon and Golden Helmet in Hongdae.
Future K-pop heavy hitters like Yang Hyun-suk of YG Entertainment, Park Jin-young of JYP Entertainment, and Lee Soo-man of SM Entertainment were rumored to have patronized Moon Night. However, Dr. Hurt theorizes that if they were in the club scene they also visited other places too.
K-Pop's First Generation Of Stars: Born At Moon Night, Shared Online 
While hip-hop was largely inaccessible to Koreans in the 1990s, there were always dedicated Korean listeners. This young, niche community consisted of members like Seo Taiji, who brought rap dance to the public and became K-pop's first stars. 
Seo Taiji and Boys reportedly learned how to dance from Black American soldiers at Moon Night. (Yang Hyun-suk, who later on became the founder of YGE, and Lee Juno were the "and Boys" component of the trio.) Their example laid the groundwork for the second generation of K-pop stars. 
"[Seo Taiji and Boys] were like gods on earth," recalls Dr. Hurt. 
The members became the undisputed purveyors of hip-hop in Korea, utilizing American hip-hop, metal and punk to create a unique musical fusion. The practice of mixing and melding genres is the standard in K-pop to this day.
Seo Taiji and Boys' 1992 performance of "난 알아요 (I Know)" on a competitive TV show struck a chord with the nation's youth, effectively introducing hip-hop to the general public. The performance also filled a capacious hole left in the Korean music industry after the roll back of Emergency Measure No. 9 (which only allowed patriotic or "healthy" songs to be broadcast), which banned hundreds of songs from the likes of Bob Dylan, Johnny Cash and Eric Clapton. Therein, Seo and company brought a new sound to the previously restricted airwaves. 
Still, a lesser-known idol predates Seo Taiji and Boys' rise by a couple of years. Once again, Moon Night remains in the backdrop.
If Seo Taiji and Boys is K-pop's first idol group then Hyun Jin-Young is K-pop's first solo artist. Though his career was brief, Hyun Jin-Young "is generally credited with bringing hip-hop to the mainstream in Korea," says Dr. Crystal Anderson, Associate Director of Engaged Learning and African and African American Studies at George Mason University. On hits like, "슬픈 마네킹 (Sad Mannequin)," Jin-young sang, rapped, and performed dance moves, such as the Roger Rabbit, over a hip-hop beat. "Without him, you wouldn't have [K-pop] idols, but at the same time, Seo Taiji showed that it could be lucrative and popular." 
Artists like Hyun Jin-Young, Seo Taiji, and, later, H.O.T were at the forefront of Korea's "rap dance" scene in the mid-to-late '90s. At the turn of the century, hip-hop culture began to circulate even further via the internet.
"The young hip-hop community [in Korea] has always been pretty hardcore because they had to be to even get enough information to maintain community," Dr. Hurt notes. "[Things] like what are the new fashions, you had to be deep into it."
Youth were largely responsible for disseminating the burgeoning sound of K-pop. "Music ​is ​not ​becoming ​popular ​at ​church. ​It ​starts ​from ​some ​kid ​pirating ​a ​CD," says Kirsten Keels, a 2021 Fulbright Korea scholar.  
Online, Koreans could explore hip-hop even further. In BTS' book, Beyond The Story, RM recounted learning  about hip-hop through interviews and documentaries about rappers posted on YouTube as a teen. His interest in hip-hop would later cause a ripple effect that would lead him to his current position in BTS.
"Legitimizing" Hip-Hop In K-Pop's Second Generation
By the second generation of K-pop, which roughly begins in 2003, the days of "rap dance" had fizzled out in favor of a distinct K-pop sound. However, hip-hop's presence in the genre remains in the form of creating a designated rapper in each idol group.
Korean Americans also played a significant role in the "legitimization" of hip-hop and K-pop. "In the early days of K-pop, particularly with the idol groups, you would have one or more members who were Korean American. The idea was they were closer to the source material and therefore it was more authentic," says Dr. Anderson. 
This rings true for K-pop groups like H.O.T — Lee Soo-man of SM Entertainment's first massively successful group —  and 1TYM, which had Korean American members. Both groups have been cited as inspiration for groups like BTS and 2PM. H.O.T's successful formula became the blueprint for many K-pop groups. They industrialized the K-pop system, much as Motown developed its artists and hit-making processes. 
Hip-Hop Artists And K-Pop Idols: Past And Present
Decades after its inception, K-pop and hip-hop acts continue to work together. In 2004, Snoop Dogg and Warren G hopped on Jinusean's track, "2 All My People." The song's infectiously funky beat made the two rappers' appearance feel seamless.
In 2010, Kanye West was featured on JYJ's "Ayy Girl" (West also appeared in the music video). And two years later, Psy, who has been a lifelong fan of M.C. Hammer, performed the rapper's signature dance move next to him at the 2012 American Music Awards.
K-pop and hip-hop royalty came together in 2013 when BIGBANG's G-Dragon and Missy Elliott gave a mesmerizing performance of "Niliria" on "M-countdown", a weekly music program broadcasted by M-net.  It was a legendary moment in K-pop history because it brought together two highly respected rappers from different countries.
One group in particular has a slew of hip-hop collaborations – BTS. It doesn't come with much surprise, since the septet's CEO has openly stated "Black music is the base" of their musical identity. BTS and its members have collaborated with the likes of Nicki Minaj, J.Cole, Wale, Desiigner, Juice WRLD, and Lil Nas X (with whom they performed at the 2020 GRAMMYs). Recently, Jungkook, the youngest member of the group, made his solo debut with the song "Seven" featuring Southern rapper, Latto. The song hit No. 1 on the Billboard Hot 100.
In 2017, Jay-Z signed former 2PM leader Jay Park (who takes his name from the multi-GRAMMY winner) to Roc Nation. The following year, Park was seen at Roc Nation's annual brunch where he snapped pictures with the likes of Beyoncé and Big Sean. His debut EP, Ask Bout Me, featured rappers such as 2 Chainz, Rich The Kid, and Vic Mensa.
Hip-hop's influence on K-pop runs through the genre's past, present and future. K-pop and hip-hop artists have always had moments of mutual respect. Even at the most unsuspecting times, the two genres have always found ways to collaborate. 
Understanding Appropriation
However, the earnestness with which K-pop takes inspiration from hip-hop has understandably been questioned. The topic of cultural appropriation continues to be divisive, and unanimous consensus a rarity. "One person's appropriation isn't necessarily another person's appropriation," says Dr. Anderson. 
Lately, the conversation around cultural appropriation in K-pop is commonly in relation to visual signifiers. Instances where K-pop idols have been in the hot seat include but are not limited to: ATEEZ's Hongjoong wearing cornrows in promo images, BLACKPINK's Lisa sporting box braids on multiple occasions, and MAMAMOO's Hwasa donning a durag. While there's often swift backlash from fans, response from record labels is typically delayed — if they acknowledge the uproars at all.
In 2019 and 2020, respectively, former CLC member Sorn posted a picture of someone dressed in a mask that resembled a racist caricature, while Stray Kids' Hyunjin imitated a Korean cartoon character that was reportedly based on Black racial stereotypes. The latter eventually issued an official apology, while Sorn continued to get into hot water — most recently for a photoshoot where she flaunted an afro. 
These recent cases are just repeat offenses of longstanding practices. In the '90s, JYPE Founder Park Jin-young put backup dancers in blackface and afros. The Bubble Sisters infamously wore blackface for their debut cover art and corresponding promo pictures in 2003. 
BTS' J-Hope raised eyebrows with his remake of Webstar and Young B's 2006 track "Chicken Noodle Soup." The 2019 track featured Becky G, while J-Hope appeared with a gelled hairstyle that resembled dreadlocks. While the look bordered on appropriation, Young B praised the song in an interview with Billboard. 
"People of all cultures know the song," Young B said."[J-Hope and Becky G] made it even bigger for this day and age. I'm very open-minded and I feel like [the remake] is good for the culture. It was created in Harlem, and now it's a worldwide thing."
"There's a legit reason for people to be angry because aspects of African American culture have been and continue to be appropriated… the problem with Black popular culture is [it's] so damn successful," Dr. Hurt says."[It's] so hyper-successful that in a way you can't make restraining claims on it. I don't think it's at all realistic anymore." 
Cases of appropriation can get harder to identify when there seems to be no clear signs of foul 
play. RAIN and J.Y. Park's 2020 duet, "Switch To Me," is redolent of Bobby Brown's 1988 tune, "Every Little Step." The beat, clothing, and dance moves show that Park Jin-young was inspired by Brown. 
"My baseline for a negative appropriation and misappropriation is a racial performance that mocks or demeans," Dr. Anderson adds. "We need to recognize that there's another perspective, not necessarily to excuse some of the more egregious cases of negative appropriation,. We can't use our American racial lens and just put it over this thing and have it make sense because there are other factors at play."
Sometimes the boundaries are pushed too far and are met with legal contention. In 2004, first-generation K-pop group Baby V.O.X released "Xcstasy," utilizing a freestyle Tupac made while incarcerated. The group's label founder, Yoon Deung Ryong, vehemently denied the rumors that they illegally used the late rapper's voice and likeness. However, reports from that time failed to corroborate their label's defenses. In 2020, "Cupid Shuffle" singer Bryson Bernard accused and threatened to sue K-pop group Seventeen for their song "Left & Right" which sounded comparable to his 2007 hit. 
Over the past three decades, hip-hop has become part of Korea's public consciousness resulting in the K-pop we see and hear today. The spark that Black American GIs, Seo Taiji, and hip-hop-loving Korean youth lit has exploded into a billion dollar industry. Although it can come at the cost of misappropriation and well-meaning appreciation, it ultimately shows the influence of hip-hop and Black popular music around the world.
What's Next For K-Pop? A Roundtable Unpacks The Genre's Past, Present And Future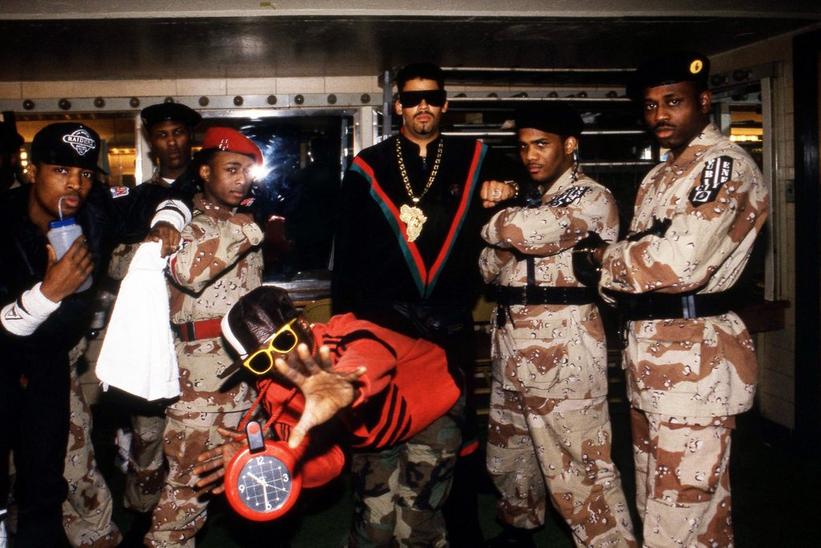 Rappers Chuck D, Professor Griff, Flavor Flav and DJ Terminator X of Public Enemy in 1988
Photo: Raymond Boyd/Getty Images
feature
A Brief History Of Hip-Hop At 50: Rap's Evolution From A Bronx Party To The GRAMMY Stage
Aug. 11, 2023 marks the 50th anniversary of hip-hop. To honor the legacy and influence of this now global culture, GRAMMY.com presents a timeline marking the genre's biggest moments.
GRAMMYs
/
Aug 11, 2023 - 02:28 pm
This year marks the 50th anniversary of hip-hop, a cultural movement that rose from humble beginnings in New York to fuel a worldwide phenomenon.    
Scholars may debate whether its roots precede Aug. 11, 1973, when DJ Kool Herc debuted his "merry-go-round" technique of playing funk breaks back-to-back to a roomful of teenagers in the Bronx. However, there's little doubt that this event sparked a flowering of activity throughout the borough, inspiring DJs, breakdancers, graffiti artists, and, eventually, pioneering MCs like Coke La Rock and Cowboy.  
The music industry eventually caught wind of the scene, leading to formative 1979 singles like the Fatback Band's "King Tim III" — the funk band featured MC and hypeman Timothy "King Tim III" Washington — and the big one: the Sugarhill Gang's "Rapper's Delight."   
Today, rap music is the most popular genre of music, led by superstars such as Drake, Kendrick Lamar, Future, Eminem, and many others. Despite its massive success, many artists retain their strong ties to communities of color, reflecting the genre's origins as a form rooted in the streets. 
To mark hip-hop's 50th anniversary, press play on the playlist below, or head to Amazon Music, Apple Music and Pandora for a crash course in this quintessential stateside artform — further proof of the genius of Black American music.
At the 65th Annual GRAMMY Awards, the Recording Academy showcased the breadth of hip-hop's influence via a star-studded, generation-spanning performance. Curated by Questlove and featuring legends such as Grandmaster Flash, Run-D.M.C., Ice-T, Jay-Z, Busta Rhymes, Missy Elliott, Nelly, and GloRilla, the 2023 GRAMMYs' hip-hop tribute showed that hip-hop remains one of the most exciting music cultures — and will likely remain so for the next 50 years. 
A Timeline Of Hip-Hop's Development 
1973 – On Aug. 11, 1973, Clive "Kool Herc" Campbell DJs a back-to-school party organized by his sister, Cindy Campbell, in the rec room at 1520 Sedgwick Avenue in the Bronx, New York. The event is widely considered to be the beginning of hip-hop culture.    
1979 – Longtime R&B star and producer Sylvia Robinson launches Sugar Hill Records with her husband, Joe. She discovers their first act in New Jersey, a trio of rapping teenagers — Wonder Mike, Big Bank Hank, and Master Gee — and brands the Sugarhill Gang. The Gang's first single, "Rapper's Delight," sells millions of copies and becomes the first global rap hit.    
1982 – Co-written by Duke Bootee and Melle Mel and produced by Clifton "Jiggs" Chase, Grandmaster Flash & the Furious Five's hit single "The Message" becomes a turning point in the genre. Bootee and Melle Mel's stark descriptions of poverty signal to fans and critics that hip-hop is capable of more than just party music.    
1984 – Russell Simmons' Rush Management organizes Fresh Fest, a groundbreaking arena tour featuring hot rap acts like Run-D.M.C., Whodini, Kurtis Blow, the Fat Boys, and Newcleus as well as b-boy crews such as the Dynamic Breakers. Held during the next two years, it signifies hip-hop's growing popularity.    
1986 – After bringing frat-boy chaos as the opening act on Madonna's Virgin Tour, Def Jam understudies the Beastie Boys collaborate with producer Rick Rubin on Licensed to Ill. Spawning the hit single "Fight for Your Right," the album is certified diamond in 2015.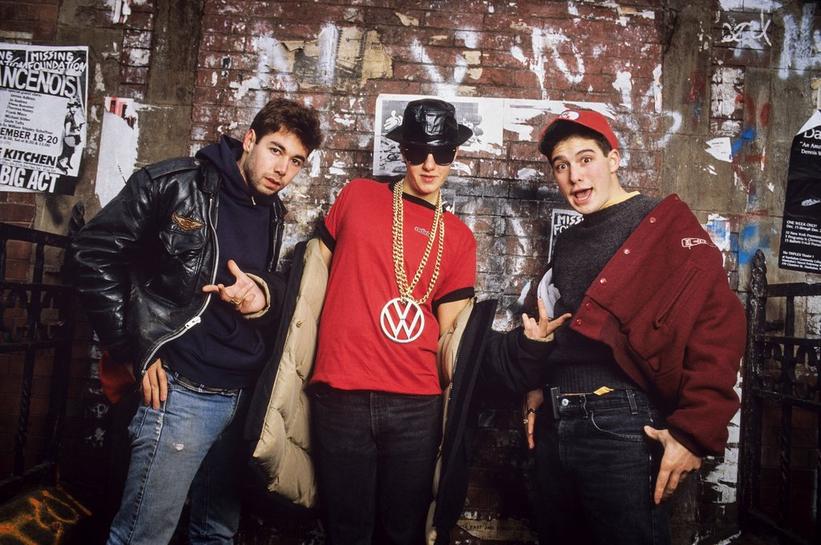 Beastie Boys in 1987 | Lynn Goldsmith/Corbis/VCG via Getty Images
1987 – Thanks to a remix by the late DJ/producer Cameron Paul, rap trio Salt-N-Pepa get teens everywhere twerking — and worry parents and school administrators — with the electro-bass classic, "Push It."   
1988 – Public Enemy release their second album, It Takes a Nation of Millions to Hold Us Back. Reportedly featuring over 100 samples and focused on Chuck D, Flavor Flav and Professor Griff's revolutionary lyrics, it's often cited as one of the greatest hip-hop albums of all time.    
1989 – DJ Jazzy Jeff & the Fresh Prince win the first hip-hop GRAMMY Award for Best Rap Performance for their 1988 hit single, "Parents Just Don't Understand."  
1988 – Thanks to lyrics criticizing law enforcement and depicting raw life in Compton, California, N.W.A spark national controversy with their influential second album, Straight Outta Compton.    
1991 – Ice-T appears in New Jack City, becoming one of the first rappers to headline a major Hollywood film. That same year, he appears on the Lollapalooza tour with his metal group, Body Count, and performs an early version of "Cop Killer." The song becomes a flashpoint in the 1992 presidential election.    
1993 – Wu-Tang Clan release their debut album, Enter the Wu-Tang (36 Chambers). With nine members led by rapper/producer the RZA, the highly unique Staten Island-based collective spawned dozens of solo albums and affiliated acts over the following decades.   
1996 – Naughty by Nature earn the first GRAMMY Award for Best Rap Album with their third album, Poverty's Paradise. The 1995 set includes a major radio hit in "Feel Me Flow."    
1996 – After dominating most of 1996 with his fourth album, the diamond-certified double album All Eyez on Me, 2Pac is killed in Las Vegas. The unsolved murder of one of the greatest rappers of all time remains a watershed moment in music culture.   
1997 – Days before the release of his diamond-certified second album, Life After Death, the Notorious B.I.G. is killed in Los Angeles. The slaying of two of hip-hop's biggest artists prompts soul-searching across the music industry and inspired Biggie's friend, Puff Daddy, to release the GRAMMY Award-winning hit, "I'll Be Missing You."  
1997 – After writing and producing hits for MC Lyte and Aaliyah, Missy Elliott debuts as a solo artist with Supa Dupa Fly. With production help from Timbaland and kinetic music videos, Elliott establishes herself as one of the most innovative acts of the era.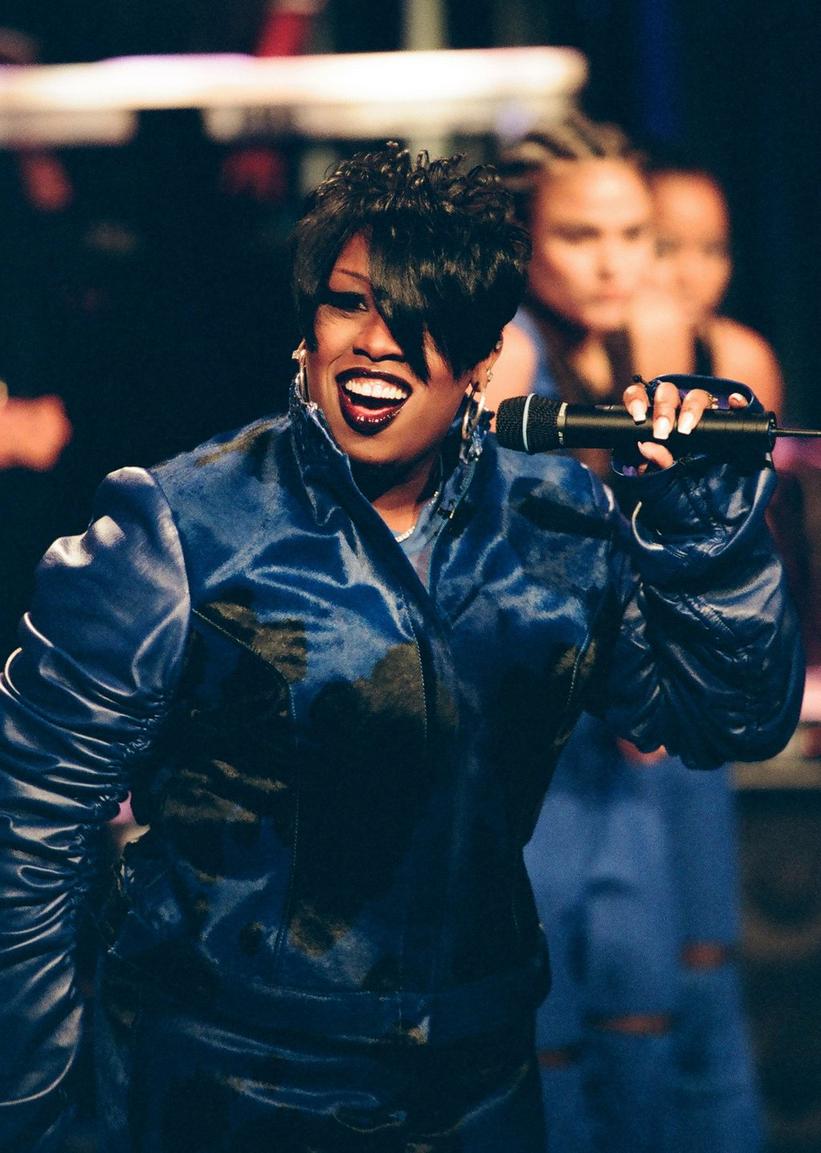 Missy Elliott | Paul Drinkwater/NBCU Photo Bank/NBCUniversal via Getty Images 
1998 – After scoring multi-platinum hits with the Fugees, Lauryn Hill strikes out on her own with The Miseducation of Lauryn Hill. The diamond-certified album earns her several GRAMMY Awards, including Album Of The Year.    
1999 – Dr. Dre releases 2001, cementing his legacy as one of the most influential rap producers ever. The album features numerous collaborators, including longtime homie Snoop Dogg and rising lyricist Eminem.    
2001 – On Sept. 11, Jay-Z releases his sixth album, The Blueprint. It becomes a career highlight for the Rock & Roll Hall Of Fame rapper, and a breakout moment for rising producers Just Blaze and Kanye West.    
2003 – Hit-making duo OutKast split their double album Speakerboxxx/The Love Below into separate sides for Big Boi and Andre 3000 — the latter focusing on singing instead of rapping. Their fresh approach results in a diamond-certified project and a GRAMMY for Album Of The Year.    
2008 – Lil Wayne mania peaks with Tha Carter III, which sells over 1 million copies in its first week and earns him a GRAMMY for Best Rap Album.    
2010 – Nicki Minaj releases Pink Friday. The hit album makes her a rare female rap star during a dearth of prominent women voices in the genre.    
2017 – By landing a Top 10 Billboard hit with "XO Tour Llif3" and topping the Billboard 200 with Luv Is Rage 2, Lil Uzi Vert signifies the rise of internet-fueled trends like "SoundCloud rap" and "emo rap."   
2017 – With his fourth album Damn., Kendrick Lamar not only wins a GRAMMY for Best Rap Album, but he also becomes the first rap artist to win a Pulitzer Prize for Music, leading to the fanciful nickname "Pulitzer Kenny."    
2018 – Cardi B releases her debut album Invasion of Privacy, scoring Billboard No. 1 hits such as "Bodak Yellow" and "I Like It." As the best-selling female rap album of the 2010s, the LP won Best Rap Album at the 61st GRAMMY Awards in 2019, making Cardi the first solo female rapper to win the Category.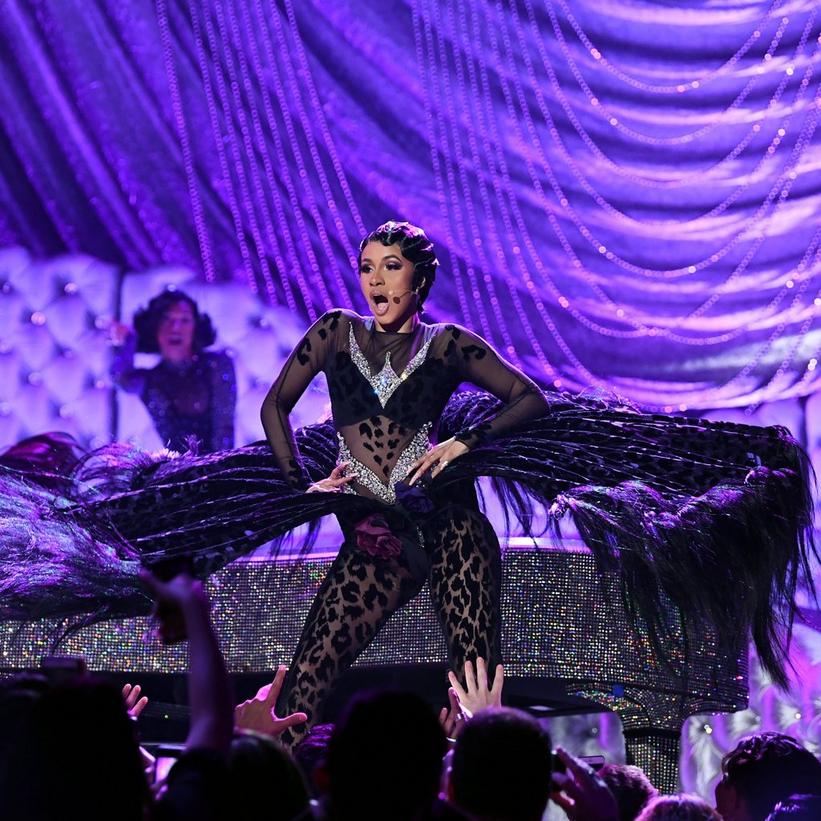 Cardi B at the 61st GRAMMY Awards | Emma McIntyre/Getty Images for The Recording Academy 
2020 – In early 2020, rising star Pop Smoke is killed in Los Angeles. Months later, his posthumous debut album, Shoot for the Stars, Aim for the Moon, tops the charts, signifying the rise of drill as a major force in hip-hop culture.  
2021 – At the 63rd Annual GRAMMY Awards in 2021, the Recording Academy introduced the Best Melodic Rap Performance Category, formerly known as the Best Rap/Sung Performance Category, to "represent the inclusivity of the growing hybrid performance trends within the rap genre." 
2023 - At the 2023 GRAMMY Awards, seven-time GRAMMY winner Dr. Dre became the recipient of the inaugural Dr. Dre Global Impact Award for his multitude of achievements through his innovative, multi-decade career. Dre was first presented with the award at the Black Music Collective's Recording Academy Honors ceremony. 
50 Artists Who Changed Rap: Jay-Z, The Notorious B.I.G., Dr. Dre, Nicki Minaj, Kendrick Lamar, Eminem & More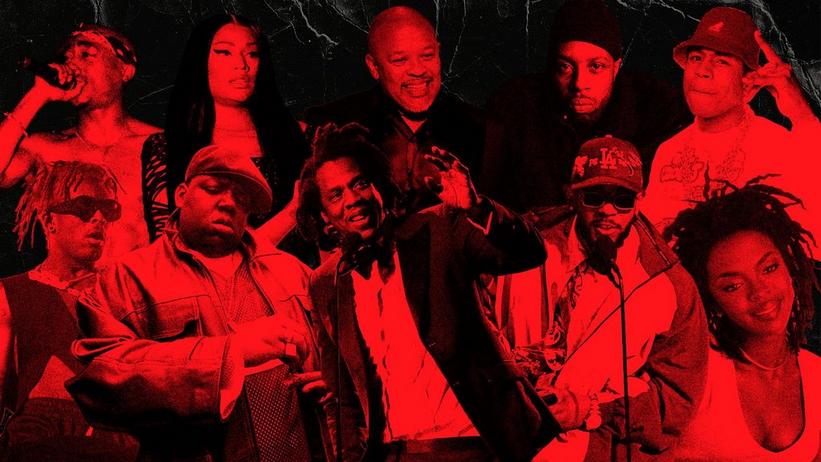 (Clockwise, L-R): 2Pac, Nicki Minaj, Dr. Dre, J Dilla, LL Cool J, Ms. Lauryn Hill, Kendrick Lamar, Jay-Z, the Notorious B.I.G., Lil Uzi Vert
Source Images (Clockwise, L-R): Raymond Boyd/Getty Images; Astrida Valigorsky/Getty Images; Kevin Winter/Getty Images for The Recording Academy; Gregory Bojorquez/Getty Images; Paul Natkin/WireImage; Anthony Barboza/Getty Images; JC Olivera/WireImage; Kevin Kane/Getty Images for The Rock and Roll Hall of Fame; Clarence Davis/NY Daily News Archive via Getty Images; Jason Koerner/Getty Images
list
50 Artists Who Changed Rap: Jay-Z, The Notorious B.I.G., Dr. Dre, Nicki Minaj, Kendrick Lamar, Eminem & More
In honor of the 50th anniversary of hip-hop this year, GRAMMY.com is celebrating some of the genre's most impactful artists across the decades. From Drake to OutKast, Lauryn Hill to Lil Wayne, these pioneers shaped rap over the past 50 years of hip-hop.
GRAMMYs
/
Aug 8, 2023 - 12:23 pm