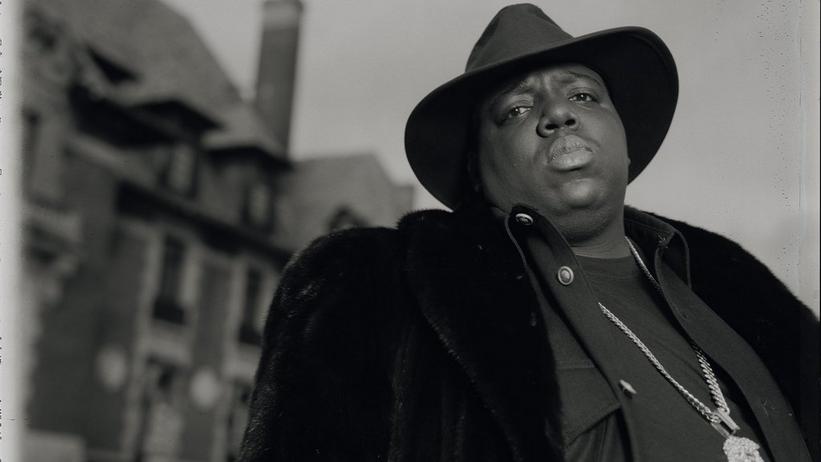 feature
A Big Band For Biggie: Celebrating The Notorious B.I.G. With A Classical Orchestra
Biggie "was and is someone that represents freedom, excellence and transcendence for all people."
GRAMMYs
/
Jun 9, 2022 - 10:06 pm
More than 25 years after his passing, the Notorious B.I.G. remains one of the most influential rappers in hip-hop's history. The Brooklyn native born Christopher Wallace made hip-hop fall in love with his charisma, confidence and innate storytelling abilities. He also built a reputation throughout New York as a freestyle king, capable of insulting his opponent with double entendres and witty metaphors bar after bar. This past May, he would have turned 50 years young.
Before he became one of Bad Boy's top selling artists, Biggie was discovered by New York DJ Mister Cee. In 1994 he set his career off with the release of "Juicy," the lead single from his debut album Ready to Die. The autobiographical album, released when Biggie was just 22, gave listeners a glimpse into a life of poverty, drugs and crime — as well as the introspection of a young man who knew that, because of his circumstances, death could be knocking on the door.  
The concept of death, or close proximity to it, eerily framed Biggie's debut and posthumous albums — even down to the album cover of Life After Death. Just six months after the death of rival rapper Tupac Shakur, Biggie was gunned down at a traffic light in Los Angeles while leaving an industry party. He was 24 years old, and his death left the hip-hop community in a permanent state of mourning. 
By the time of his passing, Biggie's stardom, notoriety and influence expanded far beyond New York. How could you not love the technicality of a Biggie record? Who else flows so sick on a beat? Or keeps you entertained with lyrics so intricate that the details sound like a movie script? Or what about the creative skits? Although the prophetic rapper declared "you're nobody until somebody kills you," he was a star in the physical and after life. From his rapping style to specific lyrics, the Notorious B.I.G. has inspired generations of artists.
To honor his influence and contributions to hip-hop, on June 10, New York's Lincoln Center will present an Orchestral Tribute to The Notorious B.I.G., featuring multi-instrumentalist and composer Miguel Atwood-Ferguson. The West Coast-based musician describes the opportunity to pay tribute to B.I.G. with a 25 piece orchestra as one of the greatest honors and joys of his life:
"Having gone from listening to his music every single day while in high school in the mid-'90s, to experiencing the collective heartbreak of his passing the year before I started college, to living in Bed Stuy for a year around the corner from where he lived, to the realization that Christopher Wallace wasn't just an extremely charismatic, intelligent, rare, skilled, and elite rapper — he was and is someone that represents freedom, excellence and transcendence for all people," Atwood-Ferguson tells GRAMMY.com.
Hosted by radio personality Angie Martinez, the event will open with a set by DJ Reg West followed by an Orchestral performance of B.I.G.'s most well known songs, from the multi-platinum album Ready To Die and 11 x Platinum Life After Death, featuring special guests and an extensive live set from regular B.I.G. collaborators. Despite being two disparate musical genres, the blending of hip-hop and classical music allows for magic to happen, stripping away the elitism associated with classical music and depicts rap as an adaptable, valuable genre.  
This isn't Atwood-Ferguson's first time using classical music to pay homage to a hip-hop legend. After the passing of Detroit native J-Dilla, Atwood-Ferguson created a tribute that consisted of orchestral interpretations of Dilla's music; in 2009 Atwood-Ferguson released an EP titled Suite for Ma Dukes. The EP and live performance was met with critical acclaim. 
This time around, Atwood-Ferguson will be accompanied by the Originals, a world renowned DJ collective who were some of Biggie's closest musical partners.
"It is extremely difficult to put into words just how impactful Christopher Wallace's body of work and legacy is. From being birthed into the culture of hip-hop to his transition from raw talent to a polished commercial product, his rise to fame was unparalleled," said international DJ Rich Medina, a member of the Originals. "As a wordsmith, there are a few artists worldwide who've put such a large dent in the canon of lyricism with just two full length LPs."
The Biggie tribute continues a legacy of hip-hop engagement at the New York institution. "Lincoln Center has been building its relationship with the hip-hop community for decades, starting with iconic dance battles on the Lincoln Center plaza in the 1980s," Jill Sternheimer, a consulting curator at Lincoln Center tells GRAMMY.com via email. "When…Miguel Atwood Ferguson and the Originals signed on to do this tribute, we knew we had the makings of a magical project, keeping true to the Wallace Family and the New York City community." 
Without a doubt, the Notorious B.I.G. will continue to have an influence on hip-hop culture. "As ferociously talented as he was, it seems to me that it is his heart and spirit that most touches and inspires us," Atwood-Ferguson says. "He was and is on an upward trajectory and I can't wait to share my orchestral impression of some of my favorite music of his." 
The Orchestral Tribute to The Notorious B.I.G. is free to the public and begins at 7:30 p.m.
Revisiting 'Supa Dupa Fly' At 25: Missy Elliott Is Still Inspired By Her Debut Record