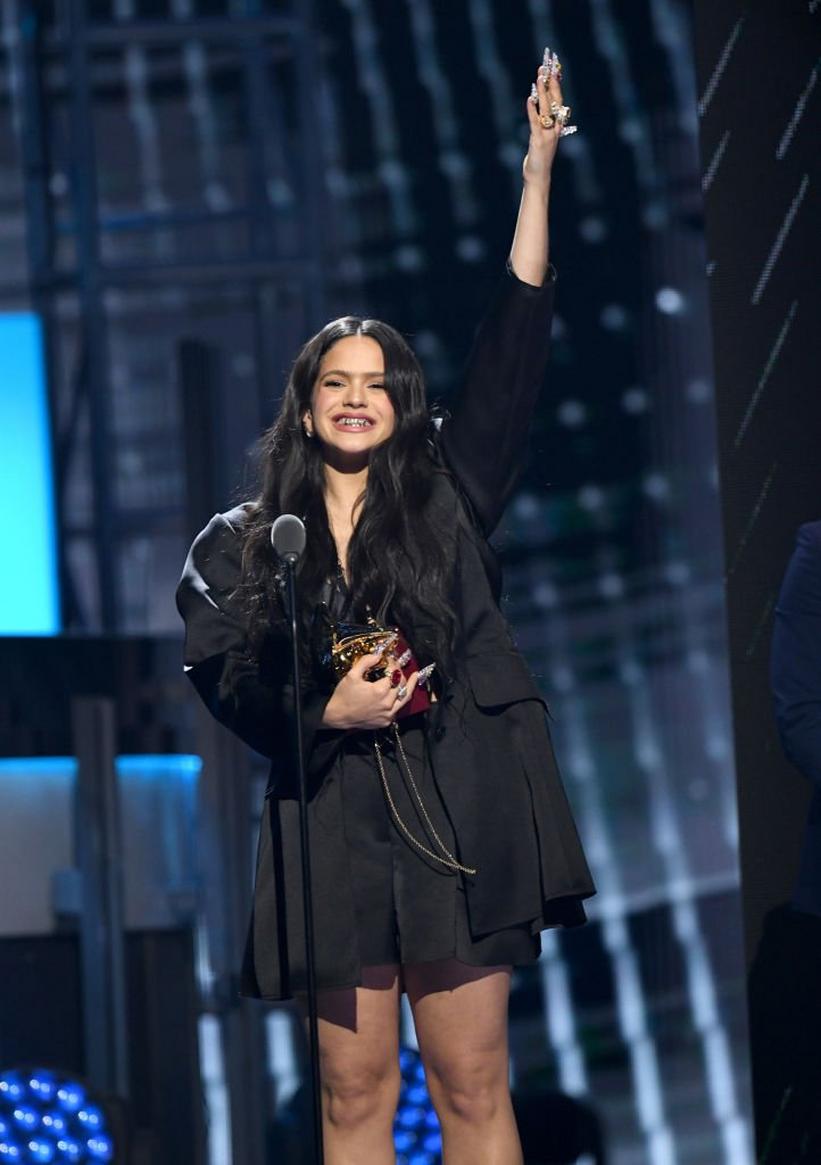 Photo: Kevin Winter/Getty Images for LARAS
news
Rosalía Wins Album Of The Year For 'El Mal Querer' At The 2019 Latin GRAMMY Awards
The Spanish singer takes the top honor for her sophomore album
GRAMMYs
/
Nov 15, 2019 - 09:16 am
Rosalía won the biggest award of the night as she took home the 2019 Latin GRAMMY for Album of the Year for El Mal Querer. It was her fifth win of the night.
She also took home the Latin GRAMMY for Best Urban Song for "Con Altura" with J Balvin, who wasn't in attendance, earlier in the night. The wins come just two years after she was nominated for Best New Artist at the 2017 Latin GRAMMYs.
Other Album of the Year nominees were Visceral by Paula Arenas, Paraíso Road Gang by Rubén Blades, Cargar La Suerte by Andrés Calamaro, Agustín by Fonseca, Vida by Luis Fonsi, #Eldisco by Alejandro Sanz, ¿Dónde Bailarán Las Niñas? by Ximena Sariñana, Mas De Mi by Tony Succar, and Fantasía by Sebastián Yatra.
The 20th Annual Latin GRAMMY Awards Nominations Complete List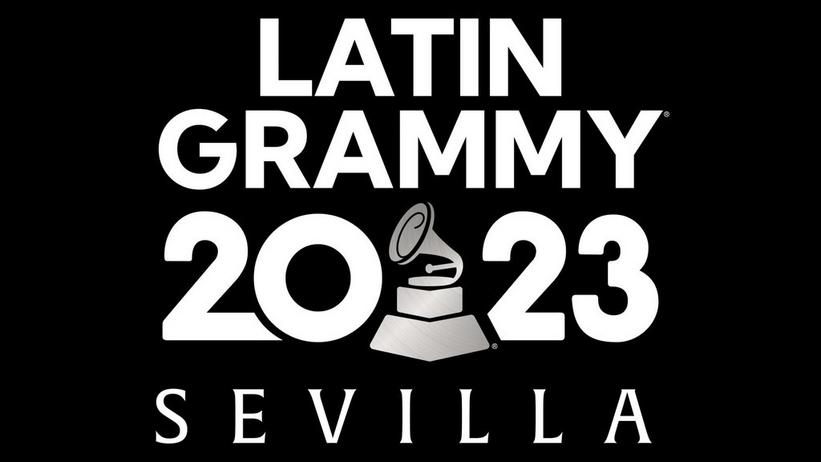 Art for the 2023 Latin GRAMMYs
Graphic Courtesy of the Latin Recording Academy
list
9 Facts About The Latin GRAMMYs: Location, History, Dates & More
With entries from around the world, the Latin GRAMMYs transcend Latin America. Ahead of the 24th Latin GRAMMY Awards, which will be held in Spain for the first time, read on for 9 must-know facts about the 2023 Latin GRAMMYs.
GRAMMYs
/
Sep 18, 2023 - 02:20 pm
The Latin Recording Academy is no mere offshoot or satellite of the Recording Academy — far from it.
For the world's leading society of music people, the Latin Recording Academy is an equal and parallel entity that honors and elevates music across Spanish-speaking countries of the world.
On Thursday, Nov. 16, the Latin GRAMMYs will return to our eyes and ears. Officially known as the 24th Annual Latin GRAMMY Awards, the 2023 Latin GRAMMYs will be held in Seville, Spain.
Airing from Seville's Conference and Exhibition Centre (FIBES), the 2023 Latin GRAMMYs will be the first-ever international telecast in the history of the organization and awards.
Nominations will be announced on Tuesday, Sept. 20 at 9 a.m. EST/6 a.m. PST. The nominees will be shared via livestream on all the Latin Recording Academy's socials: Facebook, Instagram, TikTok, Twitter, YouTube and LatinGRAMMY.com.
If you're a longtime viewer of the Latin GRAMMYs, both the Recording Academy and its sister Academy welcome you back to the biggest night in Latin music!
And if you aren't — or you haven't watched in a while — read on for nine key facts about this indispensable, culture-shifting ceremony.
There Are Several New Latin GRAMMY Categories & A New Field
Ahead of the 2023 ceremony, the Latin Recording Academy announced three new categories: Best Singer-Songwriter Song, Best Portuguese-Language Urban Performance and Best Songwriter Of The Year.
The latter award also comes with the creation of a new field for Songwriting.
The Latin Recording Academy has also made amendments to several existing categories, including Album Of The Year, Song categories and Best Engineered Album.
The Latin GRAMMYs Are Approaching Their 25th Anniversary
The very first Latin GRAMMYs aired at the top of the new millennium — on Sept. 13, 2000. That means the Latin GRAMMYs are about to ring in their silver anniversary!
It Was A Big Moment For The Spanish Language
The debut Latin GRAMMYs ceremony was the first primarily Spanish language primetime program to be aired on an English language American TV network.
They're Held Every Year In Las Vegas
Typically, anyway. The Latin GRAMMYs have taken place in Los Angeles, Miami, Houston, and New York City.
However, since 2009, it's been held annually in Sin City — where the GRAMMYs was held in 2021, when the pandemic reshuffled best-laid plans.
This time, however — as stated — the Latin GRAMMYs are headed overseas, to Seville!
They're Much Bigger Than Latin America
For the Latin Recording Academy, the various countries that comprise Latin America are just the tip of the iceberg.
The scope of LARAS actually covers what's known as Ibero-America — the region of the Americas where Spanish and Portuguese are spoken predominantly.
That means that from Chile to Colombia to Costa Rica, from Panama to Paraguay to Peru, it's all within the massive purview of the Latin Recording Academy, which celebrates Spanish and Portuguese artists alike.
The Latin GRAMMYs Just Expanded To 56 Categories
This is a leap from their previous number of 53!
For reference, the GRAMMY Awards feature 91 categories. There are overlaps between the ceremonies, especially in the General Field — both the Latin GRAMMYs and GRAMMYs Record Of The Year, Song Of The Year, etc.
But naturally, it drills much deeper into various Latin genres and subgenres — Best Cumbia/Vallenato Album, Best Merengue/Bachata Album, etc.
Check out the 2022 Latin GRAMMYs' winners and nominees for a complete breakdown!
The First Latin GRAMMY Went To…
What was the very first golden gramophone handed out at the Latin GRAMMYs? The award went to Juan Luis Guerra for Best Merengue Performance — for "Ni Es Lo Mismo Ni Es Igual."
A Mexican Rock Band Were The Latin GRAMMYs' First Group Winners Of Person Of The Year
Back in 2018, the Mexican rock group Maná received a grand distinction — the first group ever to receive the honor.
"It is a grand and unexpected recognition to an extensive career, a beautiful and passionate one that we continue to enjoy as if it were the first day," said Fher Olvera — their singer, guitarist and songwriter — on behalf of the band.
The Latin Academy CEO Abides By "The Four Gs"
Manuel Abud — the visionary head of the Latin Recording Academy — once boiled down the organization's diversity philosophy to four words.
Those are: genre, geography, gender and generation.
"As the leading organization for Latin music, we strive to nurture, celebrate, honor, and elevate Latin music and its makers around the world," Abud told Pollstar. "We are an inclusive cultural institution that enables artists and audiences to share their heritage through music.
The Latin GRAMMYs continue to evolve as a modern cultural institution to stay relevant," Abud said, "while protecting Latin heritage, through the celebration of Latin music around the world."
As the Latin Recording Academy pushes further and further to this ideal, come along for the ride — which continues Sept. 20, when the nominations for Latin Music's Biggest Night are announced!
2023 Latin GRAMMYs To Host First-Ever International Telecast In Sevilla, Spain, On Nov. 16; Nominations To Be Announced Sept. 19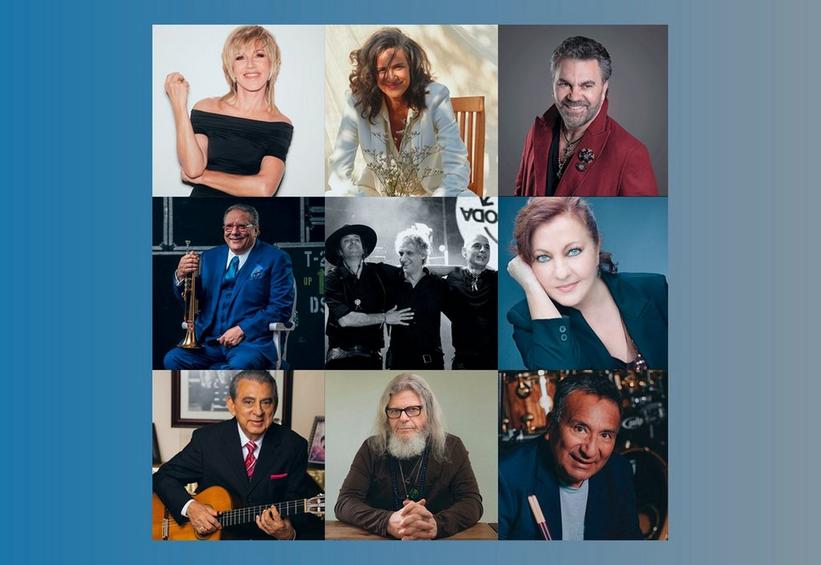 The Latin Recording Academy's 2023 Special Merit Award Recipients, including Carmen Linares, Mijares, Arturo Sandoval, Simone, Soda Stereo, Ana Torroja, Alex Acuña, Gustavo Santaolalla and Wisón Torres
Graphic and photos courtesy of the Latin Recording Academy
news
The Latin Recording Academy Announces Its 2023 Special Merit Award Honorees: Alex Acuña, Arturo Sandoval, Soda Stereo, Simone & More
This year's honorees also include Carmen Linares, Mijares, Gustavo Santaolalla, Wisón Torres, and Ana Torroja.
GRAMMYs
/
Jul 18, 2023 - 01:00 pm
Today, the Latin Recording Academy announced that Carmen Linares, Mijares, Arturo Sandoval, Simone, Soda Stereo, and Ana Torroja will receive this year's Lifetime Achievement Award, as part of its annual Special Awards Presentation. In tandem, Alex Acuña, Gustavo Santaolalla and Wisón Torres will receive the Trustees Award.
"We are extremely honored for the opportunity to recognize these great figures of Ibero-America, whose musical legacy continues to inspire new generations," Latin Recording Academy CEO Manuel Abud said of the 2023 honorees. "We look forward to celebrating their virtuoso careers during Latin GRAMMY Week in Sevilla this coming November."
Read More: Latin Recording Academy CEO Manuel Abud On The Global Expansion Of The Latin GRAMMYs: "It Is Our Responsibility To Support Our Artists In Their Quest To Go Global"
The Lifetime Achievement Award is presented to performers who have made works of excellence within the Latin musical sphere. The Trustees Award is presented to those who have made tremendous contributions to Latin music outside of performance. Both distinctions are voted on by the Latin Recording Academy's Board of Trustees.
The honorees will be celebrated during a private event as part of Latin GRAMMY Week 2023 on Sunday, Nov. 12, in the Teatro Lope de Vega in Sevilla, Spain. 
This news follows the recent announcement of Laura Pausini as the 2023 Latin Recording Academy Person of the Year.
This November, the 2023 Latin GRAMMYs, officially known as the 24th Latin GRAMMY Awards, will take place in Sevilla, Spain, marking the award show's first-ever international telecast. This year, the Latin GRAMMYs will introduce several new Latin GRAMMY Award categories, including Best Songwriter Of The Year, Best Singer-Songwriter Song and Best Portuguese-Language Urban Performance, among other changes. 
Learn more about the Latin Recording Academy's 2023 Lifetime Achievement Award and Trustees Award honorees below:
Read More: 2023 Latin GRAMMYs Explained: 4 Reasons To Be Excited About The New Categories & Changes
Carmen Linares (Spain)
One of the most gifted, passionate and knowledgeable cantaoras in the history of flamenco, Carmen Linares stands alongside Spanish legends such as Camarón de la Isla, Paco de Lucía and Enrique Morente. Born in the city of Linares, Andalucía, in 1951, she learned the musical codes of flamenco at a young age guided by her father's guitar. In 1971, the release of her first album showcased a deep understanding of traditional Spanish styles. It was the beginning of a dazzling career that found her recording the works of Spanish poets like Federico García Lorca, Juan Ramón Jiménez and Miguel Hernández – as well as showcasing the splendor of flamenco artistry in concert halls around the world. Antología De La Mujer En El Cante (1996) is considered one of the essential records in the history of flamenco, and in 2020, she celebrated her career with the tour Cantaora: 40 Años De Flamenco. Linares has performed with symphony orchestras, directed her own shows and recorded songs for film and television soundtracks. In 2022 she received the Princess of Asturias Award for the Arts for a lifetime of dedication and devotion to flamenco.
Mijares (Mexico)
Throughout his distinguished musical career, Mijares has produced a wide variety of records and sold millions of them along the way. Manuel Mijares was born in 1958 in Mexico City, where he began his artistic career with groups Sentido and Los Continentales, and was part of Emmanuel's chorus. His solo debut, Soñador, in 1986, included the international smash "Bella". In 1989 he enjoyed a pinnacle of popularity with the LP Un Hombre Discreto, backed by the torrid ballad "Para Amarnos Más". With hits like "Uno Entre Mil" and "No Se Murió el Amor," in the summer of 2009 he released Vivir Así, an album of balada favorites. After countless international performances, in 2016 he celebrated three decades of uninterrupted career with a concert at the Palacio de Bellas Artes in Mexico accompanied by a symphony orchestra.
Arturo Sandoval (Cuba/U.S.)
A founding member of innovative Cuban group Irakere, Arturo Sandoval has excelled as a Latin jazz musician, pianist, classical composer and trumpet virtuoso. Born in Artemisa, Cuba, in 1949, Sandoval formed Irakere in 1973 with keyboardist Chucho Valdés and saxophonist Paquito D'Rivera. Together, they pioneered a bold fusion of experimental jazz, funky rock'n'roll and rousing Afro-Cuban patterns. Sandoval left the band in 1981, and later moved to the U.S. with the assistance of his mentor Dizzy Gillespie. He then assembled his own band and began touring the world. Sandoval is equally comfortable performing as a classical trumpet soloist with symphony orchestras across the globe, and has also composed two Concertos for Trumpet and Orchestra. He's the recipient of multiple Latin GRAMMYs and GRAMMYs, and won an Emmy for composing the score of For Love or Country—an emotionally stirring HBO biopic based on his life and starring Andy García. He was also awarded the Presidential Medal of Freedom by President Barack Obama in 2013.
Simone (Brazil)
Simone's prolific and massively successful discography sums up the allure of the MPB movement and a samba-fueled revelry of life and romance. Born Simone Bittencourt de Oliveira in Salvador, Bahia, in 1949, the singer released her debut LP in 1973 followed by Quatro Paredes in 1974 and Gotas D'Água a year later. Featuring an ethereal reading of "Proposta" by Roberto Carlos and a soaring rendition of Milton Nascimento's "Idolatrada", respectively, the songbooks of both composers would continue to inspire Simone throughout her career. Simone made a deep imprint in Brazilian popular culture by recording the theme songs of many television soap operas, and also through her powerful live performances. Brilliantly combining a refined artistic palette with pop culture appeal, she is still at the top of her game both in the recording studio and concert stages around the world.
Soda Stereo (Argentina)
The Buenos Aires power trio Soda Stereo was formed in 1982 by Gustavo Cerati, Zeta Bosio and Charly Alberti. Initially influenced by British new wave, Soda's early hits like "Cuando Pase El Temblor" and "Nada Personal," connected with a young generation of fans pining for a rock band that offered a distinct South American perspective. As Soda enjoyed success outside of Argentina, its sound became more sophisticated, and yielded albums like Doble Vida (1988) with classics like "En La Ciudad De La Furia," while Canción Animal (1990) included "De Música Ligera," Soda's biggest hit. The band broke up in 1995, two years after their last studio album, Sueño Stereo, and celebrated their trajectory with the epic double live album El Último Concierto – only to return in 2007 for the final Me Verás Volver tour. Despite Cerati's unexpected death in 2014, Soda Stereo's music continues to live on in the hearts of their fans.
Ana Torroja (Spain)
Ana Torroja became an international pop star in the 1980s as the charismatic voice of the Spanish pop trio Mecano. The iconic group achieved unprecedented levels of success, selling more than 25 million records worldwide. In 1997 Torroja embarked on a solo career with the successful release of Puntos Cardinales, and following the band's definitive breakup a year later, she blossomed as a sophisticated singer/songwriter experimenting with exhilarating mosaic of styles. In 1999 Torroja surprised her fans again with her second album, Pasajes De Un Sueño, which abandoned the radio-friendly hits of the past in favor of a more cosmopolitan sound, with songs like "Ya No Te Quiero" and "Dentro De Mí." She toured the world with Girados (2000), a joint concert with her friend, the legendary Miguel Bosé, with whom she would later record "Corazones." She continues to be active in the recording studio and the concert halls of Europe and the Americas, always committed to both her loyal audience and to the genre she has been masterfully defending for more than four decades. 
2023 Trustees Award Honorees:
Alex Acuña (Peru)
A drummer and percussionist of remarkable technique, Alex Acuña is also a revered jazz and fusion bandleader. Born in Pativilca, Peru, in 1944, he was enlisted by mambo king Pérez Prado at age 18 after moving to Lima. Acuña later worked in Las Vegas with the legendary Elvis Presley and Diana Ross, and joined jazz-rock supergroup Weather Report in the mid-'70s, where he contributed progressive polyrhythms to two of the band's most iconic albums, Black Market (1976) and Heavy Weather (1977). Following his departure from the band, Acuña amassed a prolific discography as a session sideman, working with Paul McCartney, Joni Mitchell, Plácido Domingo, U2 and many others. In the '80s, he flexed his creative muscles with the Christian jazz-funk collective Koinonia, and also paid tribute to his Afro-Peruvian roots with the mystically tinged songs of Los Hijos del Sol. In recent years, he contributed his marvelous percussive skills to the soundtracks of such high-profile films as Coco, Moana, West Side Story and Star Wars: The Last Jedi.
Gustavo Santaolalla (U.S./Argentina)
Argentine composer, singer/songwriter and producer Gustavo Santaolalla—winner of multiple Latin GRAMMYs and GRAMMYs— has single-handedly changed the course of Latin music throughout a tireless career that spans multiple fields, decades and genres. Santaolalla became a rock star in his teens as co-founder of pioneering folk-rock supergroup Arco Iris. After moving to Los Angeles in the late '70s and establishing an artistic partnership with keyboardist Aníbal Kerpel, he became the one of the most influential producers in Latin rock history, helming a series of masterful albums by the likes of Café Tacvba, Maldita Vecindad, Julieta Venegas, Juanes and many others. The 1998 release of Ronroco paved the way for a new chapter as a soulful and inventive composer of soundtracks. His haunting scores for Ang Lee's Brokeback Mountain (2005) and Alejandro González Iñárritu's Babel (2006) won Academy Awards for Best Original Score. Concurrently, he has toured the world as a founding member of the genre-defying Bajofondo, a Rio de la Plata contemporary music group, and has collaborated with a wide array of artists – from Eric Clapton to the Kronos Quartet and classical composer Osvaldo Golijov. In recent years, he has gained acclaim writing the music for the two installments of the video game The Last of Us, as well as its subsequent and highly successful television adaptation, for which he received an Emmy nomination.
Wisón Torres (U.S/Puerto Rico) 
Born in San Juan, Puerto Rico, in 1934, Wisón Torres started playing guitar at just seven years of age, and made his first professional appearance on Puerto Rican radio with Los Sultanes—a group he created and directed—at 14. Then, in 1951, he was given the task of forming and directing Los Hispanos de Puerto Rico, a quartet composed of members of different trios who joined together for special performances throughout the island. Inspired by the progressive arrangements of American jazz quartets, Torres fused their harmonies with a Latin American sensibility, and created a distinct sound for Los Hispanos with his unique ability to arrange and harmonize vocal quartets. The group's refined, distinctive sound led to extensive tours in Latin America and the United States. In the mid-sixties, Tito Rodríguez produced a series of albums with Los Hispanos the transposed their sound to the pop music of the time. Over the years they also recorded with Tito Puente's orchestra, toured England and continued with recording projects. With a career spanning more than 75 years, Torres still creates music to this day.
The Latin Recording Academy and the Recording Academy congratulate the 2023 Lifetime Achievement Award and Trustees Award honorees. Watch this space for more information about the 2023 Latin GRAMMYs!
Clarissa, Giulia Be & Maria Rita Performed At The Best New Artist Showcase In São Paulo: See Images & Watch Videos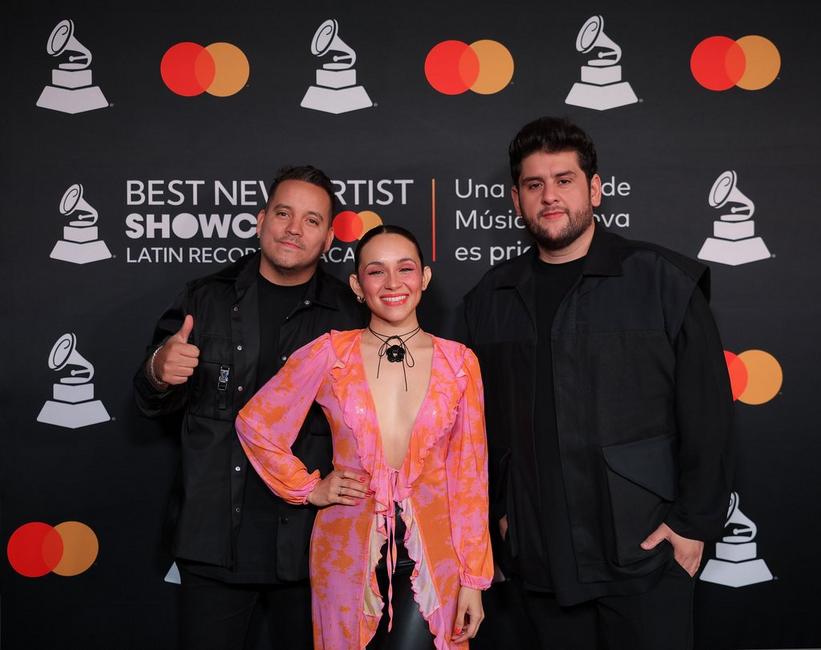 Melissa Robles of Matisse
Photo: Hector Vivas/Getty Images for The Latin Recording Academy
photo_gallery
Matisse Performed At The Latin Recording Academy's Latest Best New Artist Showcase: See Images
The exclusive event, held in partnership with Mastercard, welcomed Latin Recording Academy members, artists and entertainment industry figures.
GRAMMYs
/
Jun 30, 2023 - 05:23 pm
The Latin Recording Academy presented its second Best New Artist Showcase featuring Latin GRAMMY winners and previous nominees in the Best New Artist category, Matisse.
The event took place last night at Priceless with Estoril restaurant in Mexico City, which is also launching its second season inspired by music.
"The Best New Artist category is fundamental for us because it gives us the opportunity to recognize artists who are just beginning their careers," Latin Recording Academy CEO Manuel Abud said. "Today we celebrate the Latin GRAMMY journey with Matisse — who were nominated in this category in 2015 and winners last year — providing inspiration to the next generation of music creators."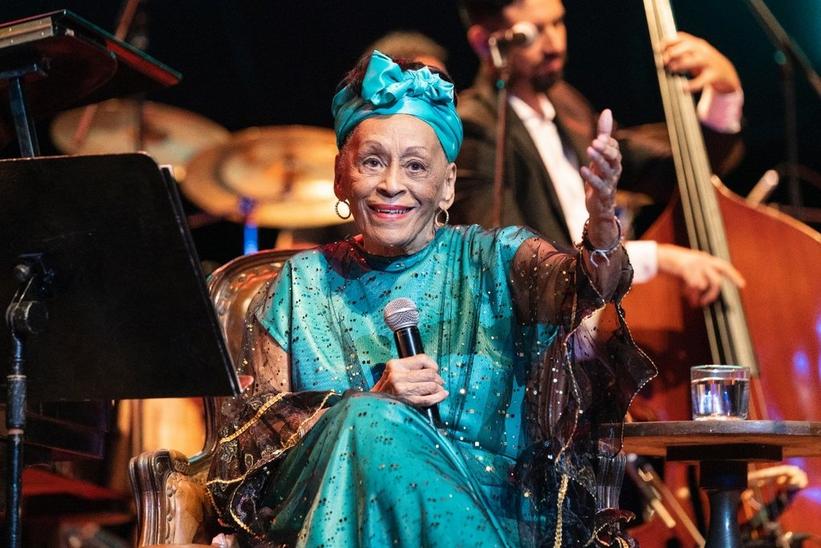 Buena Vista Social Club's Omara Portuondo performing in 2020
Photo: Erika Goldring/Getty Images
news
Listen: Celebrate Día Nacional De La Zalsa With The Latin Recording Academy's Official Playlist Of Latin GRAMMY-Winning Salsa & Tropical Songs
Immerse yourself in the dynamic, innovative sounds of Latin America in this exclusive playlist of salsa and tropical songs that have won Latin GRAMMYs.
GRAMMYs
/
Mar 17, 2023 - 09:47 pm
Since time immemorial, Latin America has been a fount of sounds that shape global culture — and since its founding, the Latin GRAMMYs have documented, highlighted and elevated this multifarious legacy.
In honor of National Day of Salsa 2023 (Día Nacional de la Zalsa), which takes place this  Sunday, March 19, a tradition in Puerto Rico since 1984, this society of Latin music professionals has curated "Sabor Tropical," a 17-track playlist full of spectacular tracks for those who wish to immerse themselves in songs that won Latin GRAMMYs in tropical and salsa categories.
"Sabor Tropical" includes tracks from Orquesta Failde, Oscar D'Leon, Gloria Estefan, and other leading lights in this endlessly talented musical community. Enjoy the playlist below, and keep watching this space for news on everything Latin GRAMMYs!