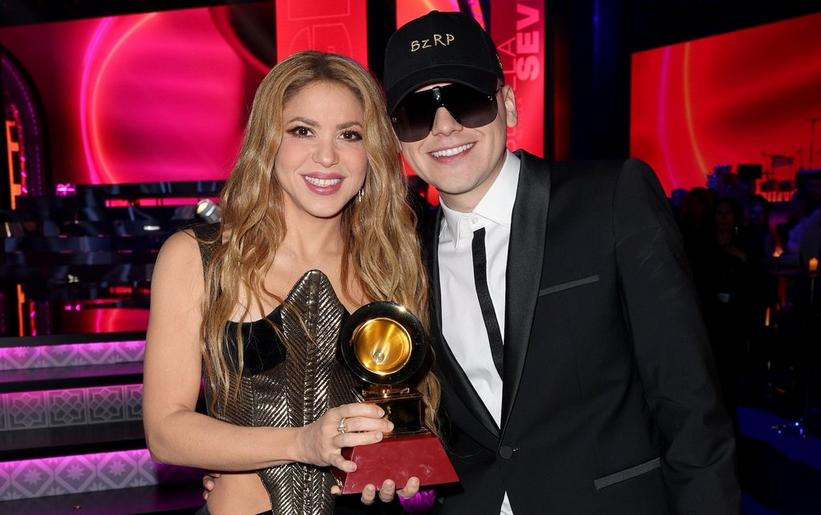 Shakira & Bizarrap won the Latin GRAMMY for Song Of The Year at the 2023 Latin GRAMMYs on Thursday, Nov. 16, in Sevilla, Spain
Photo: Courtesy of The Latin Recording Academy/Rodrigo Varela, Getty Images © 2023
news
2023 Latin GRAMMYs: Shakira & Bizarrap Win Latin GRAMMY For Song Of The Year For "Shakira: Bzrp Music Sessions, Vol. 53"
Shakira & Bizarrap won the Latin GRAMMY for Song Of The Year at the 2023 Latin GRAMMYs.
GRAMMYs
/
Nov 17, 2023 - 12:22 am
Bizzarap and Shakira won the Latin GRAMMY for Song Of The Year for "Shakira: Bzrp Music Sessions, Vol 53" at the 2023 Latin GRAMMYs.
Shakira's "Acróstico," Pablo Alborán & Maria Becerra's "Amigos," Natalia Lafourcade's "De Todas Las Flores," Eslabon Armado & Peso Pluma's "Ella Baila Sola," Camilo & Alejandro Sanz's "NASA," Lasso's "Ojos Marrones," Fonseca & Juan Luis Guerra's "Si Tú Me Quieres," Karol G feat. Shakira's "Tqg," and Grupo Frontera feat. Bad Bunny's "Un X100to" were the other nominees in the category.
By any stretch of the imagination, Shakira has had a pivotal year. Despite undergoing a highly conspicuous separation — and tabloids worldwide honed in on her every move and social media post — she proved yet again she's a pop phenom of the highest order.
Shakira kicked off her 2023 with the viral "Shakira: Bzrp Music Sessions, Vol. 53," a synth-popping clap-back at her ex. In just 24 hours, "Vol. 53" accrued more than 15 million streams on Spotify, thereby topping the straming platform's Top 50 global list. On top of that, the video garnered over 55 million views on YouTube — which broke a record for a Spanish-language track.
On "Shakira: Bzrp Music Sessions, Vol. 53," the singer makes her power known, cutting through the tabloids and BS and speaking her truth. "A she-wolf like me/ isn't for guys like you," the she declares. "I was out of your league/ That's why you're/ With someone just like you." The fiery diss track arose from session with Argentinan DJ and producer Bizarrap.; they co-wrote the track with Keityn and Santiago Alvarado.
Check out the complete list of winners and nominees at the 2023 Latin GRAMMYs.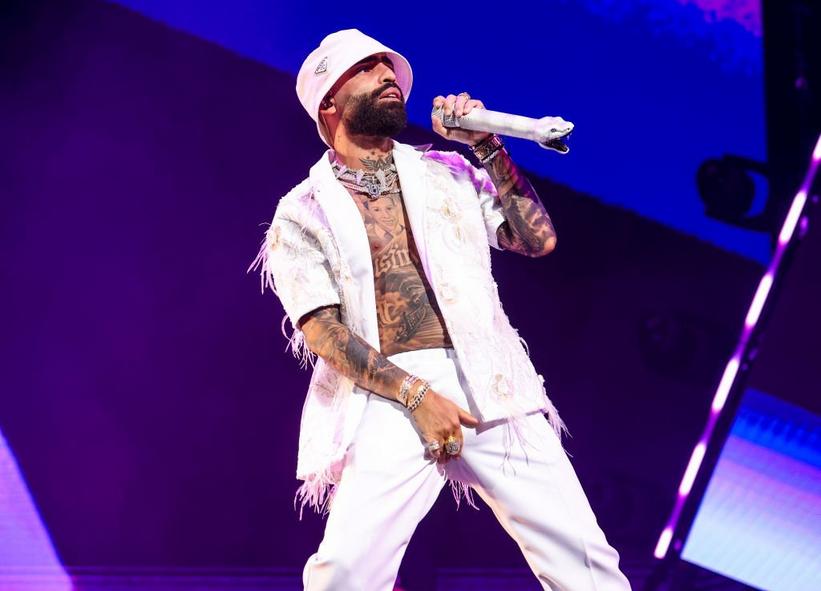 Arcángel
Photo: Alexander Tamargo/Getty Images
interview
On New Album 'Sentimiento, Elegancia y Más Maldad,' Arcángel Proves He's One Of Reggaetón's Wittiest Innovators
"You become dexterous at building a reality with words," the reggaetón star says of his inventive flow. Those skills are on full display on Arcángel's brand new album, 'Sentimiento, Elegancia y Más Maldad.'
GRAMMYs
/
Nov 17, 2023 - 08:19 pm
Earlier this year, rapper and reggaetón star Arcángel collaborated with Bizarrap on one of the Argentine producer's infamous sessions. A huge global hit, the track  — "Bzrp Music Sessions, Vol. 54" — reminded us all of Arcángel's devilish sense of humor and the brilliant specificity of his flow: languid, sweetly melodic, loaded with inventive wordplay.
At 37, Austin Agustín Santos is a revered veteran of the urbano genre. Born in New York City, he eventually moved to Puerto Rico and experienced his first brush with fame as part of the reggaetón duo Arcángel & De la Ghetto. His first solo effort, 2008's El Fenómeno, included the smash "Pa'Que La Pases Bien," heralding his affinity for cutting-edge EDM soundscapes. 
Arcángel never lost his Midas touch for generating memorable songs. Last year's Sr. Santos included "La Jumpa," a kinetic duet with Bad Bunny, and the slick majesty of "PortoBello." Released Nov. 17, his new album, Sentimiento, Elegancia y Más Maldad, boasts high-profile collaborations with Peso Pluma (lead single "La Chamba"), Rauw Alejandro (the EDM-heavy "FP"), Grupo Frontera, Spanish rapper Quevedo, and Feid, among others.
At the 2023 Latin GRAMMYs, Arcángel's "La Jumpa" received nods in the Best Urban Fusion/Performance and Best Urban Song categories; his Bizarrap session and their collaboration, "Bottas" were submitted were submitted as part of BZRP's Producer Of The Year nomination package.
Ahead of the release of his new album, Arcángel spoke with GRAMMY.com about his sophisticated rhymes, the trappings of fame, and the occasional bouts of self-doubt.
The rhymes on your Bizarrap session reference the Tower of Pisa, the shields of the gladiators in the Roman empire, Argentine soccer and luxury cars. How do you come up with this stuff?
It's something that I've been developing since I was a kid. Here in Puerto Rico, we're big fans of what we call palabreo (non-stop talk.) It's also my Dominican blood, because people in the Dominican Republic are always making up things. 
When I was growing up, my mother fostered a love for reading in me, so I have a lot of information in my head that I can draw from. For instance, no one had referenced the Tower of Pisa in reggaetón before. I'd say a good 80 percent of reggaetoneros may not even know what the Tower of Pisa is. My mother worked hard so that I could get a good education.
Would you say the uniqueness of your style stems from those early years?
I grew up in a highly competitive environment. In the barrio, it was normal for us to improvise and mock each other in a friendly way. If you showed up with dirty sneakers, someone would rap about it. With so many years of practicing, it became a skill. There was a time when I wouldn't come up to the barrio if I wasn't well dressed, because I knew what I had to face. 
You become dexterous at building a reality with words — like an architect. I like everything to make sense in my rhymes. I become obsessive about it. The words don't necessarily have to rhyme — as long as they have flow, style, and they make sense.
On the video of the Bizarrap session, we also get to witness your hilarious sense of humor. How did that part of your artistic identity develop?
I was raised in an environment marked by poverty, but there was also a lot of joy. We had nothing except for each other. Incredibly, I was happier then. I grew up feeling comfortable in uncomfortable situations, and that's where my sense of humor comes from. I saw my Mom working two or three jobs so that she could put some food on the table. The only recourse I had to escape that reality was to make jokes and try to have a good time. 
When fortune and fame arrived, they provided a better lifestyle. But they also took away many things that I now miss — things that will never come back.
The last two albums contain some of your best material yet. Would it be fair to say that you're enjoying a creative high?
The process of making music has become extremely hard for me during the past couple of years. I'm experiencing great success, but it also works as a kind of emotional torture, because my mental health is not the best. My own mind is the most formidable rival. I'm overwhelmed by the fear of not fulfilling the expectations that my fans may have. I've felt self-doubt, something that is entirely new to me. 
With all the experience I've amassed, I'm now at my most vulnerable. The act of creating felt so easy to me. Now, when the muse departs, it's difficult to bring her back. Also, I've always preferred quality over quantity. Some of my peers are releasing three albums per year. I need to do some living in order to write new songs.
On the new album, the track with Rauw Alejandro ("FP") is incredibly lush, seeped in atmosphere and EDM texture.
I sing about love because I'm a romantic. And I sing about partying because I definitely did a lot of that — too much, perhaps. [Laughs.] I used to be the kind of person who couldn't stay home more than three hours. I harbor fond memories of that time — spending days away from home, the ambiance of it all, having a great time. 
When I write songs, I can definitely convince people that I've enjoyed all of that. In reality, these days I'm even a bit boring when it comes to partying.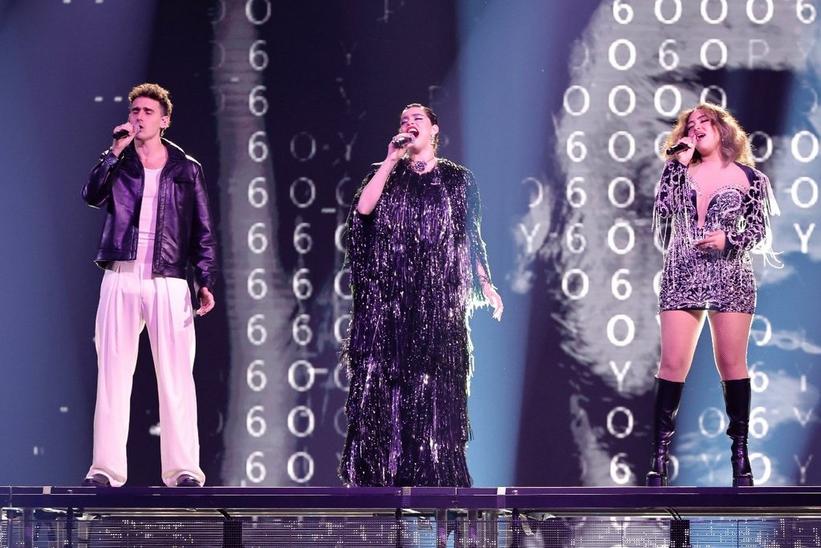 Leon Leiden, Natascha Falcão and Paola Guanche perform onstage during The 24th Annual Latin Grammy Awards on November 16, 2023 in Seville, Spain.
Photo: Kevin Winter/Getty Images for Latin Recording Academy
list
10 Incredible Moments From The 2023 Latin GRAMMYs: Rosalía, Shakira, Peso Pluma & More
The 2023 Latin GRAMMYs were truly international, embracing sounds of flamenco, norteño, reggaetón, and everything in between. Read on for 10 of the most exciting moments from the Biggest Night In Latin Music.
GRAMMYs
/
Nov 17, 2023 - 03:27 pm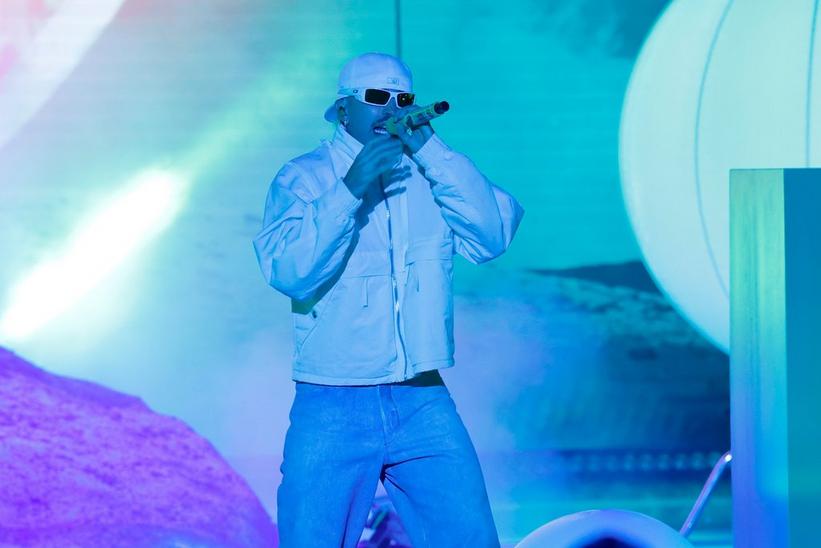 Feid performs at the 2023 Latin GRAMMYs on Thursday, Nov. 16
Photo: Kevin Winter/Getty Images for Latin Recording Academy
news
Watch: Feid Delivers A Colorful Performance Of "Le Pido a Dios" With DJ Premier At The 2023 Latin GRAMMYs
After a huge breakthrough year, Colombian star Feid celebrated his six 2023 Latin GRAMMYs nominations by bringing his hit "Le Pido a Dios" to the stage.
GRAMMYs
/
Nov 17, 2023 - 01:26 am
Colombian singer Feid capped off a remarkable breakout year with a performance of "Le Pido a Dios" at the 2023 Latin GRAMMYs. He closed out the show with hip-hop producer DJ Premier.
The stage glowed dark in Feid's favorite color green when he kicked off his performance. Backed by a few sparse piano notes, he first showed off his voice by singing a soaring version of "Prohibidox." DJ Premier then appeared with his DJ console and began playing their song "Le Pido a Dios." From there, Feid flexed his rapping skills as he spit the slick lyrics. Feid and DJ Premier's swaggering performance beautifully bridged together the world of Latin and hip-hop. Considering that hip-hop celebrated its 50th anniversary this year, it was an incredible union to see take place at the Latin Grammy Awards this year.
Feid turned a difficult moment in his career into his breakthrough when his LP Feliz Cumpleaños Ferxxo Te Pirateamos el Álbum was leaked in September 2022. The Colombian singer/songwriter quickly released the album commercially shortly after and he has become one of the most-streamed Latin acts in the world.
The success of the album led to six 2023 Latin GRAMMY nominations, including Best Urban Music Album and Best Reggaeton Performance for "Feliz Cumpleaños Ferxxo." Feid has become a go-to collaborator with Ozuna, and their hit "Hey Mor" earned a 2023 Latin GRAMMY nomination for Best Reggaeton Performance.
Feid received nominations with Yandel and DJ Premier; "Yandel 150" was up for Best Urban Fusion/Performance, and "Le Pido a Dios" was nominated for Best Rap/Hip Hop Song.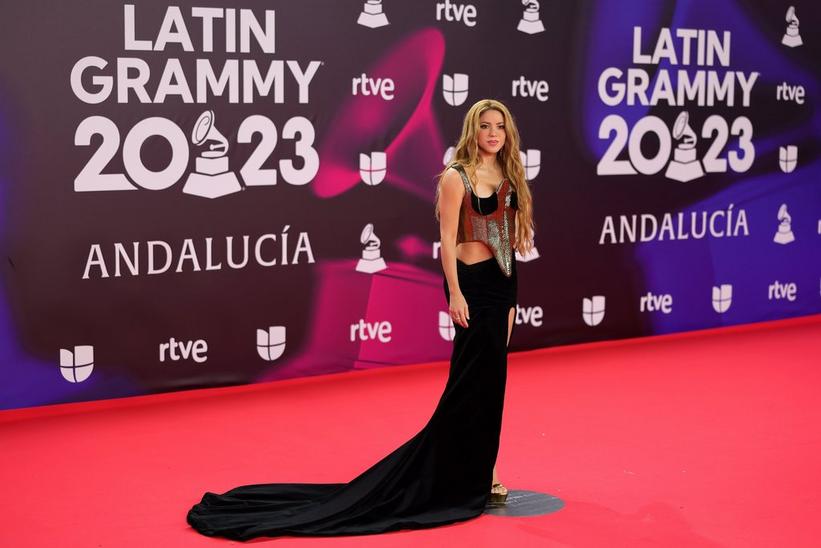 Shakira on the red carpet at the 2023 Latin GRAMMYs in Seville, Spain.
Photo: Neilson Barnard/Getty Images for Latin Recording Academy
news
2023 Latin GRAMMYs Red Carpet Fashion: See Pics Of Rosalía, Karol G, Peso Pluma, Shakira, Bizarrap, & More
For the 24th Latin GRAMMYs Awards, Latin music's biggest artists graced Sevilla, Spain's royal red carpet in their most dazzling outfits.
GRAMMYs
/
Nov 17, 2023 - 01:25 am
The 2023 Latin GRAMMYs are not just The Biggest Night In Latin Music — it was also an occasion for the leading lights in Latin music to don a plethora of eye-catching outfits. Just as many of the nominated artists blend genres and break barriers, so too did their sartorial choices. 
Latin GRAMMY performers and nominees demonstrated their individuality and creativity with  extravagant, playful styles. Artists including Rosalía, Karol G, Bizarrap, Peso Pluma, Juanes, and Sebastián Yatra donned jaw-dropping award show looks. Daniela Santiago, Liz Trujillo and Sandra Calixto of Música Mexicana group Conexión Divina coordinated their all black and leather ensembles, while singer/songwriter Natalia Lafourcade — who took home multiple Latin GRAMMYs for, including Record Of The Year, for "De Todas Las Flores" — added a satin green touch to the red carpet. 
The most-nominated artists at the 2023 Latin GRAMMYs are Camilo, Karol G and Shakira, each of whom have seven nominations. Songwriter and composer Keityn also received seven nominations. Edgar Barrera, who took home the Latin GRAMMY Award for Producer Of The Year, led the night with 13 nominations. 
Hosted by Latin GRAMMY winner and performer Sebsatián Yatra, GRAMMY nominee and actress Danna Paola, along with critically-acclaimed actresses Roselyn Sánchez and Paz Vega — who each also made fashion statements — the 2023 Latin GRAMMYs were an aural and visual night to remember. 
Here are some of our favorite looks from the red carpet at the FIBES Conference and Exhibition Centre in Sevilla, Spain.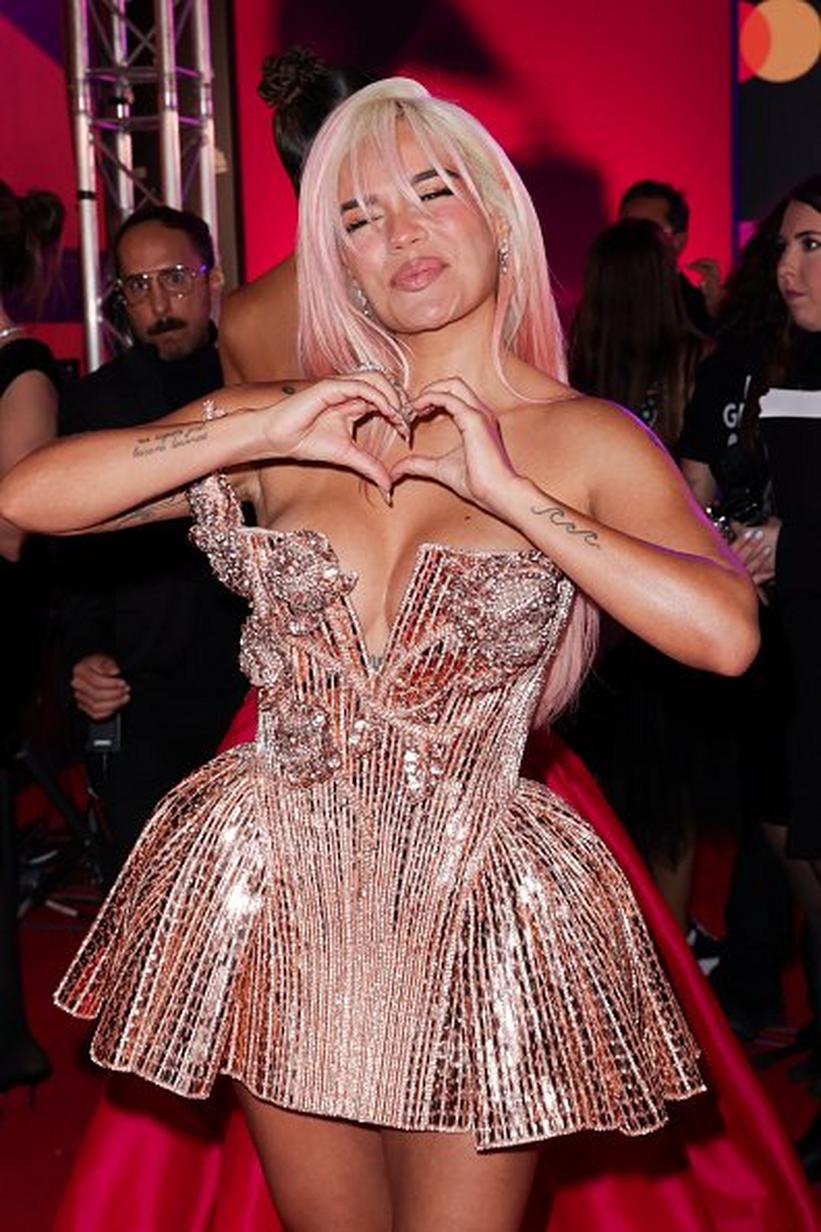 Karol G ┃John Parra/Getty Images for Latin Recording Academy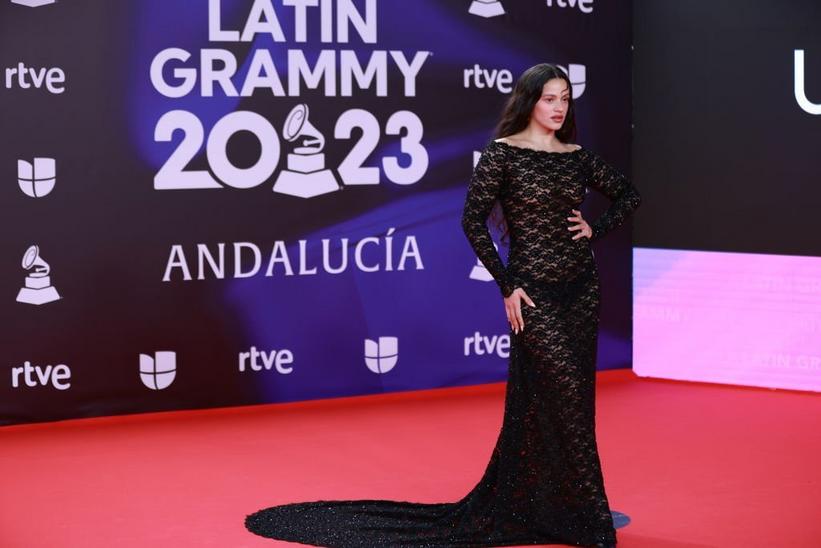 Rosalía | Patricia J. Garcinuno/WireImage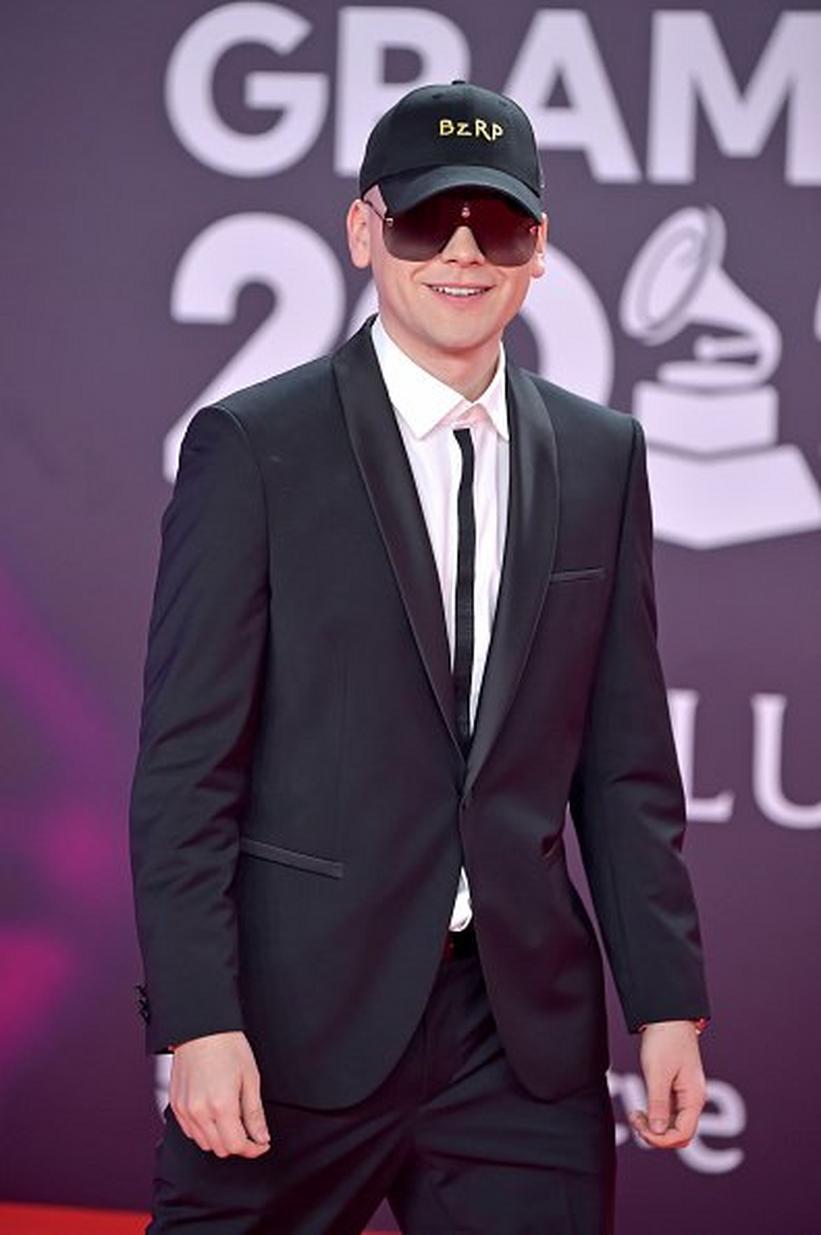 Bizarrap | Juan Naharro Gimenez/Getty Images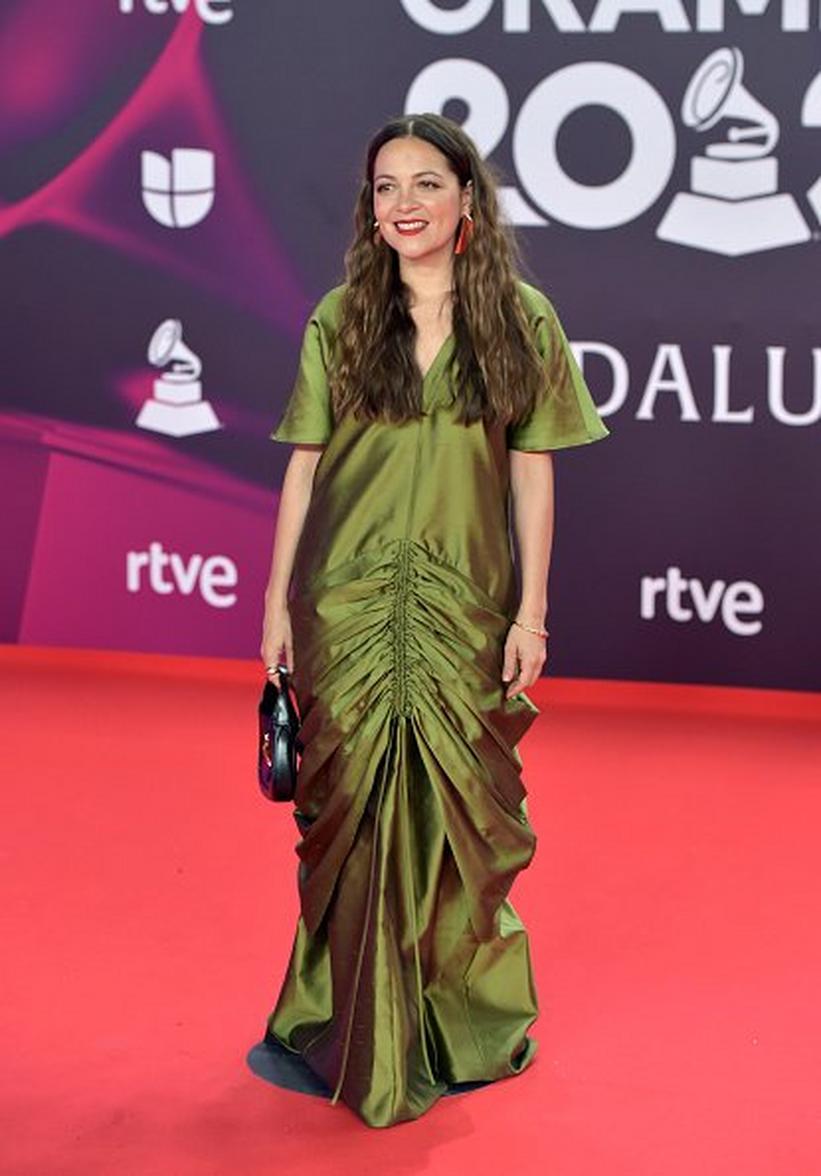 Natalia Lafourcade ┃Juan Naharro Gimenez/Getty Images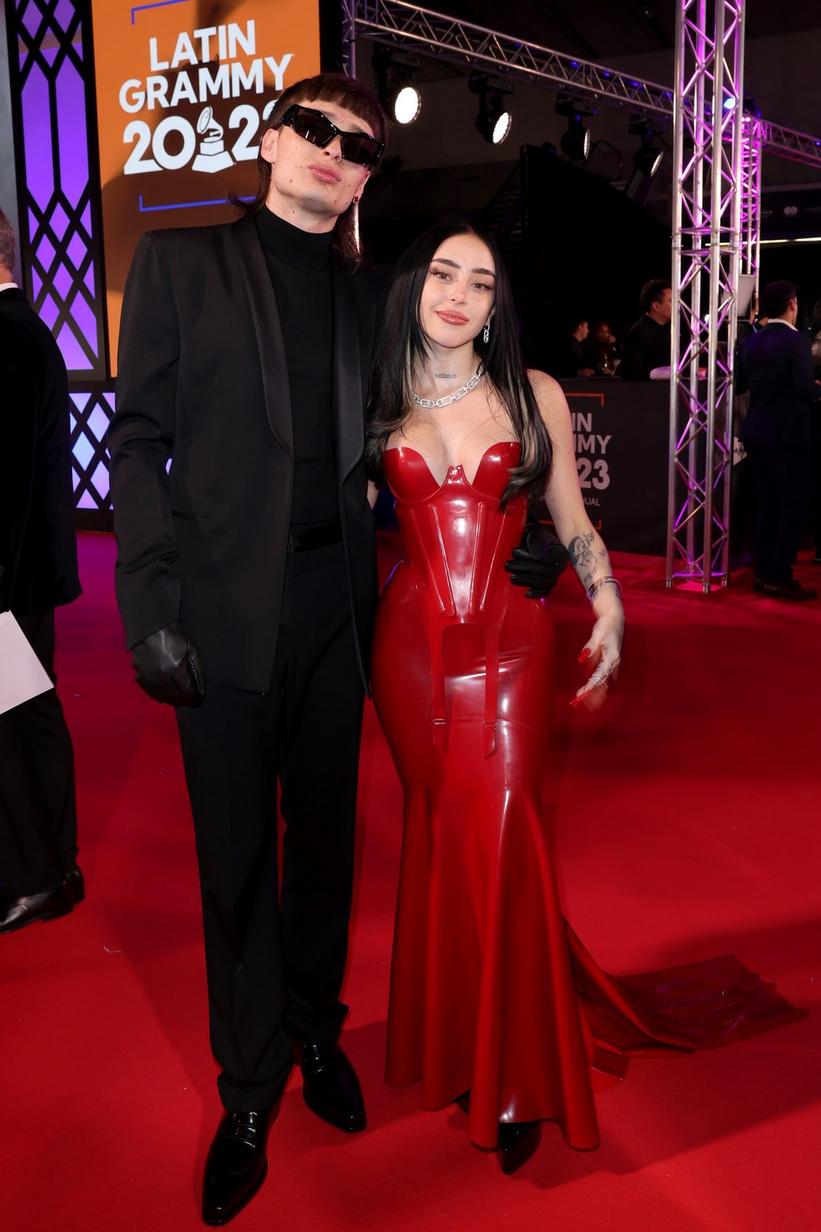 Peso Pluma and Nicki Nicole┃Rodrigo Varela/Getty Images for Latin Recording Academy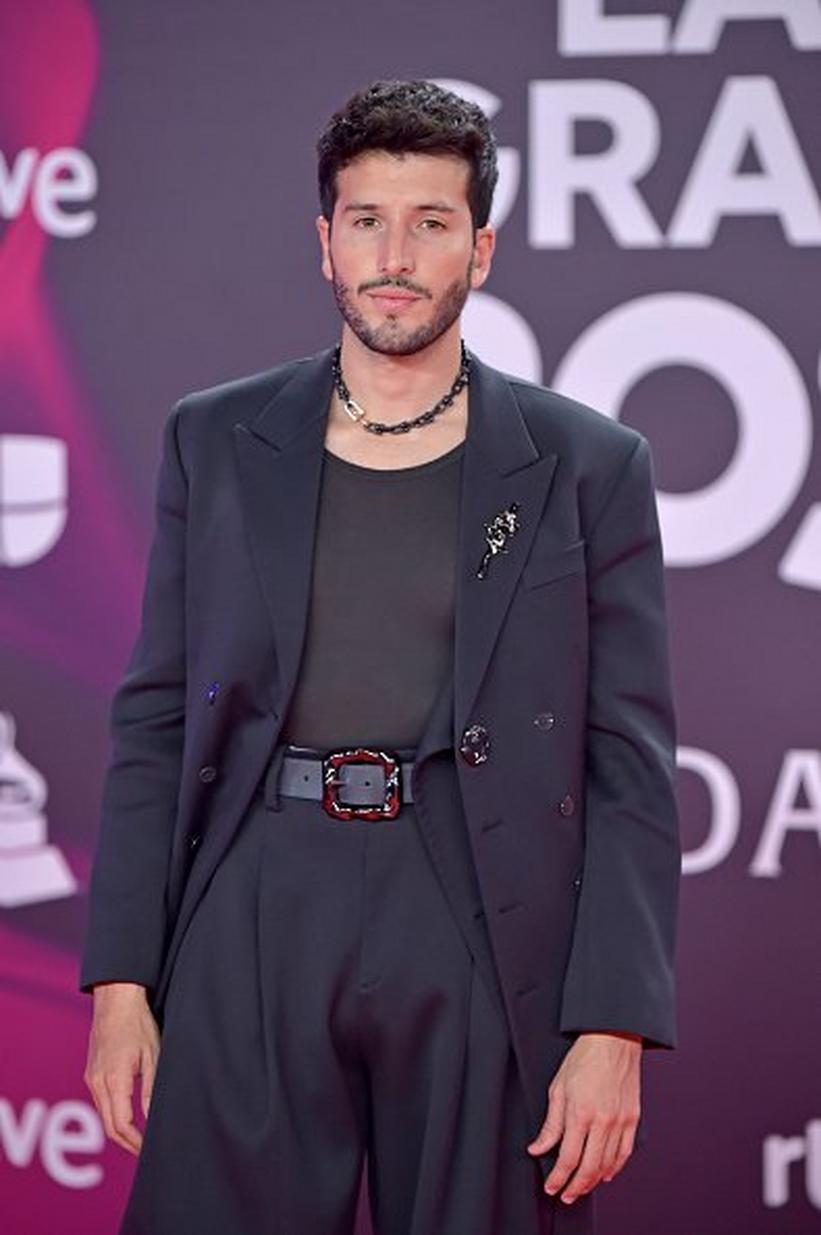 Sebastian Yatra┃Patricia J. Garcinuno/WireImage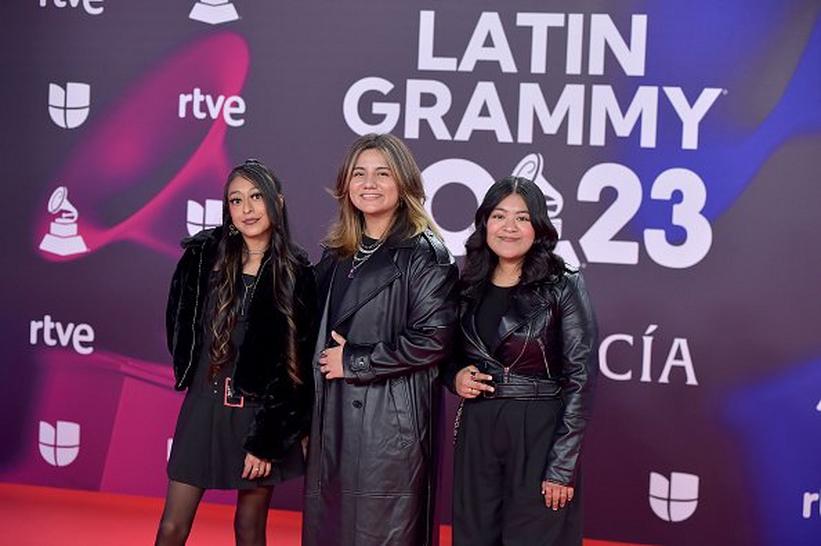 Conexión Divina┃Juan Naharro Gimenez/Getty Images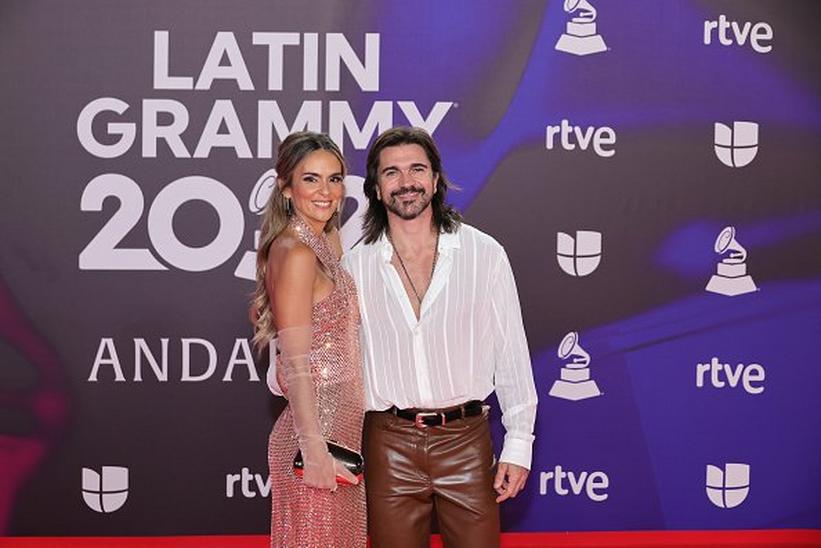 Karen Martinez and Juanes┃Neilson Barnard/Getty Images for Latin Recording Academy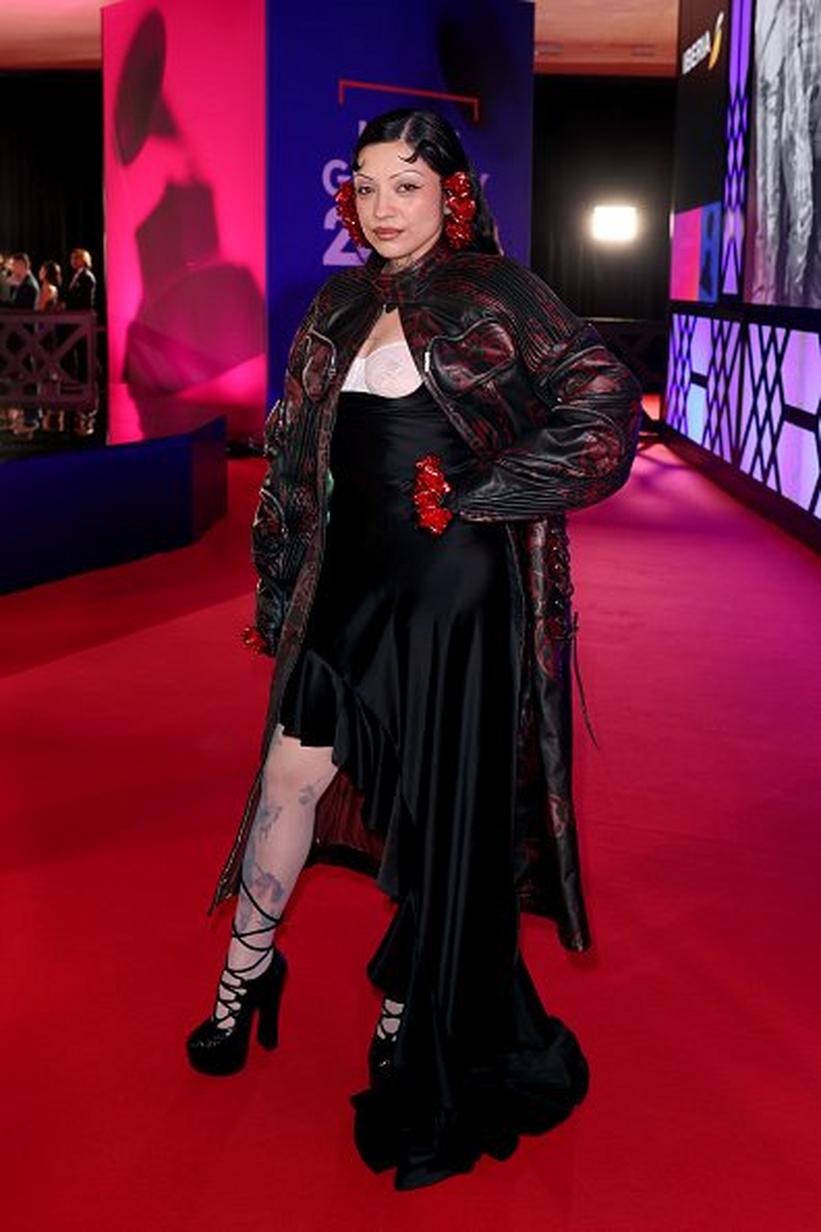 Mon Laferte┃Rodrigo Varela/Getty Images for Latin Recording Academy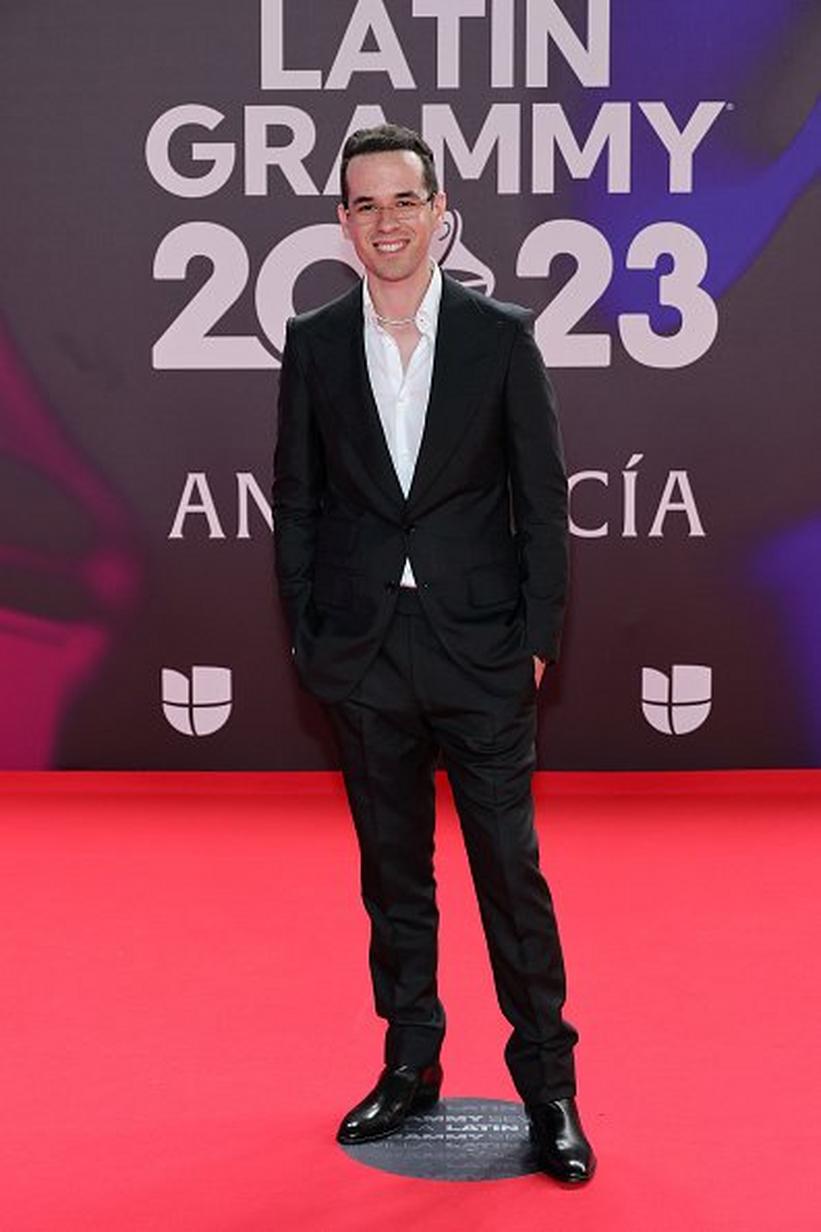 Edgar Barrera┃Neilson Barnard/Getty Images for Latin Recording Academy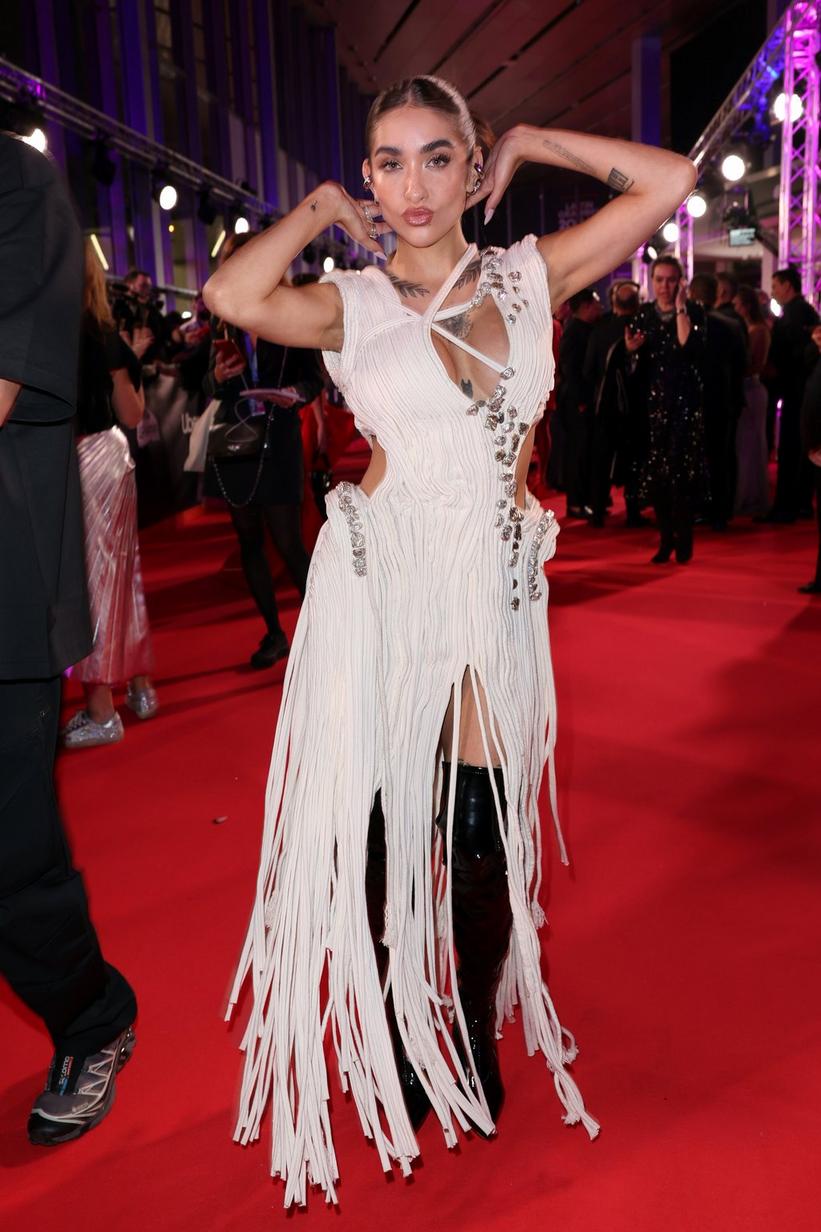 Maria Becerra┃Rodrigo Varela/Getty Images for Latin Recording Academy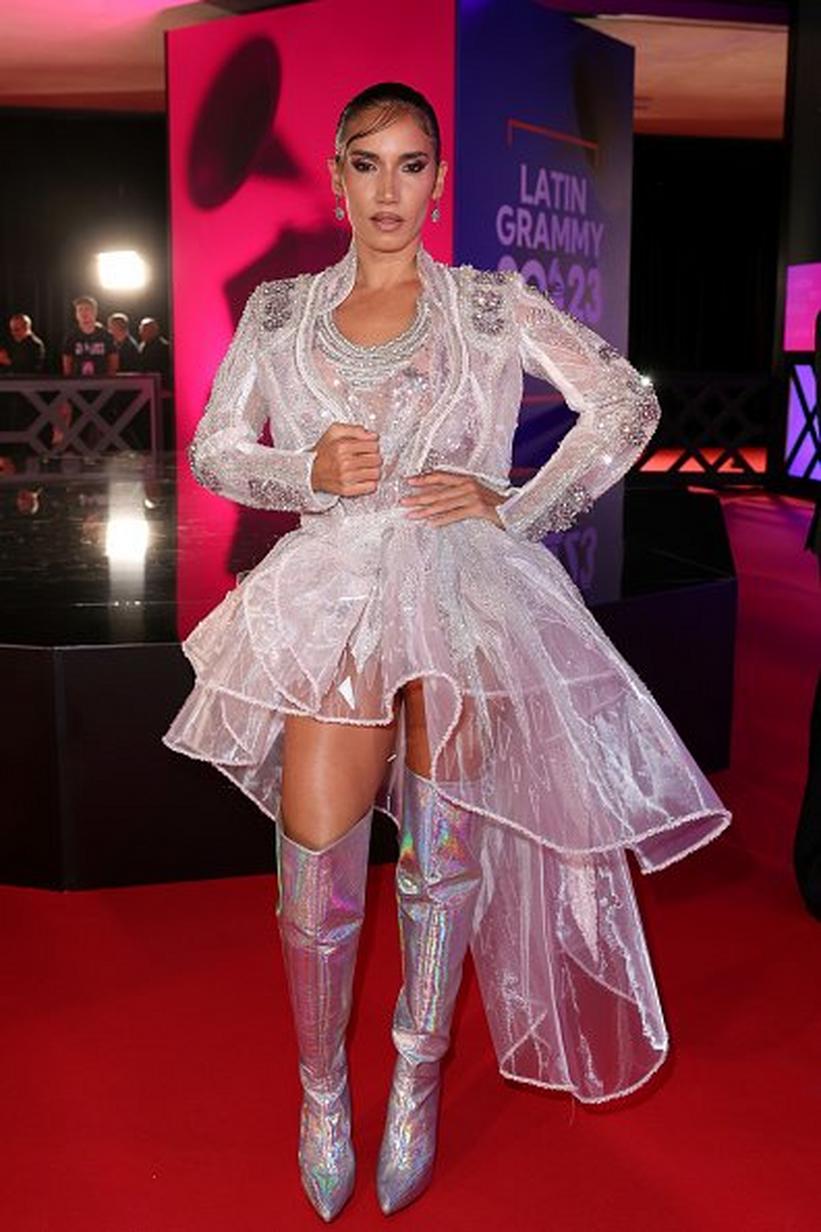 India Martínez┃Rodrigo Varela/Getty Images for Latin Recording Academy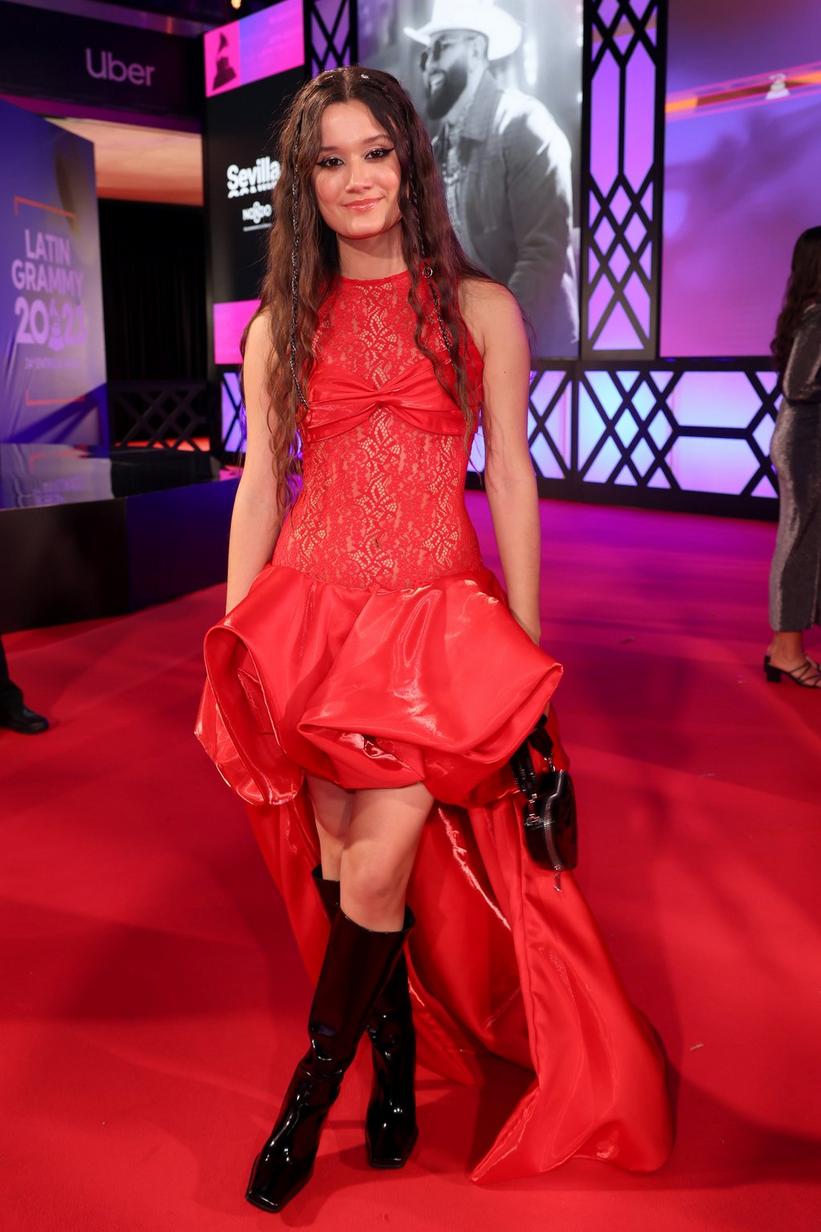 Joaquina┃Rodrigo Varela/Getty Images for Latin Recording Academy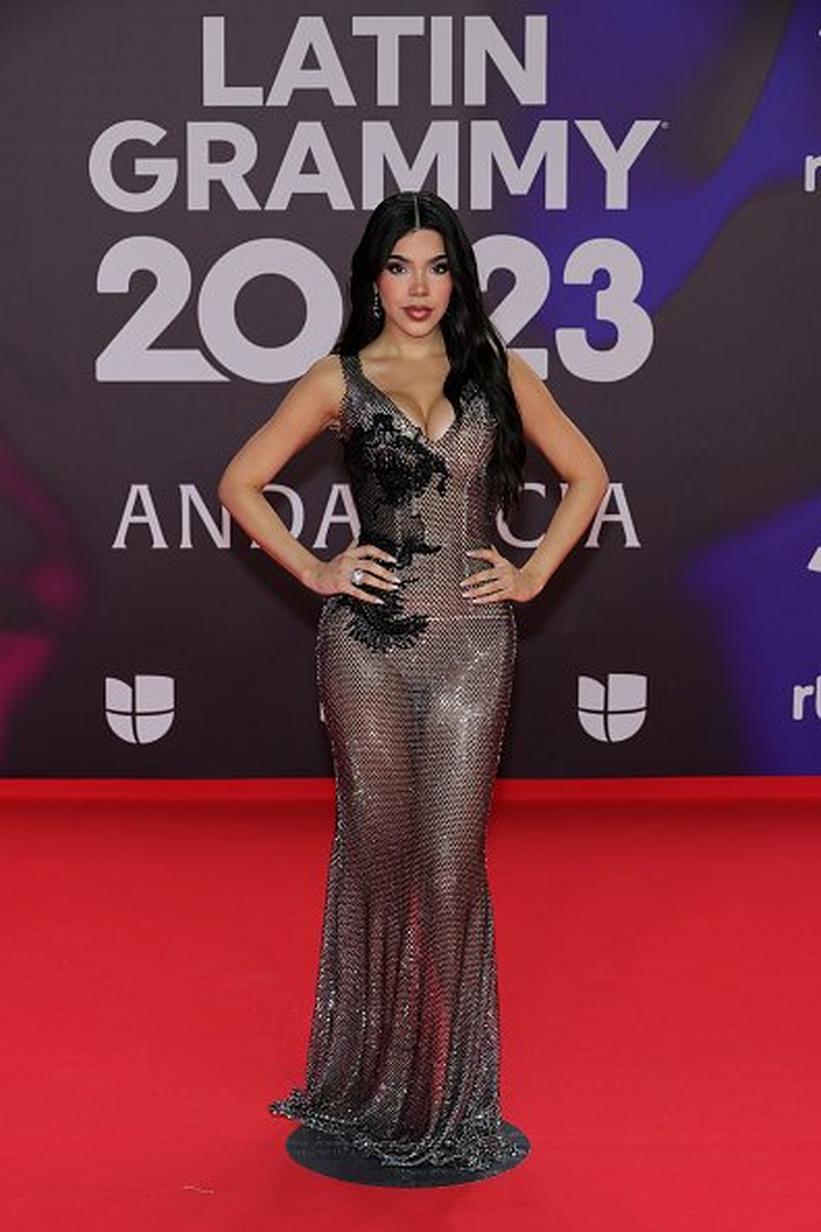 Kenia OS┃Neilson Barnard/Getty Images for Latin Recording Academy