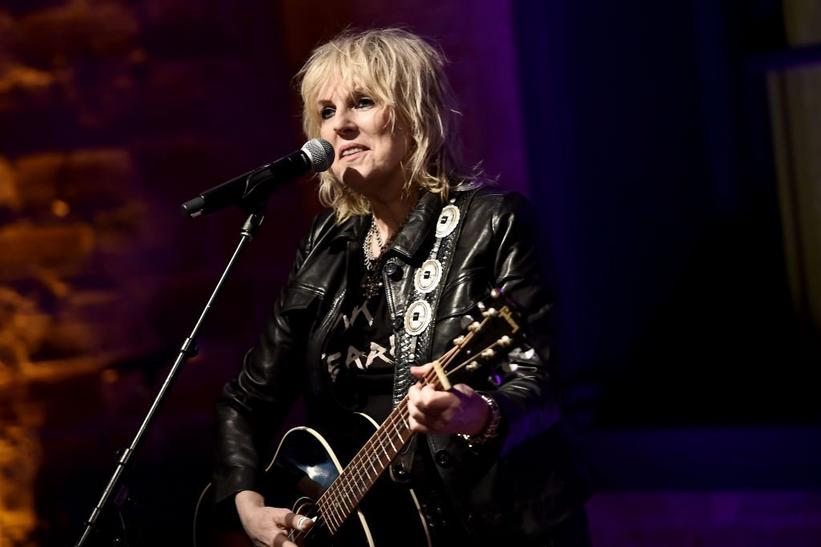 Photo: Steven Ferdman/Getty Images
news
Lucinda Williams & Jason Isbell And The 400 Unit Announce 2021 Tour Dates
Both GRAMMY-winning Americana trailblazers have new albums out now
GRAMMYs
/
Jun 11, 2020 - 04:47 am
In a songwriter's dream double-header, Lucinda Williams and Jason Isbell And The 400 Unit will team up for a run of dates next summer across the West Coast and Southwest U.S.
The 15-date run kicks off in Vancouver on July 19 and wraps up with a pair of shows at Austin City Limits Live on Aug. 7 & 8.
Williams recently released her raucous new offering, Good Souls Better Angels, on April 24, and you can read the Recording Academy's exclusive interview about the project here. Isbell and his band also dropped new music recently, treating fans to Reunions on May 15. Both efforts show a pioneer of Americana continuing to push their own songwriting limits.
"There's already a lot of songs in the world; a lot of really, really good ones about all kinds of things. So the challenge more often than not for me is to find a new angle," Isbell told NPR.
For a full list of tour dates and to purchase tickets, visit Williams' website.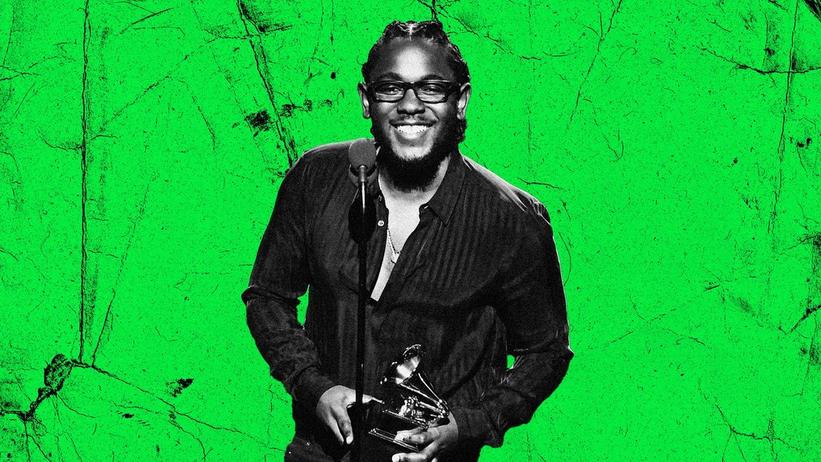 Kendrick Lamar
Photo: Jeff Kravitz/FilmMagic
video
GRAMMY Rewind: Kendrick Lamar Honors Hip-Hop's Greats While Accepting Best Rap Album GRAMMY For 'To Pimp a Butterfly' In 2016
Upon winning the GRAMMY for Best Rap Album for 'To Pimp a Butterfly,' Kendrick Lamar thanked those that helped him get to the stage, and the artists that blazed the trail for him.
GRAMMYs
/
Oct 13, 2023 - 06:01 pm
Updated Friday Oct. 13, 2023 to include info about Kendrick Lamar's most recent GRAMMY wins, as of the 2023 GRAMMYs.
A GRAMMY veteran these days, Kendrick Lamar has won 17 GRAMMYs and has received 47 GRAMMY nominations overall. A sizable chunk of his trophies came from the 58th annual GRAMMY Awards in 2016, when he walked away with five — including his first-ever win in the Best Rap Album category.
This installment of GRAMMY Rewind turns back the clock to 2016, revisiting Lamar's acceptance speech upon winning Best Rap Album for To Pimp A Butterfly. Though Lamar was alone on stage, he made it clear that he wouldn't be at the top of his game without the help of a broad support system. 
"First off, all glory to God, that's for sure," he said, kicking off a speech that went on to thank his parents, who he described as his "those who gave me the responsibility of knowing, of accepting the good with the bad."
He also extended his love and gratitude to his fiancée, Whitney Alford, and shouted out his Top Dawg Entertainment labelmates. Lamar specifically praised Top Dawg's CEO, Anthony Tiffith, for finding and developing raw talent that might not otherwise get the chance to pursue their musical dreams.
"We'd never forget that: Taking these kids out of the projects, out of Compton, and putting them right here on this stage, to be the best that they can be," Lamar — a Compton native himself — continued, leading into an impassioned conclusion spotlighting some of the cornerstone rap albums that came before To Pimp a Butterfly.
"Hip-hop. Ice Cube. This is for hip-hop," he said. "This is for Snoop Dogg, Doggystyle. This is for Illmatic, this is for Nas. We will live forever. Believe that."
To Pimp a Butterfly singles "Alright" and "These Walls" earned Lamar three more GRAMMYs that night, the former winning Best Rap Performance and Best Rap Song and the latter taking Best Rap/Sung Collaboration (the song features Bilal, Anna Wise and Thundercat). He also won Best Music Video for the remix of Taylor Swift's "Bad Blood." 
Lamar has since won Best Rap Album two more times, taking home the golden gramophone in 2018 for his blockbuster LP DAMN., and in 2023 for his bold fifth album, Mr. Morale & the Big Steppers.
Watch Lamar's full acceptance speech above, and check back at GRAMMY.com every Friday for more GRAMMY Rewind episodes. 
10 Essential Facts To Know About GRAMMY-Winning Rapper J. Cole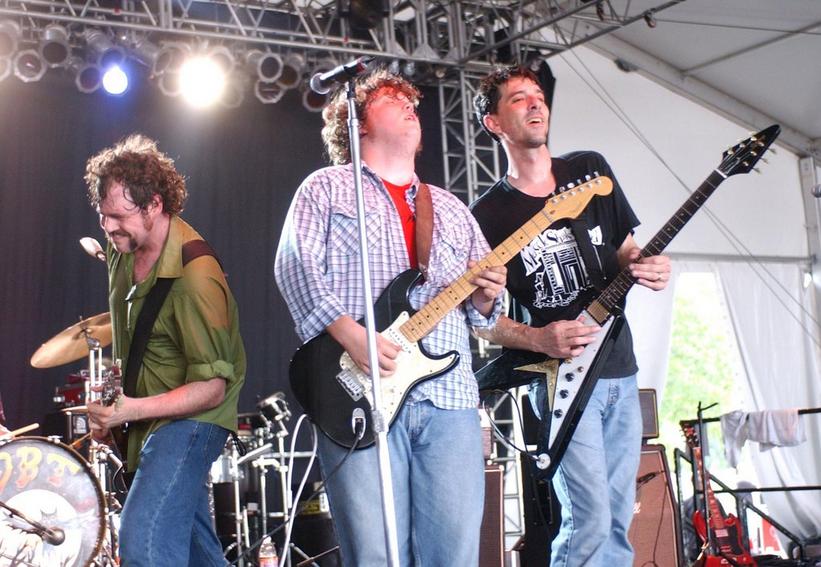 Drive-By Truckers performing in 2003. (L-R) Patterson Hood, Jason Isbell, Mike Cooley
Photo: Jeff Kravitz/FilmMagic, Inc. via Getty Images
feature
'Decoration Day' At 20: How Drive-By Truckers Dialed Back The Satire And Opened Their Hearts
On their divorce-themed fourth album 'Decoration Day,' the brilliant, perennially misunderstood Drive-By Truckers got realer than ever about family, divorce and the consequences of our choices.
GRAMMYs
/
Jun 15, 2023 - 09:27 pm
It's a spine-tingling feeling for a Drive-By Truckers album to begin a cappella; although it's only happened on three of them, it feels like a trademark, a wink. And when singer, songwriter and co-leader Patterson Hood comes in alone, it's like a single lightbulb flaring up, illuminating the dusty air, brighter than creation's dark.
"By the time you were born, there were four other siblings/ With your mama awaiting your daddy in jail," Hood warbles through his mealy Alabaman twang at the top of 2002's Decoration Day — one of the cult rock band's most beloved albums. "And your oldest brother was away at a home/ And you didn't meet him 'til you were 19 years old."
So begins "The Deeper In," one of Drive-By Truckers' prettiest and most affecting songs. With immense pathos and an odd sense of sweetness, Hood tells the true story of a brother and sister falling in love with each other, having four babies and going to prison for their incestuous relationship.
Despite this unconventional and taboo subject matter, by the end of these three minutes and 16 seconds, even the uninitiated can behold the Truckers' giant, beating heart.
"It's not like they grew up together as brother and sister gettin' it on," Hood remembered more than a decade later. "They didn't meet until they were grown-ups, and it was just such a sad story.
"A lot of the people I write about are nothing like me, but there has to be some aspect to them that I can feel a certain empathy for or else I'm not interested in writing it," he continued. "I try never to be condescending to the characters I write about, even the really s—y ones."
Which makes it the perfect gateway to Drive-By Truckers' fourth album.
Named for the day that southern churches place fresh flowers on the graves of their ancestors, Decoration Day is their most vulnerable album by some margin, and a pivotal entry in the Athens, Georgia-formed rockers' discography. On June 17, the album will ring in two decades in DBT fans' ears and hearts.
Since then, Drive-By Truckers have evolved from scrappy, brainy, misunderstood road dogs to a bona fide rock institution. And their ex-guitarist, singer and songwriter Jason Isbell — who made his precocious debut on Decoration Day — has led a GRAMMY-winning solo career that involves things like a GQ spread, an HBO doc and a forthcoming Martin Scorcese flick, Killers of the Flower Moon.
As such, the story of Decoration Day has necessarily been told and retold:
After three failed bands together, Hood and his partner and foil, Mike Cooley — two incredibly distinct yet totally simpatico songwriters — finally get their big break with their fourth. Afterward, their band tours for two years, wherein a gifted, 22-year-old upstart jumps in the van as third guitarist. Within two weeks, he writes two of their finest songs, "Outfit" and "Decoration Day."
Given their breakneck touring schedule, relationships frayed back home. Hood and Cooley write about the attendant emotions, and their lyrical references, characters and themes swirling into a matrix of grief, despondency and regret.
"Everyone in the band was either going through a divorce or on the verge of one when we made that record," Hood tells GRAMMY.com of Decoration Day. "Because that was about the time that we had really hit a tipping point of being on the road 200-plus days a year, and no one making any money. And everyone's wife's saying, 'F— this.' Except for Cooley's wife, who's still here."
But when they picked up their instruments, the result was explosive joy; Hood, Cooley and Isbell remember the Decoration Day era as an unmitigated blast. But more than on any past Drive-By Truckers album, their candid, evocative lyrics made the material penetrate the heart.
In a single line in the shattered "Sounds Better in the Song," Cooley seems to sum up Decoration Day in its totality: "I might as well have put that ring on her finger/ From the window of a van as it drove away."
While it's been beloved by fans since its release — and as Hood says, it still sells well today — Decoration Day can be somewhat subsumed by the two other major albums that precede and succeed it.
But while 2001's Southern Rock Opera and 2005's The Dirty South also represent DBT at their finest — full of crackling storytelling, elephantine performances, sticky melodies, and idiosyncratic turns of phrase — there's a case to be made for Decoration Day as their crown jewel.
Because from the album opener onward to "My Sweet Annette," "Heathens," "Sounds Better in the Song," and so many other tracks — Decoration Day is arguably the most personal and heart-forward album the Truckers ever made.
Drive-By Truckers' first two albums contained some of their most representative songs, like "The Living Bubba," "Uncle Frank," "Love Like This," and "One of These Days." Still, those tended to be sandwiched between a lot of goofs and piss-takes, from "Steve McQueen" to "The President's Penis is Missing" to "The Night G.G. Allin Came to Town."
As Isbell tells GRAMMY.com, Hood and Cooley's irrepressible humor and irony reached a crossroads on Southern Rock Opera.
"They finally fully accepted a persona, and wrote songs that were specifically for Southern Rock Opera, and a lot of those were in character," he says. "And I think once they did that, and got that out of their system, Hood and Cooley both felt freer to be themselves in songs, and take it a little bit more seriously."
Even when Hood sings in character — like the foreclosed farmer plotting a "banker man's" homicide in Decoration Day's one-take scorcher "Sink Hole" — there's a splash of real-life battery acid in his delivery; his fury feels wholly genuine.
Likewise, Cooley's "Marry Me" and Hood's "My Sweet Annette" — which Hood once characterized as "two very different views of marital bliss" — don't feel like character songs, despite being constructed as just that. Regardless of who the narrator is, Cooley's small-town bluster on the former, and Hood's pained, regretful delivery on the latter, hit you straight in the chest.
"Hell No, I Ain't Happy" represents the other side of the coin; between your ears and Hood's psyche, there are zero obfuscatory layers. The sound of an opening beercan kicks off one of Hood's most face-peeling meltdowns — capturing the mother of all ragged, unmoored days on the road.
"There's a purdy little girl outside the van window/ 'Bout 80 cities down, 800 to go," he roars. "Six crammed in, we ain't never alone/ Never homesick, ain't got no home."
"Outfit," Isbell's debut song for the Truckers, is also as real as it gets. A fabulously witty, detail-stuffed rundown of advice from his father, it remains one of his signature songs, a hollered audience request ever since.
Isbell calls Hood's loping, gorgeous ballad, "Heathens" his "favorite song of Patterson's — one of my favorite songs anybody's ever written." (Years after getting booted from the Truckers and cleaning up his act, Isbell covered the song for Hood's birthday; today, Hood says the two have grown especially close over the last few years.)
From there, the three songwriters keep slugging out impossibly great song after impossibly great song. The straight-ahead rocker "(Something's Got to) Give Pretty Soon" is one of the band's most perennially rewarding deep cuts — as well as one of their most raw-nerved.
"Maybe what you need is for someone to send you flowers/ Someone strong and mean who can prove he has the power to/ Show you more than charm and take you on your way/ To where you want to be at the end of the day," Hood sings. "And it breaks my heart in two to know it ain't meant to be."
"But it ain't me," he concludes.
In its final stretch, Decoration Day heads into more elliptical territory — starting roughly with Cooley's chilling "When the Pin Hits the Shell."
Following the title track — Isbell's steely-eyed chronicling of a festering feud between families — the album concludes with "Loaded Gun in the Closet," featuring Cooley at his elusive, riddling best. To overanalyze the lyrics would be to spoil the mystery of whether the gun was ever used — and if so, which of the unwitting spouses will end up on the business end.
As a whole, Decoration Day is an album that you can revisit over and over and over, and still perceive new shades of meaning.
"That whole album is really about love and loss and the choices you make," Hood said about a decade after the album's release. "Dealing with the consequences of the choices you make is a huge overriding theme."
Which applies whether you're an incestuous couple on the lam; an exhausted, punchy rock band barrelling through the middle of nowhere; or a dysfunctional couple with an exit strategy in a waiting firearm: it's all Decoration Day.
In his nigh-definitive breakdown of DBT's discography, writer and musician James Toth characterizes the band's following album, 2004's The Dirty South as such: "If the divorce-themed Decoration Day examines the destruction of a relationship, the glacial, smoldering The Dirty South sounds like the monstrous diesel engine garbage truck that comes to collect the detritus and run over the small pieces."
A remastered, expanded edition, The Complete Dirty South, which features vocal re-recordings and tunes meant to be on the original album, is out June 16 — a day before Decoration Day's 20th anniversary.
Coincidence or not, this proximity shows how Decoration Day profoundly widened their aperture, and allowed for that masterpiece in its own right. From there, the Truckers have continued to fine-tune all dimensions of their cockeyed universe — the personal, the political, the philosophical, the devastatingly funny. (Many of their songs being all four.)
Thereby, this so-called "Southern rock" band with a deliciously regrettable name were able to transcend their rough-and-ready original parameters, and write songs that shake you to your foundation — a giant handful of which can be found right there on Decoration Day.
One could go on and on. But it sounds better in the song.
Drive-By Truckers' Patterson Hood On Subconscious Writing, Weathering Rough Seasons & Their New Album Welcome 2 Club XIII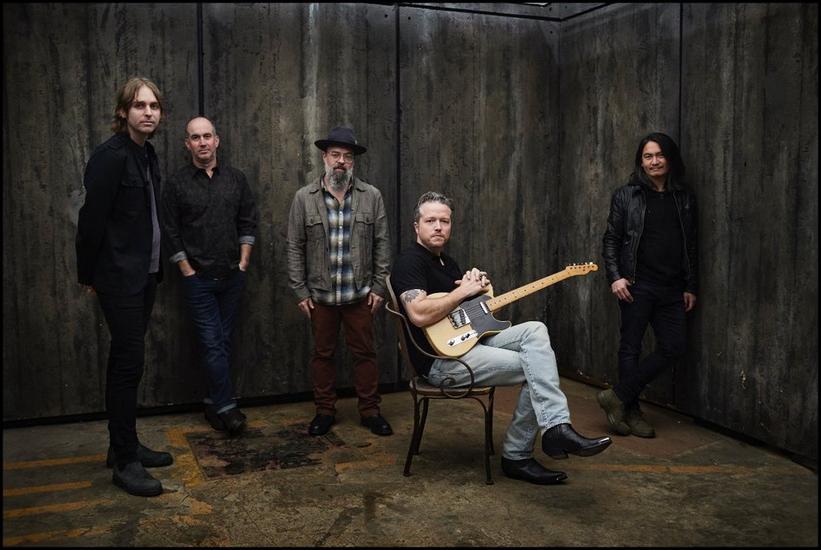 Jason Isbell and the 400 Unit
interview
On 'Weathervanes,' Jason Isbell Accepts His Internal Pressures And Fears
With a revealing HBO documentary in the rearview and his first major acting role onscreen in the fall, Jason Isbell is coming to terms with having a public face. His new album with the 400 Unit, 'Weathervanes,' is the product of that self-realization.
GRAMMYs
/
Jun 9, 2023 - 01:42 pm
At this stage, a Jason Isbell album isn't just an album; it's a juncture in his ongoing press narrative, another breadcrumb trail as per his personal life.
His first three after he left Drive-By Truckers represent the man in the wilderness; 2013's Southeastern and 2015's Something More Than Free were reflective of his newfound sobriety and marriage to musician Amanda Shires. 
The birth of his daughter figured heavily in 2017's GRAMMY-winning The Nashville Sound; that album's "If We Were Vampires," a duet with Shires, stands as Isbell's monument to mortality and won a GRAMMY.
With 2020's Reunions came a splashy New York Times feature about Isbell and Shires' marital struggles, with a lede about a brush with a relapse — suddenly, his ascendance seemed freighted, complicated. 
All this begs the question: is having his private life codified and illuminated with each record ever irksome, or frustrating, for Isbell?
"Honestly, I think I appreciate that. I think that serves the ultimate purpose of making art — to document your life, because it is really a way of holding on to these things," he tells GRAMMY.com. "If you leave those things behind, they'll sneak up on you, and then you'll find yourself in a bad place, and you won't know why."
Isbell's new album, Weathervanes, is out June 9; it's his sixth with long-running backing band the 400 Unit. At its essence is a psychologically splintered cast of characters, found on highlights like "Death Wish," "King of Oklahoma" and "This Ain't It."
"They're fallible and they're human. And I think they're all trying to do their best in one way or another," Isbell says of the ties that bind them. "There's a lot of me that's in each of them — some moreso than others."
Rather than commenting on his marriage or sobriety, Weathervanes is the product of his changed relationship with pressure, and being in the public eye. The album arrives in the wake of Running With Our Eyes Closed, a raw-nerved HBO documentary about Isbell. He just acted in his first major film, in Martin Scorcese's Killers of the Flower Moon, headed to theaters in October.
"It's OK to say, 'This is a scary thing to do. I'm afraid that people aren't going to connect with it in the same way, and my work is not going to have the same impact on folks that it's had in the past,'" Isbell says. "And once I learned how to admit that to myself and the people that I care about, things got a lot easier."
Read on for an in-depth interview with Isbell about the road to Weathervanes, how being directed by Scorcese informed his process in the studio and surviving his hard-partying, hard-touring Drive-By Truckers days.
This interview has been edited for clarity.
Can you draw a thread between where you were at during the Reunions period, and where you're at during the Weathervanes era? The HBO documentary certainly captured the former.
Yeah, yeah. And then, in the middle, we had the lockdown and all that kind of stuff.
For me, the pandemic era — although it's not finished yet, but what we call that pandemic era, that year or two where we were all stuck in the house — was ultimately a good time for me to revisit some psychological, emotional questions that I had for myself, and I sorted a lot of that stuff.
When the bulk of the documentary was made, I was having a hard time dealing with the pressures of my work, and the pressures of family. And the main reason why I was dealing with that was because I just wasn't recognizing it for what it was, and I wasn't aware of the effect that those things were having on me.
Getting stuck in the house with my family and myself for that long, I think, really helped me; it forced me to confront that stuff and admit what it really was that was causing me difficulties. And once I got through that, things opened up and got a lot easier for me.
I had a really, really good time making Weathervanes. I don't know if I had a good time writing it, because I don't know if that's ever exactly fun. It's fun when you finish a song; it feels like you just left the gym. 
But when you're sitting down in front of the blank page, it feels like you're walking into the gym, and you might have just gotten four hours of sleep the night before.
What were you dealing with internally? Just childhood stuff, stuff bugging you from the past?
There was some of that. It was also just relationship difficulties; they were just constant. 
Amanda and I have been married for 10 years, and it's the kind of thing where you get in this rhythm of life where you go through the same sort of rituals every day, and you ask the same questions and you get the same answers, and it's easy to get into that monotony and not really reach and look for ways to grow.
I think before the pandemic happened, I'd gotten to a point where I was in this rhythm: go out and play shows, make records, come home, spend time with the family. I was sort of ignoring the pressure of all that, and especially in the work.
I've been very fortunate with my last few albums that they were well-received and things have gone really well. And when I go into the studio to make a record… it was hard for me to admit to myself that that caused me anxiety and a lot of stress, because I didn't like how it made me look. I wanted to look tough and look like I had everything under control.
And after making Reunions, I realized that that's not necessarily the case. And once I learned how to admit that to myself and the people that I care about, things got a lot easier.
What psychological or spiritual wells were you drawing from for these songs?
I try to make these characters, and then I follow them around. And I don't know exactly what they're going to do next. I think that's the only way to keep it really natural.

There's a lot of me that's in each of them — some moreso than others. Some of the songs I write, I am writing about me. 
But one of the things that I like about songwriting is that you don't really categorize music in that way. You categorize movies and books in that way; there's fiction and nonfiction, there's documentaries and other movies. But for songs, it's all of the above.
So, a lot of this is me, and a lot of it is synthesized characters that have characteristics of multiple people that I know. Then, I just let them act naturally and follow them around, and the themes find there way in there. 
I don't have to insert the themes, because there's enough in my unconscious mind that the songs will wind up dealing with real things — as long as I'm honest with everybody.
There's a wide variety of perspectives and experiences in these songs. What do the Weathervanes characters have in common?
I think when it's done right, they have the same things in common that the listeners have. They're fallible and they're human. And I think they're all trying to do their best in one way or another.
That's maybe what I'm exploring more than anything else — not as a mission statement, but a connector, in hindsight, is this idea that people have different circumstances, influences and pressures exerted on them. But what does it mean to try to keep hope, and survive, and do your best in all these different stations of life?
I'm a Randy Newman fanatic; he can dispense a novel's worth of detail in just a few lines, by implying so much negative space. I've noticed you've written in character from the beginning, like him.
When I met Randy at Newport [Folk Festival], I told him the thing about how much I loved his work and everything, and he leaned in really close where nobody could hear and whispered in my ear, "I like your songs, too." That was a huge, huge moment for me. I said, "Well, you don't strike me as much of a bulls—er, so I'm going to take that."
One of your guiding lights for Reunions' sound was the '80s rock you enjoyed as a kid. What was the aural aesthetic for Weathervanes? And can you talk about the learning curve of self-production?
I started thinking, OK, here's how these records by Dire Straits and the Police sounded, and this is why they sounded that way, and this is what worked about that, and what translates to now and what doesn't, and what can be replicated and what can't. 
So, I brought some of that with me into the Weathervanes recording. Most obviously, on a song like "Save the World," there was an intention I had before I went in the studio. This happens to me a lot. I'll get a big idea, and I'll think, Oh, this is great. We can do the whole record this way.
And by the time I'm in the studio, I'll think, OK, maybe we just use this as a tool. We don't do the entire record like this. Because then, that would take over the concept and distract from everything else.
At first, I wanted to make a dry record. I was listening to [1978's] Outlandos [d'Amour], the Police record, and there's hardly any room or reverb or anything. "Roxanne" — all those songs are right in your ear. And that's a flex, because to do that, you have to be able to sing and play with great tuning and great timing.
And the Police — first of all, there's just three of them, so it's easier to do than it is with five or six people. But they also were master musicians, and you have to be really on point to make a dry record like that, or it's going to be a mess when you go to sing the harmony.
That was something that I wound up using as a tool. I think a lot of this record has less reverb and less room on it than you would expect. I think it was done in a way where you don't necessarily notice it off the bat.
Also, watching the Get Back documentary, I thought, Man, these guys didn't have tuners.  They just tuned it by ear for the whole record.
I didn't want to torture my guitar techs, so I wasn't going to make a whole record without any tuners. But there are some moments on this record where we tuned by ear rather than tuning to a machine, so it would sound more human. Really, a lot of my production style — if there is such a thing — is how do we get a little dose of humanity of something that is sort of slick and polished.
I interviewed [Drive-By Truckers co-leader] Patterson [Hood] on Zoom last year, and I was struck at how sweet and energetic he was. How did you guys walk away from those hard-touring years alive and intact?
We don't know the answer to that. We got very lucky. Also, we were white and we were male, and I think that plays a lot pinto it. I think if we had not been white, some cop would've shot us all a long time ago.
I don't know if there was some kind of divine intervention in some of those situations, but I still look back on it and think, I don't know how we survived all that. I really don't.
Were there any near-death experiences?
Oh, there were so many. We saw huge, disastrous accidents happen right in front of us. There were times when we'd be on snowy mountain passes and lose control of the van for 20 seconds, and then finally it would snap back into place. I don't know how it happened.
On a different note, you touched on gun violence in "Save the World." I was struck by how un-preachy it was. I felt like I was in your head, or privy to a family meeting.
That's the trick, you know? You have to be really personal with it, I think.
If you're writing a song about a big, heavy topic like that, don't try to ascend somebody else's perspective. Love, romance, breakups, heartbreak, death; we all have experiences with those things.
So, if that's what you're writing about, you're free to take other perspectives other than your own, because we all have that commonality. We know what those things feel like, or what the fear of those things feels like.
But when you're writing about something like school shootings: I have not been involved in one of those. I've not seen one of those go down firsthand. I've been close a couple of times, but it's not something that I could write from the perspective of somebody who was actually in the building.
So to be honest with the work, what I have to do is think: How does this affect me? How do I feel about this? And then write from that perspective. I don't think anybody's ever noticed this, but the songs where I'm tackling the biggest, most complicated issues are the ones where I'm writing from the most personal point.
Give me your personal MVP moments from the members of the 400 Unit on Weathervanes.
[Guitarist] Sadler [Vaden] has this old Vox guitar that has built-in fuzz effects, and he played on that on "Miles," the last song on the album, and really added something special to that.
It's a vintage guitar, but not a highly collectible, very expensive guitar. It's got this weird kind of freak-out fuzz tone that is included in the instrument, and he used that on that song to great success.
Jimbo [Hart]'s bass on "Middle of the Morning" is just a beautiful groove. It's a simple part, but the timing of it it is just exactly right. He's just right in the pocket.
Chad [Gamble], on the outro to Miles, where there's multiple drum kits happening — I think he handled that beautifully, and built up to that big cymbal crash at the end. 
We wanted a gong, but Blackbird [Studio in Nashville] didn't have a gong. They had this crash cymbal that was 72 inches or something; it was huge. It took up the whole reverb chamber. When Chad made the big crash at the end, we were all jumping up and screaming in the control room when it happened because it was so f—ing hilarious.
Derry [deBorja] — I feel like his synthesizer part on "Save the World" was a big moment for him. He spent a lot of time on that. We tried to send the clock from the Pro Tools session to the analog synthesizer and get it to line up.
It proved to be a very complicated exercise, because we were trying to marry new technology and old technology, but he found a way to make it work.
Let's end this with a lightning round. I polled my Facebook friends on what they'd want to ask you; it's a mix of New York music industry people and hometown friends from California.
This one's from Ryan Walsh, who leads a rock band called Hallelujah the Hills. He asks if when "white nationalist monsters" figure out your politics and tell you on Twitter they won't listen to you again, "do they really abandon ship, or is even that promise nothing but some sad barkin'?"
I don't think most of those were ever fans to begin with. I refuse to believe that those people have been actually listening to my songs all along. I think they see something that somebody's retweeted, and then they Google me and they see that I'm a musician, and they say, "I was your fan until just now." I think it's all just a b—shit tactic.
The jazz-adjacent singer/songwriter Dara Tucker says, "I'd like to hear his thoughts on Gordon Lightfoot."
Oh, Gordon was amazing. I played a song that I wrote, "Live Oak," last week, after Gordon's passing. I mentioned from the stage that I don't think I could have written that song without Gordon's work. The way he dealt with place, and the way he made folk music very specific to his own life.
I think "Carefree Highway" was the first song where I had that kind of lightbulb moment, where I thought, Oh, he's feeling really bad about something. This is not a celebration. This is not hippy-dippy s—. This is somebody saying, "I'm sorry." And that was a big moment for me.
Journalist Tom Courtenay asks, "Does he think Nashville/radio's gatekeeping is fixable, or does it only make sense for anyone remotely subversive to work outside of it at this point?"
I think what, if anything, will fix it, is when this particular brand of straight white male country music is no longer as popular as it is. 
I don't think that's a good thing. I would love to see it fixed from the inside. But the way I picture the state of popular country music right now is they're staring at a machine with a whole bunch of buttons, and there's one button that they know will spit out money when they hit it, so they just keep hitting it.
They won't take their hand off of it long enough to try any of the other buttons, even though some of the other buttons might spit out more money. 
Singer/songwriter Ephraim Sommers asks, "What is his greatest difficulty, obstacle or weakness as a songwriter, and how has he worked to overcome it?"
Humor is hard. It's hard because I laugh a lot in my everyday life, and it's hard to find a way to work humor into a song. The way that I work to overcome it is just by trying to notice different situational details that would create a funny image in a song.
It's something I'm not very good at. John Prine was great at it; Todd Snider's great at it. But to be funny without being bitter in the kind of songs that i write is a real challenge.
I don't want it to be funny in a self-referential way. I would like for it to be funny no matter who was saying it or writing it. That's a tough one for me, but I just keep trying over and over and over, until finally the joke is present enough for somebody to get it.
I'll close with my own question: What's grist for the mill creatively for you right now? What are you listening to, reading or watching?
Jennifer Egan, The Candy House; I'm reading that right now. Last night, we watched Guy Ritchie's The Covenant, the war movie. That was good. Of course, I like "Succession."
Right now, I'm just super excited about the Scorcese movie that I was in. I heard rumors that the trailer's coming out tomorrow.
Tell me about that.
That process of working on that movie really found its way into the studio when I went back to record — just the way Scorcese was able to hear other people's opinions and collaborate while still keeping his vision. 
Actors are people — they're not instruments — so you can't completely manipulate them, no matter how good you are at directing. So, it's not like the director is the guitar player and the actor is the guitar. There are a bunch of real humans in the room, so they're all going to have opinions and ways of delivering things.
To see him navigate that and hear everything — and still make the movie that he saw in his mind — was a pretty incredible thing for me.
Drive-By Truckers' Patterson Hood On Subconscious Writing, Weathering Rough Seasons & Their New Album Welcome 2 Club XIII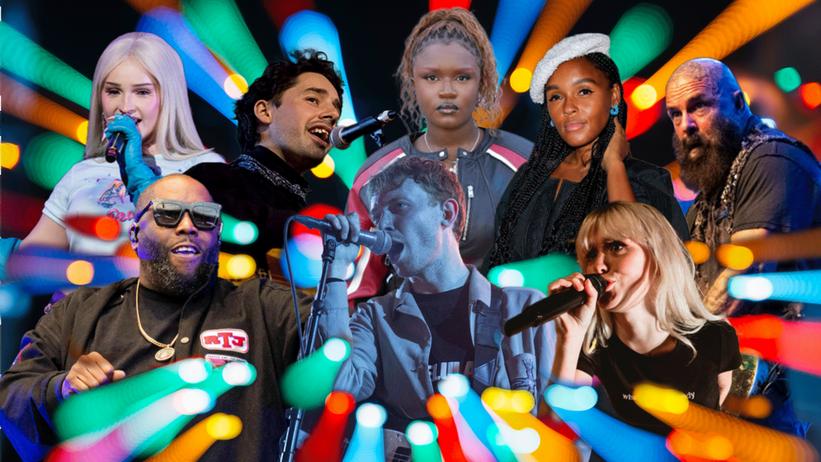 (Clockwise) Kim Petras, Juan Wauters, Amaarae, Janelle Monáe, Tim Armstrong of Rancid, Maisie Peters, King Krule, Killer Mike
Photos:  Alberto Tamargo; Xavi Torrent/WireImage; Gonzalo Marroquin/Getty Images for REVOLVE; Rachpoot Bauer-Griffin/GC Image; Scott Dudelson/Getty Images; Mike Lewis Photography/Redferns; Jim Bennett/WireImage; Jim Bennett/Getty Images
list
15 Must-Hear New Albums Out This Month: Janelle Monáe, King Krule, Killer Mike & More
From highly-anticipated debuts to long-awaited returns, check out 15 albums dropping this June from Kim Petras, Amaarae, Foo Fighters and many more.
GRAMMYs
/
Jun 2, 2023 - 01:39 pm
June is an important moment in the year, as it brings us Pride Month, Black Music Month and Juneteenth. It also marks the official start of summer, where rising temperatures invite late afternoons enjoying good music — whether it's outdoors at one of the season's many festivals or in the comfort of your own home.
As for the good music, this month brings us plenty of new releases by queer artists, like Kim Petras' long-awaited debut, Feed The Beast, and the Aces' I've Loved You For So Long. Black musicians have much on offer in June as well, including Janelle Monáe (who is also queer) The Age of Pleasure, house music DJ and producer Jayda G's Guy, and Ghana-born singer Amaarae's Fountain Baby. Last but not least, June also marks the return of both Foo Fighters and Lucinda Williams after life-altering events, and the ultimate release of Bob Dylan's 2021 concert film soundtrack, Shadow Kingdom.
To inspire you further with their bold artistry and moving stories, GRAMMY.com compiled a guide to the 15 must-hear albums dropping June 2023. 
Foo Fighters -
But Here We Are
Release date: June 2
In dark times, humans often turn to art. Even if they have no answers for what the future holds, the transmuting power of expression reminds us that, sometimes, existing is enough. But Here We Are, Foo Fighters' 11th studio album, does just that.
After "a year of staggering losses, personal introspection and bittersweet remembrances," as they state in their website  — referring to the sudden loss of longtime drummer, Taylor Hawkins,  and of frontman Dave Grohl's mother, Virginia — they find both grievance and strength in what has been called "the first chapter of the band's new life."
In support of this change, Foo Fighters have announced over 25 performances across the U.S. and Europe in the upcoming months. But Here We Are drops on June 2, and features ten new tracks, including promotional singles "Rescued," "Under You," "Show Me How," and "The Teacher."
Juan Wauters -
Wandering Rebel
Release date: June 2
For most of his life, the Uruguay-born, New York-raised singer Juan Wauters was a rover — never for too long in one place. But as he sings on the upcoming titular track of his new album, Wandering Rebel, "During COVID I discovered/ that I like stability."
In a statement, Wauters reflected about moving back to his home country because of the pandemic, and the personal changes that came with it: "New York was the place I always came back to, but I never really had a 'home.' My parents left Uruguay, their home, when I was young. Now, [in Montevideo], I have a place to come home to, and people that are waiting for me."
The 12 songs on Wandering Rebel are defined as "candid reflections on subjects like career, romantic commitment, mental health, and the personal toll of touring," some of which can be seen through singles "Milanesa al Pan (ft. Zoe Gotusso)" and "Modus Operandi (ft. Frankie Cosmos)." As to not lose sight of his itinerant roots, Wauters will embark on a lengthy U.S. tour starting this month.
Bob Dylan -
Shadow Kingdom
Release date: June 2
When the COVID-19 pandemic stalled Bob Dylan's illustrious Never Ending Tour, he decided to baffle the world with something entirely different.
First released in 2021 as a concert film directed by Alma Har'el, Shadow Kingdom sees Dylan perform 14 tracks from the first half of his career in an acoustic, intimate atmosphere. In the setlist, "It's All Over Now, Baby Blue" from 1965's Bringing It All Back Home marks the earliest composition to be featured, while "What Was It You Wanted" from 1989's Oh Mercy is the latest.
With little-to-no prior information, the film originally premiered on livestream platform Veeps, and swiftly disappeared 48 hours after. On June 2, an official soundtrack release will revive the experience for all those who missed it.
Rancid -
Tomorrow Never Comes
Release date: June 2
Breaking a six-year absence of new music, California's boisterous Rancid are back. Tomorrow Never Comes, the band's tenth album, proves that the verve from one of punk rock's biggest acts in the mid-1990s is still alive.
Produced by longtime collaborator and Bad Religion guitarist Brett Gurewitz, the record holds 15 tracks, but runs just short of 29 minutes — Rancid's briefest album yet. But judging by singles "Tomorrow Never Comes," "Don't Make Me Do It," and "Devil in Disguise," quick-paced or not, the quality remains the same.
Right after the release, Rancid will kick off an European tour for the rest of the month, before hitting Canada and a few cities in the U.S. starting September.
The Aces -
I've Loved You For So Long
Release date: June 2
Pride month celebrations have just gotten the perfect soundtrack: I've Loved You For So Long, the Aces' third studio album, comes out on June 2. 
Preceded by the title track and singles "Girls Make Me Wanna Die," "Always Get This Way," and "Solo," the album marks the Utah quartet's first release since 2020's LP Under My Influence. According to a press release, I've Loved You For So Long is "rife with songs that celebrate their queer identities, juxtaposed by tracks that reflect on their early relationships with Mormonism."
The 11-track collection is also described as "a nostalgic look back at the formative experiences that shaped who they are as a band today, like pages straight from their diaries that will leave their listeners feeling seen and critics wanting more."
Janelle Monáe -
The Age of Pleasure
Release date: June 9
Marking her return to music five years after 2018's Dirty Computer, the chameleonic singer and actor Janelle Monáe ushers in The Age of Pleasure. Her fourth studio album features 14 tracks, including collaborations from Grace Jones, Amaarae, Seun Kuti, and others.
During an interview with Zane Lowe on Apple Music 1, Monáe said all the songs "were written from such an honest space," with the goal of being "so specific to this Pan-African crowd who are my friends. I want it to be a love letter to the diaspora."
If its two delightful singles "Float" and "Lipstick Lover" are any indication, it looks like Monáe has nailed her target — while also providing us a much-needed new era for the summer.
Amaarae -
Fountain Baby
Release date: June 9
"Coming back after so long, I had a lot of time to think and reflect on what I wanted my message to be. Last time it was about confidence, this time it's about love and faith," said Ghanaian-American singer Amaarae in a statement about her single, "Reckless & Sweet."
The mystifying track gives a taste of her upcoming sophomore album, Fountain Baby, set to release on June 9. Following her acclaimed 2020 debut The Angel You Don't Know, the album also features last month's cheeky "Co-Star," and points to an expansion of the singer's avant-garde Afro-pop sound, as well as a celebration of Black women all over the world.
Jayda G -
Guy
Release date: June 9
Canadian producer and DJ Jayda G was only 10 years old when she lost her father, William Richard Guy. However, his memories shaped her life in significant ways, and now she is ready to share them with the world through her upcoming studio album, Guy.
Through a press release, Jayda said that she wanted the album to be "a blend of storytelling, about the African American experience, death, grief, and understanding." The singer also added that "it's about my dad and his story, and naturally in part my story, too, but it's also about so many people who wanted more for themselves and went on a search to find that. This album is just so much for people who have been oppressed and who have not had easy lives."
The first single of the project, "Circle Back Around," features archival footage of Jayda and her father — an endearing portrait that ultimately delivers an uplifting message. As she explains further in the press release: "I think it's just a testament that it's never too late to look at yourself and try to understand why you are the way you are, and strive to be better. Understanding the Black man's experience, Black people's experience in terms of America, and rising above what society tells you you're supposed to be."
King Krule -
Space Heavy
Release date: June 9
British singer King Krule was inspired by "the space between" his London and Liverpool commutes — both places he considers home — to craft Space Heavy, his fourth studio album.
Written throughout 2020 to 2022, the record was produced by Dilip Harris, and recorded alongside bandmates Ignacio Salvadores, George Bass, James Wilson, and Jack Towell. In April, the hazy "Seaforth" was released as the album's first single.
King Krule, whose real name is Archy Marshall, will soon embark on a summer tour spanning North America, Europe, and the UK. The first stop is in Minneapolis on July 21.
Killer Mike -
Michael
Release date: June 16
It's been more than a decade since Killer Mike released a solo album (2012's R.A.P. Music), but June brings forward new, exciting material from the Atlanta rapper and member of Run the Jewels. Upcoming LP Michael is said to be his "most autobiographical" work so far, and features 14 tracks that depict "an origin story," according to a statement.
2022 singles "RUN" and "Talkin Dat S—!" are also included in the album, as well as this year's "Don't Let The Devil" and "Motherless" — whose two music videos form a short film paying homage to Mike's late mother, Mama Niecy. The rapper is also set to perform a 19-stop tour in the U.S. this summer.
Home Is Where -
the whaler
Release date: June 16
Florida emo band Home Is Where built a reputation for delivering catharsis through their gloomy lyrics and angry melodies. Their upcoming sophomore LP, the whaler, takes that up a notch: It was defined as a project about "getting used to things getting worse" in a press release.
Produced by Jack Shirley and containing 10 interconnected songs, the whaler "paints a bleak picture of a world in an endless state of collapse — of ruined utopias and desperate people faking normalcy — [but] there's a humanity-affirming undercurrent throughout that screams to break free."
Ahead of the release, the band shared the lead single "yes! yes! a thousand times yes!," and is currently gearing up for a U.S. tour through the East Coast and Midwest in July and the West Coast in September.
Kim Petras -
Feed the Beast
Release date: June 23
The much-awaited debut LP of German singer Kim Petras, Feed the Beast, finally has a birth date: June 23. After struggling with the leaking and eventual scrapping of would-have-been album Problématique, Petras compiled 15 tracks for this new effort — including last year's mega hit "Unholy" featuring Sam Smith, which earned them both a GRAMMY Award for Best Pop Duo/Group Performance.
In an interview with Vice, the singer said Feed the Beast marks "a transition from being an independent artist to being at a major label now. Spearheaded by singles "If Jesus Was a Rockstar," "Brrr," and lead single "Alone" featuring Nicki Minaj, Petras will celebrate the release with a performance at NBC's TODAY Citi Concert Series, as well as live sets at Governor's Ball in NYC and Life is Beautiful Festival in Las Vegas.
Lunice -
OPEN
Release date: June 23
Described as a project that "focuses on the natural human ability and behavior of intuition, instinct, openness, flexibility, and adaptation," and also as "a bizarre ride through the Montreal underground," OPEN is the sophomore album by Canadian producer and TNGHT member, Lunice.
Following up his 2017 acclaimed solo debut, CCCLX, the new record aims to be even more dynamic, with every track conceived to be performed live. Featuring collaborations with Cali Cartier, Zach Zoya, Yuki Dreams Again, DAGR and GRAMMY-winning producer DRTWRK, OPEN drops on June 23.
"No Commas," the pulsating first single off the project, sets the mood to the upcoming folly. "This track is the result of multiple natural occurrences where the melody, drums, and vocal performance coincidentally fit with each other in the moment of creation without any prior motive behind it," Lunice said in a statement. "I find these instinctual moments of creativity beautiful and inspiring."
Maisie Peters -
The Good Witch
Release date: June 23
British singer/songwriter Maisie Peters calls herself The Good Witch — the "keeper of the keys and the holder of the cards" to her own universe, soon on display through her upcoming second album.
Written last year while she was on tour, Peters explains that its 15 tracks represent a time when she was "searching for balance between career highs and personal lows," a quality that can be seen through "Body Better," the album's acutely honest lead single. 
"This is my heart and soul, my blood on the page, the collection of stories that I've managed to capture in the past year," said Peters. "A true chronicle of my life in recent history, it is my own twisted version of a breakup album and it all draws upon the same couple of months' worth of experiences and inspirations." 
The singer is also set to tour 27 cities in the U.S. and Canada from August to October.
Lucinda Williams -
Stories From a Rock n Roll Heart
Release date: June 30
Lucinda Williams is living proof that getting older doesn't mean getting duller. The Americana legend just celebrated her 70th birthday in January — and the last three years of her life have been some of the most tumultuous yet.
In 2020, her Nashville home was damaged by a tornado. Then, came the COVID-19 pandemic. And lastly, a stroke that affected her ability to play the guitar, therefore changing the way she writes songs. But Williams didn't let any of that stop her — Stories from a Rock n Roll Heart, her 15th studio album, comes out on June 30, and shows that she's only getting better.
The project already has three singles out: "New York Comeback," "Stolen Moments," and "Where the Song Will Find Me," and counts on backing vocals from artists like Bruce Springsteen, Patti Scialfa, and Angel Olsen.
Listen To GRAMMY.com's LGBTQIA+ Pride Month 2023 Playlist Featuring Demi Lovato, Sam Smith, Kim Petras, Frank Ocean, Omar Apollo & More