(L-R): Irving Azoff, Cameron Crowe, and Susan Genco
Photo Credit: Emma McIntyre & Frazer Harrison
news
How The Entertainment Law Initiative Tackles Today's Leading Law Issues & Fosters The Next Generation Of Legal Innovators
Hosted during GRAMMY Week 2022, the 24th Annual Entertainment Law Initiative honored Azoff Company co-president Susan Genco, featured a keynote speech from GRAMMY and Oscar winner Cameron Crowe, and saluted the future class of legal scholars
GRAMMYs
/
Apr 23, 2022 - 12:04 am
An artist advocate. A devotee to making the American dream a reality for artists. A force of nature. The smartest woman in the room. All these statements describe Susan Genco, co-president of the Azoff Company, who received the top honor at the Recording Academy's 24th Annual Entertainment Law Initiative (ELI) event during GRAMMY Week 2022. With a focus on future voices and entertainment law education, the annual ELI gathering is the leading music industry and music law conference, aligning prominent entertainment attorneys to discuss and debate top-of-mind music industry legal matters and trends. Via its annual Entertainment Law Initiative Service Award and Entertainment Law Initiative Writing Contest, respectively, ELI celebrates influential thought leaders and next-gen student innovators alike, who are collectively advancing the conversation surrounding music law.
Held Saturday, April 2, at ARIA Resort & Casino in Las Vegas, ELI 2022 honored Genco with the Entertainment Law Initiative Service Award. She is a leader who has spent her storied career protecting artists while supporting the music community at-large through service. Advocacy and fair wages in the music industry are now more important than ever to crusaders like Genco, who has made substantial contributions on policy through the Music Modernization Act and federal COVID relief packages as well as her work as a board member for the Music Artists Coalition, which includes her ongoing work on the FAIR Act.
A lifelong music lover, Genco spent her college days as a DJ at Wellesley before heading to Harvard Law. After college, she held executive positions at a variety of record labels including Warner Bros. Records, Capitol/EMI and Arista Records, under Clive Davis. Now, as the co-president of the Azoff Company, working alongside Irving Azoff, she oversees and manages entertainment companies like Full Stop Management, Global Music Rights and Oak View Group, among others. Genco is a lecturer in law at UCLA School of Law, where she has taught music law since 2012 and is a founder of the school's Music Industry Clinic. She also serves on ELI's Executive Committee. 
At the pre-event reception, GRAMMY- and Oscar-winning writer, director and producer and ELI 2022 keynote speaker Cameron Crowe shared that Genco and Azoff run their business with an artist-forward mentality.
"When I first started writing and interviewing musicians, so many of them didn't make it financially or they weren't supported in the business they loved," he said. "Irving and Susan are so like-minded — they never forget what it is like to be an artist and you need protection and support, and know there are people there to back you up. She has been very forward about pushing legislation and showing budding artists [that] there are people out there thinking about you and your rights."
Filling the room with the magical storytelling for which he is known, Crowe then saluted Genco, the lawyers in attendance, and the students who participated in the ELI Writing Contest, saying that thanks to their work, the next generation of artists will have a greater chance at flourishing. "It's such an honor to be here for the ELI, who do such vital work in supporting and protecting the spirit of creativity for generations to come," he says.
Crowe then told the story of how he chose the music industry — or rather, how the music biz chose him — against his mother's wish for him to become a lawyer. "She moved us to a special place in Saen Diego, so that we would be right across the street from a well-regarded law school; I was 12," Crowe said. "As much as we tried to plan, so many of the key things in our life happened when there was no plan. Because it's the people you meet along the way, the people you helped, and the people who helped you. Relationships and music define my life. There was a growing chance I was never going to make it to the law school."
Then, Crowe met Azoff. "[Irving] became a person who really worked his way up the ladder, on the heels of smarts and charisma. And he hit that famous early peak: He became the manager of Eagles," Crowe said. 
Likewise, Crowe invested in relationships, which led him to chronicling the early days of Led Zeppelin, David Bowie, Bruce Springsteen, and many others as the youngest-ever contributor to Rolling Stone.
"When people ask who the band was in Almost Famous," he says of his beloved 2000 film, "it is all of us. It is Irving and Ronnie Van Zant, Glenn Frey, Neal Preston, and the people who inspired Susan Genco back when she was a DJ, with the same dream of being close to the music that she still loves so passionately."
Azoff then gave a humorous and irreverent recap of how Genco came to work for his company years ago, telling her back then for years that their quota for lawyers was full when, in fact, they had no entertainment lawyers on staff. 
!Cameron Crowe delivers keynote speech at the Recording Academy's 24th Annual Entertainment Law Initiative
Cameron Crowe delivers keynote speech at the Recording Academy's 24th Annual Entertainment Law Initiative
"If you want to cross over from the double dark side of being a lawyer and running a record company and join the fight to take care of artists — you're smart and we'd love to have you as a senior executive," Azoff remembered of her job offer. "So our journey became partners and colleagues instead of just friendly adversaries."
Applauding her accomplishments, Azoff heralded Genco as an advocate in the music industry and wider music community. 
"Susan has been a tireless advocate for visibility and rights for the LGBTQ+ community, for change in action in economic and social justice for women with her XX Fund and with Liberty Hill, and for community engagement through her position on the board of [Los Angeles radio station] KCRW. She is also a mentor to many young professionals including many in the room today. You're an amazing wife, mother, friend, executive, and world citizen. There really is no one like you. They invented the word 'special' to define who you are."
In her acceptance speech, Genco reflected on the moments that shaped her musical journey. 
"The best moments of my life are created by artists and enhanced by music," she remembered. "It's this shared love that brings us together and makes us, the people in this room, the people in the industry, a community. 
"I have always loved music. But now after a couple or a few decades, I also love the music business, with all of its foibles and idiosyncrasies," she continued. "Music unites people across the globe every day. And in this divisive world we find ourselves in, we rely on music to reach across borders and create a common language. As a community, I hope we can work together to support and protect artists and songwriters … They give us the gift of music. Let's make sure we give them what they need and what they deserve. Let's be sure that they get their fair share, and let's please do it together."
Prior to the ELI event, Genco told GRAMMY.com that advocacy is now more important than ever, and that advocacy efforts start with the artists and extend to those with whom they choose to surround themselves.
"Be bold and advocate for yourself. You see more and more artists speaking up," she said. "Artists deserve to be paid. It feels like now we are in a place where it's feast or famine for artists. And we're missing out on a lot of talent. If we don't cultivate and create a way for artists — not just the superstar artists, but our middle-class artists [also] — to make a living off their craft, we're all going to suffer."
Genco, who teaches at UCLA Law, has been involved in the ELI student program since 2011 and says working with students is one of the most important aspects in her career. Every year, she serves as a reader for the annual Entertainment Law Initiative Writing Contest, which challenges aspiring law students seeking to push the envelope in the music industry to identify and research a current legal issue and outline a proposed solution in an essay. 
At the 2022 ELI event, the ELI Writing Contest recognized the winner with a $10,000 scholarship and a $2,500 scholarship for the two runners-up.
This year's ELI Writing Contest winner, Sona Sulakian, J.D. Candidate at USC Gould School of Law Los Angeles, tackled "Protecting the Artist: Licensing in an AI-Generated Music Market." Runners-up Chelsea Cohen, J.D. Candidate at Loyola Law School Los Angeles, delved into "Welcome to the Metaverse: Solving Old-World Licensing in a Whole New Universe," while Michael Harrigan, J.D. Candidate at Stetson University College of Law in Gulfport, Florida, tackled "Beyond a Reasonable Doubt: How Blockchain Technology Can Shift the DMCA's Burden of Notification Away From Copyright Owners."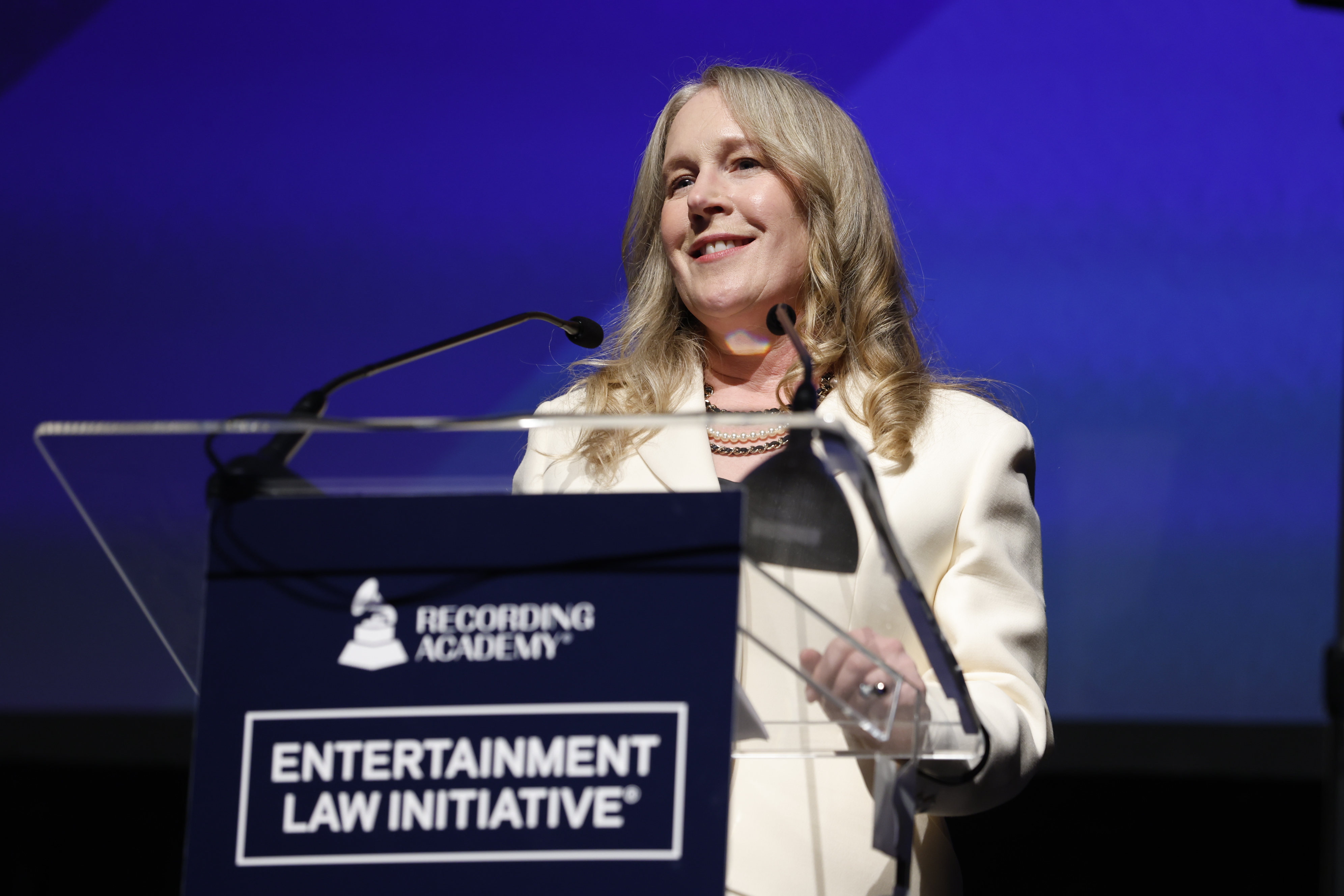 Susan Genco delivers espeech at the Recording Academy's 24th Annual Entertainment Law Initiative
"An important part [of ELI] to me is that we welcome the students who win the writing competition," Genco said. "Make sure, particularly as women, that we don't pull up the ladder behind us and [instead] welcome women into the business, which has been, for decades, very male-dominated."
Standing at the convergence of entertainment law and music business and culture, the Entertainment Law Initiative offers a unique perspective into the symbiotic relationships connecting these two industries. Genco best summed up this exchange of ideas in a simple yet impactful reflection. 
"The great news is [that] music is more important than ever," Genco said. "We just have to make sure the business side is right as well." 
The Recording Academy wishes to sincerely thank the following sponsors for their support of the 24th Annual ELI GRAMMY Week Event
PLATINUM: Full Stop Management; Global Music Rights; Latham & Watkins, LLP; Mitchell Silberberg & Knupp LLP; Pryor Cashman LLP; Sony Music Entertainment; Spotify; Universal Music Group
GOLD: Fox Rothschild LLP; Greenberg Traurig LLP; Proskauer Rose LLP; Warner Music Group
SILVER: American Bar Association (ABA); Covington & Burling LLP; Eisner, LLP; SoundExchange; Universal Music Group
BRONZE: AXEL Go; Black Music Action Coalition (BMAC); Boyarski Fritz LLP; King, Holmes, Paterno & Soriano, LLP; Kobalt Music Publishing; Manatt, Phelps & Phillips, LLP; Munger, Tolles & Olson LLP; Rothenberg, Mohr & Binder, LLP; SAG-AFTRA; Songwriters of North America (SONA); Sound Royalties
Watch: 23rd Annual Entertainment Law Initiative | GRAMMY Week 2021
GRAMMYs
/
Dec 3, 2014 - 04:22 am
By Will Dawson
For a few hours Tuesday night Hollywood Boulevard was transformed into Glam Central Station as The Recording Academy officially kicked off its 54th GRAMMY Week with the inaugural GRAMMY Glam event.
It was just what you'd expect it to be from the title — an incendiary collision between music and fashion, and beauty and the beats, complete with a GRAMMY gold carpet and enough DJ firepower to ignite a musical bonfire. Sponsored by Olay, CoverGirl and Venus, and featuring the incredible DJ Spinderella (of Salt-N-Pepa), DJ Low Down Loretta Brown (aka Erykah Badu), and dynamic duo the Jane Doze, Hollywood rocked on the dance floor while exploring the cosmetics-filled caverns of the MyHouse nightclub.
"Each year, we try to reinvent ourselves," said Recording Academy President/CEO Neil Portnow before heading inside. "What we've recognized for years is that there's an intersection between beauty, health, style, fashion, and music. I can't wait to see what our team — who are the best in the world, by the way — put together for tonight."
The Jane Doze opened the night on the ones and twos, with contest winners from Turntable.fm also filling in some of the musical menu with their submissions, lending an interactive angle to the evening.
With three themed rooms that featured waterfalls, flames and even contortionists, partygoers had the chance to pose for personalized magazine covers, get tips from professional makeup artists and, while on the venue's main stage, even get a taste of what it's like to be a model on the catwalk.
"It's a marriage made in heaven," said recording artist Goapele. "Music and fashion go hand in hand. It's great that the GRAMMYs saw that and put this great night together."
Other guests echoed those sentiments, and many were excited for the chance to see Badu take her turn as one of the night's DJs.
"I'm from New Orleans and have seen [Badu] perform at Essence [Music Festival] over the years," beamed former Diddy Dirty Money member Dawn Richard. "She's a hero of mine. Everything she does is bold, from her fashion to her musical choices."
Badu's set was filled with blends of everything from GRAMMY-nominated hip-hop collective A Tribe Called Quest to R&B artist Cheryl Lynn. Spinderella spun the classics, giving the crowd an eclectic mix intermingling hits from R&B dance group Nu Shooz to the late Notorious B.I.G.
If all of the guests carrying their coats and heels in hand upon exiting are any indication, a great time was had by all. It was, by all accounts, a glam dunk, and a great way to kick off what promises to be an incredible week leading up to Music's Biggest Night.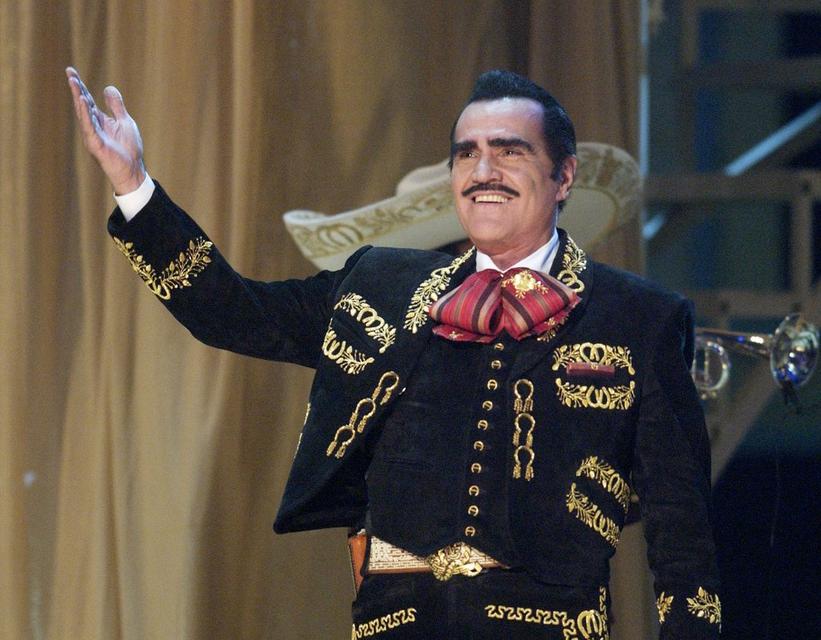 Vicente Fernandez performs at the 2002 Latin GRAMMY Awards
Photo: M. Caulfield/WireImage
news
Vicente Fernández Posthumously Wins GRAMMY For Best Regional Mexican Music Album | 2022 GRAMMYs
The late Mexican legend, who died in December at 81, won the GRAMMY for Best Regional Mexican Music Album (Including Tejano) for his 2020 album, 'A Mis 80's'
GRAMMYs
/
Apr 3, 2022 - 10:44 pm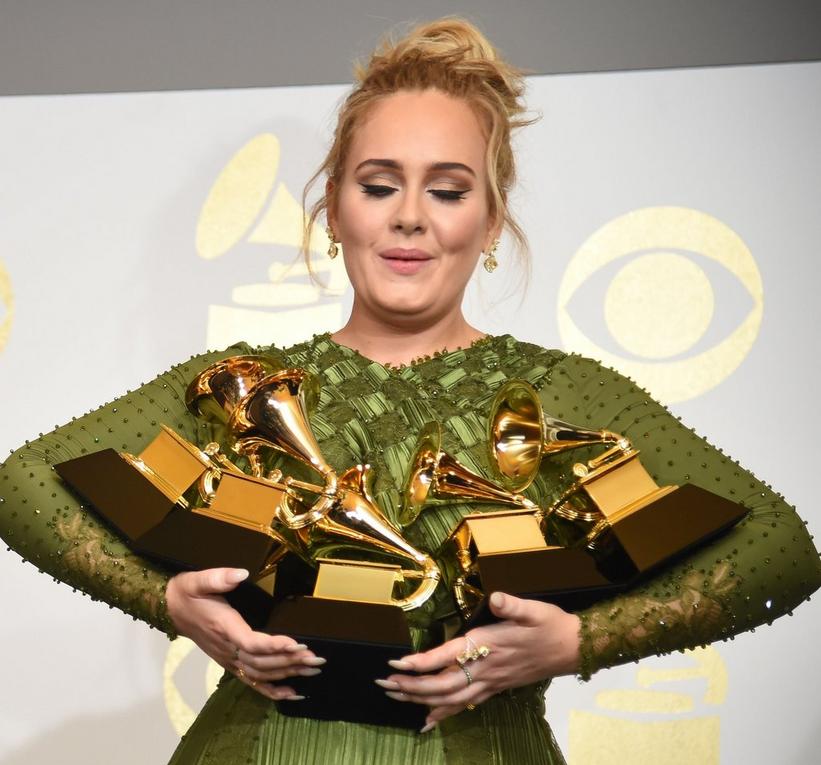 GRAMMY trophies at the 59th GRAMMY Awards in 2017
Photo: ROBYN BECK/AFP via Getty Images
news
The Recording Academy Announces Major Changes For The 2022 GRAMMY Awards Show
Process amendments include the elimination of nominations review committees and the addition of two new GRAMMY Award categories, including Best Global Music Performance and Best Música Urbana Album
GRAMMYs
/
May 1, 2021 - 01:27 am
Editor's Note: The 2022 GRAMMYs Awards show, officially known as the 64th GRAMMY Awards, <a href="https://www.grammy.com/news/2022-grammys-awards-64th-new-air-show-date-location-las-vegas-april-3-announcement "https://www.grammy.com/news/2022-grammys-awards-64th-new-air-show-date-location-las-vegas-april-3-announcement"">has been rescheduled to Sunday, April 3, at the MGM Grand Garden Arena in Las Vegas. The below article was updated on Tuesday, Jan. 18, to reflect the new show date and location.
The Recording Academy announced today that it has made significant changes to its Awards process that reflect its ongoing commitment to evolve with the musical landscape and to ensure that the GRAMMY Awards rules and guidelines are transparent and equitable. Among the changes are the elimination of Nominations Review Committees, a reduction in the number of categories in which voters may vote, two GRAMMY Award category additions, and more. These updates are a result of extensive discussions and collaboration over the course of the last year among a special subcommittee of Recording Academy members and elected leaders, and were voted on by the Academy's Board of Trustees. These changes go into effect immediately for the 2022 GRAMMY Awards show, officially known as the 64th GRAMMY Awards, taking place Sunday, April 3. The eligibility period for the 64th GRAMMY Awards is Sept. 1, 2020, through Sept. 30, 2021.
Additional rule amendment proposals will be discussed and voted on at an upcoming Recording Academy meeting and the full rulebook for the 64th GRAMMY Awards will be released in May.
"It's been a year of unprecedented, transformational change for the Recording Academy, and I'm immensely proud to be able to continue our journey of growth with these latest updates to our Awards process," Harvey Mason jr., Chair & Interim President/CEO of the Recording Academy, said. "This is a new Academy, one that is driven to action and that has doubled down on the commitment to meeting the needs of the music community. While change and progress are key drivers of our actions, one thing will always remain — the GRAMMY Award is the only peer-driven and peer-voted recognition in music. We are honored to work alongside the music community year-round to further refine and protect the integrity of the Awards process."
APPROVED RULE AMENDMENTS INCLUDE:
Voting Process Changes
Elimination Of Nominations Review Committees In General And Genre Fields

Nominations in all of the GRAMMY Award general and genre fields will now be determined by a majority, peer-to-peer vote of voting members of the Recording Academy. Previously, many of the categories within these fields utilized 15-30 highly skilled music peers who represented and voted within their genre communities for the final selection of nominees. With this change, the results of GRAMMY nominations and winners are placed back in the hands of the entire voting membership body, giving further validation to the peer-recognized process. To further support this amendment, the Academy has confirmed that more than 90 percent of its members will have gone through the requalification process by the end of this year, ensuring that the voting body is actively engaged in music creation. Craft committees remain in place (see below for craft category realignment.)

Reduction In Number Of Categories Voter May Vote

To ensure music creators are voting in the categories in which they are most knowledgeable and qualified, the number of specific genre field categories in which GRAMMY Award Voters may vote has been reduced from 15 to 10. Additionally, those 10 categories must be within no more than three fields. All voters are permitted to vote in the four General Field categories (Record Of The Year, Album Of The Year, Song Of The Year, and Best New Artist). Proposed by a special voting Task Force who brought forth the recommendation, this change serves as an additional safeguard against bloc voting and helps to uphold the GRAMMY Award as a celebration of excellence in music, with specific genre field categories being voted on by the most qualified peers.

Craft Category Realignment

To better reflect the overlapping peer groups within the voter membership body, six existing craft fields will be consolidated into two fields: Presentation Field and Production Field. In either newly consolidated field, voters would have the ability to choose how many categories they feel qualified to vote in, respecting category vote limits, without being excessively limited by the three-field restriction. This benefits the integrity of these Awards by embracing and utilizing the specializations of the voters, without restricting their choice or contributions due to the field limits imposed by the recent reduction of the number of categories voters may vote in. Field updates are as follows:

Package Field, Notes Field and Historical Field renamed and consolidated to Presentation Field

Production, Non-Classical Field; Production, Immersive Audio Field; and Production, Classical Field renamed and consolidated to Production Field
New Categories Added
Two new categories have been added, bringing the total number of GRAMMY Award categories to 86:
Best Global Music Performance (Global Music Field)

Best Música Urbana Album (Latin Music Field)
"The latest changes to the GRAMMY Awards process are prime examples of the Recording Academy's commitment to authentically represent all music creators and ensure our practices are in lock-step with the ever-changing musical environment," said Ruby Marchand, Chief Industry Officer at the Recording Academy. "As we continue to build a more active and vibrant membership community, we are confident in the expertise of our voting members to recognize excellence in music each year."
"As an Academy, we have reaffirmed our commitment to continue to meet the needs of music creators everywhere, and this year's changes are a timely and positive step forward in the evolution of our voting process," said Bill Freimuth, Chief Awards Officer at the Recording Academy. "We rely on the music community to help us to continue to evolve, and we're grateful for their collaboration and leadership." 
The Recording Academy accepts proposals from members of the music community throughout the year. The Awards & Nominations Committee, comprised of Academy Voting Members of diverse genres and backgrounds, meets annually to review proposals to update Award categories, procedures and eligibility guidelines. The above rule amendments were voted on and passed at a Recording Academy Board of Trustees meeting held on April 30, 2021. For information on the Awards process, visit our GRAMMY Voting Process FAQ page.
The Recording Academy will present the 2022 GRAMMY Awards show on Sunday, April 3, live from the MGM Grand Garden Arena in Las Vegas, on the CBS Television Network and stream live and on demand on Paramount+ from 8–11:30 p.m. ET / 5–8:30 p.m. PT. Prior to the telecast, the GRAMMY Awards Premiere Ceremony will be streamed live on GRAMMY.com and the Recording Academy's YouTube channel. Additional details about the dates and locations of other official GRAMMY Week events, including the GRAMMY Awards Premiere Ceremony, <a href="https://www.musicares.org/person-year "https://www.musicares.org/person-year"">MusiCares' Person of the Year, and the Pre-GRAMMY Gala, are available here.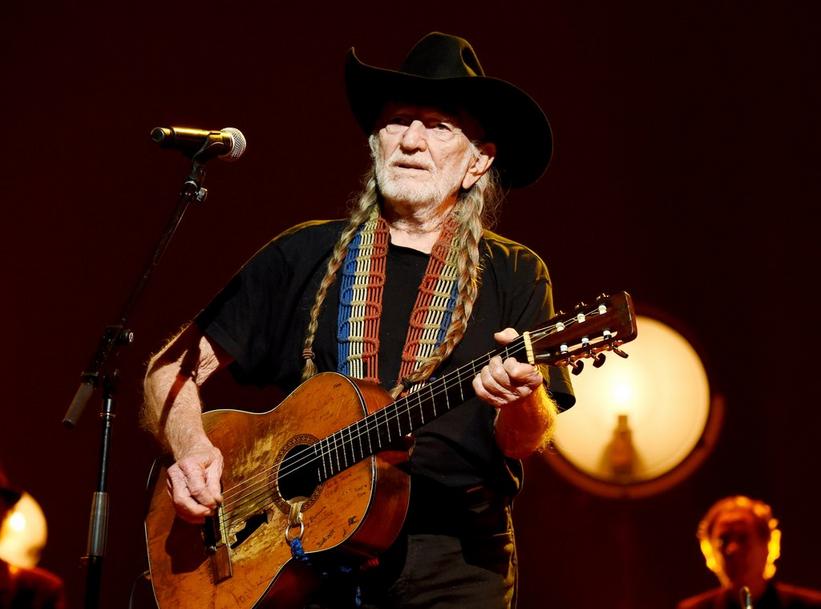 Photo: Larry Busacca/Getty Images
news
Willie Nelson To Be Honored With 2019 Producers & Engineers Wing Award
The GRAMMY-winning country legend will be honored for his many years of "artistic achievements and creative genius" during GRAMMY Week in February 2019
GRAMMYs
/
Oct 30, 2018 - 05:31 pm
Willie Nelson may already have many accolades and achievements to his name, including eight GRAMMY Awards, but that doesn't mean there isn't room for more. On Oct. 30 the Recording Academy's Producers & Engineers Wing announced they will be honoring Nelson during GRAMMY Week 2019 to "celebrate [his] artistic achievements and creative genius."
The P&E Wing's 12th annual celebration will take place on Feb. 6, 2019 in Los Angeles, Calif. as part of GRAMMY Week, which culminates with Music's Biggest Night, the 61st GRAMMY Awards on Feb. 10. In addition to honoring Nelson, the event also acknowledges the industry contributions of the Wing's more than 6,400 professional members.
"Each year, the Recording Academy's Producers & Engineers Wing annual GRAMMY week event honors members of the recording community who exhibit exceptional standards of integrity, creativity and sonic quality," said Maureen Droney, Managing Director of the P&E Wing. "We are thrilled to pay homage to Willie Nelson, an undeniable icon with an incomparable—and uncompromising—body of work."
Nelson is a musical force to be reckoned with, a living legend who has released more than 200 albums over his six-decade career, a true leader in outlaw country music, and the larger genre as a whole. He has made an impact in the music industry as a songwriter, performer and collaborator, and in the larger world as an author, actor and activist. He has always used his platform to speak his mind and make a positive impact on those around him, such as with Farm Aid, an annual charity concert he co-founded in 1985 to support family farmers.
To date he has won eight GRAMMYs, taking home his first at the 18th GRAMMY Awards in 1975 for Best Male Country Vocal Performance for his breakout hit "Blue Eyes Crying In The Rain," from Red Headed Stranger. The album was inducted into the GRAMMY Hall of Fame in 2002, followed by several more of Nelson's recordings. Over the years he has been recognized by the Recording Academy on multiple other occasions, receiving the President's Merit Award in 1986, the GRAMMY Legend Award in 1990 and the Lifetime Achievement Award in 2000.
"Willie Nelson has inspired generations of musicians and fans, and continues to set precedents of excellence within the music community," added Recording Academy President/CEO Neil Portnow.
In 2018 the P&E Wing honored power couple Alicia Keys and Swizz Beatz. Prior honorees include Jack White, Rick Rubin, Nile Rodgers and Neil Young.